Biaggi atop the podium with an Aprilia clean sweep after Race One with team mate Eugene Laverty and Parkin Go's Chaz Davies. Davies would come back to take his first World Superbike win ever in Race Two, possibly earning himself a spot on the 2013 BMW factory team.
SBK World Superbike Championship, Round 12 of 14, Nürburgring, Germany
Biaggi back in World Superbike Points Lead after Nürburgring dramas unfold
Nürburgring (Germany), Sunday 9 September, 2012 – Max Biaggi (Aprilia Racing Team) once more heads the points table in the eni FIM Superbike World Championship, after two races in Germany laden with incident and frequent accidents for the top two championship runners. Biaggi won race one in impressive style, taking his 21st career win and his fifth of the year. In race two Chaz Davies (ParkinGO MTC Team Aprilia) won his first ever SBK race and in doing so became the eighth rider to take a victory in what is proving to be a remarkable 2012 season.

Marco Melandri (BMW Motorrad Motorsport) lost the championship lead he had worked so hard for in the previous round in Russia when he fell in both 20-lap races. The second crash happened while he was leading. Biaggi had already crashed on the first lap of race two but restarted to battle back to take what may well be three important points. The event in Germany brought forward a number of firsts, all of which unfolded under brilliant blue skies and sunshine in front of a weekend crowd of 46,000 spectators.

Aprilia riders went 1-2-3 in the opening race for the first time ever. British rider Leon Camier (FIXI Crescent Suzuki) gave his team its first podium finish of the season with a fine third place in race two. Second place rider in each race was Eugene Laverty (Aprilia Racing Team) taking his first double podium for the Italian manufacturer.

Davies' race win gave riders from the UK a combined victory total of 118 in individual SBK contests, joining the USA and Australia on the same record total of 118 victories each. In the championship Biaggi now has 381 points, Melandri 308.5 and Sykes 291.5, making the fight for the overall title closer between the top three yet again, with only 26.5 points separating them all. Two rounds and four races remain, with everything to play for.


Race 1
In the first race Biaggi pulled off one of his coolest and most assured wins to re-take the lead in the championship fight. His victory came after he took the lead from a slowing Tom Sykes (Kawasaki Racing Team), and before the end of the 20 laps both Laverty and Davies had also passed Sykes, making it a 1-2-3 for riders on Aprilias. Camier was a battling fifth after a last minute glitch on the starting grid, while Melandri crashed out on lap six.

Max Biaggi: "It's just a happy moment to be here. The result is the best that we can do, so we can be proud of all the work we did during the weekend. We keep improving the bike especially in the set-up. Overall I could ride well, even though it was slippery basically I could set good lap times. Sykes impressed me with his pace in the first half, and finally he started to lose concentration and maybe grip and I could take him and keep my lap time."

SUPERBIKE RACE ONE: (Laps 20 = 102,740 Km)
POS / RIDER / NAT. / TEAM / MOTORCYCLE / GAP
1 / M. BIAGGI / ITA / Aprilia Racing Team / Aprilia RSV4 Factory / 38'52.751
2 / E. LAVERTY / IRL / Aprilia Racing Team / Aprilia RSV4 Factory / 3.027
3 / C. DAVIES / GBR / ParkinGO MTC Racing / Aprilia RSV4 Factory / 3.127
4 / T. SYKES / GBR / Kawasaki Racing Team / Kawasaki ZX-10R / 12.306
5 / L. CAMIER / GBR / FIXI Crescent Suzuki / Suzuki GSX-R1000 / 14.131
6 / S. GUINTOLI / FRA / PATA Racing Team / Ducati 1098R / 19.523
7 / L. HASLAM / GBR / BMW Motorrad Motorsport / BMW S1000 RR / 27.017
8 / L. ZANETTI / ITA / PATA Racing Team / Ducati 1098R / 33.116
9 / A. BADOVINI / ITA / BMW Motorrad Italia GoldBet / BMW S1000 RR / 34.937
10 / H. AOYAMA / JPN / Honda World Superbike Team / Honda CBR1000RR / 39.132
11 / M. BERGER / FRA / Team Effenbert Liberty Racing / Ducati 1098R / 41
12 / C. CHECA / ESP / Althea Racing / Ducati 1098R / 41.125
13 / J. HOPKINS / USA / FIXI Crescent Suzuki / Suzuki GSX-R1000 / 46.925
14 / L. LANZI / ITA / Liberty Racing Team Effenbert / Ducati 1098R / 54.659
15 / B. MCCORMICK / CAN / Team Effenbert Liberty Racing / Ducati 1098R / 56.342
Fastest Lap: 3° Max Biaggi 1'55.267 160,438 Km/h
Lap Record: 2010 J. Rea 1'55.392 160,260 Km/h
Best Lap: 2012 M. Biaggi 1'53.855 162,430 Km/h

Leon Camier (2) gave Suzuki one of its best finsihes of the year with a 3rd place in Race Two. Here he fights of Checa and Haslam.
Race 2
Davies claimed his and his team's first win with an impressive display of eventual front-running, winning by over three seconds and easing up, after top contenders Melandri and Biaggi both found the gravel traps. In a festival of points for British and Irish riders, Laverty was second, and a great ride from Camier saw him recover from a less than perfect start to go third, only losing second place to a late push from Laverty. Jonathan Rea (Honda World Superbike Team) was fourth, and one-time race leader Sykes was fifth. Biaggi recovered to finish 13th, half a minute down on the winner.

Chaz Davies: "What a feeling! I got an average start and went the long way round at the first corner. It was risky but it worked and I was fourth. I was comfortable all race, and knew if I could just get away with the front guys I thought I could stay and that was the case, but I didn't expect them the mistakes from Marco and Max! In the end it was just a concentration game with myself, keeping the lap times consistent. What a way to repay the ParkinGo team for their efforts!"
Eugene Laverty: "Two great races, without a doubt. In Race 1 I was struggling at the beginning and the bike was sliding around a lot, so I had to wait a few laps before I could really start pushing. Toward the end I had to defend against Davies' attacks and I managed to hold onto second place. In Race 2 when Tom Sykes overtook me it cost me a few seconds but then I was able to recover and, with the contribution of Max and Melandri's crashes, I found myself within a shout of the podium. At that point I had to fend off Camier's attacks, but Chaz had already run away at the front. I'm quite happy with the two second places for Aprilia and I'd like to congratulate Davies on a well deserved victory".
SUPERBIKE RACE TWO: (Laps 20 = 102,740 Km)
POS / RIDER / NAT. / TEAM / MOTORCYCLE / GAP
1 / C. DAVIES / GBR / ParkinGO MTC Racing / Aprilia RSV4 Factory / 39'00.327
2 / E. LAVERTY / IRL / Aprilia Racing Team / Aprilia RSV4 Factory / 3.022
3 / L. CAMIER / GBR / FIXI Crescent Suzuki / Suzuki GSX-R1000 / 3.222
4 / J. REA / GBR / Honda World Superbike Team / Honda CBR1000RR / 5.705
5 / T. SYKES / GBR / Kawasaki Racing Team / Kawasaki ZX-10R / 7.304
6 / C. CHECA / ESP / Althea Racing / Ducati 1098R / 7.541
7 / D. GIUGLIANO / ITA / Althea Racing / Ducati 1098R / 14.709
8 / L. BAZ / FRA / Kawasaki Racing Team / Kawasaki ZX-10R / 19.782
9 / A. BADOVINI / ITA / BMW Motorrad Italia GoldBet / BMW S1000 RR / 19.925
10 / S. GUINTOLI / FRA / PATA Racing Team / Ducati 1098R / 20.028
11 / L. ZANETTI / ITA / PATA Racing Team / Ducati 1098R / 25.653
12 / J. HOPKINS / USA / FIXI Crescent Suzuki / Suzuki GSX-R1000 / 29.142
13 / M. BIAGGI / ITA / Aprilia Racing Team / Aprilia RSV4 Factory / 29.579
14 / M. BERGER / FRA / Team Effenbert Liberty Racing / Ducati 1098R / 36.09
15 / H. AOYAMA / JPN / Honda World Superbike Team / Honda CBR1000RR / 40.912
Fastest Lap: 4° Carlos Checa 1'56.148 159,221 Km/h
Lap Record: 2012 M. Biaggi 1'55.267 160,440 Km/h
Best Lap: 2012 M. Biaggi 1'53.855 162,430
CHAMPIONSHIP POSITIONS TO DATE:
1 BIAGGI 318, 2 MELANDRI 308.5, 3 SYKES 291.5, 4 CHECA 247.5, 5 REA 225.5,
6 LAVERTY 213.5, 7 HASLAM 189, 8 DAVIES 156.5, 9 GUINTOLI 143.5, 10 GIUGLIANO 125,
11 FABRIZIO 119.5, 12 CAMIER 104.5, 13 BADOVINI 99, 14 BAZ 98, 15 SMRZ 92.5.


World Supersport
Kenan Sofuoglu (Kawasaki Lorenzini) won his fourth race of the season today, securing victory by 0.541 seconds over second place rider Jules Cluzel (PTR Honda) in the 19-lap FIM Supersport World Championship race at the Nürburgring. Sofuoglu's win was of the start-to-finish variety as he extended his championship lead over Cluzel, with Kenan now sitting on 198 points to the French rider's 160. Third in the race was Fabien Foret (Kawasaki Intermoto Step Racing) who moved to third in the championship after podium challenger Sam Lowes (Bogdanka PTR Honda) fell. Lowes restarted to finish 14th but he is now fourth overall in the points, four behind Foret. Broc Parkes (Ten Kate racing Products Honda) was fourth today, 2012 rising star Vladimir Leonov (Yakhnich Motorsports Yamaha) went fifth but was disqualified post-race for a technical infringement.

Results: 1. Sofuoglu (Kawasaki) 19 Laps/97.603 km in 38'13.709 average 153.189 kph; 2. Cluzel (Honda) 0.541; 3. Foret (Kawasaki) 6.258; 4. Parkes (Honda) 10.345; 5. Baldolini (Triumph) 18.303; 6. Talmacsi (Honda) 22.366; 7. Iannuzzo (Triumph) 27.230; 8. Linortner (Yamaha) 33.213; 9. Quarmby (Honda) 33.526; 10. Roccoli (Yamaha) 35.932; etc.

Points (after 11 of 13 rounds): 1. Sofuoglu 198; 2. Cluzel 160; 3. Foret 144; 4. Lowes 141; 5. Parkes 122; 6. Morais 84; 7. Baldolini 78; 8. Quarmby 77; 9. Iannuzzo 60; 10. Tamburini 50; etc. Manufacturers: 1. Kawasaki 237; 2. Honda 237; 3. Triumph 107; 4. Yamaha 97; 5. Suzuki 6.

Superstock 1000
Sylvain Barrier (BMW Motorrad Italia GoldBet) was always in contention for the win at the Nürburgring but was finally gifted the victory after three of his main rivals fell one-by-one. First off was Eddi La Marra (Barni Racing Team Italia Ducati) then Jeremy Guarnoni (MRS Kawasaki) and finally pole man Bryan Staring (Team Pedercini Kawasaki). Kevin Coghlan (DMC Racing Ducati) capitalised on the bad luck up front to take a second place finish, with Markus Reiterberger (Team Alpha Racing BMW) third. In the championship La Marra leads on 119 points, Barrier has 113, Staring 86 and Guarnoni 82.

Results: 1. Barrier (BMW) 11 Laps/56.507 km in 21'56.069 average 154.570 kph; 2. Coghlan (Ducati) 11.212; 3. Reiterberger (BMW) 13.096; 4. Mercado (Kawasaki) 14.954; 5. Savadori (Ducati) 15.775; 6. Massei (Honda) 16.757; 7. Bergman (Kawasaki) 20.619; 8. Jezek (Ducati) 21.972; 9. Bussolotti (Ducati) 22.043; 10. Lussiana (Kawasaki) 22.358; etc.

Points (after 8 rounds of 10): 1. La Marra 119; 2. Barrier 113; 3. Staring 86; 4. Guarnoni 82; 5. Savadori 78; 6. Reiterberger 78; 7. Coghlan 68; 8. Bergman 68; etc. Manufacturers: 1. Ducati 152; 2. Kawasaki 143; 3. BMW 141; 4. Honda 62; 5. Aprilia 17.
---
Chris Redpath of MotoGP werks.com, Anaheim, CA, unveiled this wild Ducati Desmosedicit naked Streetfighter at this year's LA Calenbdar Motorcycle Show which was commission by owner and actor Tom Cruise. Following the Show, Chris brought the bike by our studio so Jim Gianatsis could photograph it for the next Calendars with beautiful World Superbike grid girl Kinsey Ray. We a;sp had a chance to take a quick ride on the bike whick impressed us immediatley as being one the best bikes we've ever ridden. Beside being super light and handling so well, Chris had installed a new MotoGP mapable ingnition system which he reprogramed to give the bike hugh buckets of torque right off of idle. Not bad for $125,000!
Japanese Builder Hoshikawa Hideki flys in to take Best of Show
2012 LA Calendar Motorcycle Show
Calabasas, California, USA, Sunday July 22nd, 2012 - The 21st edition of the LA Calendar Motorcycle Show sponsored by Russ Brown Motorcycle Attorneys moved into its third decade as the premier outdoor streetbike event in America featuring its top Celebrity Builders, the Calendar Bike Building Championship & Concours d' Elegance, selected Vendors and Exhibitors, Calendar Girl Music live performances, now taking place at a beautiful new new location on the lawn and under the shade trees of the Calabasas Inn, in the upscale Los Angeles suburb of Calabasas, California. The first decade of the Calendar Motorcycle Show took place at the exciting Museum of Flying at the Santa Moncia Airport, then expanded in 1991 to two days the larger Queen Mary event facility in Long Beach venue alongside the Pacific Ocean.
For the fourth time in eight years, a top Japanese builder used the LA Calendar Show to mark his entrance onto the world stage, following in the foot steps of former Best of Show and Class winners Shinya Kimura / Chabott Engineering, Kenji Nagai / Ken's Factory and Hiroyouki Hirata of BB Custom Factory who all flew in with their bikes from Japan to compete at the Calendar Show.
Complete 2012 LA Calendar Motorcycle Show Coverage Here
Hoshikawa Hideki / Asterisk Bike Hi-Resolution Feature Pictorial in Calendar Bike Garage
---
The Fast Dates World Superbike Calendar Presents a History, Track Tests,
Team Rider and Designer Interviews, and Pictures of All the
Ducati Corse World Superbikes
by Alan Cathcart and Jim Gianatsis
The year 2011 marked the 25th anniversary of the creation of the first, of a now legendary line of Ducati Superbikes with their trademark Desmoquattro 4-valve V-twin motors hung below a lightweight trellis tube frame, race bikes that went on to dominate the then new World Superbike Championship for next quarter of a century. Arguably the most significant motorcycle engine design of any kind since the CB750 Honda, and surely the most remarkable and successful volume production engine format ever used in world competition by any single manufacturer, the venerable Ducati 4-valve desmodromic engine recorded to this date 14 World Superbike Championship titles in the 24 year history of the world's premier production bike based world roadracing series.
This book chronicles the development and history all five Ducati Corse World Superbike generations from the first Desmoquatro 750cc prototype to the revolutionary new 1199 Panigale Superquadro together with interviews with the Ducati designers, team racers and managers. This unique insight is provided by renown motorcycle racer and journalist Alan Cathcart who has had the envious and often exclusive opportunity to test ride every one of the factory Corse race bikes over the last 25 years, those tests of which are featured here. Photography of the Corse factory bikes and riders is proved by the world's most renown motorcycle roadracing photographers.
Adding icing to the cake, and to warrant this big collectors edition book, included are the incredible high definition photographs of the bikes taken by former racer, motojournalist and photographer Jim Gianatsis as featured in the Fast Dates World Superbike Calendars from those years with the beautiful Fast Dates Calendar Kittens who served as the official SBK and Team Ducati Corse grid girls at the race where the bikes were photographed.
This 224 page large format collectors edition book begins with a Forward by Massimo Bordi, legendary designer of the Desmoquattro back in 1974. Then it dives into the technical details, revealing photography and Cathcart's exclusive tests of every one of the factory Ducati Corse Superbikes from the First Generation 851cc Daytona raced prototype, to Doug Polen's Fast by Ferracci 888/926 World Championship winner. Followed by the Second Generation 916/955 machines, the Third Generation 999, the Fourth Generation 1098/1198, to the all-new Fifth Generation 1199 Panigale. Included along the way are interviews with all the factory riders and World Championship winners from Doug Polen, Carl Fogarty and Troy Corser, to Neil Hodgson, James Toseland, Troy Bayliss, Nori Haga and Carlos Checa. While the tradition continues with a detailed look at the new 1199 Panigale and a interview with the designers who created it, and an exclusive track test of the newest Generation 1199 bike by Cathcart and 3-time World Superbike Champion Troy Bayliss.
This is a must have book for every Ducati and motorcycle roadracing enthusiast. Gianatsis Design has produced and published the book in a beautiful large format 12x12-inch hard cover design coffee table style Collectors Edition Book featuring 224 pages in full color printed on 100# dull coat art paper for the best possible reproduction and presentation. Books are individually shrink wrapped and have a printed cover wrapper.
Order Now from Amazon.com USA: USD $69.95 • Amazon.com UK/Europe: UK £55.00 / EUR $55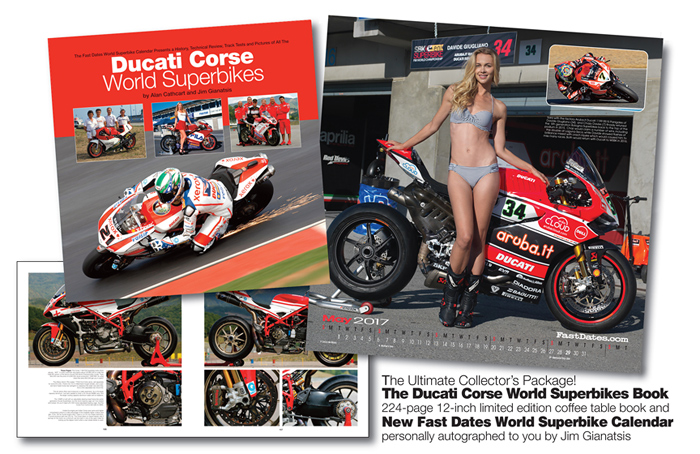 Exclusive Autographed Collector's Package!
The all new Ducati Corse World Superbikes 224-pg book and the 2013 Fast Date World Superbike Calendar - World Release July 1st 2012
Personally autographed to you (or the name you request on the PayPal.com Order Form) by Jim Gianatsis and shipped direct to you.
For more information or to order the Book or the Calendar individually, unsigned, go to the Sportbike Books and Fast Dates Calendar order pages. $100 Collector's Package, plus $20 USPS Priority Mail Shipping & Handing in the USA.
---
Josh Brookes closed in on Michael Laverty in the 2012 BSB title bout with three rounds remaining.
British Superbike Championship, Round 10 of 13, Donnington Park
Josh Brookes Dominates Donnington British Superbikes with a Double
American 18-year old PJ Jacobson wins 1000cc Superstock

Donnington Park, England, September 9th - Josh Brookes produced his best ever performance in Tyco Suzuki livery to take a double victory in Sunday's British Superbike races at Donington Park aboard the team's GSX-R1000. The Australian completely dominated the ninth round of series with two pole positions and two fastest laps; which takes him into the end-of-season Showdown just 10 points behind series leader Tommy Hill.
Michael Laverty powered in third and then second places in the crucial ninth round of the 2012 MCE Insurance British Superbike Championship to take fourth place in the "title fighter" rankings as he heads into the Showdown sequence which begins later in the month at Assen. Suzuki's Josh Brookes won both races in warm conditions.
Joining Laverty among the elite six riders who will battle for the country's premier crown is WFR Honda rider Alex Lowes who secured his place with determined rides into sixth and fifth placings which put him in fifth place in the rankings. Samsung Honda rider Laverty was always at the heart of the action in the two races at the Leicestershire circuit, and that despite having to overcome a tumble in the third element of the grid deciding session that left him with a third row start and an early uphill struggle in the opening race.
In race one Laverty fought through from seventh on the opening lap to be running in fourth place after seven laps, and then was up to third, adrift of Brookes and Tommy Hill when the race was stopped by an oil spill at Craner Curves.
Brookes led throughout the re-start over seven laps ahead of Hill and Laverty with James Westmoreland taking fifth ahead of his team-mate Lowes and Jon Kirkham aboard the second Samsung Honda. Luca Scassa ran eleventh on the Padgett's Honda, but his team-mate Ian Lowry saw his hopes of making the cut for the Showdown ended as he crashed out of contention.
Laverty, whose first race pace secured a front row start for the second, made a good start but soon Brookes was ahead at the Melbourne Hairpin, prompting a race long duel for supremacy. Brookes had the edge till half distance when Laverty snatched the initiative, holding the lead for five laps before Brookes took over out front.
Laverty had to settle for second place, half a second down, while Lowes ran fifth just ahead of Westmoreland while Scassa, having one of his best days of the season in BSB took eighth ahead of Kirkham while Lowry struggled into sixteenth place.
Alastair Seeley's bad luck continued when he suffered an oil pump problem in the opening race, which forced a red flag situation, but the Ulsterman was fortunate to stay on his bike when the problem occurred down through Craner Curves. He was forced to sit out the second race.
These races confirmed the six "title fighters" going into the Assen round. Hill is leading the way into the Showdown on 535 points from Brookes 525, Shane Byrne who missed these races through injury on 523. Laverty is fourth on 514 with Lowes and 502 and BMW riding Tommy Bridewell on 500.
Josh Brookes: "In the first race I put my head down and tried to gap them, but I could hear the Yamaha behind me, so I just kept at it and after a couple of laps it went quiet and I thought 'yes' I've gapped them! In the second race I got away with a good start and everything was working perfectly on the bike. I got into a rhythm and put some good laps together, but I didn't get an instant advantage, as Michael was right with me. I made a little mistake, which let him past and he impressed me. Once I got back past I was confident the Suzuki would have more tyre life in the closing stages and I was able to create a gap and win quite comfortably. I'm glad the championship is now going into the Showdown stage as we've finally got to the part of the season where it counts. Thanks to the guys this weekend who gave me a great set-up with the GSX-R1000 - the package is working superbly."

RESULTS BRITISH SUPERBIKE
RACE ONE:
POS / RIDER / NAT / MOTORCYCLE / TIME / GAP
1 / JOSH BROOKES / AUS / SUZUKI - TYCO SUZUKI / 10:36.914 /
2 / TOMMY HILL / GBR / YAMAHA - SWAN YAMAHA / 10:38.104 / 1.190
3 / MICHAEL LAVERTY / GBR / HONDA - SAMSUNG HONDA / 10:38.841 / 1.927
4 / STUART EASTON / GBR / KAWASAKI - RAPID SOLICITORS KAWASAKI / 10:44.431 / 7.517
5 / JAMES WESTMORELAND / GBR / HONDA - TEAM WFR / 10:44.451 / 7.537
6 / ALEX LOWES / GBR / HONDA - TEAM WFR / 10:44.612 / 7.698
7 / JON KIRKHAM / GBR / HONDA - SAMSUNG HONDA / 10:45.020 / 8.106
8 / CHRIS WALKER / GBR / KAWASAKI - PR1MO BOURNEMOUTH KAWASAKI RACING / 10:45.287 / 8.373
9 / TOMMY BRIDEWELL / GBR / BMW - SUPERSONIC RACING TEAM / 10:45.482 / 8.568
10 / BARRY BURRELL / GBR / BMW - BUILDBASE BMW MOTORRAD / 10:45.666 / 8.752
11 / LUCA SCASSA / ITA / HONDA - PADGETTS HONDA / 10:46.340 / 9.426
12 / PATRIC MUFF / SUI / BMW - SUPERSONIC RACING TEAM / 10:48.663 / 11.749
13 / DANNY BUCHAN / GBR / KAWASAKI - MSS BATHAMS KAWASAKI / 10:48.884 / 11.970
14 / LUKE QUIGLEY / GBR / HONDA - GBMOTO RACING / 10:50.341 / 13.427
15 / ROBBIN HARMS / DEN / HONDA - DOODSON MOTORSPORT / 10:50.417 / 13.503
Fastest lap:
JOSH BROOKES AUS SUZUKI - TYCO SUZUKI Lap 6 1:30.264 159.65 KM/H

RACE TWO:
POS / RIDER / NAT / MOTORCYCLE / TIME / GAP
1 / JOSH BROOKES / AUS / SUZUKI - TYCO SUZUKI / 30:15.305 /
2 / MICHAEL LAVERTY / GBR / HONDA - SAMSUNG HONDA / 30:15.741 / 0.436
3 / TOMMY HILL / GBR / YAMAHA - SWAN YAMAHA / 30:25.607 / 10.302
4 / TOMMY BRIDEWELL / GBR / BMW - SUPERSONIC RACING TEAM / 30:29.331 / 14.026
5 / ALEX LOWES / GBR / HONDA - TEAM WFR / 30:29.813 / 14.508
6 / JAMES WESTMORELAND / GBR / HONDA - TEAM WFR / 30:30.666 / 15.361
7 / STUART EASTON / GBR / KAWASAKI - RAPID SOLICITORS KAWASAKI / 30:31.102 / 15.797
8 / LUCA SCASSA / ITA / HONDA - PADGETTS HONDA / 30:33.657 / 18.352
9 / JON KIRKHAM / GBR / HONDA - SAMSUNG HONDA / 30:33.676 / 18.371
10 / CHRIS WALKER / GBR / KAWASAKI - PR1MO BOURNEMOUTH KAWASAKI RACING / 30:34.790 / 19.485
11 / PATRIC MUFF / SUI / BMW - SUPERSONIC RACING TEAM / 30:36.095 / 20.790
12 / NORIYUKI HAGA / JPN / YAMAHA - SWAN YAMAHA / 30:37.017 / 21.712
13 / BARRY BURRELL / GBR / BMW - BUILDBASE BMW MOTORRAD / 30:38.821 / 23.516
14 / MICHAEL RUTTER / GBR / KAWASAKI - MSS BATHAMS KAWASAKI / 30:41.188 / 25.883
15 / PETER HICKMAN / GBR / BMW - BUILDBASE BMW MOTORRAD / 30:47.469 / 32.164
Fastest lap:
JOSH BROOKES AUS SUZUKI - TYCO SUZUKI Lap 4 1:30.048 160.03 KM/H
CHAMPIONSHIP POSITIONS TO DATE:
1 HILL 352, 2 BROOKES 326, 3 BYRNE 255, 4 LAVERTY 240, 5 BRIDEWELL 162,
6 LOWES 146, 7 WESTMORELAND 125, 8 LOWRY 119, 9 HAGA 117, 10 WALKER 114,
11 EASTON 98, 12 SEELEY 95, 13 KIRKHAM 90, 14 GOWLAND 69, 15 RUTTER 57.
SHOWDOWN POSITIONS TO DATE:
1 HILL 535, 2 BROOKES 525, 3 BYRNE 523, 4 LAVERTY 514, 5 LOWES 502,
6 BRIDEWELL 500, 7 WESTMORELAND 125, 8 LOWRY 119, 9 HAGA 117,
10 WALKER 114, 11 EASTON 98, 12 SEELEY 95, 13 KIRKHAM 90, 14 GOWLAND 69,
15 RUTTER 57.
Jacobson on his way to Donnington victory.
American 18-year old PJ Jacobson wins 1000cc Superstock
Donnington, September 9th - American teenager PJ Jacobsen put the new Tyco Suzuki GSX-R1000 on the top step of the podium in thrilling fashion earlier today at the Donington Park British Superbike Championship in the National 1000cc Superstock class, taking the victory by a 1000th-of-a-second. The 18-year-old, who has set the British Championship paddock alight since his debut at Oulton Park in July, won the exciting closely-fought Superstock event on only his third appearance; a credit to his talent and how he has clicked with the Tyco Suzuki GSX-R1000.
PJ Jacobsen: "That was a very enjoyable race. Lee to his credit was very strong on the brakes but I was way better on the exit of the turns with our set-up on the GSX-R1000. Sitting behind him I was able to see that his bike was moving about on the gas and I knew he'd take a tight entry into the last turn. I knew he'd either get a bit of a high-side or a tank-slapper on the exit, which is exactly what happened. I got good drive and used the kerbs and the grass to my advantage. It's a great series and good to see all the other major manufacturers in it, which is making me love riding this big thousand Suzuki. I'm looking forward to Silverstone now."
Philip Neill - Team Manager: "What a race. We knew this kid had talent, but to come here having only completed a handful of laps at a track day and then win in one of the toughest classes in British Championship is something very special. It was one of the best race finishes I've seen for a very long time, but I wouldn't want to do it that way every weekend. It was the tightest margin possible and every credit to Lee Johnston for a great race, but a win is a win at the end of the day and it's always nice to put the new GSX-R1000 on the top step of the podium.
Metzeler National Superstock 1000cc Results: 1 PJ Jacobsen [Tyco Suzuki] 24:06.866; 2 Lee Johnston [Ducati] +0.001sec; 3 Victor Cox [Kawasaki] +7.449.
---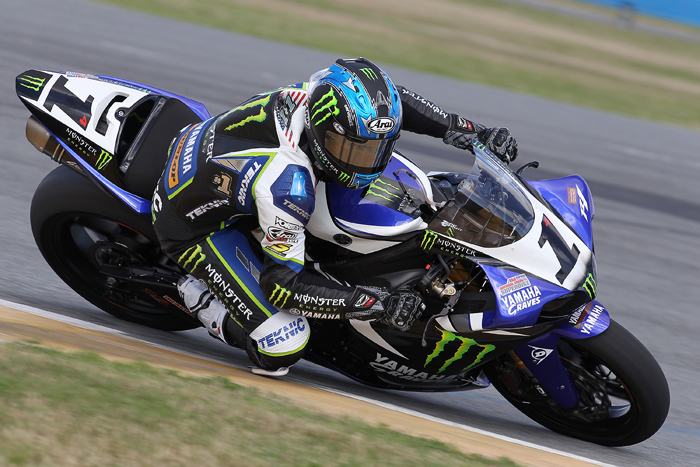 Hayes Continues to Steamroller AMA Pro Road Racing Superbike from New Jersey
MILLVILLE, N.J. (September 9, 2012) - More records fell as Josh Hayes extended his historic run of GEICO Motorcycle AMA Pro Road Racing excellence on Sunday at New Jersey Motorsports Park. The conquering Hayes yet again looked to be in a class of his own as he completed the double at the American Red Cross Devil's Showdown presented by Team Pro-Motion.

He quickly ended any dreams his rivals may have held of mounting a challenge on the race's opening laps and steadily built his advantage from there. Following 23 faultless circulations, Hayes claimed the checkered flag with more than eight seconds to spare to score his 13th victory of the season -- a new all-time AMA Pro National Guard SuperBike record. The win also stood as the Monster Energy Graves Yamaha pilot's tenth straight in succession, further extending his series' mark.

Hayes said, "To be able to stretch away and pull away like that... just having pace on people -- that's what racing is all about. I like it and I'm working really hard and having fun."

"It's a big testament to my crew and how hard they've worked. It makes the hard work I've been doing at home feel like a big payoff. I'm glad I'm able to do this for my team."

Hayes' Yamaha teammate, Josh Herrin, gave the squad a third 1-2 result of the '12 season in a fine return to form. After struggling throughout the weekend, Herrin relied on a tactic that has worked well for him in the past. The rookie pushed hard on the opening lap and clung on as long as possible to Hayes' disappearing rear wheel. While he wasn't able to stay there for more than a lap or two, it proved enough to pull him free from majority of his competitors.

However, Herrin's opening lap featured an extra bit of drama as he and Jordan Suzuki's Ben Bostrom made contact while contesting second. The Yamaha pilot pushed his way through in pursuit of Hayes. Bostrom, meanwhile, suffered a less enviable fate, pushed off track and falling all the way down to 15th.

Runner-up Herrin said, "Yesterday was horrible; it was nice to get a good start and be up there today and not have to work twice as hard to get there.I was trying to make the least amount of mistakes that I could. Josh had already gotten a little bit of a gap so I was trying to put a gap on them so I didn't have to keep working super hard to keep them from passing me.

"This was probably the worst weekend I'd had all season as far as all the sessions go. It was definitely cool for me to fall and have a race like we did yesterday and bounce back like we did today."

Team Amsoil/Hero's Geoff May worked hard to stick with Herrin but eventually fell into the clutches of Yoshimura Suzuki's Blake Young. The rivals dropped out of podium contention in a Turn 1 incident on lap 17 of 23 that left May and his #99 EBR 1190RS on the ground and Young off-course.

National Guard Jordan Suzuki's Roger Hayden inherited the position and went on to score his sixth podium finish of the '12 season. "The podium was maybe a gift today," Hayden said. "We pretty much struggled all weekend being consistent. I think I showed up a little bit rusty... But all and all, I'm happy with the podium. My pace was a lot better than yesterday but we still have to cut down the gap to the two Joshes."

Young returned to the fray amidst a group battling for fourth that also included Bostrom, who had successfully charged forward following his early misfortune, Attack Performance Kawasaki's Steve Rapp, and Riders Discount L&L Supply's Taylor Knapp.

Bostrom took control of the position late but was aced on the final lap by Young in a reversal of their Saturday shootout for second. Rapp picked up sixth, just two tenths ahead of Knapp, while Team Hero EBR's Danny Eslick, Foremost Insurance Pegram Racing BMW's Larry Pegram, and KTM/HMC Racing's Chris Fillmore rounded out the top ten.

Hayes heads to the series' penultimate round at Homestead-Miami Speedway carrying a massive 98-point advantage and in strong position to clinch his third consecutive AMA Pro National Guard SuperBike title a round early.
---
There's more! Go to Pit Lane News Previous Week

Also Visit: Fast Dates Calendar News • Iron & Lace Calendar News
Calendar Girl News • Meet the Models • Paddock Garage

MEMBERS CORNER! Calendar Kittens, Paddock Garage, Iron & Lace Garage





MotorcycleSuperstore.com
Some of our Calendar Kittens can also at Playboy's website...



FREE! New Met-Art Model Galley Updated Daily - Stop Back Each Day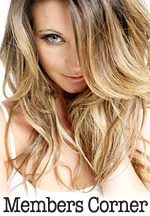 Hot Bikes, Sexy Kittens
Your Exclusive Grid Pass
also includes....
---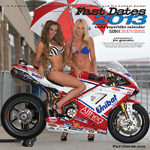 Order the New
2013 Calendars!
with FastDates.com Calendar Kitten, Ducati Corse Grid Girl
and Playboy Playmate
Heather Rae Young!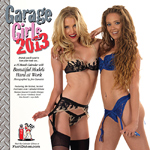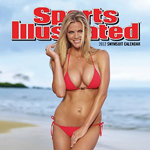 Click for even more Calendars!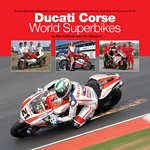 Retail $69.95 ea.
Click to Order from Amazon.com

Ducati Corse
World Superbikes
by Alan Cathcart
& Jim Gianatsis
The most extensive book ever on the history of the winningest bikes in SBK World Superbike. Covers all 5 Generations of the Desmoquatro factory Ducati Corse World Superbikes from the first 750/851 prototypes to the new 5th generation 1199 Panigale with technical details and photos, interviews with all the engineers and factory riders, track tests of every bike, and full page photos of the bikes from all the Fast Date Calendars with the official Ducati Corse and SBK Calendar Kittens.
Photography by the world's top roadracing photographers including Gold & Goose, Kel Edge, Fabrizio Porrozzi, Max Olina.
This is a high quality Collectors Edition hard cover coffee table book, 224-pages in large 12x12-inch format printed on 100# dull coat art paper.

Click on the cover above to order individual copies from Amazon.com. Retail $69.95 ea.
Also at Amazon.com.uk
---
World Superbike Returns to Laguna Seca in 2013
Sept 14th - Our inside sources report SBK World Superbike will return to Laguna Seca California USA in September 2013, possibly with AMA Pro Roadracing! No word yet if WSBK will also remain in the USA at Miller Motorsprts Park, Utah.
Ducati signs Ben Spies and Andrea Iannone for Parmac Team on full works bikes for 2013 MotoGP World Championship
Sept 12th - Ducati announces that it has signed an agreement with American Ben Spies and Italian Andrea Iannone to compete in the 2013 MotoGP World Championship.

Having already confirmed Nicky Hayden and announced Andrea Dovizioso for the Ducati Team, the Italian manufacturer now reaffirms its confidence in and commitment to the MotoGP World Championship, finalizing its lineup for next season with two riders who are fast and competitive, already protagonists in the MotoGP and Moto2 World Championships.

At the same time, the partnership has been renewed between Ducati and Pramac Racing, which will continue to be entrusted with management of the satellite team. The two riders, who have a direct link with the company, will be supplied with official equipment.

This agreement will enable additional important support in the development of the Desmosedici MotoGP project, offering a further opportunity in the process of improving the performance of the Italian bike.
Andrea Dovizioso and Ducati together beginning in 2013
Borgo Panigale (Bologna) 22 August 2012 – Ducati and Andrea Dovizioso have reached an agreement that will see the Italian wearing the colours of the Ducati Team in 2013 and 2014.

Andrea Dovizioso, who currently sits in fourth place overall in the MotoGP championship standings, will join Nicky Hayden on the team. The pair will face next season together, working on development of the Desmosedici and the MotoGP project for the championship in which Ducati has played an important role since 2003.

"The agreement reached with Andrea Dovizioso confirms the company's primary interest in racing, which is an active and strategic part of Ducati's DNA and heritage," said President Gabriele Del Torchio. "It is with great pleasure that I welcome Andrea, as we marshal our best efforts in confronting the MotoGP World Championship. Along with Nicky Hayden, with whom we have renewed a working agreement, we are confident that we will be able to proceed with our development program, to compete, and to obtain the results and rewards that will repay our efforts and the faith that our partners, sponsors and fans have never failed to demonstrate."

"Andrea's technical sensibility and test-riding abilities are of great value, as are his talent and determination," added Filippo Preziosi, General Manager of Ducati Corse. "The knowledge that we will have him on our team and be able to count on his collaboration serves as an additional incentive to continue with the growth and development of our MotoGP project. I'm pleased that he has chosen to be a part of our team. He is aware of the work to be done, and he approaches it with enthusiasm and confidence, which are fundamental requirements for achieving success and for competing in this challenging championship."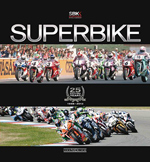 The Official SBK
World Superbikes
1987-2012
25 Year History Book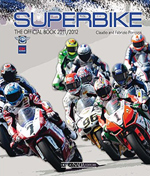 The Official SBK
2011-2012 Yearbook
These SBK Yearbooks are the Best Books Ever about World Superbike
They feature awesome color photography of the riders, bike and racing action. The feature a detailed revue of the past season in pictures and statistics, with a detailed look at the bikes and riders.
Plus a technical look data all the bikes, a preview of the upcoming season's Championship!
We buy this every year ourselves and highly recommend it!
SBK World Superbike Video Game
---
Kevin Schwatz sues Circuit of Americas over loss of MotoGP Race Promotion Deal which goes direct to Dona Instead
Dorna statement regarding 3four Texas MGP LLC and COTA
Sept 12th - In response to 1993 500cc world champion Kevin Schwantz and his company 3four Texas MGP LLC filing a lawsuit against the new Circuit of the Americas (COTA), Dorna Sports S.L., a third party in the matter, wishes to release the following statement.

Dorna Sports S.L. entered into a Promoters Contract with 3four Texas MGP LLC in connection with the organization of a FIM MotoGP™ Grand Prix at The Circuit of the Americas, Austin, Texas, on February 11th 2011 to be effective from the 2013 season. Dorna understood that 3four Texas MGP LLC had an agreement with COTA to run the event.

On the first days of June 2012, Dorna required 3four Texas MGP LLC to provide satisfactory evidence before June 28th about the company having obtained all the necessary rights, licenses and permits related with the availability of the Circuit of the Americas.
This is a standard procedure when the Promoter is not the owner of the Circuit.

3four Texas MGP LLC was not able to provide such evidence to Dorna (apparently no agreement had ever been entered into between 3four Texas MGP LLC and COTA, the owner of the circuit) within the term granted for such purposes, and therefore Dorna had no other alternative than to terminate the February 11th 2011 Promoters Contract due to such Event of Default. The termination was effective from July 2nd 2012.

As Dorna Sports S.L. and the FIM are interested in a FIM MotoGP Grand Prix in Texas, COTA was then offered the opportunity to become the Promoter of such an event through the signing of a Promoters Agreement. Conversations continue at this moment.
BMW Motorrad confirms Chaz Davies for the 2013 World Superbike season.
Chaz Davies lines up alongside Marco Melandri in the 2013 FIM Superbike World Championship.
Munich/Milano, 9 September 2012. The rider line-up of BMW Motorrad in the 2013 FIM Superbike World Championship takes shape. Chaz Davies (GBR) will ride a factory BMW S 1000 RR next season becoming the new team-mate of Marco Melandri (ITA). The 25-year-old Welshman is the reigning World Supersport Champion and is competing in his debut year in the FIM Superbike World Championship in 2012. He has had some strong performances throughout the season and has already stood on the WSBK podium four times, most recently by winning today's second race at the Nürburgring.

"We are happy that we can welcome Chaz to the BMW Motorrad family", says Andrea Buzzoni, General Manager BMW Motorrad Italia, who will take responsibility for the BMW Motorrad factory team from next season. "On his way through the ranks, Chaz showed how talented and fast he is. His title win in the Supersport World Championship in 2011 was impressive proof of that. And in his current debut season in the Superbike World Championship, it did not take him long to win his first race. We are convinced that Marco and Chaz will form a premium rider line-up, and that in combination with the BMW S 1000 RR, we will have one of the strongest packages in the World Championship."
Meet 2013 Calendar Kitten
Shannon Baucom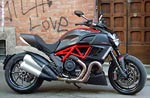 The Devil Made Us Do It!
Testing the Ducati Diavel in Italy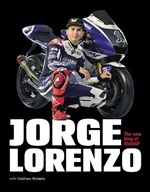 Sudco High Performance & OEM Replacement Parts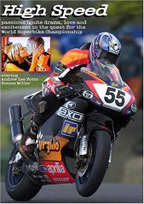 High Speed - the Movie
The best motorcycle racing movie ever made! Filmed on location at the World Superbike races , this an exciting romantic drama staring beautiful British actress Sienna Miller.
---
SERT SUZUKI WINS WORLD ENDURANCE TITLE!
Team Suzuki Press Office - September 9th Suzuki Endurance Racing Team has won the 2012 World Endurance Championship after one of closest and most-exciting finishes at the Le Mans 24-Hour race in France.
Team riders Vincent Philippe, Anthony Delhalle and Takuya Tsuda completed 844 laps of the world-famous Bugatti Circuit to bring their GSX-R1000 Suzuki home in second place just 1:02 minutes behind race winners SRC Kawasaki, who also finished with 844 laps.
SERT had led the race going into the closing stages but were given a time penalty for an alleged rule infringement during a pit stop, which put them back to second place, but the demotion to second place was not enough to clinch SERT's 12th World Championship with its total of 128 points from the five rounds some 24 ahead of BMW Motorrad France, with Yamaha France GMT 94 taking the bronze medal on 98 points.
SERT rider Vincent Philippe led away the 35th-Anniversary Le Mans 2-Hours from the start from fastest qualifiers SRC Kawasaki; then swapped places several times as the race progressed. SERT led on several occasions, but the event was dominated from the front mostly by the Kawasaki trio of Julien da Costa, Gregory Leblanc and Freddy Foray as the Suzuki team played a calculated race to finish ahead of its closest rivals in the series - Yamaha France GMT 94, Honda TT Legends and BMW Motorrad France.
Said a delighted Team Manager Dominque Meliand, who has headed the most-successful team in World Endurance history for more than 30 years: "The main goal was to win the world title but we staked everything on the race win, as we really wanted to win our home race at Le Mans - and we didn't miss it by much..."
Le Mans 24-Hour Results: 1 SRC Kawasaki (Kawasaki) 844 laps, 2 SERT (Suzuki GSX-R1000) 844, 3 BMW Motorrad France (BMW) 840, 4 Yamaha France GMT 94 (Yamaha) 839, 5 Honda TT Legends (Honda) 828, 6 National Motos (Honda) 815, 7 MCP Starteam 67 (Suzuki GSX-R1000) 814, 8 Louit Moto 33 (Kawasaki) 809, 9 Penz13 Kraftwerk (BMW) 806, 10 RAC 41 (Yamaha) 803.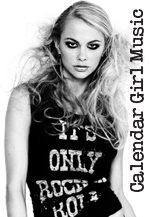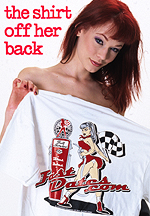 Order the Official
FastDates.com &
LA Calendar Bike Show
T-Shirts!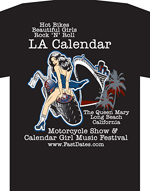 ---
Yamaha Tech 3 Team Confirms all
British Riders for 2013
Aug 25th - The Monster Yamaha Tech 3 Team has confirmed that it will field an all-British rider line-up with Cal Crutchlow and Bradley Smith in the 2013 MotoGP World Championship.
Crutchlow has signed a new one-year agreement after a fantastic second season in MotoGP. The 26-year-old is currently fifth in the World Championship standings and he has scored eight top six finishes and started from the front row of the grid in three races.
Smith will move up from the Tech 3 Racing Moto2 project. A consistent top six challenger in the ultra-competitive Moto2 class, the 21-year-old has signed a two-year contract for 2013 and 2014.
Cal Crutchlow - "I am delighted to commit my future to the Monster Yamaha Tech 3 Team for at least one more year. Together we have made huge progress this season and achieved some strong results and I am confident we can be even more competitive in 2013. Yamaha and Monster have been very loyal to me over a long period of time and they both made it clear how much they wanted to keep me for next year. That was incredibly flattering and I really appreciate their support. Next year will be my fifth with Yamaha and I am excited to continue my MotoGP career with them. My relationship with Tech 3 also played a big part in my decision. Herve Poncharal and all my crew have given me unbelievable backing since I joined in 2011. Yamaha put together a great package for 2012 and next year it will be even stronger. Hopefully I can reward their loyalty by challenging for the podium throughout 2013, which I know we are capable of."
Bradley Smith - "It is an honour for me to get the opportunity to move to MotoGP with the Monster Yamaha Tech 3 Team. I have dreamed about being a MotoGP rider for as long as I can remember and to get this chance with such a professional and successful team is fantastic. It is clear from the results achieved by Cal and Andrea (Dovizioso) in 2012 that together Tech 3, Yamaha and Monster is a very competitive package and I can't wait to begin this new adventure in my career. I know I have a huge challenge ahead of me but I believe in my ability and I am grateful to Herve Poncharal, Yamaha and Monster for showing a lot of confidence in me to offer me this chance. I already know the Tech 3 Team so it won't be such a huge transition for me and I have a good relationship with Cal. This will be very important because I can learn a lot from him. I am now looking forward to finishing the season strongly in Moto2 for Tech 3 Racing before I get my first chance to ride a YZR-M1 machine in Valencia."
Hervé Poncharal - Monster Yamaha Tech3 Team Manager "I am really happy to confirm that Cal and Bradley will be with the Monster Yamaha Tech 3 Team in 2013. Cal has done an amazing job this season and I am convinced that he is only going to continue to improve. He is a fast rider but also a big personality and we were determined to keep him with us for next season. We know there was a lot of interest in him, so for us to capture his signature is a big positive. Bradley has demonstrated his high potential in Moto2 and I have every confidence in him that he will be competitive in MotoGP. Of course he faces a very difficult challenge because the level now in MotoGP is incredible. But he has a great attitude and a big desire to make this new chapter in his career a successful one. What I can assure him is that Tech 3, Yamaha and Monster will give him 100% support to help him show his potential. I have no doubt this is the strongest line-up we could have put together for next season and we can look ahead to 2013 with high expectations."