Fast Dates Calendar Kitten and and SBK grid girl Jacqueline is featured in the October 2013 issue of Playboy magazine. Photo courtesy Playboy.com
SBK Eni World Superbike Championship, Laguna Seca USA, Round of 12 of 14
Countdown is on for Laguna Seca WSBK Return this weekend Sept 27-29th
Rome (Italy), Tuesday 24 September 2013 – The eni FIM Superbike World Championship will be back this weekend to Mazda Raceway Laguna Seca, for the twelfth round of the season. The last time the 3.601m spectacular and challenging Californian track hosted a round of the series was on July 10th 2004, with former WSBK regular Chris Vermeulen who stole the show by winning both races - onboard the Ten Kate Honda CBR1000RR.
The US Round will feature a revised schedule compared to the usual two-race format on Sunday: Race 1 will be contested on Saturday afternoon (after the morning's Tissot-Superpole), while the second and final race of the weekend will take place the following day.
With the title chase being a 4-way battle, Championship contenders Sylvain Guintoli (Aprilia Racing Team) and Marco Melandri (BMW Motorrad GoldBet), second and fourth in the standings respectively, will try and take advantage of their track knowledge, having previously raced there in MotoGP.
Points leader Tom Sykes (Kawasaki Racing Team) – having a "one-off " team mate in WSS regular David Salom, substitute rider in USA for Loris Baz - is eager to get to grips with the iconic "Corkscrew" corner, likewise Istanbul's double race winner Eugene Laverty (Aprilia Racing Team), who managed to narrow the gap to the top from 40 to 26 points in the last event.
Blake Young will replace injured Leon Camier in the FIXI Crescent Suzuki Team: the rider from Wisconsin is at his second-ever participation to a WSBK round - first one was in 2009 at Donington Park, with Alstare Suzuki.
Leon Haslam (Pata Honda World Superbike) is the only current WSBK rider who raced before at Laguna in a World Superbike event (2004). Michel Fabrizio and him are hoping for some good results for the Dutch team at the North-American venue.
New recruit for Team Red Devils Aprilia Toni Elias is looking for another strong performance, after the successful debut in WSBK during the last round, while Niccolò Canepa will step in for Carlos Checa to join Ayrton Badovini in the Team Ducati Alstare. Canepa already raced this year with the Belgian squad at Donington Park.
Local riders Roger Hayden – former WSBK rider with Team Pedercini Kawasaki (2010) - and Danny Eslick will be wildcards for the event, onboard the Suzuki GSX-R1000 of Michael Jordan Motorsports Team. Moreover, Aussie Glenn Allerton (Next Gen Motorsports BMW) will be again on track as one-event participant, after the Season Opener at Phillip Island.
Standings (Round 11 of 14): 1. Sykes 323; 2. Guintoli 315; 3. Laverty 297; 4. Melandri 290; 5. Davies 239; 6. Baz 180; 7. Rea 176; 8. Fabrizio 168; 9. Cluzel 141; 10. Giugliano 139; 11. Camier 114; 12. Badovini 107; 13. Neukirchner 84; 14. Checa 80; 15. Haslam 78; 16. Sandi 45; 17. Iannuzzo 25; 18. Elias 21; 19. Aitchison 20; 20. Clementi 18; 21. Canepa 11; 22. Lundh 10; 23. Lai 8; 24. Reiterberger 7; 25. Allerton 6; 26. Uprak 5; 27. Smrz 4; 28. Stauffer 4; 29. Ercelik 3; 30. Akiyoshi 2; 31. Haga 2. Manufacturers: 1. Aprilia 419; 2. Kawasaki 377; 3. BMW 354; 4. Honda 216; 5. Suzuki 193; 6. Ducati 144; 7. Yamaha 4.
Three beautiful FastDates.com Calendar Kittens to headline the
2013 SBK World Superbike Laguna Seca USA Starting Grid on Sept 27-29th
Los Angeles, CA, September 22nd, 2013 - The FastDates.com Calendars & Website, in association with Umbrella Girls USA, is excited to announce that SBK World Superbike and reigning SBK World Champions Team Aprilia has selected three beautiful Fast Dates Calendar Kittens to grace the front of the starting grid when the World Superbike Championship returns to the Monterey Peninsula at Mazda Laguna Seca Raceway the weekend of September 27-29th 2013 after an 8 year absence. The models include model and university student Jacqueline Pabst, transplanted Irish supermodel Hannah Flattery who previously worked in England and served as an umbrella girl on the grid of the British Superbike Championship, and popular Umbrella Girls USA spokesmodel Jessica Harbour out of San Diego, CA.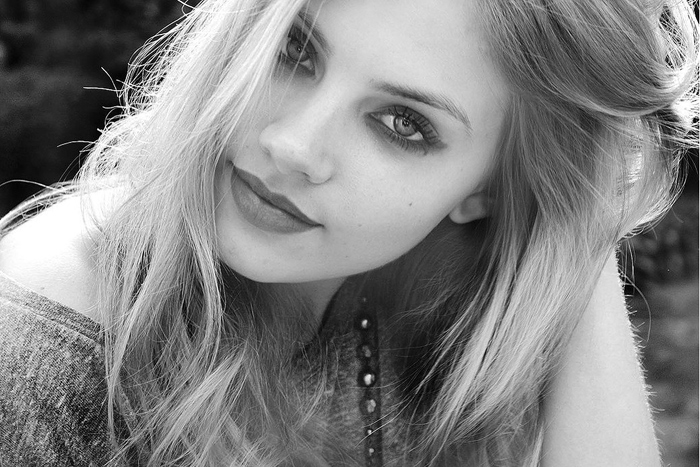 Reminding us of Hollywood's two hottestest actresses Amber Heard and Scarlett Johanon, meet new Fast Dates Calendar Kitten Jacqueline Pabst.
And in an exciting lead up to her appearance at this coming Laguna Seca race weekend, model and University of California at Los Angles (UCLA) student Jessica is featured in the newly released October 2013 issue of Playboy magazine in a pictorial "Girls of the PAC12" university sports conference with a full page picture of the blond haired beauty who bares a striking resemblance to a couple other beautiful Hollywood actresses Amber Heard and Scarlet Johansson, with a photo caption that read, "Don't be surprised if you see more of her down the road." - to hint at a possibly becoming a future Playboy Playmate.
World Superbike in America makes its return to Laguna Seca this September after an 8 year hiatus from the west coast's most popular road race facility. Together with the premier SBK World Superbike Class, the AMA Pro Roadracing Championship will also be joining the 3-day race weekend with its top classes including Pro Superbike. The first World Superbike Championship race in America took place at Laguna Seca Raceway back in 1995 with four FastDates.com Calendar models serving as the official SBK World Superbike grid and podium girls on race day that year, and in many subsequent years since.
FastDates.com Calendar publisher and photographer Jim Gianatsis, as he does every year at one of the SBK World Superbike rounds, will use the 2013 SBK Laguna Seca September 27-29th race weekend to shoot all the top factory Superbikes on Pit Lane with the Calendar Kittens for the next edition of the Fast Dates World Superbike Calendar. And on race day both Jacqueline and Jessica will serve as official SBK grid girls, which Hanna will serve as grid girls for the reigning World Superbike Championship Aprilia Team, with riders Sylvan Guintoil and Eugene Laverty engaged in a heated fight for the 2013 Superbike world title with Kawasaki's Tom Sykes.
"This year's Calendar shoot will be for the 25th Anniversary of the Fast Dates Calendar, the first edition of which featured Pamela Anderson on the cover with Miguel Durhamel's "Big Papa" Yoshimura Suzuki Superbike," explains Jim. "Every year I've been privileged to have exclusive track access to photograph the Calendar with all the top factory race teams in AMA and World Superbike, MotoGP, together with many of the world's most beautiful models and celebrities."
Above: Fast Dates World Superbike Calendar Kittesn Hannah Flattery, and left, Jessica Harbour
"This year will be no exception with the addition of beautiful models Sara and Jessica. I've been shooting with both of them for the Calendars over the past year and don't take a bad shot, plus they are fun and easy to work. I look forward to travel with them up the beautiful Pacific Coast on Highway 1 from Los Angeles to Monterey for the return of World Superbike at Laguna Seca, and show them the fan party atmosphere on Monterey's Cannery Row on Saturday night. It's going to be an incredible race weekend experience in one of the most beautiful locations on earth that no motorcycle racing fan will want to miss!"
To find our more about the FastDates.com Calendars and Calendar Kittens, and to order Calendars and Books go to FastDates.com. Gianatsis Design Associates produces FastDates.com specializes in advertsing and marketing for the motorsports and sports fasion markets and can be found at FastDates.com/JGDESIGN.HTM. UmbrellaGirls USA.com spealizes in providing beautiful and skilled spokesmodels for motorsports events and trade shows.
New Fast Dates.com Calendar Shoot!
Go behind the scenes at the glamorous Gianatsis Design Studios with beautiful new Calendar Kittens Jessica and Kelsey as they shoot for the FastDates.com Motorcycle PinUp Calendars with photographer Jim Gianatsis. And look for the new 2014 Calendars available right here on July 1st. Order the Calendars!
Videographer: Eric Lundmark; Video Editing and Still photography: Jim Gianatsis; Models: Jessica Harbour, Kelsey Silwinski; Make Up: Victoria Rubell, Music: Special thanks to Neil Sedaka for our theme song Calendar Girl; Modeling Agent: Umbrella Girls USA.
---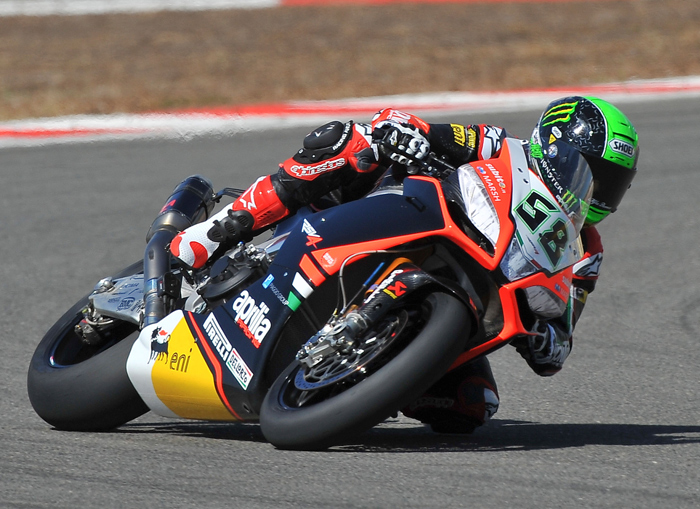 Eugene Laverty won both Superbike races at Istanbul.
SBK Eni World Superbike Championship, Nurburgring, Germany, Round of 11 of 14
Laverty and Sofuoglu Score Wins at new Instanbul World Superbike Round
Sykes Holds a Slim Championship Points Lead going to Laguna Seca USA Sept 27-289th
Istanbul,Turkey, September 13-15th 2013 – The eleventh round of the eni FIM Superbike World Championship reached its highest point today, as teams and riders geared up for what was an outstanding day of racing. Eugene Laverty (Aprilia Racing Team) made a clean sweep of the competition by winning both WSBK races and narrow the gap from Tom Sykes (Kawasaki Racing Team) – third and second at the flag in the two races – to 26 points. Sylvain Guintoli (Aprilia Racing Team) and Marco Melandri (BMW Motorrad GoldBet) got one podium finish each, but lost some ground in the title chase, which sees them now sitting 8 and 33 points short of the leader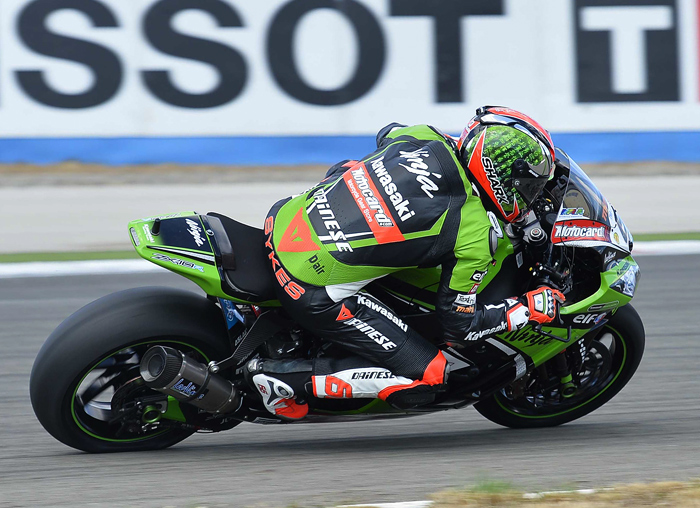 Tom Sykes holds the Championship points lead as World Superbike returns to Laguna Seca USA after an 8 year absence.

The star of the day, though, was Kenan Sofuoglu (Mahi Racing Team India Kawasaki), who sent the 51,652 spectators into raptures by edging Sam Lowes (Yakhnich Motorsport Yamaha) at the finish line, to win his WSS home race. Lowes, on the other hand, is just two points away – even considering the number of race wins – to win his first World Supersport title.
The eni FIM Superbike World Championship will resume at Mazda Raceway Laguna Seca on September 27-29th after an 8-year absence from the American venue, while Supersport will be back on track – along with the two STK classes and EJC – early next month at Magny-Cours.    COMPLETE ISTANBUL SBK RACE COVERAGE
SBK Points Standings Going to Laguna Seca (Round 11 of 14: 1. Sykes 323; 2. Guintoli 315; 3. Laverty 297; 4. Melandri 290; 5. Davies 239; 6. Baz 180; 7. Rea 176; 8. Fabrizio 168; 9. Cluzel 141; 10. Giugliano 139; 11. Camier 114; 12. Badovini 107; 13. Neukirchner 84; 14. Checa 80; 15. Haslam 78; 16. Sandi 45; 17. Iannuzzo 25; 18. Elias 21; 19. Aitchison 20; 20. Clementi 18; 21. Canepa 11; 22. Lundh 10; 23. Lai 8; 24. Reiterberger 7; 25. Allerton 6; 26. Uprak 5; 27. Smrz 4; 28. Stauffer 4; 29. Ercelik 3; 30. Akiyoshi 2; 31. Haga 2. Manufacturers: 1. Aprilia 419; 2. Kawasaki 377; 3. BMW 354; 4. Honda 216; 5. Suzuki 193; 6. Ducati 144; 7. Yamaha 4.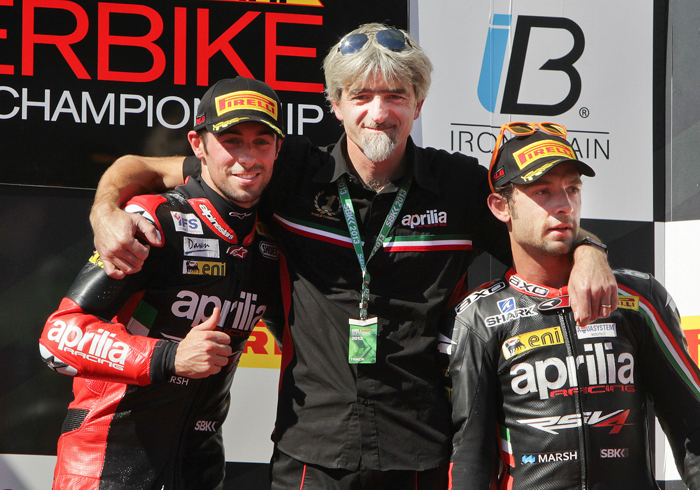 Aprilia team manager Gino clebrates douple race wins with Laverty (left) and Guintolli (right).
---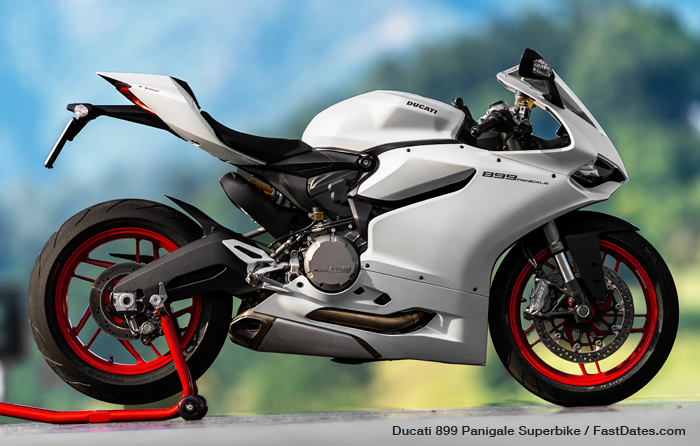 NEW 2014 Ducati 899 Panigale Superbike
August 6th, 2013 - Supermid perfection - the new 899 Panigale: The introduction of the highly-anticipated Ducati 899 Panigale provides a new way to access the exclusive world of Ducati Superbikes with a "Supermid" version designed to provide the thrill of the new generation flagship model with the refined character of an everyday streetbike.
The brand new Superquadro engine features a revised bore and stroke for a broad power delivery, producing 148hp (109kW) with a torque of 73lb-ft (10.1kgm). The super-smooth power unit continues to be a fully stressed member of the innovative Panigale monocoque construction, achieving both an outstanding power-to-weight ratio and ride-enhancing agility with a dry weight of 169kg (372.5lb). An 1199 silhouette underlines the family DNA, while the Ducati Quick Shift (DQS) and the fully integrated Riding Mode technologies of Ride-by-Wire, triple stage ABS, Ducati Traction Control (DTC) and Engine Brake Control (EBC) continue the benchmark ingenuity introduced with the award-winning Panigale.
Ducati's constant pursuit of perfection now offers all-round performance for connoisseurs with an authentic and stylish way to enter the world of high performance. The 899 Panigale is available in traditional Ducati Red with black wheels or a stunning Arctic White Silk with red wheels at $14,995 US.
Expect to see added to the 899 family in the very near future, an ungraded 899S model with full Ohlins electronic suspenion like its big brother 1199S, and a smaller displacement 848cc engine necessary to homologate thsmaller V-Twin for the 600cc Supersport Class. Because of the required production numbers for Superstock, just offering an 848S model could also negate the need for an 848R model. Tradidionally with Ducati, the R model gets Titanium engine rods and valves to allow it to turn higher about 500 more RPMs for more peak horsepower. COMPLETE DETAILS AND PHOTOS
---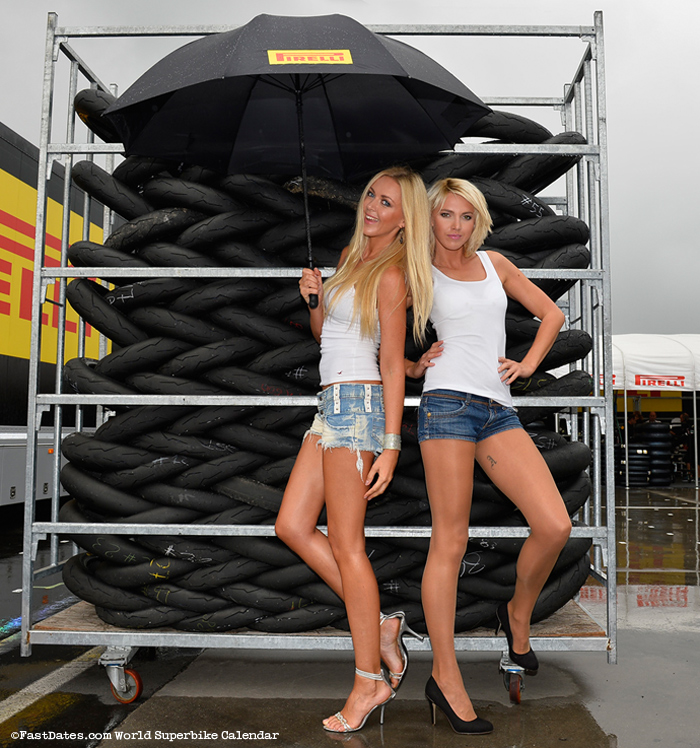 Jitka and Petra shoot for the next 2015 Fast Dates World Superbike Calendar
Nurburgring, Germany, September 11th, 2013 - Our offical Pirelli SBK World Superbike grid girls and FastDates.com Calendar Kittens Petra and Jitka make the best of rainy Superpole Saturday at the Nurburging. Behind them is a cart load of used race tires ready for the shredder. Both Kittens are featured in the new 2014 Fast Dates and Garage Girls Calendars.

Petra and Jitka were photographed again at the Nurburgring World Superbike round by our contributing photographer Max Oliana with the picture to appear in the next 2015 Fast dates World Superbike Calendar. The girls had to drive in from their home in Prauge Czeh Republic, across the old Iron Curtain, for the weekend's Calendar shoot and races. Here they are shooting inside the Ducati Alstare garage with Carlos Checa's bike, and in the Aprilia garage with Sylvan Guintoli's RSV4 factory bike as the rain pours down outside on Saturday. On Sunday they'd be back at work on the starting grid for both races as the offical Pirelli SBK Umbrella Girls.
---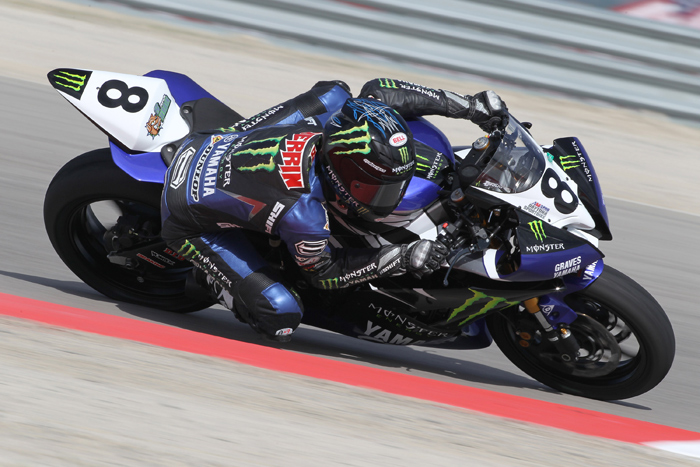 Josh Herrin in action above, and pensive below.
2013 AMA Pro National Guard Superbike Championship, New Jersey Round 8 0f 9
Third Jump Start of the Season for reigning champ Josh Hayes at New Jersey,
puts Yamaha team mate Josh Herrin in the cat bird's seat for 2013 Title at Laguna
New Jersey Motorsprts park, NJ, Sept 1, 2013 - The wild 2013 AMA Pro National Guard SuperBike championship fight went a long way toward being decided in this past weekend's pivotal New Jersey Lottery Devil's Showdown at New Jersey Motorsports Park. Now boasting a 22-point advantage with just a single race remaining, Monster Energy Graves Yamaha's Josh Herrin needs only to avoid disaster at the upcoming season finale at Mazda Raceway Laguna Seca Sept 27-29th and he'll at last claim his long-pursued first-career GEICO Motorcycle AMA Pro Road Racing #1 plate. COMPLETE NEW JERSEY COVERAGE HERE
 
---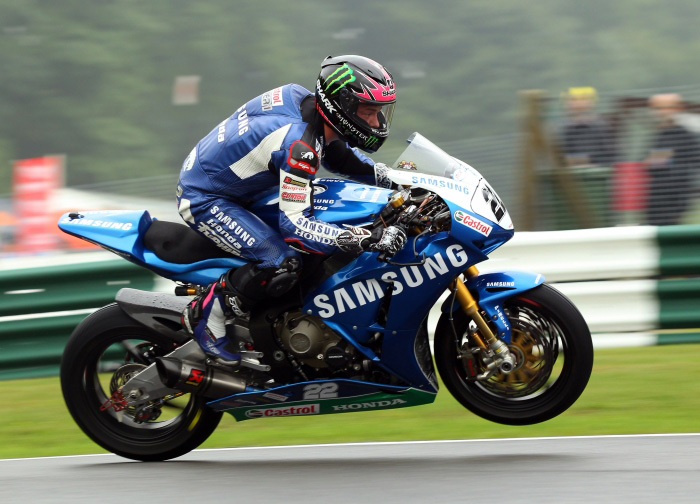 Sam Lowes on the factory backed Samsung Honda

2013 MCE Insurance British Superbike Championship, Donnington Park Round 9 of 12
Sam Lowes and Honda Double Again at Donnington British Superbike
Donnington Park, Sunday Sept 5-6th 2013 - Alex Lowes made it four straight race victories in as many starts as he underlined his credentials to take the MCE Insurance British Superbike crown in the ninth round at Donington Park and has closed to within six points of defending champion Shane Byrne going into the all important Showdown sequence.
Lowes was always at the sharp-end of the action, missing out on pole position by barely a quarter of a second to James Westmoreland, BMW, but outgunning him at the start of both races and then dictating terms while behind him Byrne, trying everything he knew, worked intensely to find a way ahead for his Kawasaki.
Lowes had the edge, taking the race by 0.111secs from Byrne with James Ellison securing his place in the Showdown with a third place on his Yamaha. Suzuki's Josh Brookes, finishing fourth, had like Lowes and Byrne been assured of his place in the Showdown prior to this round.
Kiyonari, like Byrne, aiming for a record fourth BSB crown, was struggling for pace throughout the opening race, but worked into the points scoring positions, finishing the first race in thirteenth, and then going two places better in the second race and that was enough to secure his place in the Showdown.
Lowes continued in the second race in the same form as in the opener, leading throughout, apart from a few yards at the Esses when Byrne lunged through, but was unable to complete the move and the Samsung Honda rider went on to take his sixth victory of the season, and complete his second winning double in as many rounds.
Other Honda riders will now fight for honours in the BSB Riders Cup.  Jakub Smrz took eighth and tenth places on the Padgetts Honda. Peter Hickman took his Lloyds British GBmoto Honda into eleventh and thirteenth places while his team-mate Dan Linfoot was fifteenth and fourteenth. After Donington Park, the two Samsung Honda riders Alex Lowes and Ryuichi Kiyonari are through to the Showdown and are joined by Byrne, Brookes, Ellison and James Westmoreland who secured the sixth and final place on a tie-breaker at the expense of his BMW team-mate Jon Kirkham.
Alex Lowes (Samsung Honda) Championship position 2nd 533pts Race results 1st/1st
"I got a good start and that was good. I thought the guys must have been messing my pit board up as each lap it just said +0! I enjoyed the race, I didn't know it was Shakey behind me but I obviously knew someone was there, the bike was working well though. I don't think I have ever pushed as hard as I did at the end of those races to take the double. I wanted wins this weekend as the points make it close and I am really excited about the Showdown. It is so close so it should be really good fun at Assen."
RESULTS BRITISH SUPERBIKE RACE 1:
POS / RIDER / NAT / MOTORCYCLE / TIME / GAP
1 / Alex LOWES / GBR / Honda - Samsung Honda / 30:12.264 /
2 / Shane BYRNE / GBR / Kawasaki - Rapid Solicitors Kawasaki / 30:12.375 / 0.111
3 / James ELLISON / GBR / Yamaha - Milwaukee Yamaha / 30:12.785 / 0.521
4 / Josh BROOKES / AUS / Suzuki - Tyco Suzuki / 30:19.130 / 6.866
5 / James WESTMORELAND / GBR / BMW - Buildbase BMW Motorrad / 30:23.892 / 11.628
6 / Jon KIRKHAM / GBR / BMW - Buildbase BMW Motorrad / 30:30.474 / 18.210
7 / Chris WALKER / GBR / Kawasaki - Quattro Plant Kawasaki / 30:32.137 / 19.873
8 / Jakub SMRZ / CZE / Honda - Padgetts Honda / 30:32.689 / 20.425
9 / PJ JACOBSEN / USA / Suzuki - Tyco Suzuki / 30:35.753 / 23.489
10 / Barry BURRELL / GBR / Kawasaki - Quattro Plant Kawasaki / 30:40.814 / 28.550
11 / Peter HICKMAN / GBR / Honda - Lloyds British GBmoto Racing Honda / 30:42.356 / 30.092
12 / Josh WATERS / AUS / Yamaha - Milwaukee Yamaha / 30:46.121 / 33.857
13 / Ryuichi KIYONARI / JPN / Honda - Samsung Honda / 30:46.270 / 34.006
14 / Michael RUTTER / GBR / Honda - Bathams Honda / 30:48.950 / 36.686
15 / Dan LINFOOT / GBR / Honda - Lloyds British GBmoto Racing Honda / 30:51.985 / 39.721
Fastest lap: James WESTMORELAND GBR BMW - Buildbase BMW Motorrad Lap 9 1:29.815 160.44 Km/h
RESULTS BRITISH SUPERBIKE RACE 2:
POS / RIDER / NAT / MOTORCYCLE / TIME / GAP
1 / Alex LOWES / GBR / Honda - Samsung Honda / 30:07.355 /
2 / Shane BYRNE / GBR / Kawasaki - Rapid Solicitors Kawasaki / 30:07.413 / 0.058
3 / Tommy BRIDEWELL / GBR / Kawasaki - Halsall Racing Kawasaki / 30:09.682 / 2.327
4 / James WESTMORELAND / GBR / BMW - Buildbase BMW Motorrad / 30:11.022 / 3.667
5 / Josh BROOKES / AUS / Suzuki - Tyco Suzuki / 30:11.849 / 4.494
6 / James ELLISON / GBR / Yamaha - Milwaukee Yamaha / 30:16.720 / 9.365
7 / Jon KIRKHAM / GBR / BMW - Buildbase BMW Motorrad / 30:22.952 / 15.597
8 / Chris WALKER / GBR / Kawasaki - Quattro Plant Kawasaki / 30:28.000 / 20.645
9 / PJ JACOBSEN / USA / Suzuki - Tyco Suzuki / 30:28.403 / 21.048
10 / Jakub SMRZ / CZE / Honda - Padgetts Honda / 30:28.705 / 21.350
11 / Ryuichi KIYONARI / JPN / Honda - Samsung Honda / 30:29.142 / 21.787
12 / Josh WATERS / AUS / Yamaha - Milwaukee Yamaha / 30:36.435 / 29.080
13 / Peter HICKMAN / GBR / Honda - Lloyds British GBmoto Racing Honda / 30:44.240 / 36.885
14 / Dan LINFOOT / GBR / Honda - Lloyds British GBmoto Racing Honda / 30:45.157 / 37.802
15 / Michael RUTTER / GBR / Honda - Bathams Honda / 30:46.095 / 38.740
Fastest lap:
James WESTMORELAND GBR BMW - Buildbase BMW Motorrad Lap 5 1:29.677 160.69 Km/h
CHAMPIONSHIP POSITIONS:
1 BYRNE 370, 2 LOWES 343, 3 BROOKES 308, 4 ELLISON 200, 5 KIYONARI 170,
6 WESTMORELAND 154, 7 KIRKHAM 154, 8 BRIDEWELL 126, 9 WALKER 123,
10 JACOBSEN 1
---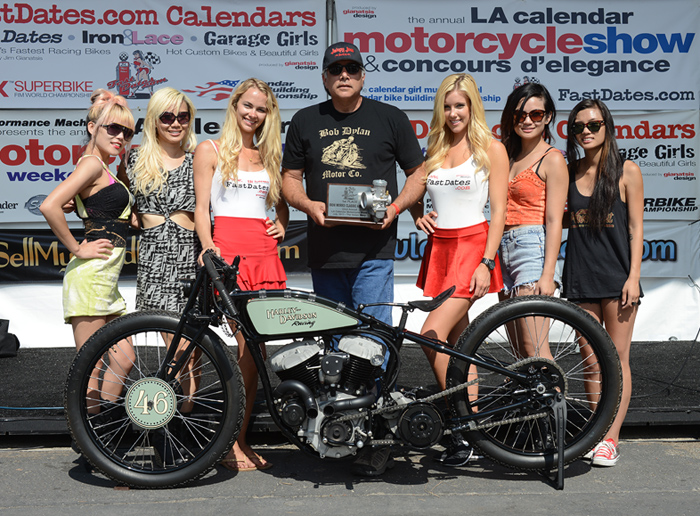 Ron Boldonado and his Classic American Class winning replica Board Track race with girls from the band Nylon Pink
and Calendar Kittens Sara Horvath and Jessic Harbour who will be accompanying us this September 26-28th to Laguna Seca World Superbike to shoot the next edition of the Fast Dates World Superbike Calendar and will serve as official SBK grid girls on race day.
2013 LA Calendar Motorcycle Show & Calendar Girl Music Festival
Los Angeles, July 14th, 2013 - The 22nd edition of the annual LA Calendar Motorcycle Show marked its return to the Queen Mary Seawalk Village in Long Beach, CA with Southern California's Sam Baldi continuing his domination of 2013 season West Coast bike event by taking the Calendar Bike Building Championship's Best of Show and one of the coveted Mikuni Carburetor Trophies with his latest Jimmy Todorovith / Profile Cycles built Big Twin custom named "Lost Angel". Complete Show Coverge Here
Zen Motorcycles "Tribite to Hagakure" by Laurent Dutriel
One of the most beautiful custom bikes we've ever seen is this very simple, hand crafted Land Speed Record stle bike by French artist Laurent Dutriel. It is bare bones basic with no starter, no transmission gears, no lights, and is started by attaching a rope pull cord to the clutch to spin -over the engine. It is the pure essence of motorcycling - fast, loud, thrilling and beautiful.
"This bike is a tribute to old racers at the beginning of the twentieth century, and also of a Japanese bike made in 1995. I made this bike to challenge in the Land Speed race in Bonneville August 2001, to prove to myself, I could run more than 200 km/h, without any suspension and no gearbox."   Visit the Calendar Bike Garage
---
NEW! FAST 2014 Digital Calendar Magazine Yearbook
The Bikes, the Builders, the Riders, the Kittens,the Calendar Bike Show, the World Superbike races all the 2014 Calendar Pictures, and Special Features... For the first time every we take you around the world in 120 exclusive pages for the making of the 2014 FastDates.com Calendars! Now in Members Corner
---
There's more! Go to Pit Lane News Previous Week

Also Visit: Fast Dates Calendar News • Iron & Lace Calendar News
Calendar Girl News • Meet the Models • Paddock Garage
Get FastDates.com T-Shirts, Mugs & Photographs from Our Store

MEMBERS CORNER! Calendar Kittens, Paddock Garage, Iron & Lace Garage


Amazon.com Motorcycle Products & Apparel Store



MotorcycleSuperstore.com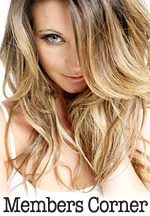 Hot Bikes, Sexy Kittens
Your Exclusive Grid Pass
also includes....
---
Order the New
2013 / 2014 Calendars!
with the FastDates.com Calendar Kittens - the official SBK Umbrella Girls!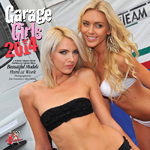 Click for even more
2014 Calendars!
---
Team SBK Ducati Alstare prepares to travel Stateside for the upcoming Laguna Seca round,
Superstock rider Niccolo' Canepa to replace injured Carlos Checa
  Bologna (Italy), Thursday 19 September 2013: with eleven of fourteen rounds now behind them, team SBK Ducati Alstare will journey to the States at the start of next week for round 12 of the World Superbike Championship, to be held for the first time in almost ten years at the Mazda Raceway Laguna Seca circuit in California. The race weekend is scheduled to take place between 27 and 29 September.
 
Unfortunately rider Carlos Checa, having fractured his pelvis in a crash at the recent Istanbul round, is unable to compete in the remaining three rounds of the 2013 season. The Spaniard underwent surgery yesterday morning (Wednesday) but although the operation on his pelvis went well, doctors foresee a three month recovery period. A tough blow for Carlos and the entire Ducati Alstare team.
 
It will therefore be Ducati Superstock rider Niccolo' Canepa who will line up alongside Ayrton Badovini at the Laguna event. Canepa is available to race due to the fact that the Stock 1000 category does not participate in the American round. Badovini was also injured in a separate incident at Istanbul Park but although his left ankle is still painful, he will be fit and ready in time for next weekend's event.
 
The last time Laguna Seca featured on the Superbike calendar was back in 2004 and of the current crop of SBK riders only Haslam participated in that event but, as with the Istanbul track, a number of the riders have raced at Laguna in the past, while competing in the GP and 250 championships. Niccolo' last raced there in 2009, on board the Ducati in MotoGP, while for Ayrton this will be a first visit to the track. Best known for its famous 'Corkscrew' bend, the layout is fast and flowing and both riders are very much looking forward to being a part of the action next weekend.
 
Ayrton Badovini:
"My physical condition is improving day after day. My ankle is no longer swollen but the hematoma is still there of course. I'm continuing with therapy and am in constant contact with the Clinica Mobile's doctors. I'm really excited to go to Laguna as it's a track I've never seen before and it should be fantastic. There'll be a lot for us to learn but, seeing as there are few straight sections, it might also be a track where we can take some strong results. It's also useful, seeing as I probably won't be 100% physically speaking, that we will do one race on the Saturday and the other on Sunday. I'm feeling pretty confident."
 
Niccolo' Canepa:
"I'm really pleased to have this opportunity. Racing at Laguna Seca with the factory Ducati is really something incredible. I'm feeling confident because Laguna should suit the Ducati well and it also happens to be one of my favourite tracks. I thank my team manager Marco Barnabò of the Barni Racing Team for allowing me to do this once again, Ducati's SBK project manager Ernesto Marinelli and Ducati Alstare team manager Francis Batta for giving me the opportunity, and my managers Silvia Mangione and Silvia Borella, from SG Agency, for their hard work and belief in me! It will be a busy month for me and I'll try to make the most of it, also with an eye on next year. I would also like to wish Carlos a speedy recovery."
Carlos Checa (Team SBK Ducati Alstare) out for the rest of the Superbike season due to injury
 
Bologna (Italy), Tuesday 17 September 2013: After a difficult weekend in Turkey during which Carlos Checa suffered a serious accident, the latest tests made by doctors in Spain have now revealed that the official rider for Team SBK Ducati Alstare also has a fractured pelvis. A terrible blow for the Team SBK Ducati Alstare rider who faces surgery and a minimum ten-week recuperation period.
 
Carlos Checa Undergoes Successful Surgery on Broken Pelvis
Sept 18th - At the recent World Superbike round that took place last weekend at Istanbul Park in Turkey, Checa was the victim of a bad crash during Friday's first free practice session. The Clinica Mobile medical team, on hand to treat the rider at the track, reported a contusion to the thorax and a suspected fracture of the left scaphoid. As a result the Spanish rider was unable to continue with the weekend's qualifying sessions or races and returned to Spain on Sunday morning in order to immediately undergo further testing, first in the hands of Doctor Turmo of the CAR clinic and then under the care of Doctor Mir.
 
Unfortunately today's diagnosis has further complicated the medical situation. Carlos was having difficulty walking and so Doctor Mir, who is attending to Carlos at this difficult time, therefore carried out further tests that have revealed a fracture of the pelvis, at the point where it joins with the femoral head. Surgery is scheduled for Wednesday 18th September and will be performed by Doctor Ribas of the Dexeus clinic. The long period of recuperation required post-surgery unfortunately means that Checa will be unable to participate in the final three round of the 2013 season.
Blake Young Joins
FIXI Cresent Suzuki at Laguna WSB
Team Suzuki Press, Sept 18th - AMA Superbike runner-up Blake Young will join the FIXI Crescent Suzuki team for the forthcoming eni FIM Superbike World Championship round at Laguna Seca in America as a replacement for the injured Leon Camier. The American will turn 26-years-of-age on the September 20th so the chance to ride the Yoshimura-Powered GSX-R1000 Superbike has come as an early birthday present for the Wisconsin-based racer. He has finished as runner-up in the highly competitive AMA Superbike series in the last two years and has this season raced in the Indianapolis and Houston rounds of the MotoGP™ Championship.
Young has been drafted in to replace Camier at Laguna Seca following the Englishman's huge crash in Turkey last weekend that left him needing surgery on seven broken bones in his right foot. He is now recovering from the injury and is aiming to be fit for the final race of the season at Jerez.
Born in Madison, Wisconsin, Young was 14 when he became a full-time road racer and two years later he officially entered the AMA Pro Road Racing Series on a Suzuki GSX-R600. He spent his first seasons in the Supersport,
Superstock and the Formula Xtreme series', before making his debut in Superbike in 2008 on a Suzuki. In 2009 Young moved to a full-time ride in the AMA Superbike class with Rockstar Makita Suzuki, taking four podiums in his first season and sixth overall. The following season he took five podiums - including three wins - and again raced to sixth in the championship. In 2011 he challenged for the title onboard the Yoshimura Suzuki, recording seven wins and another eight podiums, to see him finish runner-up - just five points away from the title-winner. Last season, while still with Yoshimura Suzuki he again finished second in AMA Pro Superbike Championship, taking three wins and 13 additional podiums to his name.
Fixi Crescent Suzuki's latest recruit will get his first taste of the Suzuki GSX-R1000 in Friday morning's free-practice at Laguna Seca on September 27th, where his knowledge of the Californian circuit will be put to good use as learns to ride a full-blown World Superbike there for the first time.
Blake Young: "I'm really excited at the prospect of riding for FIXI Crescent Suzuki and I can't wait to ride the bike. It was a surprise to get the call, but it will be great to go back to Laguna Seca, especially on a World Superbike - it's a bit like a dream come true for me and made even better that it's a Suzuki. I'm now ready to get out on the bike and try to do some good things on the world stage and see what happens from there. I want to thank all the people that have made this happen and it's never good when a rider gets injured, so I want to wish Leon all the best for a quick and full recovery. It will be great to ride his bike and hopefully I can do well on it for him and the team."
Paul Denning - Team Manager: "We are happy to have secured Blake for the Laguna Seca round for the FIXI Crescent Suzuki team; he has excellent knowledge of the circuit and also knows how to win on a Suzuki GSX-R and we think he'll adapt to WSB quickly. It is never an easy job having to replace one of your riders due to injury, but we are sure Blake will do a good job for us at Laguna and the whole team is looking forward to welcoming him and we hope to have a smooth and successful weekend. We'll certainly do all we can to help him be competitive and to get the best possible result."
Nori Haga Joins British Champion Shane Byrne At Rapid Solicitors Kawasaki
Monday Sept 16th 2013 - Reigning MCE Insurance British Superbike Champions Paul Bird Motorsport (PBM) have signed Japanese star Noriyuki Haga to contest the final three rounds of the 2013 Championship.
The former triple runner-up in the World Superbike Championship will join MCE British Championship leader and defending champion Shane 'Shakey' Byrne on board a Rapid Solicitors Kawasaki ZX-10R for all three Showdown rounds, starting at Assen this coming weekend.
Having won 43 WSBK races in a distinguished career, Haga raced in BSB last season and despite suffering a broken collarbone at Cadwell Park, bounced back late in the season to claim eighth place in the final standings.
Earlier this season, Nori-chan took a third place podium finish at the prestigious Suzuka Eight Hours race in his native Japan alongside former 500cc World Champion Kevin Schwantz.
Haga will get his first taste of the Minxflix-supported Rapid Solicitors Kawasaki ZX-10R in a test at Snetterton en route to Assen and will also be in action on the bike at familiar tracks to him including Silverstone (October 4/6th) and the Brands Hatch GP circuit finale (October 18/20th).
Paul Bird, Team Owner:  "I have always admired Nori throughout his career and it's fair to say he's one of my heroes so I'm delighted to have the chance to work with him. He's proven many times that he's a great rider and showed at the tracks he knew last year that he could still be very competitive. He was on pole position at Assen last year and rode a couple of brilliant races so despite not doing a lot of racing this year, he'll be very strong. He loves all three Showdown tracks and if he can also help Shakey's bid for the title, all well and good."
More information including bike, team and rider profiles, race calendar etc can be found at www.pbmuk.net.  The official website of the 2013 MCE Insurance British Superbike Championship is at www.britishsuperbike.com.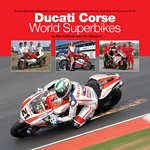 Retail $49.95 ea.
Click to Order from Amazon.com

Ducati Corse
World Superbikes
by Alan Cathcart
& Jim Gianatsis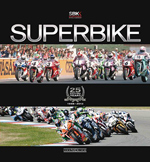 The Official SBK
World Superbikes
1987-2012
25 Year History Book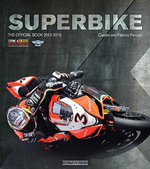 The Official SBK
2012-2013 Yearbook
These SBK Yearbooks are the Best Books Ever about World Superbike. They feature awesome color photography of the riders, bike and racing action. The feature a detailed revue of the past season in pictures and statistics, with a detailed look at the bikes and riders.

Plus a technical look data all the bikes, a preview of the upcoming season's Championship!
We buy this every year ourselves and highly recommend it!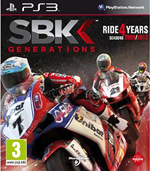 SBK World Superbike Video Game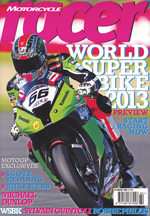 Official Print Media Partner
---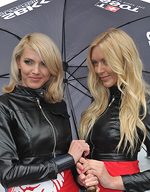 Meet 2013 Calendar Kitten
Jitunka & Petra!

MV Agusta F3 800cc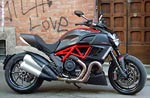 The Devil Made Us Do It!
Testing the Ducati Diavel in Italy
Sudco High Performance & OEM Replacement Parts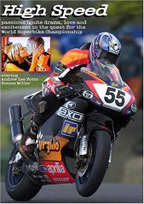 High Speed - the Movie
The best motorcycle racing movie ever made! Filmed on location at the World Superbike races , this an exciting romantic drama staring beautiful British actress Sienna Miller.
---
EDELWEISS OFFERS NEW and AFFORDABLE MOTORCYCLE TOUR ALONG THE DOLOMITES WITH CHALLENGING ROADS, OVERWHELMING MOUNTAIN SCENERY AND ITALIAN CUISINE AT ITS FINEST.
The Dolomites are a must for a passionate biker – come with us on an unforgettable motorcycle tour. The countryside is dominated by mountains, rivers, and gorge-like valleys, which have just space enough for a road and railroad tracks; but there are also bigger towns like Bolzano, where our base hotel is located.

Thinking about Italian culture you will notice quite a big difference from what you may expect; building style, cultures, languages, bilingual road signs and special foods show that varied peoples and ideas peacefully co-exist here. The Sella Ronda is a very good warm-up for the following days and our rides to Penserjoch, Jaufenpass and Timmelsjoch.

Eight more passes are on our schedule for the next day and we will have the opportunity to stop in the nice little town of Cortina d'Ampezzo, well known from the Olympics in 1956. Now it's time to make a decision: go to Venice for sightseeing or collect 10 more passes? Tough call! The last riding day leads us south to the wonderful Lake Garda, with swimming and riding at its best.
Find Out More
THROUGH THE ALPINE WONDERLAND OF AUSTRIA AND SOUTHERN GERMANY – THE ALPS AND LAKES MOTORCYCLE TOUR!
The Alps and Lakes motorcycle tour takes you through a beautiful part of European motorcycle paradise; the Alps. The contrast between the beautiful lakes in southern Germany and Austria and the towering mountains that reach up to more than 10,000 ft is nothing less than breathtaking.
This area is the famous background for the movie "Sound of Music". This vacation offers a little bit of everything: beautiful and relaxing rides through the valleys; some mountain roads and passes; and great vistas and sights, including King Ludwig's castle, Herrenchiemsee, and the historic city of Salzburg. The tour consists of five riding days, one of them is a rest day – which means that you stay two nights at the same hotel.

This is a great opportunity to explore a little bit more, ride around the countryside, walk through town, meet the locals and sample some of the local food. The tour will take you through Germany and Austria, and on the rest day you can even add Italy to your list if you are so inclined.
Find Out More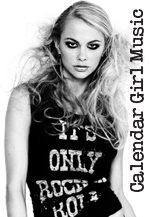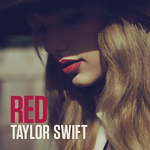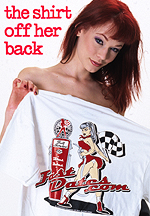 Order the Official
FastDates.com &
LA Calendar Bike Show
T-Shirts!