Cafe Racer - a short film
---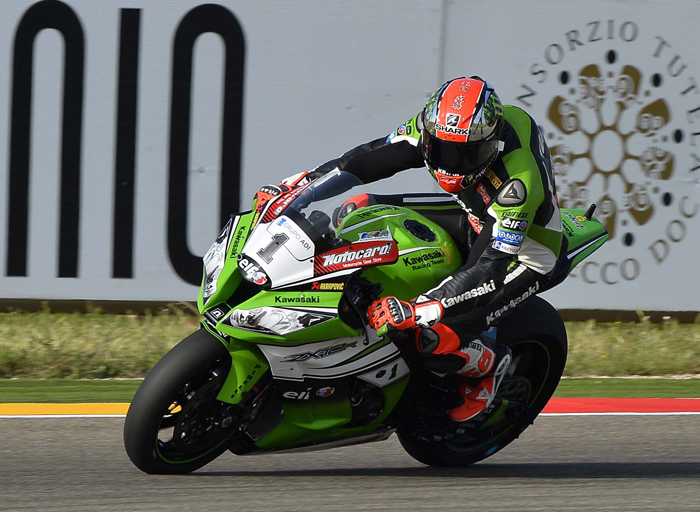 2014 Eni SBK World Superbike Championship, Motorland Aragon Spain Round 2 of 12
Kawasaki's Sykes and Baz complete Aragon Round in Domination
Alcaniz, Spain, April 11-13th 2014– The second round of the 2014 eni FIM Superbike World Championship was taken by storm by Japanese manufacturer Kawasaki, that claimed the first two steps of the podium in both World Superbike races, as well as coming out on top in World Supersport. and with the best classified EVO rider in race 2.
A stunning performance from KRT Superbike riders Tom Sykes and Loris Baz gave the team a historic 1-2 finish in each 17-lap race at Motorland Aragon, with Sykes winning from Baz each time out. David Salom gritted his teeth to finish 13th in race one and 10th in race two on his Evo KRT machine. Tom and Loris now lead the championship outright, with Tom on 75 points and Loris on 71.

The truly peerless raceday performances from Sykes and Baz at the KRT team's home circuit of Motorland Aragon came after Sykes and Baz had also gone first and second respectively on the grid after Superpole at the 5.344km Motorland circuit. Kawasaki is now leading the Manufacturers' Championship by ten points after four individual races.
 
Conditions were cooler for race one, given the early start at 10.30am, with Sykes heading into an immediate lead and pushing away in his inimitable style. In race one he won by 4.275 seconds from Loris, having set a new lap record of 1'57.664 on lap two.
 
Tom came under pressure in the warmer race two, as track temperatures doubled, with Loris his constant companion. A late challenge from Marco Melandri was rebuffed by both Sykes and Baz, after the Italian rider ran wide in the entry to the final hairpin during an out-braking manoeuvre. Tom held off Loris by only 0.338 seconds in race two, after a quite amazing weekend for the KRT full Superbike riders. Tom has now won sixteen full SBK races in his career.
 
David Salom was also on strong form despite his recent hand injury, finishing second Evo bike in race one and the best of the Evo riders in race two, securing a top ten finish.    Complete Coverage HERE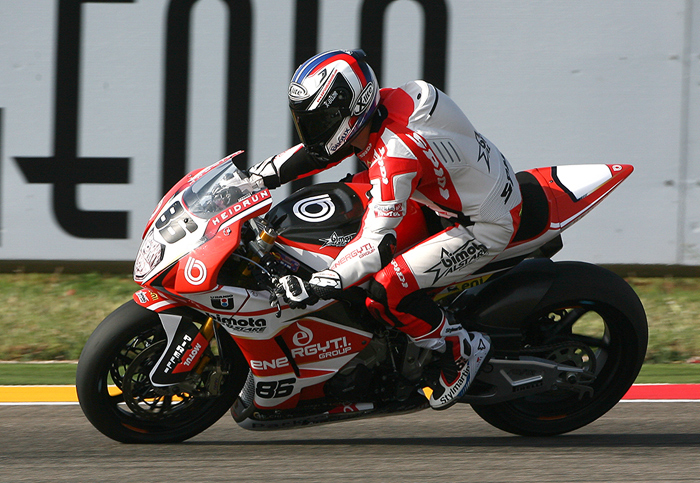 Ayrton Badovini on the new Alstare Bimota BB3.
---
Marc Marquez (93) was all alone way out front in Saturday Qualifying and in Sunday's race.
2014 MotoGP World Championshi, Circuit of the Americas Round 2 of 18
Circuit of the Americas, Austin, Texas, USA, April 11-13th 2014 - Magnificent Marc Marquez (Repsol Honda RC213V) was in a class of his own at the Circuit of the Americas this afternoon, making the race all his own, as he did a year ago, when he won his first MotoGP race at this track. Dani Pedrosa (Repsol Honda RC213V) was the only man who got close to his young compatriot, but even he had to give up the chase and settle for a strong second place to put him second in the World Championship points chase behind his team-mate.   Complete Coverage Here
---
The 2014 Pirelli Calendar Celebrates 50 years with Helmet Newton
Known just as "The Calendar" the iconic Pirelli Tire promotional Calendar is seldom seen in America because of its mild nude fashion stylized content that might offend our Midwestern Conservative Left Church Goers, this year 204 marks its 50th anniversary photography by iconic fashion photographer Helmet Newton who died nine years ago.. The expensively produced Calendar is only given away as a gift by corporate management to influential friends in motorsports and the media.
For many years The Calendar has strayed away from motorsports to being just a exotic fashion shoot with very overpaid Hollywood actresses and supermodels. In fact, the 2014 Calendar was originally shoot last summer a joint effort from Patrick Demarchelier and Peter Lindbergh in a studio in NewYork with a group of supermodels posing togther. But after seeing the boring results, the Pirelli marketing department went back into its archives to resurrect the pictures that Helmet Newton had shot for the 1986 Calendar but were never used, when the shot near Monte Carlo was cut short for personal reasons.. We concur it was a good choice.
Commissioned independently of Pirelli UK's 1986 calendar by the company's competitive Italian wing, Newton's images for the tire giant are both as sensual and controversial as you might expect (albeit more for their explicit product placement than the full-frontal nudity for which Newton was renowned). After almost three decades stowed away in the Pirelli Foundation archives, they've been dusted off in celebration both of 50-year-old calendar created in homage to beautiful women, as well as the photographer who perhaps captured them best. The Calendar has returned to its beginnings to featuring beautiful women with the world's sexiest tires that dominate many of the Motorsports' premier Two and Four Wheeled World Championships.
Above: the 50th Anniversary 2014 Pirelli Calendar with Helmet Newton's 1986 photo shoot.
Below: A video review of past Pirelli Calendars
---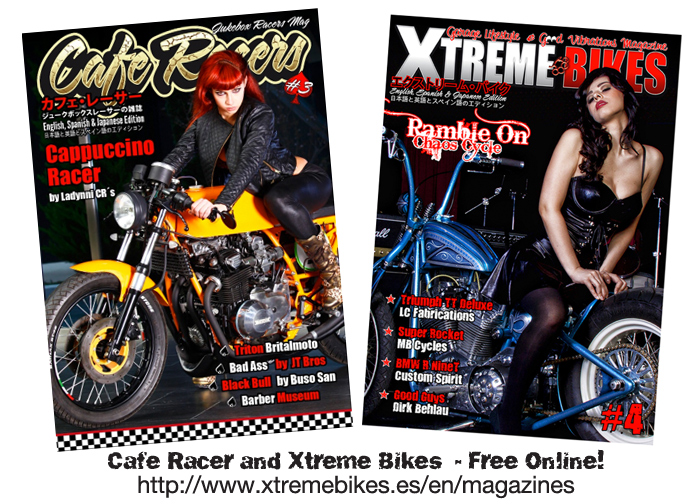 Click to Download the Digial Magazines for Free
New Cafe Racers and Extreme Bikes Free Digital Mazazines
Our good buddy Daniel Gil-Delgardo is the editor of the Spanish motorcycle publications Cafe Racers and Xtreame Bikes. In past years they've featured coverage of our annual LA Calendar Motorcycle Show. Besides being beautiful looking glossy magazines featuring great looking European custom cafe bikes and sportbikes, the new versions of the magzines are now availble digitiall online for free, and they feature English language versions. The 2nd Issue of Cafe Racers Digital is now available on their website to download to your computer in an easy to read PDF format, together with Issue Number One.
---
2014 LA Calendar Motorcyc;e Show Moves to the Malibu Golf Cours on July 20th
The 2014 LA Calendar Motorcycle Show continues its now 23rd year tradition as the premier outdoor streetbike event in America with the Calendar Bike Building Championship & Concours d' Elegance, top Celebrity Builders, selected Vendors and Exhibitors, and the Calendar Girl Music Show. The Show always kicks off the world premier of next year's new 2015 FastDates.com Motorcycle PinUp Calendars featuring the world's top road race and custom motorcycles with the beautiful Calendar Kittens featured in the Calendars in attendance at the Show.
---
NEW! FAST 2014 Digital Calendar Magazine Yearbook
The Bikes, the Builders, the Riders, the Kittens,the Calendar Bike Show, the World Superbike races all the 2014 Calendar Pictures, and Special Features... For the first time every we take you around the world in 120 exclusive pages for the making of the 2014 FastDates.com Calendars! Now in Members Corner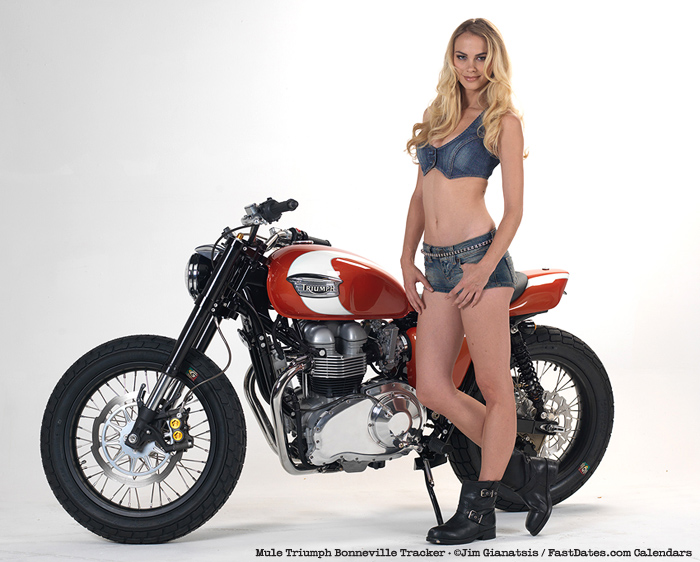 Mule Motorcycles Triumph Bonneville Tracker now in the Calendar Bike Garage!
Check out this awesome Triumph Bonneville Streetracker built by one of our favorite Calendar Bike Builders, Richard Pollock / Mule Motorcycles, now featured in the FastDates.com Calendar Bike Garage with complete details and large screen saver size pictures. We might just even have included this picture of beautiful Sara with the bike.... Go to Calendar Bike Garage
The Fast Dates World Superbike Calendar Presents a History, Track Tests,
Team Rider and Designer Interviews, and Pictures of All the
Ducati Corse World Superbikes
by Alan Cathcart and Jim Gianatsis
The year 2011 marked the 25th anniversary of the creation of the first, of a now legendary line of Ducati Superbikes with their trademark Desmoquattro 4-valve V-twin motors hung below a lightweight trellis tube frame, race bikes that went on to dominate the then new World Superbike Championship for next quarter of a century. Arguably the most significant motorcycle engine design of any kind since the CB750 Honda, and surely the most remarkable and successful volume production engine format ever used in world competition by any single manufacturer, the venerable Ducati 4-valve desmodromic engine recorded to this date 14 World Superbike Championship titles in the 24 year history of the world's premier production bike based world roadracing series.
This book chronicles the development and history all five Ducati Corse World Superbike generations from the first Desmoquatro 750cc prototype to the revolutionary new 1199 Panigale Superquadro together with interviews with the Ducati designers, team racers and managers. This unique insight is provided by renown motorcycle racer and journalist Alan Cathcart who has had the envious and often exclusive opportunity to test ride every one of the factory Corse race bikes over the last 25 years, those tests of which are featured here. Photography of the Corse factory bikes and riders is proved by the world's most renown motorcycle roadracing photographers.
---
Kevin in the saddle with Suzuki factory test riders Randy DePuniet and and Nobuatsu Aokiat Circuit if the Americas.

Schwantz Joins Suzuki MotoGP and Superbike Tests in Texas
Circuit of the America's, Austin, Texas, April 16th, 2014 - Suzuki's former World 500cc GP Champion Kevin Schwantz joined the Suzuki MotoGP Test Team for its test at the Circuit of the Americas in Austin, Texas this week. The 1993 World Champion, who last raced a MotoGP machine in 2006, completed 11 laps of the 5,513m circuit with a best lap-time of 2'12.75.
Schwantz, who also tested the Yoshimura Suzuki Superbike team's GSX-R1000s in preparation for his ride at the Suzuki 8-Hour in July , said: "I went on the MotoGP machine after riding the GSX-R1000 Superbike and it felt like going from a 500cc to a 250cc bike; the MotoGP machine is so small and compact! The bike turns, accelerates, goes fast; it does everything and I had fun and really enjoyed it.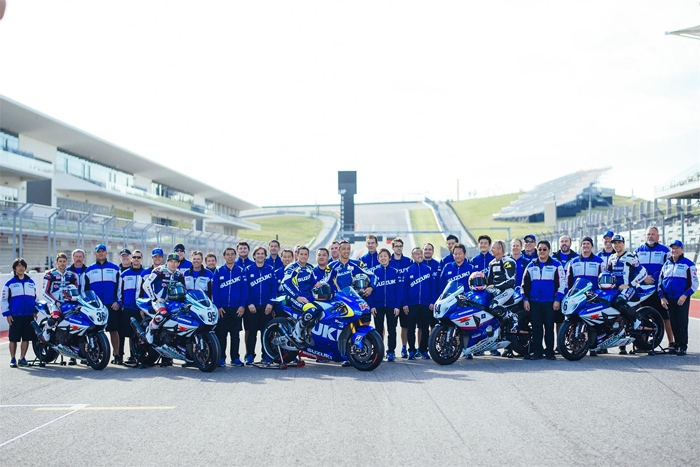 The Yoshimura Suzuki AMA Superbike team joined the MotoGP team at Circuit of the Americas for testing, although the AMA Race Series has yet to race at Austin. CLICK TO GO BIG.
"With this bike you have power and braking so you brake and accelerate and the bike does all the rest. I think Suzuki should race now - the sooner the better! You can test a lot but in the race you really understand.
"After having ridden the MotoGP machine, I now appreciate much-more the GSX-R and I want to continue to work on that now to prepare for my race at Suzuka in July. So tomorrow I will only ride the GSX-R."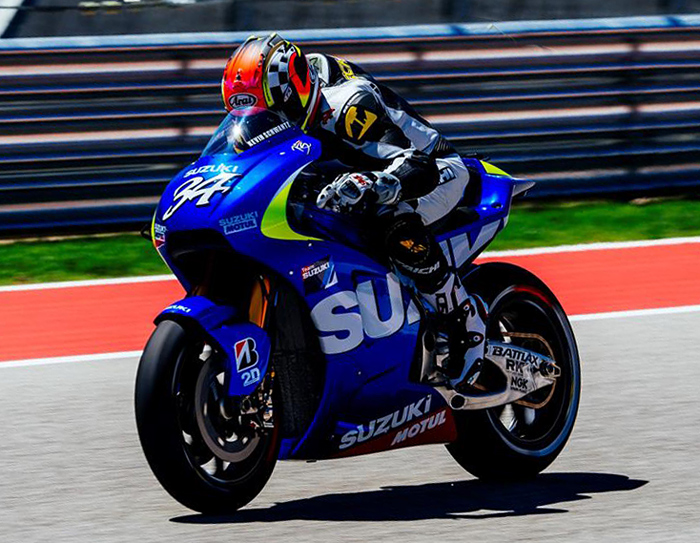 Kevin Schwantz test the new MotoGP bike with his iconic race number "34" on the front fairing.

With track and air temperatures much cooler than the weekend's MotoGP second round – and with Monday's opening day hit by heavy rain and dirty track conditions – Suzuki MotoGP Test rider Randy De Puniet completed 56 laps with a best lap-time of 2'06.41. The team spent a lot of time in the morning session testing new chassis settings and also adjusting the gearbox for the team's first test on this new-for-them circuit.

Said De Puniet: "This was a new track for Suzuki but also I have not ridden the bike since February. We spend some time changing the settings and the gearbox ratios, then we continued to compare two different frames and we found again that the best one here was the one we choose in Sepang. And we confirmed it again that this is more-stable in the corner entry. In the afternoon we tested different electronic maps. It has been not bad as first day here and I'm confident we can improve tomorrow. Hopefully the track will be cleaner."
DePuniet's 2'05.85 test time on Thursday would have placed him mid field for this past weekend's MotoGP race in Austin, where the front runners were turning in the 2'04's.
Suzuki MotoGP Test Team Manager Davide Brivio said: "A positive day on a completely new circuit for us. One of the main targets is to continue the development of the new electronics and also to collect useful information on this track for next year when we will be racing.
"We have done that today but also we could work on bike settings and chassis comparison. The lap-time is not bad for the first day and we are looking forward to improving tomorrow hoping that the temperature can go up a bit and the track will be cleaner.
"It was also very emotional to have Kevin Schwantz - everybody's hero - riding our bike here. He was quite fast considering the conditions, so we'd like to thank Kevin for this gift!"
Suzuki Test Day Two, April 17th - The Suzuki MotoGP Test Team has concluded its Circuit of the Americas test at Austin in Texas after finding new direction and improvements to take to its next test in Argentina at the end of the month. Test riders Randy De Puniet and Nobuatsu Aoki were again joined on-track by former World Champion Kevin Schwantz and shared the test with the Yoshimura Suzuki AMA Superbike team as track temperatures climbed to 39 degrees; slightly higher than the previous day, but not as high as the previous weekend's MotoGP second round.
De Puniet completed a total of 62 laps of the 5,315m circuit with a best lap-time of 2'05.85; just-over half-a-second quicker than his previous day's best time.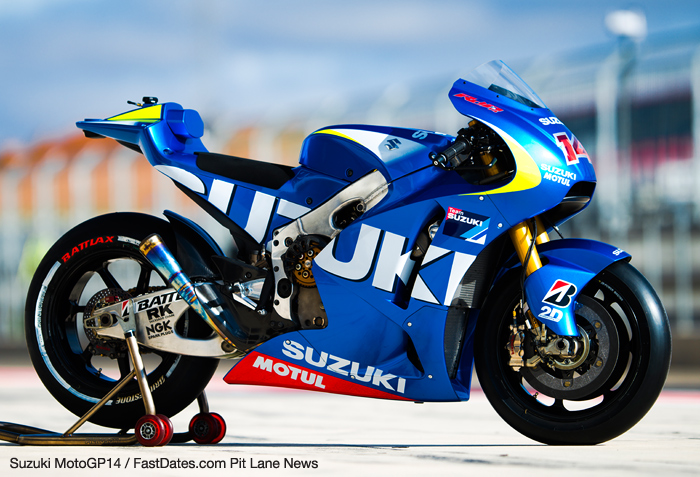 Said De Puniet: "I'm happy that we have found a big improvement on throttle connection and traction control. We worked some time to find the right setting with the new electronics also and at the end we found a good compromise. We continued to work on the chosen chassis and it worked really well today. So the package is definitely better and I wanted to have an extra day to be able to continue the work as yesterday we spent most of the time setting-up the bike for the new circuit along with the new electronics. Also, I have not been riding a bike for a few weeks and I needed to get back the feeling.
"Anyway, today on the race tyre, we improved a lot from yesterday's lap times and found a good pace. Unfortunately I wasn't able to try some sort-of time-attack by the end of the day as we had a small problem on the bike and we lost the last half-hour on the track. But I feel we had the potential to even further improve our performance.
"Now we'll go to Argentina - which is a completely new circuit - but I'm glad we will go there soon and hopefully I will be still hot from this test."
Satoru Terada, Project Leader and Team Suzuki MotoGP Team Director, said: "We brought a new engine-spec and new chassis-spec here and found a good combination. We also worked on combining a good electronic setting to this new engine-spec and we are happy with the results. We also confirmed today our chassis choice.
"Our performance in terms of lap-times could have been better by the end of the day, but the important point is that we leave Austin with good information about our bike and about this circuit. We also had a time to enjoy Kevin Schwantz riding our latest MotoGP bike and also sharing the circuit with Yoshimura Team, supported by Suzuki Motor of America. Now we look forward to Argentina where we will test again on Tuesday and Wednesday after the MotoGP race."
---
Shayne Byrne
2014 MCE Insurance British Superbike Championship, Round 1

Byrne At The Double At Brands Hatch MCE BSB Opener
Brands Hatch, UK, April 20th 2014 - The Rapid Solicitors Kawasaki Team got their 2014 MCE Insurance British Superbike Championship season off to a perfect start this Easter weekend at Brands Hatch in Kent with triple MCE BSB champion Shane 'Shakey' Byrne taking a double victory and team-mate Stuart Easton grabbing a pair of sixth place finishes.

After a strong showing in the dry free practice sessions, Byrne had to fight his way through from an unfamiliar 13th on the grid in today's opening race after heavy rain in Sunday's Datatag Extreme qualifying session left his Rapid Solicitors Kawasaki ZX-10R Ninja back on row five but a superb start saw him up to seventh place at the end of the opening lap. Steadily advancing forward, Shakey was up to second at half race distance and rapidly closing on race leader Chris Walker when the red flag came out due to an oil spillage on lap 17.

Restarted over the shorter distance of 12 laps, Byrne lined up on the front row of the grid and whilst it was Walker who again led in the early stages, Shakey seized the lead on the fourth lap and extended his lead each lap to eventually cross the line 1.6 seconds clear to record his 52nd MCE BSB win of his career.

Starting from the front row of the grid for the second 30-lap race, once again held in the fine and sunny conditions, the 37-year-old Londoner made the perfect start and although he led from start to finish he was under pressure throughout and had to call upon all his experience to keep rivals Josh Brookes and James Ellison at bay as he claimed an 11th career double.

Team-mate Easton marked his return to the series with two strong rides after a disappointing qualifying which saw him way down the grid. Back in 23rd place initially, the 30-year-old had moved up to 12th when the first race was stopped and in the re-run he advanced further eventually taking a fine sixth place aboard the Rapid Solicitors Kawasaki ZX-10R Ninja.

In the second race, the Hawick rider started from the second row of the grid and was subsequently challenging for the podium from the outset as he slotted into second place behind Byrne. The race for the three podium positions was extremely fraught with only one second covering the top six and as the race wore on, arm pump caused the reigning Motorpoint British Supersport champion to slip back and he had to settle for his second sixth place of the day.

Shane Byrne: "It's been the perfect start to the year and a massive team effort and I'm really proud of all the guys in the team. Conditions in qualifying were very difficult and starting on row five wasn't where we wanted to be but I knew we were strong in the dry and I'd moved up to second when the first race was stopped. It made things slightly easier in the re-run and I knew it was important to get going early as Chris would be fast again, especially as he was on a different tyre, but once I took the lead I just chipped away each lap and kept it clean and tidy.

"Starting from the front row for the second race was the ideal place to be and I had a bit of a strategy in that I wanted to get away from the start as I knew Josh Brookes would be able to come through the pack. At mid-race distance the guys reeled me in a bit so I just rode as hard as I could and tried not to make any mistakes. The Rapid Solicitors Kawasaki ZX-10R Ninja is working really well for me and I like the way I'm able to ride it so hopefully I'll have a similar feeling next time out at Oulton Park."

The results see Byrne lead the title race for the Penrith-based team on a maximum 50 points, 18 ahead of James Ellison with the Rapid Solicitors Kawasaki of Easton in joint fourth. It was the first time since 2001 that a rider has won the opening two races in the MCE Insurance British Superbike Championship, the last being John Reynolds in 2001 who went on to take the title that year.
British Superbike Race One


1 Shane Byrne (Rapid Solicitors Kawasaki)
2 Chris Walker (Kawasaki)
3 James Ellison (Kawasaki)
4 Ben Wilson (Kawasaki)
5 John Hopkins (Suzuki)
6 Stuart Easton (Rapid Solicitors Kawasaki)

British SuperbikeRace Two


1 Shane Byrne (Rapid Solicitors Kawasaki)
2 Josh Brookes (Yamaha)
3 James Ellison (Kawasaki)
4 Ryuichi Kiyonari (BMW)
5 Chris Walker (Kawasaki)
6 Stuart Easton (Rapid Solicitors Kawasaki)

2014 BSB Championship standings


1 Byrne 50pts
2 Ellison 32
3 Walker 31
4 Easton 20
= Brookes 20
6 Wilson 19
---
There's More! Go to Pit Lane News Previous Week

Also Visit: Fast Dates Calendar News • Iron & Lace Calendar News
Calendar Girl News • Meet the Models • Paddock Garage
Get FastDates.com T-Shirts, Mugs & Photographs from Our Store


MEMBERS CORNER! Calendar Kittens, Paddock Garage, Iron & Lace Garage


Amazon.com Motorcycle Products & Apparel Store



MotorcycleSuperstore.com