This Month in the Fast Dates World Superbike Calendar ....
Beautiful SBK Fast Dates Calendar Kitten Torunn Sivesind gets together at Miller Motorsports park with World Superbike Champion Carlos Checa's 2012 season Althea Ducati 1098RS Superbike. You'll find bikes like this with beautiful Kittens featured in the Calendar Bike Garage with full specifications and screensaver size pictures.

See more revealing pictorials of the Calendar Kittens including Christy in Members Corner
Order the Fast Dates Calendars • Calendar Screensavers in Members Corner
---
The Ultimate 2nd Generation Ducati Superbike
2004 Final Edition Ducati 998S with 999R Engine
story and photography by Jim Gianatsis
I had always ridden, owned and raced Japanese Superbikes up until one spring day in 1993 when my good buddy Scott Reif who word at Honda R&D of America designing new bikes, brought one of their newly purchased 2nd Generation Ducati 916 Superbikes on one of our regular Sunday morning rides. Scott let me ride the bike on our twisty canyon roads, and the first corner I came to the bike seem to dive into the corner without any input and railed its way through and powered out our like it was on rails. And that V-Twin punch was just icing on the cake. At that point in time it was far and away the best sportbike I had ever ridden. I had to own one.

That opportunity came a just 6 month later when an attorney friend who had bought a 916, now wanted to sell a quite a discount. It turns out back in those days Ducati didn't Lock-Tite much and the rear wheel hub nuts backed out, causing the rear wheel assubly to fall of on the freeway and throw him on the group. You don't want to do that to an attorney. Short story, I got a like new rebuilt bike by Ducati at a great price. And soon after that all Ducati's motorcycles have come with every bolt Lock-Tite with a paint check mark.
My first 916 who soon get a lot of performance modifications including an Ohlins rear shock, a Ferracci 926cc Hi-Compression Big Bore Kit, a Jerry Branch ported head, Corse Camshaft, Full Termignoni Race Exhaust and Ferracci computer re map, ISR 6-piston front brakes and Dymags Magnesium race wheels. This 926cc Special was pretty much the ultimate 2nd Generation Ducati Superbike until the release some 10 years later of the new 2002 year 996R.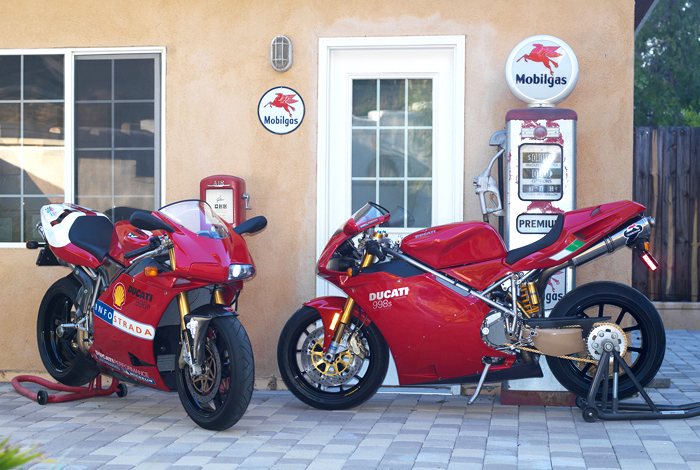 The editor's 2nd Generation Ducti Superbike collection includse this 2002 996R and 2004 998S/R Final Edition.

Still a 2nd generation Massimo Tamburini design, the 996R featured the all-new Testastretta deep sump sand cast engine, Titanium Valves and Rods, to homologate it for World Superbike, and cure the oil starvation and breaking engine cases on the factory Corse race bikes which until then were running the biggest possible displacement 955cc engines. The power increase on the new 996R motor was nearly 40 horsepower more than the previous 916, with an equally impressive low end torque increase. The bore x stroke was 110 x 63.5 mm.
The factory Ducati Corse Superbike team had been struggling to learn how to set up the new 999RS factory race bikes that first year. Privateer Frankie Chili however, was on ad older 998F bike prepared by the legendary Bologna tuning shop NCR, which was running one of the new 999RS motors. With the old 998 chassis running the new 999R engine, Frankie had the perfect combination of Ducati handling and power, and would trounce the factory 999RS bikes to win Race Two out right at Monza that year.

Little noticed that year of 2004, what with all the fan fare of Ducati introducing the new 999 model, they started off the year by also releasing a numbered 998S Final Edition model. Fast forward 11 years later and there I am browsing the Ducati motorcycle ads on E-Bay where I see what appears to be a brad new 998S Final Edition with the much coveted Corse extended length lightweight Magnesium Swingarm/ This was the swingarm the factory team used from the 1999 season as it was said to improve handling.

I dove further into the E-bay listing to sew the bike actually was brand-new, never having been ridden, with just 2 miles of dyne running on the Speedometer. And that it had been heavily modified within a year of purchase with a 999R crate engine, Marchesini Magnesium race wheels, and a full Termignoni Ti Racing Exhaust System with computer re map, 520 Chain and Sprocket kit. The bike had been built and tuned at Ducati AMS / Advanced Motorsports in Dallas, TX.
On contacting the seller, I found that he had some $40,000 invested in purchasing and building the bike, plus a $5,000 6-year storage bill from AMS. He told me that once the bike was complete, his US government job had transferred him to Europe, and he had to put both this modified 998S and a new Ducati Desmosedici RR into storage without having ridden either. When he finally returned back to the USA in 2012 the government Budget Sequestration of 2013 left him without a job.
Soon the ofener had to sell off his brand new, never have been ridden ultimate Ducati sportbike collection.

I made an offer for his beautiful new super trick 998S Limited Edition and he accepted. A shipping company picked the bike up at Mike's house and delivered it to my local dealer Pro Italia, Glendale, CA, where it was checked out, including a good clean out of the fuel system, and installation of fresh new Pirelli tires.

The Corse Magnesium Swingarm is 1-inch longer than the stock Aluminum single sided swingarm and about 4 lbs. lighter.
Note the NCR Titanium Adjustable Foot Controls, 520 Chain Kit, Termignoni Titanium Full Race Exhaust, and Marchesini Magnesium race wheels.
I also added those beautiful NCR billet Titanium Adjustable and Folding Foot Controls which are the same that as Chili used on his NCR race bike back in 2004.
This new 998S is so beautiful, at first I didn't want to even ride it, but what good is a Ducati if it isn't ridden? Particularly possibly the world's finest 2nd Generation . And if I keep the miles low, it should not devalue it any.

So far I've ridden it twice on the twisty and high speed canyon roads of the santa Monica Mountains outside Los Angles and i have to say, it is the best 2nd Generation Ducati Superbike I've every ridden. The handling, particularly with the longer swingarm, is simply incredible, and the 999R engine is incredible with its broad torque and super powerful power band right off idle. It is a nicer bike overall in handling than the bigger feeling 3rd and 4th Generation Ducati Superbikes.
Only the new 5th Generation Panigale 1199 handles better. But the Testastretta 999R motor with its awesome power band, is a far more enjoyable engine to ride on the street and canyons than the new higher revving short stroke Superquadro found in the new 1199.

If you are a serious Ducati Superbike enthusiast, you need to have a 998S in your stable. An in my mind the 2nd Generation Ducati Superbike with the 998 engine is arguably the best Superbike of all time. And with a total of 6 World Superbike Crowns to its credit, its hard to argue with a record like that. - Jim Gianatsis    More photos in the Pit Board Features
---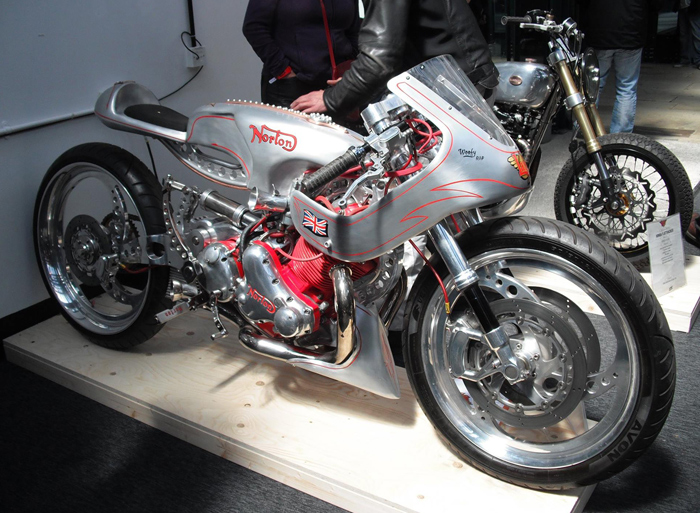 Norton custom monoshock cafe bike seen at a recent European bike show.
---
Mark McDae Campaigns EBR 1190 RS at Isle of man this week
Our good buddy and racer Mark McDae loves racing at the Isle of Man TT and he's back there again this year racing an EBR for the Splitath tram. Heres are some nice pictures he's taken and sent us of the team's EBR 1190RS race bikes. As you can see these are essentially full World Superbike spec race bikes with all CNC machined parts and carbon fibre bodywork.

The bikes look nice, but at 175hp and $46,495 are more than twice the price of an similarly Ohlins equipped Ducati or Aprila with 20 less horsepower.
EBR 1190 RS SPECS

ENGINE
Type Liquid cooled V twin
Bore X Stroke 4.17 x 2.66 (106 x 67.5 mm)
Displacement 72.6 cu 1190 CC
Compression Ratio 13.6 :1
Fuel Delivery Dual 61mm throttle bodies
Exhaust Primary + Secondary
Peak Torque 97 ft-lbs @ 9400 rpm
Peak Horsepower 175 hp @ 9750 rpm

DRIVETRAIN
Primary Drive Gear, 36/65
Final Drive 520 Chain, 16/41
Clutch Wet multi-plate, slipper
Transmission Ratios:
1st 2.46
2nd 1.75
3rd 1.38
4th 1.17
5th 1.04
6th 0.96

DIMENSIONS
Seat Height 30.5″ (775 mm)
Rake 22
Trail 3.4″ (86 mm)
Lean Angle 55
Front Tire 120/70R- 17
Rear Tire 190/55R-17
Fuel Capacity 4.5 gal (17.1 L)
Wet Weight (No Fuel) 389 lbs (176 kg)

CHASSIS
Frame Aluminum frame with integral fuel reservoir
Swingarm Optimized stiffness aluminum
Front Suspension 43 mm Öhlins inverted fork, adjustable compression damping, rebound damping adjustable spring preload
Rear Suspension Öhlins fully adjustable TTX coil over monoshock with remote reservoir
Front Wheel 3.5″ x 17″ magnesium
Rear Wheel 6.0″ x 17″ magnesium
Front Brake ISO finned rotor, 8 piston caliper with cooling duct

2013 EBR RS MSRP $46,495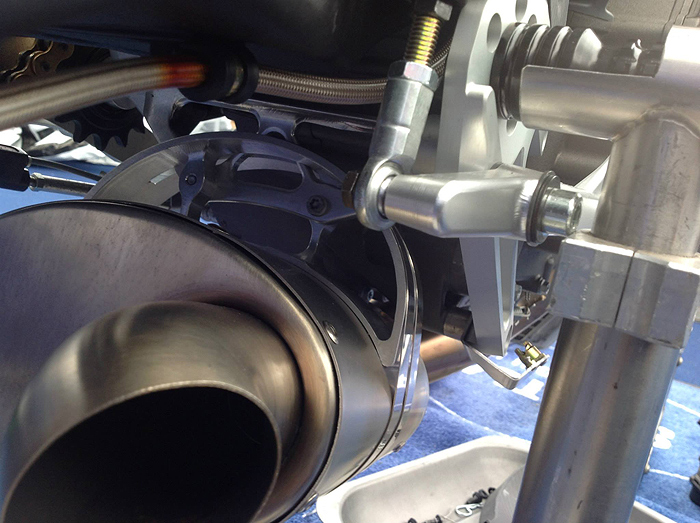 Even seemingly simple parts like a muffler hanger and foot controls are made of extensively designed and machined billet parts.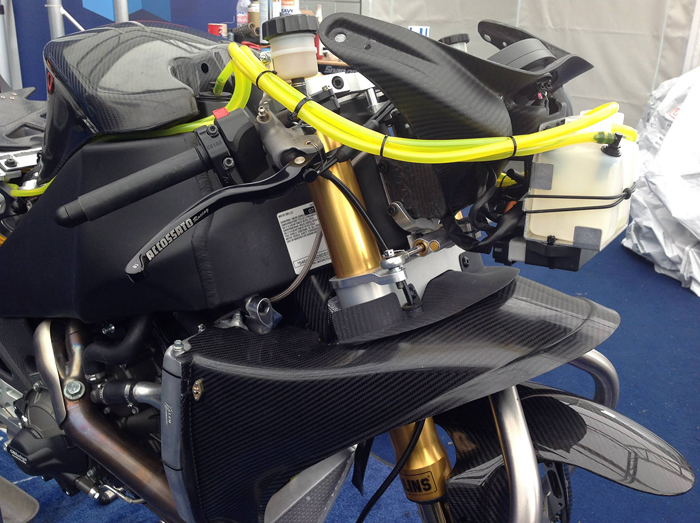 The big canister located on the transmission countershaft is a rubber damper for the drive line cushion, normaly done with rubber components at the rear wheel hub. Also not the drive chain roller / tensioner.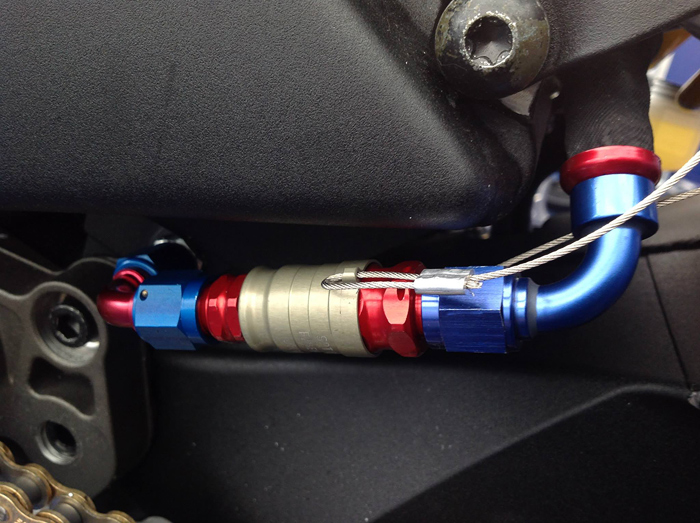 All the fluid lines from brakes hydraulics, to fuel and water use quick-relase couplings for fast servicing.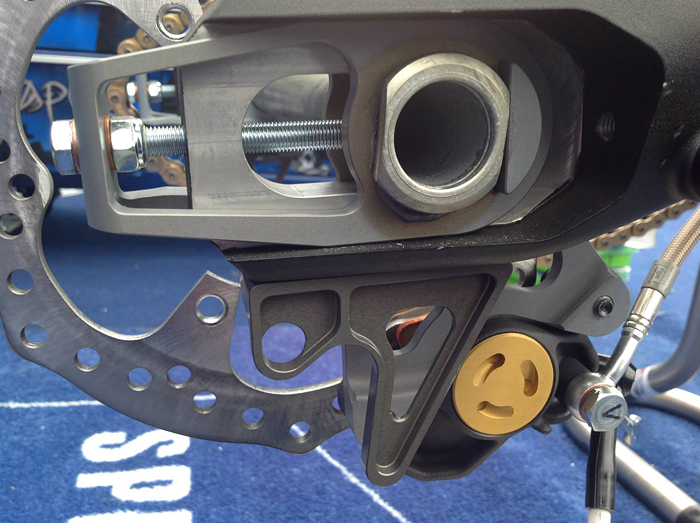 Even the axle adjusters, wheel stand mounts and rear brake hanger are exotic billet and anodized allow parts.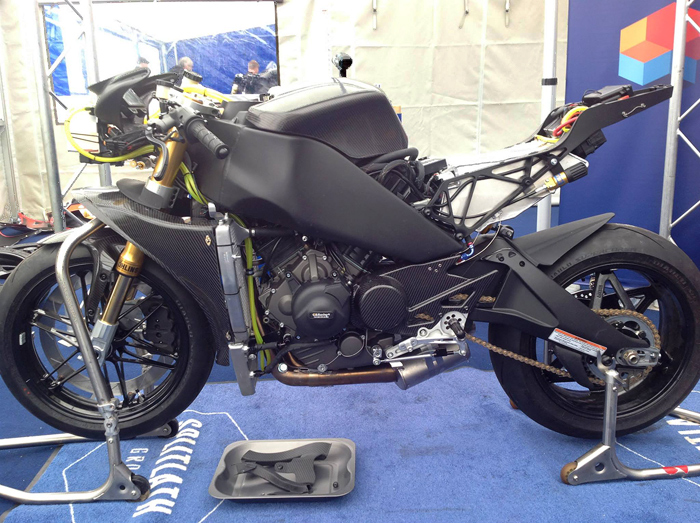 ---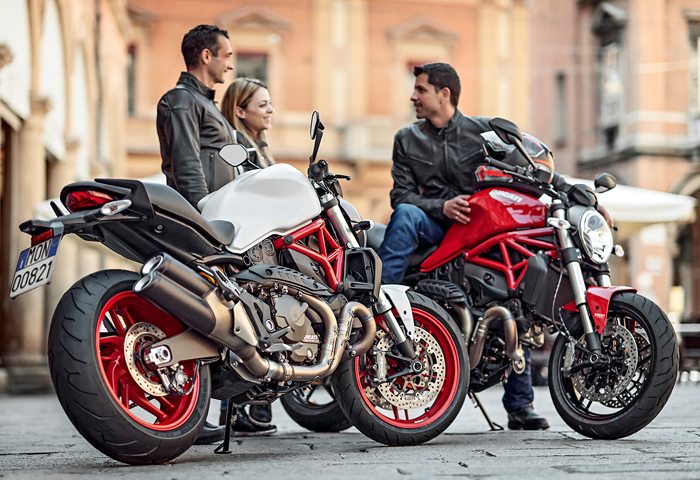 New Ducati 821cc Baby Monster is Born
Borgo Panigale (Bologna), Italy, 28 May, 2014 – Ducati announces the brand new Monster 821, a mid-size entry for the third generation of the iconic naked model and the latest chapter in the Bologna-built motorcycle's famous story. Underlining Ducati's strong association to the Bologna region, the company has chosen to release the first images of the new model portrayed in typical Bolognese ambience.
 
Following the successful unveiling of the new generation Monster 1200 at the Milan International Motorcycle show in November, Ducati now introduces the Monster 821, a mid-size version of the exciting new model and the latest entry to the world of Monster.
 
Having delivered over 290,000 Monsters since the original concept more than 20 years ago, the essential new model maintains its stylish character using the new chassis and muscular styling of the Monster 1200, designed with premium components fully integrated with Ducati's latest technologies.
 
Powered by the latest edition of Ducati's highly successful 821 Testastretta 11° engine, the highly accessible new Monster combines 112hp and 65.9ft-lb of torque with an impressively lightweight 179.5kg – 395.7lb (dry weight) overall package. This stylish mix of minimalism and performance paves the way back to the original essence of the Monster concept, where less-is-more and made-in-Italy combine to create a motorcycle lifestyle.
 
High-spec brakes, excellent suspension and stylish componentry merge with Ducati's best-yet ergonomics to offer the Italian manufacturer's most attractive mid-range Monster ever. Super comfortable and with an innovative adjustable seat height, the model also combines 8-level traction control, 3-level ABS and 3-level Ride-by-Wire into Ducati's user-friendly, press-button Riding Modes.
 
The Monster 821 uses next generation technologies to create an enhanced rider/motorcycle relationship, delivering a high-adrenaline experience while constantly reassuring with the feeling of complete control and ergonomic integration.
 
Available in Ducati Dealerships from July 2014 onwards, the Monster 821 Dark is presented in dark stealth with black frame and black wheels, while the Monster 821 is dressed in Ducati red with red frame and black wheels or star white silk with red frame and matte red wheels. Both red and white liveries are equipped with colour-matched single-seat covers. The brand new model is also made available to restricted license holders with the specially regulated power versions of 25kw for Switzerland and 35kw for other participating countries. USA pricing: 821 Red, White - $ 11.495, 821 Dark - $10.995.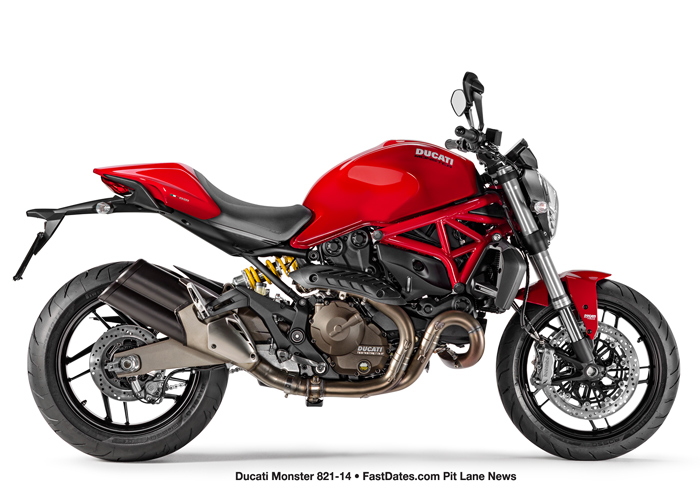 ---

Come from behind Double race winner Tom Sykes (1) leads Kawasaki team mate Loris Baz and Aprilia's Sylvain Guintoli to the checkers in Race Two, and retakes the 2014 season Championship points lead.

2014 Eni SBK World Superbike Championship, Donnington, GB Round 5 of 13

Brilliant Donnington World Superbike Double 1-2 For Kawasaki's Sykes And Baz
WSBK, Donington, UK, 25 May 2014 - Tom Sykes and his Kawasaki Racing Team partner Loris Baz proved too strong for their opponents at Tom's home round today, with Tom winning both 23-lap races and Baz second in each. David Salom (Kawasaki Racing Team SBK Evo) also won both Evo category races, by finishing overall tenth in each World Superbike race at Donington in England, today. Complete Coverage Here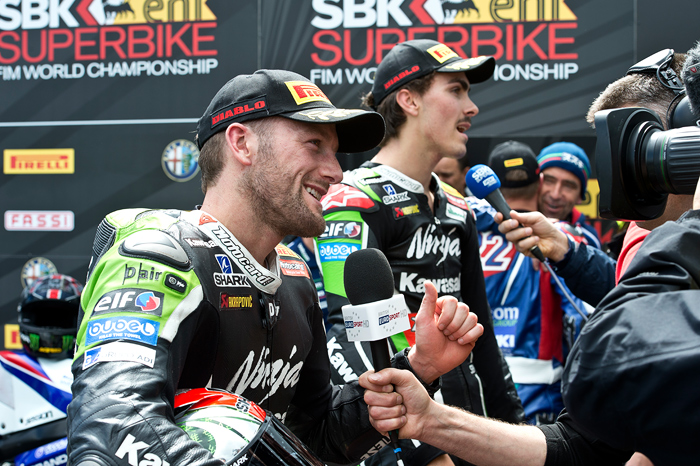 Sykes and Baz are greeted by the Wold Media in the Winner's Circle.
---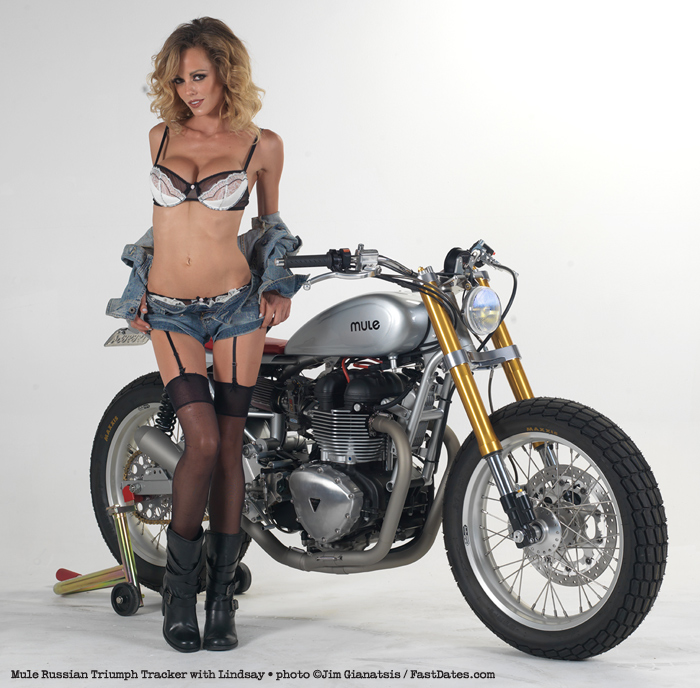 Calendar Kitten Lindsay Hancock and the silver James Dean Porsche 550 Spyder influnced Triumph Tracker named "Ivan the Terrible". Look for this and other cool Richard Pollock built Mule Motorcycle Calendar Bikes in our Calendar Bike Garage.
America's Top Builders Return to LA Calendar Motorcycle Show Sunday July 20th
     Many of America's top Celebrity Custom Bike Builders will be making their return to this year's 2014 LA Calendar Motorcycle Show & Concourse d' Elegance now relocated to the beautiful Malibu Golf Course in the Santa Monica Mountains above the Pacific Ocean on Sunday July 20th. Featured builders include Richard Pollock / Mule Motorcycles who just took 1st Place Custom at the 2014 Quail Motorcycle Gathering on May 17th with his just completed custom Triumph "Ivan the Terrible" which featured a James Dean Porsche 550 Spyder build theme. Pollock, known for his trademark Street Tracker style twin cylinder customs, plans to unveil two new bikes at this year's Calendar Show. His popular Mule Motorcycle customs have been photographed and featured by Show producer Jim Gianatsis in the FastDates.com Motorcycle PinUp Calendars many times over the last 15 years.
Also returning in July to this year's Calendar Show is 7-time consecutive Class and Best of Show winner Jim Giuffra / AFT Metric Customs with the AFT Spokesmodels who help build the shop's custom bikes. They will be premiering their first new build in 2 years, and will be awarding the AFT Customs Visionary Award to the most innovative custom bike at the Show.
Other premier builders attending include the legendary Ron Simms / Ron Simms Customs making his only visit to SoCal with his Simms Big Rig Display Truck featuring an extensive lineup of all-new bikes in both the full-dress Bagger category, and his popular Softail and Bar Hopper customs. Plus you can expect past Calendar Show winners like TV personality Russell Mitchell / Exile Cycles, eclectic builder Shinya Kimura / Chabott Engineering, and custom sportbike builder Chris Redwing / MotoGP Werks among many others showing off their latest builds as well.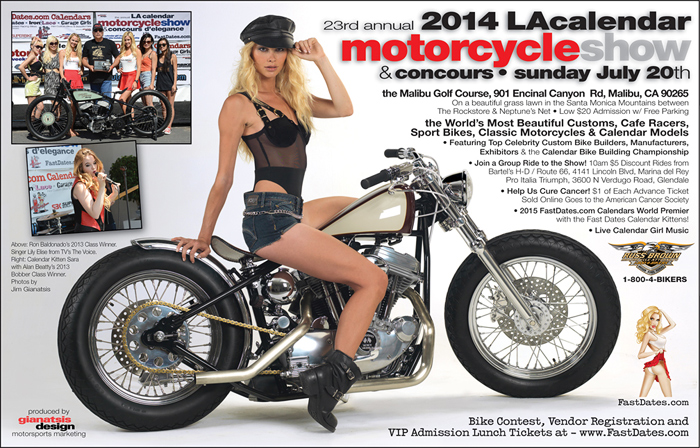 The 2014 LA Calendar Motorcycle Show & Concourse d'Elegance continues its now 23rd year tradition as the premier outdoor streetbike event in America with the Calendar Bike Building Championship & Concourse d' Elegance, top Celebrity Builders, selected Vendors and Exhibitors, and the live Calendar Girl Music Show. This year's designated charity is the American Cancer Society with a portion of gate receipts going to support their Research and Patient Care programs. Their will also be Motorcycle Dealership sponsored group rides to the Show on Sunday morning with additional information on the Show's website.
This year the Show moves to the Malibu Golf Course off Encinal Canyon Road, between Pacific Coast Highway 1 and Hwy 101, in the beautiful Santa Monica Mountains. The Show always kicks off the world premier of next year's new 2015 FastDates.com Motorcycle PinUp Calendars featuring the world's top road race and custom motorcycles with the beautiful SBK World Superbike Calendar Kittens Jitka and Petra from the Czech Republic featured in the Calendars in attendance at the Show.
The 2014 LA Calendar Motorcycle Show & Concourse d' Elegance on Sunday July 20th is just $20 General Admission, and $40 VIP Admission includes an awesome Food Truck Lunch w/ Beverages from the famous Baby's Badass Burgers and The Grilled Cheese. Event parking is free, with separate paved Motorcycle and Car Parking areas. Show capacity is limited and advance ticket purchase is suggested. The Malibu Golf Course is located at 901 Encinal Canyon Road. Malibu, CA 90265. Additional Information, Purchase Advance Tickets, Vendor and Bike Contest Registration is online at: www.FastDates.com/BIKESHOW.HTM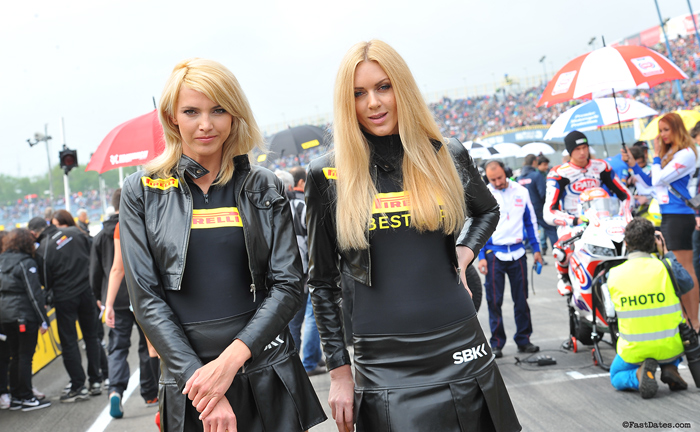 FastDates.com Calendar Kittens and official SBK World Superbike Umbrella Girls, Jitka (left) and Petra (right) are featured in the
2014 Fast Dates World Superbike and Garage Girls Calendars, and the new 2014 Fast Calendar Digital Magazine.
Fast Dates brings Czech SBK girls Jitka and Petra to
Laguna Seca World Superbike and the LA Calendar Motorcycle Show in July 2014!
2014 - The FastDates.com Calendars and producer / photographer Jim Gianatsis are excited to announce an agreement with SBK World Superbike and the international model agencies PetrasAngles.com and UmbrellaGilrsUSA.com to bring beautiful Czech Republic SBK grid girls Jitka and Petra to the United States this July 2014 to appear at Laguna Seca SBK World Superbike round at Mazda Raceway Laguna Seca the weekend of July 11-13th and at the LA Calendar Motorcycle Show in Malibu, CA on Sunday July 20th.
These two 6-foot 2-inch tall long legged, blond hair professional supermodels hail from the capital of the Czech Republic, Prauge, and have been featured on SBK world TV race broadcasts the last 3 years standing at the front of the SBK World Superbike starting grid towering above the race bikes and riders in their uniforms with umbrellas to showcase SBK's title sponsors Pirelli Tires, Agip Fuels and Lubricants, and Alfa Romeo Automobiles. In their official uniforms with 6-inch heels on their platform boots, Jitka and Petra tower nearly 7 feet tall and can intimidate the bravest factory racers and experienced photographers!
Both these Czech mates are already official FastDates.com Calendar Kittens having shot for the Calendars with contributing Italian photographer Max Oliana at the 2012 and 2013 SBK rounds at Bruno and Silverstone for the current 2014 and upcoming 2015 Fast Dates World Superbike and Garage Girls PinUp Calendars.
Meet the offical SBK Fast Dates World Superbike Girls Here!
---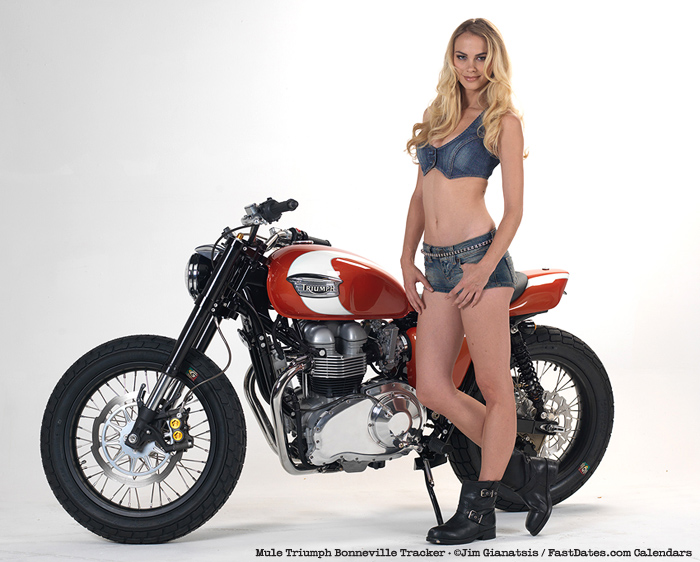 Mule Motorcycles Triumph Bonneville Tracker now in the Calendar Bike Garage!
Check out this awesome Triumph Bonneville Streetracker built by one of our favorite Calendar Bike Builders, Richard Pollock / Mule Motorcycles, now featured in the FastDates.com Calendar Bike Garage with complete details and large screen saver size pictures. We might just even have included this picture of beautiful Sara with the bike.... Go to Calendar Bike Garage


Another cool Triumph Bonneville - AMA Pro Dirt Tracker Shayna Texter and her Triumph dirt track bike.
---
NEW! FAST 2014 Digital Calendar Magazine Yearbook
The Bikes, the Builders, the Riders, the Kittens,the Calendar Bike Show, the World Superbike races all the 2014 Calendar Pictures, and Special Features... For the first time every we take you around the world in 120 exclusive pages for the making of the 2014 FastDates.com Calendars! Now in Members Corner
---
There's More! Go to Pit Lane News Previous Week

Also Visit: Fast Dates Calendar News • Iron & Lace Calendar News
Calendar Girl News • Meet the Models • Paddock Garage
Get FastDates.com T-Shirts, Mugs & Photographs from Our Store


MEMBERS CORNER! Calendar Kittens, Paddock Garage, Iron & Lace Garage


Amazon.com Motorcycle Products & Apparel Store



MotorcycleSuperstore.com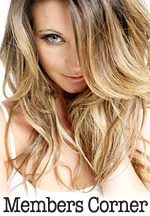 Hot Bikes, Sexy Kittens
Your Exclusive Grid Pass
also includes....
---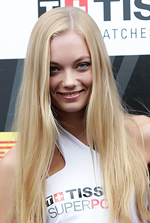 2013 SBK Race Season
Meet the offical SBK
World Superbike Girls!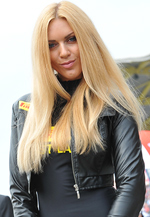 2014 SBK Race Season
Order the New
2013 / 2014 Calendars!
with the FastDates.com Calendar Kittens - the official SBK Umbrella Girls!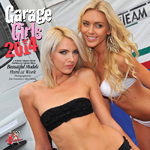 Click for even more
2014 Calendars!
---
Michelin to be the new Spec Tire for MotoGP Beginning In 2016
May 23rd - Today Dorna announced that Michelin will take over from Bridgestone as the spec-tire manufacturer in the MotoGP World Championship beginning in 2016 and it turns out that they didn't have much competition: The French company was the only tire manufacturer to submit a formal tender.

At the beginning of May 2014 Dorna, in agreement with the FIM, opened a tender for tire manufacturers interested in becoming Official Tire Supplier to MotoGP. Interested tire manufacturers were able to request the technical specifications from Dorna's Managing Director Javier Alonso, with three potential tire suppliers initially expressing an interest – before Michelin alone made a formal tender before the May 22 deadline.
The next step in the process will be the drawing out of a commercial agreement between Dorna and Michelin as Official Tire Supplier, Dorna says, with "Michelin having already clearly proven its technical abilities to respond to the needs of a demanding Grand Prix racing schedule."

Dunlop Motorsport issued a release today explaining why it didn't submit a tender to Dorna.

"MotoGP continues to be a very strong global event, and we are proud of our long-standing relationship with the MotoGP organizers through our continued supply to the FIM Moto2 and Moto3 World Championships," said Sanjay Khanna, the managing director of Dunlop Motorsport and Motorcycle EMEA. "Dunlop is in the fortunate position of having many strong partnerships with motorcycle manufacturers and leading championships around the world. We have taken the decision to focus on developing and supplying tires for these important partners for the immediate future.

"We believe our performance in events where there is open-competition between tire manufacturers, such as road racing and the FIM Endurance World Championship, prove that Dunlop has the capability to win races at the top-level of motorcycle racing. However, with such a diverse range of racing activities already planned for 2015 and beyond, we have chosen not to tender to be the Official MotoGP supplier on this occasion. We do not rule it out as an opportunity in the future."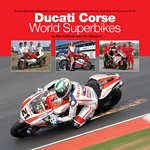 Retail $49.95 ea.
Click to Order from Amazon.com

Ducati Corse
World Superbikes
by Alan Cathcart
& Jim Gianatsis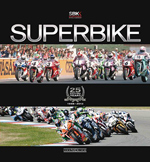 The Official SBK
World Superbikes
1987-2012
25 Year History Book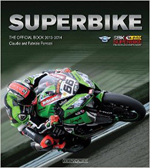 The Official SBK
2013-2014 Yearbook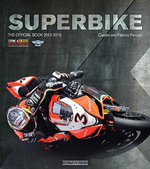 The Official SBK
2012-2013 Yearbook
These SBK Yearbooks are the Best Books Ever about World Superbike. They feature awesome color photography of the riders, bike and racing action. The feature a detailed revue of the past season in pictures and statistics, with a detailed look at the bikes and riders.

Plus a technical look data all the bikes, a preview of the upcoming season's Championship!
We buy this every year ourselves and highly recommend it!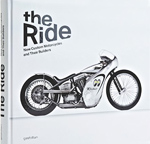 The Ride
The new generation
of sport customs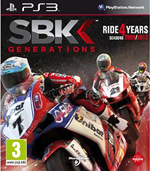 SBK World Superbike Video Game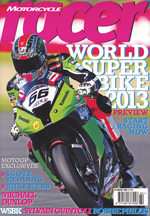 Official Print Media Partner
---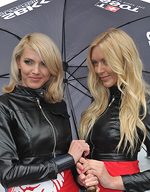 Meet FastDates.com
Calendar Kittens
SBK Grid Girls
Jitunka & Petra!

MV Agusta F3 800cc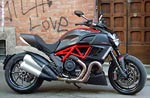 The Devil Made Us Do It!
Testing the Ducati Diavel in Italy
Sudco Carburetor Kits & OEM Replacement Parts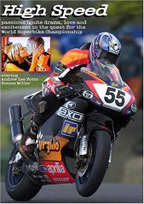 High Speed - the Movie
The best motorcycle racing movie ever made! Filmed on location at the World Superbike races , this an exciting romantic drama staring beautiful British actress Sienna Miller.
---
THROUGH THE ALPINE WONDERLAND OF AUSTRIA AND SOUTHERN GERMANY – THE ALPS AND LAKES MOTORCYCLE TOUR!
The Alps and Lakes motorcycle tour takes you through a beautiful part of European motorcycle paradise; the Alps. The contrast between the beautiful lakes in southern Germany and Austria and the towering mountains that reach up to more than 10,000 ft is nothing less than breathtaking.
This area is the famous background for the movie "Sound of Music". This vacation offers a little bit of everything: beautiful and relaxing rides through the valleys; some mountain roads and passes; and great vistas and sights, including King Ludwig's castle, Herrenchiemsee, and the historic city of Salzburg. The tour consists of five riding days, one of them is a rest day – which means that you stay two nights at the same hotel.

This is a great opportunity to explore a little bit more, ride around the countryside, walk through town, meet the locals and sample some of the local food. The tour will take you through Germany and Austria, and on the rest day you can even add Italy to your list if you are so inclined.
Find Out More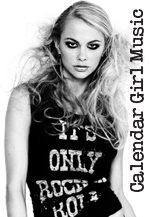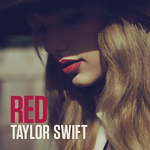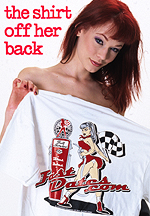 Order the Official
FastDates.com &
LA Calendar Bike Show
T-Shirts!