Bigger and Better than Ever!
Excitement and another record turnout highlight the 14th annual FastDates.com
and Performance Machine present the
2005 Los Angeles Calendar Motorcycle Show
2005 LA Calendar Motorcycle Show Story Page 1 • Page 2 • Page 3

Jardine Dyno Shootout, Iron & Lace Calendar Bike Builders Seminars & Saturday Night Party, America's Premier Bike Contest is AMD World Championship Qualifier, A Great Weekend of Live Music, Purrfect Angelz and FastDates.com Calendar Girls Gone Wild and more!

Long Beach, CA, July 16-17th -The Los Angeles Calendar Motorcycle Show Weekend presented by Performance Machine continued to grow again this year as the most popular consumer street bike show in America. Always the 3rd weekend of July at the Queen Mary Event Park in Long Beach, CA,, the Show offers a huge weekend of activities with sold out participation from 195 major motorcycle and product companies, up 30 more from last year in an expanded event layout. The Show again featured leading custom bike builders from across America and around the world, and hotested a 2-day capacity crowd up another 20% over last year.
The Show is produced by Jim Gianatsis of Gianatsis Design Associates, also producer of the renown FastDates.com Motorcycle Pinup Calendars and Website for which the Calendar Bike Show marked the 2006 FastDates.com Calendars' World Premier.
A new addition to the Show this year was its affiliation as an Official Qualifying Round of the American Motorcycle Dealer World Championship of Custom Bike Building, with the top placing bikes in the Performance Machine Bike Show Contest receiving a confirmed invitation to the AMD World Championship Final at Big Twin West in Las Vegas the weekend of November 18-20th.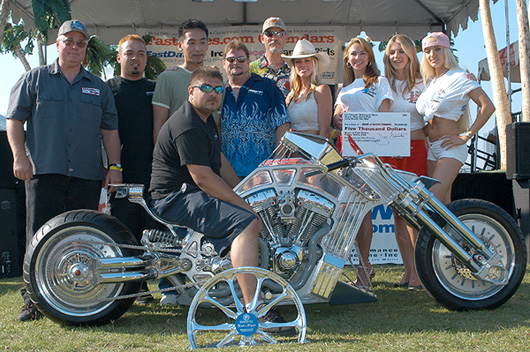 Above from left: Performance Machine's Ted Sands, Dreamcraft's Ysmael Galera, Paul Yang, Brian Giron and Larry Nagel, Bikernet.com's Keith "Bandit" Ball, Calendar Angels "Rockin' Robin" Cunningham, Andra Cobb, Christina Linderman, Dominique Layafette. Photographed by Show producer Jim Gianatsis.
The LA Calendar Show has become one of America's premier Custom, Sportbike and Classic Bike Contests featuring many of top bike Pro and Amateur builders in America -and now from around the world vying for the prestigious Performance Machine Best of Show Trophy. Winning the coveted top spot this year was Larry Nagel and Paul Yang of Dreamcraft Studios with their radical new $250,000 billet bike "Rapture" featuring a 1-piece frame which was CNC machined over 2-days from a 900 lb.s solid chunk of aluminum. Among Rapture's many other unique features were the scratch built quad tube front forks, a through the swingarm exhaust system, and dual raised windscreen fuel tanks. Whew!
Stage activities were hosted throughout the weekend by FastDates.com Calendar Angel, Miss Texas and Miss Harley-Davidson "Rockin' Robin" Cunningham. Robin was assisted for the trophy presentation on Sunday by Performance Machine marketing director Ted Sands and Bikernet.com's Keith "Bandit" Ball. Both Ted and Keith all served as Bike contest judges earlier in the day, together with Iron Works editor Dain Gingerelli and FastDates.com Calendar photographer and Show producer Jim Gianatsis.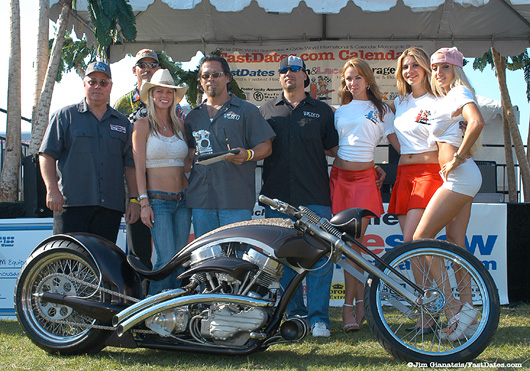 Pro Builder Class winner John Franco and "Lethal" Strike" from Wicked Brothers.
Taking top Pro Builder Class honors was John Franco's "Lethal Strike" named for the rattlesnake skin down the top of the gas tank. Built by Wicked Brothers, the judges liked Franco's bike for its simplicity with clean flowing lines which all worked together, the stealth grey paint job accented by all the chrome which had been brushed to a unique dull finish. The Show's title sponsor Performance Machine bolstered the already huge $60,000 Bike Show awards purse with an additional $5,000 cash award for the Best Performance Machine Equipped Bike at the Show going to Mark Daley of Thunderstruck Custom Cycles with his silver and polished chopper featuring all Performance Machine components.
The Show weekend offered an incredible lineup of activities including the Jardine Performance West Coast Horsepower Dyno Shootout - an exclusive feature attraction at the Show. The dyno was hosted by Jardine Marketing Director John Gunter, together with Kerry Bryant and Cycle News editor Scott Rousseau. The dyno ran some 80 bikes non-stop thoughout the 2-day weekend to a standing room only crowd of spectators. The strongest running Harley was East Side Performance's Turbo Nitrous Harley 107 ci with 283.7 hp. World Record holder John Noonan returned to try and breakhis record of 545 hp, but could only manage this year to get his Turbo Nitrous Suzuki Hyabusa up to 339.0 hp to win the unlimited sportbike class.

Fans got to meet many Discovery Channel and Speed TV featured celebrity custom builders from the programs American Thunder, Great Biker Buildoff, and Build or Bust including Russell Mitchell, Jesse Rooke, Roland Sands, Mitch Bergeron, Mike Stafford, and Harold Pontarelli. The builders were featured in Iron & Lace Calendar Bike Builder's Seminars held hourly throughout the weekend in the midway tent located in the center of the Show Park. Each builder explained their own personal style for building world class custom bikes, then they answered questions from enthusiastic fans. The Iron & Lace Calendar Bike Builder Seminars were a big hit among fans and are a regular feature of the Calendar Show.
The LA Calendar Bike Bike show featured 2 days of incredible live music and entertainment. Both days featured classic rock with the hugely popular Unauthorized Rolling Stones out of San Francisco, together with the Janis Joplin style rock/blues vocals of the beautiful Boudeeka. Alternating with the Stones on Saturday was beautiful blues rock singer Jessie Payo from Jessie and the Rain Dogs, On Sunday it was sexy Pat Benatar stylings of Heather of the band Balentine who traded sets with the Stones.
And really bringing down the house in 2 different performances each day to showcase the PinUp Model calendar theme of the Calendar Show were the the beautiful Purrfect Angelz with their sizzlin'' Las Vegas style stage performances. Along with a Calendar Girl Model Search Pageant each day with $70 0 in prize money that revealed beautiful bikini girls Holly Webber, Natalie Green and Candice Curtis as the winners. Candice's beautiful attributes also earned her a paid calendar shoot the following day with photographer Jim Gianatsis for the next Iron & Lace Calendar. Bikes selected from the Show for the Calendar shoot included a retro hot rod from Zero Engineering of Japan, and a just completed pop stylized bar hopper built by Bob Phillips of Wizard Creations for actor Brad Pitt.
And what would the Calendar Bike Show be without world the premier of the 2006 FastDates.com Calendars with beautiful SBK World Superbike girl Calendar Angels Calendar Angel Andra Cobb, along with newest Angels Christina Linderman and Dominique Lafayette. Plus a plethora of beautiful girls where ever you looked from Hooters, Feelin' Lucky, Archie's Ice Cream, and dozens of other Show exhibitors and venders.
On Saturday night Show producer and calendar photographer Jim Gianatsis hosted the Iron & Lace Calendar Builders Night Party to another capacity crowd aboard the historic Queen Mary ocean liner in the ship's Observation Room Bar. Many of the top Iron & Lace Calendar bike builders were there to party with the Show staff, exhibitors and fans And what would the Iron & Lace calendar builders party be without the beautiful FastDates.com Calendar Angels who were also in attendance with the Purrfect Angelez. Live rock blues music was provided at the party by the Shari Puorto Band.
Incredibly, despite the Show's continued growth, past years' problems with parking and long food lines were now fully resolved. Spectators' motorcycles were parked on site in a secured check-in and fenced lot. While spectators in automobiles were routed, when necessary, quickly into nearby downtown Long Beach parking structures then shuttled in a 5 minute bus ride to the Show.
A wide array of food venders including the Queen Mary BBQ, Hooters Restaurants, Big Mamma's Hot Dogs, Barnett's Lemonade, Archie's Ice cream and mexican food in 2 different Show locations. This included the new Metric Roadhouse in the Show's expanded Paved Lot assured spectators were taken care of quickly with great food choices. The Roadhouse also featured live music both days by beautiful DJ Samantha Lee to make sure exhibitors and fans weren't left out of the action.

Associate Sponsorship support for the premier street bike event weekend in America is provided by
Iron Works magazine, Jardine Performance, Hooters, Trader Publications, Bikernet.com, FastDates.com Calendars & Website, ReCycler / Cycle Buys, Quick Throttle magazine, 2Wheel Tuner magazine, CaliforniaHostess.com, Events by Noonan and SPEED TV's American Thunder. The 2007 LA Calendar Motorcycle Show is scheduled for July 15-16th. Spectators and Exhibitors can find out more about The Show, the Bike Contest and all the available weekend activities online at www.FastDates.com.
2005 LA Calendar Motorcycle Show Story Page 1 • Page 2 • Page 3
2005 LA Calendar Bike Show Contest Results
Best of Show: Larry Nagel and Paul Yang, Dreamcraft Studios "Rapture".
Best PM Equipped Bike at the Show: Mark Daley, Thunderstruck Customs special construction chopper featuring all Performance Machine components.
Iron Works Magazine Pro Builder: 1. John Franco, Wicked Brothers "Lethal Strike" Panhead Softail; 2. Mike Stafford, MGS Custom Bikes "Dragon Slayer" 131 ci H&L w/Diamond Chassis; 3. James Hetfield and Kirk Taylor, Kirk & Jaymwz 88 ci Panhead Pan Demonium in Inverted I-Beam Sprinder frame.
Street Performance: Paul Morris, 1990 HF FXR w/ 131 ci. 9 sec Street Class Drag HD; 2. Robert Prayther, Special Consruction Paucho w/55 ci.; 3. Johnny Lizarraga, Twin Thunder, S&S 113 ci with/ West Coast Choppers Dominator rigid chassis.
Street Custom: 1. Rick Kyker, Todd & Chop Shop Special Construction, 114 ci TP engine; 2. Chris Crowe, 2002 Harley-Davidson Road Glide; 3. Joe Bacal, Special Construction, 121 ci TP and Daytec Red Neck Springer frame..
Classic Early Twin pre 1956: 1. Garage Company, 1959 H-D FL, 2. Tommy Eriksson, 1944 HD Knucklehead modified, 3. Stan Delmore, 1934 Indian Chief modified..
Classic Late Twin from 1956: 1. Da Tiki, Roger Kuwahara / Kustom Fab, stretched '73 HD "Old School" with S&S 98 ci.; 2. Luis & Sandi Maunao, H-D Road King 95th Anniversary; 3. Garage Company1982 H-D FLH.
Sportster: 1. Robert Ramey, Nasty Bikes Special Construction; 2. Robert Ramey, Nasty Bikes Special Construction; 3. Sallie "Wicked Lil' Bitch" Dinkle, Wicked Brothers XL1200.
2Wheel Tuner Magazine Sportbike: 1. Mike Witte, Special Construction Aprilia RS250 with Suzuki RG500 engine; 2. Ricky Montara, RIS Designs, Suzuki GSXR1000; 3. Eddie McCoy, Parts Unlimited, Kawasaki ZX12R.

Jardine West Coast Horsepower Dyno Shootout Class Winners:
Name / Class / Bike / Horsepower
East Side Performance, Turbo Nitrous Harley Harley Dyna 107" 283.7 hp
John Noonan, Turbo Nitrous Suzuki Hyabusa 339.0 hp
Joe Kay, V-Twin 74"-80" Harley V-Rod 110.1 hp
Paul Morris, V-Twin 114"+ Harley 181.7 hp
Steve Prouty, 600cc Sport bike Kawasaki ZX-6R 102.9 hp
Paul Whealy, Sportster/Buell Harley Sportster 120.0 hp
Bennetts Performance, V-Twin 81"-88" Harley Electra Glide 113.9hp
Brian Uyema, V-Twin 89"-95" Harley Dyna 106.9 hp
Anthony Pina, 1000cc Sport bike Suzuki GSXR-1000 162.2 hp
Chris Ghram, 750cc Sport bike Suzuki GSXR-750 127.9 hp
Ray Garofano, Open Sport bike Suzuki Hyabusa 203.8 hp
Bruce Ranyard, V-Twin 96"-113" Harley Dyna 119.3 hp
_______________
Hi Resolution Images for News Media, Show Exhibitor / Bike Contestant Use Only
©Jim Gianatsis / Gianatsis Design - Photo Credit and URL Link to FastDates.com required with use.
Hi Resolution images for media print use: 2005 Show Feature Image
http://www.fastdates.com/Press/BikeShow2005IntroHiRes.jpg

Best of Show $5,000, Dreamcraft Rapture
Above from left: Performance Machine's Ted Sands, Dreamcraft's Ysmael Galera, Paul Yang, Brian Giron and Larry Nagel, Bikernet.com's Keith "Bandit" Ball, Calendar Angels "Rockin' Robin" Cunningham, Andra Cobb, Christina Linderman, Dominique Layafette. Photographed by Show producer Jim Gianatsis
http://www.FastDates.com/BikeShow2005/BikeShow2005Images/BikeShow05.300.BestShowHiRes.jpg

Best Performance Machine Equipped Bike $5,000, Mark Daley
http://www.FastDates.com/BikeShow2005/BikeShow2005Images/BikeShow05.294.BestPMHiRes.jpg
Pro Builder First Place, John Franco / Wicked Brothers
http://www.FastDates.com/BikeShow2005/BikeShow2005Images/BikeShow05.292ProHiRes.jpg
Street Custom First Place, Rick Kyker
http://www.FastDates.com/BikeShow2005/BikeShow2005Images/BikeShow05.285StreetCustHiRes.jpg
Street Performance First Place, Paul Morris
http://www.FastDates.com/BikeShow2005/BikeShow2005Images/BikeShow05.304PerfTwinHiRes.jpg
Classic Late Twin First Place, Da Tiki, Roger Kuwahara
http://www.FastDates.com/BikeShow2005/BikeShow2005Images/BikeShow05.283ClassicTwinHiRes.jpg
Sportster First Place, Robert Ramey, Nasty Bikes
http://www.FastDates.com/BikeShow2005/BikeShow2005Images/BikeShow05.308SportsterHiRes.jpg
2Wheel Tuner Sportbike First Place, Mike Witte / Suzuki RG500 Gamma in Aprilia RS250 chassis
http://www.FastDates.com/BikeShow2005/BikeShow2005Images/BikeShow05.279.2WTsportHiRes.jpg
Purrfect Angelz
http://www.FastDates.com/BikeShow2005/BikeShow2005Images/BikeShow05.264AngelzHiRes.jpg
Bike Show Stage and Pro Builder Bikes
http://www.FastDates.com/BikeShow2005/BikeShow2005Images/BikeShow05.222ParkHiRes.jpg
Jesse Rooke and FastDates.com Calendar Angels
http://www.FastDates.com/BikeShow2005/BikeShow2005Images/Bikeshow05.180RookeHiRes.jpg
Bike Show Midway Jam Packed and Jelly Tight
http://www.FastDates.com/BikeShow2005/BikeShow2005Images/BikeShow05.176MidwayHiRes.jpg
Pro Builder Contest Area
http://www.FastDates.com/BikeShow2005/BikeShow2005Images/BikeShow05.156ProBuildHiRes.jpg
Jardine Dyno with Kerry Bryant and Scott Rosseau
http://www.FastDates.com/BikeShow2005/BikeShow2005Images/BikeShow05.146DynoHiRes.jpg
Purrfect Angelz - Perform to Madonna's Like a Virgin
http://www.FastDates.com/BikeShow2005/BikeShow2005Images/BikeShow05.120AngelzHiRes.jpg
Purrfect Angelz - Perform to Madonna's Like a Virgin
http://www.FastDates.com/BikeShow2005/BikeShow2005Images/BikeShow05.119AngelzHiRes.jpg
Jesse Rooke's newest Custom with FastDates.com Angelz
http://www.FastDates.com/BikeShow2005/BikeShow2005Images/BikeShow05.099RookeHiRes.jpg
Feature band Unauthorized Rolling Stones
http://www.FastDates.com/BikeShow2005/BikeShow2005Images/BikeShow05.093StonesHiRes.jpg
Calendar Girl Model Search Winners
http://www.FastDates.com/BikeShow2005/BikeShow2005Images/ikeShow05.082PageantHiRes.jpg
Iron & Lace Calendar Builders Seminar with Roland Sands
http://www.FastDates.com/BikeShow2005/BikeShow2005Images/BikeShow05.029SeminarHiRes.jpg
Shinya Kimura of Zero Engineering flew in from Japan
http://www.FastDates.com/BikeShow2005/BikeShow2005Images/BikeShow05.021.ZeroHiRes.jpg
Russell Mitchell and Jesse Rooke attacked by FastDates.com Calendar Angels
http://www.FastDates.com/BikeShow2005/BikeShow2005Images/BikeShow.190RussJessHiRes.jpg