Calendar News - March / April 2005
FastDates.com and Performance Machine present the 2005
LA Calendar Motorcycle Show Weekend July 16-17th 2005
Featuring the World's top Builders and Custom Bikes with a huge $70,000 Cash and Awards Purse, Jardine Dyno Shootout, Free Builders Seminars, World Premier of the Dreamcraft Studios Billet Bike, and zillions of Beautiful Girls
Los Angeles, March 1st - The Los Angeles Calendar Motorcycle Show Weekend sponsored by Performance Machine and held at the beautiful Queen Mary Event Park on the Pacific Ocean in downtown Long Beach, CA, continues to grow every year as the most popular consumer street bike show in America catering to custom, cruiser, classic and sportbike enthusiasts. Always the 3rd weekend of July, the 14th Annual Show scheduled for Saturday July 16th and Sunday July 17th, 2005. The Show features a huge weekend of activities with an expected 180 major motorcycle and product manufacturers, exhibitors and venders, together with the leading custom bike from across America.
There's an incredible lineup of activities including the Jardine Performance West Coast Horsepower Dyno Shootout - an exclusive permanent feature attraction at the Show. Another exclusive feature are the Iron & Lace Calendar Bike Builder's Seminars held both days at the Show, conducted by the leading custom bike builders in America as featured in the Iron & Lace Calendar. You'll meet many legendary builders with their latest bikes including 3-time Show winner Jesse Rooke, plus Russell Mitchell, Don Chica, Mitch Bergeron, Paul Yaffe, Mike Stafford, Harold Pontarelli, Ron Simms and others. Plus exciting new builder Dreamcraft Studios with the next world premier their latest rolling piece of techno artwork featuring the world's first fully machined 1-piece billet chassis. Each builder will be available to meet at their bike displays with free autographed posters, and at their Builder's Seminars where they will tell fans how they really build their bikes. It's not Reality TV, it's live!

How to Become Rich and famous: Jesse Rooke came out of no where never having built a bike before, won the LA Calendar Motorcycle Show 3 years in a row with two Best of Shows and First Place Pro Builder, and earned having his incredibly inovative bikes featured in the Iron & Lace Calendar. It landed Jesse a national advertising campaign and sponsorship with Mikuni Carburetors among many, a feature program on the Discovery Channel premiering March 2005, and paid appearances at leading motorcycle events across America. Click on Jesse (above) for the big picture and a preview of the upcoming 2006 Iron & Lace Calendar with Jesse's latest Kali Kruiser: Rockstar, also featured in a detailed world's first exclusive pictorial the Iron & Lace Garage.Sweet.
This year's Show will place a special emphasis on the growing metric cruiser market with the exciting new Metric Roadhouse and Midway. Located right inside the main Spectator Entrance / Exit of the Show, the LA Calendar Bike Show Metric Roadhouse and Midway will feature an exciting host of activities to draw the entire range of streetbike enthusiasts throughout the weekend. Targeted activities in the Metric Roadhouse Roadhoue include the Jardine West Coast Horsepower Dyno Shootout, the Metric Cruiser and 2-Wheel Tuner Sportbike and MotoCreations.com Ducati Bike Show Contest classes with leading edge metric customs and sport bikes, a beautiful girl DJ spinning hot tunes, along with great food and beverages throughout the weekend.
On Saturday night Bike Show producer Jim Gianatsis hosts the Iron & Lace Calendar Builders Night Party beginning at 9pm on board the historic Queen Mary ocean liner in the Observation Room Bar with live musical entertainment by a sensational new national female recording artist. Many of the top Iron & Lace Calendar bike builders together with other top celebrity builders attending the Show weekend will be there, together with fans and the beautiful FastDates.com Calendar Angels featured in the Iron & Lace Calendar.
As always the LA Calendar Show offers the premier Custom, Sportbike and Classic Bike Contest on the West Coast featuring many of top Pro and Amateur bike builders in America vying for the prestigious Performance Machine Best of Show Trophy. Performance Machine and show producer Jim Gianatsis have bolstered the already huge $60,000 Bike Show awards purse with an additional $10,000 in Case Prize Money for Best of Show and Best PM Equipped Bike at the Show. Expect 3-time LA Calendar Motorcycle Show winner Jesse Rooke to return to reveal his latest cutting edge custom in another bid to secure the coveted Performance Machine Best of Show title. But competition will again be intense from many of world's top builders like last year's winner Shinya Kimura from Zero Engineering who flew in from Japan to took home the Best of Show trophy with one of his famed retro choppers that have customers on a 4-year waiting list.

Highlighting a full weekend of live entertainment, this year's LA Calendar Motorcycle Show features a Classic Rock 'n' Roll and Blues Festival both days. Returning is the hugely popular Unauthorized Rolling Stones out of San Francisco together with the Janis Joplin style rock/blues vocals of the beautiful Boudeeka. Alternating on stage will be beautiful blues rock singers Jessie Payo on Saturday, and Shari Puorto on Sunday. Also featured both days will be the beautiful Purrfect Angelz with their sizzlin' Las Vegas style stage shows which set the Show on fire, literally, with the sexy outfits, and stage routines which include fire twirling and lap dancing!

Showcasing the Calendar Girls theme of the Calendar Bike Show will be the premier of the 2006 FastDates.com Calendars with the beautiful SBK Fast Dates World Superbike and Iron & Lace Calendar Angels in attendance. Featured is TV and movie star Miss Texas "Rockin' Robin" Cunningham who will be hosting the stage activities both days, assisted by the legendary Keith "Bandit" Ball of Bikernet.com and biker magazine fame. Plus there will be the FastDates.com Calendar Girl Model Search Pageant presented by CaliforniaHostess.com with their own sexy models, plus the beautiful Hooters Girls and Archie's Ice Cream Girls.
Associate Sponsorship support for the premier streetbike event weekend in America is provided by Iron Works magazine, Jardine Performance, Trader Publications, Trader Express, Connection Magazines, Quick Throttle Magazine, 2-Wheel Tuner, FastDates.com Calendars & Website, The Los Angeles Times / ReCycler / Cycle Buys, Bikernet.com and SPEED TV's American Thunder.
You can find out more about The LA Calendar Motorcycle Show, the Bike Contest and all the available weekend activities here at at Bike Show
Iron & Lace Bike Pictorials
FastDates.com is excited to offer the world's first exclusive pictorials and storys on the world's premier custom bikes in:

Iron & Lace Garage.
You'll also find revealing pictures of our beautiful Calendar Angels free with your Iron & Lace Garage membership in Members Corner
---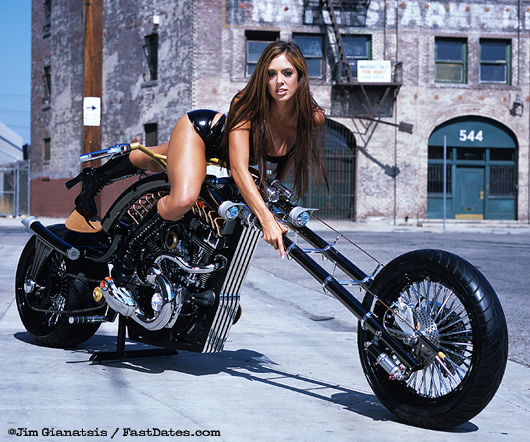 Dreamcraft Studios to World Premier new all-billet machined cutom bike at 2005 LA Calendar Bike Show
Los Angeles, March 1 2005 - What do you get when you combine a race car engineer with a hot young graduate from the world famous Pasadena Art Center College of Design, school for world's best motorsports designers, who have never built a motorcycle before? At our 2004 LA Calendar Motorcycle Show it was the World Premier of "Sega" - the exciting and futuristic chopper unlike anything the motorcycle industry has ever seen from their new partnership Dreamcraft Studios.
The Dreamcraft Sega was a first ever effort between race car engineer Larry Nagel and Art Center grad Paul Young and cost and estimated $1/4 million dollars. The Sega is pictured above with Tanea Brooks who performs with the all-girl performance group The Purrfect Angelz at our LA Calendar Motorcycle Show. Tanea and Sega were photographed by Jim Gianatsis and are featured in the 2006 Iron & Lace Calendar.
Sega set the bike building world on its head for originality. But now, Larry tells us ".... you haven't seen anything yet!" He and Paul are currently hard at work on their next 2-wheel design masterpiece, an almost pure billet machined bike. That includes the chassis/ frame which is being fully computer machined from a solid chunk of aluminum alloy billet on ahuge CNC machine. Nothing like it has ever been done before because of the design complexity, computer programing requirements and cost, and probably nothing will again for a very long time.
The all new Dreamcreft billet Bike will make it's world premier at the 2005 Los Angeles calendar Motorcycle Show on July 16-17th. You won't wan't to misss it! For a glimpse of the Dreamcraft billet bike in the making go to DreamcraftStudios.com.
More Iron & Lace News
HERE
• Return to
Iron & Lace Calendar News Front Page
click here to see even more of our sexy Iron & Lace Calendar Angels...