Calendar News - Fall 2004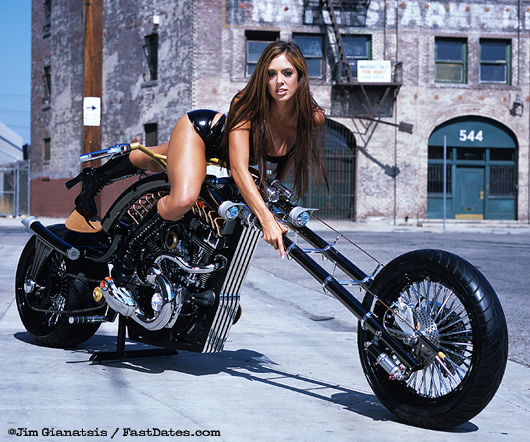 $250,000 Dreamcraft Studios Sega Chopper
September 1st: What do you get when you combine a race car engineer with a hot young graduate from the Art Center College of Design who have never built a motorcycle before? You get is a fresh, exciting, and futuristic chopper unlike anything the motorcycle industry has ever seen before.
Convention is thrown aside with the fuel for the full stock Harley Twin-Cam engine hidden in a flowing backbone frame reminiscent of the creature in 'Alien". The projector headlights with their extended eyeshades have the piercing look of a futuristic android. The exhaust system is a twist of snakes converging in a strange bulging collector with 4 red hot outlets.
Also extraordinary is the race car inspired chopper looking front suspension which uses lever arms acting on exotic externally adjustable racing air shocks to provide "correct" suspension movement with wheel travel perpendicular to the road. Whereas conventional motorcycle forks which are extended at a severe axle for the correct chopper look, will bind up and more 'suspension" is provided by the flexing of the fork legs rather than the actual compressing of the forks.
The Dreamcraft Chopper, a first ever effort between race car engineer Larry Nagel and Art Center grad Paul Young, had it's industry world premier at the 2004 Los Angeles Calendar Motorcycle Show. With the time it took them both to desing and build Chopper 001 from scratch, its estimated cost is around $1/4 million dollars.
Sounds expensive? Naw. On just their first day dispalying the bike at the LA Calendar Show the team received blank check commissions from an extreamely wealthy collector for them to build two new bikes even wilder than old Number 001 here. We can hardly wait to see Numbers 002 and 003. And neither can Tanea.
| | |
| --- | --- |
| Jim Gianatsis photographed the Dreamcraft Chopper for the next FastDates.com Iron & Lace Calendar after its world premier at the 2004 Los Angeles Calendar Motorcycle Show. The sexy brunette beauty vamping herself all over the bike is Tanea Brooks, a professional model and dancer, and member of the Purrfect Angelz all-girl burlesque show troupe which had also performed at our Bike Show where Jim first met her. Needlsas to say, Tanea was our purrfect Ridley to tame this wild Alien. To see more of this wild creature visit the Iron & Lace Garage. | |
---
The Mikuni, Jardine, Performance Machine sponsored
2005 IRON & LACE and GARAGE GIRLS Motorcycle Pinup Calendars
for custom bike enthusiasts
The renown
Iron & Lace Calendar
sponsored by
Mikuni Carburetors
,
Performance Machine
and
Jardine Performance
returns again for 2005 with 16 full color pages of the finest custom Harley-Davidsons together with beautiful centerfold models. It's a revealing look at some of the finest customized, high performance and fully race modified Harleys from America's top builders, photographed by Jim Gianatsis. Included are the hottest custom bikes from America's top builders including Paul Yaffe, Don Chica, Harold Pontarelli, Ron Simms, Chica Customs, Russell Mitchell of Exile Cycles, Roland Sands of Performance Machine, Mike Stafford of MGS Customs, and Confederate Motorcycles, together with 2-time LA Calendar Motorcycle Best of Show winner Jesse Rooke's incredible "Kali Kruiser". The beautiful models in this year's Iron & Lace include reigning Miss Great Britain Nicki Lane, Andra Cobb from Mikuni's sexy "Explicit Performance" advertising campaign. Penthouse Pet Martina warren and adult film star Jessica Drake all in sexy lingerie. See why America's best custom Iron is a perfect compliment to beautiful girls in sexy lingerie in Iron & Lace 2005!
And for those of you who can't get enough of the beautiful FastDates.com Calendar girls there's the
2005 Garage Girls Calendar
featuring a close up look at the prettiest, sexiest, most popular FastDates.com Calendar Angels , but without the motorcycles getting in the way! This year's featured models include fashion model Laura Niles and adult star Justine Jolie.Now you have a calendar for every room in the house! And for additional for news and photo features on the bikes, calendars and models visit
Meet the Models
.
Each 2005 Iron & Lace and Garage Girls Calendar is a large format 15x15 inch spiral bound size, with high quality reproduction in full color on quality card stock, uncovering a full 16 months beginning with September 2004. Calendars are available through Drag Specialities, Global Motorsports, Van Leeuwen, Kimpex, Northern Accessories and W&W Cycles at your local motorcycle dealer, or phone 1-800-461-1226 or order online at www.FastDates.com.
---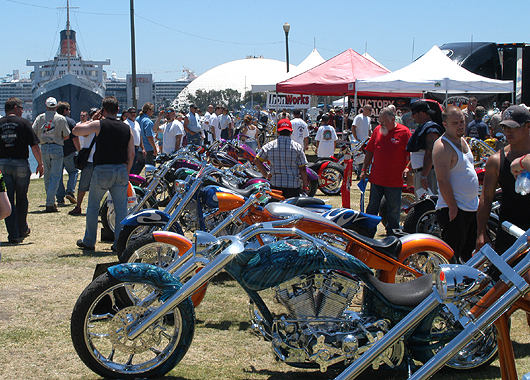 Click this picture for an incredible full panoramic view of the Show from the front stage. Go Big.
Sexy Models, Incredible Bikes, Blues 'n' Rock 'n' Roll and a record turnout highlight the
13th annual FastDates.com and Performance Machine presents the
2004 Los Angeles Calendar Motorcycle Show

Jardine Dyno Shootout Shatters World Record, World's Top Custom Bike Builders with
free Seminars, The West Coast's premier Bike Contest, Rockin' Concerts, Iron & Lace Calendar Saturday Night Party, Purrfect Angelz gone wild, Beautiful FastDates.com Calendar girls and more!
Long Beach, CA, July 17-18th, 2004 -The Los Angeles Calendar Motorcycle Show Weekend presented by Performance Machine at the Queen Mary Event Park in Long Beach, CA, continued to grow again this year as the most popular consumer street bike show in America catering to custom, cruiser, classic and sportbike enthusiasts. Always the 3rd weekend of July, this year's show featured a incredible weekend of activities and our first ever sold out participation by 165 major motorcycle and product manufacturers, exhibitors and venders, leading custom bike builders from across the world, together with a 2-day jam-packed crowd of motorcycle enthusiasts.
The Show weekend included an incredible lineup of activities including the Jardine Performance West Coast Horsepower Dyno Shootout - now an exclusive feature attraction at the Show. In a stunning climax on Sunday afternoon to an already record-breaking weekend at the Show, JE Pistons' John Noonan on his Suzuki GSX1300R Hayabusa land speed bike obliterated the existing North American record for horsepower registered at a Dyno Shoot-Out on Sunday at 545hp, Noonan surpassed the current world record by 31 hp!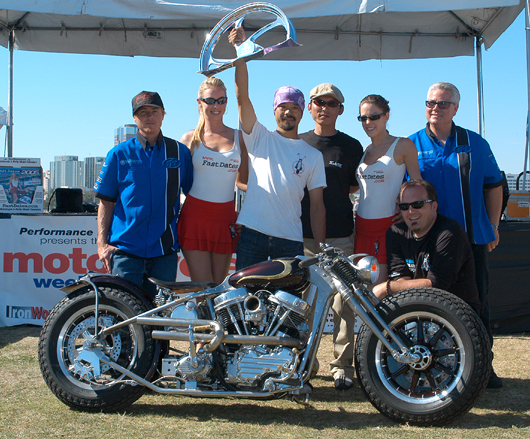 Shinya Kimura from Zero Engineering, Japan, flew in just for the Show and took the coveted Performance Machine Best of Show Trophy. His bikes are back ordered 4 years! He's flanked by Roland and Ted Sands from PM, plus FastDates.com Calendar Cover Angels, Miss Great Britain Nicki Lane and Laura Niles.
As always the LA Calendar Show offers one of America's premier Custom, Sportbike and Classic Bike Contests featuring many of top bike Pro and Amateur builders in America -and now from around the world vying for the prestigious Performance Machine Best of Show Trophy. Winning the coveted top spot this year was Shinya Kimura founder of Zero Engineering of Japan (now with a 2nd shop in Las Vegas) who flew to America to enter his bikes in the Contest, confirming the LA Calendar motorcycle Show as now a world caliber event. Shinya's winning bike "Masamune" was a '50's Panhead street hotrod with a sheet aluminum fabricated frame rigid frame, '74 springer front end, and bodywork befitting the retro style bike. Zero has a 4-year customer waiting list for their highly regard retro rods which actually use new replica components like the engines. Upon accepting the Best of Show trophy from Performance Machine's Ted and Roland Sands, Shinya posed with FastDates.com Calendar Angel 2005 cover girls Miss Great Britain Nicki Lane and Laura Niles,
The Show's title sponsor Performance Machine bolstered the already huge $60,000 Bike Show awards purse with an additional $5,000 Award Check for the Best PM Equipped Bike at the Show which was won by Sean Gibbs of Wild West Choppers with his all new 2004 special construction chopper featuring all Performance Machine components..
Fans got to meet many Discovery Channel and Speed TV featured builders including Mitch Bergeron, Paul Yaffe, Mike Stafford, Harold Pontarelli plus West Coast superstars Ron Simms and Mike Powers showcasing their latest rolling hardware. Also making their first ever motorcycle show appearance just on Saturday were builders Larry Nagal and Paul Yang of DreamcaftStudios.com with their industry shattering hi-tech chopper that would have been a contender for Best of Show if it didn't have to put in a press appearance with their bike at the Pasadena Art Center of Design on Sunday. Other exciting new bike premiers at the Show included MotoCreations.com's production oriented Ducati Chopper, and the Italian Poggipolini Group's $160,000 Macchia Nera naked superbike which won Best Sportbike at the Show and the $60,000 Millona 1000NE.

Paul Yaffe lights up the Show after his free Iron & Lace calendar Builder's Seminar with his Discovery Channel Buildoof winning bike.

Exciting new attractions this year included the free Iron & Lace Calendar Bike Builder's Seminars held hourly throughout the weekend in a midway tent located in the center of the Show Park conducted by the leading custom bike builders in America as featured in the Iron & Lace calendar. Featured builders included Harold Pontarelli, Russell Mitchell, and Cyril Huze who made the 4-day drive from his shop in Florida, Jesse Rooke and Paul Yaffe, each explaining their own personal style for building world class custom bikes, and then they answered questions from enthusiastic fans. This was probably the first ever opportunity for fans to discuss bike building techniques with top celebrity builders in an open forum. The Iron & Lace Calendar Bike Builder Seminars was a big hit among fans and will remain a regular feature at future Shows.
On Saturday night Show producer and calendar photographer Jim Gianatsis hosted the Iron & Lace Calendar Builders Night Party from 9pm to 1am aboard the historic Queen Mary ocean liner in the ship's Observation Room Bar. Many of the top Iron & Lace Calendar bike builders were there to party with the Show staff, exhibitors, venders and fans And what would the Iron & Lace calendar builders party be without the beautiful FastDates.com Calendar Angels who were also in attendance with the Purrfect Angelez. Live musical entertainment was provided at the party by the beautiful country rock band Elle3.com featuring sisters Allison, Ashley and Lauren Lawry backed up by their dad Jon on a wicked lead rock guitar.
This year's the LA Calendar Bike Bike show featured different musical themes each day by incredible bands that played all day long. Saturday featured an all day Mini Blues Festival headlined by 2000 lbs of Blues, one of Los Angeles' most popular blues bands, together with the hugely popular Unauthorized Rolling Stones out of San Francisco and the rock/blues vocals of the beautiful Boudeeka.
But really bringing down the house both days and jamming fans to the park's main Stage were the the beautiful Purrfect Angelz with their sizzlin'' Las Vegas style stage shows. One of the Angelz' skits involved bringing builders Jesse Rooke and Russell Mitchell on on stage, seating them in chairs, and then the girls lap danced , abused, slapped and kicked them to the beat of pounding of the music and the cheering crowds. .

Showcasing the Calendar Girls theme of the Calendar Bike Show will be the premier of the 2005 FastDates.com Calendars with the beautiful SBK World Superbike Calendar Angels in attendance including Miss Great Britain Nicki Lane and beautiful new Calendar Angels Andra Cobb and Laura Niles. Plus the beautiful Corona Extra and Archie's Ice Cream Girls,
More 2004 LA Calendar Bike Show Coverage and photos HERE