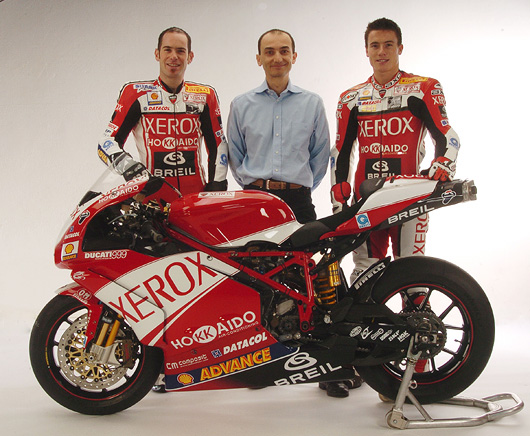 Ducati 999F 05 World Superbike
Feb 1st, 2005 - To face up to the renewed challenge in SBK World Superbike from all the major Japanese factory supported teams for the 2005 season, Ducati engineers have made a number of major modifications to the latest Team Corse 999F05 Superbike's engine, aerodynamics, chassis and electronics. Ducati Superbike technical director Ernesto Marinelli explains the improvements:
"The main changes in the engine are to the crankshaft, the conrods and the pistons in order to achieve higher revs and performance. We have also added an electric starter and with the collaboration of Shell, we have developed a new type of fuel and oil. All of these modifications have produced an increase of 5 horsepower from last year's engine.
"The aerodynamics of the 999 F05 include a new windscreen, which now provides better rider protection and a better drag coefficient.
"The latest Ohlins TT25 front fork will be used this year. The biggest advantage is the complete separation between low and high compression speed and a better internal pressure balance.
A new tank made of aluminium will be used and it will allow us to move all the electronic components that were located at the front of the F04, to just behind the steering head, allowing the bike to have a better weight distribution. The oil breather tank is no longer together with the fuel tank but is located on the right side of the bike.
"The electronics are the main area of improvement from last year. The new Magneti Marelli Marvel 4 ECU, also used on the Ducati Desmosedici GP bikes, has been introduced and all the wiring harness has been redesigned. Two new engine management strategies have been adopted, one to improve the engine braking and the other to have a more linear power delivery on the initial throttle opening. In particular, engine braking is managed by the normal slipper clutch assisted by a throttle adjustment managed with a small electric motor. The initial power delivery is corrected by cutting advance on engine ignition. Another advantage of the Marvel 4 is that it combines both engine management and data logging functions into the one unit".
DUCATI 999R FACTORY 2005


Engine (Testastretta)
Type 4-stroke L- twin, 90°
Capacity 999cc
Bore x stroke 104mm x 58.8mm
Timing system Desmo DOHC
Valves 4 per cylinder
ECU Electronic Ignition-injection managed by Magneti Marelli Marvel 4
Fuel injection Magneti Marelli electronic injection system
Injector Magneti Marelli IWF1, one per cylinder
Final drive Regina chain
Brake horsepower 194HP at 12500 rpm
Top speed 312km/h
Lubrication gear oil pump, with oil cooler

Trasmission
Gearbox 6-speed
Clutch dry multiplate clutch

Chassis / Suspension
Frame steel tubing, trestle-type
Trail 91 - 97 mm
Steering head angle 23°30' – 24°30'
Front suspension 42 mm pressurized TT25 upside-down Ohlins fork
Rear suspension Dual-side aluminium swingarm, with Öhlins shock absorber

Brakes
Make Brembo • Fluid Shell Advance
Front radial 4x34 caliper, 2x320 Ø or 290mm Ø floating discs
Rear 4x24 or 2x34 caliper, 1x200 or 218mm Ø vented floating disc
Tyres
Make Pirelli
Front 120/75-R420 (16.5")
Rear 190/65-R420 (16.5")

Overall dimensions
Length 2060mm, Width 678mm
Dry weight 165kg, with oil and water
Wheelbase 1440mm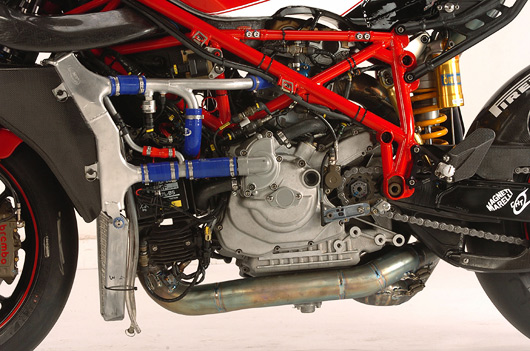 The 2005 team line-up remains the same as last season's, James Toseland and Régis Laconi. The 24 year-old from Sheffield proudly bears the number 1 plate, while his 29 year-old team-mate from St Dizier gets another chance to challenge for the top honours.
Paolo Ciabatti, Ducati Corse Superbike Director, adds: "In 2005 we will be taking part in the World Superbike championship with a highly competitive team, as always, and it also gives us great pleasure to see the #1 plate back again on a factory Ducati. James Toseland and Régis Laconi are two of the best riders around today; both are highly motivated and determined to repeat the success of 2004 when they finished first and second in the standings.
"During the winter tests they proved to have already reached an excellent feeling with the latest specification 999 Factory bike and both are raring for the racing to get underway.
"We know that the season ahead promises to be a tough one, but we are convinced that our rider combination together with the 2005 version of the 999 factory bike and the support of Xerox, Shell and all of other sponsors and partners will help us to achieve the success that we are always aiming for."
2005 DUCATI XEROX TEAM
Director: Paolo Ciabatti
Team Manager: Davide Tardozzi
Technical Director: Ernesto Marinelli
Press Officer: Julian Thomas
Hospitality & PR: Claudia Guenzani

Toseland Crew
Rider: James Toseland (# 1)
Track Engineer Gabriele Raccio
Chief Mechanic Karl Putz
Mechanic Claudio Montanari
Mechanic Andrea Neri
Assistant Mechanic Leonardo Gena
Electronics Engineer Luca Minelli

Grid Girls: FastDates.com Calendar Angels
Spare Parts Lindo Sbaraglia
Truck Driver Giuseppe Morielli
Team Coordinator Manuela Barbieri
Öhlins Technician Byron Draper
Pirelli Technician Giorgio Barbier
Brembo Technician Franco Zonnedda

Laconi Crew
Rider: Regis Laconi (# 55)
Track Engineer Ernesto Marinelli
Chief Mechanic Alberto Colombo
Mechanic Roberto Banci
Mechanic Fabrizio Longhini
Assistant Mechanic Moris Grassi
Electronics Engineer Massimo Bartolini

Now for the really good stuff....
Click and go to Paddock Garage for big 1224 Screensavers of the 999F05 and
sexy pictorials of all the FastDates.com Calendar Angels
---
More FastDates.com Screensavers - Because We Love You!

• Robin & 999R05 Screen Saver -Stunt Road
• Robin & 999R05 Screen Saver – Scott's Road
• Ducati 999R05 Screen Saver - Front
• Ducati 999r05 Screen Saver - Rear
Go to: Ducati 999R05 Information Page 1 • Test Page 2 • Test Page 3 • 999R05

Ducati Index • New Bike Index • Pit Lane News