Calendar Motorcycle Show
Bike Seller's Showcase
Showcase Registration: 8-10am • Display: 10am-4pm
Bike Sellers Showcase
Locatedn the Main Calendar Motorcycle Show Event Park: $45 Per Bike
Builders, Owners Dealers s have the opportunity to showcase their selected motorcycles - exotic custom, classic, antique and sport bikes and/or offer them for sale inside the Show's Main Park Area. You will be allowed to place signage, contact information and and literature next to your bike, and be there in person to meet with potential buyers. This option is considerably less expensive and easier than setting up and staffing an Exhibitors Booth. Includes (1) $20 General Admission Pass for Owner.
All Bikes Must Enter Between 8:00 -10:00am at the back Exhibitor's gate and MUST Remain in Place Until Show Closing at 4pm. YOU CAN NOT REMOVE YOUR BIKE FROM THE PARK ON SATURDAY EVENING WITHOUT PROOF OF TITLE or REGISTRATION and GOVERNMENT ISSUED PICTURE ID TO PROVE OWNERSHIP.
You may bring a folding chair sit sit near your bike, but no coolers or canopies / tenting allowed.


Pro Class Builders bikes from across America and around the world line the edge of the beautiful Pacific Ocean in front of the Main Stage for Bike Seller Showcase, and then on Sunday for the world famous Calendar Bike Bike Building Championship Contest.
With our attendance hard core motorcycle enthusiasts at the exciting 2-day weekend, and major Builders and Exhibitors looking to move some of the most exciting motorcycles on earth, includiing featured FastDates.com Calendar bikes, the Calendar Motorcycle Showcase gives bike sellers, builders, as well as Sunday's Bik Show Contestants an additional day of exposure in front of our affluent buying audience and motorcycle media.
For 2-Day Events, Bikes can also be left in place overnight and entered in the Calendar Bike Show Contest on Sunday (Contest Registration 8-10 am Sunday, separate reduced $25 entry fee required (Bike Contest is normally $45 as well). Bike cover and chain lock suggested if bike is left overnight, but Park is fenced and locked and guarded at night and we have never had a theft inside the Show grounds).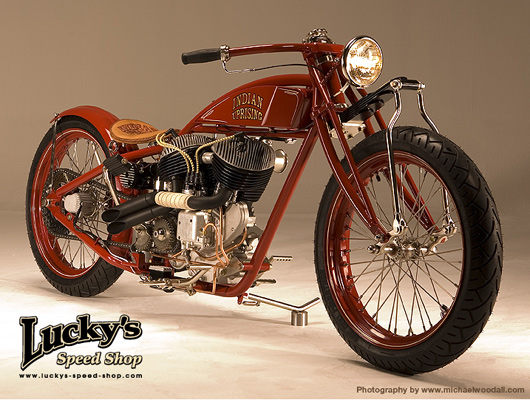 Lucky's Speed Shop, Chandler, AZ featured this incredible Indian in both Saturday's Showcase and
Sunday's Calendar Bike Building Championship.
• Please Email us your Contact Information and a Picture of your Bike to place here the website for previewing with a brief description of the bike. Mail to: Contact@FastDates.com
---
Produced by


Los Angeles Calendar Motorcycle Show, auction, bike auction, motorcycle auction, exotic bike, press, media, photos, photo, photography, pictures, editorial, news, American Bike Building Championship, motorcycle show, event, events, shows, rally, builders, venders, exhibitors, trade, consumer, custom bike, custom, drag, dyno, chopper, bobber, cafe, sport bike, sportbike, V-Twin, Big Twin, Easyriders, Advanstar, International Motorcycle Show, Long Beach, Los Angeles, USA, America, California, Sturgis, Daytona, Jesse Rooke, Russell Mitchel, Chica, Dreamcraft, Arlen Ness, Roger Goildammer, Harold Pontarelli, Paul Yaffe, Zero Engineering, Mike Stafford, Jim Nasi, Ron Simms, Roland Sands, Jesse James, American Chopper, American Thunder, Biker Buildoff, Build or Bust Hot Bike, Easyriders, AMD, Performance Machine, Jardine, Yamaha, Honda, Suzuki, Kawsaki, Ducati, Aprilia, Bimota. MV Agusta, Indian, Titan, Big Dog, Swift, Victory, Mikuni, model search, model pageant, pageant, bikini, girls, model, models, swimsuit