2007 Calendar Kitten News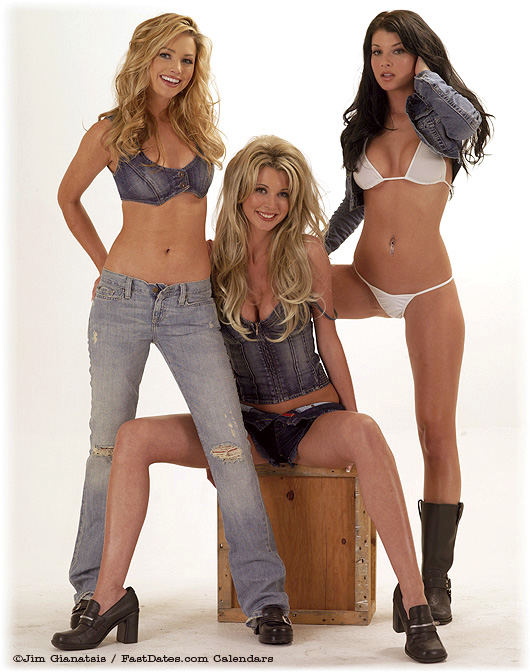 Our all new model line for the 2007 Calendars include from left: Playboy Playmate Tamara Witmer, Irish supermodel import Gemma Gleeson, and Hooters Honey and Lingerie Bowl tight end Cora Skinner. All three girls are profiled in FastDates.com's Meet the Models and featured in Members Corner.
LA Calendar Motorcycle Show Movie - Hot Bikes and Sexy Girls!
Calendar Girl - Neil Sedaka Sings his Classic
Meet the All New 2007 FastDates.com Calendar Kittens
by photographer Jim Gianatsis
Different circumstances this past year led to our having to find an all new lineup of models for the 2007 FastDates.com Calendars. Usually I like to work with about a 50/50 mix of our favoite models from past years with whom I have a developed a good working relationship and friendship, and who never seem to take a bad photo. Then mix in new selection of girls to keep things fresh, short out the ones who weren't that great for one reason or another, and possibly discover the next Pamela Anderson, Jamie Pressly or Joanna Krupa among the many beautiful celebrities who got their modeling start with the FastDates.com Calendars.
This year, many of our favorite models had left Los Angeles, some moving back home to persue more permanant lives, boyfriends or marriage, or to become a ski bumb in the mountain resorts of Colorado.
And then, the loss of a World Superbike round in America presented out of necessity, what turned out to be a great opportunity to travel to Brands Hatch, Great Britain to shoot the 2007 SBK endorsed Fast Dates calendar with an all new trio of Calendar Kittens from our new FastDates.com Calendar Model agency in London, UniversalModels.TV. Our all new Calendar kittens at Brands Hatch included 20 year old Irish supermodel Gemma Gleeson, experienced fashion model Monica McDermot and newcommer Aaliayah on her first big shoot.
In particular, Gemma Gleeson proved to me my favorite model of the group and I wanted to work with her again for our other 2007 Calendars as soon as I saw how well her pictures turned out from Brands Hatch. So great in fact, Gemma scored the cover of the 2007 Fast Dates Calendar with Troy Corser's Championship winning Alstare Corona Suzuki GSXR1000. Within a week of my returning home to Los Angeles, I spoke with Gemma and arranged with Universal Models to have Gemma join me in LA during her 3 week school break over the 2005/2006 Christmas holidays, both for calendar shoots and a little vacation party time together.
Gemma flew over to America and on Decemeber 19th and rested up at my home for a few days before our first big shoot for 2007 Garage Girls which also featured two more new models from our Los Angeles based associate agency CaliforniaHostess.com.

The other girls included flaswless raven haired beauty Cora Skinner who i had already done an Iron & Lace Calendar shoot back in September, and an exciting new find, August 2005 blond Playboy Playmate Tamara Witmer. The three girls photographed incredible together as you can see in the photo here, making the new 2007 Garage Girls Calendar a must have.

Gemma and Jim share lap time with a shopping mall Santa




We spent three weeks showing Gemma the sights around greater Los Angeles, including warm beautiful sunny days in her bikini at the beaches (it was snowing back at her parent's farm home in Ireland), burning up the the Santa Monica Mountains canyons and up the Pacific Coast Highway in my new 2006 Corvette Z06, visiting the LA Zoo, the origional Hard Rock Cafe, Santa Monica's 3rd Street Promonade, Universal Citywalk and spending countless days at every major shopping mall in Southern California looking for the right pair of distressed jeans. Aaaahhh!
Gemma also spent about 8 hours a day during her stay, writing her school term papers on her laptop Mac computer while watching MTV. Gemma is a straight A student at her university in London where she majors in Fashion Merchandising.
She also works part time at night as a champaign waitress at an exclusive club in London, often taking home as much as $1,000 a night in tips from the rich old gents who are trying to impress this sexy young beauty who has more brains than they know, and Gemma thinks them 'stupid" for wasting their money.

We did one more important shoot with Gemma before she had to return back to london fro School on January 9th. I contacted celebrity bike builder jesse Rooke and arranged foer him to meet us at the Queen Mary Event Park in Long Beach, home of the LA Calednar Motorccyle Show, to photograph his exciting and controversial Jesse Rooke Customs / Exile Cycles X1 Kali Kruiser which was featured on the TV Show Build or Bust next to the Queen Mary ship for the 2007 Iron & Lace Calendar and Calendar bike show advertising campaign.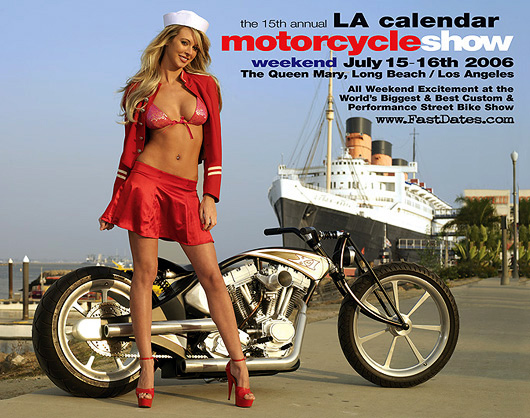 You might remember the Build or Bust TV Show as the one where the amateur builder got kicked off the show for being too inept to build the bike, which was then completed by Jesse / Jesse Rooke Customs and Russell Mitchell / Exile Cycles. But then, as Jesse saw how great the X1 black bike was turning out during the filming of the show, Jesse took the uncompleted bike and walked off the show, rather than finish it and give it the TV show's producer Scott Gillan as was required. Gillan does not pay any of the builders featured on the Show for the bikes and parts and expenses to build them, or the time the builders spend on there, and afterwrds they are required to give ownership of the finished bikes to Gillan for his publicity use. Kudos to Jesse for sticking it to the man, and bring us a great bike for the calednar built by two of our favorite builders!
You'll want to pick up all 3 of our 2007 FastDates.com calendars featuring beautiful Gemma Gleeson and our exciting new girls we found this year. I promise you won't be disapointed! - Jim Gianatsis
---

Our official SBK Fast Dates World Superbike and Ducati Corse girls at Brands Hatch were Gemma Gleason, Monica McDermet and Aaliayah. Here they warm up Regis Laconi's 999F05 Superbike just before practice, and forthe digital Hassleblad for the next edition of the Fast Dates Calendar.

Jim Gianatsis and our newest 2007 Calendar Angels -
Monica, Gemma and Aaliayah blow the lid off at Brands Hatch World Superbike
Aug 5-7th 2005, Brands Hatch, Great Britain - The European World Premier of the SBK World Superbike endorsed 2006 Fast Dates Racebike Pinup Calendar took place in the SBK Paddock Show during the Brands World Superbike Weekend. Right along side the top factory riders holding their press conferences and signing autographs for fans, our beautiful new Fast Dates Calendar Angels Monica McDermott and Gemma Gleason were there with photographer Jim Gianatsis to meet everyone and autograph the new 2007 Calendars.
We were also excited to have both Monica and Gemma serve as their official SBK World Superbike Spokes models in "Live Timing on WorldSBK.com" uniforms at Superpole and on the race grid, plus serve as and team umbrella girls during the race weekend for Team Ducati Corse reigning World Champion James Toseland and his runner up team mate Regis Laconi. See the Complete Story in Fast Dates News
---

More Calendar Girl News

Click to visit Members Corner for very sexy Calendar Angel pictorials....


Some of our Calendar Girls can also be seen at Playboy's website...