Fast Dates Racebike Pinup Calendar Model News
Officially endorsed Calendar of the SBK World Superbike Championship
January - April 2005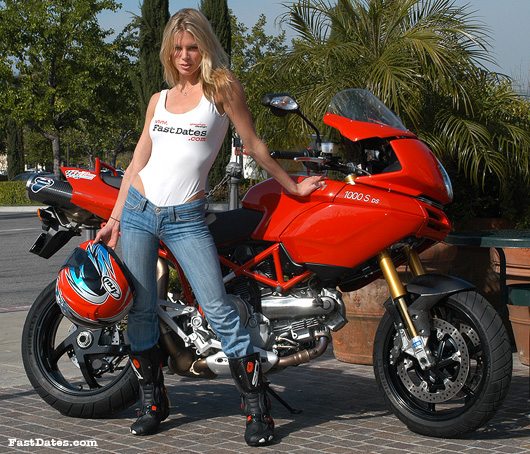 Rockin' Robin Does the Bike of the Year 2005!
April 1st - Fast Dates Calendar model and test rider Robin Cunningham helps us regularly with our FastDates.com motorcycoe tests and reviews. And it was with with Robin's help that we picked the new Ducati Multistrada S DS1000 as the FastDates.com Bike of the Year 2005. You can read Robin's review of the Multi and download sexy screen savers of her with the bike in our New Bike Tests: Multistrada.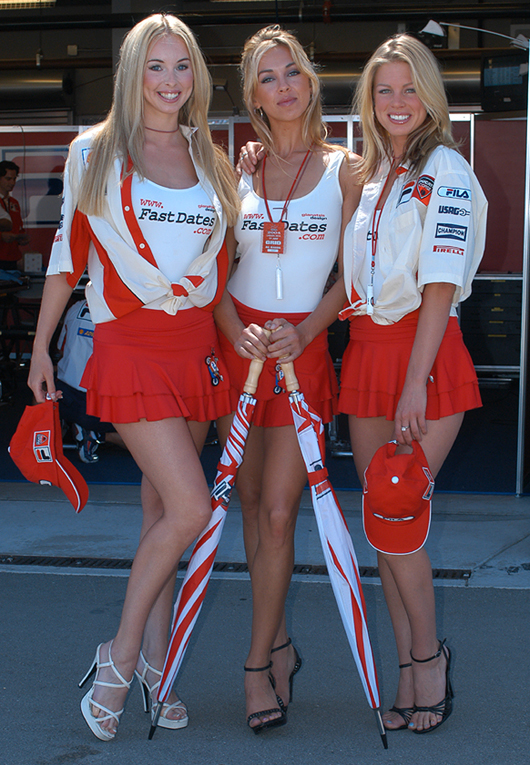 Heating up the Ducati Corse Pits at 2004 World Superbike (left to right) are Nicki Lane, Andra Cobb, and Robin Cunningham who served as the offical Ducati Corse umbrellas girls for World Superbike Champion James Toseland and runner-up Regis Laconi. For more sexy bikini beach photos of our official SBK World Superbike Fast Dates Calendar Angels visit them in Members Corner.
SBK Fast Dates Calendar Angels at WSB Laguna 2004
For complete coverage of our trip to Laguna Seca 2004 to shoot the upcoming 2006 Fast Dates calendar got to Fast Dates News Dec 2004

SBK Fast Dates World Superbike girl Rockin' Robin Cunningham heats up Pit Lane aboard Chris Vermeulen's Ten Kate Honda CBR1000RR. We show and tell you how you can modify your own CBR1000RR to Ten Kate World Superbike, and Al Ludington's Miguel Duhamel AMA Superbike specs exclusively in Paddock Garage.
---
Our SBK Fast Dates World Superbike Angels are Feelin' Lucky
SBK Corona World Superbike Championship
Renews Fast Dates Calendar Endorsement
Feelin' Lucky apparel sponsors Garage Girls

Los Angeles, CA, Jan 1st 2005: The FastDates.com Calendars and Website is proud to announce that FGSport has renewed its SBK World Superbike Championship's endorsement of the the Fast Dates Racebike Pinup Calendar for 2005 to cover the upcoming 2006 Fast Dates Calendar, currently in production. The endorsement is part of a mutual promotion between SBK and FastDates.com in which the new 2005 SBK Corona Extra Superbike World Championship logo and the top factory superbikes will be featured in the 2006 Fast Dates Calendar, on the FastDates.com Website and in all related advertising for the calendar.
In return, along with SBK's endorsement of the Fast Dates Calendar,
the beautiful FastDates.com Calendar Angeles calendar models are the officially SBK Fast Dates Calendar Girls. And the Fast Dates Calendar and FastDates.com Website featuring in Pit Lane News its excellent coverage of World Superbike coverage will continue to be a featured banner link on the official SBK webite at WorldSBK.com.
Along with SBK, the Fast Dates Calendar is sponsored by Performance Machine, the leader in aftermaket billet machined wheels and controls for motorcycles; and Jardine Performance, manufacturer of high performance motorcycle exhaust systems as used by Team American Honda.
The mutual endorsement between The SBK World Superbike Championship and Fast Dates continues the friendship between both parties which first began with the 1997 Fast Dates Calendar, as explained by FastDates.com Calendar publisher Jim Gianatsis.
"We are excited to continue our close relationship with the world's most excing and important production based roadracing series," said Jim. "The upcoming 2005 SBK World Superbike Championship is already shaping up to be one of the most exciting season's ever with the return of all the major Japanese factory supported teams. It's unfortunate there will not be an SBK round in America this year, but we look forward to World Superbike returning to America for 2006.
In the meantime, it gives us a great reason this year to travel to one of the other international rounds of the SBK World Championship to photograph the next Fast Dates Calendar. I'm looking at getting our crew together for the Brands Hatch, British round on August 5-7th. It should be pretty wild as the race there draws close to 100,000 fans. I'll have to remember to get an air horn, and keep the models out of the pubs"
While SBK superbike fans can still look forward to complete race coverage throughout 2005 on the FastDates.com and WorldSBK.com websites, on SpeedTV with same day broadcast, while enjoying the top factory superbikes and beautiful SBK Fast Dates Angels featured in the Fast Dates Calendar.
We are also excited to announce that Feelin' Lucky apparel will be the title sponsor of the upcoming 2006 Garage Girls Calendar. Feelin' Lucky is a well known manufacturer and retailer of motorcycle event apparel which is a favorite at major street bike events like Laughlin, Daytona and Sturgis. Sponshorship of the popular FastDates.com Garage Calendar will provide Feelin' Lucky with lots of additional promotional exposure as they continue to grow in all sections of the motorcycle market.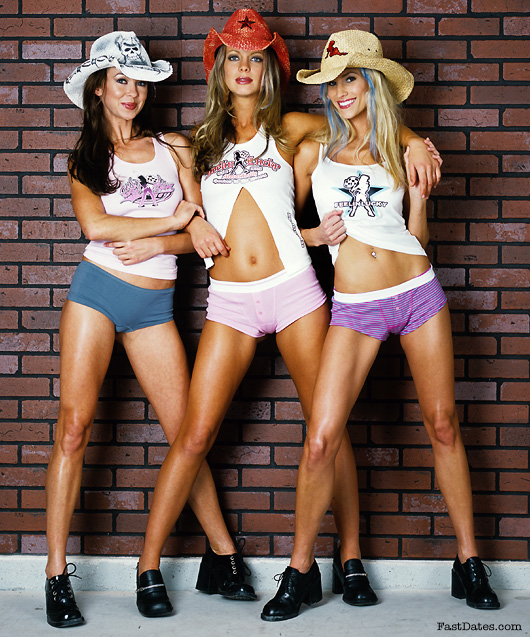 Our favorite tag team, current and former SBK Fast Dates World Superbike girls (left to right) Andra Cobb (now a brunette!), Taylor McKegney and Chandi Mason got together with us last month for the shooting of the 2006 Garage Girls calendar sponsored by Feelin' Lucky. All three girls are profiled in FastDates.com's Meet the Models and featured in Members Corner.
Gianatsis Design Associates just concluded the photo shoot for the 2006 Feelin' Lucky Garage Girls Calendar featuring 3 very beautiful current and former SBK Fast Dates Calendar Angels: Andra Cobb (2006), Chandi Mason (2005) and Taylor McKegney (2000). The shoot took place on a garage style set in the Gianatsis Design studio with photographer Jim Gianatsis, makeup and hair by Lisa Rukus, adhearing to the reknown Garage Girls theme of sweaty and grimey, yet very beautiful pinup models in skimpy apparel "...hard at work without the motorcycles getting in the way!"

Right: World Superbike Fast Dates Girl and Perfect 10 centerfold Taylor McKegney is featured in very sexy nude pictorials in Members Corner.
Meet the FastDates.com Calendar Angels at the World Premier of the new
2006 Calendars at the Los Angeles Calendar Motorcycle Show!