"So many twins, so little time!"
Here's a photo we shamelessly ripped off from the Ducati.com website where it was featured in their monthly photo caption contest. World Superbike Championship Troy Bayliss and FastDates.com Calendar publisher Jim Gianatsis discuss the attritubes of twins at Laguna Seca World Superbike 2002 as our official SBK Fast Dates Calendar girls and Team Ducati Corse Umbrella Girls make tire warmers a needless necessity. Plugged in at 120 volts are (l to r) Miss Great Britain Nicki Lane, Lauren Zuckerman and Shannon Gonzales. Nicki held Troy's umbrella, and Shannon, Ruben Xaus's on race day.
Calendar Girls go wild for Superbike and MotoGP
Official Calendar of the SBK World Superbike Championship

WORLD EXCLUSIVE FIRST TEST! Miss Minnesota and our own SBK
Fast Dates World Superbike girl Janelle Pierzina tests the- DUCATI 999S!
Nicki wins her 2nd Miss Great Britain Title!
Team Ducati pairs Fast Dates cover model Miss Great Britain 2003 Nicki Lane with World Championship leader Neil Hodgsen
London / Bolonga / Los Angeles, May 22nd: The national competition for Miss Great Britain 2003 took place at Tantra this past weekend, an exclusive theater and club in downtown London before a sell out crowd. The title Miss Great Britain 2003 was won by beautiful professional model, aerobics instructor, theatrical dancer and FastDates.com Calendar model Nicki Lane from the British town of Reading. Nicki simply dazzled on stage and her stunning good looks and sparkling personality to make her the Judges' favorite.

History was made as Nicki, formerly Miss Great Britain 2001, became the first girl to ever win the title twice. Nicki was sponsored for her home country British national pageant leading up to the Miss World competition by the FastDates.com Motorsports Calendars and Website, who's sash she wore on stage during portions of the competition and when she was crowned at the end.
Nicki Lane will be familiar to American sportbike fans who may have seen her in America last summer 2002 where she was working with FastDates.com, serving as an official SBK World Superbike Fast Dates Calendar model at Laguna Seca World Superbike shooting for the calendar in the paddock with the top factory race bikes, and a week later at the Los Angeles Calendar Motorcycle Show. On Sunday at Laguna Seca, Nicki also served as the official Team Ducati Corse umbrella girl for SBK World Superbike Champion Troy Bayliss.
Nicki talked to FastDates.com just after her win - "I'm so excited. I'm staying in London tonight as I'm doing TV interviews all day tomorrow all day tomorrow. I've already been interviewed by MTV and NBC from the states. I've got an incredible story to tell about the pageant and what it took to win. I am ecstatic and its a great plus for the FastDates.com Calendars and all the faith director Jim Gianatsis has had in me. I'm taking every every opportunity to mention to the press that I'm this coming year's cover model on the 2004 SBK World Superbike Fast Dates Calendar, and the great time I had serving as the Team Ducati Corse umbrella girl for World Champion Troy Bayliss at Laguna Seca last year. All things are looking good, and superbike racing is getting great world coverage from it all.
I am look forward to coming back to California with FastDates.com in July for the 2003 World Superbike race at Laguna Seca and The LA Calendar Motorcycle Show ands I'll look forward to meeting everyone who was so nice to me last year. See you soon. Cheers!" -Nicki Lane, Miss Great Britain 2001 and 2003.
---
Chandi and Natalie do AMA Superbike at California Speedway
May 4th: Unless you were out at California Speedway on Friday in the cold and rain for practice, for the AMA Nationals, here's another great calendar shoot you missed. Photographer Jim Gianatsis shot beautiful models Chandi Mason and Natalie Abromov with all the top AMA Superbikes and formula Extreame machines for the next Fast Dates Calendar. Hereour girls snuggle up together to keep warm on Damon Buckmaster's Graves Yamaha R1.
Just in case you didn't recognize her, Chandi (riding cowboy style) is featured in both the current 2003 and upcoming 2004 FastDates.com Calendars as one of our 3 beautiful Calendar Angels. She will also be joining us on the trip up to Laguna Seca World Superbike in July together with her Angel compatraits Janelle Perzina and Joanna Krupa. (Charlie never had it so good). Natalie is a former Miss Russia and the 2001 Hawaiian Tropic National Beauty Pageant winner. You can see more of natalie on her website at NatalieAbramov.com.
And you can mee both girls in person at our LA Calendar Motorcycle Show and SuperMoto Nationals in July.
Ashley into the Finals on All American Girl!
Wed April 3nd: 2004 Fast Dates Calendar model Ashley Esqueda, winner of our Los Angeles Calendar Motorcycle Show Calendar Girl Model Search Pageant last July, has advanced into the top 10 finalists on the new ABC reality TV show on Wednesday nights, All American Girl. Ashely is one of 3 girls left remaining on a team of girls coached by former football star John Salley. Another team of girls is coached by The Spice Girls Geri Halloway. The purpose of the Show is to find a girl that exemplifies a well-rounded young lady, the best America has to offer as far as intelligence, talent, beauty and personality. And that's certainly why we have confirmed Ashley to be our Master of Ceremonies on stage at this year's Los Angeles Calendar Motorcycle Show.
All American Girl is produced by Simon Cowell of American Idol and England's Pop Idol fame. You can wish Ashley the Best of Luck in the contest by stopping by her website at www.Ashleye.us
. . . Going Fast!
Nicki Lane is featured on the covers and inside the 2004 Calendars


Iron Lace 2004

USA order Online Now: Calendars.com



Garage Girls 2004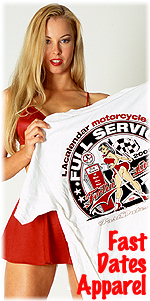 Get the shirt off
Nicki Lane's back!
---
The Russians are Coming!
Meet our newest Fast Dates Calendar model find Natalie Abramov, who joined our famed editor and photographerJim Gianatsis this weekend at California Speedway, together with favorite Calendar Angel Chandi Mason,as they begin shooting the next Fast Dates calendar.
A sexy Hollywood actress with such films as Zoolander with Ben Stiller and Heartbreakers with Sigourney Weaver to her credit, for our very shallow purposes Natalie's more important credits include her beautiful 5'8" 35C-24-35 body and the titles Miss Swimsuit International 2001, and Miss Hawaiian Tropic International Russia. The cold war never stood a chance when this hot bodied Russian princess invaded America! Now, about improving our international relationships....
You can visit Natalie at her website at
NatalieAbramov.com
The Pirelli 2003 Calendar
When you're the world's biggest tire company with a One Million dollar budget to photograph your calendar, you hire the world's top supermodels right?
The Pirelli 2003 calendar features some of the most celebrated top models from throughout the world: Sophie Dahl, Yamila Diaz-Rahi, Isabeli Fontana, Bridget Hall, Heidi Klum, Karolina Kurkova, Natalia Vodianova, Sienna Rose Miller, Lisa Seiffert. And, as is now traditional, there are also some up-and-coming faces, such as Filippa Hamilton, Jessica Miller and Rania Raslan. Likewise.
Pirelli's 2002 Calendar featured Hollywoods hottest young actresses including Julia Styles, Mena Suvari (American Beauty) , Rachel Lee Cook (Josie & the Pussycats) , Lauren Bush (neice of the President), Erika Christensen (Traffic), Bridget Moyanhan (Coyote Ugly, Sum of all Fears), James King (Blow, Pearl Harbor, Lonestar State of Mind).
You can see detailed information on the Pirelli website at Pirelli.com
And vist our 2003 Sportbike Calendar review in The Pit Board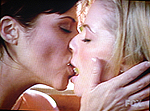 Life in the Fast Lane -
Exclusive! Calendar Girl Jaime Pressly's TV kiss with Tiffany Amber Theisen! Click the picture for all the big juicy details.
FastDates.com does Martina
One of our hottest new FastDates.com calendar girls is Penthouse Pet Martina Warren, January 2003, who we recently shot with some hot custom bikes from calendar sponsor Performance Machine. Look for Martina upcoming soon in our Members Corner and in future calendars. Now just 19 years old, this British lass posed topless in England's SuperBike magazine when she was just 17!