Beautiful SBK Fast Dates Calendar Kitten Andra Cobb in a shot from the 2006 Fast Dates Calendar
Fast Dates Racebike Pinup Calendar News January-April 2006
New FastDates.com Calendar Monthly Screensavers!
January 2006 - Millions of you have been writing in and asking us why we haven't done this sooner.... Well, to be honest, we were just too friggin' cheap and wanted you to buy are great calendars instead. Meanwhile, you've been left clueless as to what day it is and what a really hot chick looks like. Or worse yet, you've resorted to downloading a calendar screensaver from a copycat website that featured a shot of an ugly wantabe model or riders' wife or girlfriend posing with a boring stock production street bike. Well, we now feel sorry for you and are ready to make our ammends!
Every month you'll now be able to download from FastDates.com the world's hottest, sexiest swimsuit supermodels and Playboy Playmates posing with the world's top factory MotoGP, World Superbikes and custom V-Twins. Are we the good guys now, or what?
The only catch is you'll need to join our Members Corner to help us pay for these incredible shots were giving you each month. And with your Members Corner membership you'll also receive access to The Paddock Garage Sportbike Tuning, Iron & Lace Garage Custom Bike Pictorials, Works Bikes Screensavers, plus the very sexy and very revealing Members Corner with pictorials of our FastDates.com Calendar Kittens withut much more than the fur that god gave them. Now if nudity offends you, if you're gay, Muslim or Alquida, you can enter the Screensaver and Bike Only areas from their respective Entry Pages. But we sincerely hope your momma raised you to be a man.
Get This Month's First Ever FastDates.com Scrensaver Here
---
Western Bikers vs. Eastern Bikers - the naked truth
Finally photo evidence proves it! There is no disputing when it comes to taking a girlfriend for a ride, Western bikers know how to do it right with a beautiful girl, some cool tricks and the proper protection.
However, the Easterners do have us beat when it comes to fuel economy....
No word if he was taking the sheep in for a bikini waxing.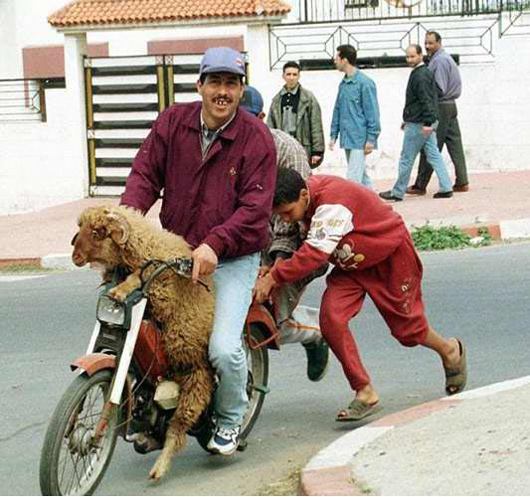 ---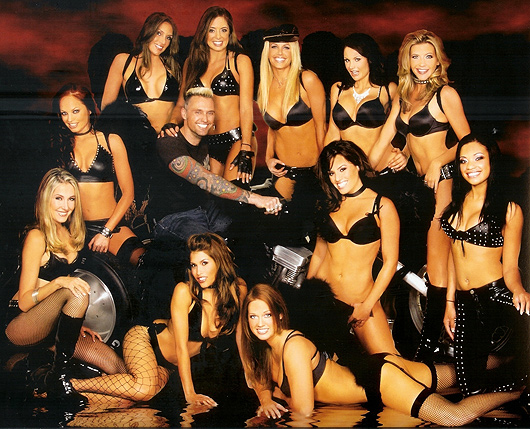 Weapons of Mass Seduction!
Purrfect Angelz to Decimate the
LA Calendar Motorcycle Show July 15-16th
Los Angeles, July 15-16th, 2006 - So why does Russell Mitchell (pictured above), star on Speed TV's Build or Bust and featured custom bike builder in the world famous Iron & Lace Custom Motorcycle Pinup Calendar, have such a big smile on his face? It's because we just told him all those beautiful girls he's posing with of the famed Purrfect Angelz show group will be performing all weekend long in expanded performances guaranteed to decimate attendees at this year's big Los Angeles Calendar Motorcycles Show on July 15-16th, 2006, America's premier custom and performance streetbike event!
The Purrfect Angelz have performed the last 3 years at the Calendar Show as their original 5-girl group, performing two 20 minute sets on stage each day to the screaming admiration of jammed pack crowds. But we can never have too much of a good thing, particularly where there's beautiful singing, lap dancing, fire twirling, burlesque shaking, cart wheeling, lingerie and bikini clad girls involved. The fame and the size of the group has been grown these few years, and this year Purrfect Angelz show director Lisa Ligon asked if she could bring the newer, bigger, better, tighter, bouncier, curves, more perfectly endowed 9-girl Purrfect Angelz Show to blitzkrieg the Calendar Show from this year on. Who were we to tell her "No"? But only if Lisa agreed to help serve as on-stage cohost and MC throughout the weekend, which she did. Have we got clout or what?
The biggest performance schedule for the Angelz at this year's Show will take place on Saturday the 15th, where the previous two 20-minute show sets will serve as warm up for 3, yes that's THREE different 1-Hour Stage Shows! from their 3 different world and cross country tours. The stage shows will kick off at 12 noon with the Angelz's first one hour one feature show called "Honky Tonk Ba Donka Donk" which they perform at major country and western music venues including the CMT Awards -cowboy chaps with just a tiny a bikini never looked this good in Broke Back Mountain. Later at 2:30pm will be their "Salute the Troops" a patriotic medley from the Angelz's USO Tour which they performed for our troops in Afghanistan -with Weapons of Mass Seduction so obvious we don't need George Bush to help find where they're hiding (but you can mount your own invasion at the Angelz's picture autograph table afterwards). The Angelz will wrap up the day at 6pm with the "Biker Babe Banging Bash" which they perform at major biker events across America including Sturgis and Daytona - guaranteed to get the fans up, and bring the house down, and help close just the first incredible day at the world's hottest bike Show!
MEOW! Oh my god, how Purrfect is this? But are you man enough to survive it for 4 hours on Saturday with even more beautiful girls, and then again on Sunday! Oh yah, there'll be some cool bikes there, too...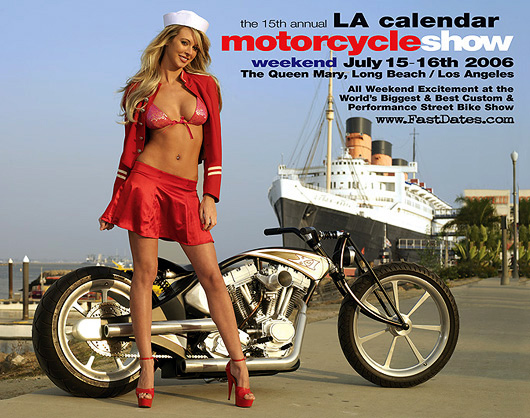 Fast Dates Calendar Motorcycle Roadracing News. Complete coverage of the SBK World Superbike, AMA National Superbike and MotoGP World Championship. Fast Dates Calendar and Umbrella Girls. Racing, motorcycle, news, results, girls, models, Mat Aladdin, Max Biaggi, Valentino Rossi, Ben and Eric Bostrom, James Toseland, Regis Laconi, Loris Capirossi, Troy Bayliss, Troy Corser, Noriyuki Haga. Ducati 999 Monster Multistrada, Yamaha R6 R1, Honda CBR600RR CBR1000RR, Kawasaki ZX6 ZX6RR ZX10, Suzuki GSXR600 GSXR750 GSXR1000, Aprilia Mille, MZ Agusta F4 Brutale. Los Angeles Calendar Motorcycle Show.