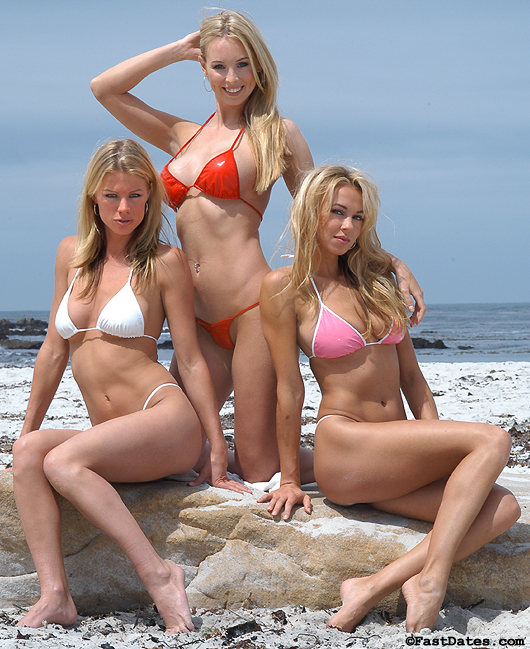 Heating up Carmel Beach (left to right) are Robin Cunningham, Nicki Lane and Andra Cobb. For more sexy beach photos of our official SBK World Superbike Fast Dates Calendar Angels visit them in Members Corner.
Officially endorsed Calendar of the SBK World Superbike Championship
July- December 2004
Robin, Nicki and Andra close down Cannery Row on Saturday night
Calendar Girls Gone Wild at Lagna Seca 2004
With Jim Gianatsis, Director, The SBK Fast Dates Race Pinup Calendar
sponsored by Performance Machine and Jardine Performance
World Superbike Weekend, Monterey, CA, July 9-11th,2004 - This year's annual trip to World Superbike Weekend at Laguna Seca, California, to shoot the next edition of the SBK World Superbike endorsed Fast Dates Racebike Pinup Calendar had me wishing I was eligible for hazardous duty pay as I played chaperone to the hottest set of SBK World Superbike Fast Dates Calendar Angels and official Ducati Corse Umbrella Girls ever! Gentlemen, feast your eyes on the ever so beautiful Miss Great Britain Nicki Lane (back by popular demand and returning for her 2nd encore appearance), together with new Calendar Angels, triple title holder Miss Texas / Miss Hawaiian Tropic International / Miss Harley-Davidson Robin Cunningham, with another Texas to LA model transplant Mikuni's "Explicit Performance' magazine ad campaign girl Andra Cobb.
"Rockin' Robin" Cunningham has her career in full swing as she will be appearing on 3 television networks in America this fall, so we were really happy to have her joining us despite her busy schedule. Look for Robin hosting the new TV series "X-Music Network on the WB Channel beginning in September, "Under Water Odyssey" series on ABC Family, and Blackbelt TV on the new martial arts TV channel premiering in November.
I knew I had picked the right girls for this year's calendar shoot weekend when Robin got out of her car at my house on Thursday morning for our trip, covered in bruises and scabs from dirt bike riding the week before in the Colorado mountains. I had caution all 3 girls to pack light for the weekend, just one small airline carry-on bag each, since I also had all my camera gear for the weekend, bags of bikinis and high heels, and a case of the new 2005 Fast Dates calendars to barter with the factory race teams for shooting privilages. All of it just made it into the boot of my modified BMW M3, and with the Valentine One radar detector turned up high and the car cruising at 110mph we made the normal 7 hour trip up Highway 101 from Los Angels to Monterey in just 4 hours, not including a 2 hour stop over in Los Olivios near Michael Jackson's Neverland Ranch for lunch. Did I mention these skinny models were BIG eaters? When we finally did check into our offical Fast Dates Calendar motel in much cooler Monterey, we needed to make a run into nearby Carmel to get the girls some cheap tourist sweatshirts to keep them warm. We then did dinner in the courtyard at Clint Castwood's Hogsbreath Inn, and our two Texas girls started their weekend chugging down long neck beers non stop just like back in Lone Star.
Friday morning kicked off with a huge pancake and omlet breakfast for the girls at Dennys, then it was down to nearby Carmel Beach for our annual itsey bitsey teeny weenie swimsuit shoot on the beautiful white sugar sand beach, the photos of which you can enjoy in Members Corner. Then it was off to Race Registration too pick up our track credentials which weren't there for the 10th year in a row. So I had to BS my way into the track and the paddock, to get to the SBK World Superbike office where Christina from SBK had our All Access Track Passes and Staff One Pit Parking, (Thanks!).
| | |
| --- | --- |
| | |
The Angels visited the Venders area (That's Rockin' Robin in the red wig!) to pose with MotoWheels.com's trick MV Agusta. Our favorite bike was this 50cc Derbi GPR sportbike in the Moto Euro Magazine booth. Check out the radial brakes and aluminum win spar frame for just $4000! Click to enlarge.

With our coveted SBK Passes giving us access to anywhere and anyone, I quickly set the girls to work visiting the factory race team garages with the new Fast Dates calendars as welcome gifts for the mechanics and team managers with the expected results. 9 months of living on airplanes and in cramped pit garages around the world rebuilding bikes is hardly glamerous and the Friday evening Fast Dates calendar shoot on Pit Lane at Laguna Seca WSB has turned into a long anticipated ritual and break from the tedium of twisting wrenches. Who wouldn't want to watch the world's most beautiful girls in the world posng on your factory race bike in a skimpy bikini?Come 6pm and the close of practice we had 15 factory AMA and SBK superbikes lined up on Pit Lane for us to shoot. We were even able to sneak in Jake Zmeke's AMA Superbike race winning Honda CBR1000RR this year whenb no one was looking (American Honda has a no bikes and bikini Middle Ages policy) One day I'll get smart and charge admission, as some 100 team mechanics and riders sat back on pit wall to enjoy the live calendar shoot with 3 beautiful girls for the next 2 hours until sunset and, "It's a Wrap!" Then it was down the road to nearby Tarpy's Road House for great food and service at our traditional Friday night dinner party.
Saturday at Laguna Seca is usually a "catch all" day for the Fast Dates crew, pulling off photo shoots in the AMA factory team pits of any bikes we might have missed the evening before, like Josh Hays' top privateer Attack Kawasaki ZX10. It's also our chance to visit and check out the Vender Midway in the infield of te track where the calendar Angels can pose for fans' photos.
This year there was no AMA Superbike race on Saturday, instead it was moved to Sunday and sandwiched between the towo World Superbike races. It prevented AMA riders like Eric Bostrom or Josh Hayes who also wanted to race in World Superbike, from being able to do so (the spec tire rule not withstanding). Hopefully World Superbike will be returning again to Laguna Seca in 2005, and AMA Superbike will move back to Saturday.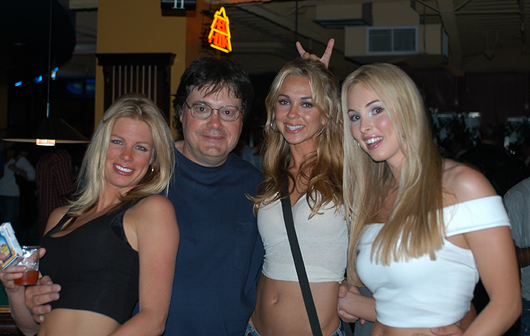 Pool shark "Rockin' Robin" with FastDates.com publisher Jim Gianatsis, "Devil girl" Andra and Nicki at the Blue Fin..

With our day at the track on Saturday completed, it was back to the motel for a quick clean up and dress up, then I took the girls down to Cannery Row for dinner overlooking the ocean and a look at the Saturday night bike scene. This year was the most crowed i have ever seen it on Cannery Row, with the spectators and bikes packing the road from Bubba Gumps back about half a mile. There seemed to be more people in town than out at the track that day, for the first time ever. I then took the Girls up to the Blue Fin bar where evening sponsor Motorcycle.com had gratefully put us on their guest list for the night. We grabbed us a pool table and pool shark "Rockin' Robin" quickly began downing long necks and reeling in the suckers, " I loose the first game on purpose, show them a lot of tits to distract them, and then i take them to the cleaners! It works every time."
| | |
| --- | --- |
| | |
The three beautiful FastDates.com Calendar Angels were certainly the main attraction at The Blue Fin that night, and then rank me under the table as we closed down Cannery Row around 1am. On the walk back to where the car was parked we were folllowed by some local gang members who were looking for something from us. I turned around and confronted them and was ready to fight when they wouldn't leave us along. But Andra and Robin jumped between us and began talking to them in gangster rap to "Be cool Bro, we just be chillin' en don wana no trouble."
We finally made it back to the car and then the motel. But once in their room the girls started screaming and laughing so loud I could hear them in my room, 4 rooms down. The motel magagement started phoning them every 15 minutes to keep quite, but they never did fall asleep, playing Wee Gee board and laughing until 4am and our Sunday morning wakeup call was for 7am! I hope the motel management lets us come back next year....
Sunday, feature Superbike race day was the big exciting day for the girls as they changed from my FastDates.com Calendar Angels to the official Team Ducati Corse umbrella girls working for team marketing director Paolo Ciabotti and press manager Julian Thomas on the starting grid in front of the World Superbike TV feed. Unfortunately the Speed TV broadcast of World Superbike in the USA offers the poorest coverage re-edited from the world feed, with no close up camera shots of our umbrella girls and riders on the starting grid, no pre race or pit lane interviews with Suzy Perry which goes on the british TV feed, nothing). You have to be watching the race in Europe to see our girls on TV, or to get behind the scenes race information on the riders and teams from the British commentators.
The Ducati Corse team was smitten by the Angels from press officier Julian Thomas (above left) to the team mechanics (above right)! Clickon any picture to enlarge.
Our Nicki Lane served as the offical Ducati Corse umbrella girl for James Toseland, Robin took care of championship points leader Regis Laconi, and Robin looked after FG1 Ducati's Pier Frankie Chili. Also doing double duty in the AMA Superbike race one Sunday, Andra looked after Ducati Austin's Eric Bostrom and Andra kept Attack Kawasaki's Josh Hays cool in the shade. Josh had a difficult time keeping his concentration on the front row where he qualified, with Andra holding his umbrella. He was so busy asking her out on a date, he blew his concetration and the start of the race dropping back to 15th by the time he got off the line. Beautiful umbrella girls can be a serious race hazzard.
Above: Nicki on the SBK grid with fellow Brit James Toseland. Andra with Superbike legend Frankie Chili.
After the final Superbike race we returned the Ducati Corse grid girl uniforms to team Ducati Corse manager Davide Tardozzi in the garage, said our good byes for another year, and headed over the Front Straight spectator bridge to where the M3 was waiting for a quick escape out the back road of the track to Salinas and Highway 101 in another 110 mph sprint back home to LA. With a quick stop for junk food and cany, the radio locked to an oldies channel or the new Holly Valance CD we were back home in LA by sunset. It had been an incredible weekend with a great bunch of gilrs, and we were set to do it all again the following weekend in Long Beach for my huge Los Angeles Calendar Motorcycle Show! Thanks Angels. Ciao!
Below: Our girls in their official SBK Fast Dates Ducati Corse uniforms. Note the 999R Superbike key fobs on their skirts, curtesy Pro Italia.sx