World Superbike Fast Dates Calendar Angel Robin Cunningham hosts The LA Calendar Motorcycle Show July 16-17th 2005
Our own FastDates.com Calendar Angel "Rockin' Robin" Cunningham will be Master of Ceremonies on stage this year at the huge Los Angeles Calendar Motorcycle Show Weekend on July 16-17th at the Queen Mary Event Park in Long Beach, CA. Robin is featured in the 2006 editions of the Fast Dates and Iron & Lace Calendars produced by FastDates.com which will have their World Premier at the Show.

Robin's duties throughout the weekend will include introducing the bands and main stage activities, meeting spectators and posing with them for photos, as well as assisting both days with the FastDates.com Calendar Girl Model Search Pageant sponsored by CaliforniaHostess.com. Our Robin certainly knows her way around a beauty pageant stage as she has won the titles of Miss Texas, Miss Hawaiian Tropic International, and Robin was also a Hooters Calendar girl. Tell Me More
If you would like to see a lot more pictures of Robin and all the photos from the upcoming 2006 Calendars they are waiting for you now in Members Corner.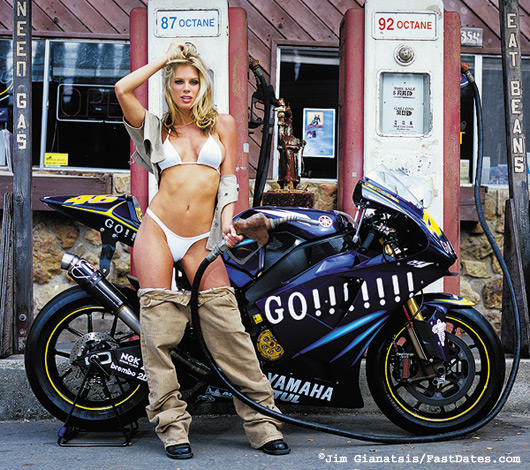 Another FastDates.com World Exclusive! We shoot Valentino Rossi's
MotoGP World Championship winning Yamaha YZR M1B
Million Dollar Baby, Los Angeles, May 1st 2005 - In another Fast Dates.com world exclusive, we were excited and privileged this past week to photograph Valentino Rossi's 2004 World Championship winning Yamaha M1 for the Fast Dates Racebike Pinup Calendar. Our own Editor and Calendar photographer Jim Gianatsis used his secret connections at the Yamaha factory to arrange for Rossi's million dollar rocket ship to be flown in to our executive studios in Los Angeles for an exclusive shoot for our premier racebike pinup calendar.
The beautiful model for the shoot was our own SBK Fast Dates World Superbike Calendar Angel and Ducati Corse Umbrella Girl, Miss Texas and Hawaiian Tropic International beauty pageant winner and actress "Rockin' Robin Cunningham. We were happy that Robin could take time out from her busy schedule to help us out, a schedule which includes hosting 3 different TV series and the filming of a major motion picture staring Robin. The movie is a horror flick named Campfire being filmed in Yosemite National Park with Robin as a Park Policeman trying to find out who or what is killing off the unhappy campers. campfire kiss scheduled for release on October 6th of this year, but we will be joining Robin on the red carpet for the premier at the Egyptian Theatre in Los Angeles on October 6th.
The three new TV shows, also now in production, which Robin is hosting include X Music on the WB Channel which begins airing in June, where our girl interviews hot up and coming new rock bands. Then there's a show called Black Belt TV for a new martial arts network which will be premiering soon, where Robin just might get to show us her Texas bar room brawling and beer bottle bashing skills, learned in part from fending off Hawaiian Tropic pageant celebrity judges and drunken sport bike riders at the Blue Fin Bar on Cannery Row during race weekend at Laguna Seca.

Robin's third new TV series is called Underwater Oddessy on the ABC Family Channel which begins airing May 7th. We will be watching intensely to see if those playful dolphins she's cavorting with in the Pacific Ocean might accidentally dislodge her bikini top. With this being the Disney Channel, the chances are slim to none for an on air wardrobe malfunction, but just seeing our perky Robin in a soaking wet swimsuit emerging from the chilly ocean is more than enough to restore our family values and viewing habits.
| | |
| --- | --- |
| | After our studio shoot with Robin and Rossi's bike we fired up the 240 hp missile and blasted it down 10 miles of twisty Mullholland Highway to the world famous weekend biker hangout The Rock Store in nearby Cornell, CA. There Jim commerated and recreated with Robin (see picture above) the 1994 Fast Dates Calendar cover with model Ginger Sweitzer and reigning World Champ Wayne Rainey's Yamaha YZR500 Grand Prix bike. This new picture to be featured in the next Fast Dates Calendar, in our Calendar Gallery in Members Corner, and available for sale on VintageArte.com . |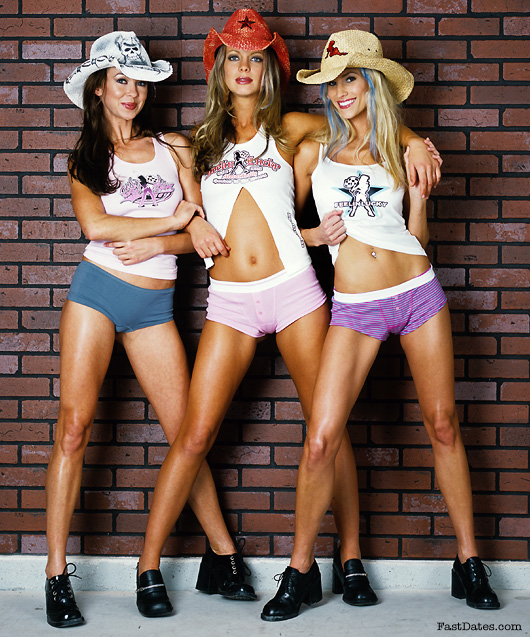 Our favorite tag team, current and former SBK Fast Dates World Superbike girls (left to right) Andra Cobb (now a brunette!), Taylor McKegney and Chandi Mason got together with us last month for the shooting of the 2006 Garage Girls calendar sponsored by Feelin' Lucky. All three girls are profiled in FastDates.com's Meet the Models and featured in Members Corner.
Meet the FastDates.com Calendar Angels at the World Premier of the new 2006 FastDates.com Calendars at the Los Angeles Calendar Motorcycle Show! July 15-16th 2005.
---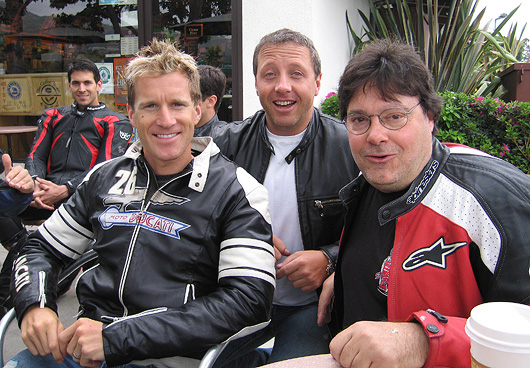 Neil, Poppy and Fast Dates photographer Jim Gianatsis at the Coffee Bean in Malibu.
Neil Hodgson Rides with Fast Dates
Malibu, CA, May 29th -Sunday morning at the Coffee Bean in Malibu, California, you never know who might show up to go riding with our regular sport bike crowd. This morning it was World and British Superbike Champion Neil Hodgson who is temporarily living in nearby Newport Beach, CA, with his family while contesting the 2006 AMA Superbike Championship in America for Ducati.
Neil is close friends with another misplaced Brit, Poppy, one of our favorite Sunday canyon riding regulars, and Poppy had invited Neil to join us on his weekend off from racing. Poppy is a former British Royal Marines Special Forces Commando, now working as a body guard for a well known rock star and living in Los Angeles. The Champ Neil had never ridden the canyons before and was justifiable cautious. "When you're own a race track you can learn too go fast progressively, lap after lap for 20 laps or so to learn the limit. Here you don't know what's around the next corner and it really is frightening!"
Neil was riding Poppy's borrowed 999S Ducati, and we knew riding a Superbike in the canyons might be a handful even for a World Champ, so we traded off with Neil and let him ride our Multistrada S (FastDates.com's Bike of the Year) with its upright seating and higher bars. Neil had never ridden a multistrada before and was totally blown away, and instantly quicker, though he did look a little funny sticking his foot out in the tighter corners. "I'm use to putting my knee out in the corner to feel where the track is! The Multistrada is so much higher I felt I need to put my foot out to feel where the road was in the corners!"
Needless to say, we won't tell anyone. Later in the ride we ended up at our favorite biker hangout, The Rock Store on Mullholand Highway in the Santa Monica Mountains for breakfast, and Rock Store owner Ed just happened to have the current 2005 Fast Dates Calendar with Neil's 2003 World Championship winning Ducati 999F03 on the cover with Miss Great Britain Nicki Lane. Neil got to see the Calendar for the first time and autographed it for Ed. Latter that evening our riding group all meet up again at Poppy's house for Poppy's wedding to his lovely riding partner Zoey, and I brought the whole wedding group Neil and Poppy their own Fast Dates Calendars. Needless to say, Poppy certainly has his priorities right when it comes to moving back your wedding a few hours so you can go riding with your mates. Congratulations Poppy and Zoey!
Poppy doesn't look too nervous about his pending wedding in a few hours as Neil checks out his World Championship winning Ducati in Fast Dates.