News June 2005
FastDates.com and Performance Machine present the 2005
LA Calendar Motorcycle Show
on July 16-17th is new qualifying round of the
AMD World Championship of Custom Bike Building
Featuring the World's top Builders and Custom Bikes with a huge $70,000 Cash and Awards Purse, Jardine Dyno Shootout, Free Builders Seminars, World Premier of the Dreamcraft Studios Billet Bike, and zillions of Beautiful Girls
Los Angeles, May 1st - The Los Angeles Calendar Motorcycle Show, America's premier custom and performance street bike event is excited to announce its affiliation with American Motorcycle Dealer magazine, the world's leading dealer trade magazine for the American V-Twin market, as an official Affiliate Sponsor and Qualifying Round of the AMD Pro Show World Championship of Custom Bike Building sponsored by Custom Chrome
| | |
| --- | --- |
| The Los Angeles Calendar Motorcycle Show Weekend sponsored by Performance Machine is held at the beautiful Queen Mary Event Park on the Pacific Ocean in downtown Long Beach, CA, where it has continued to grow every year as the most popular consumer street bike show in America.. Always the 3rd weekend of July, the 14th Annual Show scheduled for Saturday July 16th and Sunday July 17th, 2005. The Show features a huge weekend of activities with an expected 180 major motorcycle and product manufacturers, exhibitors and venders, together with the leading custom bike from across America. | |
The Calendar Motorcycle Show is produced by Gianatsis Design Associates, a well-known and respected advertising design agency in the motorsports market, and producer of the world famous FastDates.com Motorcycle Calendars and Website. Agency Director Jim Gianatsis had this to say about the Show's new affiliation with the AMD Pro Show-
"We have been a strong supporter and friends with publisher Robin Bradley and his American Motorcycle Dealer magazine since he first began publishing it some 10 years ago. For our own advertising clients like Mikuni American and STD Performance, Robin's AMD magazine is the most effective, affordable and attractive way of reaching dealers and distributors world-wide in the American V-Twin market.
Our affiliation as a Qualifying Round for AMD Pro Show's World Championship of Custom Bike Building sponsored by Custom Chrome is a natural pairing. It brings together our LA Calendar Show, America's premier custom and performance consumer street motorcycle event with its key industry manufacturers and retailiers exhibiting their products here to the public, our international media attention from all the world's top motorcycle magazines and TV shows, along with many of the world's top custom bike builders showcasing their hottest newest machinery here,now joining together with AMD's recently established World Championship of Custom Bike Building which will is poised to become the crown jewel in the professional bike building world.
The LA Calendar Motorcycle Show qualifier with its own huge $70,000 Cash and Awards Purse, will be taking place again this year at the Queen Mary in Long Beach, CA, the 3rd weekend of July on the 16-17th this year, will give our Performance Machine Best of Show winner, Best Performance Machine Equipped Bike winner, and the top 3 winners in our Pro Builders Class a guaranted invitation to the AMD World Championship final in Las Vegas on November 15-16th 2005 with its own huge $50,000 cash purse posted by sponsor Custom Chrome.
| | |
| --- | --- |
| | The tie-in is even more significant because Custom Chrome and Motorcycle Stuff under the Global Motorsports Group, are two of the major distributors of our FastDates.com Calendars. Even more exciting is the fact that last year's AMD World Championship winner, Roger Goldammer Cycle Works out of Canada and his beautiful retro Board Track racer, are featured on the cover of the upcoming new 2006 Iron & Lace Custom Motorcycle Pinup Calendar which will premier at our LA Show in July." |
There's an incredible lineup of activities including the Jardine Performance West Coast Horsepower Dyno Shootout - an exclusive permanent feature attraction at the Show. Another exclusive feature are the Iron & Lace Calendar Bike Builder's Seminars held both days at the Show, conducted by the leading custom bike builders in America as featured in the Iron & Lace Calendar. You'll meet many legendary builders with their latest bikes including 3-time Show winner Jesse Rooke, plus Arlen Ness, Chica, Mitch Bergeron, Paul Yaffe, Mike Stafford, Harold Pontarelli, Von Dutch and others. Plus exciting new builder Dreamcraft Studios with the next world premier their latest rolling piece of techno artwork featuring the world's first fully machined 1-piece billet chassis. Each builder will be available to meet at their bike displays with free autographed posters, and at their Builder's Seminars where they will tell fans how they really build their bikes. It's not Reality TV, it's live!
For additional information on the LA Calendar Motorcycle Show Qualifier in July go to Bike Show.
For additional information on the AMD World Final in Novemeber go to AMDProShow.com.

Robin nails it! Calendar Bike Show hostess Rockin' Robin Cunningham stopped by the ABC Disney radio station group in Los Angeles to record a 60 second radio ad campaign for this year's Calendar Bike Show which will run for 2 weeks on KLOS 95.5 Classic Rock in the Los Angeles area beging July 4th until the July 16-17th Show weekend. Robin nailed the 1-page of copy, 60 second commercial perfectly on the 1st take and we were in and out of the studio in 10 minutes! The station cres was left amazed.
The entire Show weekend's activities are being hosted by TV star and SBK World Superbike Ducati Corse umbrella girl "Rockin' Robin Cunningham, former Miss Texas and Miss Hawaiian Tropic International. The weekend also serves as the world premier of the the new 2006 FastDates.com Motorcycle Pinup Calendars, published by Show producer Jim Gianatsis, with Robin featured in all the new Calendars which will be available at the Show.
Iron & Lace Bike Pictorials
FastDates.com is excited to offer the world's first exclusive pictorials and storys on the world's premier custom bikes in:

Iron & Lace Garage.
You'll also find revealing pictures of our beautiful Calendar Angels free with your Iron & Lace Garage membership in Members Corner
---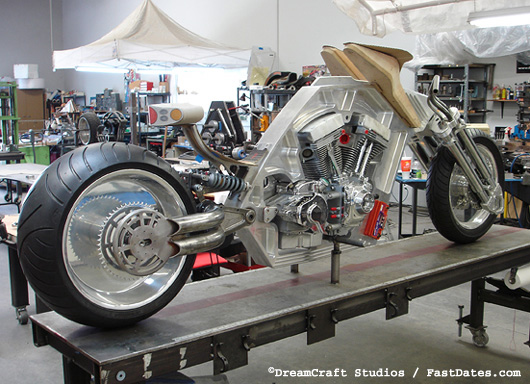 The first public appearance of the radical new Dreamcraft Studios DSC-002 Rapture with its 1-piece billet machined aluminum frame. A complete departue from their DCS-001 Sega which premiered with us last year, the Rapture's inspiration came from a 'war machines of the future' theme which the bike's agressive stance stunningly represnts.
Exclusive Dreamcraft Studios World Premier of new billet
machined Rapture at 2005 LA Calendar Bike Show
Los Angeles, May 1st 2005 - What do you get when you combine a race car engineer with a hot young graduate from the world famous Pasadena Art Center College of Designwho have never built a motorcycle before? Our 2004 LA Calendar Motorcycle Show was the World Premier of "Sega" - an exciting and futuristic chopper from their new partnership Dreamcraft Studios unlike anything seen before.
The Dreamcraft Sega was a first ever effort between race car engineer Larry Nagel and Art Center grad Paul Young and cost and estimated $1/4 million dollars. We went on to photograph Sega with Tanea Brooks who performs with the all-girl performance group The Purrfect Angelz at our LA Calendar Motorcycle Show and they and are featured in the 2006 Iron & Lace Calendar.
Sega set the bike building world on its head for originality. But now, Larry tells us "You haven't seen anything yet!" He and Paul are hard at work on their next 2-wheel design masterpiece, an almost pure billet machined bike. That includes the chassis/ frame which is being fully computer machined from a solid chunk of aluminum alloy billet on ahuge CNC machine. Nothing like it has ever been done before because of the design complexity, computer programing requirements and cost, and probably nothing will again for a very long time.
The all new Dreamcraft Rapture will make it's world premier at the 2005 Los Angeles calendar Motorcycle Show on July 16-17th. You won't wan't to misss it! For more Dreamcraft go to DreamcraftStudios.com.
More Iron & Lace News
HERE
• Return to
Iron & Lace Calendar News Front Page
click here to see even more of our sexy Iron & Lace Calendar Angels...