November-December 2005


Above: Rover Goldammer's 2005 AMD World Championship winning retro bike on the victory display stand next to the 2006 Iron & Lace Calendar featuring his last year's Championship winning Board Track bike on the cover.
2005 AMD Pro Show World Championship / Big Twin West / Custom Chrome Dealer Show

Roger Goldmmer Repeats Victory in Las Vegas at
2005 AMD World Championship of Custom Bike Building
Las Vegas, Nevada, Nov 17-20th 2005 - Roger Goldammer of Goldammer Cycle Works, Canada, returned to the 2005 American Motorcycle Dealer magazine (AMD) Pro Show World Championship of Custom Bike Building held this year at the Mandalay Bay Resort Convention Center in Las Vegas to claim the coveted World Championship Builder title for the 2nd time in the Show's 2 year history. The entry list for the Championship featured 152 bikes from many of the top builders from around the world, making this the biggest pro caliber custom bike show ever held.
Judging in the Radical Builders Class was conducted by the the entered builders themselves, with each builder asked to choose their 12 favorite bikes, in order, with points awarded down from 1st choice. Effectively, Goldammer was awarded the top prize by a judging panel of his peers, and not a a structured set of rules and categories with points for chrome and paint outweighing concept and creativity.

(Cick image at right for bigger size.)
Goldammer's winning bike was an extension of his retro Goldammer Board Track racer which won last year's show and is featured on the cover and inside the FastDates.com 2006 Iron & Lace Calendar sponsored by Mikuni, Performance Machine and Jardine Performance. The rolling chassis is essentially a hardtail version of last year's winner, but without that bike's more expensive hidden rear shock and working rear suspension. And with conventional hub mounted disck brakes replacing the exotic rim disc brakes used previouly on his special 23-inch wheels.


There were many exotic customs at the Show with possibly more exciting chassis designs, but what made this retro 1920's green bike a winner in the eyes of the other builder's was Goldammer's inovative all hand built single cylinder motor based on American V-Twin design components, and forced fed by a beautiful belt driven supercharger. While all the other builders were dropping production based engines into their own exotic chassies, Goldammer was the only builder to take the opposite approach and design an exotic prototype engine for his now production based chassis.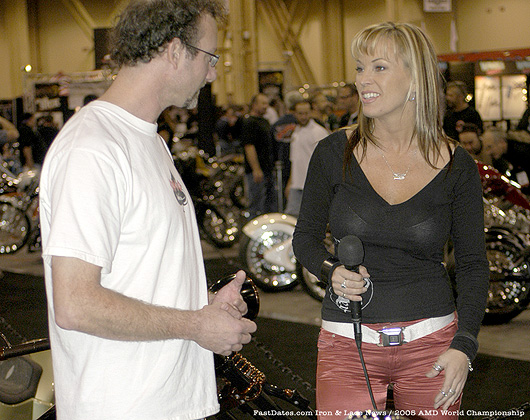 Former Iron & Lace Calendar model Michelle Smith interviews one of the bike builders at the Championship weekend for American Thunder on SpeedTV.

The AMD Pro Show World Championship of Custom Bike Building had moved to Las Vegas this year to be part of Advanstar's Big Twin West, a struggling start-up west coast version of Advanstars Big Twin East dealer trade show in Indianapolis, which has been loosing out to Easyriders' more popular V-Twin Dealer Show in Cincinnati. Last year the AMD World Championship Final was part of the Custom Chrome Dealer Show at CCI's normal warehouse location in Morgan Hill, CA, but large business and financial losses for Custom Chrome this year have left them on the verge of bankruptcy. Advanstar was able to convince both the AMD Pro Show and Custom Chrome that it would be in everyone's best interest to combine their efforts into Advanstar's dealer/consumer even at Mandalay Bay in Las Vegas, the entertainment center of America.
The original concept for a combined dealer / consumer show was presented 12 months earlier to Advanstar by Jim Gianatsis, producer of the very successful LA Calendar Motorcycle Show, during their own discussions for a possible partnership. The opportunity to draw more dealers, bike builders and consumers into a combined entertainment event for the American V-Twin market was and still is a great concept, but became flawed in its execution by corporate giant Advanstar when they stole the proposal presented by Gianatsis and tried to make it their own.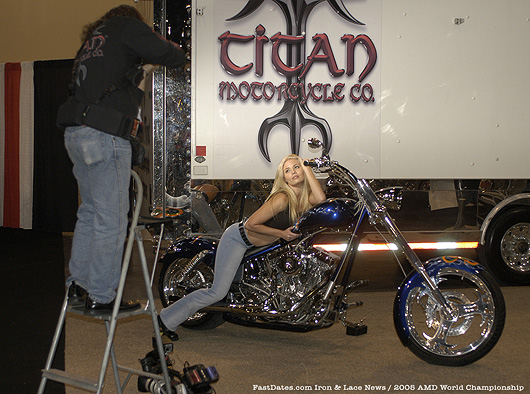 FastDates.com Calendar Angel Candice Curtis doing what she does best in the Titan Motorcycle display.

Advanstar restricted Custom Chrome's dealer show to just Thursday night, before Advanstar's own Big Twin West Show opened to all dealers on Friday. Custom Chrome's suppliers were coerced to book the entire Trade Show / Consumer weekend with Advanstar's Big Twin West at higher than normal floor space cost, that now was going all to Advanstar instead of struggling CCI. Advanstar's partnership with CCI pulled in enough suppliers, around 150 companies to almost fill up the convention hall, making Big Twin West 4-times larger than last year.
Word was that the CCI dealer night on Thursday only drew 300 dealers, all with their trips to Vegas paid for by CCI. Whether CCI generated enough sales from these dealers to cover their production costs for the weekend were doubtful. Then on Friday and Saturday when the Show was opened to all dealers from across America, the turnout was very light, possibly 100 dealers per day. There were more venders and builders walking the floors than dealers.
On Sunday, Big Twin West opened for its one day as a consumer show. Unfortunately, Advanstar did not effectively promote or advertise it to the consumer motorcycle market. They also failed to realize that no one travels to Las Vegas on Sunday, but rather, is heading home in grid locked traffic on the final day of an extended party weekend. We made a headcount of approximately 750 visitors attending the consumer Show on Sunday for the World's premier custom bike show. Unfortunate.
So many cool bikes, so few spectators and dealers at Big Twin West.

This past July the LA Calendar Motorcycle Show had served as an Affiliate Round of the AMD World Championship of Custom Bike Building. Our Calendar Show event was a huge success drawing our biggest crowd ever, nearly 18,000 visitors for the 2-day weekend. AMD magazine did an incredible job in producing and running the World Championship Final in Las Vegas this weekend and pulling in many of the top custom bikes and builders from around the world. It was a feast for the eyes for any motorcycle and motorsports enthusiast.
Unfortunately, not too many people came to see it. In part, probably because of this and the low spectator turnout, the AMD Pro Show World Championship is not scheduled to return to America next year, and certainly not as part of Big Twin West. For the short term future AMD will return to Europe to regroup with their successful European Bike Building Championship. If and when AMD returns to America with the World Bike Building Championship, they want to make sure it is with an event that they complete control over, and where there will be a lot more spectators to appreciate all the incredible custom bikes they pulled in. Cool.
And what of Big Twin West for next year? With the loss of the AMD World Championship to attract visitors, Custom Chrome's management and financial problems and their desire not to return as well, and Big Twins' own inability to draw enough suppliers and spectators, we don't see much hope for it.
However, The LA Calendar Motorcycle Show will be here to continuing to grow as America's premier custom and performance street bike show for both dealers and spectators. And we will use the excellent example set by AMD in producing a high caliber contest to assure the LA Calendar Bike Show will continue as one America's top custom bike events. Beginning in 2006 the Calendar Show's bike contest will be judged by the builders, themselves, just to assure everyone that the best bikes will be the winners.
See you in Los Angeles on July 15-16th 2006!

Dreamcraft's Best of Show winner "Rapture" at our 2005 LA Calendar Motorcycle Show with beautiful World Superbike girl Rockin' Robin Cunningham.
Dreamcraft Studios is Featured Exotic Bike Builder
at Caesars Palace, Las Vegas
December 1st, Las Vegas, NV - Dreamcraft Studios of Ontario, CA, the industry's newest premier custom motorcycle design company, is excited to announce that it has entered into a unique agreement with Caesars Palace, Las Vegas, one of the world's largest and most prestigious gambling resorts attended by millions of visitors annually. The agreement appoints Caesars Palace as the exclusive U.S. dealership for Dreamcraft custom commissioned motorcycles.
Dreamcraft's exotic high end custom bikes and an exciting new line of Dreamcraft Apparel will be featured and sold in the "Exotic Cars at Caesars Palace" showroom and dealership which began December 1st, 2005. The Exotic Car showroom at Ceasars is also Nevada's largest Ferrari automobile dealership and draws thousands of visitors daily from around the world, providing Dreamcraft unprecedented exposure to high end motorsports enthusiasts.
Dreamcraft Studios is a unique partnership between Larry Nagel, a renown motorsports fabricator for the Hollywood movie studios, and Paul Yang, an Art Center College of Design graduate who brings his own fresh ideas to the custom motorcycle scene. Their first custom bike building venture together was "Saga" which made its world premier with much media acclaim at the 2004 LA Calendar Motorcycle Show and is featured in the new 2006 Iron & Lace Calendar.
At the 2005 LA Calendar Motorcycle Show, Larry and Paul returned with their newest custom "Rapture" to take home the coveted Performance Machine Best of Show Award, a big chunk of the Show's $70,000 awards purse, and qualified for American Motorcycle Dealer's World Championship of Custom Bike Building held in November at Mandelay Bay, Las Vegas, NV. After the AMD Show, Sega was moved into the Exotic Cars at Caesars Palace showroom where it joined its stablemate Saga at Caesars Palace in the Dreamcraft Dealership area. Soon Dreamcrafy will also be adding their own unique line of official Dreamcraft Studios Apparel to the Caesars Palace Store, as well as on their website. For additional information about Dreamcraft Studios go to DreamcraftStudios.com.

Below: Left to right, the Dreamcraft team of Larry Nagel and Paul Yang in their workshop studio.

---
More Iron & Lace News HERE • Return to Iron & Lace Calendar News Front Page
click here to see even more of our sexy Iron & Lace Calendar Angels...