FastDates.com February 2003
Page 1 • Racing & Calendar News
Superbike, MotoGP, Calendar Girls
Official Calendar of the SBK World Superbike Championship
Sponsor of AMA 750cc Supersport Champs EBSCO Corona Extra Suzuki

This Week's Starting Grid: 2003 Pinup Calendar Review &
WORLD EXCLUSIVE FIRST TEST - DUCATI 999S!

• Supermodel Meets Superbike Janelle tests the new Ducati 999S!
• MotoGP - The Gang of Fours - 2002 Season Review / 2003 Preview
• Our 2003 Annual Motorcyle Pinup Calendar Review Caution Nudity!
• Los Angeles Premier! Our 2003 FastDates.com Corona Extra Suzuki
AMA Superbike Team, plus 2003 Los Angeles Super Moto National Race
• SBK 2002 Superbike Championship Final at Imola
The most exciting Championship final ever, Edwards retakes title.
• MotoGP 2002 Valentino Rossi takes first MotoGP Championship title in Brazil HERE. Alex Barros wins Valencia season final HERE.
• AMA 2002 National Season Finals Nicky Hayden on top.
FastDates.com Corona Suzuki wins its 2nd 750cc SuperSport title!
• British Superbike 2002 Final Steve Hislop wins title then dumped!
• The Pit Board Editorial, Race Schedules, Mail, Index, Features


We beat the print magazines...
World Exclusive First Test!
Our Valentine Janelle
does the new Ducati 999S
Official SBK World Superbike FastDates.com Calendar Angel Janelle Perzina tests the 999S

Loris in the saddle andTroy standing shotgun at the Ducati MotoGP press launch in Marlboro colors.
Ducati's Offical MotoGP Team Launch in Milan

Milan, Italy, Feb 14th: The Ducati MotoGP Team sponsord by Marlboro for the MotoGP championship was launched today at the Fila Forum, Milan, in what is sure to become yet another important chapter in Ducati history. The presentation of the new Desmosedici took place in front of 400 people, including journalists and media from all over the world, institutional figures and sponsors, in a spectacular audio-video light-show display. The bike that will mark Ducati's return to Grand Prix racing, was finally presented in its definitive colours for the season ahead, and after a thirty year absence, Ducati will now surely play a leading role in MotoGP, while continuing its commitment to the World Superbike Championship.

A series of speeches preceded the spectacular entrance of the Desmosedici on the stage, ridden by the two riders of the Ducati MotoGP Team. With an introduction capable of relaying all the enthusiasm and passion of Ducati, Federico Minoli, president of the Bologna-based company, opened the proceedings. "We couldn't have chosen a better date for the presentation of our team, our riders and our beautiful bikes: February 14th! In Ducati we are in love with any project that is capable of giving us excitement, pleasure and passion as a team."

"MotoGP represents an important investment for the company, which by stimulating research and development will allow us to continue to grow and improve our products, while increasing the renown of the company name and offering a positive return in terms of sales," added Carlo Di Biagio, Ducati Motor Holding CEO.

Then it was the turn of Claudio Domenicali, Ducati Corse Managing Director, who illustrated the technical details of the bike. "The Desmosedici has already carried out 12,000 kms of track tests and a further 5,000 will be completed before the first round of the season on April 6 at Suzuka. Today we know a lot more about the bike, and we are reasonably sure of our potential. Troy and Loris are proving to be a perfect team. They are working together, sharing information and both of them are a real surprise. The Desmosedici is the result of a lot of research and great passion, and is a bike that has a number of interesting technical features such as the new four cylinder V90° Desmo 16 valve engine, or the innovative and exclusive stress-bearing frame, which has been adapted from Formula 1. Although retaining Ducati's tubular trestle design, this enables weight to be saved by using the engine as a stress-bearing member."

Preceded by the noise of the powerful four-cylinder Ducati engine, Team riders Troy Bayliss and Loris Capirossi then arrived directly on the stage on the bike in its new colour scheme.

"This is a great day for Ducati and I am really proud to be a part of the Ducati MotoGP Team for the MotoGP championship," declared Troy Bayliss. "The Desmosedici looks fantastic in its new colours, testing has gone really well and all of us in Ducati can't wait to line up on the grid at the first race of the season."

"Now we are finally a team!" commented Loris Capirossi, "and we are ready to start the season. After the excellent results achieved in winter testing, I have finally seen the definitive version of the Desmosedici. We are all really enthusiastic and ready for the challenge that lies ahead."

Before the start of the championship on April 6th at Suzuka (Japan), the Ducati MotoGP Team will take part in three days of official IRTA tests from 21-23 at Jerez de la Frontiera (Spain), and then Estoril (Portugal) on 26/27 February, followed by Barcelona (Spain) on 15/16 March.
---


Checa checks out at Catalunya with a new lap record
A crash and a trip to the hospital didn't deter Carols Checka from coming back the next day and shattering Max Biaggi's MotoGP lap record at Catalunya. Complete report details in Tire Chatter at right >>>
---
France's Moto Option features our FastDates.com Corona Extra
Suzuki Moto Master SuperMoto racebike and Calendar girl Janelle
This month's February2003 issue of France's premier sportbike magazine
Moto Option
featured a great article 4-page article penned by editor
Claude de Chapelle
and photographed by
Sylvain le Bellec
of the FastDates.com sponsored Corona Extra Suzuki Super Moto race bike built by
Paul Brent
of
Moto-Master
(ph: 866 668 6627). Claude and Sylvain were guests at our featured exhibit at the
Cycle World International Motorcycle Show in Long Beach
this past December (
Here
) where our Super Moto bike being race by Jean Michelle Bayle was premiered together with the announcement that Moto Master would be producing the National Championship Super Moto round at our
2003 Los Angeles Calendar Motorcycle Show
in July (Info:
HERE
). Our beautiful Calendar Angel and SBK Fast Dates World Superbike girl
Janelle Perzina
was featured in the story with the bike. Merci Beaucoup guys!
Also in the same issue was a nice feature pictorial on the Long Beach Show showcasing our FastDates.com Calendar Exhibit with some of our top calendar bikes by custom builders Paul Yaffe and Jesse Rooke, and AMA National Championship winning teams EBSCO Corona Extra Suzuki and Graves Yamaha Motorsports. The story included a nice photo of our show exhibit with FastDates.com Director Jim Gianatsis and Calendar Angels janelle and Chandi Mason.
There was also a nice 6-page feature story on Yoshi Kosaka's Garage Company in West Los Angeles, one of the premier classic sportbike oriented shops in America.The same issue also include tech features on Honda's CBR 954 and 919 sportbikes, and a coll pictorial on the British Q.B. Carbon Industries MV Agusta 750 and Ducati 996 rebodied to look like the manufacturers's new 2003 season motGP bikes. awsome! It's a shame American sportbike enthusiasts have to look to French and British sportbike magazines to get better coverage of the sport in America. Hopefully someday Moto Option will bring out an English version that will be available here.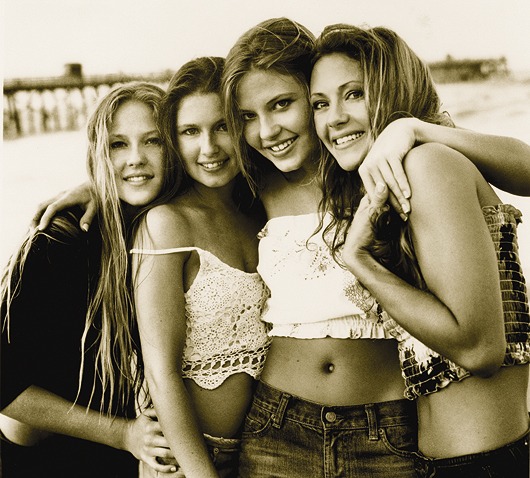 Left to right: Danielle, Candice, Christie and Jilaine, four beautiful sisters harmonizing with the best melodies and great original songs. Talk about talented, Christi is also a NSSA Women's east Coast Surfing Champion and Candice is a commerical artist. Ranging in age from 15 to 26 years old, they write their music together.
The Beu Sisters to appear at our
Los Angeles Calendar Motorcycle Show in July!
These four young teenage girls are the hottest, best new girl group on the music scene since the Coors. If you miss the harmonies of Wilson-Phillips and like the pop rock ballads of the Coors, these four beautiful young Beu sisters will totally blow you away. Songs like "I was only Seventeen" might get us arrested, "Stop! Stay away from my Sister!" tells us they'll kick our butt, but then they lead us into temptation with 'Why Don't You Just Kiss Me."
We are excited to feature the Beu Sisters in their first major national concert appearance at our Los Angeles Calendar Motorcycle Show following the release of their critically acclaimed first album The Beu Sisters. Be sure to join us in July at the Queen Mary Park in Long Beach, CA, for the most incredible weekend ever of awesome streetbikes, Super Moto racing, wild party action, beautiful girls and the Beu Sisters!
Meet the Beu Sisters
Hot! Check out their website and the feature video for their song "I was only Seventeen" at TheBeuSisters.com

Click the CD cover to sample their songs and order online at Amazon.com.
Meet them at our Bike Show in July!
---
Penthouse does calendar girl Lilly Ann
One of our pretty new FastDates.com calendar models featured in the upcoming 2004 Fast Dates Racebike Pinup Calendar with this tricked out single sided swingarm Yamaha R1 with the classic Kenny Roberts paint scheme is sweet little 19-year old model Lilly Ann. We did a couple of calendar shoots with Liily back in August '02 for the upcoming '04 calendars premiering July 1st and for our Members Corner.

Needless to say, we were taken totally by suprise (of course!) while walking past a local newstand to that sweet little Lilly is featured on the cover and inside the March 2003 edition of Penthouse magazine as Pet of the Month. Look for Lilly in our upcoming g 2004 Calendars, in Penthouse, and in Members Corner right now!
---
DUCATI MOTOGP - THE DREAM BECOMES A REALITY
Ducati returns to Grand Prix racing this year for the first time in three decades, the legendary marque's arrival in MotoGP adding a new dimension to the category. After 15 years of stunning success in the streetbike-based World Superbike Championship, Ducati now also enters the MotoGP fray with the Ducati MotoGP Team, its riders Troy Bayliss and Loris Capirossi racing an all-new prototype machine – the Desmosedici V4, while the factory also confirms its commitment, presence and faith in the World Superbike Championship.
Affectionately called 'the Ferrari of motorcycling' by bike fans, the Italian factory's Ducati MotoGP Team project will fascinate and enthral motorsports enthusiasts around the globe. The Desmosedici has already set some stunning times during winter testing, but Ducati Corse engineers are under no illusions as they take on rival factories from Japan, Italy and Britain in this technically challenging and competitive class of racing. The Desmosedici is a long-term racing project that allows Ducati to experiment with new technology, and Ducati Corse has increased its staff to 110 people to meet the biggest challenge of its illustrious history.
The Pirelli 2003 Calendar
When you're the world's biggest tire company with a One Million dollar budget to photograph your calendar, you hire the world's top supermodels right?
The Pirelli 2003 calendar features some of the most celebrated top models from throughout the world: Sophie Dahl, Yamila Diaz-Rahi, Isabeli Fontana, Bridget Hall, Heidi Klum, Karolina Kurkova, Natalia Vodianova, Sienna Rose Miller, Lisa Seiffert. And, as is now traditional, there are also some up-and-coming faces, such as Filippa Hamilton, Jessica Miller and Rania Raslan. Likewise.
Pirelli's 2002 Calendar featured Hollywoods hottest young actresses including Julia Styles, Mena Suvari (American Beauty) , Rachel Lee Cook (Josie & the Pussycats) , Lauren Bush (neice of the President), Erika Christensen (Traffic), Bridget Moyanhan (Coyote Ugly, Sum of all Fears), James King (Blow, Pearl Harbor, Lonestar State of Mind).
You can see detailed information on the Pirelli website at Pirelli.com
And vist our 2003 Sportbike Calendar review in The Pit Board
---
FORTUNA YAMAHA
MotoGP Team Shatters more lap records in Spain
UNFORTUNATE TUMBLE FOR CARLOS CHECA SEES HIM RETURN AN BREAK LAP RECORD,
Barcelona, Spain Feb. 10th:
After shattering the MotoGP lap recoreds just 2 weeks earlier at the Valencia rave track in Spain, the Fortuna Yamaha Team returned to testing again this week at the Catalunya GP circuit and continued to do more record smashing.

On the forst day Carlos Checa crashed out of the Fortuna Yamaha Team test in Barcelona, Spain, not long after he took to the track. The Spaniard fell at the second turn and landed heavily on his bottom. He was taken to hospital as a precaution but released soon afterwards without needing any treatment. He had completed 21 laps before the fall and took no further part in the day's action but is expected to ride at his home circuit again tomorrow.

Team-mate Marco Melandri, meanwhile, made a significant breakthrough with the minor braking problems he experienced at the team's previous test in Valencia. The Italian had found difficulties with his front braking and spent today trying to rectify this. This was his first test with the YZR-M1 at the Catalunyan circuit, and he adapted well to the longer and faster straights, ending the day with a best time of 1'46.2s having completed a
total of 52 laps.

Team Director Davide Brivio was philosophical about the day, "We have had good weather conditions considering it is only February. We can only have
about four or five hours a day of testing, as the track temperature is too low the rest of the day but we knew this before we came here", said the Italian.

"It's a great shame that Carlos fell again, we hope that he will
be back out tomorrow. He is seeing his physiotherapist tonight so hopefully that will help him. Marco has been working very hard on his front end braking problem with the support of Brembo. His lap times today were not too bad. We are basically finding a way to adjust the braking system to his riding style, and will continue to do so tomorrow."

LAP TIMES
Alex Barros, Gauloises Yamaha Team 1'44.8s (52 laps)
Shinya Nakano, D'Antin Yamaha 1'46.1s (56 laps)
Marco Melandri, Fortuna Yamaha Team 1'46.2s (52 laps)
Carlos Checa, Fortuna Yamaha Team 1'46.6s (21 laps)
Olivier Jacque, Gauloises Yamaha Team 1'49.1s (41 laps)

Carlos Checa returns from the hospital -beats Max Biaggi's pole-setting time at Catalunya in latest test of the factory Yamaha Moto GP bike.
Feb 11th: Despite a crash on Monday that left him with a just few bruises, Carlso put in a total of 46 laps on Tuesday finishing with a time that improved on his 2002 GP time by almost a second. He managed a best of 1:44.3.

In an optimistic mood at the end of the session Checa said: "I still felt slightly sore after my crash but generally I am OK. I am happy with my performance. I went the fastest that I have ever ridden at this circuit. The weather conditions today weren't great either, so I think there is even more room to improve".

Fellow Yamaha factory rider Marco Melandri struggled to cope with the brakes on his Moto GP bike after stepping up from the 250cc class. Completing a total of 75 laps, he was much more comfortable with the new setup. "At the end of today I did 16 laps in a row as a kind of a race test, to try to understand what the bike will feel like at the end of a race. I am happy with what I achieved here, as I managed to record a best lap time of 1:45.7."

The Team is now preparing for first IRTA test in Jerez on February 21.
---
ORDER NOW!

Our 2003 SBK World Superbike Fast Dates Calendar model and Penthouse Pet of the Year Zdenka fully revealed in this sexy video...
-Click to order Online -

Ripped Pavement 2003

USA order: Calendars.com
In England phone or click on
Crossbow (44) 181-669-6400,
GP Legends at 870-040-1234
Garage Girls 2003
---
Workers begin final phase of track safety redesign for AMA Superbikes at Sears Pont Infineon Raceway
Samona, CA, Feb 11th: Infineon Raceway has completed the on-track design work for three circuit enhancements, and workers have begun the final phase of the project: placing the asphalt. These changes are designed to increase rider safety at the AMA Supercuts Superbike Challenge, presented by Honda of Milpitas, May 2-4.

The redesigned portions of track at Turns 1, 10 and 11 will be used strictly by the AMA Chevy Trucks U.S. Superbike Championship and Jim Russell Racing Drivers School. The traditional road course will be used for all other events at Infineon Raceway, including NASCAR Winston Cup and the American Le Mans Series. The enhancements further demonstrate Infineon Raceway's goal of becoming one of the safest AMA-sanctioned circuits in the country. A polymer-modified asphalt was used on the three portions of track. It is the same blend of asphalt that covers the entire circuit.

The changes were made with the aid of AMA Superbike riders Eric (Kawasaki) and Ben Bostrom (Honda), Miguel Duhamel (Honda), Aaron Yates (Suzuki), and AMA Road Race Manager Ron Barrick, who visited the track two months ago. The enhancements will be in place for an AMA Superbike test session at Infineon Raceway on March 20.

Turn 1 has been a sweeping left-hander, putting riders at an unfavorable angle as they approach a pedestrian bridge at the apex of Turn 1. The track has been extended 50 feet in a straight line before entering Turn 1. Riders will now make a left turn at approximately 90 degrees, which is designed to direct them away from the bridge and up the circuit toward Turn 2.
The entry into Turn 10 has been altered to increase rider safety. As riders crest Turn 8A, they will no longer continue down the famous esses. Instead they will continue down a straight line for 900 feet, parallel with the Hillside Terraces at Turn 9, before making a 90-degree right-hand turn, followed by a sharp left-hand turn, which will blend them back with the original road course just before Turn 10. This alteration will slow the bikes down substantially, lowering the risk entering Turn 10, plus it should also turn into an exciting passing zone in front of the Hillside Terraces.

The final safety enhancement will occur at Turn 11, which will see the entry shortened by approximately 40 feet. The change will direct riders away from the wall as they exit the hairpin turn and direct them toward the start/finish line.
All three changes demonstrate Infineon Raceway's commitment to rider safety. Increased run-off was added at virtually every turn on the road course during a $50 million Modernization Plan, and the racing surface has also been permanently separated from the slick drag strip.