January/February 2006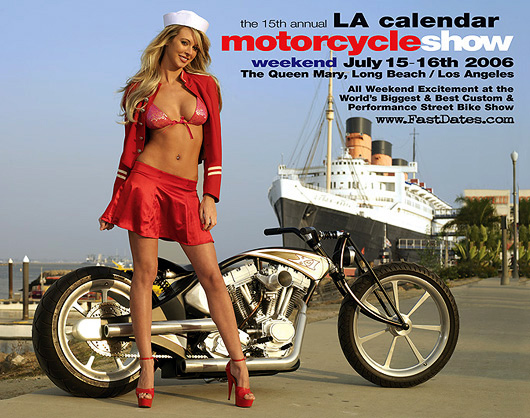 FastDates.com Calendar Kitten and SBK Fast Dates World Suerbike Girl, Gemma Gleeson with the controversial Jesse Rooke Customs/ Russell Mitchell, Exile Cycles X-1 Kali Cruiser bike from the TV Show Build or Bust, on location at the Queen Mary Event Park in Long Beach.
American Iron & RoadBike Magazines are
New Associate Sponsors of the LA Calendar Motorcycle Show
Los Angeles, CA, Jan 1st - The Los Angeles Calendar Motorcycle Show welcomes two of America's leading streetbike magazines, American Iron and RoadBike, as Associate Magazine Sponsors of the Show beginning this year 2006 under a newly signed 5 year agreement. Published by Tam Communications, American Iron Magazine is one of the biggest selling titles in the American V-Twin market, while RoadBike Magazine is the biggest print magazine in the fast growing Metric cruiser and streetbike market. The Los Angeles Calendar Motorcycle Show is the biggest custom and performance streetbike show in America, and this new partnership brings together these respective market leaders to continue to grow and expand, both for the benefit of the motorcycle industry involved with both, and for their fan base of readers and attendees.
Buzz Kanter, Publisher of Tam Communications said "We are excited to have American Iron & RoadBike become involved as multi-year Associate Sponsor and Partner in the LA Calendar Motorcycle Show, one of America's premier street motorcycle events. And certainly the most recognized and popular streetbike event on the West Coast. It will help to give our magazines a closer tie-in to our readers and advertisers located there, add more balanced coverage of West Coast bikes, builders and product companies. And it will help our continued growth as America's favorite American V-twin and Metric Street Bike magazines. We will have special special American Iron and Road Bike Readers Trophies to award in the Bike Contest, and Road Bike magazine will be title sponsor of the new RoadBike Metric Custom Class to help promote the biggest growing motorcycle segment in America."
Jim Gianatsis of Gianatsis Design Associates, producers of the LA Calendar Motorcycle Show, as well as the popular FastDates.com Calendars and Website, had this to say about the new partnership, "I am really excited to have both American Iron and RoadBike Magazines join us to share with us their readership, and to help us expand the audience and market base of our Calendar Motorcycle Show. This offers a huge benefit for all of our Show's Exhibitors, like our title sponsors Performance Machine and Jardine Performance who offer aftermarket products for both the Metric and American V-Twin markets. It gives the major Japanese manufacturers a big consumer venue close to home in Los Angeles where their new street cruiser brand lines will be well received by their target audience. And it gives metric custom bike builders and owners the most exciting Bike Show in the world to show and see the newest custom bikes and parts.
The 15th annual Los Angeles Calendar Motorcycle Show Weekend takes place July 15-16th 2006 at the Queen Mary Event Park in Long Beach / Los Angeles, as it continues its extraordinary growth and success having become the biggest Custom and Performance Streetbike Show in America (and possibly the World) focused on the custom, cruiser and high performance sport / streetbike markets.
Spectator attendance reaches close to 20,000 hard core motorcycle enthusiasts at the exciting 2-day weekend. Exhibitors include 195 major motorcycle and parts manufacturers, with selected product and apparel venders added into the mix to keep it fun for the entire family. Spectators have a chance to meet top celebrity custom bike builders and attend free Iron & Lace Calendar Bike Builder Seminars, watch the the excitement of the Jardine World Record Horsepower Dyno Shoot Out, see the world's top custom bikes in the Performance Machine Calendar Show Bike Building Championship featuring the new RoadBike Magazine Metric Class, enjoy the exciting new Metric Midway featuring Japanese Cruisers, European and Japanese Sportbikes.
All weekend long entertainment includes 2-Day Musical Festival showcasing top sexy rockin' girl bands and singers including Zeparella, the exciting Purrfect Angelz stage shows, and of course the world premier of the new 2007 FastDates.com Motorcycle Pinup Calendars with the beautiful Calendar Kittens in attendance. Bike Show admission includes complimentary admission to the historic Queen Mary ocean liner, and the Saturday Night Calendar Bike Builder's Party. For additional information visit the Calendar Bike Show.
The Los Angeles Calendar Motorcycle Show's Title Sponsors are Performance Machine and Jardine Performance, with Associater Sponsorship provided by American Iron American V-Twin and RoadBike Metric Cruiser Magazines, The Los Angeles Times / Recycler.com / Cycle Buys, Speed TV's American Thunder, Trader Publications / Cycle Trader, BikerNet.com, Quick Throttle and Connection magazines, and the FastDates.com Calendars.
Jesse Rooke & Russell Mitchell / Exile Cycles X1
2007 Iron & Lace Calendar Bike by Jim Gianatsis
One of the hottest bikes ever from our famed Iron & Lace Calendar builders Jesse Rooke and Russell Mitchell, the X1 Kali Racer is a modern era retro board track racer for the street which looks very mean, nasty, clean, basic and functional. We love it as one of the most exciting bikes ever featured in the upcoming 2007 Iron & Lace Calendar, and in our advertising campaign for the 2006 LA Calendar Motorcycle Show. Based on a Jesse Rooke Kali Cruiser chassis with a single sided rigged swingarm, the front end features a unique pivot suspended solid front fork. Various Exile contributions include the now hidden trademark Exile rear sprocket disc brake, slash exhaust pipes, a clean brushed aluminum oil tank and a mountain bike shock assembly under the saddle.
And the X1's history is as unique as its looks. Jesse and Russell where brought together by Build or Bust TV Show producer Scott Gillen to guide an amatuer builder to construct from parts a completed bike for the show within a 1-month time frame, using a Jesse Rooke chassis kit with Exile components. Well, the guy didn't make it past the first day when it became apparent he had no mechanical aptitude whatsoever, and the bike wasn't going to be completed in time, particularly as anything half decent. So they amateur builder was kicked to the curb, and Russell and Jesse were asked by Gillen to complete the bike together for the Show....
It's here we should tell you that a condition of the builders being invited onto Build or Bust for the TV publicity exposure is, they don't get paid a penny for their time and a lot of the parts they provide, nor do they get to keep the bike if it doesn't go to the amateur builder. By default the bikes go to producer Gillen who uses them for publicity at events like out LA Calendar Motorcycle Show, and some bikes eventually get sold off and the money pocketed by Gillen.
Well, to make a long story short, the collaboration between Jesse and Russell got a little heated at times as Jesse likes flashy paint and a high tech look, while Russell likes everything solid flat black and low tech. Just getting Russell to agree to have the painter add matching brushed silver graphics with an X1 logo on the black tank and bodywork to match the silver brushed finish on the rest of the bike's components was like moving a mountain. But when the finished tank and body work came back from the paint shop it was obvious to everyone (but Russell of course), that this was indeed another Jesse Rooke "Best of Show" winner.
Jesse sat back and pondered the unfinished bike for a day during filming, visualized its complete glory, and essentially said, "Fuck it, I'm not going to finish this bike and give it to Gillen." It was there that Jesse picked up his marbles -in this case the unfinished X1, and went home. Gillen was furious at the thought of loosing the best bike from the Show, ever, and Russell just sat back with his arms crossed and his mouth shut as not to piss off anybody. It was the best Build or Bust TV show ever. Hopefully you caught it.
Jesse brought me the beautifully finished X1 in all it glory about 6 months later to photograph it down at the Queen Mary in Long Beach, CA for the 2007 Iron & Lace Calendar and our advertising campaign for the 2006 LA Calendar Motorcycle Show. Or beautiful model was 20-year old irish supermodel Gemma Gleeson, also featured in our other 2007 FastDates.com Calendars, who came over to Los Angeles to hand with me during her 1-month University school break over the Christmas holidays. Yes, that is what dead of winter looks like in Southern California!
You'll find a pictorial of the Build or Bust X1 Kali Cruiser in the Iron & Lace Garage, and the actual bike on display in Jesse Rooke's display area at our 2006 LA Calendar Motorcycle Show.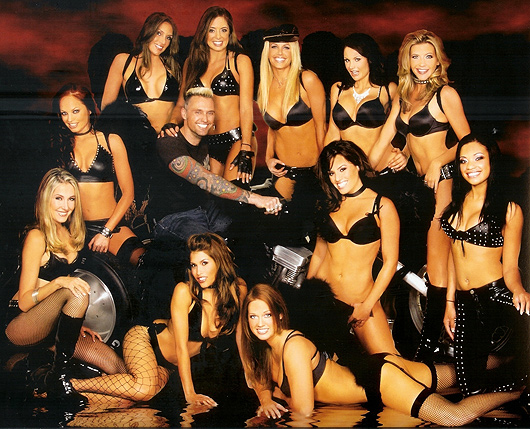 Party Alert! Saturday April 22rd 2006 - Exile Cycles10th Anniversary Open House
It's their birthday, famed Iron & Lace Calendar builder and TV star Russell Mitchell is holding a party and we are all invited! Russell is holding an Open House at Exile Cycles on April 22nd 2006. Come and join us for some sex and drugs and rock and roll. O.K. so we lied about one, but there will be bands playing, beer flowing, and the lovely Purrfect Angelz dancing up a storm. The event takes place noon to 6pm at their new shop in North Hollywood.
Exile Cycles, 13209 Saticoy St., North Hollywood, CA 91605 • Phone: 818 255 3330 • exilecycles.com
Weapons of Mass Seduction!
Purrfect Angelz to Decimate the
2006 LA Calendar Motorcycle Show July 15-16th!
Los Angeles, March 1st, 2006 - So why does Russell Mitchell, star of TV's Build or Bust and featured custom bike builder in our Iron & Lace Custom Motorcycle Pinup Calendar, have such a big smile on his face?
It's because we just told him all those beautiful girls he's posing with of the famed Purrfect Angelz show group will be performing all weekend long in expanded performances guaranteed to decimate attendees at America's premier custom and performance streetbike event, The Los Angeles Calendar Motorcycles Show on the July 15-16th weekend, 2006,
The Purrfect Angelz have performed at the Calendar Motorcycle Show the last 3 years in their original 5-girl group, performing two 20 minute sets on stage each day to the screaming admiration of jammed pack crowds. But we can never have too much of a good thing, particularly where there's beautiful singing, lap dancing, fire twirling, burlesque shaking, cart wheeling, lingerie and bikini clad girls involved. The fame and the size of the group has been growing these few years (for obvious reasons!) and Purrfect Angelz show director Lisa Ligon asked if she could bring their newer, bigger, better, tighter, bouncier, curvier, more perfectly endowed 9-girl Purrfect Angelz Show to blitzkrieg the Calendar Show from this year on. Who were we to tell her "No"? But only if Lisa agreed to help serve as on-stage Co Host with Bikernet.com's Keith Ball and Master of Ceremonies throughout the weekend, which Lisa did. Have we got clout or what?
The biggest performance day for the Angelz at this year's Show will take place on Saturday the 15th, where the previous two 20-minute show sets will now serve just as a warm up teaser for 3, yes that's THREE different 1-Hour Purrfect Angelz Stage Shows! from their 3 different world and cross country tours.
The Angelz's feature stage shows will kick off at 12 noon on Saturday with their first one hour show called "Honky Tonk Ba Donka Donk" which they performance at major country and western music venues across America. Cowboy chaps and tiny bikinis never looked this good in Broke Back Mountain. Then at 2:30pm will be their "Salute the Troops" a patriotic medley from the Angelz's USO Tour which they performed for our troops in Afghanistan -with their Weapons of Mass Seduction so obvious we don't need George Bush to find where they're hiding (but you can mount your own invasion at the Angelz's picture autograph table afterwards). The Angelz will wrap up the day at 6pm with the "Biker Babe Banging Bash" which they perform at major biker events across America including Sturgis and Daytona - guaranteed to get the fans up, and bring the house down, and help close just the first incredible day at the world's hottest Motorcycle Show!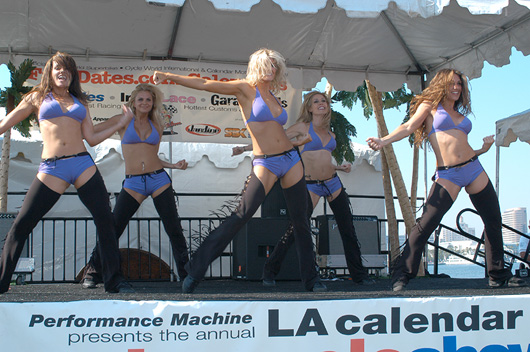 MEOW! Oh my god, how Purrfect is this? But are you man enough to survive it for 4 hours on Saturday with even more beautiful girls, and then again on Sunday! Oh yeah, there'll be some cool bikes there, too...

Sandwiched in with the Purrfect Angelz both days will be the all-girl Lead Zeppelin tribute band from San Francisco, Zepparella, blues singer Jesse Payo, the Calendar Model Search Pageant and the exclusive Calendar Bike Builder Seminars hosted by America's top celebrity builders including Russell Mitchell of Exile Cycles. Oh , and did we forget to mention the Calendar Bike Building Championship hosted by Performance Machine, the Jardine World Record Dyno Horsepower Shootout, the new Calendar Motorcycle Show Auction featuring incredible Pro Builder customs, classics and exotic bikes, plus 200 major motorcycle and product manufacturers and venders? We did now. For complete details go to LA Calendar Motorcycle Show.
---


Iron & Lace Calendar Model LeeAnn Tweeden Gets Naked (almost)
for Budweiser in Sports Illustrated
This Bud's for you! Former FastDates.com Calendar Kitten, former Frederick's of Hollywood Lingerie model and former girlfriend to former AMA Superbike Champion Ben Bostrom, our very own LeeAnn Tweeden is featured in a giant 4-page fold out magazine ad for Budweiser beer in the annual 2006 Sports Illustrated Swimsuit Edition which went on newstand sale this past week. LeeAnn looks resplendent as she spreads out on a bed of Budweiser bottle caps with strategically placed caps just concealing her wonderful attributes. The SI Swimsuit issue will remain on newsstands for many months, selling millions of copies and assuring that LeeAnn gets more exposure than her current gig on TV's Fox Sports. You'll want to get your own copy of LeeAnn's Budweiser poster to hang up in your race pits and help distract Ben as he walks past to the starting grid. And you can visit LeeAnn's Calendar Model Portfolio in Members Corner right now to get your very own giant screensaver of LeeAnn's Bud poster.


The World's Fastest Indian
In Theatres February 3rd

"You live more in five minutes on a bike… than some people live in their lifetime," says the plucky, gravel-voiced Burt Munro (Anthony Hopkins), early on in writer-director Roger Donaldson's The World's Fastest Indian. That line and the scene containing it eloquently sum up Munro's fearless devotion to his lifelong love: speed racing, specifically on his re-conditioned 1920s-era Indian motorcycle. World's Fastest is part biopic, part road movie, part triumph of the sprit moviemaking, but, underneath all that, it's a tribute to the aging Munro, whose grit and tenacity elevated him for small-time obscurity to the status of motorcycling legend--the holder of several land speed records.

Donaldson's movie focuses on Munro's 1967 odyssey from his remote New Zealand town to his record-setting speed trials in Utah's Bonneville Salt Flats. Though plagued by a heart ailment, Munro soldiers on, modifying his ancient Indian motorcycle using nothing more than junkyard parts and his try-anything chutzpah. Backed by the goodwill of his townsfolk, Munro ships off to Los Angeles where he commences his cross-country trek towards Utah and the record books.

World's Fastest is, in many ways, thoroughly conventional, but it's executed with such conviction and love for its subject matter that it disarms the viewer completely. Most contemporary movies are so dramatically overreaching, their appeal to our sympathies so strained, that they end up putting us in a defensive posture; we find ourselves continually on guard against their assaults on our intelligence. Donaldson's movie puts no such artificial pressures on its drama and, in effect, makes no undue demands of the viewer. His script never overplays the conflicts in Munro's life: His heart condition, for instance, or the resistance he meets in Bonneville, or his scant resources never inundate the narrative the way they might in a standard-issue Hollywood screenplay. These conflicts do have a place in Munro's life, but Donaldson, to his credit, keeps them at a low simmer.

Yet that most endearing aspect of the script also points to its most glaring weakness. Munro is a hard-nosed scrapper, no doubt, but, at no point, does Donaldson's script isolate and develop a deeper theme to drive the story's dramatic engine -- apart from the rather generic theme of courage conquering fear. The narrative has a pleasant rhythm following the beat-by-beat of Munro overcoming one obstacle after another on his way to the speed trials. But those beats often feel pat and easy -- especially the saccharine sequences of Munro's encounters with a Hollywood transvestite (Chris Williams), with a Latino used-car dealer (Paul Rodriguez) then, later, with a Native American (Saginaw Grant) and a lonely homesteader (Diane Ladd). These simply forward Munro's American experience, failing to evolve his character and to enrich our understanding of him (See the letter at right - Editor).

While World's Fastest's script may not reach any profound heights, what keeps us rooted to the movie (and rooting for Munro) are its motorcycle sequences and Hopkins' performance. Together with cinematographer David Gribble and editor John Gilbert, Donaldson expertly crafts moments of pure open-road exhilaration. Whenever Munro takes off on his bike, the movie achieves a heart-stirring virtuosity on par with the sound barrier-breaking sequences in Philip Kaufman's The Right Stuff and the hell-for-leather acrobatics in last year's The Aviator.

It's those moments that give this otherwise mild-and-polished affair its emotional spikes, but what binds the whole contraption together is Hopkins himself. The world-class Hopkins more than compensates for Donaldson's script, inhabiting his



role with such authenticity and verve that it's impossible to stray your attention from him.
Without an actor of Hopkins' caliber, The World's Fastest Indian might've sunk in its own puddle of overly sweet but honorable intentions. It's thanks to Hopkins that Donaldson serves Burt Munro proudly.
–film review by Jay Antan / FilmCritic.com

If you've ever worked on your own motorcycle or car, rebuilding your race bike in a motel room at 11 'clock on a Saturday race night or pullin g the engine out of your Camaro on your parent's front yard, The World's Fastest Indian is a movie most motorcyclists can relate to on any level. It problably won't win too many Academy Awards (except possibly a Best Actor for Hopkins), but in the small cadre of motorcycle movies that have been were pretty much all bad, this one is sold gold.

Some note of interest: We were at the National Hot rod Show at Pamona, CA, last weekend and ran into the Califonia collector who now owns the origional Burt Munro Indian in purfectly restored condition. Everything on the bike from the frame up was hand built by Munro and it is a real trip to see. We are making plans now to have it on display at the LA Calendar Motorcycle Show in July.

And speaking of bad motorcycle movies, remember little Burt and Big Halsey - the dirt bike movie from the 1970's starting Robert Redford and Michael J. Pollard?
We ran into Pollard this weekend at our favorite Sunday morning biker coffee shop meeting place in Malibu, CA. Pollard definetly looks older and the worse for wear, having been caught up in the Hollywood party scene during the '70s. He still takes acting workshops and goes out on castings, but hasn't had a significant role in years. - Editor

The World's Fastest Indian websites to check out:
www.WorldsFastestIndian.com
Burt Munro Story and photos
www.IndianMotorbikes.com

Below: The real Bert Munro at home in New Zealand with his beloved Indians. In February 1957 he set a NZ Open Beach record of 131.38 mph, raising this in 1975 to 136 mph at Oreti Beach. In April 1957 he set a 75Occ Road Record at Christchurch at 143.59 mph. In March 1962 he covered the standing 1/4 mile at Invercargill in 12.31 seconds.

Burt, then a grandfather, visited the Bonneville salt flats several times from 1962 onwards. In that year he set a then world record of 178.971 mph with his engine out to 51 cu.in. (85Occ). In 1963 a con-rod broke while he was traveling at an estimated 195mph. In 1966 it was displacing 920cc, when Burt, unhappy with some loss in top speed, completely rebuilt it again.

In 1967, with his engine punched out to 58 cu.in. (950cc) he set a class record of 183.586 mph. To qualify he made a one-way run of 190.07 mph, the fastest ever officially recorded speed on an Indian.



---
More Iron & Lace News HERE • Return to Iron & Lace Calendar News Front Page
click here to see even more of our sexy Iron & Lace Calendar Kittens...