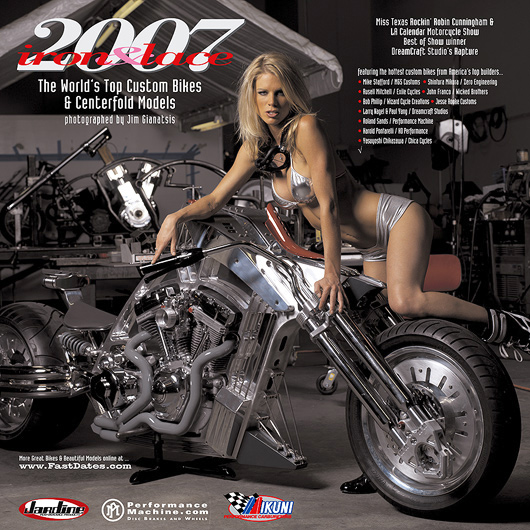 July / August 2006
Top Custom Mikes and Beautiful Centerfold Models in Revealing Lingerie
Introducing the 2008 Iron & Lace Custom Bike Pinup Calendar
Photographed by Jim Gianatsis
July 1st, 2006 marks the exciting annual release of the world renown new 2007 FastDates.com Motorsports Pinup Calendars, marking the 18th year since their inception by motorsports and fashion photographer Jim Gianatsis of the motorsports advertising agency Gianatsis Design Associates, Los Angeles, California. No other calendar line has matched the exotic custom and racing bikes from the world's top custom builders and factory racing teams, together with the world's most beautiful beautiful centerfold models, aspiring young actresses and super models.
The FastDates.com Calendars in turn have fostered the world's premier motorcycle pinup model web site offering the latest racing news, sportbike tuning information, and photo galleries of the Calendar bikes and models. In addition, the annual Los Angeles Calendar Motorcycle Show held each 3rd weekend of July as a celebration to premier the new Calendars has itself grown in 15 years to become the premier custom and high performance streetbike event in America.
With the introduction of the new 2007 FastDates.com Calendars comes the announcement of many new marketing partnerships to help promote the incredible bikes, models and photography featured. Those partnerships include the SBK World Superbike Championship which has endorsed the Fast Dates Race Bike Swimsuit Model Calendar for the last 10 years and has now made it the Official Licensed Calendars of the SBK Corona Extra World Superbike Championship.
And then SpeedTV.com, America's premier motorsports and enthusiast network will be marketing both the Calendars and selected FastDates branded images to their fans mobile phone use. And in a world-wide marketing agreement with the agency Wireless Developer, the FastDates branded images will be market by major wireless cell carriers around the world, including in America by the largest cell phone carrier Cingular Wireless.

Talk about great medical benefits! Last year's LA Calendar Motorcycle Show Model Search winner Candice Curtis won a paid Calendar shoot to play doctor with Calendar Kitten Andra Cobb for he new 2007 Iron & Lace Calendar. The bike is Brad Pitt's eclectic custom from Bob Phillip of WizzardCycleCreations.com.
The Iron & Lace 2007 Custom Motorcycle & Centerfold Pinup Calendar is is sponsored by Mikuni American, Performance Machine and Jardine Performance. Our 2007 cover model is sexy Miss Texas and Miss Harley-Davidson Rockin' Robin Cunningham with Dreamcraft Studio's billet bike "Rapure", the 2005 LA Calendar Motorcycle Show, Best of Show winner.
Other top custom bike builders this year include our LA Calendar Motorcycle Show's 3-time winner Jesse Rooke with the X-! Build or bust Bike he built with Russell Mitchell of Exile Cycles, former Best of Show winners Shinya Kimura from Zero / Chabott Engineering, Harold Pontarelli of HD Performance, 2005 Pro Class winner John Franco of Wicked Brothers, Roland Sands of Performance Machine, Bob Phillip of Wizzard Cycle Creations with the wild custom he built for actor Brad Pitt, Mike Stafford of MGS Customs, and Yasuyoshi Chikazawa of Chica Cycles.

Our other sexy Calendar Kittens featured in this year's Iron & Lace include beautiful Andra Cobb, Playboy Playmate Heather Carolin, Calendar Show Model Search winner Candice Curtis, Irish supermodel Gemma Gleeson, Christina Nelson and Tiffany Lang. Here's your chance to see why custom iron and beautiful girls in revealing lace go so well together in Iron & Lace! The 2007 Calendar couldn't get any steamier without an "R" rating -You'll have to visit our Member's Corner for that!
Another cool, funky retro bike from Shinya Kimura, Best of Show winner at our Calendar Motorcycle Show in 2004.
Andra Cobb makes it a difficult decission on which we like best. Formerly working at Zero Engineering in Japan, Shinya now has his own compant in Azusa, CA, called ChabottEngineering.com
This also marks the first year the photographer Jim Gianatsis has shot the calendar in digital format instead of film. To assure that picture quality remained on par to the quality of our legendary Hasslebald 2.25in. (the Rolls Royce of professional cameras and lenses), we waited until Hasslebald introduced its own digital camera using Hassleblad's high quality lenses. Our new $25,000 Hasslebald HP2 Digital is tethered to a portable hard drive and shoots huge high resolution 80MB image files.
With the world's top roadracing bikes and with some of the world's most beautiful models, the 2007 Fast Dates Calendar is guaranted to be an instant collector's item and we expect an eary sellout. If you are a fan you need to buy your copy early. We hope you enjoy having it hang on your wall as much as we enjoyed a great race weeked at Brands Hatch to shoot. We enjoyed it so much, infact, we'll be backat Brands Hatch this August 2006 to shoot again for next year's calendar. Enjoy!
See the Fast Dates Calendar Shoot at Brands Hatch • Order 2007 Fast Dates Calendar HERE.
---

Playboy Playmate and Calendar Kitten Tamara Witmer adds some support as Jesse Rooke checks the alignment of his unique KTM powered retro board tracker that will premier at this year's 2006 LA Calendar Motorcycle Show.
PREVIEW: July 15-16th 2006 Los Angeles Calendar Motorcycle Show
FastDates.com Calendar builders Jesse Rooke, Roland Sands and
Playboy Playmate Tamara Witmer Ready for July 15-16th Calendar Show

Los Angeles CA, June 26th - Famed FastDates.com Calendar Builders Jesse Rooke and Roland Sands are just two among dozens of America's premier custom motorcycle builders, along with Playboy Playmate (August 2005) Tamara Witmer who will in attendance at the July 15-16th LA Calendar Motorcycle Show at the Queen Mary Event Park in Long Beach. Both Jesse (Jesse Rooke Customs, Huntington Beach, CA) and Roland (Roland Sands Designs / Performance Machine) will use the Calendar Show as the first public showing of their radical new sport V-twin bikes built in a special challenge for the TV program Biker Build Off. For beautiful Tamara the Calendar Show will mark her first appearance as a 2007 FastDates.cm Calendar Kitten with her pictures featured in the new 2007 Calendars which will also premier at the Calendar Show.
Just this past week Jesse, Roland and Tamara joined FastDates.com Calendar photographer Jim Gianatsis at a top secret government facility in Southern California to shoot their new bikes for the next editions of the Fast Dates Race Bike and Iron & Lace Custom Bike Pinup Calendars. Both Jesse and Roland proved to be exceeding helpful throughout the shoot in assisting Tamara with her intricate costume changes, difficult posing positions on the bikes, and in remembering phone numbers.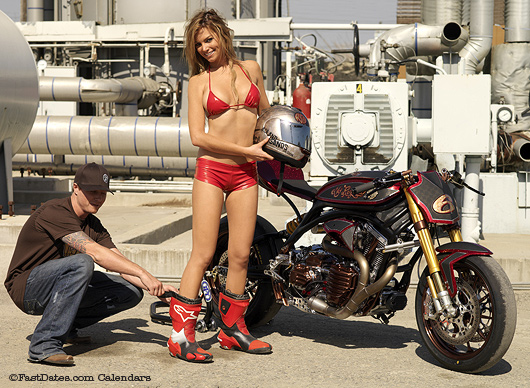 Roland Sands helps Playboy Playmate and Calendar Kitten Tamara Witmer lace up her boots as we shoot Roland's Biker Build Off winning V-twin powered sportbike. Tamara's hair looks like she's been ridden hard in this photo, but at least she never rides without protection.

Former AMA 250cc GP Class Champion-Turned Master Builder Roland Sands was currently in England as this release was being issued, running this Sportster V-twin powered naked sportbike at the legendary Goodwood Festival of Speed. The fully Ohlins race suspended and Performance Machine wheels and racing brake equipped bike won the Biker Build Off competition which was decided on the track at Willow Springs Raceway, with the TV program scheduled for broadcast this coming August. Roland plans to put this chassis kit into production so anyone can have a Fast Date.
Roland's next project bike is rumored to be powered by a Kenny Roberts KR MotoGP engine, and without too many more distractions, he hopes to have it completed in time to premier at the Calendar Show or the US MotoGP the following weekend at Laguna Seca.
Meanwhile, Jesse isn't sitting idle, either, with this very sexy KTM 950cc V-Twin retro board tracer road racer. The 3-time LA Calendar Motorcycle Show winner is hard at work on another potential winner to be unveiled at this year's Calendar Show. All that Jesse will tell us is that it's really different (like all his bikes) and it has a single cylinder engine (Possibly on the heels of Roger Goldammer's AMD World Championship winning retro single cylinder supercharged board track racer?).
Either way, we can't wait to see, and you don't want to miss either what Jesse, Roland and other past LA Calendar Show winners like Shinya Kimura, Dreamcraft Studios, Wicked Brothers and other top name builders who will be unveiling their unveil their latest wheeled masterpieces at this year's Show. Nor do you want to miss meeting Calendar Kittens and Playboy Playmates Tamara Witmer, Athena, and Cora Skinner and the world premier of the new 2007 FastDates.com Calendars.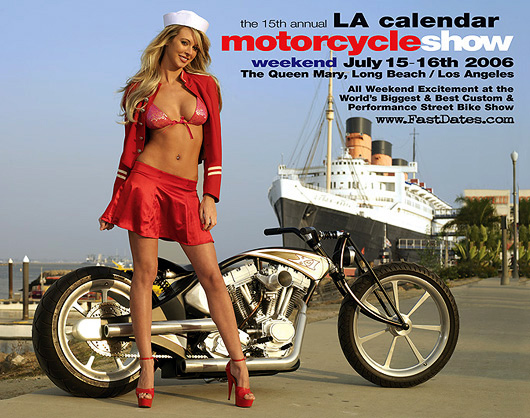 ---
More Iron & Lace News HERE • Return to Iron & Lace Calendar News Front Page
click here to see even more of our sexy Iron & Lace Calendar Kittens...