May - June 2006

Sands Takes Down Rooke in 2006 Discovery Biker Build Off
Meet Them and their Bikes at the July 15-16th LA Calendar Motorcycle Show
FastDates.com Calendar Builders Duke it Out!
Roland Sands takes down Jesse Rooke in a V-Twin Sportbike Build Off
and Track Race for Discovery Channel's Bikers Build Off

Former AMA MotoGP Champion-Turned Master Builder Leans on Racing Expertise to Defeat Jesse Rooke in the Garage and on the Track - By Erika Decker with Photos from PM
May 1st - On May 1st at Willow Springs Raceway, former AMA MotoGP champ and custom motorcycle innovator Roland Sands, defeated fellow master builder Jesse Rooke, in the 2006 season premiere of Discovery Channel's popular Biker Build Off series, scheduled for broadcast this coming August. Both Jesse and Roland are featured builders in the FastDates.com Calendars, and at the annual LA Calendar Motorcycle Show where they conduct free Iron & Lace Calendar Builder's Seminars. Both builders will be in attendance at this year's July 15-16th Show.
For the 2006 season, Biker Build Off's producers decided to provide a twist to the program's format, incorporating a competitive racing component that, for the first time, truly measured both the form and function of these one-of-a-kind two-wheel works of art. Sands and Rooke were pitted against each other in a two-out-of-three challenge featuring three separate events to determine an overall champion: a road race challenge, a dirt-track challenge and a classic quarter-mile drag race. When it was all said and done, the former AMA champ Sands proved victorious.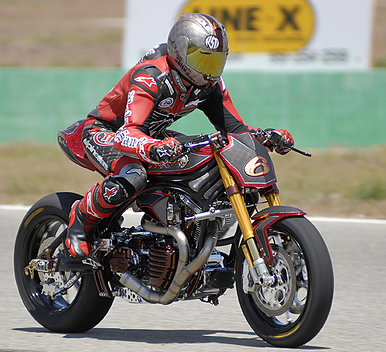 "I haven't raced competitively since 2002, so I was excited at the opportunity to merge my passion and knowledge for racing with my passion for custom motorcycle design." said Sands. "Jesse (Rooke) and I have been friends for quite a while, and it's always sweeter when you can win bragging rights from a friend on national television."
In the past, Biker Build Off's format provided builders with only 10 days to create a one-off show-stopping custom motorcycle. Once completed, each builder's competitive fate was placed in the hands of fans who voted to determine the winning builder at specific custom motorcycle events held around the country. The new, purely competitive format was a welcome change for Sands – a builder who's always placed the highest priority on the performance qualities of a motorcycle. Sands was delighted at the notion of putting these custom creations to the ultimate test – racing them head-to-head and leaving no speculation about winners and losers.
"My RSD (Roland Sands Design) creations are always about making artistic form and high-performance functionality collide, so this episode provided the ultimate opportunity for me to showcase this approach to custom motorcycles," said Sands. "My bikes are made to ride hard and push the limits of common sense. To me, that's what motorcycles are all about, and it's why every RSD motorcycle carries within it the heart of a race bike."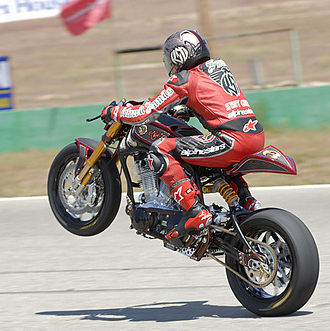 This innovative approach to motorcycle design was underscored by industry accolades such as Sands' winning the "Rookie of the Year" award on Discovery Channel's "Ultimate Chop" Biker Build off season finale and awards ceremony in 2005. In addition, Sands was recently awarded the Trendsetter of the Year award by V-Twin Magazine at the 2006 Daytona Bike Week festivities.
Sands 2006 Biker Build Off entry, "No Regrets" was built in honor of long-time friend and fellow master builder Johnny Chop (chop tragically passed away last month) and represents Sands unmistakable trademark style – the collision of classic chopper and hi-tech sport bike design. The bike features a Kendall Johnson-modified Harley twin cam motor and transmission, and its trademark "chopper-turned race bike" look was achieved by a variety of components from Sands' newly introduced RSD line of custom motorcycle kits, component parts and accessories now available through Performance Machine. The new RSD line showcases Sands' innovative vision and is designed for motorcycle enthusiasts looking to upgrade their existing motorcycles, injecting them with the innovative design concepts born from Sands' years and expertise as a champion professional racer.
The Jesse Rook built bike featured a 950cc KTM DOHC watercooled sportbike engine in a beautiful retro boardtracker design painted by Troy Lee Designs. For creativity, design and fabrication, the Rooke bike was the hands down winner. But with it's rigid rear suspension, unique Jesse Rooke Customs girder front forks, and minimal brakes, the Rooke retro bike was at a severe disadvantages when it got to the race track.
Sands' 2006 Biker Build-Off effort received valuable support from a strong list of industry heavyweights including Harley Davidson, Performance Machine, Alpinestar, Arai Helmets, Ohlins Suspension, Dunlop Tires, Lincoln Welders, Kendall Johnson Customs and Do All Saw.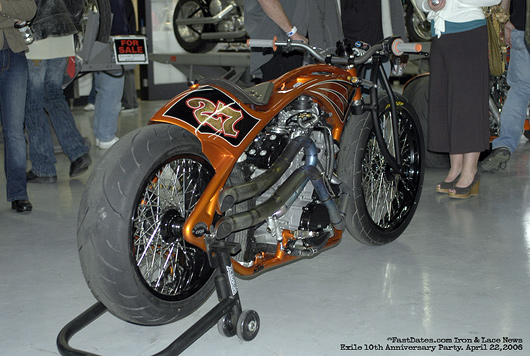 Jesse Rooke's unique KTM powered retro board tracker will be at this year's 2006 LA Calendar Motorcycle Show.
---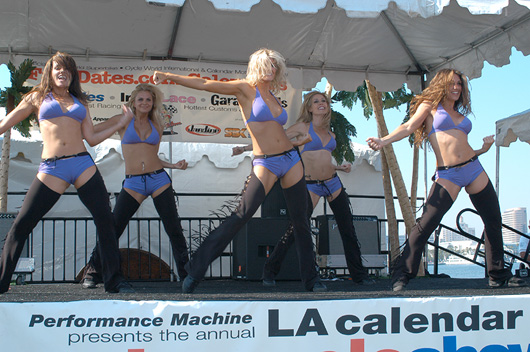 MEOW! Oh my god, how Purrfect is this? But are you man enough to survive it for 4 hours on Saturday with even more beautiful girls, and then again on Sunday! Oh yeah, there'll be some cool bikes there, too...
Weapons of Mass Seduction!
Purrfect Angelz highlight 2006 LA Calendar Motorcycle Show July 15-16th!
Los Angeles, March 1st, 2006
- So why does
Russell Mitchell
, star of TV's Build or Bust and featured custom bike builder in our
Iron & Lace
Custom Motorcycle Pinup Calendar, have such a big smile on his face?
It's because we just told him all those beautiful girls he's posing with of the famed
Purrfect Angelz
show group will be performing all weekend long in expanded performances guaranteed to decimate attendees at America's premier custom and performance streetbike event, The
Los Angeles Calendar Motorcycles Show
on the
July 15-16th weekend, 2006
,
The biggest performance day for the Angelz at this year's Show will take place on Saturday the 15th, where the previous two 20-minute show sets will now serve just as a warm up teaser for 3, yes that's THREE different 1-Hour Purrfect Angelz Stage Shows! from their 3 different world and cross country tours.
The Angelz's feature stage shows will kick off at 12 noon on Saturday with their first one hour show called "Honky Tonk Ba Donka Donk" which they performance at major country and western music venues across America. Cowboy chaps and tiny bikinis never looked this good in Broke Back Mountain. Then at 2:30pm will be their "Salute the Troops" a patriotic medley from the Angelz's USO Tour which they performed for our troops in Afghanistan -with their Weapons of Mass Seduction so obvious we don't need George Bush to find where they're hiding (but you can mount your own invasion at the Angelz's picture autograph table afterwards). The Angelz will wrap up the day at 6pm with the "Biker Babe Banging Bash" which they perform at major biker events across America including Sturgis and Daytona - guaranteed to get the fans up, and bring the house down, and help close just the first incredible day at the world's hottest Motorcycle Show!

Sandwiched in with the Purrfect Angelz both days will be the all-girl Lead Zeppelin tribute band from San Francisco, Zepparella, blues singer Jesse Payo, the Calendar Model Search Pageant and the exclusive Calendar Bike Builder Seminars hosted by America's top celebrity builders including Russell Mitchell of Exile Cycles. Oh , and did we forget to mention the Calendar Bike Building Championship hosted by Performance Machine, the Jardine World Record Dyno Horsepower Shootout, the new Calendar Motorcycle Show Auction featuring incredible Pro Builder customs, classics and exotic bikes, plus 200 major motorcycle and product manufacturers and venders? We did now.
For complete details go to LA Calendar Motorcycle Show.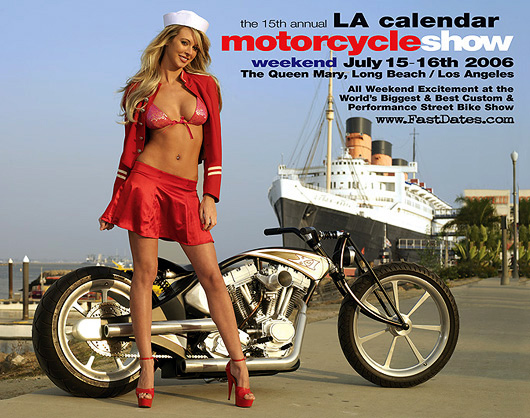 ---
More Iron & Lace News HERE • Return to Iron & Lace Calendar News Front Page
click here to see even more of our sexy Iron & Lace Calendar Kittens...