Calendar Kitten News November - December 2009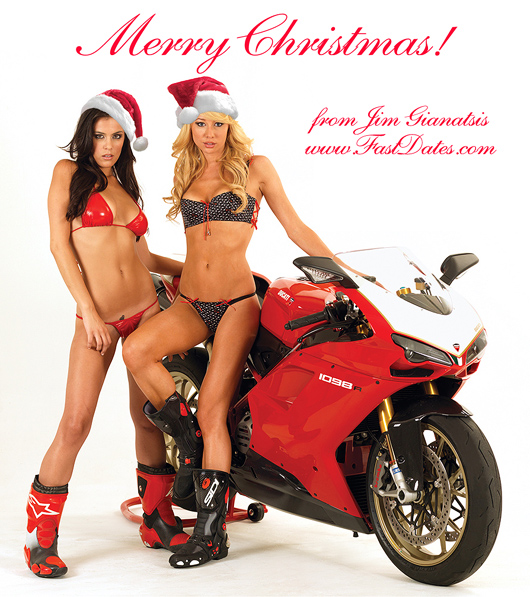 ---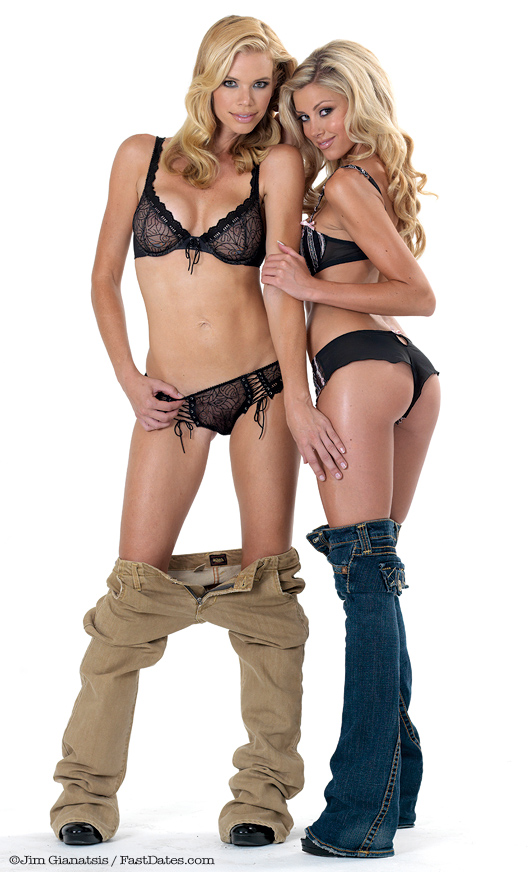 New Calendar Kittens Tarah & Heather
Gianatsis Design Studios, November 2009 - We told you about our upcoming photo shoot last month with California supermodel Tarah Tobiason (above left) and upcoming Playboy Playmate Heather Rae Young (above right), so we thought you might like to see one of the pictures! Both Kittens were a joy to shoot with and will be featured in all 3 editions of the 2011 FastDates.com Calendars.
Heather's already photographed Playboy Centerfold feature is expected to appear in the next few months. possibly as Miss January 2010. Heather has been featured earlier in many of the Playboy Newsstand Specials magazines, and on the Playboy.com website (at the banner ad link below). But you may not recognize Heather in her earlier Playboy shoots where she was a slightly plump barely-legal teen model out of high school. Last year at age 20, Heather took on a serious training and diet routine that almost completely transformed her into the goddess like creature we know her as now. We've never seen a girl with such a perfect face and boy, a body so hard and tight, our dream was to bounce quarters off her perfectly round butt and six-pack tummy.
Heather has also confirmed she will be joining us at the 2010 LA Calendar Motorcycle Show Weekend to premier and autograph her new 2011 FastDates.com Calendars.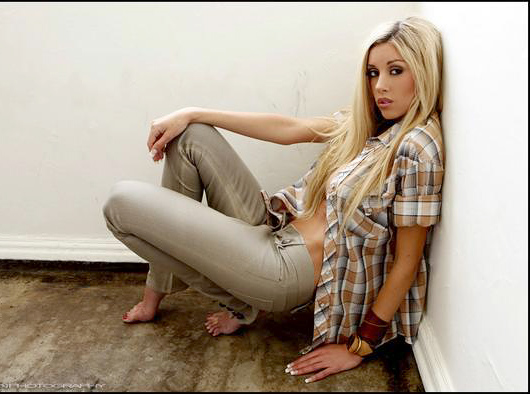 Shooting with 2 Beautiful
new Calendar Kittens
We discovered beautiful up coming new Playboy Playmate Heather Rae Young (above, waiting for a stiff breeze) wondering around aimlessly at this year's 2009 LA Calendar Motorcycle Show. We couldn't help ourselves but to offer to make her even more famous by becoming a Calendar Kitten and shooting her for the next 2011 FastDates.com Calendars. Somehow she fell for our stupid pickup line.

We must be doing something right! We even convinced Heather to do a girl/girl shoot with supermodel Tarah Tobiason (at right).

Our newest Calendar Kittens shot together this last with Jim Gianatsis for all three 2011 Garage Girls Iron & Lace, and Fast Dates Calendars with Valentino Rossi's YZR1 MotoGP bike and two new custom V-Twins from Calendar Builder Todd Silicatio at ToddsCycle.com.
---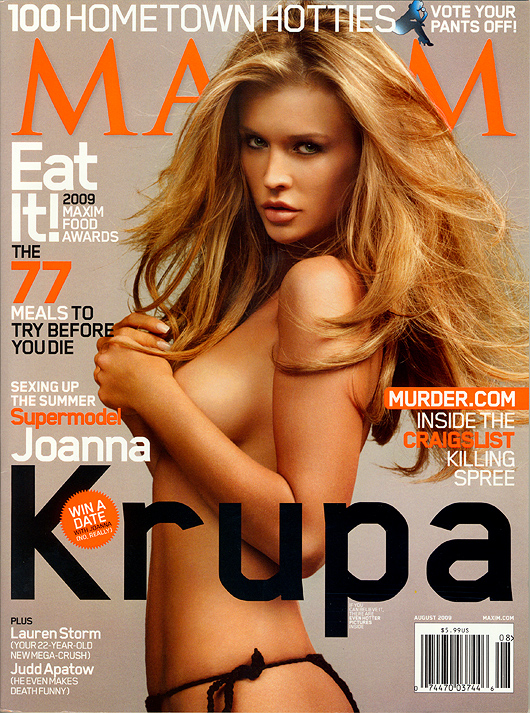 Calendar Kitten Joanna does MAXIM and Playboy again, stars on TV's Dancing with the Stars
November 1st - FastDates.com Calendar Kitten Joanna Krupa seems to be appearing everywhere this month.She is currently the top celebrity contestant on this fall TV season's "Dancing with the Stars", recording top scores each week with her professional dancing partner. Look for Joanna to pull off the season's win.

We also caught Joanna on "Chelsey Lately"on E! TV hosted by Chelsey Handler where she talked with the sexy female comedian and they both revealed they are both be on alternate covers of the December 2009 issue of Playboy Magazine. Chelsey was also on the Jay Leno Show that evening where Jay revelaed her Playboy cover. Chelsey has a humerous semi nude photo feature inside the issue, while our beautiful Calendar Kitten Joanna has a much more revealing
8-page nude pictorial inside the December issue.
Joanna has already been featured previously on the cover Playboy 3 years ago with a beautiful 10-page nude pictorial. You can check out Joanna's Playboy pictorial in our Members Corner.
Joanna Krupa was first featured in our 2004 Iron & Lace Calendar (above) with builder Jesse Rooke's first ever custom bike which took Best of Show at the 2003 LA Calendar Motorcycle Show. Past Edition Calendars are available in Collectors Corner.
In case you are wondering why we haven't been shooting with Joanna recently for the FastDates.com Calendars, her day rate is now in supermodel territory at around $20,000 per day. While Joanna revealed on Chelsey Lately that her ongoing appearance on "Dancing With the Stars" requires a 6-8 hour work day 7-days a week for 2-3 months for dance rehersal and filming, for no pay whatsoever! Still, FastDates.com Calendar fans won't be left disappointed as our next 2011 Calendars will feature all new photos of Joanna which were taken at our previous shoots.
August 1st - One of our most beautiful FastDates.com Calendar Kittens ever, Joanna Krupa, has again scored the cover of MAXIM magazine, this time for August 2009. We first discovered Joanna back in 2003 where we photographed her for the 2004 FastDates.com Calendars. Since then Joanna has gone on to become the most photographed, most popular swimsuit models in the world, having graced the covers of every major men's magazine from Playboy to Esquire.
See even more of Joanna in FastDates.com Members Corner
---
2010 Garage Girls - Beautiful Models Hard at Work!
"All Killer, No Filler" is the only way to describe each year's of the exciting Garage Girls Calendar photographed by Jim Gianatsis featuring a close-up look at this year's most beautiful FastDates.com Calendar Kittens, but without the bikes getting in the way! The sexy 2010 Garage Kittens include 3 beautiful cover supermodels: Rachel Bernstein, Playboy Playmate Athena Lundburg, and Hustler centerfold and adult teen film star Jayme Langford. We've got your wall covered with the Kittens nearly uncovered in smoking hot poses from very nice to very naughty!
Also getting dirty in this year's Garage Girls Calendar are Apple Price and Cora Skinner, two more of this year's hottest Calendar Kittens. Garage Girls is the perfect companion to our other FastDates.com Motorcycle Calendars, Fast Dates and Iron & Lace, so you can keep up to date all year long, both in the Garage where you keep your tools, and in the House where you park your bike!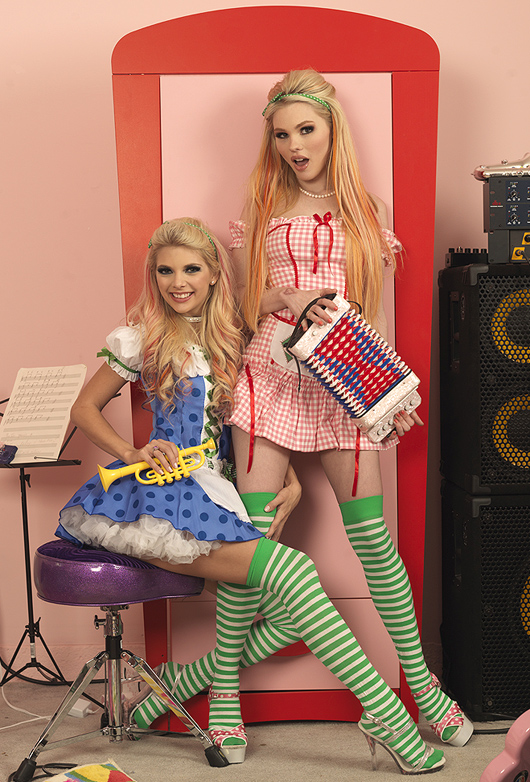 Janna and Jayme at Pajama band rehearsal.
Jim Gianatsis shoots with Jayme Langford, Janna Jordan
and Taylor Taylor for new HD TV series "Doheny Models"
November 2009 - This summer I was excited to shoot with our sexy little Calendar Kitten Jayme Langford who is featured in the 2010 Fast Dates calendars Garage Girls and Iron and Lace for a new upcoming program series on the HD TV network. Produced by Robert Bennett who already produces "Bikini Destinations" and "Get Out" for the HD channel, this new show is called "Doheny Models" and is hosted by model Tyler Taylor. The show's concept is for Tyler to follow and join professional models on location for sexy photo shoots.
Our particular show features Tyler coming to visit and audition for a photo shoot I am doing with Pajama Band, the pop rock band made up of calendar Kittens and adult film stars Jayme Langford and Janna Jordan. The shoot takes place at Jayme and Janna's house in Sherman Oaks which can old be described as a set out of "Alice and Wonderland" The house itself is decorated with props and furniture from some of the wild and colorful adult film sets they have worked on. The girls ride around the house and yard in a kid's pink electric car and pink bicycles. And out in the back yard they have a guest house which has been turned into a rehearsal and recording studio for their band. The who thing is very surreal, particularly when Janna pulled up to the house in her 1972 limited edition Cale Yarborough Mercury Cyclone NASCAR replica street car.she has owned since she first started driving at age 16 back home in Texas.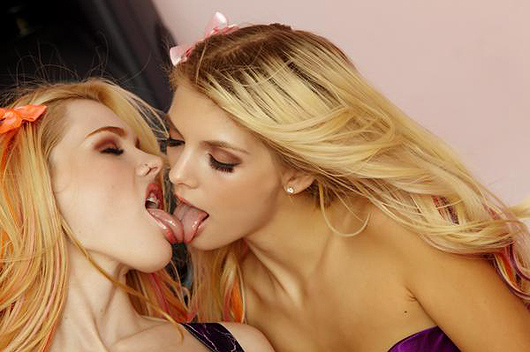 Jayme and Janna practice their guitar licks at Pajama Band rehearsal.
Pajama Band with Jayme and Janna is just one of the bands that performs at our annual LA Calendar Motorcycle Show Weekend. Look for "Doheny Model"s with pour Pajama Band photo shoot to premier on the HD TV network beginning in 2010. - Jim Gianatsis
Doheny Models hostess Tyler Taylor (left) poses with Jayme at Pajama Band rehearsal.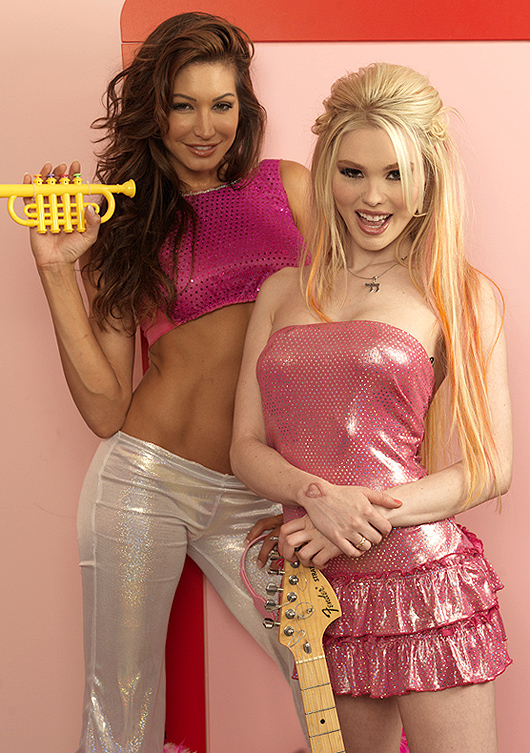 Order Garage Girls HERE
You'll also find our Garage Girls in some very revealing pictorials in MEMBERS CORNER
---
More Calendar Girl News

Visit Members Corner for very sexy Calendar Kitten pictorials....


Click for a Free Met Art Sample Model Gallery Updated Each Day!



Some of our Calendar Kittens can also at Playboy's website...