September - October 2007
Our British lasses and official SBK Fast Dates Superbike Calendar Kittens at Brands Hatch, (left to right) Gemma and Rhian Sugden. We shot this photo in the Ducati Paddock on Friday afternoon when Ducati personel again confirmed to us that Gemma would be the official Team Ducati Corse Girl on Sunday.
126,000 Enthusiast British fans jam pack Brands Hatch
for our 2009 SBK Fast Dates World Superbike Calendar Shoot (and a race)!

2007 Brands Hatch World Superbike Race
Fast Dates Calendar Shoot with Gemma and Rhian
by Jim Gianatsis
Brands Hatch, Kent,United Kingdon August 3-5th, 2007 - With still no SBK World Superbike round taking place in America for 2007, I was still excited to return to the incredible Brands Hatch, British round of the Championship this year. If you remember from our last reports, the historical Brands Hatch Raceway set in the beautiful rolling green farmland in the county of Kent, just south of London, dates back to the 1920s and has host every form of major motorsports events from FIA Formula One and World Championship Sports car rounds, to the world's premier motorcycle races. It is amazing that historic racing venues in Europe, like this one at Brands hatch, just get better with age, while in America, race tracks won't comply to the latest race car and safety standards, and end up being run down club tracks.
The World Superbike starting grid on Sunday at brands hatch lines on on the front straight in front of 126,000 hard core sportbike fans. The track, the facility and British fans are awesome.

The world continues to change rapidly with the Internet, and this year I found our two newest British models for the Fast Dates calendar shoot , right on www.MySpace.com where you will find them in our MySpace.com FastDates.com Top 24 Friends listing. Rhian Sugden is a Page 3 Girl, own of the sexiest and most popular pinup models in Great Britain. She's the most sexy beautiful 5'7" blond with an incredible size 0 body struggling to hold up the most beautiful, natural double-DD breasts.
Rhian thinks we've been a very bad boy, and we agree!
Rhian's co-Kitten for our Fast Dates calendar shoot was Gemma, another professional model who just happens to also have a university degree in journalism. Gemma told us she can always get a real job when when gets does get tired of modeling. But with a rich investment banker boyfriend in London, who also has an apartment in Monte Carlo on the French Rivera, that isn't likely to happen real soon.
And yet, back at our hotel the Hilton Dartford on Saturday night, we ran into retired World Champion Carl Fogarty in the restaurant with his manager Neil Bramwell (Neil wrote the Carl Fogarty biography), and they invited us to join them for drinks in the hotel bar where we spent the rest of the evening with them. Carl told us they were down at Brands hatch for the weekend, sort of under the radar, to follow up on contacts and meet with potential sponsors for their planned returned to World Superbike next year with the official factory MV Agusta race team. Things were still yet confirmed for a team title sponsor and the $4 million dollar budget they needed to finalize the team and hire the riders. carl and brian mention they were looking for a press officer for the team, and when I mention that Gemma had a degree in Journalism and might be looking forward a part time job on the weekend, Gemma was pretty much hired for the job on the spot.
Particularly when they found out Gemma lived in Manchester, a major British city about 3 1/2 hours north of London, since both Carl and Neil being from Manchester as well. Gemma was planning to ride home by train to Manchester on Sunday night after the races, but now she was to be driven home in style by the World Champion Fogarty and his team manager Neil.
Fast Dates Calendar Kitten Gemma (right) shares starting grid duties at Brands on Sunday for Alstare Corona European Superstock 1000 rider Xavier Simeon who placed 2nd that race, and is currently 2nd overall in the Championship behind Matteo Baiocco (Yamaha). The grid girl on the left is another well known Fast Dates Calendar Kitten and Miss Great Britain, Nicki Lane.
It also turned out that model Rhian was from Manchester too. But she and Gemma had never met until I brought them together at the hotel on Thursday night, before our big calendar shoot out at the track on Friday after final Superbike practice. They became good friends while working together, and plan to get back in touch back home. Both girls own their own cars in Manchester, but traffic is terrible on the highway down to London, and petrol is extremely expensive at close to $8 per gallon now. An advance booked round-trip train fare from Manchester to London and back - about 250 miles - cost around $220, but it was still quicker and cheaper than driving down by car. Gemma was able to get her boyfriend drive her to our hotel on Thursday night when we first met up and checked into the rooms I had booked before dinner.
But Rhian had to take a taxi the remaining 25 miles down from London to our hotel in Dartford near the track, and that cost her dearly as well. Since Rhian was only available to work for me on Friday, after the shoot that evening we drove her to the local village train station to catch a return train to London, then a train change back to Manchester. Her traveling expenses for the Calendar shoot nearly cancelled out what she made for the day. Here in America where gas is still fairly inexpensive at $3.50 gallon and everyone continues to drive by car, and public transportation is not practical in most major urban areas, we are in for a reality check very soon.
Gemma fluffs her hair as we get ready to shoot Max Biaggi's Alstare Corona Suzuki GSXR1000 World Superbike in front of the Pit Garages at Brands Hatch.
As usual, the SBK Fast Dates Calendar shoot weekend wasn't normal without a few dramas to make it even more exciting. Before even flying over to England from Los Angeles, I had been having difficulties for months trying to get the organization staff at FGSport confirm the media credentials me and the models needed to get access to the bikes and work on the starting grid for the race. I finally gave up with just 2 days left, and with a direct E-mail to FGSport president and good friend Paolo Flammini, I got an Email back from his new right hand man and another friend, new FGSport Special Projects Manager Paolo Ciabatti, the former marketing Director at Ducati Corse. All the necessary full Media and Photo Credentials with grid passes, including VIP staff paddock parking would be waiting for us at Will Call.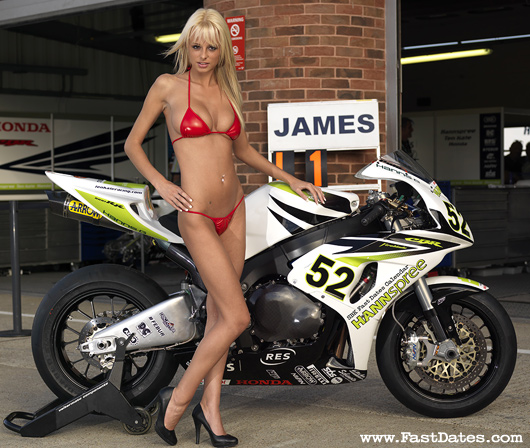 A winning combination at the Brands Hatch World Superbike weekend, Rhian with James Toselands double race winning Ten Kate SBK Fast Dates Calendar Hannspree Honda CBR1000RR! Click for a Screensaver.
Then on Friday evening after Practice on Pit Lane for our calendar shoot we had the usually deluge of team mechanics lining up their bikes in front of their pit garages for us to come over and shoot. Ducati Corse Press Manager Julian Thomas come over and told me that Troy Bayliss factory 999F07 would be ready to shoot in about 10 minutes. But with my concentration continually being diverted by shooting, directing the models and getting them to change swimsuits and come back to the bikes, other teams lining up and asking me to shoot heir bike next, I could do little more than look over to the ducati garage to see if Bayliss' bike had been pushed out of the garage for me to come over and shoot (as always), but it wasn't.
About an hour goes buy and then a storming mad Ducati Press Manager comes stomping over to me an nearly takes my head off, shouting why i wasn't over to their garage an hour ago to get their bike. That I was "...keeping all (9) of the team's crew fromgoing to dinner!" waiting on me (As if all of couldn't have gone to dinner in the Paddock 200 yards away, with just one person lagged behind to help me with the bike and close up their garage when finished). So I went over to get Bayliss' bike next. The entire Ducati race team come out onto Pit Lane while I set it up to shoot, to seats behnd me on the Pit Wall to spectate as the girls did their thing, and begged me to take a team picture of all the Ducati mechanics with Troy's bike and the Calendar Kittens. Then finally, they could all go to dinner in the Ducati Hospitality Tent where the girls and I weren't invited!
But the Ducati Drama didn't end there. As you may know I have been providing our Calendar Kittens to Ducati Corse for nearly 10 years, at no charge to serve as their official Ducati grid girls for Sunday's Race Day. The girls cost me about $1,000 each per day to have them there (including model fees, hotel food and lodging), but I do it because of the PR value, personal ego perhaps, and its nice to be able to base ourselves out of the Ducati Hospitality Tent for the weekend. back in May I had contact Julian Thomas again with my offer of my models for Ducati Grid girls, and Julian confirmed back by Email he would use Gemma for rider Lorenzo Lanzi. But reigning World Champion Troy Bayliss would only use his wife as his grid girl. OK, done, I booked Gemma though the Brands hatch weekend just to work for Ducati on Sunday. That's 2 days at $1,000 per day, $2,000 total for a model I didn't really need for any more calendar shoots. And, oh yes, we weren't allow to come into the Ducati Paddock Hospitality tent this year as it was "too full of sponsors". OK, I'm still glad to help Ducati, the only brand of bike I own.
So Friday morning when we first arrived at the track, I took Gemma Louise by the Ducati Hospitality Area and media room to introduce her to Julian Thomas and Claudia, the woman who manages the Hospitality area and the grid girls to introduce her to them, and again confirm she was working the grid for them on Sunday. And they both confirmed it again.

Then Sunday morning we are out to the track paddock bright and early at 8am to hook up with Claudia and get the Ducati Grid Girl uniform for Gemma. And to our surprise there is Claudia with two of her own Ducati hired grid girls all dressed up and ready to go to work. All Claudia has to say to us is "We don't need her, we have our own girls." No explanation, no apology or thank you. Later that afternoon I walked up to Julian Thomas in the Ducati garage to ask what happen, and all he said was "We changed our mind. We can do what we want."
Knowing that Ducati hires their hospitality / grid girls weeks in advance, they could have told me on Friday morning they had changed their mind to save me the huge expense, but they didn't.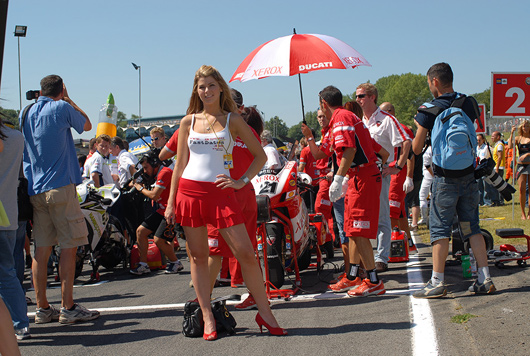 Gemma on the Brands Hatch starting line for the Superbike race without a bike of her own!

Obviously Julian's word didn't mean much. But the karma came back to bite them. Last year at Brands with our Calendar Kitten Katie Pugh by his side on the gird, Troy Bayliss carded 1st and 2nd places podium finishes in the two races on his way to clinching the World Superbike Championship. Unfortunately this year, Troy would crash out in Race One to loose any chance of reeling in on James Toseland and keep his Superbike crown for Ducati, and then returned for a disappointing 7th in Race Two. And team mate Lorenzo Lanzi with Ducati's 2 hired grid girls by his side, finished his usual mid pack in 9th and 12th behind all the the other factory riders.
On Sunday afternoon before the last race ended, I got Gemma packed up in the car with Carl Fogarty and Neil Bramwell to head back home to Manchester. Then headed off myself back to the hotel before 126,000 sportbike fans clogged up the only 2 roads out of the track . The race would still be waiting for me to watch on TiVo back in Los Angels when I got home.
Why mingle with the tourists on foot in front of Buckingham Palace for the changing of the guards, when you are this close from the top of the London tour bus!

On Monday morning I left the hotel in my rental VW Golf diesel (great performance and fuel economy once you get past the stalling, starting out in 1st gear) and head up to London for my ritual 2 days of sight seeing before flying back home. Monday was spent at my favorite place, the theatre district around Leicester Square, where I visited the shops and pubs, and caught a movie and a Somerset Maughn stage play later that night.
Tuesday I really wanted to see all the famed landmark spots of london from the open top deck of a traditional London double decker tour bus.Our tour guide was really funny with the jokes, knowledgeable and very informative. I had a day-long Tour Pass which allowed me to get on and off the bus whenever I, so i jumped off at the huge London Eye ferris wheel on the edge Themes river across from Parliament. The used my pass to switch over to a riverboat tour ride up and down the Themes River past sight like London tower, Tower Bridge and the battle cruiser HMS Belfast.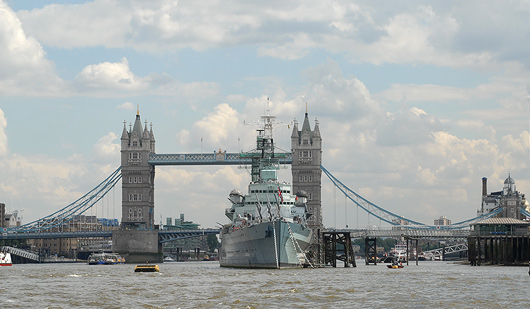 It was a great finish to a very interesting week in England. If you had to pick one race to go to in Europe, I'd de finely recommend Brands Hatch as one of the most beautiful and exciting race tracks in the world.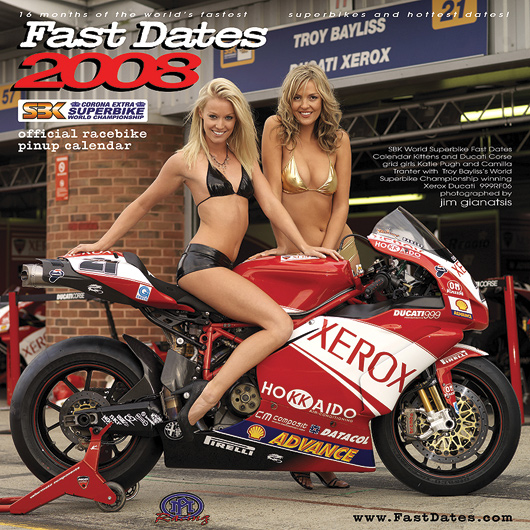 LA Calendar Bike Show Hostess and Playboy Playmate Tamara Witmer featured
2008 Fast Dates Racebike Pinup Calendar
World Premier July 1st 2007 - The SBK World Superbike endorsed 2008 Fast Dates Race Bike Swimsuit Pinup Calendar sponsored by Performance Machine and photographed by Jim Gianatsis features all the top factory race bikes of the SBK World and AMA National Superbike Championships together with the beautiful SBK Fast Dates World Superbike / Ducati Corse girls Katie Pugh and Camilla Tranter photographed at at last year's Brands Hatch World Superbike along with Playboy Playmates Tamara Witmer and Athena Lundburg ORDER HERE

Our British lasses and official SBK Fast Dates Superbike Calendar Kittens at Brands Hatch, (left to right) and Rhian Sugden and Gemma Louise with a mock-up new 2008 Ducati 1098R Superbike. SCREENSAVER
---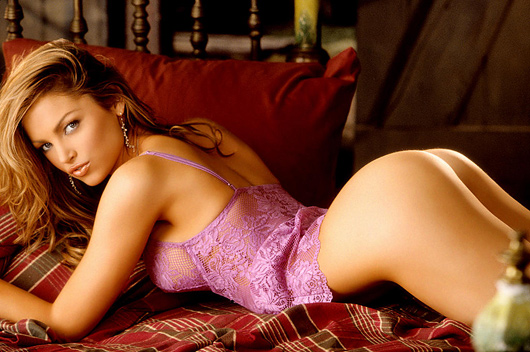 Calendar Kitten and Playboy Playmate Tamara Witmer is featured extensively in Members Corner and in the upcoming 2008 Fast Dates, Iron & Lace and Garage Girls Garage Calendars. Tamara will also be hosting this year's LA Calendar Motorcycle Show Weekend on July 14-15th where you can meet her in person signing the new FastDates.com Calendars.
---
There's more! Go to Fast Dates Calendar News NEXT PAGE

Hot Calendar Girl and Bike News! Go to: Fast Dates • Garage Girls • Iron & Lace

click here to see even more of our sexy Fast Dates Calendar Kittens...