Calendar Kitten News March - April 2010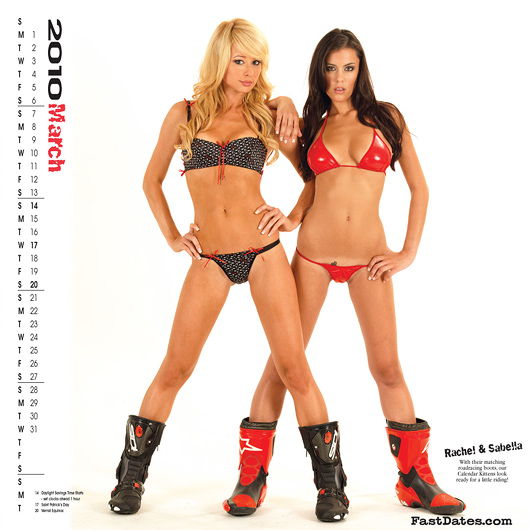 This Month in the 2010 FastDates.com Garage Girls Calendar
Fast Kittens in Boots! Rachel Berrstein and Sabella Shake rock our world in the 2010 Garage Girls Calendar. These Kittens also purr-fect in Fast Dates & Iron & Lace .
Playboy's hottest new Playmates become Calendar Kittens to to rock 2010's Miller USA World Superbike and LA Calendar Motorcycle Show Weekends!
Los Angeles, CA, Feb 1st, 2010 - Playboy magazine's hottest new Playmates of the year 2010, Miss January Jamie Faith Edmonson (profile below) , and Miss February Heather Rae Young (pictured above and belwo) have been confirmed by producer Jim Gianatsis to be our official SBK World Superbike Fast Dates Calendar Kittens at the Miller Motorsports USA World Superbike round May 29-31st 2010 to photograph the next Fast Dates Calendar with all the top factory team race bikes. The Kittens will also be hosting the LA Calendar Motorcycle Show at the Queen Mary Event Park in Long Beach July 18th.
Heather is featured in the upcoming 2011 FastDates.com Calendars.




Heather Rae has already been shooting with us since last fall and will be featured on the cover and inside of all three editions 2011 Fast Dates.com Calendars which will be premiering at these events, and are now available to seewith heather posong on Ben Spies's factory Yamaha World Superbike in Members Corner. Heather is good friends with Jaime Faith and it didn't take much effort for Heather to convince us that Jaime needed to join us for both these exciting event weekends, both as Calendar models and hostesses. You can also see Heather's February Playboy pictorial in Members Corner.

Subscribe to Playboy at 75% discount off the cover price!
Jaime Faith Edmonson (at right) recently was the fourteenth-season contestant on TV's "Amazing Race" who finished in second place with girlfriend Cara Rosenthal.

The 30-year-old former police officer and Miami Dolphins cheerleader from Ft. Lauderdale, FL said both she and Rosenthal were approached to appear in Playboy after The Amazing Race's fourteenth-season finale aired in May 2009.

"Cara had to say say "No". She's in law school and hopes to be governor someday," Edmondson said about Rosenthal before adding she "never saw this coming" for herself. "Here I find myself going to be on newsstands on my 31st birthday,"as Playboy's Miss January 2010.

Jaime spent last summer living at the Playboy Mansion to work on her photo shoot and participate in E!'s The Girls Next Door reality TV series.
---
---


Fashion designer Marcel Ostertag and
photographer Markus Hofman meet the BMW World Superbike
Feb 1st, 2010 - Top fashion designer Marcel Ostertag recently got to grips with the new BMW S 1000 RR for a photo shoot with a twist. Clad in Ostertag's creations, model Eva Maria Lutz brought the iconic motorcycle to life in a series of images that emphasise the beauty of both the clothing and the machine.
German designer Ostertag is no stranger to photo shoots. Having previously worked with the likes of Paul Smith, Dunhill and Burberry, he has since developed his own label. Ostertag's creations have stunned the fashion industry and the rising star has even been credited with redefining German fashion. Photographs of his work have appeared in countless fashion magazines across the world.
The 30-year-old from Berchtesgaden returned to Germany after graduating from the University of Arts in Central St Martins College, London with a first prize for the best menswear collection. After developing his own label, Marcel presented his work at the Lancome Colour Award and at the Victoria and Albert Museum in London, being the first menswear designer ever to have received this privilege. His reputation has gone from strength to strength and resulted in the opening of his first store in Vienna in 2006, followed by a second, in Munich. Marcel's style has developed to become unique and irrepressible – qualities which made a collaboration with the S 1000 RR for a recent photo shoot a natural step.
All of Marcel's collections are created by a small, close team in a studio in the 'Glockenbach' quarter in Munich's city centre, where many artists and creative businesses can be found. Importantly, the production of his hand-made clothing is also carried out in Germany, and Marcel invests a lot of time in small details and in research, often visiting various countries, fabric fairs and vintage markets with his team to gather inspiration, which can be found in the city, in nature and even within the family. All these different influences help bring the Ostertag collection to life and give it that special quality that makes catwalks, image galleries and boutiques shine.
His refreshing style certainly impressed BMW Motorrad and a project between the two parties was arranged. Although it's one of the most technologically advanced motorcycles ever produced, the S 1000 RR has gained praise from the international motorcycle press for its revolutionarily sleek, asymmetric design. It's this triumph in design that made the S 1000 RR and Ostertag a match made in heaven. To complete the picture, Markus Hofmann – who perhaps understands the S 1000 RR better than any other photographer – was tasked with producing the stunning images that would be sent to motorcycle and fashion magazines across the globe including Fashion Today, Vogue, Maxim and OK!.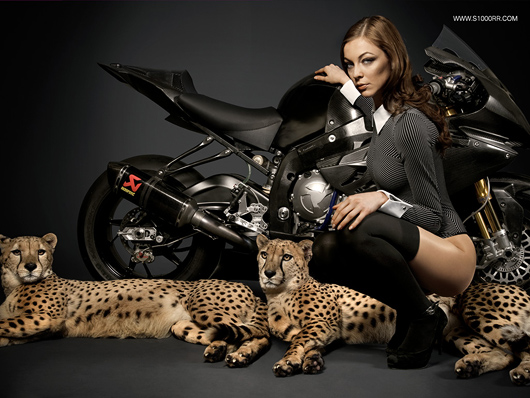 Hofmann is renowned for his work with animals, so it was no surprise that his most recent shoot, with the BMW S 1000 RR, produced some equally spectacular results! Hofmann produced a series of images which accentuate the design of BMW Motorrad's first ever supersports bike.
The German has worked with BMW Motorrad on several previous projects, including the infamous S 1000 RR 'cheetah' shoot in 2009. Despite working with the 1000cc machine several times before, Hofmann is still bowled over by its engineering. "I believe I've photographed the S 1000 RR four times now, however it's still an amazing experience," he says. "Each time, the only thing I'd do differently with the shoot would be to take the bike home with me!"
Another recent BMW endorsed shoot saw Hoffman shooting with Troy Corser's factory S1000RR World Superbike in an aircraft hanger with 4 beautiful models from a top Munich model agency. Click on any image to go BIG.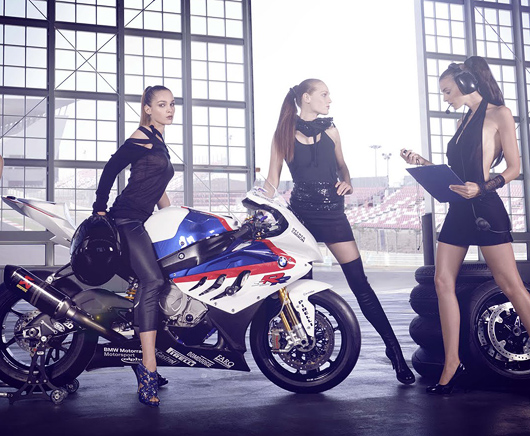 And if the BMW S1000RR tickles your fancy check out the new website: http://www.bmwplanetpower.com

However, we are partial to our own photo (below) of Troy Corser's factory BMW S1000RR World Superbike with Calendar Kitten Sabella Shake featured in the upcoming 2011 Fast Dates Calednar available July 1st.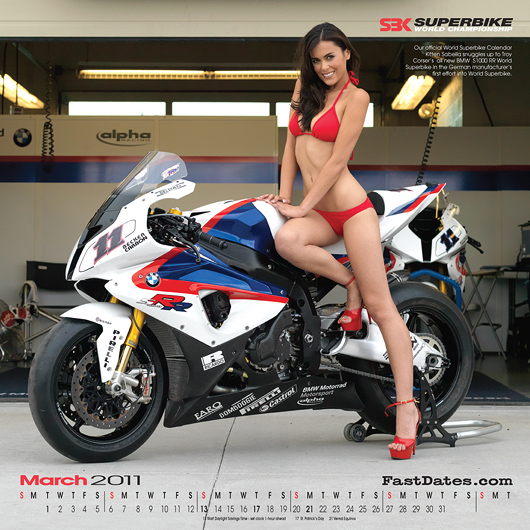 ---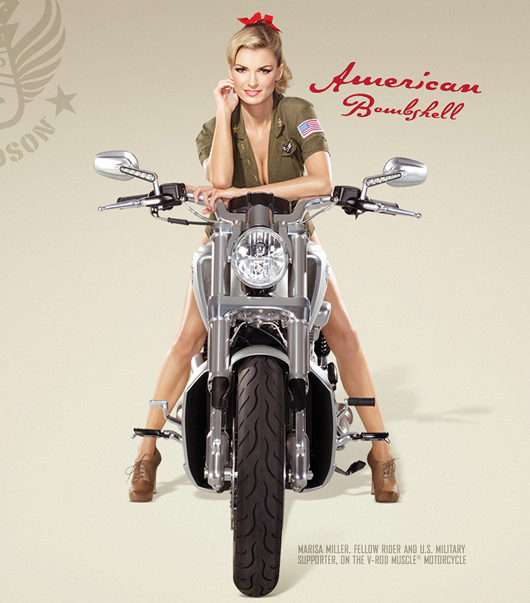 Harley-Davidson continues Marissa Miller in new 2010 Marketing Campaign
Jan 1st, 2010 - Harley-Davidson is continuing in 2010 with the marketing campaign they began with Victoria's Secret supermodel Marissa Miller last year. Marissa is being featured in a print adverting campaign, posters and a free 2010 Calendar available at Harley dealers. The theme of the campaign is a retro 1940s World War II style bomber airplane pin up nose art look with Marissa dressed in sexy military apparel celebrating the different branches of the US Military while posed on different Harley bikes. It is a beautiful, sexy marketing campaign and we applaud Harley-Davidson for taking on the pinup theme in the current very conservative right wing political, religious and legal sexual harassment climate that is current out of control in America. God bless the US Military and beautiful girls!
Order Garage Girls HERE
You'll also find our Garage Girls in some very revealing pictorials in MEMBERS CORNER
More Calendar Girl News

Visit Members Corner for very sexy Calendar Kitten pictorials....


Click for a Free Met Art Sample Model Gallery Updated Each Day!



Some of our Calendar Kittens can also at Playboy's website...