November - December 2007
Click for a bigger shot.
Fast Dates helps Casey Stoner and Ducati Clean Up in MotoGP
October 1st, 2007- When it comes to winning your first ever World MotoGP Championship it takes an incredible combination of a great rider like 21-year old Casey Stoner, and the fantastic Ducati Corse race team and an awesome bike like the Ducati Desmosedici GP07. And just before the bike rolls out on the grid to make histroy, it needs to look great just to add icing to the cake. In this case we were very excited to have our own Fast Dates Calendar Kitten Carrie Ann Stroup helping Ducati Corse get Stoner's bike ready for the big race at Motegi, Japan, with a through washing and detailing as we photographed the bike and carrie for the next Fast Dates Calendar.
No other calendar or website in the world offers you the world's top MotoGP and SBK Superbikes, complete race coverage, and the beautiful Calendar Kittens. Thanks to Ducati and Pro Italia, Glendale, CA, for lending us a hand!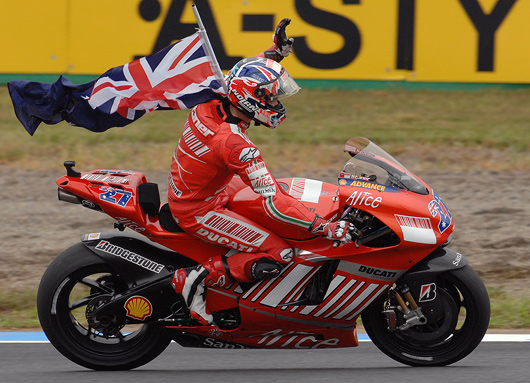 Casey Stoner takes his victory lap - Click for a Big Screensaver

CASEY STONER, New 2007 MotoGP World Champion on 297 points
"At the moment it all feels a little bit unrealistic! I'm struggling for words, I don't think there's any feeling that can compare to this, but I think it's really going to sink in as the day goes on and heads into tomorrow. The race started out quite well, we were able to get up front quite early and I had a reasonably good feeling with the bike, I was in a happy position. But then my rain tyres started wearing out as the track dried, and Valentino and Dani (Pedrosa) came past. I didn't really know whether to come in or not, then my team put 'box' on my pitboard, so I had a bit more confidence to come in.
After I changed bikes there was something up with the steering damper, the bike wasn't allowing me to tip into corners, so I had to slow down to unwind it. Then I started to find more of a rhythm, Valentino had a problem and we managed to finish ahead of him. I guess that was the aim of the game today. Towards the end everything was creeping into my head, so I just tried to stay focused on the job in hand, I wanted to bring it home for my team. The whole thing is a bit overwhelming, because we didn't really expect to get the championship today, it's come on me quite quickly. There's a lot of people I have to thank: my parents, who have always been there for me, they've supported me throughout my career, my wife Adriana's who's been there this season and the past few and everyone else who's helped me along the way - Ducati, my whole team, Bridgestone tyres, a big thanks to everyone who's had anything to with my career - we finally did it!"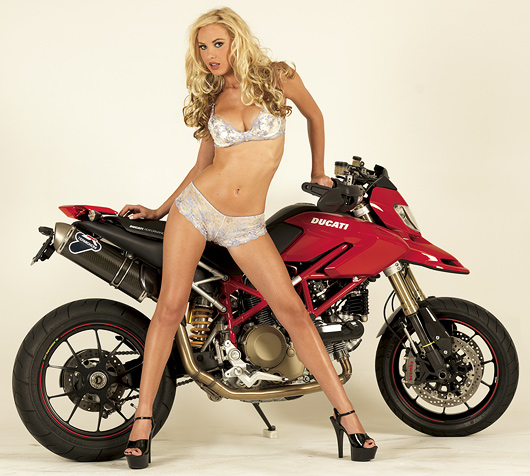 The Ultimate Naked Riding Experience
Ducati Hypermotard R We build the sport's most fun bike

No other motorcycle (other than argueably the Ducati Desmosedici RR MotoGP street bike) has been waited on for so long, with so much anticipation, than the newly released 2008 model Ducati 1080 Hypermotard. Ducati has a way of teasing us years in advance by giving us a preview of their latest prototype concept at bike shows and in the media, and then making us wait 3 years as they guage opinion, decide, design and tool up for production.

The Complete Story with sexy Tiffany Toth Screensavers in New Bikes HERE.
---
King James Claims the 2007 World Superbike Title!
Bridesmaid Again -Haga Wins Both Races at Magny Cours finale
finishing just 2-points behind Toleland!
Magny Cours, France, October 5-7th - Long-term championship points leader James Toseland (Hannspree Ten Kate Honda CBR1000RR) suffered another disasterous race weekend to the end of the season with an off course excersion in Race One, and a dismal 5th in Race Two. Former 2001 World Championship runner-up Noriyuki Haga (Santander Yamaha Italia R1) did all he could do to close the huge 2nd place points gap between he and Toleland going into the final round at Magney Cours in France. And despite Haga's determined and valiant rides in winning both of Sunday's races, Haga's best was still just 2-points shy in the final tally to prevent the former 2005 World Superbike Champion James Toseland from taking his 2nd World tile in 2007.
Long-term championship leader James Toseland (Hannspree Ten Kate Honda CBR1000RR) had to wait until the final race of the 2007 season to secure the title in a championship class he has led since the very first race meeting of the year - and after a dramatic first corner incident in race one put him off track. He restarted absolutely last but made it back through the field to secure seventh in the opener, and in finishing a very safe and secure sixth in race two, he beat Magny Cours double race winner Noriyuki Haga to the title by only two points.
The final championship positions in SBK read Toseland 415 points (and 8 wins), Haga 413 (6 wins), Max Biaggi 397 (3 wins) and Troy Bayliss 372 (7 wins).
This is Honda's first win in the Riders' Championship since Colin Edwards scored the season victory on a Honda VTR1000SP in 2002, and the sixth Honda victory in the Riders' Championship since the championship's inception in 1988. In the Manufacturers' Championship, Honda is joint second, on 439 points.
Yamaha claimed the Manufacturer's Title for the first time after 16 pole positions, 177 podiums and 44 race wins.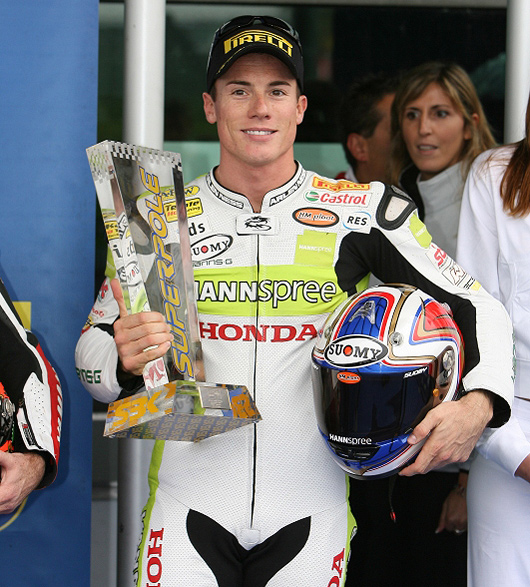 ---
Our British lasses and official SBK Fast Dates Superbike Calendar Kittens at Brands Hatch, (left to right) Gemma and Rhian Sugden.We shot this photo in the Ducati Paddock on Friday afternoon when Ducati personel again confirmed to us that Gemma would be the official Team Ducati Corse Girl on Sunday.
126,000 Enthusiast British fans jam pack Brands Hatch
for our 2009 SBK Fast Dates World Superbike Calendar Shoot (and a race)!

2007 Brands Hatch World Superbike Race
Fast Dates Calendar Shoot with Gemma and Rhian
by Jim Gianatsis
Brands Hatch, Kent,United Kingdon August 3-5th, 2007 - With still no SBK World Superbike round taking place in America for 2007, I was still excited to return to the incredible Brands Hatch, British round of the Championship this year. If you remember from our last reports, the historical Brands Hatch Raceway set in the beautiful rolling green farmland in the county of Kent, just south of London, dates back to the 1920s and has host every form of major motorsports events from FIA Formula One and World Championship Sports car rounds, to the world's premier motorcycle races. It is amazing that historic racing venues in Europe, like this one at Brands hatch, just get better with age, while in America, race tracks won't comply to the latest race car and safety standards, and end up being run down club tracks.
The World Superbike starting grid on Sunday at brands hatch lines on on the front straight in front of 126,000 hard core sportbike fans. The track, the facility and British fans are awesome.

The world continues to change rapidly with the Internet, and this year I found our two newest British models for the Fast Dates calendar shoot , right on www.MySpace.com where you will find them in our MySpace.com FastDates.com Top 24 Friends listing. Rhian Sugden is a Page 3 Girl, own of the sexiest and most popular pinup models in Great Britain. She's the most sexy beautiful 5'7" blond with an incredible size 0 body struggling to hold up the most beautiful, natural double-DD breasts.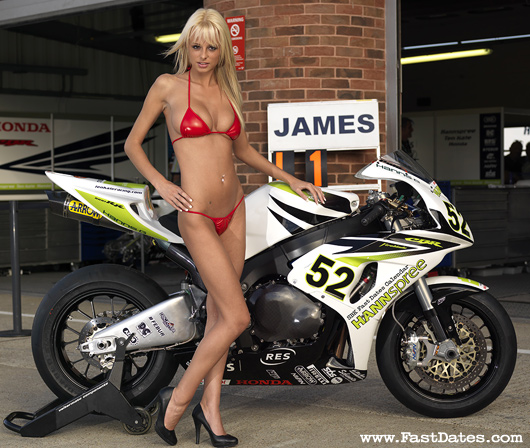 A winning combination at the Brands Hatch World Superbike weekend, Rhian with James Toselands double race winning Ten Kate SBK Fast Dates Calendar Hannspree Honda CBR1000RR! Click for a Screensaver.
Below, Gemma and Rhian pose with outging World Chjampion Troy Bayliss bike and team the evening of our calednar shoot.
Click for Complete Coverage of our 2007 Brands Hatch Fast Dates Calednar Shoot
---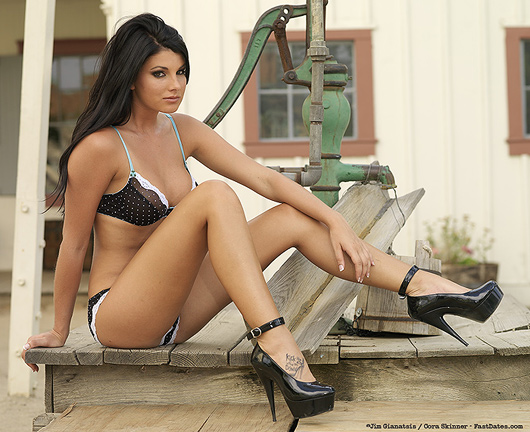 Too Sexy for Her Shoes?
Calendar Kitten Cora Skinner

Cora, who is featured in the 2007 and 2008 editions of the Iron & Lace and Garage Girls Calendars, is a 5'9' raven haired stunner with probably the most perfect body in the world - except for that damn tattoo. We're talking about that one on her right foot (click for a closeup) which reads, "Kick Him When He's Down." Talk about a ball breaker!

You can find out more about Cora in her Meet the Models profile, and see more of this and her other photo shoots in Members Corner.
FastDates.com Members Corner Updates
Much More New Content, New Lower $9.95 Monthly Price
If you've never joined our Members Corner before, or it's been a while since you have been a member, now's the time to join us. Along with a new low monthly membership rate, we've got a lot more content you don't want to miss! Included with your Membership is:
• Members Corner - Sexy and Reveal photos of the prettiest fastdates.com calendar Kittens including Playboy Playmates Tamara Witmer, Athena Lundburg, and the world's sexiest actresses and models Jamie Pressly, Joanna Krupa and LeeAnn Tweeden. Plus archives of all the Fast Dates, Iron & Lace, Garage Girls Calendars.
• Met-Art Affiliate Model Galleries - Normally $29.95 a month to join Met-Art alone!
• Paddock Garage - Sportbike and V-Twin Engine Tuning and Suspension Se Up.
• Iron & Lace Garage - Feature custom bike pictorials including our beautiful Calendar Kittens
• FastDates.com Calendar Screen Savers - The hottest Bikes, Riders and Calendar Kittens
Cora says "Don't let me have to kick your butt, - join me in Members Corner now!"
---
There's more! Go to Fast Dates Calendar News NEXT PAGE

Hot Calendar Girl and Bike News! Go to: Fast Dates • Garage Girls • Iron & Lace

click here to see even more of our sexy Fast Dates Calendar Kittens...