Freddie Spencer to Kurtis Roberts just before the 600cc Supersport race - "Kid, just a few weeks at my riding school and you'll be to showing your relatives how to ride."
2003 AMA National Roadracing Championship: Round 1
Rain Postpones Racing and Disrupts Final Qualifying at Daytona
Kurtis Roberts Wins 600cc Supersport for Honda
Daytona Beach, Florida USA, Sunday March 9th, 2003: The 62nd Daytona 200 By Arai never got off the ground on Sunday due to rain but the crowd of motorcycle fans still got a treat with three thrilling support races including the 600cc SuperSport race which saw Erion Honda's Kurtis Roberts emerge from a 12 rider race-long lead battle to slingshot past Yamaha's Jamie Hacking at the finish line for the win. Honda's Miguel DuHamel moved up from eighth place entering the banking to claim third.

Kurtis holds off Miguel and Jaime amid a heated 12-rider battle for the 600cc SuperSport win.
Erion Honda's Kurtis Roberts gave the new Honda CBR600RR a glorious first American race debut, winning the Pro Honda Oils 600 Supersport race at Daytona International Speedway on a cloudy, overcast Florida morning. Yamaha's Jamie Hacking was just headed by Kurtis by only half a bike length at the finish line. American Honda's Miguel DuHamel finished third with Erion Honda's Jake Zemke taking fourth. Both chose gearing that wasn't optimal. American Honda's Ben Bostrom, on pole for the Superbike race, finished a dispiriting 10th. The former World Superbike star found it difficult to hold on to the handlebars after a vibration developed early in the race and made his hand numb.
Roberts, 24, the youngest son of three-time 500cc World Champion Kenny Roberts made a crucial gearing change before the race that allowed him to control the pace of the race from the outset. He led a furious lead pack of some twelve 600's at the start and for nine of the 15 laps. On the final tour of the high-banked speedway, Roberts exited the last corner, a chicane on the back straight, in second place, then powered to victory by 0.118 seconds.
"I can't say enough about theCBR600RR," Roberts, who will only race selected Supersport events, said. "It was perfect. I don't think I put a wheel out of place. It was definitely the most patient smoothest Daytona
600 in a while."
Helping propel Roberts to victory was a gearing change he and crew chief Dave McGrath made prior to the race. While the other riders were on the limit crossing the finish line, Roberts had power to spare.The win was Honda's 11th in the 600cc Supersport race at Daytona. Four of the previous wins were delivered by French-Canadian Miguel DuHamel, today's third place finisher.Erion Honda's Kurtis Roberts-First Place
"It wasn't the fastest pace we could have done," said Kurtis. "That's why I kept Jamie (Hacking) and all them guys behind me, because they don't have to race later on in the day and we had to. I kept them right where I wanted to and it was really easy. The bike was perfect. On the last lap I went back to third where I needed to be. The lapper got in the way and made Jake (Zemke) get a little antsy and jump on the throttle a little bit. It gave Jamie (Hacking) the gap to where I let him go down the straightaway that far and I passed Jake.
American Honda's Miguel Duhamel-Third Place "The bike was running good. I was out there really composed and really relaxed. My bike, when I got in the draft, hit the rev limiter a little bit and that's not good. I was having a little trouble with that. I could see Jamie and Jake (Zemke) up there (and thinking) as long as they didn't get away from me. I was just keeping that in mind and trying to figure out a way to get up there. I was hoping more guys in front of me the better because that would help me get a draft. I was so happy just to see how good my bike is. We're definitely in there the whole rest of the season and Kurtis (Roberts will switch to the Formula Extreme Championship which traditionally has not run at Daytona because the bigger engined Exteme bikes might outrun the Superbikes on the high speed banking -which is no longer the case for 2003 with the new 1000cc Superbike rules.)won't be there at all."
Erion Honda's Jake Zemke-Fourth Place- "It was going pretty good until that last lap. We kind of had to roll the dice on the gearing because it seemed like to gear it for the front straightaway we were losing out not the infield, but we put the gearing on that we thought was going to win the race for us. I'm pretty sure I had the fastest bike out there. I didn't have any trouble drafting past anyone at the line. It seemed like when I'd lead out of the chicane I'd tow them around almost all the way to the start-finish. I knew we were looking good.
I was having a little bit of a grip problem. With our gearing, it wouldn't really come off the corners the way we wanted on the infield.
American Honda's Ben Bostrom-10th Place- "The bike was fantastic. The only mistake I made on the bike was the gearing was a little short and I was on the limiter for probably a good five seconds going across the stripe. That wasn't the only problem. On the third lap, I don't know from the high vibration, I couldn't feel my hands. It started happening on the second lap and by the third lap I couldn't feel my hands any more. So I was just shaking off the left one but I couldn't let go of the throttle hand. So I couldn't grab the front brakes. I could feel
the throttle opening but not so smooth and I couldn't feel the brakes at all. It only happened once before and that was on a Supersport bike.
600 Results: 1. Kurtis Roberts (Honda); 2. Jamie Hacking (Yamaha); 3. Miguel DuHamel (Honda); 4. Jake Zemke (Honda); 5. Jason Disalvo (Yamaha); 6. Damon Buckmaster (Yamaha); 7. Jamie Stauffer (Yamaha)
8. Aaron Gobert (Yamaha); 9. Ben Spies (Suzuki); 10. Ben Bostrom (Honda); 11. Roger Hayden (Honda)
12. Matthew Wait (Yamaha); 13. Tommy Hayden (Yamaha); 14. Aaron Yates (Suzuki); 15. Alex Gobert (Honda).
750cc SuperStrock
Tomy Hayden wins 750cc SuperStock
on Kawasaki's baby 636cc machine
Daytona Beach March 10th: Tommy Hayden, riding the No. 22 Kawasaki, nipped Lee Acree at the checkered flag by .009-second to capture his first victory at Daytona, and the first win in the history of the class that a non-750cc machine. Hayden's win was aboard Kawasaki's new 636cc ZX-6RR, prepped especially for Superstock competition. Hayden threw out the theory of being a sitting duck when leading out of the chicane as he was able to hold off Acree at the finish line in what was a thrilling photo finish to Superstock race by just a few inches.
"I knew it would be close," Hayden said. "I knew the only chance I had (leading out of the infield). As soon as I got into second there off turn one, the only chance I had was to get some kind of break there in the infield. I got Lee going into the first horseshoe. I put my head down and that was my only hope. I must have just got enough gap to just hold it off because they were coming by the finish line fast. Definitely feels good to start off the season with a win.

I definitely knew I wanted to lead. I was just battling every lap just to stay ahead of guys. I didn't really have much of a strategy other than just try to get as close as I could to the front because I definitely wasn't going to be drafting by three or four guys. Even before the race I knew for sure I could run the pace and I was in the hunt but I found out that beating the 750 sometimes was a little tougher than just going fast. I knew it was going to be close."

Lee Acree, No 45 Suzuki, second place finisher
I didn't get a good drive out of the infield on the last lap like I wanted to that time. A couple guys came by and I was hoping to be second going into the chicane not fourth. Like I said, the bike was incredible. Steve and Eric and Mike, they ended up getting kind of wide, but giving me a good draft and I got a good run. Came up on Tommy and man it was awful close to the line. It was close. I thought I got him, but that's not what the screen said when we came back around. Hat's off to Tommy. He rode incredibly. He rode a smart race. He did exactly what he needed to do.

I thought I had squeaked by but unfortunately that didn't turn out to be the case. I had a great bike under me. I had a little bit of an issue mid race. The shifter stuck on it and that's what dropped me so far back. I just tried to be real precise with the shifter and work my way back up. The bike was incredible. I think that's part of what got me back in it. The bike and tires were awesome.

The last lap, I didn't mind being behind Tommy when he came by through the infield. I figured if I don't tow somebody else I'm going to get towed and somebody's going to slingshot by me. It's the typical deal. Nobody wants to lead unless they absolutely have to here. I didn't get the kind of drive I wanted out of the infield. I think I was just being a little bit too careful on it. A tire that had 15 hard laps on it, not wanting to be too aggressive with it. I paid the price a little bit for that. Fourth wasn't exactly what I had in mind going into the chicane on the last lap. But luckily I was able to get out of there pretty good and get a good tow.

I had a good run on Tommy. Man I thought I was there. It was so close. I think they said one or two inches on the TV screen when they went back and reviewed it."
SUN SHINES AT DAYTONA BUT RAIN ON THE CORONA EXTRA SUZUKI PARADE!
Though the sun shone this Monday at the Daytona International Speedway, it still rained on the Corona Extra Suzuki parade with bad luck in both races entered!
In the main event, the Daytona 200 by Arai, rider Jordan Szoke started well in his first running of this prestigious race, getting as high as ninth before a bolt from another machine punctured the Suzuki GSXR1000 oil cooler covering the bike and tires with oil. Jordan was skilled in being able to stop without mishap.
In the Genuine Suzuki Accessories Superstock event, defending champion Jimmy Moore hit a false neutral as he tipped into turn one on the start, causing him to run straight, stop and run across a big expanse of grass covered in two inches of water. Moore left Turn One dead last. He rode like the same wind Daytona Speedway experienced over the event weekend, working his way past 16 riders but using up his tires in the process. Moore finished in 15th position by race end. Teammate Adam Fergusson, in this his first ever event at the imposing Speedway, rode very well getting as high as second during the race. Always in the lead pack of 7 bikes, Adam's inexperience in drafting and gearing selection for his Suzuki GSXR 750, so critical at Daytona, held him back at the finish, completing the race in the lead pack and netting 7th, only 1.4 seconds behind the winner. A great first Daytona result. Jordan Szoke was never able to break from the second pack of 6-8 riders and ended the race in 14th position.
Corona Extra Suzuki is proud to be partnering with Corona Extra, Suzuki, EBSCO Media, MTS, Parts Unlimited, Dunlop, Yoshimura R&D, Joe Rocket, Sidi Boots, MotionPro, Braking, Silkolene Lubricants, Suzuki Genuine Accessories, STR Motorsports, Lindeman Engineering, Bickle, FastDates.com, Yoyodyne, Hotbodies Racing, Zero Gravity, Regina Chain, Race Girl, GP Tech, RB Components, Spiegler, Box R, Stahlwille Tools.
Next race: Fontana, Florida March 6th - 9th.
750cc SuperStock Results: 122 TOMMY HAYDENOWENSBORO, KYKAW63615---KAWASAKI / LP USA / MAXIMA / DUNLOP245 LEE ACREEJAMESTOWN, NCSUZ750150.009PIRELLI / ARAI / ARCLIGHT336 ERIC C WOODMANSFIELD, MASUZ750150.098WOODCRAFT / BETTENCOURT'S / BARDEN / DUNLOP / MAXIMA / GMD451 STEVE RAPPCORONA, CASUZ750150.209VALVOLINE EMGO SUZUKI / MICHELIN / M4 / ALPINESTARS / DYNO53 VINCENT HASKOVECLAKE ELSINORE, CASUZ750151.41HOOTERS / SUZUKI / PIRELLI / HAULMARK / TIFORCE / TORCO / VP / 613 MIKE D CICCOTTOSEBASTIAN, FLSUZ750151.412HOOTERS SUZUKI / ARAI / CORSA / TORCO / PIRELLI / ALPINESTAR768 ADAM FERGUSSONBIRMINGHAM, ALSUZ750151.436CORONA EXTRA SUZUKI / EBSCO MEDIA / SIDI / HJC AMERICA856 TONY MEIRINGTRACY, CAKAW636157.576KAWASAKI / LP USA / MAXIMA / DUNLOP940 JASON DISALVOSTAFFORD, NYYAM6001512.059YAMAHA MOTOR CORP / DUNLOP / YAMALUBE / GYT R1058 MATTHEW FURTEKSOUTH HOLLAND, ILSUZ7501512.067VALVOLINE / SUZUKI / EMGO / MICHELIN / M4 / ARAI / DYNAJET / GMD114 JOSHUA KURT HAYESGULFPORT, MSSUZ7501512.1351218 CHRIS ULRICHLAKE ELSINORE, CASUZ7501516.839VALVOLINE EMGO SUZUKI / MICHELIN / ALPINESTARS / M4 / ARAI1389 SCOTT A GREENWOODDUNBARTON, NHSUZ7501517.387ARGO CYCLES / DUNLOP / HINDLE / ARAI / TIGER / ANGEL14101 JORDAN M SZOKECANADA, ONSUZ7501517.424CORONA EXTRA SUZ / EBSCO / JOE ROCKET / SHOEI / SIDI / YOSH151 JIMMY MOOREEUGENE, ORSUZ7501520.769CORONA SUZUKI / EBSCO / DUNLOP / SHOEI / JOE ROCKET / SIDI / M1634 BRIAN STOKESKINGSTON, GASUZ7501521.65617143 CHRIS CAYLORMARIETTA, GASUZ7501522.421EMGO / FASTLAP / PIRELLI / FREE WHEELIN / M4 / PITBULL / EBC / V1823 RICH CONICELLILAWRENCEVILLE, GASUZ7501522.426HSA / KWS / DUNLOP / ACTION MOTORS / SDI / OXTAR / YOSHI / SHOEI192 SCOTT F HARWELLLINCOLNTON, NCSUZ7501525.721SUZUKI / PIRELLI / YOSHIMURA / MOTION / DYNAJET / EBC / SILKOL2044 JOHN HANERPEARLAND, TXSUZ7501525.779MOTION / SHOGUN / PIRELLI / YOSHIMURA / HELIMOT / RK / LP / SHAR
---
Fast Dates Calendar babe
Jacki Kashes in at FHM
Beautiful brunette Jack Kash is one of the featured Calendar Angels in our upcoming 2004 Fast Dates Racebike Pinup Calendar sponsored by Performance Machine, MotoWheels, and Team EBSCO Corina Extra Suzuki. Jackie is also featured in the March '03 issue of FHM magazine where she is this month's "Hometown Honey" where she describes her home town of Santa Rosa, California, best known for its wine and peanuts. "Peanuts" as in the comic strip featuring Charlie Brown and Snoopy, since Santa Rosa was also the home of Peanuts creater Charles M. Schultz and now a Museum dedicated to him. We're dedicating our own musem to Jackie and her great photos in the upcoming Fast Dates Calendar.... click right for the bigger view.


photo curtesy FHM / www.BrianBHayes.com
---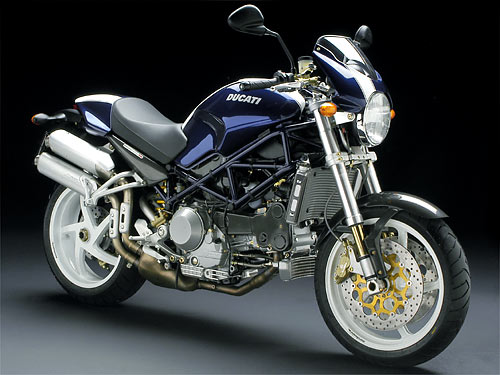 Ducati Introduces New Monster SR4
In an effort to offer a more high performance naked bike similar to Aprilia's hot new Tuono model, Ducati is introducing this new Monster upgraded with the now outdated 996 Superbike engine and suspension components.. This bike will be an early release for the Ducati 2004 model year. It is expected to arrive in North American dealer showrooms by late summer of 2003.

With 113 HP, the Monster S4R is the most powerful naked Ducati ever made:it boasts the championship-winning, electronic injection, water-cooled Desmoquattro 996 engine. The set-up has been improved considerably, making this new bike an enormous step up from the previous S4 version. One of the most dramatic changes is a stunning MH-inspired single-sided aluminium rear swing arm. Among an entire host of exciting new features are a practical and elegant variable cross-section aluminium handlebar and a newly designed multi-functional instrument panel. A unique motorcycle built to beat the world's best on fast curvy roads, the Monster S4R is unbeatable on and off the track.