May - June 2008
World Superbike Returns to America this Month!
Fast Dates Calendar Kittens Team Up with Alstare Suzuki and Monza Race Winner Max Neukircher at Miller Motorsports SBK Race
May 1st 2008 - This month's May page in the 2008 Fast Dates Calendar has us getting ready for the return of World Superbike to America this month at Miller Motorsports Park, UT, May 30-June 1st after a 3 year absence. Our beautiful SBK World Superbike Fast Dates Calendar Kitten Katie Pugh (above) adds the icing to former World Superbike Champion Troy Corser's 2006 Alstare Corona Suzuki GSXR1000 factory superbike shot at Brands Hatch World Superbike in August of that year.
Buy the 2008 Fast Dates Calendar • Download Big Screensaver Photos in Members Corner
We are excited to announce that FastDates.com and producer/photographer Jim Gianatsis will be at Miller for the World Superbike round this month to shoot the next edition of the SBK Fast Dates World Superbike Calendar with all the top factory World and AMA Superbike race team bikes. Our selected models for the Caendar shoot will be beautiful Salt Lake City based professional models Keisa Finley and Michelle Barrett from the Wilhelmia agency Urban Talent.
And then on race day Sunday June 1st, both Ashley and Michelle along with another hot model we scouted from Urban Talent, Ashley Nicholas , will serve as the official Alstare Suzuki grid girls for team riders Max Neukirchner, Yukio Kagayama and Fonsi Nieto. So look for our girls on the starting line in the world TV broadcast of the SBK World Superbike races from Miller Motorsports park, and in the 2010 SBK Fast Dates Calendar to be release just 13 months from now.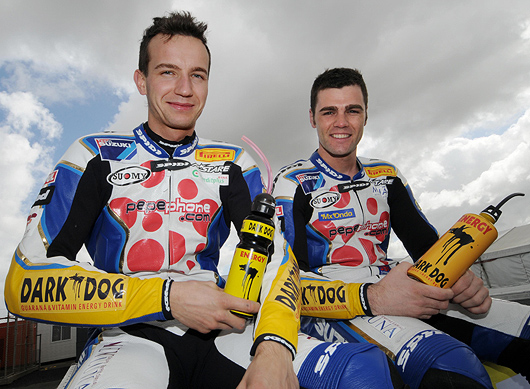 Whay are Alstare Suzuki's Max Neukirchner and Fonzie Nieto smiling? They just found out they'll be receiving
Fast Dates Calendar Kitten pampering at the Miller Motorsports USA World Superbike round!
---
High Speed does a great job of intermixing incredibly well filmed staged racing with live race action to make you feel like you're realy on track with the riders. Movie director and producer Jeff Jensen is a professional rider himself, Stunt Man and Stunt Director, having worked on dozens of major action films including Harley-Davidson & The Marlboro Man, Speed, Total Recall, Robo Cop and recently 16 Blocks staring Bruce Willis..



Click on Cover to Order

HIGH SPEED staring beautiful Sienna Miller
The Most Exciting Motorcycle Roadracing Movie Ever Made!

Available Exclusively on DVD from FastDates.com

"High Speed" directed by Jeff Jensen, the best major motoion picture drama about motorcycle roadracing ever made, is now available for the first time on DVD from FastDates.com through Amazon.com. It's a realistic Hollywood style romance drama set within the battle for the World Superbike Championship that reflects real lives.

Click Cover to Order
Here's your exclusive pit pass to go behind the scenes into the exciting sport of SBK World Superbike racing. Meet the riders, theirand girl friendsand the teams in a world where you're only as good as your next race win. See how their passions ignite drama on and off the track, how it can lead to love, and join them in their quest to win the prestigious SBK World Superbike Championship.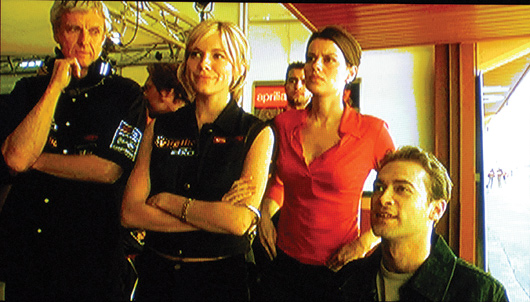 Filmed on location at the tracks and races of the SBK World Superbike Championship, High Speed stars beautiful British actress Sienna Miller in an action packed, thriling romance drama love triangle where her two boy friends are on the same factory team fighting for the SBK World Superbike Championship. As a sportbike enthusiast and Hollywood stunt director himself, Jensen delivers some of the most exciting on bike camera race action and crash scenes that have ever been created. Critics call High Speed one of the best motorsports movie dramas ever, comparable to the classics: "Grand Prix" staring James Garner, and "Le Mans" with Steve McQueen.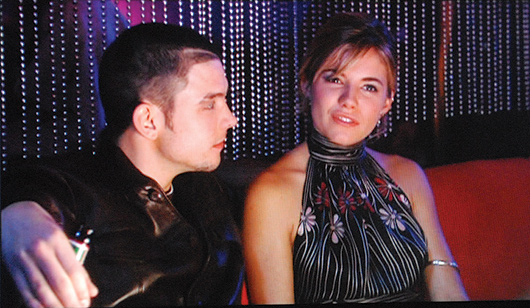 Andrew chats up his secret love Sienna Miller at a club, but Sienna loves his best friend and team mate Paul Nichols.

The story is about Raphael (Andrew Lee Potts) and Ruben (Paul Nichols) who are life long friends and team mates in the fast paced arena of World Superbike Racing. During a Championship race, Ruben crashes directly in front of Raphael who runs over his friend, paralyzing him for life. Could Raphel have avoided his best friend or was winning the most important thing? Raphael is suspended from racing by the FIM pending an investigation.
Above: Paul Nichols, in a hard fought race, crashes just in front of his best friend and team mate Andrew lee potts who can't avoid hitting him, or could he? Below: Sienna Miller comforts Paul in the hospital, who is now paralized.
During this time he has to come to grips with his actions, his secret love for Ruben's beautiful girlfriend (Sienna Miller - "Layer Cake" "Factory Girl" "Casanova") and whether he will ever return to racing. Having a fling with the team's sexy PR manager (Claudia Pandolfi), saving his father from illegally gambling on his racing and from thug debt collectors doesn't make Raphael's life and decisions any easier.
The movie includes some incredible real World Superbike race footage including this crash between Troy Bayliss and Regis Laconi that us one of the most incredible pieces of race footage ever seen.
---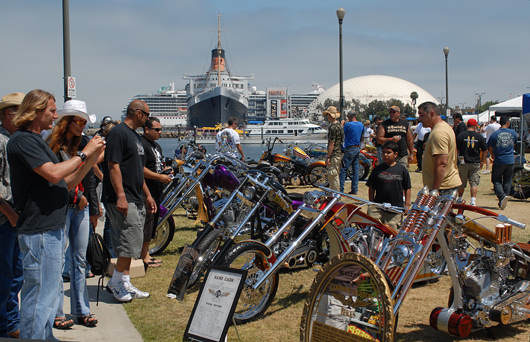 Preview! $86,000 in Cash and Awardsin the Calendar Bike Building Championship
for Custom & High Performance Street & Sportbikes
Performance Machine presents the
17th Annual 2008 LA Calendar Motorcycle Show Weekend
and Calendar Bike Building Championship
July 12-13th 2008, Queen Mary Event Park, Long Beach - The 17th annual Los Angeles Calendar Motorcycle Show Weekend presented by Performance Machine, America's premier custom, cruiser, performance and sportbike weekend returns to the Queen Mary Event Park in Long Beach on July 12-13th, 2008. Join 20,000 streetbike motorcycle and music enthusiasts for the world's most exciting 2-day motorcycle event weekend in the beautiful Queen Mary Event Park on the grass alongside the Pacific Ocean! This is the world's premier motorcycle show weekend featuring 200 major motorcycle and parts manufacturers, selected product and apparel venders.
The weekend features many of the world's top Pro and Amateur street bike builders in attendance to compete in the Performance Machine Calendar Show Bike Building Championship with a bulging purse of $86,000 in cash and awards*. There are 10 individual classes for American V-Twin and Metric Street Custom, Performance, Classic, Bobber, Chopper and Sportbike motorcycles.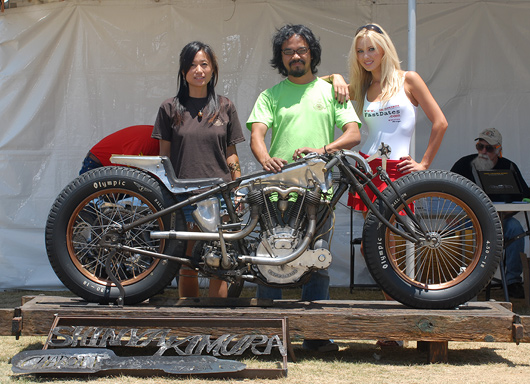 Calendar Kitten and Bike Show hostess Tiffany Toth with legendary Japanese builder Shinya Kimura and his wife, and Shinya's ancient Henderson V-tiwin powered retro racer which Tiffany poses with it the new 2009 Fast Dates and Iron & Lace Calendars which premier at this year's Show. Shinya took Best of Show in 2004, and one of his bikes is featured in the new movie Iron Man.

The coveted Performance Machine Best of Show Trophy is awarded for the top overall bike at the Show and includes a $3,000 cash prize, an additional $7,000 in product awards bringing the total awards to $10,000 overall, plus the winning bike and builder receives an editorial bike feature in Iron Works magazine and the Iron & Lace Calendar photographed by Show producer Jim Gianatsis.
Performance Machine also offers is own trophy for the Best Performance Machine Equipped Bike with a $5,000 product award from Performance Machine products, Other favorite classes include the Iron Works magazine sponsored Radical Pro Builder, the Mikuni American HR Carburetor sponsored American V-Twin Performance, and the Fast Dates Calendar sponsored Sportbike Class.
Spectators can meet top celebrity custom bike builders including last year's best of Show winner Greg Westbury, along with Roland Sands, Russell Mitchell, Shinya Kimura, Joe Takai, Ron Simms, Paul Yaffe, Todd Silicato and dozens more. And attend free Calendar Bike Builder Seminars with the top Calendar builders to learn what it really takes to build some of the world's most innovative and beautiful custom bikes as featured in the Iron & lace and Fast Dates Calendars.
Join in the excitement of the Calendar Show's exclusive S&S Cycle World Championship Horsepower Dyno Shoot Out hosted by Kerry Bryant of Area P Exhaust Systems. World Record runs are open up to anyone, including the change to see just how strong your streetbike really is. Classes & Awards for all stock and modified American V-Twin and Metric Sportbikes.
Included with admission both days is the 2-Day Calendar Girl Music Festival with beautiful girl bands and singers including singer songwriters Kari Kimmel and actress Elizabeth Nicole, Taxi Doll, AC/DC Tribute rock band Whole Lotta Rosies, Lead Zeppelin tribute band Moby Chick, Reckless Driver, plus the sexy Purrfect Angelz dance shows.
The weekend is hosted by Playboy model Tiffany Toth and singer Kari Kimmel, with other FastDates.com Calendar Kittens including Carrie Ann Stroup for the annual world premier of the new 2009 FastDates.com Motorcycle Pin Up Calendars. Carrie will be in the Mikuni display throughout the weekend to offer her free Mikuni HSR Carburetor "Fantasies" poster.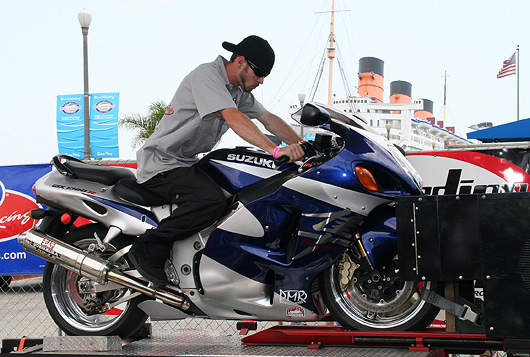 A modified Suzuki Hyabusa 1300 tackles the S&S Cycle World Record Dyno.

Other exciting activities during the weekend include the S&S Cycle World Championship Horsepower Dyno Shoot Out. Plus free Calendar Bike Building Seminars with celebrity Iron & Lace Calendar builders including Roland Sands, Russell Mitchell, Joe Takai and Tod Silicatio, and the Calendar Girl Model Search Pageant and the world premier of the new 2009 FastDates.com Motorcycle PinUp Calendars with the beautiful Calendar Kittens.
Spectators also get complimentary weekend admission aboard the historic Queen Mary Ghost Ship, and entry to the Saturday Night Iron & Lace Calendar Builders Party with a live band in the ship's Observation Bar. Spectators arriving on motorcycles get security parking for just $5 right at the Show's Main Entrance. Should the Queen Mary's on site parking reach capacity, spectators arriving my car will be directed to park in the downtown Long Beach Parking Garages on Shoreline Drive with free Shuttle Busses or paid Taxi Boat rides available from Shoreline Village Marina direct to the Show.
Title and Associate Sponsorship support for the premier streetbike event weekend in America is provided by Performance Machine, Iron Works magazine, S&S Cycle, NOs Energy Drink, ReCycler.com, CycleTrader.com, Thunder Press and Quick Throttle event publications, Speed TV's American Thunder, Mikuni Carburetors, Meguiar's Car Care Products, and the FastDates.com Calendars.

For additional LA Calendar Motorcycle Show & Calendar Girl Music Festival weekend details including the show schedules, hotels and parking information visit www.FastDates.com.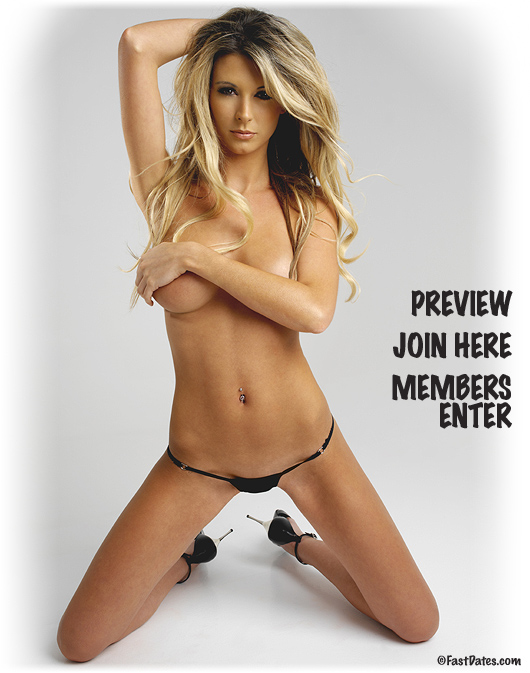 5 Sexy New Pictorial galleriess Added in Members Corner!
Fast Dates World Superbike Calendar Kitten Gemma Gleeson
She was the hottest thing to ever hit the starting grid 2 years ago at Brands Hatch World Superbike. Fast Dates Calendar Kitten Gemma Gleeson was your typical long-legged beautiful 19-year old runway supermodel from County Cork, Ireland and we brought her to Brands with 2 other models to shoot the 2007 Fast Dates Calendar.
It proved difficult to get any work done that weekend as we (actually Gemma and the other 2 models) were constantly mobbed by the race teams, media, TV and fans for pictures and to be chatted-up. European TV fans got to see a lot of Gemma on screen that weekend, much of it in the SBK's 1-hour Saturday Practice and Sunday's Pre Race Show coverage which we don't get here in America on SpeedTV, and with all the grid girls being edited out of the 1-hour race coverage we are shown. See more here: Brands Hatch 2005.
Below: Monica and Gemma on the Brands Hatch starting grid posing for SBK TV.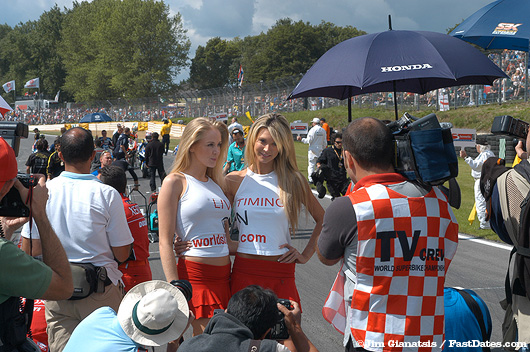 However, we've been able to get together with Gemma again to shoot some incredible photos of our Irish goddess for FastDates.com which you'll find in Members Corner. Now you can get an exclusive look at one of our most beautiful Calendar Kittens ever in 5 very sexy and revealing new pictorials! Members Corner.
FastDates.com Members Corner Updates
Much More New Content, New Lower $9.95 Monthly Price
If you've never joined our Members Corner before, or it's been a while since you have been a member, now's the time to join us. Along with a new low monthly membership rate, we've got a lot more content you don't want to miss! Included with your Membership is:
• Members Corner - Sexy and Reveal photos of the prettiest fastdates.com calendar Kittens including Playboy Playmates Tamara Witmer, Athena Lundburg, and the world's sexiest actresses and models Jamie Pressly, Joanna Krupa and LeeAnn Tweeden. Plus archives of all the Fast Dates, Iron & Lace, Garage Girls Calendars.
• Met-Art Affiliate Model Galleries - Normally $29.95 a month to join Met-Art alone!
• Paddock Garage - Sportbike and V-Twin Engine Tuning and Suspension Se Up.
• Iron & Lace Garage - Feature custom bike pictorials including our beautiful Calendar Kittens
• FastDates.com Calendar Screen Savers - The hottest Bikes, Riders and Calendar Kittens
Cora says "Don't let me have to kick your butt, - join me in Members Corner now!"
---
There's more! Go to Fast Dates Calendar News NEXT PAGE

Hot Calendar Girl and Bike News! Go to: Fast Dates • Garage Girls • Iron & Lace

click here to see even more of our sexy Fast Dates Calendar Kittens...





Some of our Calendar Girls can also be seen at Playboy's website...