Custom Bike Pinup Calendar News November 2006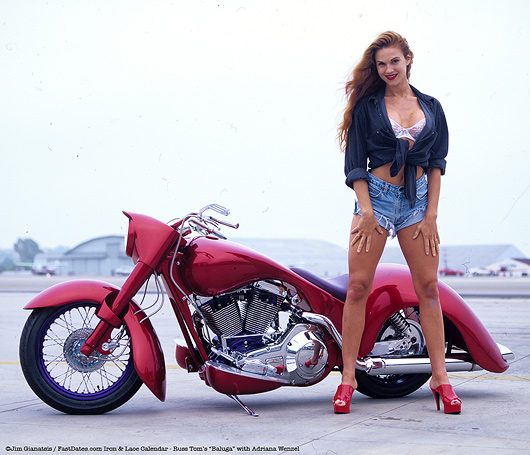 One of Russ Tom's most spectactular full-bodied customs was "Beluga' featured in the 1997 Iron & Lace Calendar with beautiful show girl Adriana Wenzel.

Russ Tom, Celebrated Iron & Lace Calendar Builder
Dies in Helicopter Crash



Russ Tom 1960 -2006

Seattle, Washington, Sunday Oct 8th - North Western region motorcycling icon and celebrated custom bike builder Russ Tom was killed on Sunday in a private helicopter crash into Lake Tapps (near Seattle, WA) after departing from his home there.

It is suspected the crash was due to mechanical failure of Russ' Robinson R44 model helicopter that he was piloting. Witnesses on Sunday said they heard a "Bang" and the aircraft dropped into the lake. Also injured but surviving the crash was his girlfriend A.J.. Russ leaves behind two children from his prior marriage, along with A.J with her own child, all of whom were living with him.
Memorial services will be held for Russ will be held this Saturday, Saturday, October 14th, 2006 at 2pm at the Puyallup Church of the Nazarene, 1026 7th Ave SW Puyallup, WA. Friends are invited to the church, or they can meet for a ride that will start at Downtown Harley-Davidson at 12p.m. and leave at 12:30p.m. for an escorted ride to Puyallup Church of the Nazarene in Puyallup for at 2pm memorial service. All are welcome to attend.
Many of the uniquely original custom motorcycles designed by Russ and built at his shop, Downtown Harley-Davidson, Seattle, were regularly featured in the Iron & Lace Custom Motorcycle Pinup Calendars photographed and produced by Jim Gianatsis, Gianatsis Design Associates, during the years 1996 to 2001.
And while much of his worked centered on building custom Harley roadbikes for his store's customers, Russ actually designed and built more inovative, origional American V-twin powered sportbike designs than any other builder or manufacturer in America has, including Buell or Confederate. It was only because the American V-twin media ignored Russ' sportbike designs, and the sportbike media ignored his bikes because they were American V-Twin powered, that Russ has remain unnoticed in the sportbike community.
He enjoyed helping others, sponsoring up and coming racers like Kenny Bernstein who went on to become NHRA National Pro Fuel Drag Racing Champion, and motorcycle pro Stock racer Steve Huff. Russ helped raised money for manycharities, including Children's Hospital and Regional Medical Center in Seattle.

Born Aug. 18, 1960, Russ Tom entered the motorcycle business at his family's Seattle home in Rainier Valley. His father, Carmen Tom , started fixing up bikes. He began selling them in front of the house, and the business started in 1958 on Martin Luther King Jr. Way outside of Seattle. The shop did so well selling brands such as Triumph, Vespa, Suzuki and Harley-Davidson that the family tore the house down to build a larger structure.



Divers take a break after the wreckage of a helicopter reaches shore Monday.A team of federal investigators will begin analyzing the wreckage of a light helicopter to determine what caused the aircraft to crash into Lake Tapps on Sunday, killing pilot Russell Tom and injuring his girlfriend.
From kindergarten through high school, Russ Tom attended Seattle Christian Schools. There, his knack for motorcycle design accelerated. His early custom bikes included a chopperized 1972 Honda CB750. Together with his dad they originated the "Coffin" style gas tank which became part of custom bike building culture during the time and spread worldwise.
"He was a natural," his brother said. "He was a real perfectionist and wanted something different."
By the 1990s, Russ had taken over his father's motorcycle-shop business. He was instrumental in opening the company's First Avenue location downtown, which focuses on Harley clothing and accessories. The Tukwila shop carries bikes.
"Russ was my favorite builder to be featured in the Iron & Lace Calendar during those years," remembers Iron & Lace calendar photographer Jim Gianatsis, "and remains today one of the most innovative and exciting custom V-Twin bike builders of all time. Each one of his show bikes was original, unique, beautiful and exciting in their own way, whether it was a full-bodied custom or a hot rod sportbike theme. Russ' bikes were so totally original and creative, not looking like anything that came before them, and many of his designs have yet to be equaled, still, after 10 years."
A complete about face from his radical full bodied customs like Baluga, this Big Twin powered sportbike with full sportbike suspension and brakes, under hfender dual exhausts, looks just as inovative today as when we shot in for the 1999 iron & Lace Calednar with beautiful Tiffany Gramza outside "The Daves" hotel in Santa Monica at night in the pouring rain.

Sportbike themed V-Twin customs like Russ' are just now being embraced by the newer builders on the scene like Roland Sands and Jesse Rooke, and are being replicated by specialty bike manufacturers like Confederate and Echelon. What is or was impressive about every Russ Tom bike are their pure simplicity, beautifully clean lines, and basic construction. So much so that they could easily have been a manufacturer's show concept bike ready to be put into production the next day.
If you ever saw a new Russ Tom designed bike for the first time, you wouldn't recognize it as one of his bikes, just because it would always be so different and unique from what Russ had done before it.
And yet, every one of his show bikes were fully executed street machines, and after doing their tour of duty on the bike show, our calendar and the motorcycle magazine editorial shoot circuit they were retired and used as street bikes. In fact, now that I remember it, every one of the nearly dozen Russ Tom customs I photographed for the Iron & Lace Calendar were ridden to the shoot by Russ or one of the bike's owners in "The Daves" - usually a friend and customer named Mac Turnipseed.
In fact, I first became acquainted with Russ Tom and 'The Daves" through their annual pilgrimages down from the Seattle area to The Love Ride in Los Angeles every November. And to attend our own LA Calendar Motorcycle Show every July with a display of his latest new customs. Russ' shop and dealership, Downtown-Harley-Davidson was the center point for custom bike building and riding activities and related biker charity events in North West Washington state. But his bike designs were nothing short of world class.
There's a unique story about the "The Daves" – the exclusive riding club that was based out of Russ' Downtown Harley-Davidson dealership. One of the shop's best customers and friends is Mac Turnipseed, a native America Indian who made a good fortune with his tribe's gambling casinos on nearby Indian Reservation land, and Mac spent a lot of his money on custom bikes built a Tom's shop. It seems at some point in time they had applied for membership in the famed Hamster's biker club, which hooked up at big bike events and included noted celebrity builders Dave Periwitz and Arlen Ness. The unknown builder from Seattle and his big, bad Indian buddy were declined their request to join the Hamsters. So Russ and Mac started their own "exclusive' club for their own customers and buddies and named it "The Daves" which is a derivative from Harley-Davidson.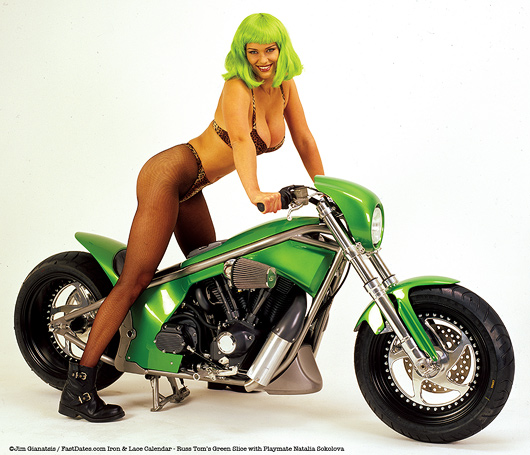 Russ' "Green Slice" with Playboy Playmate Natalia Sokoloka was featured in the 2001 Iron & Lace Calendar. This Big Twin performance style sportbike / bar hopper defied classification, featured a unique Softail perimer frame around the top of the rear engine cylinder, tuned wrap-around megapfone exhausts, and looked like a highly desireable production bike that any manufactuer migh build (if they were smart).
Russ' The Daves "gang' would rent 2 huge semi tractor trailer trucks to haul their bikes down to Los Angles for the big annual Love Ride Weekend. They'd stay at a hotel on the beach in Santa Monica where the bikes would be unloaded and detailed each day. The owners would usually fly into town on Thursday and ride their Harleys, almost all of which were customized at Russ' shop, to the various Love Ride parties around town, and then to the Love Ride starting in Glendale on Sunday morning. One year I borrowed a bike and got to ride with them, and it was an incredible experience riding with about 80 full on custom bikes s with open pipes blasting at 7am on Sunday morning from downtown Santa Monica to Glendale, and then out to Lake Castaic and return.
The Hamsters also attended The Love Ride each year, and one year The Daves showed up at The Love Ride with a unique "No Hamsters" decal on all their bikes, similar to the renowned "Ghost Busters" logo, but replacing the ghost with a hamster inside the red circle/bar of the logo. The Daves also would charter a party cruise boat on Saturday night of The Love Ride in nearby Marina Del Ray for the members to party.
After 2001 Russ backed off on building show bikes and traveling to events with The Daves, to concentrate on building a second showcase Harley-Davidson dealership closer inside Seattle (the original dealership was actually outside in the suburbs), as well as moving and rebuilding the original Downtown Harley-Davidson dealership started by his father Carmen Tom.

Left: Russ at a local Seattle biker charity event with one of his daughters.
With the Harley-Davidson sales boom that followed, and the success of his two Harley-Davidson dealerships, the stress of a divorce from his wife and the workload must have taken its toll. Russ sold both dealerships in 2005 and retired to his new house on Lake Tapp with new interests like flying, his new girlfriend A.J. and their children. In recent months, he focused on real estate development. He had bought 800 acres near Mount Rainier and wanted to subdivide the land to build homes.
"He loved anything -- motorcycles, cars, planes, boats," Rick Tom said. "He loved it all."
He is survived by his father Carmen Tom, 80, and his mother, Donna Tom, 76. Both live in Maple Valley.He has two daughters, Emily and Alexandra, and three brothers, Rick, John and Mike. Russ was 47 years old.
"Thanks for a great ride, Russ!" - Jim Gianatsis
---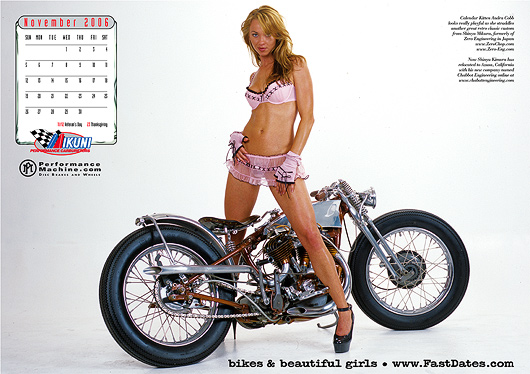 Above, another Shinya Kimura bike is featured in the 2007 Iron & Lace calendar with beautiful Andra Cobb, available as a full size screensaver in Screensavers.

LA Calendar Best of Show winner Shinya Kimura relocates to America
October 2006 - Japan's legendary custom bike builder Shinya Kimura, formerly of Zero Engineering fame and Best of Show winner at the 2004 Los Angeles Calendar Motorcycle Show, has now relocated to Southern California in the city of Azua, opening a new bike building shop under the name Chabbot Engineering.
Shinya originated the now hugely popular retro classic style of bike building from old basket case American V-twin bikes and leftover parts. His first motorcycle repair shop in Japan was called Chabott, and later with partners evolved into Zero Engineering which became world famous for Shiny's eclectic motorcycle designs.
After coming to America in 2004 to compete in the the LA Calendar Motorcycle Show's Calendar Bike Building Championship, win and have the winning bike featured in the FastDates.com Iron & Lace Calendar, Zero Engineering decided to open a 2nd shop in Las Vegas to better serve the American market. Shinya has had his unique bikes continuously featured in the Iron & Lace Calendar for 3 years now, with bike photo galleries and screensavers available on the www.FastDates.com website.
Now after 2 years, Shinya has parted ways with Zero Engineering, the company he founded, and is now on his own again under his original shop name of Chabott Engineering. Chabbot Engineering, Suite 7, 1101 West Foothill Blvd, Azusa, CA 91702. Phone 626.334.5136. ChabottEngineering.com

Shinya Kimura from Zero Engineering, Japan, flew in just for the Show and took the coveted Performance Machine Best of Show Trophy. His bikes are back ordered 4 years! He's flanked by Roland and Ted Sands from PM, plus FastDates.com Calendar Cover Angels, Miss Great Britain Nicki Lane and Laura Niles.
---
More Iron & Lace News HERE • Return to Iron & Lace Calendar News Front Page
See much more of our all our beautiful calendar girls
in their sexy pictorials in FastDates.com Members Corner...


Some of our Calendar Girls can also be seen at Playboy's website...