Custom Bike Pinup Calendar News November-December 2006


Playboy Playmate Tamara Witmer Shoots with Sands KR MotoGP Boardtracker for 2007 LA Calender Motorcycle Show Marketing Campain
LA Calendar Motorcycle Show Movie - Hot Bikes and Sexy Girls!
The Queen Mary, Long Beach, CA Nov 7th - Beautiful Playboy Playmate Tamara Witmer joined photograher Jim Gianatsis again this month at the Queen Mary facility in Long Beach to shoot with us and the Roland Sands (Roland Sands Design / Performance Machine) designed KR Retro Boardtrack Racer. The photographs will be used in the marketing campaign for the upcoming 2007 LA Calendar Motorcycle Show on July 14-15th 2007 (the weekend before the US MotoGP at Laguna Seca), as well as in the the next 2008 SBK Fast Dates World Superbike Racebike and Iron & Lace Custom Motorcycle Pinup Calendars while will premier at the Show.
The KR Boardtracker was commissioned by none other than former AMA and World Champion Kenny Roberts, Senior, owner of the KR MotoGP racing team which features his own son Kenny Roberts, Junior, also a fomer World Grand prix Champion, as the team's principal rider. The engine used in the hand built custom bike which mimicks the style and geometry of a 1910's American board track racer is one of the team's previous season, 5-cylinder Proton 990cc MotoGP engines putting out close to 230 horsepower!

We doubt that, without any front brakes, the KR Boardtracker will ever be toppingthe 200mph speeds it's engine was achieving on the MotoGP circuit, but it certainly will be one of the centerpieces at the Roberts Ranch in Sacramento, CA.

Left: Tamara is featured in all the 2007 FastDates.com Calendars and the 2007 Playboy Calendar. Just click to order!
And you can certainly bet, as always, the 2007 LA Calendar Motorcycle Show will again play host to literally hundreds of incredible custom and performance bikes from America and the World's top custom motorcycle builders.
Playboy Playmate Tamara Witmer and other many of the other beautiful FastDates.com Calendar Kittens will be there as well to meet fans, and personally autograph their photos in the new 2008 FastDates.com Fast Dates, Iron & Lace and Garage Girls Calendars. Go to: Calendar Bike Show
---
Beautiful Calendar Kitten and Playboy Playmate Tamara Witmer has "No Regrets"
Roland Sands' "No Regrets" V--Twin Sportbike
from TV's Biker Build Off
Roland Sands Designs / Performance Machine
2008 Iron & Lace and Fast Dates Calendar Bike by Jim Gianatsis
Roland Sands is a former AMA 250cc National roadracer, now turned custom bike builder who at 30 years old continues to enjoy the ultimate guy's dream of being able to play with motorcycles all day, travel across America and around the world to bike events, chase girls and party late into the night on an all expense paid ticket. Having your father be Perry Sands certainly helps, the president of Performance Machine, one of the world's biggest and premier manufacturers of billet wheels, brakes and related components for the custom and sportbike markets. Roland was sponsored fully by his family company Performance Machine during his roadracing career, then after retirement from racing, he went to work at Performance Machine to learn custom bike building in the compnay's prototybe shop where new componts and the PM trade show project bikes are designed and constructed. Many of PM's top bike builders and friends like Jesse Rooke and Johnny Chop at times have helped Roland with the concepts and construction of the PM concept bikes.
All this was, in part, to help prepare Roland to take over the reigns of Performance Machine some day when his father Perry retired. But Roland soon found he had more fun doing what he was doing playing with bikes and not having too many responsibilities, than having to come to worl 8am - 6pm sit in an office and manage a company. This led his father to sell Performance Machine in 2005 to the Mag Group for a nice sum of money and under good terms which keeps the family in control of the day-to-day operations of Performance Machine, and Roland with the freedom to do what he likes to do best. Roland now has his own in house company at Performance Machine called Roland Sands Design which is still supported by PM as its show bike fabricator. But now Roland's has his own company which can separate itself from Performance Machine should future business interests require it.
"No Regrets" is the latest wet dream of Roland's. It's a deviant hog with it's nose rutted as deep into sportbike influences as custom bike building will allow, whith a seat as sharp as a scorpion's tale and an exhaust note that shatters glass a half mile away..
It was built to compete in the Discovery Channel's Biker Build-Off, one of the slew of chopper and hot rod cable TV shows. In this particular show the builder pitted against Roland was friend and 3-time LA Calendar Motorcycle Show winner and another of our favorite Iron & Lace Calendar builders, Jesse Rooke. The two were told to create bikes that would be judged not just on how they looked, but on how they would perform on the track at Willow Springs in roadrace and drag strip conditions. As with all these shows, a ridiculous timescale was stirred into the mix. The builders only had two weeks to design and build their bikes ...
The Complete Story of Roland Sands and "No Regets" continues in The Iron & Lace Garage with a photo galley of the bike and Playboy Playmate Tamara Witmer. CLICK HERE.
---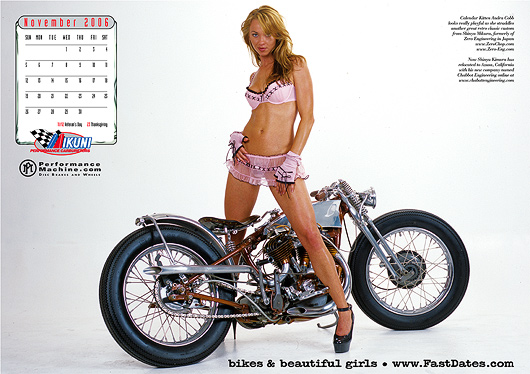 Above, another Shinya Kimura bike is featured in the 2007 Iron & Lace calendar with beautiful Andra Cobb, available as a full size screensaver in Screensavers.
---
More Iron & Lace News HERE • Return to Iron & Lace Calendar News Front Page
See much more of our all our beautiful calendar girls
in their sexy pictorials in FastDates.com Members Corner...


Some of our Calendar Girls can also be seen at Playboy's website...



BikerKiss.com - the largest biker personals site!