Custom Bike Pinup Calendar News May - June 2007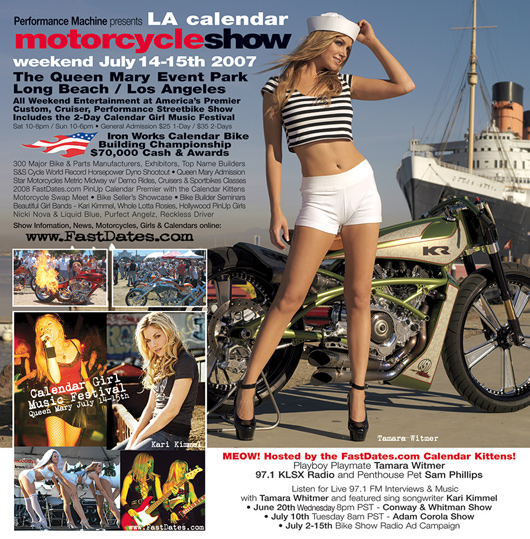 Non stop Girl-Girl Accoustical Action, and oh yes, the World's Hottest Bikes and Builders!
$70,000 in Cash and Awards at the
The Biggest & Best Custom & High Performance Street & Sportbike Event in America!
Performance Machine presents the
LA Calendar Motorcycle Show Weekend July 14-15th 2007

the Queen Mary Event Park, Long Beach, CA
America's Premier Custom and Performance Streetbike Show
Long Beach, CA, May 1st, 2007 - Join 20,000 motorcycle and rock music enthusiasts for the world's most exciting 2-day motorcycle event weekend in the beautiful Queen Mary Event Park on the grass alongside the Pacific Ocean in Long Beach! This is the world's premier motorcycle show weekend featuring some 300 major motorcycle and parts manufacturers, selected product and apparel venders, now with a new All Brand Motorcycle Swap Meet venue add.
Former LA Calendar Motorcycle Best of Show winner Jesse Rooke shot with us again, just this month, for the next edition of the Iron & Lace Calendar with beautiful Calendar Kittens Tamara Witmer (left ), this year's Bike Show Master of Ceremonies, and Cora Skinner (right). Of course, Jesse will be on hand at this year's Show again with his latest bikes and holding free Calendar Bike Builder Seminars. Big 1080 Screensaver
Spectators can meet top celebrity custom bike builders including Russell Mitchell, Jesse Rooke, Roland Sands, Harold Pontarelli, Shinya KimuraAmerican Thunder, Build or Bust, and V-Twin TV. Watch the excitement of the S&S Cycle World Championship Horsepower Dyno Shoot Out. Attend free Calendar Bike Builder Seminars with with the top builders. See the world's top custom bikes in the Performance Machine Calendar Bike Building Championship and in the exciting Star Motorcycle Metric Midway featuring Japanese & European Cruisers and Sportbikes, and free Star Motorcycle demo rides along the beautiful Pacific Ocean.
and others featured on TV's
Also featured with admission both days is the exciting Calendar Girl Music Festival with beautiful girl bands headlined by singer/songwriter Kari Kimmel, with the naughty schoolgirl AC/DC tribute band Whole Lotta Rosies, world renoun show band Nicki Nova and Liquid Blue, Mary Falls and Reckless Driver, and the sexy Purrfect Angelz and Hollywood PinUp Girls high energy dance and musical burlesque shows. The weekend is hosted by Playboy Playmate Tamara Witmer and Miss Texas Rockin' Robin Cunningham, and other FastDates.com Calendar Kittens with the annual world premier of the new 2008 FastDates.com Motorcycle Pin Up Calendars.
Many of the world's top Pro and Amateur street bike builders will be in attendance to compete in the Performance Machine Calendar Show Bike Building Championship with a bulging purse of $70,000 in cash and awards. This year's Show Contest features 3 new classes including the Iron Works magazine Street Chopper, and Bar Hopper classes, and Yamaha's the new Star Motorcycles sponsored Metric Cruiser Class located in the exciting new Star Motorcyles Metric Midway featuring Japanese Cruisers, along with classes for European and Japanese Sportbikes. There are 10 Calendar Bike Building Championship Classes including the premier Radical Pro Builder Class sponsored by Iron Works magazine, with a $5,000 Performance Machine product award up for grabs, as well as the coveted Performance Machine Best of Show Trophy.
Newly added this year is the Calendar Motorcycle Show Swap Meet for all brands of mototcycles managed by Topping Events, which will take place in a separate location in the Queen Mary facility at the Seaside Village. Thie Swap Meet will give venders an affordable venue to showcase used motorcycles and parts for sale to the large Calendar Motorcycle spectator auduence.
You'll find special attractions for the entire family and receive complimentary admission aboard the historic Queen Mary ocean liner to make it an incredible experience you'll remember always. For additional details, the show schedule and parking information visit www.FastDates.com. Show information HERE.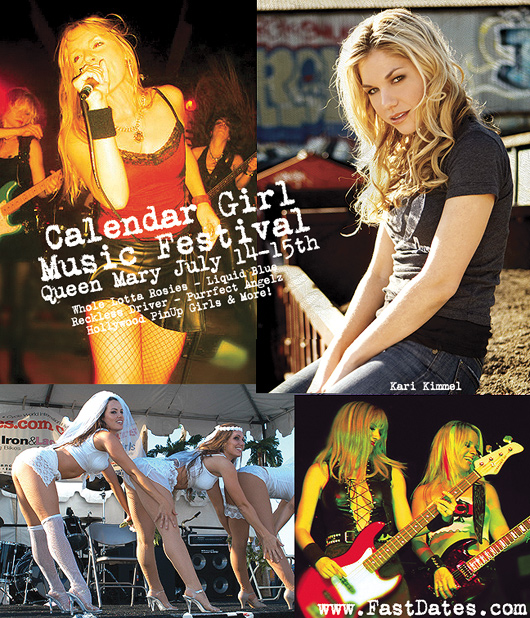 Do Bikers know how to PAR-TAY or what?
2-Day Calendar Girl Music Festival
Rocks the LA Calendar Motorcycle Show Weekend July 14th-15th 2007
Just when you figured the annual LA Calendar Motorcycle Show Weekend, America's premier custom and performance streetbike event weekend couldn't get any hotter, producer Jim Gianatsis has turned up the burners one more notch. The exciting new 2-Day Calendar Girl Musical Festival, an incredible 2-day entertainment extravaganza of beautiful girls performing great music and sexy dances, has been added to the Motorcycle Show's weekend activities. A stand alone event for lovers of great music and beautiful girls, the Calendar Girl Music Festival will run non stop all weekend long and is included with general admission to the Calendar Motorcycle Show Weekend, plus the new Calendar Bike Show Bike Swap Meet and historic Queen Mary Ocean Liner. It all takes place each day in the beautiful Queen Mary Event Park in Long Beach, CA, the weekend of July 14th-15th, 2007.


2007 Calendar Show headliner Kari Kimmel wrote and sings in the title music video
"It's Not Just Make Believe" from the Disney movie The Princess Diaries - Click It!
Kari will be performing songs her new CD "A Life in the Day" both days at the Show
Headlining the Calendar Girl Music Festival both days is beautiful new up and coming singer / songwriter Kari Kimmel, who with many current movie and TV song soundtracks to her credit, who will be performing from her newly released self titled album available at the Show and KariKimmel.com. Kari will be performing acoustically with keyboards and guitar on Saturday, then coming back to turn it up with a full band on Sunday. Also headling both days is the all-girl AC/DC tribute band Whole Lotta Rosies, guaranteed to blow fuses and rock your boxers off as 5 sexy jail bait schoolgirls take you to heaven the hard rock way.
Appearing just on Saturday is Liquid Blue, the incredible world renoun rock show band featuring lead singer Niki Nova. The group just performed for near sold out performances at the San Francisco and Pasadena Civic Centers for ticket prices in the tripple digits. They are stoping by the Calendar Show for their only open date between European and a Middle Eastern tours, including USO shows for our troups in places including Afganistan.
Also appearing live on stage are two of the sexiest burlesque and music shows ever. On Saturday the Purrfect Anglez, the famed musical dance troupe featured on the Country Music TV awards, entertained our troops in Iraq and are renown for their performances at biker events across America, make their return to the Calendar show with 4 separate performances throughout the day. Then on Sunday, The Hollywood PinUp Girls take to the stage with 2 very sexy hour long burlesque shows reminiscent of The Crazy Horse in Paris.
Stage activities all weekend are hosted by Playboy Playmate and FastDates.com Calendar Kitten Tamara Witmer, who is also featured in the new 2008 Fast Dates, Iron & Lace and Garage Girls Calendars which will make their world premier and set the sexy pinup theme for the Calendar Girl Music Festival and Motorcycle Show Weekend.
On Saturday night activities move from the Queen Mary Park which closes for the day at 8pm, to onboard the Queen Mary ocean liner. Starting at 9pm to 1am in the Queen Mary's Observation Bar is the Iron & Lace Calendar Builder's Party where enthusiasts can hang and party with Show's top custom bike builders and product manufacturers. Performing all evening at the Party is beautiful Mary Falls and the band Reckless Driver, back again this year, top and classic pop/rock/blues music.
Also taking place on the Queen Mary, but requiring separate admission, is "Tibbies Cabaret and Dinner Theatre" with a Top of the Charts live revue. And "Vamp: The Lounge" a new and innovative interpretation of Classic Burlesque. This show features six amazingly talented entertainers performing in dazzling costumes to the classic music of the 1930's as well as the cutting edge music of today.
The Los Angeles Calendar Motorcycle Show Weekend offers attractions for the entire family and receive complimentary admission aboard the historic Queen Mary ocean liner to make it an incredible experience you'll remember always. Show admission is just $25 1-day / $35 2-Days with children under 12 just $8. For complete details, the Show schedule and parking information visit: Bike Show
Performance Machine presents the Los Angeles Calendar Motorcycle Show Weekend with Associate Sponsors Star Motorcycles, Iron Works magazine, S&S Cycle, ReCycler.com, Trader.com and Connection magazines, Speed TV's American Thunder, Mikuni Carburetors and the FastDates.com Calendars.

And you thought is was only the premier custom and high performance streetbike show in the world?
Join us for an incredible weekend of Bad Boys, Bad Bikes and non stop Girl-Girl Accoustical Action!
The 2007 LA Calendar Motorcycle Show & Calendar Girl Music Festival
Exhibitors & Venders: Registration Informationt: HERE
---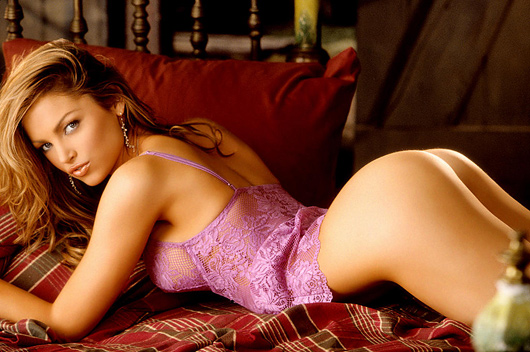 Calendar Kitten and Playboy Playmate Tamara Witmer is featured extensively in Members Corner and in the upcoming 2008 Fast Dates, Iron & Lace and Garage Girls Garage Calendars. Tamara will also be hosting this year's LA Calendar Motorcycle Show Weekend on July 14-15th where you can meet her in person signing the new FastDates.com Calendars.

FastDates.com Members Corner Updates
Much More New Content, New Lower $9.95 Monthly Price
If you've never joined our Members Corner before, or it's been a while since you have been a member, now's the time to join us. Along with a new low monthly membership rate, we've got a lot more content you don't want to miss! Included with your Membership is:
• Members Corner - Sexy and Reveal photos of the prettiest fastdates.com calendar Kittens including Playboy Playmates Tamara Witmer, Athena Lundburg, and the world's sexiest actresses and models Jamie Pressly, Joanna Krupa and LeeAnn Tweeden. Plus archives of all the Fast Dates, Iron & Lace, Garage Girls Calendars.
• Met-Art Affiliate Model Galleries - Normally $29.95 a month to join Met-Art alone!
• Paddock Garage - Sportbike and V-Twin Engine Tuning and Suspension Se Up.
• Iron & Lace Garage - Feature custom bike pictorials including our beautiful Calendar Kittens
• FastDates.com Calendar Screen Savers - The hottest Bikes, Riders and Calendar Kittens
Tamara says "Don't get left out!" - Join Members Corner now!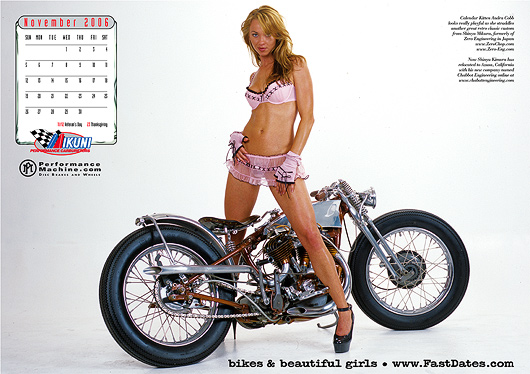 Above, another Shinya Kimura bike is featured in the 2007 Iron & Lace calendar with beautiful Andra Cobb, available as a full size screensaver in Screensavers.
More Iron & Lace News HERE • Return to Iron & Lace Calendar News Front Page

See much more of our all our beautiful calendar girls
in their sexy pictorials in FastDates.com Members Corner...


Some of our Calendar Girls can also be seen at Playboy's website...



BikerKiss.com - the largest biker personals site!