Click for a Bigger Picture / Screensaver

New KTM RC8 1190 World Superbike Finally Released!
Some 5 years since the introduction of the radical looking KTM RC8 concept bike at the Milan International Motorcycle Show to much acclaim, KTM has finally gone intoproduction with the bike. Displacement on the V-Twin was gone up from the origional 950cc engine to an actual 1148cc (1190cc in Race bore displacement?) to take advantage of the current World Superbike dispalcement rules of 1200cc for V-twins, and plans are for KTM (along with BMW and Aprilia - both with new 4 cyclinder bikes) to join the SBK World Superbike Championship in 2009 with full factory teams.
The final production version of the RC8 is not as clean and light looking as the origional prototype which didn't have the rear fender with tailight, passenger pegs and other ancillaries, but it is still fairly clean and modern looking. We don't even mind the under engine exhaust system with muffler that fits to the bike so cleanly, but for race and performance upgrades we're sure to see conventional race systems hanging off the rear.
Advertised weight of the RC8 is 413.8 lbs, wet, without fuel which is fairly close to the other class leading superbikes. Power is advertised at 152.49 hp at 10,000 rpm, down just slightly from Ducati's impressive new 1098 Superbike with 160hp @ 9750 rpm. The KTM should be priced less than the base Ducati 1098 when it s finally in USA dealers this fall (depending on the rising exchange rate, of course). Initial reports from the European magazine press launch for the RC8 is that it handles great, but it is a little rough in vibration and fuel injection mapping, and lacks the refinement of other bikes in the class.
Model KTM RC8 £10,695 (List price in UK, not relevant to USA)
Engine 1,148cc 2-cylinder, 4 stroke, V 75-degree
Power 152.49 hp @ 10,000 rpm
Torque 88.56 lb.ft @ 8,000 rpm
Transmission Six speed
Ready to Race Weight 188kg (414.5 lbs without fuel)
Seat Height 805-825mm 8 Fuel capacity 16.5 liters
---
HIGH SPEED
staring beautiful actress Sienna Miller
Just Released -The Most Exciting Motorcycle Roadracing Movie Ever Made!
Available Exclusively Now on DVD from FastDates.com through Amazon.com
"High Speed" directed by Jeff Jensen, the best major motoion picture drama about motorcycle roadracing ever made, is now available for the first time on DVD from FastDates.com through Amazon.com. It's a realistic Hollywood style romance drama set within the battle for the SBK World Superbike Championship which realisticaly portrays the riders, their girlfriends, the teams and families involved and the racing.
Originally filmed in 2002 at rounds of the SBK World Superbike Championship, High Speed was never released in theatres or on DVD because of legal and distribution issues. Staring in this romantic drama which centers on two best friends racing together in the Aprilia factory superbike team, was a then unknown beautiful young British actress named Sienna Miller who has since become a Hollywood superstar ("Layer Cake" "Factory Girl" "Casanova").
Here's your exclusive pit pass to go behind the scenes into the exciting sport of SBK World Superbike racing. Meet the riders, their girl friend sand the teams in a world where you're only as good as your next race win. See how their passions ignite drama on and off the track, how it can lead to love, and join them in their quest to win the prestigious SBK World Superbike Championship.

Filmed on location during actual World Superbike races in Italy, Spain, Luxembourg and Great Britain. High Speed definitely needs to be in any motorcycle racing enthusiast's home movie library.

Click on the DVD Cover at Left to Order Now!
The movie High Speed was left sitting on the shelf and remained undiscovered until now when FastDates.com Editor Jim Gianatsis got to talking with one of his Sunday morning ride buddies, who just happened to be noted Hollywood stuntman Jeff Jensen, a hardcore motorcycle enthusiast who wrote, directed and produced High Speed with the support of Paolo Flammni at SBK World Superbike. Jim got a screener copy of High Speed from Jeff and was so impressed after seeing it as being one of the best motorsports and, in particular motorcycle themed movies drams ever made. Jim offered, and was accepted by Jeff to handle the world wide distribution of he DVD. High Speed is now available on Amazon.com direct, and through Affiliate websites including FastDates.com. High Speed will also be available through Duke Video for store sales, and will soon be released through Blockbuster and Netflix.
On a side note, Jeff just recently filmed a MotoGP based feature movie in partnership Dorna during the 2006 race season. But the movie was never edited and completed because Dorna did not have the movie rights to use the factory MotoGP teams with their sponsors' logos in a commercial movie, nor would some of the the teams grant them permission. Unlike racing organizations like NASCAR which obviously has full usage rights from their racing teams, and hence a Hollywood movie seems to be made around NASCAR every month, Dorna has no such requirement in its team participant contracts.


High Speed does a great job of intermixing incredibly well filmed staged racing with live race action to make you feel like you're really on track with the riders. Movie director and producer Jeff Jensen is a professional rider himself, Stunt Man and Stunt Director, having worked on dozens of major action films including Harley-Davidson & The Marlboro Man, Speed, Total Recall, Robo Cop and recently 16 Blocks staring Bruce Willis..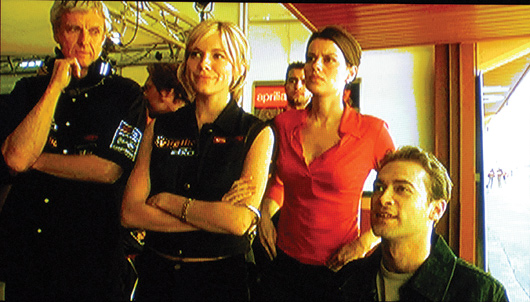 Filmed on location at the tracks and races of the SBK World Superbike Championship, High Speed stars beautiful British actress Sienna Miller in an action packed, thrilling romance drama love triangle where her two boy friends are on the same factory team fighting for the SBK World Superbike Championship. As a sportbike enthusiast and Hollywood stunt director himself, Jensen delivers some of the most exciting on bike camera race action and crash scenes that have ever been created. Critics call High Speed one of the best motorsports movie dramas ever, comparable to the classics: "Grand Prix" staring James Garner, and "Le Mans" with Steve McQueen.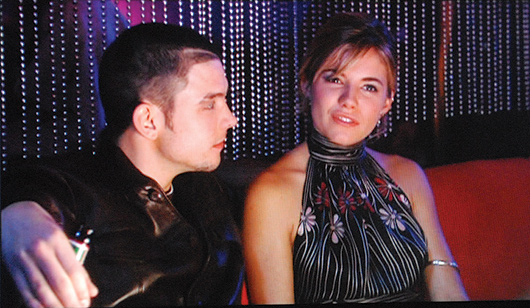 Andrew chats up his secret love Sienna Miller at a club, but Sienna loves his best friend and team mate Paul Nichols.

The story is about Raphael (Andrew Lee Potts) and Ruben (Paul Nichols) who are life long friends and team mates in the fast paced arena of World Superbike Racing. During a Championship race, Ruben crashes directly in front of Raphael who runs over his friend, paralyzing him for life. Could Raphel have avoided his best friend or was winning the most important thing? Raphael is suspended from racing by the FIM pending an investigation.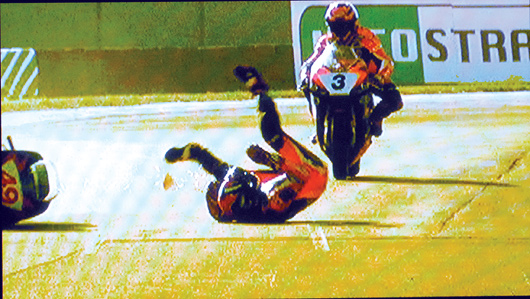 Above: Paul Nichols, in a hard fought race, crashes just in front of his best friend and team mate Andrew Lee Potts who can't avoid hitting him, or could he? Below: Sienna Miller comforts Paul in the hospital, who is now paralyzed.
During this time he has to come to grips with his actions, his secret love for Ruben's beautiful girlfriend (Sienna Miller - "Layer Cake" "Factory Girl" "Casanova") and whether he will ever return to racing. Having a fling with the team's sexy PR manager (Claudia Pandolfi), saving his father from illegally gambling on his racing and from thug debt collectors doesn't't make Raphael's life and decisions any easier.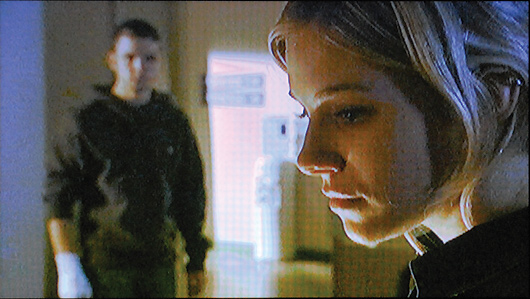 Andrew Lee Potts has to confront Sienna Miller at the hospital, the girlfriend of his best friend who he ran over in the race
The movie includes some incredible real World Superbike race footage including this crash between Troy Bayliss and Regis Laconi that was one of the most frightening pieces of race footage ever seen.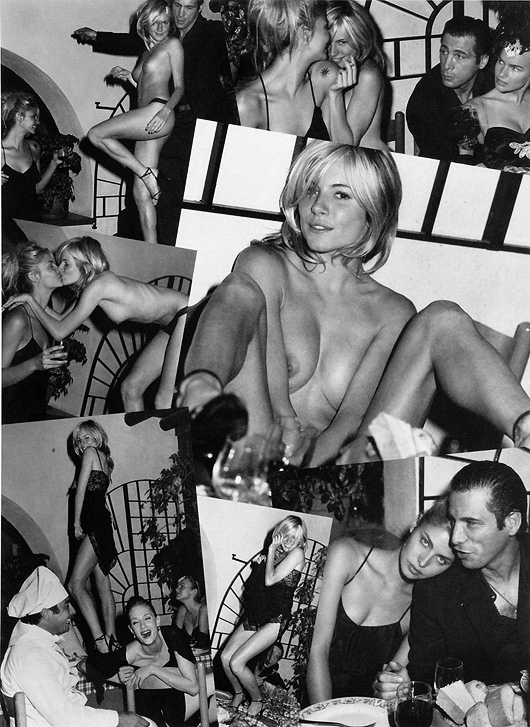 The Pirelli Calendars
Complete Works 1964-2007

Sienna Miller in the Pirelli Calendar 2003!
Just in case you missed it, our beautiful actress Sienna Miller featured in the movie High Speed, also appeared topless in the famed Pirelli Tire Calendar, both photographed around the same time in 2002. The sexy Pirelli Calendar was photographed on the French Rivera, and features Sienna getting wild, drunk and naked, dancing on table tops and getting in on a little girl/girl action with the other supermodels models in the Calendar.

If you knew someone at Pirelli, you might have gotton a copy of their very expensively produced calendar. You can, however, buy the new Pirelli Calendars book containing all the photos from this and all the other Calendars.
Click on the Book Cover at Left to Order Now!
---

Click to go BIG. Night Moves: Casey gets the Ducati GP08 airborne at Losail under the night time lights in a record breaking run. This is one of the few times we'll ever see the team bikes in full Marlboro logo livery due to the strict anti-tobacco laws in Europe and the USA.
2008 MotoGP World Championship / Commercialbank Grand Prix of Qatar
Casey Stoner Shines in the Dark at Qatar MotoGP Season Opener
Losail International Raceway, Qatar, Sunday Mar 9th - Casey Stoner savoured the Australian national anthem with his eyes firmly closed under the bright lights of Qatar after taking victory in the first night race in the history of the sport. The MotoGP World Champion started the defence of his title from fourth on the grid and had dropped to fifth by the end of the first lap, before charging through to set up a stirring battle with Valentino Rossi and Jorge Lorenzo.
The Spanish rookie who started from Pole in his first ever MotoGP race proved to be the most difficult obstacle between Stoner and his eleventh career MotoGP win as Lorenzo lead the opening laps with Dani Pedrosa and Valentino Rossi, but by the eighth lap Stoner was in control and little by little he opened an insurmountable gap.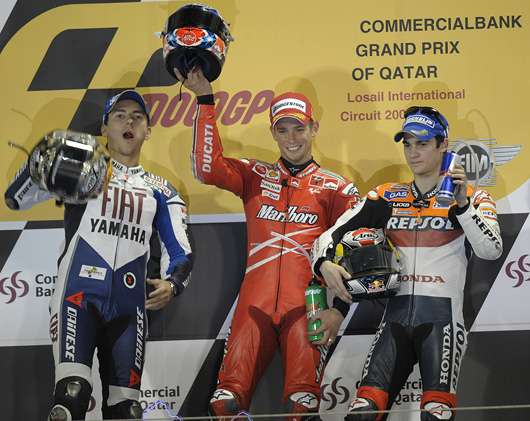 Stoner on top with Lorenzo (left) amd Pedrosa (right).
CASEY STONER - 1st (Ducati Marlboro Team) - "That was a fantastic race and I really enjoyed it - it was like being back in 125s! The first few laps were really hectic, there were guys bashing fairings and I just tried to stay out of the way. When I got my chance to get through I took it and from there I just focused on setting my pace. Jorge rode brilliantly - it wasn't an easy race by any means, especially at the start. Over the first few laps I was struggling a bit for grip but then the tyres got up to temperature and improved. We knew we had a pretty good package for the race but obviously we couldn't be sure that things would go as well as that. I want to say thanks to everybody at Ducati for a great job, my team, the guys at Bridgestone... Thanks everybody."
Complete Qatar MotoGP Coverage HERE
---

Matt Mladin wins the 15 Lap Daytona Side Show Superbike race.

Mladin and Spies Dominate Daytona Superbike
Daytona International Speedway, FL, Saturday March 8th: The season kick-off to the 2008 AMA Superbike Championship, the now anti-exciting Daytona Superbike 15 Lapper, went down as expected with team Yoshimua Suzuki's riders Matt Mladin and reigning Superbike Champion Ben Spies, taking their 1-2 wins as expected. Not expected was Mladin having to take the lead from new team mate Tommy Hayden who had qualified 3rd on the potent Yoshimura GSXR1000s,but once Mladin passed him, Matt was never contested.
The victory was a record-extending 64th of Mladin's illustrious AMA Superbike career.
Complete Daytona Superbike and Formula Xtreame Coverage Here
Superbike Qualifying
1 Mat Mladin 1:35.759
2 Ben Spies 1:35.967
3 Tommy Hayden 1:36.061
4 Jason DiSalvo - YAM 1:36.340
5 Eric Bostrom - YAM 1:36.611
6 Jamie Hacking 1:36.785
7 Roger Lee Hayden 1:36.886
8 Aaron Yates 1:37.553
9 Miguel Duhamel 1:37.682
10 Neil Hodgson 1:38.424
Superbike Results
1. Mat Mladin (Suzuki)
2. Ben Spies (Suzuki)
3. Jason DiSalvo (Yamaha)
4. Tommy Hayden (Suzuki)
5. Jamie Hacking (Kawasaki)
6. Aaron Yates (Suzuki)
7. Neil Hodgson (Honda)
8. Roger Lee Hayden (Kawasaki)
9. Blake Young (Suzuki)
10. Geoff May (Suzuki)
---
Nico Bakker Grizzly
A GSXR1000 Powered Ultimate Dual-Purpose Kit Bike! Click for Big Picture

Do you have an old GSX-R 1000 that looks a little tired? Tired of playing Boy Racer and want the ultimate dual-purpose bike that's comfortable to ride? Let Bakker Frames put that Japanese superbike engine into one of these Bakker Grizzly All-Round frame kits and you'll have an adventure touring machine that will make short work of most other factory offerings. Guaranteed to blow your buddy's anemic BMW R 1200GS in the weeds!
Nico Bakker has put together an impressive kit that's about 420 pounds ready to ride, including cases! Top speed is 160 mph. You get a Bakker chrome moly frame, Akrapovic exhaust, Marzocchi 50mm fork, Ducati wheels, hand made aluminum tank and fairing and the whole package looks really slick!
Nico Bakker's design goals were:
1. As light and compact as possible constructed motorcycle, to ensure optimal handling.
2. Sturdy enough to withstand a small crash.
3. Sportive characteristics with accompanying power to handle on / off-road conditions.
4. A wide power and torque curve.
5. Comfortable driving position for two persons.
6. Sufficient possibilities to store luggage for two persons, during long to extreme long trips.
7. All parts used need to be solid, reliable and well available in the market.
8. Safe and supply sufficient protection for both driver and passenger against the elements.
9. A 4-cylinder engine that will distinguish this bike in the dual purpose market.
Other motorcycles in this same segment as the Bakker Grizzly Most other dual purpose are equipped with a 2-cylinder engine, which this Grizzly will leave behind in the dust.
For additional information: http://www.bakker-framebouw.nl
---
Taylor Swift's New Video - Picture to Burn • More Tayor in Chicks That Kick Ass!
Taylor Swift - Special Edition CD and DVD
This is a must have new 2-disc set, featuring on the music CD the origional 11 songs from Taylor's initial albulm release, plus 3 all-new songs - I'm Only Me When I'm With You, Invisible, and A Perfectly Good Heart. The song Invisible, which we heard Taylor perform at her live concerts this past summer, is sure to reach the Top Ten Singles Charts if and when it is released on its own. Also included here is a separate DVD with all 3 of Taylor's hit music videos, the behind the scences making of the videos, home movie taken and edited by Taylor, and a excellent GAC TV 22-min documentary made in 2006 on Taylor's self driven rise from an 11-year old schoolgirl to the hottest new singer songwriter in music today
---
There's more! Go to Pit Lane News NEXT PAGE

Hot Calendar Girl and Bike News! Go to: Fast Dates • Calendar Girls • Iron & Lace

Calendar Kittens, The Paddock Garage, Screensavers, Iron & Lace Garage




Many of our Calendar Kittens can also be seen at Playboy's website...


BikerKiss.com - the largest biker personals site!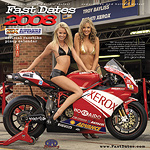 Almost Sold Out!
16-month Calendar starts Sept
2008 Fast Dates &
Garage Girls Calendars

---
Members Only Preview!
2009 Fast Dates Calendar
Join our Members Corner today at get an exclusive look at the upcoming 2008 Fast Dates calendar now, before its public release at our big LA Calendar Motorcycle Show July 12-13th!
Featured are full-size 15 inch calendar screensaver pages for your monitor with the top bikes of the 2007 SBK World Superbike and MotoGP World Championship with our beautiful Calendar Kittens. Also includes all our current 2008 and past years Calendars !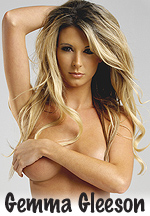 WHAT DID THE EASTER EGG SAY TO THE BOILING WATER.... IT'S GONA TAKE A WHILE TO GET ME HARD... I JUST GOT LAID BY SOME CHICK....
Happy Easter! - Gemma
---
AMA selects Daytona Motorsports Group to sell and manage professional motorcycle racing series
The AMA announced today that the Association has entered into an agreement in principle to sell the sanctioning, promotional and management rights for its AMA Pro Racing properties to the Daytona Motorsports Group (DMG), based in Daytona Beach, Florida.
Led by Roger Edmondson, the founder of the CCS motorcycle racing series and currently the President of the Grand American Road Race Series LLC, and Jim France, Vice Chairman/Executive Vice President of NASCAR, DMG will assume responsibility for the AMA Superbike Series, the AMA Motocross Series, the AMA Flat Track Series, the AMA Supermoto Series, the AMA Hillclimb Series and ATV Pro Racing. The agreement in principle does not include the AMA Supercross and AMA Arenacross Series, the rights to which are held by Live Nation. Daytona Motorsports Group will license the use of the AMA name and trademarks to promote their motorcycle racing activities.
"For as long as I can remember, the AMA name has been synonymous with professional motorcycle racing in America," said France. Added Edmondson, "Our goal is to guide the sport into the mainstream of American culture and showcase the extraordinary abilities of the competitors and their teams."
"We are honored to be working with the Daytona Motorsports Group," said AMA President and CEO Rob Dingman. "This group of individuals have supported the AMA and motorcycle racing for decades. There isn't a better-resourced or more qualified entity in which to entrust the future of AMA Pro Racing."
The agreement between the AMA and DMG came as a result of an RFP (request for proposal) process undertaken by the AMA in September, 2007 to seek promotional partners for its professional racing series. The AMA will continue sanctioning amateur motorcycle racing and club activities.
"Today is a great day for professional motorcycle racing and for the AMA," Dingman said. "By placing AMA Pro Racing in the hands of people with a proven record of excellence in motor sports organization and promotion in a fashion similar to our successful partnership with Live Nation, the AMA will be able to focus its resources on its core mission to be a member advocacy organization."
Editors Note: The good and bad news in all of this is the fact that Bill France has made NASCAR the most successful motorsports series in America using fully regulated spec cars and controling the outcome of races with rules restrictions and yellow caution flags to intentionally bunch up the field. Its not about racing, its about the "Show".
. The bad news is the France Family owns major stockcar facilites like Daytona International Speedway that are not safe, not inducicive, and not homologated to race FIM approved World Championship races at. The big question is, will France continue to bastardize roadracing like he has at Dayrona with the now 600cc Formula Xtreame 200 Miler feature race, or will he spend millions to redesign his tracks to meet FIM standars and allow the running of FIM World Superbike and MotoGP bikes?
And as far as Motocross, Supermoto, et all, neither France or partner Roger Edmonston have any experience or interest in these motorcycle racing deciplines, at all. It definelty will be interesting to see what happens to professional motorcycle racing in America in the coming years. - Jim G.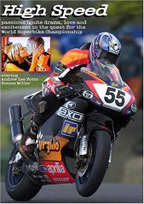 Just Released!
High Speed - the Movie
The best motorcyce racing movie ever made! Filmed on location at World Superbike, this an exciting romantic drama staring beautiful actress Sienna Miller.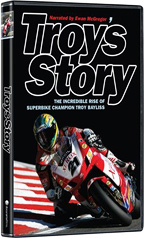 Troy's Story
The story of 2-Time World Superbike Champion Troy Bayliss narrated by Ewan McGreggor
Hot New Book!
---
Qatar to host MotoGP
until 2016
March 7th - In a busy press conference on the opening day of the new MotoGP season Dorna CEO Mr Carmelo Ezpeleta and QMMF President Nasser bin Khalifa Al-Attiyah jointly announced the extension of the contract between the two parties which will see Grand Prix racing at Losail International circuit until at least 2016.
As history was made with the Commercialbank Grand Prix of Qatar commencing under the desert circuit's newly installed floodlight system on Friday evening, it was a suitable occasion for the MotoGP rights holders and the Qatari federation to cement their relationship with their continued agreement – which saw the first GP in Qatar in 2004.
A delighted Mr. Al-Attiyah commented, "We are very proud to announce this deal and we look forward to welcoming MotoGP to Qatar in the years to come. This is an important day for Qatar, for our federation and for the development of motorsport in our region. I want to thank Mr Ezpeleta for the confidence that Dorna have shown in us in extending our contract and allowing us to host the first ever night-time Grand Prix."
---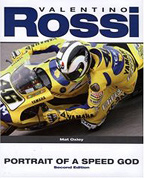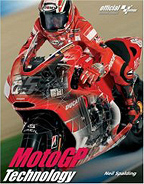 ---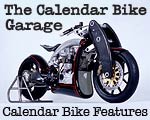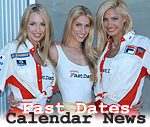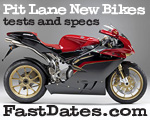 ---


NEW! FastDates.com
Cell Phone Wallpapers!
---
Sands vs. Rooke
Calendar Bike Build Off
See the world's two hottest custom sportbikes featured in the 2008 Fast Dates and Iron & Lace Calendars being built and raced by Roland Sands and Jesse Rooke for Discovery Channel's Biker Build Off
Roland Sands builds the
KR Tracker Calendar Show Bike
New Blood DVD
features Roland Sands building and riding the extraordinary Roland Sands Design / Kenny Roberts KR 990cc 5-cylinder MotoGP powered Retro Board Track Racer. The bike is also featured in the 2008 Fast Dates race bike and Iron & Lace custom bike Calendars with beautiful Playboy Playmate and Calendar Kitten Tamara Witmer in one of our best calendar shots ever and ,featured in the LA Calendar Motorcycle Show advertsing campaigns
and T-Shirt.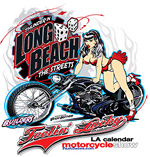 Order the Official
LA Calendar Bike Show
T-Shirts!