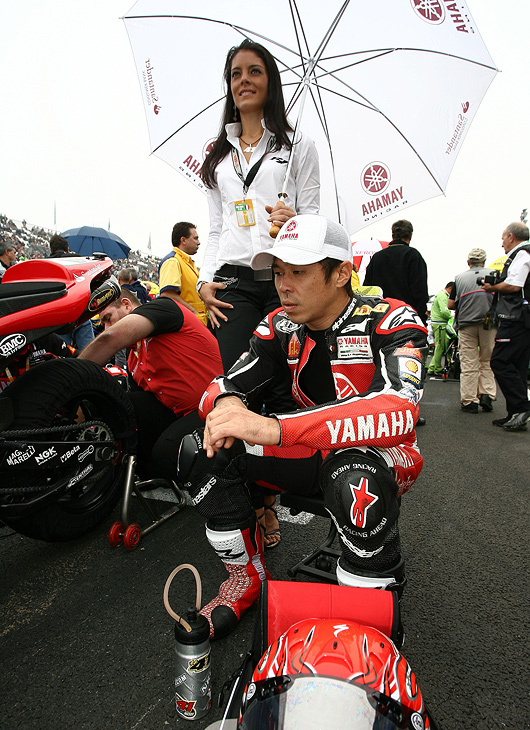 Noriyki Haga did all he could do to close the gap on Toseland.

2007 SBK World Superbike Championship Finale, Magny Cours, Round 13 of 13

King James Claims the 2007 World Superbike Title!
Bridesmaid Again -Haga Wins Both Races at Magny Cours finale
finishing just 2-points behind Toleland!
Magny Cours, France, October 5-7th - Long-term championship points leader James Toseland (Hannspree Ten Kate Honda CBR1000RR) suffered another disasterous race weekend to the end of the season with an off course excersion in Race One, and a dismal 5th in Race Two. Former 2001 World Championship runner-up Noriyuki Haga (Santander Yamaha Italia R1) did all he could do to close the huge 2nd place points gap between he and Toleland going into the final round at Magney Cours in France. And despite Haga's determined and valiant rides in winning both of Sunday's races, Haga's best was still just 2-points shy in the final tally to prevent the former 2005 World Superbike Champion James Toseland from taking his 2nd World tile in 2007.
Long-term championship leader James Toseland (Hannspree Ten Kate Honda CBR1000RR) had to wait until the final race of the 2007 season to secure the title in a championship class he has led since the very first race meeting of the year - and after a dramatic first corner incident in race one put him off track. He restarted absolutely last but made it back through the field to secure seventh in the opener, and in finishing a very safe and secure sixth in race two, he beat Magny Cours double race winner Noriyuki Haga to the title by only two points.
The final championship positions in SBK read Toseland 415 points (and 8 wins), Haga 413 (6 wins), Max Biaggi 397 (3 wins) and Troy Bayliss 372 (7 wins).
This is Honda's first win in the Riders' Championship since Colin Edwards scored the season victory on a Honda VTR1000SP in 2002, and the sixth Honda victory in the Riders' Championship since the championship's inception in 1988. In the Manufacturers' Championship, Honda is joint second, on 439 points.
Yamaha claimed the Manufacturer's Title for the first time after 16 pole positions, 177 podiums and 44 race wins.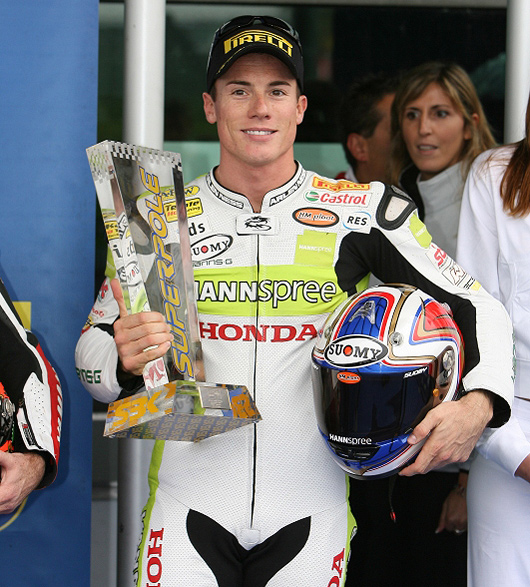 Toseland collects his Superpole trophy on Saturday
Toseland Tops Superpole
Superpole, Saturday October6th - James Toseland will start the final two World Superbike races of 2007 from pole position taking first place with a 1:38.501 lap in Superpole. Max Neukirchner – riding Yukio Kagayama's Alstare Suzuki – was second on 1:38.524, with Troy Corser (1:38.624) third and Nori Haga (1:38.897) fourth. Lanzi (1:38.955) was fifth, Biaggi (1:38.982) sixth, Bayliss (1:39.174) seventh and Laconi (1:39.638) eighth.
Tenth in qualifying Max Biaggi was one of the biggest improvers and the first rider of the weekend to lap below 1:39. Seventh placed Toseland responded and although Corser, Neukirchner and Haga all matched him in the second split, none could beat his overall lap time.
Toseland "To get pole position at my last race in Superbike is a big thank you to everyone who has helped and supported me. Not a bad birthday present to myself either…"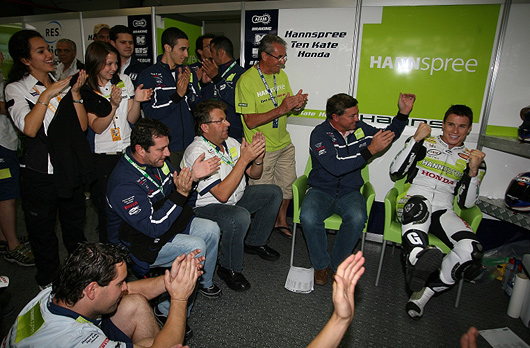 Toseland gets congradulated by the Ten Kate team, and next to him his manager, former racer Roger Burnett.
ENGLISHMAN CROWNED FOR THE 2nd TIME, BUT BY ONLY TWO POINTS
James Toseland (Hannspree Ten Kate Honda) secured the 2007 World Championship by a scant two points after another luckless raceday threatened to rob him of his hard won championship at one stage.
Early fog at the track took an age to clear and the first few races were delayed, jangling the nerves of all three potential championship winners. In the first race, a collision with Lorenzo Lanzi (Ducati Xerox) saw Toseland dead least after the first few corners, while one of his main championship rivals, Noriyuki Haga (Yamaha Motor Italia) scorched away to the first of two wins.
Going into race two Toseland rode sensibly behind the leading bunch to record a sixth place finish, and the ten points he gained for that position gave him a final season total of 415, to Haga's 413. Toseland thus gasped over the line to his second title win, but with eight race victories to his credit in 2007, one more than any other rider this year, his strong early season work ensured he would get his final reward, and the accolades of the 75,000 weekend crowd. Biaggi finished the season third on 397 points, Bayliss fourth on 372, and Corser fifth on 296.
Toseland was understandably as relieved as he was happy to secure his second championship, having enjoyed such an expansive championship lead at one time, only to see bad luck and small errors punished harshly in the last few races.
"It's about time!" said Toseland from the same venue he wrapped up his first world title at in 2004. "I have led the championship from Qatar and what an incredible championship it has been. I think this has been the best World Superbike season I have ever experienced and I have been riding in the series for seven years now. The standard of riding has been incredible and I have enjoyed battling with all of them – Bayliss, Corser, Biaggi, Haga – the list goes on. I have been pushed to the absolute limit and to win the championship by just two points is unbelievable."
Toseland was also happy to show that his fighting spirit has been unbowed by his recent misfortunes, and he went all out in Superpole to show he was the fastest rider on track, and unafraid to take risks.
"To get pole position and the title at my last Superbike round is great," said Toseland who set a new track best in Superpole of 1'38.501. "This is what I live for, it's what really matters to me and I wanted it so much. This is my way of saying thank you to everyone who has supported me through my Superbike career. I can leave for MotoGP with my head held high and the knowledge that I gave this championship my all until the very last race."
Hannspree Ten Kate Racing Team Owner Gerrit Ten Kate was understandably emotional about his team winning both Supersport and Superbike championships in 2007, and praised all involved.
"I am of course very proud of all my guys, without my team I cannot do anything," said Ten Kate, who earlier in the year watched Kenan Sofuoglu win Honda and Ten Kate their sixth consecutive championships. "It shows again that a private team, with good support from a manufacturer, can win. You do not always need to have full factory support behind you. Of course we have good support from Honda and we are very grateful for it. I never thought that when we started in Thunderbike and Supersport racing all those years ago we would win two championships in one season. We are simple guys, with our feet on the ground. We tried our best, we will celebrate tonight, but then we will be focused on next year. Next year we will still be strong."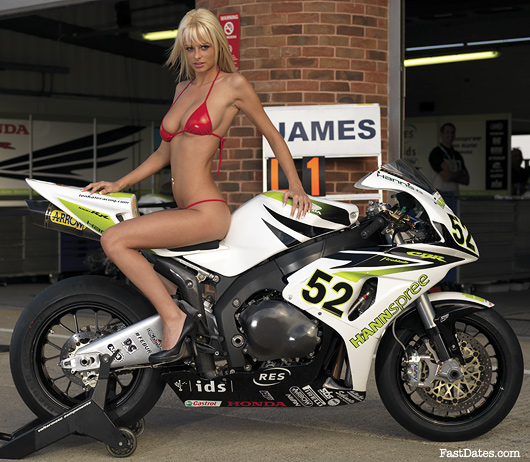 Fast Dates World Superbike Calendar Kitten Rhian Sugden got to shoot with Toseland World Championship winnin Ten Kate Hannspree CBR100RR bike for next year's Fast Dates Calendar. Fast Dates Calendar News
Outgoing World Champ Troy Bayliss (21) fights with another former World Champion, fellow Australian Troy Corser (11).
Hagga Close on Toseland with Race One Victory
Noriyuki Haga has won the first World Superbike race at Magny Cours, putting himself back into contention for the championship after Max Biaggi finished sixth and James Toseland finished seventh. Troy Bayliss was second, Troy Corser third, Max Neukirchner fourth and Fonsi Nieto fifth.
A dramatic start to the first race, much delayed because of heavy fog, saw Toseland and Lanzi clash on the entry to turn one, Lanzi fall, Toseland pushed off track and Biaggi also being held up in the melee. Up front Haga made a clean start and led every lap bar the first, with Troy Bayliss (Ducati Xerox) eventually 2.7 seconds down in second place. Troy Corser (Yamaha Motor Italia) was hot on his compatriot's heels after a sometimes-tactile battle between the former world champions. Max Neukirchner (Alstare Suzuki Corona Extra/Suzuki Germany) scored a fantastic fourth and looked set for a podium for much of the race. Fonsi Nieto's (PSG-1 Kawasaki Corse) top five finish was as unexpected as it was welcome by the neutrals, and made it four different bikes in the top five. Biaggi was sixth, Toseland seventh in the race.
Toseland had dropped to last place on the first lap after tangling with Lorenzo Lanzi and running off the track. Biaggi was 15th after a poor start, and he and Toseland were forced to climb back through the field as Corser, Haga and Neukirchner stretched away at the front. Bayliss pushed his way through to third on lap 16 and then second on lap 20 but Haga was uncatchable at the front.
The result leaves Haga 17 points behind Toseland in the championship with 25 points up for grabs in race 2.
SUPERBIKE Race 1: (Laps 23 = 101,453 Km)
Pos / Rider / Nat. / Team / Time / Gap
1 / N.HAGA / JPN / Yamaha Motor Italia / 38'33.762 /
2 / T. BAYLISS / AUS / Ducati Xerox Team / 38'36.532 / 2.770
3 / T. CORSER / AUS / Yamaha Motor Italia / 38'37.497 / 3.735
4 / M.NEUKIRCHNER / GER / Suzuki Germany / 38'42.332 / 8.570
5 / F. NIETO / ESP / Kawasaki PSG-1 Corse / 38'46.687 / 12.925
6 / M.BIAGGI / ITA / Alstare Suzuki Corona Extra / 38'47.045 / 13.283
7 / J. TOSELAND / GBR / Hannspree Ten Kate Honda / 38'50.157 / 16.395
8 / R. XAUS / ESP / Team Sterilgarda / 38'56.343 / 22.581
9 / R. LACONI / FRA / Kawasaki PSG-1 Corse / 38'56.590 / 22.828
10 / R. ROLFO / ITA / Hannspree Ten Kate Honda / 39'06.491 / 32.729
11 / S. NAKATOMI / JPN / Yamaha YZF / 39'12.067 / 38.305
12 / K. MUGGERIDGE / AUS / Alto Evolution Honda / 39'27.447 / 53.685
13 / Y. TIBERIO / FRA / Alto Evolution Honda / 39'27.561 / 53.799
14 / M.FABRIZIO / ITA / D.F.X. Corse / 39'27.677 / 53.915
15 / G.DIETRICH / FRA / Alstare Suzuki Corona Extra / 39'30.236 / 56.474
Fastest Lap 4° Max Neukirchner 1'39.844 159,044 Km/h

Noriyki Haga did all he could do to close the gap on Toseland.
Haga Repeats in Race Two, Toseland secures Title by just 2 Points
Noriyuki Haga has won World Superbike race 2 at Magny Cours in dominant fashion in front of the 75,000 strong Magny Cours crowd, leading from start to finish. Max Biaggi was second in the race, ahead of Fonsi Nieto and Troy Corser, whose battle went all the way to the flag, with Troy Bayliss finishing fifth.
A much less busy race two was nonetheless a tense affair, with only Haga and Toseland able to win the title, but either was on course to lose it should they crash or break down. Haga was imperious at the front once more, scoring his second double of the season, to record six race victories in total. Biaggi was second, while Nieto showed his true credential to record his first podium of the year, scoring a brilliant and highly combative third after a sometimes-harsh fight with Corser. Toseland fought with Bayliss for a short time, but decided to let the Ducati rider go and concentrate on doing enough to win the title. With Lanzi missing the second race, and Ruben Xaus (Sterilgarda Ducati) posting an eighth and a tenth place finish, the Spaniard was overall sixth, on 201 points. Lanzi and Rolfo tied on 192 points, with Roberto Rolfo (Hannspree Ten Kate Honda) finishing the season with a tenth and a seventh. In the Manufacturers' Championship Yamaha finished with 467 points, Honda and Ducati both have 439, and Suzuki 419.
James Toseland finished the race in a hard fought sixth place to win the 2007 World Superbike Championship with just two points advantage over Haga.
Race 2: (Laps 23 = 101,453 Km)
1 / N.HAGA / JPN / Yamaha Motor Italia / 38'35.353 /
2 / M.BIAGGI / ITA / Alstare Suzuki Corona Extra / 38'38.871 / 3.518
3 / F. NIETO / ESP / Kawasaki PSG-1 Corse / 38'44.495 / 9.142
4 / T. CORSER / AUS / Yamaha Motor Italia / 38'44.610 / 9.257
5 / T. BAYLISS / AUS / Ducati Xerox Team / 38'48.178 / 12.825
6 / J. TOSELAND / GBR / Hannspree Ten Kate Honda / 38'54.669 / 19.316
7 / R. ROLFO / ITA / Hannspree Ten Kate Honda / 38'56.347 / 20.994
8 / R. LACONI / FRA / Kawasaki PSG-1 Corse / 38'57.805 / 22.452
9 / M.FABRIZIO / ITA / D.F.X. Corse / 38'57.858 / 22.505
10 / R. XAUS / ESP / Team Sterilgarda / 39'03.705 / 28.352
11 / K. MUGGERIDGE / AUS / Alto Evolution Honda / 39'19.686 / 44.333
12 / Y. TIBERIO / FRA / Alto Evolution Honda / 39'23.430 / 48.077
13 / G.DIETRICH / FRA / Alstare Suzuki Corona Extra / 39'58.660 / 1'23.307
14 / L. MORELLI / ITA / D.F.X. Corse / 39'59.179 / 1'23.826
15 / D. ELLISON / GBR / Team Pedercini / 40'12.984 / 1'37.631
Fastest Lap 3° Max Biaggi 1'40.040 158,733 Km/h
Lap record: 2007 M. Neukirchner 1'39.844 159,040 Km/h
Best Lap: 2007 J.Toseland 1'38.501 161,210 Km/h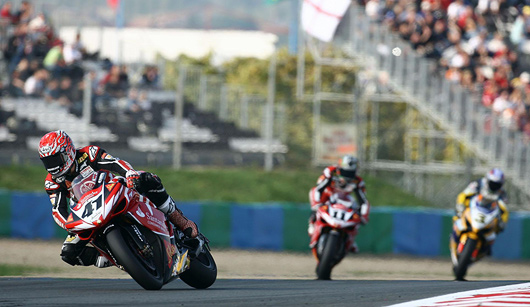 Haga ahead of Yamaha teammate Corser and Suzuki's Max Biaggi.

Nobody could have asked for more from Haga as he led both races from start to finish, claiming his second double win of the season; the first being at Monza. Corser also put in a sterling performance during the day, battling with Neukirchner and Bayliss in race one and Biaggi and Nieto in race two, to take third and fourth.
Haga's double win was bittersweet as the rider ended the day just two points off the championship title. This is the third time Noriyuki has finished second in the championship. Corser's results today means he finishes the 2007 season in fifth place and today saw him take the record for the highest number of WSB race starts ever with 276 – one ahead of Pierfrancesco Chili.
Noriyuki Haga (1st and 1st – Yamaha Motor Italia WSB Team)
"In race one I couldn't see what was happening behind but my pit board was telling me so I built up as much gap as possible to try and stay out of the battles going on. My heart was definitely beating faster though! For race two I didn't change anything on the bike and I just tried my best.
I'm disappointed with second in the championship, who wouldn't be with a gap of just two points! But I'm happy. I've enjoyed fighting with all the riders in the championship this year. The last few races have been really good, from a results point of view; I'll just have to try harder next year. It's been good working with Troy this year, we get on well and I'm looking forward to developing the bike further with him next year. I'd like to thank the team for all their efforts and congratulations to James on winning the championship."
Troy Corser (3rd and 4th – Yamaha Motor Italia WSB Team)
"I got a great start in race one; my aim had been to get in front and just go for the win but Nori was very determined to get in front of me! I wasn't going to risk crashing and taking us both out in order to get back past him. I rode as hard as I could but my front tyre went off during the race so I was unable to hold Bayliss off and he got past. In race two I got off the line well again and I just did my best to hold everyone up!
Overall I'm happy; I set out what I achieved to do today and I'm pleased to have played a part in giving Yamaha the Manufacturers Title."
Massimo Meregalli (Team Coordinator, Yamaha Motor Italia WSB Team)
"Today has been a great day! We did everything that was possible to win and Troy did an excellent job for the team. I'd like to thank both Nori and Troy for their team work and efforts throughout the season. In addition I'd like to thank everyone in the team; they have played an important part in our championship fight.
Next year we'll be ready from the first race. We won six races this year and got 18 podiums and this is the best result the team's ever had. Honestly, to finish second with a gap of two points leaves us a bit disappointed. Nori has had a fantastic season and in our opinion he didn't lose…"
A New Star is Born for Alstare Suzuki
Max Neukirchner (Alstare Suzuki Corona Extra/Suzuki Germany) was a revelation in race one to score fourth in race one, but pushed his front too hard in race two and fell. He was replacing Yukio Kagayama (Alstare Suzuki Corona Extra) who was unable to ride due to injury. Neukirchner now finishes ninth overall, with the top ten being rounded out by local hero in France, Regis Laconi (PSG-1 Kawasaki Corse), after he scored a ninth and an eighth place. He had to fight off a serious challenge in the final race by the man he demoted to 11th overall, Michel Fabrizio (DFX Corse Honda). Nieto's third pushed him up to 12th overall, and Kagayama drops to 13th. Jakub Smrz (Caracchi Ducati) and Shinichi Nakatomi (Yamaha YZF Team) end the season tied on points, 66 apiece. Two good finishes today, in 12th and 11th, put Karl Muggeridge (Alto Evolution Honda) 16th, on 62 points.
2007 Final Riders Championship Standings:
1 TOSELAND 415, 2 HAGA 413, 3 BIAGGI 397, 4 BAYLISS 372, 5 CORSER 296, 6 XAUS 201,
7 LANZI 192, 8 ROLFO 192, 9 NEUKIRCHNER 149, 10 LACONI 137, 11 FABRIZIO 132,
12 NIETO 125, 13 KAGAYAMA 116, 14 SMRZ 66, 15 NAKATOMI 66.
2007 Manufacturers Standings
1 / YAMAHA / 467, 2 / HONDA / 439, 3 / DUCATI / 439, 4 / SUZUKI / 419, 5 / KAWASAKI / 192, 6 / MV AGUSTA / 1.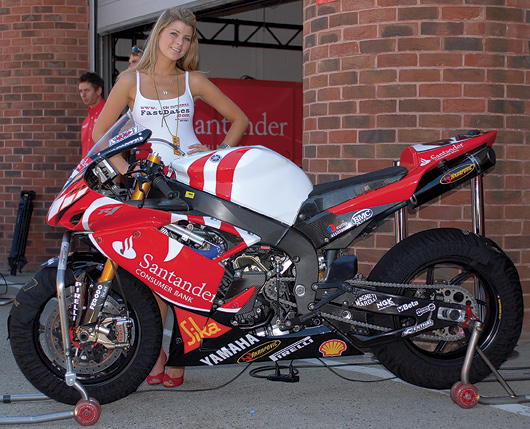 World Superbike Calendar Kitten Gemma warms up Haga's ultra trick SBK Manufacturer's Championship winning factory Yamaha R1 for the next year's Fast Dates Calendar. Fast Dates Calendar News . Click photo or Here for a bigger image.
Witn James Toseland moving to MotoGP next year, Sofuoglu (above) will move up to take Toselan'd spot on the Ten Kate Honda Superbike team.
Champ Sofuoglu Continues to Steamroller in 600 Supersport
SOFUOGLU DEMOLISHES YET ANOTHER RECORD WITH WIN NUMBER EIGHT
Kenan Sofuoglu (Hannspree Ten Kate Honda CBR600RR) scored the win by 2.7 seconds at Magny-Cours, in a race delayed because of early morning fog at the 4.411km circuit in the centre of France. In taking his eighth victory in 13 attempts, Sofuoglu became the first rider ever to win eight WSS races in a single season, and ended the year with an extended record haul of 276 points.
In qualifying, the Turkish rider scored his fifth pole of the year, and he has now started every 2007 race from the front row of the grid. Just to underline Sofuoglu's weekend of glory, he also set a new lap record of 1'42.740, on lap four, to go with his new absolute Supersport best lap from qualifying, 1'42.057.
Katsuaki Fujiwara (Althea Honda Team CBR600RR) had only qualified 12th for the race but in earning an eighth place finish in France he held on for fourth place in the championship, with a total of 101 points. Craig Jones (Honda CBR600RR) was third in the Magny-Cours race, behind Broc Parkes, and in doing so Jones has now secured fifth place in the title fight, with 94 points in total.
Sebastien Charpentier (Hannspree Ten Kate Honda CBR600RR) had qualified third and was as high as fifth in the race, but pulled in to retire after slowing once more in the middle of the 22-lap run. He ends an unhappy year with 51 points, in 11th place.
Lorenzo Alfonsi (Althea Honda Team CBR600RR) had to start from 27th place on the grid after a crash affected his final qualifying push, and he ended his last race of 2007 in 17th place. His championship position of 15th, was not helped by three no-scores.
In the Manufacturers' Championship Honda ended a successful season with a total of 296 points, 68 clear of second place.
Sofuoglu's win was not without risk at some points, but the champion had it all under control at the end of 22 laps. "I lost the front half way through and just a managed to hold on to the bike, but it was very close!" said Sofuoglu. "I didn't push too hard in the first few laps because I know that I can be strong at the end of the race. I followed Broc and waited for the right time to pass. After I nearly crashed I thought I had better take it easy so I waited a few more laps before trying to overtake again. It was a big ambition of mine to win here and to get the record for the most Supersport wins in a season. I am really happy to end this season on top before I go into World Superbikes next year."
Charpentier ended yet another race sliding down the order as the laps clicked by, leaving him disappointed after such a strong qualifying showing. "It has been an unlucky season overall," said the 2005 and 2006 World Champion. "I really wanted to end things on a good note. Unfortunately it wasn't meant to be. I tried my best and I want to thank the team for the support they have given me this year and throughout my career."
Fujiwara battled hard for his top ten race finish, especially as he is still in pain from a previous injury to his left foot and ankle. "I made a good start, but after only three laps the pain really started in my left leg," said Fujiwara. "I realised then that I just had to ride to get to the finish at a good pace and keep fourth position in the championship. The last five laps were very hard but we kept fourth overall, and that was important for both the team and myself."
RESULTS SUPERSPORT: RACE: (Laps 22 = 97,042 Km)
Pos /Rider /Nat. /Team / Time /Gap
1 / K. SOFUOGLU / TUR / Hannspree Ten Kate Honda / 37'55.892 /
2 / B. PARKES / AUS / Yamaha World SSP Racing / 37'58.686 / 2.794
3 / C. JONES / GBR / Revè Ekerold Honda Racing / 38'07.027 / 11.135
4 / G.VIZZIELLO / ITA / RG Team / 38'07.443 / 11.551
5 / T. HILL / GBR / Yamaha World SSP Racing / 38'08.251 / 12.359
6 / D. CHECA / ESP / Yamaha - GMT 94 / 38'12.365 / 16.473
7 / J. BROOKES / AUS / Stiggy Motorsport Honda / 38'13.753 / 17.861
8 / K. FUJIWARA / JPN / Althea Honda Team / 38'17.911 / 22.019
9 / G.LEBLANC / FRA / Vazy Racing Team / 38'18.432 / 22.540
10 / M.ROCCOLI / ITA / Yamaha Lorenzini by Leoni / 38'18.532 / 22.640
11 / S. GIMBERT / FRA / Yamaha - GMT 94 / 38'19.426 / 23.534
12 / A. TODE / GER / Stiggy Motorsport Honda / 38'25.372 / 29.480
13 / S. SANNA / ITA / Racing Team Parkalgar / 38'35.990 / 40.098
14 / K. FORAY / FRA / Intermoto Czech / 38'36.175 / 40.283
15 / D. PERRET / FRA / Scratch Moto Racing Team / 38'38.774 / 42.882
Fastest Lap 4° Kenan Sofuoglu 1'42.740 154,561 Km/h
Lap record: 2006 K.Sofuoglu 1'43.429 153,530 Km/h
Best Lap: 2007 K.Sofuoglu 1'42.057 155,600 Km/h
Final Riders Championship Standings:
1 SOFUOGLU 276, 2 PARKES 133, 3 FORET 128, 4 FUJIWARA 101, 5 JONES 94,
6 ROCCOLI 90, 7 HARMS 83, 8 VENEMAN 70, 9 WEST 66, 10 VIZZIELLO 60,
11 CHARPENTIER 51, 12 CHECA 50, 13 NANNELLI 49, 14 LAGRIVE 46, 15 ALFONSI 45.
Manufacturers Standings
1 / HONDA / 296, 2 / YAMAHA / 228, 3 / KAWASAKI / 141, 4 / SUZUKI / 81, 5 / DUCATI / 49
---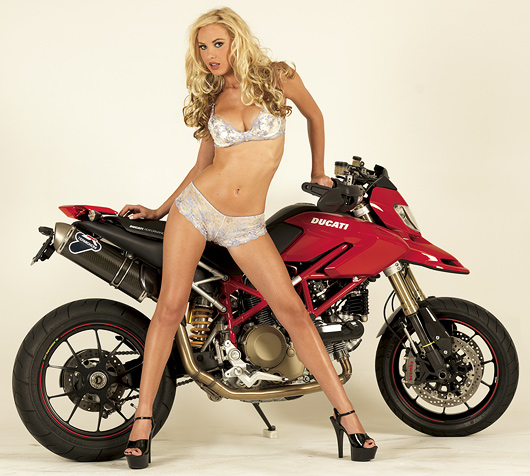 The Ultimate Naked Riding Experience
Ducati Hypermotard R We build the sport's most fun bike

No other motorcycle (other than argueably the Ducati Desmosedici RR MotoGP street bike) has been waited on for so long, with so much anticipation, than the newly released 2008 model Ducati 1080 Hypermotard. Ducati has a way of teasing us years in advance by giving us a preview of their latest prototype concept at bike shows and in the media, and then making us wait 3 years as they guage opinion, decide, design and tool up for production.

The Complete Story with sexy Tiffany Toth Screensavers in New Bikes HERE.
---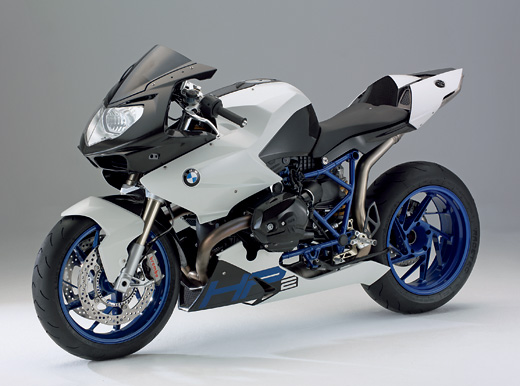 HP2 Sport is the latest edition to the HP2 range of high performance motorbikes from BMW. Their future Superbike may look similar to this, but will still need an all-new watercooled engine to make twice the power need to be competitive in WSB.
BMW to race WSBKs from '09, targets sportsbike sales
BMW unveiled the latest addition to its HP2 line-up of high-performance models at the Mondial du Deux Roues, Paris. The BMW HP2 Sport, based on the company's R1200 S, is the third bike in the HP2 range, and is claimed to be the most powerful and lightest 'Boxer' series on the road yet.
Alongside the launch of the new model, BMW further strengthened its commitment to move into sportsbike sales with the announcement of plans to enter the 2009 World Superbike Championship. Peter Müller, Vice President Development and Model Lines BMW Motorrad, said: "In 2007 BMW returned to road racing after a gap of more than 50 years with the sports Boxer. In 2008 we will continue our activities in the Endurance categorys at the same time though we will be preparing our entry into the Superbike World Championship in 2009."
BMW's sporting intentions can clearly be seen in the specification of the HP2 Sport, which includes carbon fibre bodywork, a MotoGP style dash, Öhlins suspension and radial mount Brembo brake calipers.
The most striking difference on the BMW HP2 Sport is the new cylinder heads. Each of the double overhead camshafts (DOHC) uses a drag lever to actuate the valves that are larger than in the BMW R1200 S. Further modifications such as the flow-optimised intake and outlet, new forged pistons and adapted connecting rod help the engine to achieve the necessary higher output compared to the basic engine.
The new stainless steel exhaust system is placed below the engine for the first time. This keeps the construction of the lower area of the motorcycle extremely slim, enabling great freedom of movement for the familiar 'hanging off' riding.
---
"Nitro Nori" at this year's Suzuka 8HR race in which he raced /w Jamie Stauffer. Running fifth into the last hour, an oil leak dropped them to tenth in overall final standings after having to waste precious moments in the pits in the final stages.
Nori Abe Killed in Steet Bike Accident in Japan
Norifumi "Norick" Abe (Japanese name: ???? - Abe Norifumi or ??????? - Norick Abe) (September 7, 1975 – October 7, 2007)[1] was a Japanese motorcycle road racer.
Norifumi was born to Mitsuo Abe, an Auto Race rider, in Tokyo. When he was eleven, he began racing minibikes, and spent his earlier career competing in motorcross. He turned to road racing when he was fifteen and also competed in the United States. In 1992, he was the runner up in the 250cc category for the domestic National A championship; the following year, at the All Japan Road Race Championship Norick won the 500cc title at the category's final year and became the youngest title winner.
In 1994, while racing in his home championship, he had a chance to race at the 1994 Japanese Grand Prix as a 'wild card' He shocked the field by challenging for the win until three corners from the finish before falling off. His performance impressed Kenny Roberts' Yamaha team, and he was offered two more rides in 500cc championship that year, which yielded two 6th places and an earned him a full-time Grand Prix ride for the 1995 season.

He took his first podium finish in 1995, and his first win and 5th overall a year later. The team he rode for in 1997 was run by another former champion, the paraplegic Wayne Rainey, and Abe took regular points finishes over the next two seasons including four podiums. Nori's 1988 factory Yamaha YZR500 was photographed by Jim Gianatsis with model Taylor McKegney and is featured in the 1999 Fast Dates Calendar.

Norick, when he wasn'r racing enjoyed skiing, snow boarding, downhill mountain biking and poetry.
Nori joined the D'Antin team in 1999, won at Rio that year, and won again at Suzuka a year later, amidst two seasons on less competitive machinery, in which his solid finishing ensured that his 100% record of top 10 championship finishes continued.
However, 2002 was the first year of MotoGP regulations, and Norick did not like these bikes. As such, when D'Antin went over to them for 2003, Norick left the team, and instead acted as a factory test rider and occasional guest racer for Yamaha. He got another chance in the Tech 3 Yamaha team for 2004, but was unsuccessful, and was moved to Yamaha's returning World Superbike squad for 2005. Despite having less support than Noriyuki Haga and Andrew Pitt, he finished in the championship top 10. In 2006 he was less competitive, failing to score a podium. More details on Nori's career are in the right hand column.
For 2007 Nori returned to Japan and was competing in the All Japan Superbike Championship, again on a Yamaha. On October 7, 2007, he was killed in a street accident with a truck, which made a sudden illegal u-turn, while riding a 500cc scooter in Kawasaki, Kanagawa, Japan. God Speed, Nori, and thank you for being an important part of the sport we all love!
---
There's more! Go to Pit Lane News NEXT PAGE

Hot Calendar Girl and Bike News! Go to: Fast Dates • Calendar Girls • Iron & Lace

Calendar Kittens, The Paddock Garage, Screensavers, Iron & Lace Garage



Many of our Calendar Kittens can also be seen at Playboy's website...


BikerKiss.com - the largest biker personals site!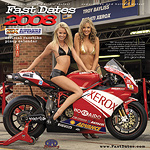 Now Available!
16-month Calendar starts Sept
2008 Fast Dates &
Garage Girls Calendars

---
HANNspree
to become new
Title Sponsor of WSBK
for 2008-2010
Oct 7th - FGSport and HANNspree Europe today signed a three-year agreement, on the basis of which HANNspree become the title sponsor of the World Superbike Championship for the 2008 to 2010 three-year period.
The championship will now officially be known as "HANNspree SBK Superbike World Championship".
This year the Taiwan-based company, one of the world leaders in the production of LCD video monitors, is already present in the World Superbike Championship, both as Official Sponsor of the championship itself and as Title Sponsor of the HANNspree Ten Kate Honda Team, double world champions in 2007 in Superbike with James Toseland and in Supersport with Kenan Sofuoglu.
From next year the HANNspree logo will therefore be present both on the track and in the paddock, with dedicated signage, and on all the promotional material of the championship.
In addition to the championship sponsorship, HANNspree will also become "Presenting Sponsor" of the American Round of the championship at Miller Motorsports Park, Utah next June.
Paolo Flammini, CEO of FGSport, commented: "We are extremely pleased with the agreement that has been reached with HANNspree. We've already had the opportunity to get to know the company this year and together we have shared strategies in order to continue the growth of our championship. HANNspree is a brand that has been able to assert itself throughout the world, with exponential success, and we are certain that we can do great things together".
Franco Scatola, Vice President of HANNspree Europe, added: "We are delighted to have undertaken this adventure with Team Ten Kate and with FGSport in 2007. Our desire for a greater involvement came about even before the fantastic results we have achieved this year: World Superbike and Supersport Champions! A similar result has never before been achieved by the same team in this championship. Now we are ready to begin a new challenge, which we hope will bring even greater success in a clean and exciting sport, the Superbike World Championship, which mirrors our company philosophy: technology, passion and fair-play".
Yamaha confirms its WSB Line up for 2008 continuing with Corser and Haga
Yamaha has today confirmed that Troy Corser and Noriyuki Haga will remain with the Yamaha Motor Italia World Superbike Team in 2008.
A flamboyant and much-loved character, Haga has worked with Yamaha for many years and his WSB career highlights include second in 2000 and third title position in 2004, 2005 and 2006. Currently Haga is fighting for the 2007 title with only 41 points separating him in second place from front man Toseland, having caught up 25 points at the last round in Lausitz. With only two rounds remaining on 30th September (Vallelunga, Italy) and 7th October (Magny Cours, France) Haga is taking the fight for WSB crown all the way to the wire. So far this season he has already won four races, including taking the double win at the team's home circuit of Monza.
This year has been Corser's first season with the Yamaha Motor Italia WSB Team but it has been a fruitful one, with him gaining eight podium positions so far this season. Corser has also had a good and close working relationship with Haga, with the two riders working together to help develop a championship winning machine in the YZF-R1. The two-times World Superbike Champion has 13 years of experience in the class, including 40 pole positions and an impressive 114 podium positions, 33 of which have been race wins.
Noriyuki Haga (Yamaha Motor Italia WSB Team) - "I feel great about how things have worked out, I'm very happy to stay with the Yamaha Motor Italia Team. This will be my fourth year with them; they are such a great team and I feel like I have known everyone for a long time. It's like one big family! I'm pleased to be riding with Troy again next year; I know him quite well and we get along together, which always makes for a good atmosphere in the pit box.
I'm looking forward to repaying Yamaha's faith in me with, hopefully, my first WSB championship title this year and a second one next year! With my position for next year sorted I can now concentrate on chasing the title in the last two rounds. I never give up!"
Troy Corser (Yamaha Motor Italia WSB Team) - "I'm very happy to be staying with the team next year; this year has been a very positive learning experience for me so far. We've made a lot of progress with the bike, the chassis and the suspension and I'm confident we can make further improvements in winter testing. It's not all been plain sailing but that's to be expected when you join a new team and get on a new bike. We've got a good path forward for next year, though, and that's the important thing. Nori and I have worked well this season with good communication between us about the bike and tyres. I'm sure that the close working relationship will strengthen even more during next year."
Laurens Klein KoerKamp (Manager, Yamaha Motor Europe Racing Division) - "We are very pleased to continue with both Nori and Troy next year; both riders are proven front runners and we are confident that, by maintaining the team line-up, Yamaha will be a title candidate in 2008 again. The technical cooperation in development and sharing of set-up information between the riders was another important factor in the continuation of this pairing.
Nori is very much part of the Italian family team and his time with Yamaha means he has become almost at one with the marque. His 'full-attack and never give up' attitude is so motivating for everyone involved in the team, as well as followers all around the world.
Troy just fits in perfectly and is so fired up to get his third title, which motivates the team even more. His experience shows and next year he will have the full benefit of a year's knowledge on the R1 behind him. It's fantastic for Yamaha fans and our network to not only have two fast and spectacular riders, but also two such high profile characters."
Troy Bayliss brings the 999 Era to and End for Ducati Xerox asToseland takes the Title - Lazi Crashes out at Magney-Cours in his final race for the Factory team

Niccilli Canepa Takes SBK Superstock Tite on new generation Ducat 1098

Magny-Cours (France), Sunday 7 October : Troy Bayliss (Ducati Xerox) brought the Ducati 999 era to an end as he finished second and fifth in the final two races of the year in front of 75,000 spectators at Magny-Cours in France. With both wins going to Noriyuki Haga (Yamaha) and the title in the hands of James Toseland (Honda), the 38 year-old Australian concluded the 2007 championship in fourth place on 372 points. Team-mate Lorenzo Lanzi had a disappointing end to his period in the factory Ducati Xerox Team with a nasty high-speed crash at the start of race 1. Lorenzo suffered bruising to his right shoulder, elbow and knee, which forced him to miss race 2. The Manufacturers' title went to Yamaha, with Ducati in second place, but there was satisfaction for the Italian manufacturer today as 19 year-old Niccolli Canepa clinched the FIM Superstock 1000 Cup with the new twin-cylinder Ducati 1098S in its first year of competition.
"I guess it was a little bit up and down today" declared Troy. "It took me a little while to actually get going in race 1 because the guys were going really fast at the start of the race. But I managed to keep the momentum going and started reeling them back in. Our bike's not slow but there are a couple of tracks where we suffer a little bit in acceleration and this is one of them, and when I do make a pass I have to cover the way well otherwise it's a waste of time. I thought I was going to do a better job in the second race, we put a harder front tyre and changed the rear setting a little. It's hard to say if it was better or worse really, I did my best lap on the last one but it was all over by then. I'm happy to have taken the 999 to the end of its career, I've had a great time on it and it's been kind to me...once! And now I'm really looking forward to riding the new bike next year!"
"It was a real pity" declared Lorenzo. "Today I felt really good and I was sure I could have got a couple of good results because I had a really good feeling with the bike. I wanted to make a good start and I did, and I was almost immediately taking Corser for second place. Then I felt the rear go away from me, I thought I had overdone it in the curve but after looking at the replay I realised that James touched me. Unfortunately these things happen, that's racing, I've also touched other riders' wheels when overtaking. Luckily nothing's broken, but I've got some severe bruising which prevented me from taking part in race 2."
Davide Tardozzi, Ducati Corse Superbike Director, added: "We won seven races this year, demonstrating that the 999 is still a competitive bike. Although we lost the title, we know that we could have been in with a chance of winning it. A few too many mistakes during the season unfortunately prevented us from coming to Magny-Cours for the final round with the title still to play for, but we know we've got a great rider and a great bike. Satisfaction however for the Ducati Xerox Junior Team. The 1098 is a winning machine, it won with Niccoli who is a talented young rider and for sure the bike lent a hand. It's a great result!".
Lanzi and Team RG go Ducati 1098 for 2008
Team RG and Lorenzo Lanzi will pair up for the 2008 World Superbike season. The team run by the Gianfardoni family is moving up to the top class with Ducati's 1098, ridden by Lorenzo Lanzi, former team mate of Troy Bayliss.
The former Ducati Corse factory test rider never performed up to Championship contender expectations in the two season he has been paired up with team leader Troy Bayliss. But being an Italian in the good graces of Ducati, and still finsihing the 2007 Championhip in 7th place, has allowed Lanzi to secure a factory 1098R bike with the RG factory satelite team for 2008. No announcement has been made yet as to who will replace Lanzi and be paired with Bayliss on the Ducati Xerox factory team for 2008.
Triumph announces
2008 World Supersport
race team
TRIUMPH has announced its intention to enter a factory-backed team in the 2008 Supersport World Championship.
The new team, racing under the name of Team Triumph-SC, will represent Triumph's first venture into racing in a world series since the company was re-established in Hinckley.
Two riders will be aboard Daytona 675 bikes in the Supersport class, with a further two bikes being ridden in the Superstock 600 European Championship. No riders have yet been confirmed, but rumours suggest a mixture of British and Italian riders.
Based in Bologna, Italy, Team Triumph-SC will be run by Stefano Caracchi. Previously known as 'Ducati-SC', Caracchi's team has a long and successful history of racing Ducatis in World Supersport and World Superbike and is highly regarded in racing circles. For 2008 Caracchi has made the decision to switch from Ducati to Triumph.
Triumph's Product Manager, Simon Warburton, said: "This is a really exciting opportunity for Triumph and the factory is behind the team 100 percent. The Daytona 675 has won many awards since its launch and participating in the Supersport World Championship will further raise the profile of this fantastic bike and Triumph's profile in general."
Stefano Caracchi said at the press team's press launch: "The Supersport and Superstock 600 are very competitive and hard categories, but we are very confident in the potential of the Daytona 675. Our team has contested the World Superbike Championship ever since the first series, and we have a highly talented and experienced technical staff to develop the Daytona to meet this new challenge.
Triumph has welcomed our project with enthusiasm, and we will repay their confidence. Triumph is a legend for every motorsport fan, and Team SC is proud! to beco me a small part of this long and fascinating history - Good luck to Team Triumph-SC!"
triumphmotorcycles.com

Tech 3 Yamaha MotoGP Team Signs James Toseland
Oct 1st - Tech 3 Yamaha would like to announce that it has secured the services of James Toseland for the 2008 season. The British rider will begin his MotoGP career with the Yamaha factory supported organisation next year.
Toseland – who is currently leading the Superbike World Championship by 43 points – has already proved his racing credentials. He was the youngest ever World Superbike Champion in 2004 and is aiming to secure the title once again this season.
"I am delighted to have secured a rider of James' calibre and am looking forward to working with him," says Team Principal Herve Poncharal. "Procuring James is a major coup for Tech 3 Yamaha and for the MotoGP championship in extending our reach into Northern Europe. It is an exciting time for us all and I am certain that he will be an integral part of the team's future."
Further details, including James' team structure will be announced in due course.
Yamaha MotoGP Team signs Jorge Lorenzo
Yamaha Motor Co., Ltd announces that it has concluded a two-year agreement with 250cc World Champion Jorge Lorenzo. The 20-year-old Spaniard will make his MotoGP debut in 2008 aboard a YZR-M1, with direct Factory support.
Lorenzo, who won the 250 title in 2006, is currently leading the championship, after winning six out of the first ten races this season.
"Yamaha has been watching Jorge's career with interest for some time and we are delighted that he will be joining our MotoGP line-up from next season" - commented Lin Jarvis, Managing Director of Yamaha Motor Racing. "We are sure that he will be a valuable asset for the future and we look forward to the commencement of his MotoGP career with Yamaha."
The exact structure of Yamaha's team and rider organization is still under consideration at the present time. Further details, including Lorenzo's team structure, will be announced in due course.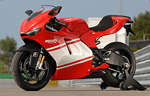 First Look!
Inside the new Ducati Desmosedici RR
Going into production next month for a lucky few!
Click the Photo for More
Ducati Confirms Increasing Desmosedici RR Production to 1500 with 500 Deliveries this Year
Ducati Press Release Oct 8th - The Desmosedici RR – the ultimate expression of Ducati Corse's racing experience and technology transferred to a road bike – has become the new benchmark for performance, components and style for the entire sector.

Since the RR's launch in June 2006 on the eve of the Italian GP at Mugello and the possibility to reserve the bike in Ducati Stores throughout the world, the hundreds of requests received mean that the bike has become an immediate commercial success. Production of the first true MotoGP replica will begin in a few days time.
Never before has so much expectation surrounded a bike destined for road use. The RR is an exclusive and esoteric product that also deserves some sort of safeguard for those enthusiasts who have ordered it.
Following the recent victory of the MotoGP world title and with requests continuing to pour in from the dealer network in addition to the 1250 orders already received, Ducati has decided to limit the total number of Desmosedici RRs produced in the Borgo Panigale factory to 1500.
Once again, Ducati wishes to reward the trust and loyalty of all those customers who made an early reservation and who can now see the value of their purchase increase even before collecting it from their dealer.
At this point, with very few bikes still available, anyone who is still undecided is advised to hurry, as Ducati expects to bring an end to reservations soon.
Production will begin in the second fortnight of the month of October 2007 and, as promised, Ducati will give delivery priority to the approximately 500 owners of the 999R who have ordered the Desmosedici RR and who will receive it before the end of this year. For the remaining reservations, Ducati guarantees the delivery of the entire production run by the end of 2008.
When then Ducati CEO Frederico Miloni first announced the Desmosedici RR at World Ducati Week back in 2004 it was to be priced at $50,000 each in a limited production run of just 200 bikes to be hand built in the Ducati Corse race shop at a pace of 1-2 bikes per day.
Then last summer for the lucky few who qualified to by a Desmosedici because they also owned a 999R Superbike, the price had been raised to $65,000 for the first 100 bikes to be delivered by this Christmas, followed by 100 more bikes in the spring of 2008 with the price increased $10,000 more to $75,000.
And now,Ducati has confired that orders are still open worldwide for the Desmosedici at the full list price of $75,000. With production starting now in mid October, and with 500 bikes to be delivered by Christmas, this means the 500 bikes need to be built in about 30 work days, then shipped, so production on the factory assembly line is now closer to 17 bikes a day, and not the 2 bikes hand built per day as previously stated.
For compete details and photos of the new bike go to our
New Sportbike Index
Ducati Desmosedici RR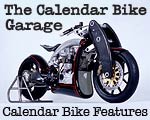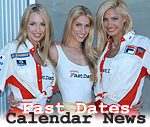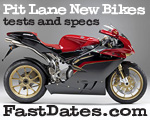 Eend of the Line for the Ducati 999
Magny-Cours (France), Sunday 7th October: The final round of the 2007 World Superbike Championship at Magny-Cours also marked the end of the line for one of the most successful racing machines ever built by the Borgo Panigale manufacturer.
Since it made its triumphant debut in the opening round of the 2003 championship at Valencia with a 1-2 finish for Neil Hodgson and Ruben Xaus, the 999 has won three of the last five Riders' titles, with Neil Hodgson (2003), James Toseland (2004) and Troy Bayliss (2006).
In that period Ducati also won three WSBK Manufacturers' titles in the same years, although in 2003 and 2004 points for this particular title were also earned by the venerable 998, with wins on five occasions for Toseland, Shane Byrne and Pierfrancesco Chili.
The 999 won a total of 63 WSBK races in its history, in the hands of eight different riders - Troy Bayliss (19), Neil Hodgson (13), R?gis Laconi (10), Ruben Xaus (8), Noriyuki Haga (6), James Toseland (4), Lorenzo Lanzi (2) and Garry McCoy (1).
Factory Ducati 999 machines have appeared in the colours of two different sponsors - Fila in 2003 and 2004 and Xerox from 2005 to 2007.
Ducati Corse Superbike Technical Director Ernesto Marinelli has been responsible for the development and evolution of the 999 since it was introduced.
"It brings a tear to my eye!" commented Ernesto. "For sure the 999 is a bike that has given us a lot of satisfaction since 2003, when it came to us, until this year. Even in its last year, it is still proving to be competitive. On the engine level, there has been only one intermediate horsepower 'step' between the 2004 and 2005 seasons, when power output went up from 189 HP to 194HP, after which the engine did not undergo any more development. The other fundamental change came with the electronics, again between 2004 and 2005, with the switch from the Marelli MF5 to the Marvel4 with all the electronic updates."
With the change in regulations for 2008, next year the Ducati Xerox Team will take part in the World Superbike Championship with the new 1098 F08.
---


NEW! FastDates.com
Cell Phone Wallpapers!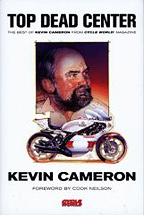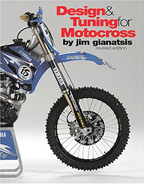 Design & Tuning
for Motocross
The ultimate book on motocross bike technology & performance
by Jim Gianatsis
About the Passing Away of Norifumi (Norick) Abe
It is with great sadness that we learn of the death of Norifumi (Norick) Abe (32) on October 7, 2007, following a traffic accident. Norick Abe, as he is fondly known by motorcycle race fans around the world, was competing this season in the JSB1000 class of the All-Japan Championships from the "Y'S GEAR Racing" team. Norick was riding a motorcycle in Kawasaki City, Kanagawa Pref. when he met with an accident at about 6:20 pm and he was pronounced dead at 8:50 pm at the hospital where he was taken for treatment.
In 1993, Norifumi Abe became the youngest rider ever to win the pinnacle 500cc class of the All Japan Road Race Championships. The following year he was competing in the All Japan Superbike Championship when he joined the Yamaha camp and started competing in the World GP500cc class. From 1995 he began competing full-time in the World GP500cc class, where he eventually compiled a record of three wins, four 2nd places and 10 3rd places in his GP career. This year he returned to the All Japan Championships and also competed in the Suzuka 8 hours World Endurance Championship race in July. During his career Abe was widely known and loved by the fans as a leading figure in the domestic race scene as well as abroad.
Comment from Takashi Kajikawa, President, Yamaha Motor Co., Ltd. "I am deeply saddened to hear this tragic news. Loved by fans in Japan, Europe and the Americas and throughout Asia, Norifumi Abe was an irreplaceable ambassador of motor sports worldwide. Here in Japan the fans were especially excited to see Abe return to the All Japan circuit after 14 years of international competition, and certainly their sense of loss at his passing is great. We pray that his soul rests in peace and we send our deepest condolences to his family and loved ones."

Norifumi Abe Profile
Place of birth: Tokyo, Japan
Born on Sept. 7, 1975
2007 team: Y'S GEAR Racing
Career:
1993: Champion of All Japan GP500 class
1994: World Road Race Championships GP500 class debut
1995: 9th in World GP500 class
1996: 5th in World GP500 class (won Japan GP)
1997: 7th in World GP500 class
1998: 6th in World GP500 class
1999: 6th in World GP500 class (won Rio GP)
2000: 8th in World GP500 class (won Japan GP)
2001: 7th in World GP500 class
2002: 6th in MotoGP
2003: 16th in MotoGP (spot participation)
2004: 13th in MotoGP
2005: 13th in World Superbike Championship
2006: 13th in World Superbike Championship
2007: Ranking 3rd in All Japan JSB1000 class (at the end of round 6)