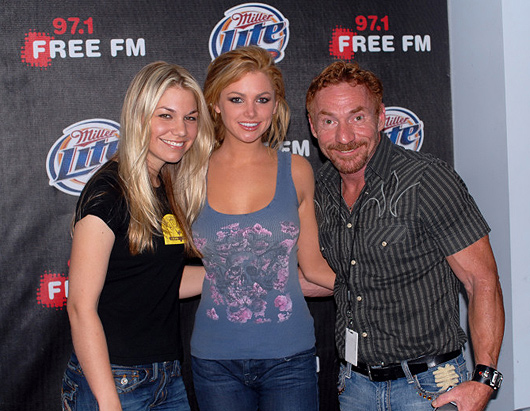 Calendar Kittens Kari Kimmel and Tamara Witmer with child TV star, now talk show host Danny Bonaduce.

FastDates.com Calendar Kittens go National on Adam Corolla Radio Show
Tuesday July 10th 9:30am Pacific Time
Los Angeles, Tues 10th - Beautiful Bike Show Hostess, Playboy Playmate and FastDates.com Calendar Kitten Tamara Witmer was again joined by the incredibly talented singer songwriter Kari Kimmel at the CBS Radio Studios in Los Angeles of KLSX 97.1 FREE FM at 9:30am Tuesday July 10th on the Adam Corola and Danny Bonaduce Morning Show. The radio show is the number one morning talk show in the Los Angeles market and is now syndicated nationaly, so FastDates.com was on FM radio across America!!! Our girls did a full 15 minute live segment to promote the upcoming LA Calendar Motorcycle Show Weekend and Calendar Girl Music Festival July 14-15th 2007 at the Queen Mary Event Park in Long Beach, CA. Complete Bike Show Details HERE
Calendar Kitten and Bike Show hostess Tamara Witmer was live with Kari Kimmel on the 97.1 FREE FM microphones this week with the Adam Corolla, Danny Bonaduce and Thresa Strasser Show in the morning.

If you are not in an Adam Corola market or the 97.1 FREE FM listening area you can still listen to the show online on the station's website at http://www.971freefm.com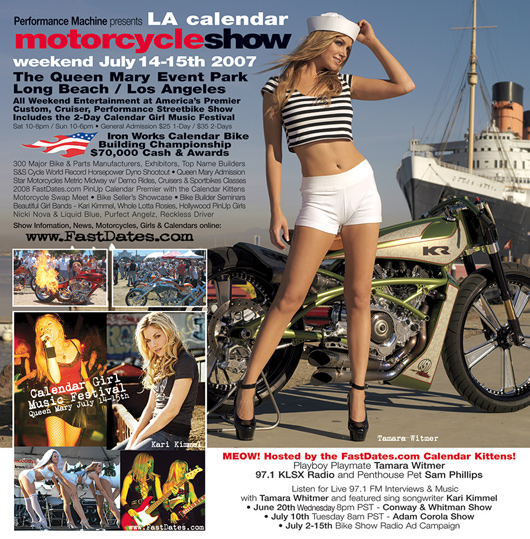 ---
New Ducati 1098F08 Superbike Breaks Cover at World Ducati Week
Ducati Press Release, Misano Adriatico (Italy), Sunday 1 July - The Ducati 1098 F08, Ducati's future World Superbike challenger, made its public debut at the Misano World Circuit in Italy yesterday with a number of demonstration laps in front of over 50,000 spectators at WDW World Ducati Week 2007.
Two-times World Superbike champion Troy Bayliss was given the honour of demonstrating the 1098 F08 machine, which is still in its factory development stage, sporting black carbon-fibre bodywork and aluminium fuel-tank.
The 1098 F08 has been undergoing development work at Mugello in the hands of the Ducati Xerox Junior Team's young Superstock riders Niccolò Canepa and Domenico Colucci, but for the Misano spectators this was the bike's public debut.
"I just saw the new 1098 for the first time yesterday" declared Troy. "It looks and feels good and although it clearly doesn't feel like home after a couple of laps, I'm sure Ducati are moving in the right direction and it will be soon. I've still got a few things to concentrate on at the moment, like winning this year's title, but I'm really looking forward to testing the bike at a quieter moment in the future."
The 1098 F08, which will replace the 999, complies with the draft regulations for the World Superbike Championship issued by the FIM two weeks ago. In particular engine specifications are much closer to the road version than on the 999. For example, the con-rods, the crankshaft and the rocker arms are all standard components.As for the bike itself, the level of elaboration is similar to the F07 and in particular the frame is identical to the road bike, while the swing-arm, front and rear suspensions and exhausts can be modified.
Editor's Notes: The new FIM World Superbike rules for 2008 that allows twin cylinder bikes a full 1200cc engine capacity. The preceeding Ducati Press Release makes infurs the new World Superbike F08 model is susposedly based on the new current 1098cc production Ducati Superbike, but in another press release we just received from Ducati about World Ducati Week 2007, they do let it slip out thisdevelopment F08 race bike is a full 1200cc capaciy.
This either confirms there is an 1198R in Ducati's future lineup on which a 1198F might be based (at Ducati the R-designates a homologation production race bike, while the F-designates the factory only race version which you can't buy....certainly a confliction of the entire homologation concept). Or is this a bored out 1098 production superbike?

The new FIM Superbike rules released a few weeks ago, certainly makes no mention if homologated
V-twins like the Ducati 1098 can, or can not, be bored to the full 1200cc rules capacity limit. If you remember in the mid 1980s, Ducati ran 954cc and 998cc World Superbikes while still calling them 916s to support the sales of their 916 production bike. It wasn't until Ducati offered a 996/998 production superbike to the public some 4 years later that Ducati called their World Superbike a 998F.
We made an inquirey into Ducati Corse press officier Julian Thomas to clarify the homologation details for us, and the reply was, "All we have to say is what is in the (above) press release." Meaning they are probably waiting for the annual Milan Motorcycle Show in November to announce new 2008 model 1198R on which the 1198F06 will be homologated from.
---


Production Desmosedici RR MotoGP bike takes to the track at WDW2007 The Ducati Desmosedici RR made its first ever public appearance in action around the Misano Circuit at World Ducati Week 2007 on Saturday, ridden by official Ducati MotoGP Team test rider, Vittoriano Guareschi.In front of thousands of Ducatisti, the pre-series version of the highly complex L-four cylinder MotoGP replica took to the circuit for a 15 minute session to demonstrate its incredible 200hp performance and to signify the progress of the project as it approaches production. Over 170 people from 19 countries who have already placed orders for the Desmosedici RR travelled to WDW2007 to witness the public track debut of the bike that was first announced at the same event back in 2004.
Ducati Motor Holding CEO, Gabriele Del Torchio, who took time to meet some of the expectant owners, announced: "The Desmosedici RR demonstrates Ducati's world-beating design and technological innovation and I am extremely proud to have witnessed its first public appearance in action. This is a dream motorcycle that is destined to become an icon, endorsed by the fact that so many of the world's top sportsmen and celebrities alike have placed orders to own one. The excitement behind this project is incredible and WDW2007 has been a great opportunity to celebrate its progress."
As the world's first true MotoGP replica, the Ducati Desmosedici RR has an impressive specification, at the heart of which beats the record-breaking 989cc L-four Desmodromic engine in twin-pulse configuration. Technical features taken directly from the racing GP6 include the sand-cast aluminium crankcases and magnesium engine covers which enclose a cassette type six-speed gearbox and hydraulically actuated dry multi-plate slipper clutch. Additional replications that contribute to the 200hp produced in standard trim are double overhead cams, actuating 4 titanium valves per cylinder, gear driven from a crankshaft which has titanium connecting rods. One feature of the Desmosedici RR which represents a unique ground-breaking design is the 'vertical exit' exhaust silencer, ingeniously hidden in the tail-piece.
"Today was another great milestone in Ducati's fantastic history," said Director of Product Development of Ducati Motor Holding and CEO of Ducati Corse, Claudio Domenicali, speaking at the WDW2007 event. "I clearly remember the press launch of the Desmosedici racing project at the 2002 Mugello GP, and we were already thinking about building a replica for the street as a tribute to our fans all around the world. This bike is for them and for their passion of Ducati. We are extremely pleased with the final result, the bike is fantastic both statically and dynamically. During my last test of the Desmosedici RR in Mugello last month, I felt that the main project goal had been fully achieved. The chassis is rigid and the engine crisp just like the racing Desmosedici and this is the very essence of the project: to leave the owner with a taste of our MotoGP bike."
Orders for the limited production machine flooded in via the official Ducati dealer network as soon as the machine was unveiled at the Mugello GP in 2006. The motorcycle is now undergoing final development tests before going into production this autumn as scheduled.
---
Performing live at Assen - "Valentino and the Chicuahuas". Team Fiat yamaha's special color scheme was to celebrate Fiat's 50th anniversary of the origional Fiat 500 economy car from 1957 which the factory has put back into limited production.
MotoGP World Championship, Dutch TT, Round 9 of 18
Valentino Seals Yamaha's 150th Open GP Win
Rossi Reels in Stoner in an Epic Dutch TT
Dutch TT , Assen, Holland, June 28-30th - Valentino Rossi put in one of the outstanding performances of his career aboard his one-off liveried 'Cinquecento' Fiat Yamaha at the Dutch TT today, taking a superb victory from 11th on the grid. His third win of the season is also Yamaha's 150th in total in the premier class of Grand Prix racing. Colin Edwards' was unable to match the outstanding performance of his team-mate today but nonetheless rode a solid race to finish in his grid position of sixth.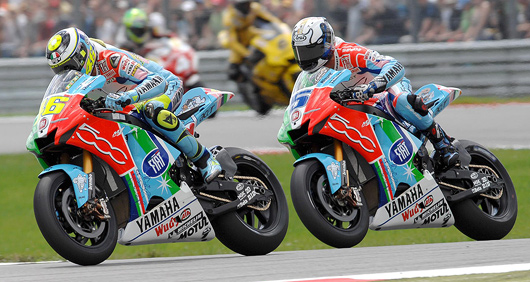 Team Fiat Yamaha's Rossi and Edwards ran special color livery to celebrate Fiat's 50th anniversary of the origional Fiat 500 economy car from 1957 which the factory has put back into limited production.

After difficulties in yesterday's wet qualifying Rossi was left with a mountain to climb today and, with championship rival Casey Stoner starting from the front row, there was no room for error from the Italian. Rossi made up little ground at the start but after the first couple of laps he found his rhythm and began a spectacular charge to the front, passing rider after rider with a series of bold moves and eventually making his way up to second behind Stoner by lap 12 of 26, setting a string of fastest laps on the way. The seven-time world champion was then faced with the task of closing a gap of almost two seconds to the championship leader but within just a few laps he had done just that and moved to within striking distance of the lead. It was no easy job to pass the Australian however and he made several unsuccessful attempts before finally making a pass stick through the chicane with three laps remaining, eventually crossing the line 1.909 seconds clear.
Edwards meanwhile was unable to capitalise on his fast race pace and, although he was lapping at a similar pace to the front runners throughout, he was unable to close the gap after being caught in traffic at the start. Rossi's maximum-points haul today closes the gap to Stoner at the top of the standings to 21 points, whilst Edwards' ten points see him hold onto seventh at the half-way point of the season.A
Complete Assen MotoGP Coverage HERE
---

Calendar Kitten and Bike Show MC Tamara Witmer live with Kari Kimmel on the 97.1 FM microphones.

$70,000 in Cash and Awards at the
The Biggest & Best Custom & High Performance Street & Sportbike Event in America!
Performance Machine presents the
LA Calendar Motorcycle Show Weekend July 14-15th 2007

Liquid Blue Show Band Returns from USO Tour of Iraq and Afganistan
to Play at the LA Calendar Motorcycle Show
June 20th, Los Angeles, CA - Among the incredible lineup of performers being featured at this year''s 2-Day Calendar Girl Music Festival which is included with your LA Calendar Motorcycel Show Weekend admission is the world renoun show band Liquid Blue from San Diego. The 6-piece pop rock band is fronted by 3 beautiful girl singers and has performed in sold-out arenas and stadiums around the world. The group has just returned from a wild Middle Eastern war zone USO tour of our military bases in Iraq, Afganistan, Kyrgzstan and the luxuri Saudi Arabi city of Dubai.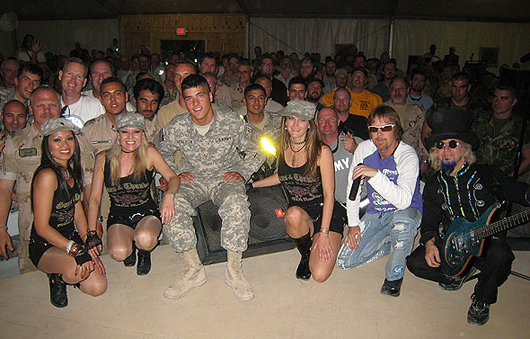 "We recently returned from the Middle East. While we've done military tours in this region in the past, our experience this time was over-the-top. I'll let the photos do the talking. Just click on the links below and they will take you right to the photos." - Scott Stephens, Manager, Liquid Blue,

Check out These Incredible Liquid Blue Photo Links:
Kyrgyzstan: http://www.liquid-blue.com/photos/pastshows/countries/Kyrgyzstan/pages/Bishkek.htm
Afghanistan: http://www.liquid-blue.com/photos/pastshows/countries/Afghanistan/Afghanistan.htm
Qatar: http://www.liquid-blue.com/photos/pastshows/countries/Qatar/pages/Doha.htm
UAE: http://www.liquid-blue.com/photos/pastshows/countries/uae/places/AbuDhabi.htm

We had origionally booked Liquid Blue to perform both days at this year's LA Calendar Show Weekend, but they just booked a big Europena show tour which kicks off in London on Monday following our Bike Show Weekend. And with the time difference and traveling, they now need to fly out of Los Angeles on Saturday night immediately after their Saturday afternoon the 14th performances with us. So be sure to come to the LA Calendar Motorcycle Show both days this year, theres just so much gong on you don't want to miss any of it, including Liquid Blue performing at 12 noon and 3pm on Saturay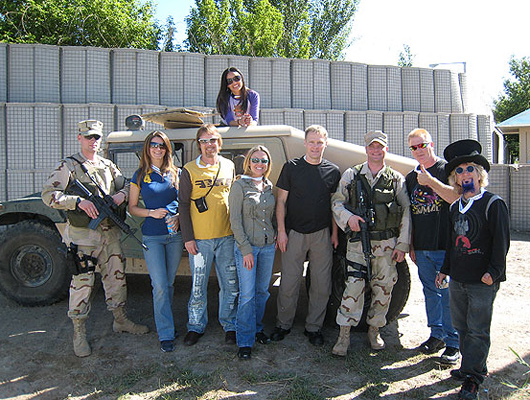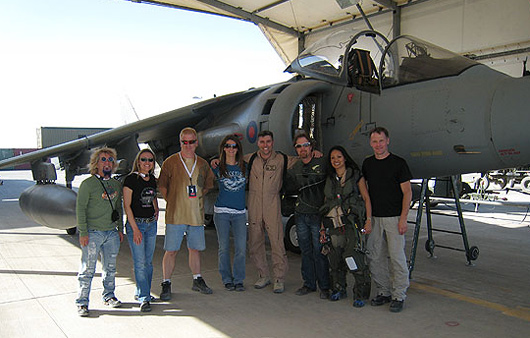 And don't forget our beautiful Bike Show Hostess, Playboy Playmate and FastDates.com Calendar Kitten Tamara Witmer (below) will again be joined by the incredibly talented singer songwriter Kari Kimmel at the CBS Radio Studios in Los Angeles of KLSX 97.1 FREE FM at 9:00am Tuesday July 10th on the Adam Corola and Danny Bonaduce Morning Show. The radio show is the number one morning talk show in the Los Angles market. Our girls will do a full 20 minute live segment and Kari will be singing live to promote the upcoming LA Calendar Motorcycle Show Weekend and Calendar Girl Music Festival July 14-15th 2007 at the Queen Mary Event Park in Long Beach, CA. Complete Bike Show Details HERE
If you are not in the 97.1 FREE FM listening area you can still listen to the show online on the station's website at http://www.971freefm.com

Calendar Kitten and Bike Show MC Tamara Witmerwas live with Kari Kimmel on the 97.1 FM microphones last week on the night time Conway and Whitman Show, now they will return to do Adama Colola and danny Bonaduce in the morning at 9:30 am.
---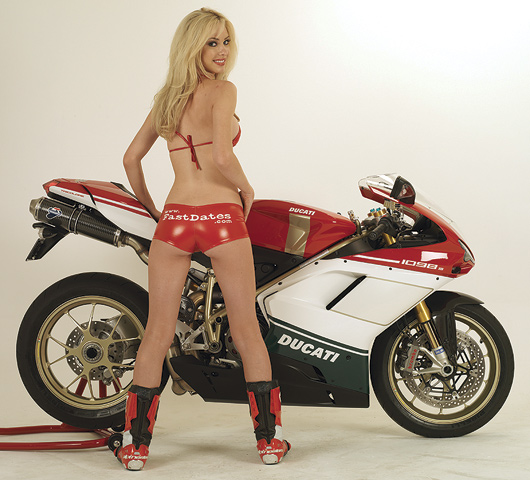 The Good, the Bad, and the Beautiful. Tiffany takes the new Ducati 1098S Tri Colore for a spin.... Click HERE

And meet our newest Calendar Kitten Tiffany Toth in person
at the LA Calendar Motorcycle Show Weekend July 14-15th!
Ducati's new 1098 Superbike - It's Not a Perfect Beauty
Exclusive First & Last Test ! Ducati Limited Edition Tri 1098S Tri Color
"If you are waiting to get a 4th generation Ducati Superbike model,
wait a little longer until they get it right."
Current magazine tests (Motorcyclist, Sportrider) are finding the new sexier, lighter, faster 1098S Ducati turns significantly slower track lap times and it is harder to ride than the latest Japanese Superbikes or the out going Ducati 999S in side-by-side comparisons. They also won't tell you they totaled their bikes during testing. However, the magazines won't tell you why because they just don't know, or for fear of loosing Ducati advertising. Here at FastDates.com we have nothing to fear and tell you why the new 1098 needs help....HERE
---
There's more! Go to Pit Lane News NEXT PAGE

Hot Calendar Girl and Bike News! Go to: Fast Dates • Calendar Girls • Iron & Lace

Calendar Kittens, The Paddock Garage, Screensavers, Iron & Lace Garage



Many of our Calendar Kittens can also be seen at Playboy's website...


BikerKiss.com - the largest biker personals site!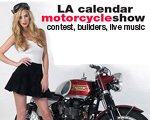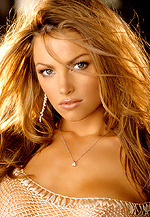 MEOW!
Kittens on the Prowl
2007 LA Calendar Motorcycle Show Weekend
Hosted by Calendar Kittens!
Playboy Playmate Tamara Witmer, and 97.1 KLSX Radio and Penthouse Pet
Sam Phillips.
Live 97.1 FM Interviews
& Music with Tamara Whitmer and Kari Kimmel
On National Radio!
• July 10th Tues 9:30am PST
Adam Corrola Show
Nationally Sydicated!
• July 1st-15th Radio Ad Campaign

Listen On Line:

Click to Listen & Buy It Now
What's Hot!
Kari Kimmel
LA Calendar Show
July 14-15th
Incredible new singer/song writer
featured on top TV and Movie sound tracks will be performing music from her awesome new CD live at our upcoming LA Calendar Motorcycle Show both days on July 14-15th!
Kari Kimmel on You-Tube.com
Kari's new CD "A Life in the Day" will be sold at the show, or go to www.karikimmel.com to get your own copy today!
Kari's songs now on itunes...
www.karikimmel.com
http://myspace.com/karikimmel

Buy Kari at Amazon.com
---
Ruben Xaus tops the Factory teams during SBK Official Tests at Vallelunga, Italy
REIGNING CHAMP BAYLISS SECURES FIRST DAY ADVANTAGE
Vallelunga, Saturday 7th July 2007 - The testing form of 2001 and 2006 World Superbike Champion Troy Bayliss (Ducati Xerox) has proved to be almost peerless on many previous occasions, and he continued his recent seam of excellence by posting the fastest time on the first day of official SBK testing at Vallelunga. Championship leader James Toseland (Hannspree Ten Kate Honda) was second quickest, setting a 1'37.423 to Bayliss' 1'37.287. The top three riders on day one are also the top three riders in the current championship chase, with Noriyuki Haga (Yamaha Motor Italia) setting a 1'37.535 at the Vallelunga track.
KAGAYAMA BACK ON FORM AGAIN
After a tough start to the season Yukio Kagayama (Alstare Suzuki Corona Extra) has been back to top pace recently, and finished fourth today; his 1'37.655 also put him two places ahead of his team-mate and local favourite Max Biaggi, who was sixth. Splitting the Alstare men was perennial force to be reckoned with, Troy Corser (Yamaha Motor Italia). First of the non-official entrants was Ruben Xaus (Ducati Sterilgarda) ahead of fastest Kawasaki rider, Regis Laconi (PSG-1 Kawasaki Corse). Seventeen regular SBK riders set times on day one.
DAY ONE TIMES - with transponders fitted
POS NO. RIDER BIKE TIME
1 21 Bayliss T. (AUS) Ducati 999 F07 1'37.287
2 52 Toseland J. (GBR) Honda CBR1000RR 1'37.423
3 41 Haga N. (JPN) Yamaha YZF-R1 1'37.535
4 71 Kagayama Y. (JPN) Suzuki GSX-R1000 K7 1'37.655
5 11 Corser T. (AUS) Yamaha YZF-R1 1'37.731
6 3 Biaggi M. (ITA) Suzuki GSX-R1000 K7 1'37.826
7 111 Xaus R. (ESP) Ducati 999 F06 1'37.867
8 55 Laconi R. (FRA) Kawasaki ZX-10R 1'37.994
9 44 Rolfo R. (ITA) Honda CBR1000RR 1'38.098
10 84 Fabrizio M. (ITA) Honda CBR1000RR 1'38.285
11 57 Lanzi L. (ITA) Ducati 999 F07 1'38.470
12 10 Nieto F. (ESP) Kawasaki ZX-10R 1'38.804
13 38 Nakatomi S. (JPN) Yamaha YZF-R1 1'39.015
14 13 Iannuzzo V. (ITA) Kawasaki ZX-10R 1'39.668
15 53 Polita A. (ITA) Suzuki GSX-R1000 K6 1'39.990
16 22 Morelli L. (ITA) Honda CBR1000RR 1'40.861
17 42 Ellison D. (GBR) Ducati 999RS 1'41.409
Ruben Xaus Tops the
F actory Teams on Day Two of FGSport Testing at Vallelunga
Sunday 8 July, Vallelunga (Italy): Troy Bayliss (Ducati Xerox) was second quickest with a time of 1m36.556s, just a fraction behind Ruben Xaus (Ducati Sterilgarda), in two days of FGSport official testing action at a scorching Vallelunga circuit on the outskirts of Rome.
This was the first time most of the WSBK teams had got to grips with the 4.110 km Vallelunga track in view of the penultimate round of the championship on September 30, although the Ducati Xerox Team had already tested here back in February, when conditions were much cooler.
After almost ten hours of testing, Bayliss was satisfied with his time, set on the Sunday morning with a qualifying tyre. But also on race set-up, the Australian was pretty happy with the way the test had gone.
"We've just done a lot of laps basically and didn't really learn much here this afternoon because the track was hotter and not as fast and we didn't try any more soft tyres" commented Troy. "But all in all the feeling's reasonably good on the bike and now we've got a bit of a break until the next race in Brno, which is probably the most difficult race of the year for us. I did this morning's time on a qualifier but we're not too bad on race tyres either, even though we didn't do a full long-run. When we come back here it's going to be a bit cooler so it's not really useful. The times are quite a bit quicker than in the February test but we didn't have any other bikes here then and the other guys are all going pretty strong now".
Team-mate Lorenzo Lanzi, who set eleventh quickest time, was unable to complete the second afternoon of testing at Vallelunga as his right ankle was still swollen from the effects of a trial-bike accident earlier in the week.
"Unfortunately these two days of testing were conditioned by a minor injury that I picked up during the week, which also prevented me from taking part in the final session" declared Lorenzo. "However we managed to find some good solutions for the race here in September. We also have a clear idea of what tyres to use seeing as the conditions in the race will probably be similar to those we have encountered over the last couple of days. Despite the fact that I wasn't completely fit, I lapped just a few tenths of a second slower than Troy with race tyres. Unfortunately I was not able to get the best out of the qualifying tyres, but this result makes me optimistic for the race in September."
TIMES: 1. Xaus (Ducati) 1m36.382s; 2. Bayliss (Ducati Xerox) 1m36.556s; 3. Corser (Yamaha) 1m36.731s; 4. Toseland (Honda) 1m36.783s; 5. Biaggi (Suzuki) 1m37.440s; 6. Laconi (Kawasaki) 1m37.455s; 7. Haga (Yamaha) 1m37.506s; 8. Rolfo (Honda) 1m37.647s; ... 11. Lanzi (Ducati Xerox) 1m37.873s.
YAMAHA REACHES 150TH PREMIER-CLASS MILESTONE WITH ASSEN VICTORY
Yamaha's win with Valentino Rossi in the Dutch TT at Assen today is cause for a double celebration for the Factory, as it is also its 150th win in the premier-class of World Championship motorcycle racing. Yamaha Motor Company is only the second manufacturer in the history of the sport to pass the milestone of 150 wins, which it has achieved in 46 years since it began racing on the international stage in 1961.
Yamaha's very first premier-class victory came with British rider Chas Mortimer, in Barcelona at the final race of the 1972 series aboard a 353cc twin-cylinder two-stroke Yamaha. Since then, Yamaha has won premier-class Grands Prix in every season bar two and has taken a total of eleven manufacturers' and twelve riders' titles during the process.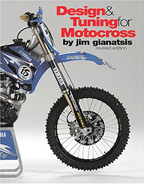 Design & Tuning
for Motocross
The ultimate book on motocross bike technology & performance
by Jim Gianatsis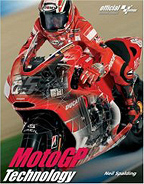 NEW! FastDates.com
Cell Phone Wallpapers!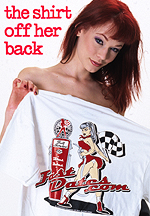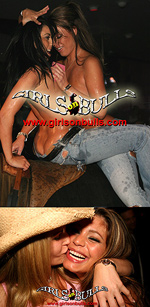 Girls on Bulls!
The LA Calendar Motorcycle Show Welcomes the Hottest, Sexiest Riding Show Ever!
Beautiful girls in scanti attire tackle a mechanical bull and everyone comes out a winner. Challenge the girls to ride the bull yourself and win an autographed DVD from Girls on Bulls. Or just play it safe an buy the DVD....
Girls On Bulls
Desert Heat
Featured live at our
LA Calendar Motorcycle Show! Sexy models riding mechanical bulls get naked on the DVD!

Click to take Kylie for a ride.
Kyle Minigue Gets Provacative
Join sexy Pop Diva
Kyle Minogue as she does a little wild bull riding herself with Agent Provocateur.
RealPlayer.com Video.
---
Rizla Suzuki MotoGP plans to keep the pressure on
08/07/07 - The German round of the 2007 MotoGP World Championship from Sachsenring in eastern Germany signals the start of the second half of the season, with Rizla Suzuki MotoGP looking to continue with the excellent form it has shown in the first nine races.
The Team sits in third place in the MotoGP Team Championship and John Hopkins and Chris Vermeulen have already collected 182 points between them – almost double the amount the pair had scored between them at the same point last year. The Team has so far had one race win, two podium finishes, one pole position and five other top-five finishes. Hopkins is in fourth place in the riders' classification and Vermeulen lies just one place behind him in fifth.
Sachsenring is situated about 90km from Dresden and is one of the biggest attended races of the year, with over 200,000 people cramming into the stands around the 3.6km circuit during the three days. Last season over 50,000 people turned up on the first practice day to see the riders begin their preparations for the race. The German track is a true test of tyres and the circuit, unusually, has more left hand corners than right - with only Assen having more. The Suzuki GSV-R will use full throttle for less than 10 per-cent of a lap and smooth power delivery low down in the rev-range will be vital, something that the 800cc bike excels in.
Hopkins and Vermeulen take to the track on Friday for two free practice sessions, followed by another free session the following morning. Saturday afternoon will see the excitement of qualifying as the riders battle it out for the best grid position for Sunday's 30-lap race - which gets underway at 14.00hrs local time (12.00hrs GMT).
John Hopkins: "It's been a tough summer up to yet, but one that has produced some good results for me and the team. Sachsenring is a difficult circuit and one that I still have a bit of trouble coming to terms with. We had some grip issues last year but with the way the Bridgestone tyres are working I don't think that will be a problem this year. I am sure that I can keep my strong run going and finally get a good result in Germany. The new bike should go well there and I think we can be looking for another top-five finish – at the very least!"
Chris Vermeulen: "I had a pretty strong race at Sachsenring last year, even though I found it a difficult track to learn. That was the first time I had ever been there and got a seventh place finish. I really want a dry weekend as we have a lot to do with the bike and it is always better to race in dry and warm conditions than in the wet. I am still a bit annoyed about what happened in the race last week, but there is nothing I can do about that now, I just hope that somebody else doesn't want to crash into me this week because three times this season already is more than enough!"