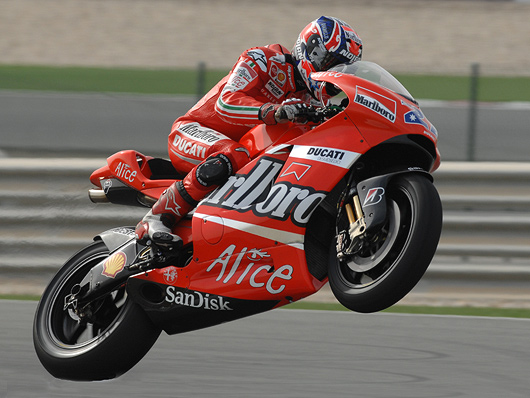 Casey Stoner fought off Pole winner and favorite Valentiono Rossi to take the first race win of the new 800cc MotoGP formular for Ducati, in one of the few races this year where the Ducati bikes can run in full Marlboro livery.

2007 MotoGP World Championship, Qatar Round 1 of 18
2007 MotoGP Season Opener at Qatar
Casey Stoner Battles Pole Man Rossi and
Storms to Premier 800cc MotoGP Win on Ducati!
Losail, Qatar,Saturday Mar 10th - Casey Stoner made a perfect start with the Ducati Marlboro Team at Qatar today, riding to a magnificent season-opening victory aboard his Desmosedici GP7. The Australian's breathtaking maiden win in the first race of MotoGP's new 800cc era repeats Loris Capirossi's 2006 season-opening win at Jerez and follows Troy Bayliss' 2006 season-ending win at Valencia on the 990cc GP6. Capirossi had an unluckier start to his 2007 campaign, sliding off without injury at one-third distance while charging forward and aiming for a podium result.
| | |
| --- | --- |
| Stoner rode a perfectly judged race, leading the first lap and then battling with former World Champion Valentino Rossi throughout. The pair swapped positions several times, separated by just a few tenths for most of the 22 laps, Stoner crossing the finish line 2.8 seconds ahead after setting a new track record on the final lap. | |
Casey Stoner, race winner, World Championship leader - "We couldn't ask for much more, it was my first time racing with Ducati and Bridgestone, a perfect start. I couldn't be happier with the weekend, the team worked perfectly and the bike and tyres were perfect in the race. We had a bit of a speed advantage and though we had some dramas in other parts of the track I played to the strengths of the bike and was able to do some pretty fast lap times. Valentino and I had a good battle, it was nice riding up front again. When he came by later on I decided to see how much further the bike can go and I was able to break a bit of an advantage. On the last lap I didn't realise I had a gap and rode the fastest lap, which shows how well the Bridgestones worked. I'm really happy with the way things are going and think we'll get stronger and stronger, but we'll have to see how the season pans out. I'm leading the championship which feels a little strange but it's only the first race of a very, very long year."
2007 MotoGP Championship Preview
The wait is finally over for MotoGP participants and fans alike. Just four months on from the final race of a thrilling 2006 season, the MotoGP World Championship returns for 18 rounds of breathtaking action, starting this weekend at the Commercialbank Grand Prix of Qatar.
The preseason has been one of the busiest to date, as all involved in the MotoGP class have had to adapt to new 800cc bikes brought in this season. On track since the morning after the Valencian race, and only pausing for an enforced six-week testing ban, both riders and machines have come on leaps and bounds since their early developmental stage. The Commercialbank Grand Prix of Qatar will be the first chance to see an all-800cc grid go tooth and nail in a race setting, but early indications point to an extremely competitive playing field in MotoGP.
World Champion Nicky Hayden will be looking to start his title defence with a bang at a track where he finished second last year. His latest visit to the Losail International Circuit saw him crashing twice in testing and concluding the test low down on the timesheets, and this is sure to provide the already motivated 'Kentucky Kid' with added incentive to push for victory and answer the critics.
He will have a tough task ahead of him though, as he tries to beat 2006 runner-up and five-time MotoGP World Champion Valentino Rossi at a circuit where the Italian has quite a pedigree. 'The Doctor' has won the last two visits to Losail, and is renowned for starting the season well. Last year's opening Grand Prix at Jerez was the first time since 2000 that he had failed to win the opening race of the campaign, and recent Official Test performances at Qatar and Jerez- where he took the BMW M Award for the fastest lap in a 40-minute timed session show that both he and the Yamaha M1 are shaping up well for 2007.
Second at the timed shootout, and fastest last time out in testing at Qatar, Dani Pedrosa is also one of the form riders of the moment. The Spaniard's 250cc experience seems to be a perfect compliment to the riding style required by the Honda RC212V, and Pedrosa's recent results and impressive debut season make him a serious title contender this year.
Other riders and teams to shine during preseason include Colin Edwards, a regular at the business end of the timesheets over the past few months, Honda satellite rider Marco Melandri and the Suzuki duo of Chris Vermeulen and John Hopkins. The latter will be making his return to the track where last year he suffered mechanical failure in the race, and which in turn gave him a huge highside at last month's Official Test, causing injuries which ruled him out of the final preseason test.
Changing teams for 2007 are last season's Qatar pole position man Casey Stoner (Ducati), Makoto Tamada (Yamaha), Carlos Checa (Honda) and Shinya Nakano (Honda), whilst there are MotoGP returns for veterans Alex Barros (Ducati), Jeremy McWilliams (Ilmor), Andrew Pitt (Ilmor) and Olivier Jacque (Kawasaki). After last year's influx of young talent, only one newcomer, Yamaha satellite rider Sylvain Guintoli, undertakes his rookie season this year.
Nicky Hayden - Repsol Honda Team - "Testing is one thing, but racing is always going to be the only way to know where you are really at. We need to improve in some areas definitely, and there are a lot of guys who are coming into this season fast and motivated. The new regulations are in place, but the racing remains simple: if you ride round the fastest then you win."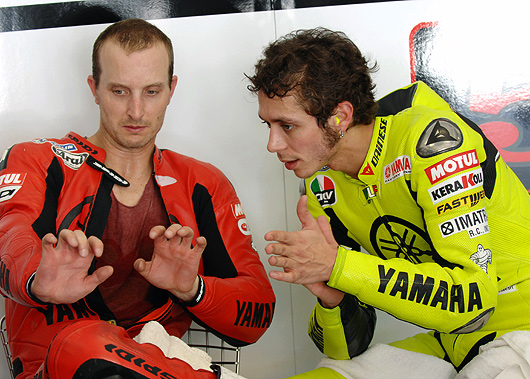 Rossi and Edwards plot their strategy, or nail polish?
Perfect start for Fiat Yamaha Team at first 800cc Grand Prix in Qatar
FREE PRACTICE REPORT 08/03/2007 - Fiat Yamaha Team riders Valentino Rossi and Colin Edwards got the first ever Grand Prix of the new 800cc era off to a flying start in Qatar today, both lapping comfortably under the 990cc circuit record and finishing the day in first and second places after two free practice sessions. Following a long winter of testing it was a relief for the team to finally get the season underway, with this the first time the championship has begun outside Europe since Rossi's historic first win with Yamaha in South Africa in 2004.
After an excellent performance at the test here just a few weeks ago, Rossi and Edwards were both confident of a strong start today and there were no surprises from their 800cc M1s, running in their new Fiat Yamaha Team livery for the first time. Edwards finished the morning session on top with his team-mate close behind in third whilst Rossi dominated the second free practice this afternoon, sitting at the top of the time sheets for the majority of the hour-long session. Edwards, despite not bettering his time from this morning, was second, just over three-tenths of a second behind his Italian team-mate.
Today was also the first day of the new MotoGP tyre regulations, which stipulate a maximum of 31 tyres (14 fronts and 17 rears) per rider during a Grand Prix weekend. This has forced the teams to alter the way they work throughout the practice sessions but Rossi especially is confident that these new rules will help rather than hinder the riders, bringing increased clarity on set-up decisions and making it easier to plan the weekend's work.
Valentino Rossi, Position: 1st Time: 1'56.464 - "It was a very good beginning for all of the team; it's a new season and we have a new sponsor and livery so it's good to start with both Colin and I at the top! We were in a good situation at the test here also but really the most important test was Jerez, because there we understood a lot more about our bike and we made some important changes. It seems here that the setting is very good and we were fast from the start this morning. I'm very happy with my Yamaha today, I can ride it well, I have a good rhythm and it's great fun to ride here in Qatar! For me, the new tyre rule is very good. Like this you know just what you have from the start, it's much more logical and there is less confusion for everyone. It means we can make decisions more quickly and I think, especially with a delicate bike like ours, that it's going to be helpful to have such a clear situation with tyres from the start of every weekend. Now let's see how we get on tomorrow and try to keep this rhythm going throughout the weekend."
Colin Edwards, Position: 2nd, Time: 1'56.665- "Today's gone pretty good, I think we can say we've made a strong start to the weekend. After finding a great setting here at the test we made a few more changes in Jerez and made the bike even better. We started off today with the bike set-up pretty similar to Jerez, with just a few small changes, and it seemed to work well from the off. We had a little bit of an issue this morning with a tyre, but we compared notes with Valentino afterwards and sorted that out pretty quickly between us. It's the first day of the new tyre rules and it's a little bit scary to know that there's no longer an inexhaustible supply, but we just have to slightly adapt the way we work to accommodate it and I think it will work well in the long run. Here it could be more of an issue because the conditions can be quite changeable from day to day, but we'll keep our fingers crossed that we stay in the 'range' and save one of each of our best tyres for race day.

Rossi is quicket on the new Fiat sponsored Yamaha M107.
Rossi Takes Pole in Record Time with Yamaha, Casey Stoner Close 2nd on Ducati
Friday 9th March - The first race of the 2007 MotoGP World Championship season takes place tomorrow in Qatar, with the riders today attempting to secure a good start in qualifying. Conditions at the Losail International Circuit were near perfect for riding, with a comfortable heat and little wind to contend with.
Valentino Rossi will begin his attempt to regain the MotoGP world title from pole position tomorrow on the new Fiat sponsored Yamaha M1, after a scorching lap at the end of the MotoGP session. The Italian put an incredible 1'55.002 lap on the board, edging out last year's poleman Casey Stoner now aboard the Desmosedici Ducati, by five thousandths of a second and smashing his pole record time of 1'55.683. It is Rossi's 46th career pole, and an ideal start to the 800cc era for the Italian.
Valentino Rossi on Pole: 1st, Time: 1'55.002 - "It's great to have my first pole of the season at the very first race and it's extra special for me because it's pole number 46 of my career! I hope this is a good omen for tomorrow. I'm really happy for this pole position because everyone has worked so hard; all my mechanics, engineers, Michelin…everyone involved. Yamaha has built us a great bike. Anyway tomorrow is another day and the real race, but we're starting from first and Colin is on the front row too so I hope we can put in a good Yamaha show! We have a couple of things to check in morning practice but we're more or less ready. I really like this track, the grip is great, it's fast and technical and it's possible to have a lot of fun with the new Yamaha. It's also quite quiet here, with not too many people and this is a nice atmosphere in which to start the season as I can focus completely on racing without too many other distractions! I think tomorrow there are three or four riders who can fight at the top with Colin and me, but we're feeling confident in our garage."
Casey Stoner, 2nd fastest, 1m 55.007s - "Pretty much the whole day's been quite good, we had a real good qualifying session, I managed to do a good lap time, and this morning we did a really good race run, doing some consistent fast times. We seem to have been pretty competitive the whole weekend, in the top three, so I'm really happy. We did have a couple more dramas today, like this morning when I was pulling out of pit lane going into the first corner and the bike just went away before I'd even entered the corner. It was quite strange, we're not sure what happened. I'm going to go into tomorrow's race and do my best, I'm not expecting anything, I just hope things turn out the way I plan them to because sometimes they don't. I'm really confident with the tyres and the team and the whole bike, so I think we can have a good result here."
After fast times yesterday and this morning, Colin Edwards set the pace early on, before eventually taking the final spot on the front row. Toni Elias, Dani Pedrosa and John Hopkins completed the top six, the latter surprising many with his great ride at less than 100% fitness. Loris Capirossi will start from the head of row three tomorrow, holding off Randy de Puniet and reigning World Champion Nicky Hayden.
Elias, Capirossi and Marco Melandri were amongst the riders to take a trip onto the gravel during the session, whilst there were crashes for Shinya Nakano and Jeremy McWilliams. The Ilmor GP rider will be in action tomorrow, having been examined for further damage to his injured leg.
Pos. Rider Manu. Nat. Total Time
1 Valentino Rossi Yamaha ITA 1'55.002
2 Casey Stoner Ducati AUS 1'55.007
3 Colin Edwards Yamaha USA 1'55.233
4 Toni Elias Honda ESP 1'55.358
5 Daniel Pedrosa Honda ESP 1'55.361
6 John Hopkins Suzuki USA 1'55.833
7 Loris Capirossi Ducati ITA 1'55.851
8 Randy De Puniet Kawasaki FRA 1'55.933
9 Nicky Hayden Honda USA 1'56.041
10 Marco Melandri Honda ITA 1'56.222
11 Shinya Nakano Honda JPN 1'56.306
12 Carlos Checa Honda ESP 1'56.609
13 Chris Vermeulen Suzuki AUS 1'56.639
14 Olivier Jacque Kawasaki FRA 1'56.754
15 Alex Barros Ducati BRA 1'56.814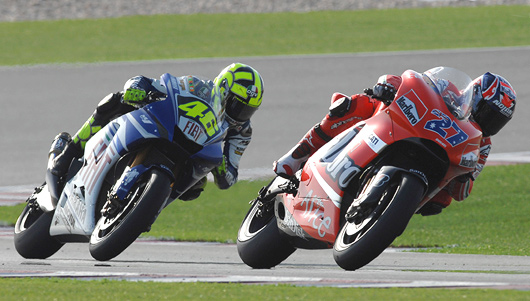 Commercialbank Grand Prix of Qatar
Superb Stoner and Ducati takes maiden MotoGP victory in Qatar
Saturday 10th March - Casey Stoner was the worthy victor of today's Commercialbank Grand Prix Of Qatar, taking his first ever win in the MotoGP class on his race debut for Ducati. The Australian puts himself into the history books as the first ever winner of an 800cc MotoGP race.
Stoner started from second on the grid, but set the tone for the race when he pulled a cheeky manoeuvre on Valentino Rossi at the end of lap one. A three-rider pack then formed, with Stoner, Rossi and Dani Pedrosa breaking away from the rest of the field. The difference between the Ducati, Yamaha and Honda bikes was illustrated perfectly during the trio's duel, as Rossi and Pedrosa either made up ground or overtook Stoner, before being caught on the straight courtesy of the Desmosedici GP7's monstrous power.
Rossi attempted to take a more permanent lead on lap 18, and it seemed that 'The Doctor' was on course for a third consecutive victory at Losail. However, Stoner showed his ever-growing maturity to bite straight back at his Italian rival and pull away over the final laps to have a cushion of nearly three seconds as he took the chequered flag.
Third-placed Pedrosa bowed out of the proceedings when he ran wide on a corner, not only leaving a two-rider battle for the win but also allowing John Hopkins to provide a real podium threat. Hopkins was determination personified, refusing to take things easy despite still being far from 100% fit. The Suzuki rider was only half a second away from both Pedrosa and his debut appearance on the podium, and confirmed his status as one of the gutsiest riders in motorcycle racing.
Marco Melandri and Colin Edwards rounded off the top six, with the latter having dropped down the field owing to a bad start. Behind them, Chris Vermeulen concluded a positive day for Suzuki, ahead of reigning World Champion Nicky Hayden. The 2006 title holder never really established himself during the practice sessions or the race, but will be hoping to find some sort of quick solution before Jerez as he attempts to retain his crown.
Alex Barros finished ninth on his return to MotoGP, ahead of Honda debutant Shinya Nakano. There were crashes for Loris Capirossi, Carlos Checa and Randy de Puniet, without serious consequences, whilst Andrew Pitt suffered mechanical problems and had to return to the garage on the only Ilmor bike to run today. Jeremy McWilliams had chosen against riding as a result of his crash yesterday.
Results MotoGP: (22 laps = 118.36 km)
Pos/ Rider / Nat / Team / Motorcycle / Time/ KM/H / Gap
1 / Casey STONER / AUS / Ducati Marlboro Team / DUCATI / 43'02.788 / 164.975 /
2 / Valentino ROSSI / ITA / Fiat Yamaha Team / YAMAHA / 43'05.626 / 164.794 / 2.838
3 / Dani PEDROSA / SPA / Repsol Honda Team / HONDA / 43'11.318 / 164.432 / 8.53
4 / John HOPKINS / USA / Rizla Suzuki MotoGP / SUZUKI / 43'11.859 / 164.397 / 9.071
5 / Marco MELANDRI / ITA / Honda Gresini / HONDA / 43'20.221 / 163.869 / 17.433
6 / Colin EDWARDS / USA / Fiat Yamaha Team / YAMAHA / 43'21.435 / 163.792 / 18.647
7 / Chris VERMEULEN / AUS / Rizla Suzuki MotoGP / SUZUKI / 43'25.704 / 163.524 / 22.916
8 / Nicky HAYDEN / USA / Repsol Honda Team / HONDA / 43'25.845 / 163.515 / 23.057
9 / Alex BARROS / BRA / Pramac d'Antin / DUCATI / 43'28.749 / 163.333 / 25.961
10 / Shinya NAKANO / JPN / Konica Minolta Honda / HONDA / 43'31.244 / 163.177 / 28.456
11 / Alex HOFMANN / GER / Pramac d'Antin / DUCATI / 43'37.817 / 162.767 / 35.029
12 / Olivier JACQUE / FRA / Kawasaki Racing Team / KAWASAKI / 43'45.736 / 162.276 / 42.948
13 / Kenny ROBERTS JR / USA / Team Roberts / KR212V / 43'45.765 / 162.274 / 42.977
14 / Toni ELIAS / SPA / Honda Gresini / HONDA / 43'45.777 / 162.274 / 42.989
15 / Sylvain GUINTOLI / FRA / Dunlop Yamaha Tech 3 / YAMAHA / 43'54.427 / 161.741 / 51.639
Valentino ROSSI 1'55.002 168.414 Km/hh Fastest Lap (New record):
Fastest Race Lap: Casey STONER 1'56.528 166.208 Km/h Lap 22
Circuit Record Lap: Valentino ROSSI 1'57.305 165.108 Km/h 2006
Circuit Best Lap: 2007 - Valentino ROSSI 1'55.002 168.414 Km/h
World Championship Positions:
1 STONER 25, 2 ROSSI 20, 3 PEDROSA 16, 4 HOPKINS 13, 5 MELANDRI 11,
6 EDWARDS 10, 7 VERMEULEN 9, 8 HAYDEN 8, 9 BARROS 7, 10 NAKANO 6,
11 HOFMANN 5, 12 JACQUE 4, 13 ROBERTS 3, 14 ELIAS 2, 15 GUINTOLI 1.

Jorge Lorenzo's 250cc
Jorge Lorenzo began the defence of his 250cc world title in the best possible way, taking a convincing victory in Qatar. The Spaniard was only troubled in the early stages of the race, when he had to work his way past quarter-litre debutant Thomas Luthi after the Swiss rider took an impressive holeshot. After that, Lorenzo broke away with a consistent cushion of around a second, imposing his own rhythm on the race.
Alex de Angelis took second after an impressive performance, having set a series of fastest race laps at the midway point to join up with the trailing group. He then progressed past both Luthi and Barbera to cap a fine season start for the San Marino rider.
For Barbera, the first race for Team Toth was a chance to prove his quality in the 250 category. Having been on the pace during practice, he stormed out of the blocks before engaging in a duel with Luthi for the final podium place. Although Barbera's place was well deserved, few would have begrudged the Swiss rider a rostrum finish at his maiden 250cc Grand Prix appearance. He was followed by Andrea Dovizioso in fifth, the fastest Honda of the day, and Roberto Locatelli. The Metis Gilera veteran almost had a repeat performance of last year's astonishing comeback through the field, and eventually capped off the top six. Yuki Takahashi, Julian Simon, Marco Simoncelli and Shuhei Aoyama completed the first ten past the line.
Mika Kallio had to pull into the pits after suffering a mechanical problem on the final laps, ending what had been a good race for the KTM rider. His team-mate Hiroshi Aoyama was also out of luck, crashing on lap two along with reigning 125cc champ Alvaro Bautista.
---
Reigning AMA Superbike Champ Ben Spies is on pole with the all new GSXR1000.

2007 AMA SuperbikeChampionship, Daytona Round 1 of 12
2007 AMA Superbike preview: Yoshimura Suzuki prepares for a Return Engagement
Ben Spies Wins the 2007 AMA Superbike Daytona Season Opener
By Jim Gianatsis
Staurday March 8, 2007 - Defending AMA Superbike Champion Ben Spies aboard the all new 2007 Yoshimura Suzuki GSX-R1000 started off the 2007 AMA Superbike Championship in grand style with his win of the Superbike season opener on Saturday. Historically once the most important motorcycle races in America, if the not the world, the real Daytona 200 Miler has now been relegated to a 15-lap side show of the makeshift 3.56 mile infield road course incorporating partial banking sections because of track and tire safety issues associated with running on the high speed banking with its unsympathetic concrete walls.
Tire issues continued to plague the race despite the reduced laps, forcing early leader and race win contender Eric Bostrom to bring his highly competitive Yamaha R1 into pits on lap 12 for a new front tire. It is estimated thay only 5,000 enthusaiasts attended this year's Superbike race, continuing the downward spiral to the event's lowest attendance numbers ever, in comparrison to some 500,000 motorcycle enthusiasts being just outside the track in Daytona for annual Bike Week.
2007 AMA Superbike Preview: Yoshimura Suzuki prepares for a Return Engagement
Daytona Beach, FL, March 07, 2007- The winter wait is finally over and the 2007 AMA Superbike season is ready to kick off at Daytona International Speedway. The hype actually started building last fall, before the status-shaking '06 season was even complete, with the next season lloking to be pretty muchjust a rematch featuring the long-time champ, Mat Mladin, vs. the new king, Ben Spies. It will be interesting to see if the all- new superbike team from American Yamaha headed by Eric Bostom and Jason DiSalvo will be able to put any pressure whatsoever on the 2 Yoshiumura Suzuki Champsions.
Armed with an all-new Yoshimura Suzuki GSX-R1000, both men were hyper motivated during the offseason, Mladin looking to climb back to the top of the Superbike hill after his stunning defeat and Spies desperate to dispel any notions that last season's triumph was some sort of fluke. Their unique relationship as teammates and rivals, simultaneously overloaded with mutual respect and fiercely intense competition, promises to elevate the intriguing match-up to a level not seen in these parts since perhaps as far back as Wayne Rainey vs. Kevin Schwantz.

If that weren't enough, there's a stellar second group lurking just behind, looking to steal the show for themselves. With a full offseason to explore and test the traction control technologies deemed legal mid-way through the '06 campaign, any notions that certain teams had a leg up on the competition by thriving in the grey areas of the rulebook have been erased (as have the excuses).
American Honda returns with Miguel DuHamel and Jake Zemke as their CBR1000RR enters its third year of AmHon development. The team feels it's high time to rise back to the level of bonafide contender, but with a now outdated bike, no support from HRC of japn, and limited in-house development capabilities, the safe bet is the American Honda squad will now be further back than ever
Kawasaki has ratcheted up their effort over the offseason as well, replacing new Yosh man Tommy Hayden with '06 Supersport/Superstock double champ Jamie Hacking and expecting Superbike soph. Roger Hayden to step up in his second year on the ZX-10R Superbike. In addition, former World Superbike and MotoGP star Akira Yanagawa will join the duo this weekend in Superbike action at Daytona.
And while Ducati announced a temporary absence from the series as they retool their sportbike line-up (and hope for regulations that allow entry for their new machinery), Yamaha and MV Agusta have stepped up to fill the void.
No one can suggest Yamaha's long-awaited return to the class is anything less than full-bore with former class runner-up Eric Bostrom leading the way, followed by long-time Superbike prospect Jason DiSalvo, who has the potential to post blisteringly quick laps and ruffle a few feathers in his Superbike debut season.
Eraldo Ferracci's return is just as welcome, as the former Ducati man keeps the Italian flavor alive in the paddock with his exotic MV Agustas that will be ridden by former FIM Superstock star Luca Scassa and AMA undercard hero Matt Lynn.
Meanwhile, the 'B Teams' are looking more and more 'A' class with Jordan Motorsports Suzuki adding multi-time AMA Superbike race winner Aaron Yates to the fold, joining holdover Jacob Holden on the squad.
Ben Spies Tops Wednesday Paractice
Wednesday March 07th - Shortly after claiming the pole for Friday's AMA Superstock race, reigning AMA Superbike champ Ben Spies powered his way to fastest lap honors in the premier class' afternoon session as well. After being upstaged by his Yoshimura Suzuki teammate/rival Mat Mladin in the season-opening session this morning, the Texan responded with a 1:38.296 in the afternoon to take the top spot on the leaderboard by some four tenths over the Aussie's 1:38.691.
Yamaha USA's Eric Bostrom was the only other rider to crack into the '38s, hustling his all-new '07 YZF R1 around the high banks at a clip of 1:38.966. American Honda's Jake Zemke and Miguel DuHamel were fourth and fifth, respectively, followed by Superstock ace Geoff May on the Team M4 EMGO Suzuki, Monster Energy Kawasaki's Jamie Hacking, second Yamaha man Eric Bostrom, Hacking's teammate Roger Hayden, and Jordan Motorsports Suzuki's Aaron Yates.
Yoshimura Suzuki On Pole for Saturday Superbike
Thursday March 8, 2007 - Defending AMA Superbike Champion Ben Spies put his Yoshimura Suzuki GSX-R1000 into pole position for Saturday's opening round of the 2007 series at Daytona International Speedway, Florida, just a fraction of a second ahead of team mate Mat Mladin. Texan Spies clocked a 1:37.546 to beat Mladin's 1:37.581, although both riders were outside Mladin's 2006 lap record of 1:37.075.
Said Spies: "It felt really good. We went out and did some race set-up on race tyres early in the session and got going really good. That's the most important thing and that's when the bike is working the best. We threw on the softer tyres and tried to go for a lap. I knew from the first lap that the right side of the tyre didn't have as much grip as the race one did. I went in the first lap and ran wide through the horseshoe and had to go an extra lap. I came back around and said, 'I'm not going to do it.' And I did the same thing. That's when we put together the 37.7 lap."
Eric Bostrom did a very commedible job of putting American Yamaha's new R1 Superbike on the front row in 3rd place, a half second ahead of Kawaskis Tommy Lee Hayden on his ZX10. New Yoshimura team rider Tommy Hayden will start from fifth on the grid after posting a time of 1:38.930. The quickest American Honda rider is Miguel duHammel at 1.5 secounds off the pol pace, and with teammate Jak Zemke back in 12th. The new Eraldo Ferracci MV Agusta factory team with Matt Lynn and Luca Scassa will start from15th and 16th position ahead of former AMA National Champions Doug Chandler and Kurtis Roberts riding production Honda CBR1000s in their newly organized team.
AMA Superbike Qualifying:
Pos. / No. / Lap Time / MPH /Name / Bike
1 1 1:37.546 108.871 Ben Spies Suzuki GSX-R1000
2 66 1:37.581 108.832 Mathew Mladin Suzuki GSX-R1000
3 32 1:38.195 108.152 Eric Bostrom Yamaha YZF-R1
4 95 1:38.769 107.523 Roger Lee Hayden Kawasaki ZX-10R
5 22 1:38.931 107.348 Tommy Hayden Suzuki GSX-R1000
6 17 1:39.013 107.259 Miguel Duhamel Honda CBR1000RR
7 99 1:39.032 107.238 Geoff May Suzuki GSX-R1000
8 20 1:39.183 107.075 Aaron W Yates Suzuki GSX-R1000
9 40 1:39.268 106.983 Jason Disalvo Yamaha YZF-R1
10 2 1:39.310 106.938 Jamie A Hacking Kawasaki ZX-10R
11 98 1:39.427 106.812 Jake P Zemke Honda CBR1000RR
12 59 1:39.526 106.705 Jake Holden Suzuki GSX-R1000
13 187 1:40.047 106.150 Akira Yanagawa Kawasaki ZX-10R
14 77 1:40.353 105.827 James Ellison Honda CBR1000RR
15 50 1:40.858 105.296 Matt D Lynn MV Agusta F4-1000R 312
16 88 1:40.966 105.184 Luca Scassa MV Agusta F4-1000R 312
17 18 1:41.096 105.049 Chris Ulrich Suzuki GSX-R1000
18 10 1:41.235 104.904 Doug Chandler Honda CBR1000RR
19 44 1:41.657 104.469 John Haner Suzuki GSX-R1000
20 80 1:42.202 103.912 Kurtis L Roberts Honda CBR1000RR
21 361 1:42.286 103.827 Martin Cardenas Kawasaki ZX-10R
22 333 1:43.073 103.034 Tristan Palmer Suzuki GSX-R1000
23 61 1:43.261 102.846 Scott Jensen Suzuki GSX-R1000
24 38 1:43.934 102.181 Dean Mizdal Suzuki GSX-R1000
25 62 1:44.576 101.553 David Weber Suzuki GSX-R1000
26 302 1:44.762 101.373 Santiago Villa Yamaha YZF-R1
27 68 1:45.140 101.008 Dominic Jones Suzuki GSX-R1000
28 290 1:45.511 100.653 Corey Sarros Suzuki GSX-R1000
29 269 1:45.905 100.279 Johnny Rock Page Suzuki GSX-R1000
30 24 1:46.179 100.020 Clint Mcbain Suzuki GSX-R1000
31 232 1:47.864 98.458 Chad Rolland Suzuki GSX-R1000
32 201 1:49.325 97.142 Brian Boyd Suzuki GSX-R1000
Ben Spies, Number 1 takes takes first Daytona 2007

Ben Spies Wins the Big Daytona 53 Miller Superbike Race
Staurday March 8, 2007 - Defending AMA Superbike Champion Ben Spies aboard the all new 2007 Yoshimura Suzuki GSX-R1000 started off the 2007 AMA Superbike Championship in grand style with his win of the Superbike season opener on Saturday. Historically once the most important motorcycle races in America, if the not the world, the real Daytona 200 Miler has now been relegated to a 15-lap sideshow of the 3.56 mile infield road course and partial banking sections because of track and tire safety issues associated with running on the high speed banking with its unsympathetic concrete walls.
Tire issues continued to plague the race despite the reduced laps, forcing early leader and race win contender Eric Bostrom to bring his highly competitive Yamaha R1 into pits on lap 12 for a new front tire. It is estimated thay only 5,000 enthusaiasts attended this year's Superbike race, continuing the spiral down to the event's lowest attendance ever, in comparrison to some 500,000 motorcycle enthusiasts being just outside the track in Daytona for annual Bike Week.
Eric Bostom used his front row start from the Pit Lane grid to take the immediate race lead with his Yamaha R1 into turn one ahead of pole sitters Ben Spies and Matt Mladin on the Yoshimura GSXR1000s. Yamaha team manager Keith McCarty has done an incredible job in making the team's return to AMA Superbike so competive right out of the gate, showing they have a much better relationship to the Yamaha racing departmant in Japan than some of the other distributor teams.
The entire grid got away tightly bunched and as they funneled down into the Turn 2 Horse Shoe their was a lot of contact. The front brake lever of Tommy Hayden's factory Kawasaki ZX10 tagged the rear of Aaron Yates's Jordan Suzuki, tossing Hayden's bike to the ground where he took out both Mladin and another rider as they slide on top of each other off across the grass. Both Tommy and Yates would rejoin the race a lap down and out of contention.
The 1st lap still sees Hacking in the lead with his Yamaha, closely persured by Spies who is passed on the banking by teammate Mladin, Miguel DuHamel on the American Honda CBR1000RR and Kawasaki's other Hayden, Tommy, all in a tight race for the lead. Not far hehind are Zemke, May, Holden, Kawasaki's former World Superebike star Akiria Yanagawa now a 3rd member of the US Kawasaki team, and Matt Lynn on the Ferracci MV Agusta.
Former 5-time Superbike champ Matt Mladin is looking to retake his crown this season and on lap 3 drafted past Hacking on the banging to take the lead. Mat held the lead most of the way through the infield, then made a rare mistake as he ran wide into a corner and tucked the front wheel as he tried turning on the marbles and slid off into the grass. He picked up the bike and rejoined the raxce from the back, about a quarter of a lap behind and no chance of a podium spot in shuch a short race. Then Roger Hayden is also down and out after loosing the front of his Kawasaki. Daytona is not liking front tires for some reason, this year.
As Mladin recovers from his spill back in the pack, Ben Spies inherits the lead from his teammate on Lap 4 and never looks back, churning out a wickedly fast pace that is also fully in control. Still within striking distance are Eric Bostrom and Duhamel who trade 2nd spot on the banking every few laps, and behind them are Zemke, Holden, Yanagawa, May, Lynn and DiSalvo, with Mladin up to 10th by Lap 10.
Then unexpectedly on Lap 12, Eric Bostrom brings the Yamaha R1 into the pits for a front tire change. Matt Lynn brings the MV Agusta in as well. Neither of their pit crews are set up for changing tires in the short 15 lap race, so effectively their races are over. Extreamely disappointing for Bostom who was in contention for the win his first time out with Yamaha's new superbike. And disappointing for Lynn who was looking for a good result with MV Agusta's first ever Superbike race. Some of the front Dunlops were just not holding together.
Ben Spies carried on for 3 more laps to win the Daytona 53 Miler for Yoshimura Suzuki unchallenged, followed a couple seconds back by Honda's DuHamel and Jake Zemke, with Japanese rider Yanagawa doing a very creditable jon to move up the 4th in the last alp ahead of Holden, May, DiSalvo, Mladin, Tommy Hayden, Ellison and Arron Yates in 11th.
As the 2007 AMA Superbike Series leaves Daytona and heads for Califonia Speedway in 5 weeks, it looks like it will be a very exciting Championship this year with as many as 8 riders capable of winning on any one weekend, though Spies has to be pegged the favorite.
The only disapointment is that the AMA continues to endorse Daytona Speedway, one of the worst tracks on the tour, because of tradition and the fact the AMA makes its biggest back gate money here from all the diffeernt race classes witha week of club racing. While the premier Superbike Class is treated as a shortened side show to the stupid 600cc Formula Extreame 200 Miler.
Daytona International Speedway has the money to build an exciting and great infield only road course if they wanted, just like Indianapolis did, which would get them FIM approval and might bring both MotoGP and World Superbike to the 'Home of Speed", but for some unknown reason the Speedway doesn't want to, and the AMA does have the balls to force the issue or change the venue.
Daytona Superbike Results: 15 laps, 3.49 mile track
1 1 Ben Spies Longview, TX Suzuki GSX-R1000 15 --- American Suzuki / Yoshimura US
2 17 Miguel Duhamel Las Vegas, NV Honda CBR1000RR 15 3.022 American Honda Motor Co
3 98 Jake P Zemke Paso Robles, CA Honda CBR1000RR 15 12.637 American Honda
4 187 Akira Yanagawa Fukuoka, Kawasaki ZX-10R 15 24.001 Kawasaki
5 99 Geoff May Gainesville, GA Suzuki GSX-R1000 15 30.596 M4 EMGO Suzuki / Pirelli
6 40 Jason Disalvo Stafford, NY Yamaha YZF-R1 15 37.453 Yamaha Motor Corp USA
7 59 Jake Holden Eatonville, WA Suzuki GSX-R1000 15 42.581 Jordan Suzuki
8 22 Tommy Hayden Owensboro, KY Suzuki GSX-R1000 15 43.734 American Suzuki / Yoshimura US
9 77 James Ellison Rancho Palos Verdes, CA Honda CBR1000RR 15 46.397 Corona Extra Honda
10 66 Mathew Mladin Henderson, NV Suzuki GSX-R1000 15 46.580 American Suzuki / Yoshimura US
11 20 Aaron W Yates Milledgeville, GA Suzuki GSX-R1000 15 53.935 Jordan Suzuki
12 361 Martin Cardenas Miami, FL Kawasaki ZX-10R 15 -None Listed-
13 333 Tristan Palmer Warwickshire, Suzuki GSX-R1000 15 Govnors Bridge Motorcycles
14 10 Doug Chandler Salinas, CA Honda CBR1000RR 15 No Factory Support Rcng
15 61 Scott Jensen Peoria, AZ Suzuki GSX-R1000 15 HALOF Rcng
16 44 John Haner Austin, TX Suzuki GSX-R1000 15 Millenium Tech
17 62 David Weber Alpharetta, GA Suzuki GSX-R1000 15 Millenium Tech
18 80 Kurtis L Roberts Turlock, CA Honda CBR1000RR 15 No Factory Support Rcng
19 68 Dominic Jones Christchurch, CA Suzuki GSX-R1000 15 Moto 911
20 38 Dean Mizdal Huntington Beach, CA Suzuki GSX-R1000 15 STAR School
21 32 Eric Bostrom Las Vegas, NV Yamaha YZF-R1 14 --- Yamaha Motor Corp
22 50 Matt D Lynn Ball Ground, GA MV Agusta F4-1000R 312 13 --- MV Agusta / Fast by Ferracci
23 88 Luca Scassa Willow Grove, PA MV Agusta F4-1000R 312 9 --- MV Agusta / Fast By Ferracci
24 95 Roger Lee Hayden Owensboro, KY Kawasaki ZX-10R 4 --- Monster Energy / Kawasaki Motors Corp
25 2 Jamie A Hacking Denver, NC Kawasaki ZX-10R 0-DNF --- Monster Energy / Kawasaki Motors Corp
26 302 Santiago Villa City Of Sunrise, FL Yamaha YZF-R1 0-DNF --- Moto Xtreme
27 18 Chris Ulrich Lake Elsinore, CA Suzuki GSX-R1000 0-DNS --- Roadracingworld.com
---
Troy Bayliss takes his Race One victory lap alongside Francisco Nieto on the factory PSG-1 Kawasaki.
2007 SBK Corona Extra Superbike World Championship, Round 2 of 13
Seagulls and Bikinis and Brilliant Racing
Bayliss is Back, Trading Wins with Toseland Down Under
By Andy Rixon and a Whole Bunch of Other Guys

Phillip Island, Australia, Sunday 4. March 2007 - Phillip Island provided the perfect backdrop for two of the best Superbike races ever witnessed at the classic track, with Troy Bayliss (Ducati Xerox) winning the first from James Toseland (Hannspree Ten Kate Honda) then Toseland took the second race win from Bayliss. Up to five riders were involved in the fight for podium places, with each race coming down to a man-to-man fight over the last few laps. Toseland now leads the championship by 16 points, 90-74, over Max Biaggi (Alstare Suzuki Corona Extra). Complete Race Coverage HERE
---
the best damn thing
Its been a long 3 year wait, but sexy hot punk pop rock skater princess Avril Lavigne finally has a new CD album hitting the stores next month. Its called the best damn thing and we're sure it is, based on the early radio release first single called "Girlfriend" from the album.

For our special FastDates.com Fans you can order the best damn thing right now at a super special price of just $12.99 which is a $5.99 discount (32%) off the list price.

Just click on the CD cover at left and it will be the best damn thing you've done all day! Damn Straight.
---
There's more! Go to Pit Lane News NEXT PAGE

Hot Calendar Girl and Bike News! Go to: Fast Dates • Calendar Girls • Iron & Lace





BikerKiss.com - the largest biker personals site!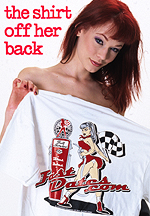 ---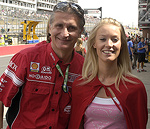 Paolo Ciabatti
Leaves Ducati Corse
Ducati Corse Press Office, March 9th - The Phillip Island race, which took place a few days ago, also marked an important event within the Ducati Xerox Team. Following a decision taken some time before, Paolo Ciabatti, the Ducati Corse Superbike director, will be leaving the Italian company to embark on a new professional career. Paolo has worked for Ducati since 1997 and has made a major contribution to the growth and the success of the company, as well as to Ducati's numerous Riders' and Manufacturers' title wins in the World Superbike Championship. Paolo Ciabatti wished to be present at the first two rounds of the 2007 championship to hand over to Davide Tardozzi, who from today takes on an increasingly important role within Ducati Corse.
"Paolo has represented a lot for Ducati and also for me personally: he has been a loyal and precious colleague, but above all a sincere friend", commented Claudio Domenicali, Ducati Corse Managing Director. "We are sad that he has decided to leave the company but, in the light of his correctness, professionalism and contribution he has made to the growth and the success of Ducati, we can only wish him all the best for his future professional career".

Editor's Comment: It is a shock to hear of our friend Paolo Ciabatti's departure from the most successful team in World Superbike after his 10 years there. Normally an amiable parting of the ways would see a press release with some nice words from the person leaving, but we didn't get that here. So we might speculate Ciabatti's position in the team was eliminated for budget reasons. But there wasn't even a suggestion he might assist with marketing of the MotoGP Cose team as well, so politics might have played a role, too. Possibly involving the fact the Neil Hodgson did not get his promised #2 seat on the Duati Corse Superbike team this year next to Troy Bayliss?

Trouble in Paradise
AMA Cancels Mid-Ohio
September Finale
The second of two AMA Superbikes races meets this season at Mid-Ohio Sports Car Course, the final round of the season scheduled for September 28-30th and billed as the Superbike shootout has been removed from the schedule acording to AMA Pro Racing.
The 11 round AMA National roadracing schedule will now conclude at Laguna Seca on September 15-16th. The concern over seasonal weather in Ohio on the date scheduled was given as the reason.
Which is probably a good decission as I remember living in Ohio and racing motocross in the pouring snow in September, The snow was coming down so thick I couldn't see the fist cover just 50 yardsd away from the starting line, and my fingers were so cold they lost all feeling and couldn't work the front brake (but i still won the race!). With AMA headquarters located in Ohio not far from the race track, one has to wonder why they originally even considered scheduling the race for the end of september. - JG
Ron Barrick Fired
Former AMA Pro Racing Road race manager Ron Barrik was let go from AMA Pro racing last week. No official reason was forthcoming from the AMA. Barrick lost his manager job to Morgan Broadhead at the end of last season and wasn't given a new title. though he remain emplyed with Pro Racing until last week.
No word or evidence yet that Morgan Broadhead is doing anything different than Ron Barrick has done in the past.
Federico Minoli, President and CEO Ducati
on Stoners MotoGP Win
"This is an extraordinary day - we've won the first 800 race, just like we won the last 990 race. Ducati is enjoying a great start to the year, both in racing and commercially, because our new 1098 is going so well. The win is a testimony to Ducati, it shows the strength of our brand and technology. We have created something that's good for us, for motorcycling and for Italy. Our technology is second to none, it's entirely developed in Bologna by a group of dedicated engineers and shows the world that when Italians focus on something they can do it very well.

Stoner was amazing, he's so young and he won so well, he didn't dare too much, he knew he had more speed on the straight and he rode a very intelligent race. Loris had an unlucky day but he doesn't need to prove anything, he is the symbol of Ducati, we know he's strong and we know he will be back. We are extremely satisfied with today, the engine was beyond our expectations, the desmodromic system works so well. The tyres were also very good, so our thanks to Bridgestone, to our other technical partner Shell Advance and all our sponsors."


Ducati Riding & Racing Experience Set to WOW
This year the Ducati Riding Experience returns in grand style. The most coveted bike on the road, the new Ducati Superbike 1098, is being added to the DRE team. Ducati's latest product will be available to DRE participants, with the 1098 version for trainees of the Racing Course and the 1098S for participants in the Master racing course.
But that's not all: this year Ducati Riding Experience will branch out from the prestigious Italian circuits of past editions and add to two European racetracks, Magny Cours in France and Pannoniaring in Hungary.
The 2007 DRE will also be held at the recently renovated Enzo and Dino Ferrari racetrack in Imola, providing students of the Ducati Riding Experience with an updated setting to perform their skills.
FastDates.com attended the DRE Racing School at Misano in Italy during World Ducati 2004 and had an incredible time. Read all about it HERE.
Program registration starts in March. For scheduling and further information, please visit ducati.com
.
Ducati North America Announces Exciting Events for 2007 Daytona Bike Week.
Feb 27th = This year Ducati is making the Daytona experience better than ever, with a four day celebration of the company's culture and roadracing heritage. From Wednesday, March 7 through Saturday, March 10, Ducati will transform the area located directly beneath Daytona International Speedway's Nextel Tower Grandstand into "Ducati Village" - featuring Desmo-only parking, hospitality, live TV feeds, the 2007 Ducati model range and a place to meet fellow Ducatisti.
On Friday, March 9, the Village will host non-stop entertainment as Ducati.net presents the annual DucatiDayDaytona party (DDD). DDD 2007 will feature favorites such as the Concorso DucatiDayDaytona; the longest running Ducati-only motorcycle concours in North America, a contest for the best sounding Ducati and two rounds of the exciting Fashion Show.
This year's event also marks the 30th Anniversary of Cook Neilson and Phil Schilling's historic 1977 Daytona Superbike win on a Ducati. To commemorate this occasion, Cook Neilson and Phil Schilling will once again return to the Speedway. On Friday they will attend DDD to meet fans and celebrate their legendary success at Daytona.
Another special guest of the festivities is Gianandrea Fabbro, the Senior Designer of the new 1098 Superbike. Gianandrea is making a special trip from Italy to attend DDD on Friday afternoon where fans can learn first hand about the development of the 1098 during a special presentation. Gianandrea will be available at the event for the duration of the day to answer questions, sign autographs and enjoy all that bike week has to offer.
Full details of the week's events, including a complete schedule, can be found at www.ducatidaydaytona.com and www.ducatiusa.com

Click to Listen & Buy It Now
What's Hot!
Kari Kimmel
Incredible new singer/song writer
featured on top TV and Movie sound tracks will be performing music from her awesome new CD live at our upcoming LA Calendar Motorcycle Show July 14-15th!
Max Biaggi Living
in Las Angeles and riding SuperMoto
Strange as it may seem, Italy's former MotoGP star and now World Superbike race winner with the Alstare Corona Suzuki Team, Max Biaggi has moved to Los Angeles and has been living here for nearly a year. His home is on a mountain top in the Saddle Peak area of the Santa Monica Mountains, just above Santa Monica and Malibu on the Pacific Ocean, right at the mountain top intersection of our prime sportbike riding roads of Stunt and Piuma.
We wouldn't know that Max was living here because he does not own or ride a streetbike, only a motorscooter for quick trips to the market. The only place that anyone has really seen or spoken to Max is at the LaGrange SuperMoto track about 90 minutes away towards Riverside. Max has been racing a Suzuki RM450 Supermoto bike there regualrly during the week since last August to keep in shape for roadracing. And as other SuperMoto riders have observed and spoken with him, they say he is incredibly fast and smooth.
It seems very interesting that one of the world's top roadracing stars lives so far away from his home country in Italy, and Europe where the majoity of World Superbike races and testing takes place. Airline flights to Europe and Australia are 10-12 hours.
And Max lives right on the some of the best sportbike riding roads in the world, but he doesn't ride streetbikes, and says he won't because "It's just too dangerous."
---

NEW! FastDates.com
Cell Phone Wallpapers!
Pirelli's $10 Million Action Car Chase Web Film with Uma Thurman
What do you do when you are the world's largest tire company with Billion dollars to spend on advertising? Sponsor the SBK World Superbike Championship. Produce the world''s most expensive nude Pirelli PinUp Calendar featuring famous Hollywood starlets and then don't let anyone buy it. How about make an action bhort website movie for $10 million dollars staring Kill Bill actress Uma Thurmond?
www.pirellifilm.com
Rossi launches 800cc challenge with hard-fought second in Qatar
Fiat Yamaha Team rider Valentino Rossi finished second in the inaugural Grand Prix of the 800cc era today after losing out in a close battle with Casey Stoner (Ducati), who took his first MotoGP win. After starting from pole position for the 46th time in his career, Rossi got a good start but surrendered his lead to the eventual winner as they crossed the line at the end of the first lap with Dani Pedrosa (Honda) and John Hopkins (Suzuki) in close contention. From then on seven-time World Champion Rossi stalked the Australian youngster with both showing their strength in different parts of the track; Rossi's Yamaha was generally faster in the corners whilst the Ducati claimed the advantage on the straights. With four laps to go Rossi made his move and passed but Stoner passed him back over the line and Rossi was unable to stay with him in the final few laps. Stoner eventually took the chequered flag 2.8 seconds clear of Rossi with Pedrosa just holding on for third ahead of Hopkins.
After being consistently fast throughout the practice sessions and also starting from the front row in third, today was not to be Colin Edwards' day and a small slide off the start line saw him lose his grid position into turn one before dropping to seventh by the end of the first lap. The Texan had a few problems during the race and was unable to make it back up to the front group, settling into a best position of fifth before Marco Melandri (Honda) eventually relegated him to sixth with three laps to go.
Valentino Rossi, Position: 2nd Time: +2.838 - "It was a great race today and a good battle, although of course we would have preferred to start the season with a win! After the practice this morning we were a little bit scared because we had some problems with the tyre, but we understood what to do and I definitely made the right tyre choice with Michelin, so I am happy for that.
I got a great start and my M1 worked very well, I could ride it how I wanted on the limit and keep pushing. I wanted to push Casey and try to take the fight to him more, but in fact he was perfect today. He didn't make a single mistake as far as I could see and he rode very well; he deserved to win so congratulations to him. I could see that he was faster on the straight and so I knew that if I got in front I was going to need to make a gap from him, but in fact he was too strong! In the last few laps we were getting faster and faster and I thought I still had a chance, but then he kept on going and my tyre started to slide a little bit so I wasn't able to stay with him to the finish. Anyway, we only waved the white flag right at the end so I am happy about this! Of course it's not perfect but my team have worked very hard and it's much better to have 20 points like this than two like last year! Now we need to find a little bit more horsepower, but Yamaha is working very hard and I am confident that we will continue to improve."
Colin Edwards. Position: 6th
Time: +18.647 - "I spun off the line on the dirty part of the track and so my start wasn't great, which was annoying. I had a bit of a feeling just before we went out that we would be slower in the first few laps as the tyre was going to take time to heat up and unfortunately that was the case; I just couldn't push hard enough in those vital first few laps. Anyway after that I was holding pace okay and thought I could stay with the top group but then I had a near crash on lap seven or eight coming into turn seven, to the extent when I was holding the bike up on my knee and elbow! I somehow figured out how to get it back up after 30 metres but we lost quite a bit of time. From then on my rhythm was okay and honestly the race as a whole wasn't so bad, but the tyre felt a bit greasy and I was lacking some front grip, which was strange after it had been perfect all weekend. We definitely need more power - that was obvious today, so that's priority number one for Yamaha I guess! Anyway, we've learnt a lot this weekend so let's go forward from here."
Honda rider quotes Qatar race, Saturday March 10, 2007.
Dani Pedrosa, Repsol Honda: 3rd. "I'm happy with the result today and to start the season with a third place is pretty useful. We had a fair few problems this weekend, so to finish on the podium is good for us. I made a great start which I was happy with because my practice starts this weekend weren't as good as this. In the race I was trying to ride at the maximum and then I made a mistake in the last corner and lost the slipstream to the riders in front. Anyway I was not able to follow them in the corners because I was having some wheelspin and I lost my rhythm a little. The bike was sliding quite a lot and it was difficult to stay ahead of John Hopkins at the end because he was pushing hard. This season is going to be a tough competition between the bikes, tyres and the riders and it should be very interesting. The next race is very important and Jerez is a good track, so I hope we can move on from the good result today and do great job there."
Marco Melandri, Gresini Honda: 5th. "I knew I had a good race pace and I was actually hopeful of a better result than this. I got a good start and that allowed me to make up positions from the first lap. I tried to hang on to fourth place because I felt confident but we were losing time in the straight and I had to brake really late to make up time. That put a lot of stress on the front tyre and that forced me to slow down. In the second half of the race when the fuel load started to lighten the bike was more balanced and I was able to push again. The race was tough and the pace was really high. We still have a lot of work to do – the bike is new and we need to develop it."
Nicky Hayden, Repsol Honda: 8th. "I tried to learn as much as I could in the race. I really felt like I rode my hardest and had some good dices with a few of the guys – I just about caught Vermeulen on the last lap and I got faster as the race went on. My last two laps were my fastest laps of the race and that's the positive thing. It's been a tough weekend but I'm not going to whine and make a bunch of excuses. I qualified ninth and finished eight and, compared to the top boys, we we've just been off the pace for the whole weekend. The biggest problem is confidence in the front and getting it to steer how I want it to. I want to say thanks to the team because those guys have been working hard. We'll stay here to test tomorrow and try to figure out some improvements, and hopefully be a lot closer when we get to the next race at Jerez."
Shinya Nakano, Konica Minolta Honda: 10th."Well I at least did what I said I would do and cross the line and get some points, which is so important in such a long season. My start was not so good, but I soon got into a good rhythm. I benefited from a number of people crashing out and soon spent most of the race battling with Nicky Hayden and Chris Vermeulen. I so wanted to catch and pass both of these riders but unfortunately I didn't have the lap times to do it. I think we really needed to be around half a second a lap faster to be competitive where we deserve to be, but we finished the race and learned a lot about the bike, which is so important."
Kenny Roberts Jnr: 13th. "I honestly don't have anything positive to say about this race. We just need to continue making progress at Jerez."
Robbie Bugden Wins New Zealand Superbike Title
March 13, 2007- Australia's Robbie Bugden sealed a thrilling victory in the 2007 New Zealand Superbike Championship at Pukekohe Raceway on Sunday, the first Australian rider to secure the crown.
Winning the first race of the final round, Bugden needed to finish the last race of the season ahead of main title challenger, New Zealand's Andrew Stroud, to seal the series win.
In a dramatic turn of events, Bugden was leading the final leg when he and fellow Australian Scott Charlton touched wheels which ran Bugden off the circuit.
Miraculously Bugden remained upright and rejoined the track in front of New Zealand's Suzuki hero Stroud where he remained to the chequered flag, registered a new lap record of 56.698 seconds around the 2.8km Pukekohe circuit.
Piloting his GSX-R1000 Superbike to an historic victory, the laconic Queenslander was delighted with his triumph.
"This is fantastic - it was a really tough day and I feel like I've aged about two years across the weekend, but it was well worth it," Robbie Bugden said.
"I had a strong finish to the 2006 season with Team Yoshimura Suzuki and the momentum carried through into the NZ series. I really appreciate Suzuki New Zealand's invitation to race in the series and all the support they gave me.
"Suzuki is so dominant in New Zealand road racing; GSX-R1000's filled three of the top five places in this year's Superbike championship."
The Aussie racer is looking to continue his winning ways back on home soil as he resumes his charge in the Australian Superbike competition in the double-header rounds two and three at Winton Raceway, Victoria this weekend.

Final NZ Superbike Standings: 1. Robbie Bugden (Suzuki GSX-R1000) 197 points; 2 Andrew Stroud (Suzuki GSX-R1000) 190; 3 Scott Charlton 162; 4 Craig Shirriffs (Suzuki GSX-R1000) 126; 5 Chris Seaton 94