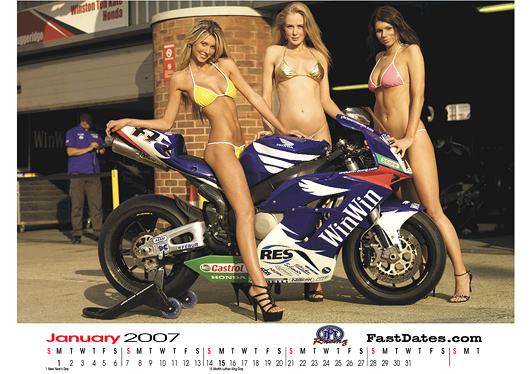 World Superbikes and Supermodels...
Start the year off right with a Fast Dates Screensaver!
---
Another Dream Motorcycle Vacation
The Edelweiss / Motorcyclist Alps Challenge
Across the Top of the World through 5 Incredibly Beautiful Countries in 8 Days
By Jim Gianatsis, Editor Photography by Jim, Rich and Cheney
Sauerlach, Germany , September - I got hooked on Edelweiss when I took my first tour last year, the Western Alps Touring Center Tour which takes place in southern France and along its Mederterain coast with stops in the glamerous cities of Cannes during Movie Week, Monaco just a week before the Formula 1 race where we got to gide on the actual road course as it was being set up, and in Saint Tropez to hang with the rich and famous. "Touring Center" means you are based in one resport hotel for the entire week and take daily 150-180 mile loop rides out from the hotel each day, returning to your same room each night.

This is our "Fast Group" roughing it over a gourmet lunch at a little village restaurant in the middle of somewhere.
With all our lunch stops and crashes the "Slow Group" usually beat us to the next hotel every night.
My Motley Crue included at times (left to right) Doug "The Drug Enforcer" from Kabul, Afganstan, Motorcyclist magazine editor Mitch Boehm, Jimmy "The Greek", Eric the commercial airline pilot, Rich the playboy from Huntington Beach, Cheney from Alaska, Thomas Rit our guide for that day, Tom Sullivan the self proclaimed extroidanary rider, Dean the New York Harley dealer, and Stuart the "Philly Cheese Steak King"
Left: This is a general map of the Alps Challenge route wetook through 5 countries in 8 days.

My first, the Western Alps Tour was such an incredible motorcycle vacation, and I don't know if any other Edelweiss tour could top it, but when I read that Motorcyclist magazine was sponsoring the 2006 Edelweiss Alps Challenge, featuring 7-days of riding across the middle of the Alps though 5 countires - Germany, Switzerland, Italy, Austria and Slovenia, I figured this would certainly kick it up a notch furthur. My only concerns going in were my fear of heights (the Alps are very tall!) and the very minor hassle of changing hotels every day.
As usual the Edelweiss group had an incredible tour set up where we would stay in an exciting new town and hotel every night, and our luggage would be waiting for us in our rooms every evening when we arrived at the next overnight stay. One of the tour's guides would drive a support van and trailer containing our luggage long route to the next overnight stay, and on 3 of the days would meet us mid-day at a picknic spot to prepare and serve us lunch next to a beautiful glacier fed lake or an old World War I fortress.
The heights of the mountains and the passes were dramatic. One of the most famous passes for bikers is the Grossglockner Alpine passin the Hobe Tauern National Park in Austria where the twisting road reaches 12,349 feet - over 2 miles high! We stopped at the top to have lunch in a Bavarian restaurant with beautiful your waitress, and of course had to buy souvineur Grossglockner Sportbike T-shirts.



We took every opportunity during our ride through the Alps to meet and make friends with the local natives. It was important to re-establish America's damaged international relationships with our parters in Westerm Europe. We worked hard to repair just a little of the disasterous George Bush Presidency diplomacy which has reeked havoc throughout thef the world. "Make Love, Not War" was John Lennon's, and our motto on the Edelweiss Tour.

Here we encountered this beautiful Swiss Miss on a desolate Alpine valley road training for the next Winter Olympics by cross country skiing on the mountain roads with her roller blade skis.
The beauty of the Aps, the countryside, the towns the villages is so overwelming and it keeps coming at you day after day. The roads are all imaculately well built and maintained perfectly. Through they are a little slick for agressive sportbike riding as the mecadam contains small polished gravel that doesn't offer the best of traction. I was often slipping the rear tire of my Ducati Multistrada before I came close to touching my toes.

Opps, one of two incedents during our ride when Eric hot dogged it into a fast sweeper and layed it down on the pavement, grinding a hole through his BMW's valve cover a sweping oil everywhere. Luckily Eric was fine and Edelweiss had his bike repaired the following day to finish the tour.

The most incredible thing you notice and remember about riding it this part of Europe and the Alps is how perfect everything is. Every house, every farm, every road and mountain slope is perfectly maintained. Every house and building is fresly painted, every field or Alpine slope is mowed or cut by hand with, cords of wood and cut hey are alwaysstacked purfectly. There ar no run-down or abandoned buildings, awaywhere. No argiculture equipment left outside, no dumpsters, trash cans, no trash piles, no old or abandoned cars are seen anywhere. Every car is cleanly washed and looks brand new. This area of Europe makes America look like a wrecking yard in comparrison. It is embarassing how beautifuuly maintained everything is, there.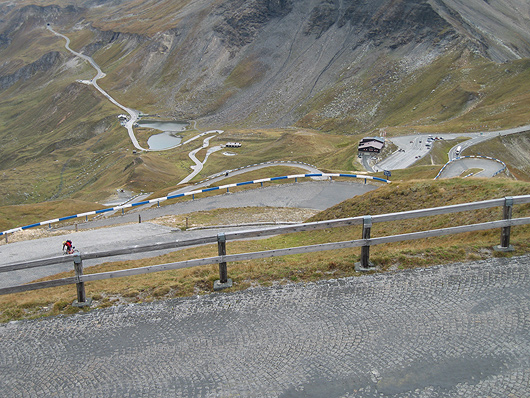 On top of the GrossGlockner, over 2 miles up on the highest point in the Eastern Alps. We stopped for lunch at that small restaurant 1/2 mile below us on the summit.

Being able to select your favorite bike to ride on the tour, over than a BMW is now a regular feature with Edelweiss. As long as you book your Tour reservation early in the year like around February/March when Edelweiss buys their all new fleet of bikes for the coming year, they will try to accomodate any special requests.
Continue our complete Edelweiss Motorcyclist Alps Challenge STORY HERE
Welcome to the top of the world! Here we are in a beautiful pasture high in the Dolomites
---
Ducati NA will premier "New Blue" a full race Sport 1000S modified by NCR, in New York on Jan 18th at the Ducat New York store, and then add it to their display in the IMS Show tour.

The motorcycle will be handmade to order and carries an MSRP of $49,900. New Blue will be available through select NCR dealers.
The new Ducati 1098 model "S" Superbike in Black also has full Ohlins suspension, lighter weight forged wheels compared to the base model 1098. Black Screensaver, Yellow Screensaver, Red Screensaver

Ducati Announces Additional Colors - Black, Yellow for the new 1098 Superbike
Cupertino, CA (December 22, 2006) – Ducati North America announces today that the 1098 Superbike will be made available in two additional colors. The 1098 Superbike was launched to the world at the EICMA Motorcycle Show in Milan on November 14. The motorcycle was an immediate success, with the 1098 S Tricolore winning the "Most Beautiful Motorcycle in Show" award. In addition, the international excitement around the motorcycle has been significant, with North American Ducati dealers reporting an overwhelming response.
The two additional colors announced are Black and Yellow, to the already announced Red, and commerative Italian Tri-Color. The 1098 will get the striking yellow scheme, matched with black wheels and a grey frame. The vibrant black color is available for the 1098 S, paired with a red frame and red-trimmed black wheels. Dark aluminum badging will adorn both color schemes.
The Ducati 1098 Superbike produces 160hp and 90.4lbs/ft of torque, which makes it the most powerful twin-cylinder motorcycle in the world, with the highest torque-to-weight ratio of any sport bike. In addition, the 1098 is also the lightest open class Superbike available, weighing 381 pounds.
The 1098 Superbike will carry a manufacturers suggested retail price of $14,995. The 1098 S will be priced at $19,995, and the limited edition 1098 S Tricolore will be $24,995. Prices in Canada will be $19,995 for standard version, while the 1098 S will be $24,995 and the Tricolore will be $29,995.
Additional Imformation, Photos & Screensavers in Pit Lane NewsNew Bikes: Ducati 2007
---

Should I stay or should I go? Actress Naomi Watts looks into the lens of the 2007 Pirelli calendar.

Pirelli's New 2007 Calendar Doesn't Impress
London, Nov 16th 2006 - The much anticipated next edition 2007 Pirelli Calendar was presented to invited guests and media at Battersea Evolution Park in London this evening. The stars of this edition are four of Hollywood's hottest new actresses, one old one and one newcomer: contemporary starlets Penelope Cruz, Hilary Swank, and Naomi Watts, beloved Italian actress Sophia Loren from the 1960s, with daring newcomer Lou Dillon who is the only actress to actually appear topless in the Calendar. More HERE
---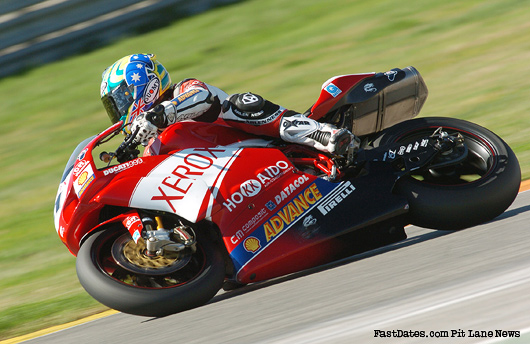 Troy Bayliss was half a second quicker than anyone ele on the "old style" Ducati 999F06.

SBK Corona Extra Superbike World Championship ®
From the Bedroom to the Race Track...
Pirelli World Superbike Team Tests Losail, Qatar – December 19-21st
Troy Bayliss Brings the Year to a Close with a Record Pace
Losail Race Circuit, Qatar, Thursday 21st Dec 2006: Troy Bayliss brought the World Superbike Champions Ducati Xerox Team's successful year to a close with a record pace on the final day of Pirelli tyre testing at the Losail circuit in Qatar. In much improved conditions the 2006 champion set a time of 1m58.1s, the fastest ever recorded by a Superbike around the desert track and 1.5 quicker than his own pole position time from earlier this year.
"I'm very happy to have come away from the test in this sort of form and it's great to be able to go home for Christmas knowing that you've done a good job" declared Troy. "That time was set on a softer tyre which it's not possible to do a race distance on but my long run was good as well. We did almost race distance and I was a lot quicker than in last February's race. It's been a long hard year but it's been great and certainly worth all the effort. I've had a great time being back in Superbike and couldn't have asked for more. Now everyone can go home for Christmas with the knowledge that they've done a great job. Next year is going to be a hard one and we're under no illusions but the bike is great, the team also and we're ready for it".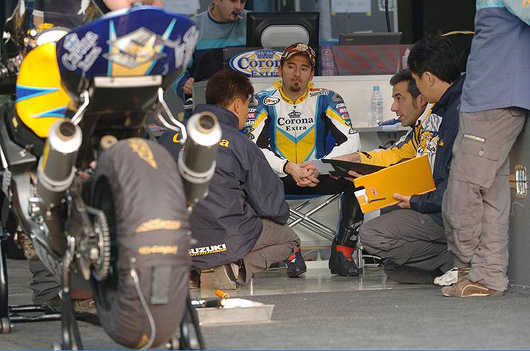 Former MotoGP star Max Biaggi, after a year of unemployment, is excited and already back up to competitive speed with his return to racing in World Superbike. Will Sete Giberneau be next?
BAYLISS FASTEST DESPITE HIGH WINDS Troy Bayliss (Ducati Xerox) set the fastest time of the first day, running his big vee-twin to a 2'00.7, while his team-mate Lorenzo Lanzi set his first day best time of 2.01.3. The next quickest rider behind Bayliss was new Yamaha rider Troy Corser (Yamaha Motor Italia) with a 2'01.1. This year's champion Troy Bayliss set a good pace on race tyres on a track made slippery by recent rain. His time of 2m00.7s was four-tenths of a second quicker than fellow Australian Troy Corser (Yamaha).
"The day was OK but we didn't start early because the track was in a bad condition after the rain and it was also very windy. We left it late to come here for the test this year because it's actually quite cold in the morning and the conditions are not perfect" declared Troy. "My lap time was OK, like a good race time and we worked a lot on settings and tyres. In particular we played with the gearing because last year we struggled a lot in acceleration from the last corner so we're trying to improve that".
HAGA AND TOSELAND SHARE SAME TIME Noriyuki Haga (Yamaha Motor Italia) and James Toseland (Hannspree Ten Kate Honda) were joined on the 2'01.4 mark at Doha on day one, with Toseland's new team-mate for 2007, Roby Rolfo (Hannspree Ten Kate Honda) setting a best time of 2.03.1. Fonsi Nieto (PSG-1 Kawasaki) continued his pre-season build up with a best time of 2.01.6, a more than respectable time in the conditions. Nieto's team-mate Regis Laconi, recorded a 2'02.2.
BIAGGI READY TO RUN ONCE AGAIN Max Biaggi (Alstare Corona Extra Suzuki) eased his way into this teat with a best time of 2'02.8, only 0.2 seconds up on his fellow Alstare Suzuki rider, Yukio Kagayama (Alstare Corona Extra Suzuki). Two more days of testing remain for all participants, with hopes that the weather conditions improve, to allow the times to drop.
SUPERSPORT QUINTET PLAY ON IN QATAR Broc Parkes (Yamaha Motor Germany) and Kevin Curtain (Yamaha Motor Germany) held the upper hand in the early stages of the testing battle, with Parkes on a 2'05.13 and Curtain a 2'05.5. The irrepressible Gianluca Nannelli (SC Caracchi Ducati) was third fastest, on a 2'06 flat. Running the new version of the Kawasaki ZX-6RR, Fabien Foret (GIL Motorsports Kawasaki) set a 2'07.3, with Pere Riba (Gil Motorsports Kawasaki) on a 2'07.9.
TIMES (provided by Pirelli): 1. Bayliss (Ducati Xerox) 2m00.7s; 2. Corser (Yamaha) 2m01.1s; 3. Lanzi (Ducati Xerox) 2m01.3s; 4. Haga (Yamaha) & Toseland (Honda) 2m01. 4s; 6. Nieto (Kawasaki) 2m01.6s; 7. Laconi (Kawasaki) 2m02.2s; 8. Biaggi (Suzuki) 2m02.8s; 9. Kagayama (Suzuki) 2m03.0s; 10. Rolfo (Honda) 2m03.1s.
The World Superbike teams Team will next be seen out on the track in a month's time with a further three days of testing at the Phillip Island circuit in Australia from January 13th to 15th.
OVERALL BEST TIMES (provided by Pirelli): 1. Bayliss (Ducati Xerox) 1m58.1s; 2. Corser (Yamaha) & Biaggi (Suzuki) 1m58.9s; 4. Toseland (Honda) 1m59.1s; 5. Laconi (Kawasaki) 1m59.2s; 6. Lanzi (Ducati Xerox) 1m59.3s; 7. Nieto (Kawasaki) 1m59.5s; 8. Haga (Yamaha) 1m59.7s; 9. Kagayama (Suzuki) 2m00.1s; 10. Rolfo (Honda) 2m01.7s.
---
There's more! Go to Pit Lane News NEXT PAGE

Hot Calendar Girl and Bike News! Go to: Fast Dates • Calendar Girls • Iron & Lace





BikerKiss.com - the largest biker personals site!

New 2007
Fast Dates Racebike,
Iron & Lace Custom
& Garage Girls Calendars
Click to Order Now!
Must Have New Books...

MotoGP 2006
Season Review
MotoGP Performance
Riding Techniques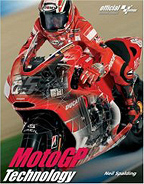 MotoGP Technology
MotoGP is the premier class in motorcycle racing and it is there that the most sophisticated and alluring technology is found. For years Grand Prix motorcycle racing had featured prototype 500cc two-strokes, but the need for manufacturers to develop four-stroke technology led to the creation of the new championship formula in 2002, based on fire-breathing, 260bhp 990cc four-strokes. Competition is keen and factory teams guard their mechanical secrets and working practices very carefully. For these reasons it has been nearly impossible to closely examine bikes without bodywork or understand exactly how they are engineered and developed. Until this book.
Author Neil Spalding's ability to spot subtle detail changes and incremental developments from the restricted confines of pit lane, and then to correctly determine how these modifictions affect performance earned him the grudging respect of top teams. Eventually, Neil was admintted into the inner sanctum of the elite racing departments and give unparalleled access to explore and photograph race bikes to prepare this book. The only restriction: he couldn't make public his information until the end of the 2006 season, the last year of the 990cc formula. This is the exciting story, told from the inside, of the most electrifying form of two-wheeled compeition and of the highly motivated designers, engineers, and mechanics who create these remarkable motorcycles.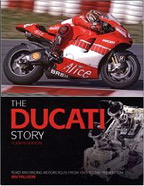 MotoGP 210mph Bikes!
Rany Mamola tests all the top 2006 MotoGP Bikes!
What makes MotoGP bikes the fastest racing bikes in the world? In this all-new programme from Dorna, Randy Mamola checks out the machines that battle to win the world's top bike racing series and leave you hanging onto the edge of your seat! With the help of the people at the heart of the sport, including the teams, chief engineers and riders, we bring you the full story behind the 210mph bikes!!
Rizla Susuki Preparing new 2007 GSXRs for British Superbike
Rizla Suzuki received three 2007 Suzuki GSX-R1000 production bikes to add to the single bike it has been using as a test bed for its new British Superbike racer.
The four bikes are in the process of being modified to Superbike rules and regulations at Rizla Suzuki's head quarters in the Crescent Performance Centre in Verwood, Dorset. They will be fitted with the latest Ohlins gas-charged forks and rear shock, Marchesini forged magnesium wheels, Factory swing arm and tank, Yoshimura exhaust, Dunlop tyres and Crescent carbon fibre bodywork.
The 999cc in-line four cylinder engine will be tuned by Rizla Suzuki's expert technicians using Suzuki Factory, Crescent, NGK, Pipercross and Yoshimura parts. It will produce more than 200bhp before the next test, all controlled via a state-of-the-art Motec engine management system.
"We now have four 2007 specification GSX-R1000s and they will be fully built to our initial race specification in time for the team's next test at the start of February," said Team Manager Simon Buckmaster. "Suzuki has pulled out all the stops to supply us these bikes as early as possible and we will spend the next month carefully building and tuning them for maximum performance on our in-house dyno before taking them on track.
"Our test at Valencia in November showed us the 2007 bike has considerable potential but that is only the start of the process. Rizla Suzuki is absolutely flat out working on the new bikes and developing them as quickly as possible. We will do whatever it takes to be as competitive as possible this season."
Rizla Suzuki will travel to Calafat in Spain for a private two-day test on February 7th – 8th. It will be the first time both Chris Walker and Cal Crutchlow will have two bikes each to test and will herald the start of a busy eight-week test period for the team in preparation for the opening round of the 2007 Championship at Brands Hatch on Easter Bank Holiday Monday, April 9th.
Ducati to Premier New
NCR "New Blue" before
New York International Motorcycle Show
Jan 18th
Stop by Ducati New York on January 18th at 7:00pm to celebrate the North American unveiling of "New Blue"—a modern replica of the 1977 Daytona winning 750SS campaigned by Cook Neilson and Phil Schilling throughout the mid 1970's. Cook Neilson and Phil Schilling built the 750SS into a remarkably successful race bike and nicknamed the motorcycle "Old Blue" in reference to the team's attractive livery.
Cook Neilson, the then editor of Cycle magazine, possessed a unique combination of skills making him successful as both a journalist and a racer. With the help of Managing Editor and ace mechanic Phil Schilling, they were able to build the 750SS into a remarkably successful race bike through a remarkable combination of experimentation, tuning and rider skill. Phil quickly nicknamed the motorcycle "Old Blue" in reference to the team's attractive livery.
On March 11th, 1977 the team celebrated a monumental victory in the AMA Superbike race at the legendary Daytona Speedway. The first win for Ducati at Daytona, the race was a significant event in Ducati's American history. To commemorate the 30th anniversary of this historic event, a recreation of this motorcycle has been built by NCR.
"New Blue," which began life as a Ducati SportClassic Sport 1000 S, was sent to NCR's factory for cosmetic replication and race preparation. NCR was able to remove an astounding eighty-four pounds of dry weight and add an additional 30 horsepower to the motorcycle. This was achieved by the usage of lightweight materials such as titanium, carbon fiber and magnesium throughout the project. The revised engine output is 116hp at 8450rpm. The motorcycle was completed with a titanium plate bearing the signatures of both Cook Neilson and Phil
The North American introduction of the motorcycle will take place at Ducati New York on Thursday, January 18th. The motorcycle will be on display at the remainder of the 2007 IMS Motorcycle Shows. In addition, NCR will be building a limited quantity of these special production motorcycles for the American market.
Cook Neilson, Ducati North America CEO, Michael Lock and a representative from NCR will be on hand. Cocktails will be served throughout the evening. For more information, please contact:
Ducati New York
155 Avenue of the Americas (6th and Spring)
New York, NY 10013
212-989-1414

Click to take Kylie for a ride.
Kyle Minigue Gets Provacative
Join Pop Diva Kyle Minogue as she does a little wild bull riding with Agent Provocateur.
RealPlayer.com Video.
You'll also be thrilled to see supermodel Kate Moss is the new spokesmodel for Agent Provocateur. Its amazing that Kate was photographed snorting cocaine a year ago and found her fading modeling career revitalized and vaulted back to superstar status with cover features in all the top modeling magazines and major product endorsements.

Kate's been a bad, bad girl.
Ducati Delays Hypermoto Production Until Summer
The expected March 2007 delivery of the new Ducati Hypermoto has now been backed up another 4 months as the factory concentrates on production of the new 1088 Superbike, and finalizes production specifications on the Hypermoto. Here's want CEO Federico Molini had to say last week on the Ducati.com Blog"

"Today, while the factory is working so hard to produce the new Superbike, we started the process that defines every tiny aspect of the Hypermotard production, the second great challenge among our products.
Many of you have asked for further information about this bike. As of today I can tell you the following:
-The final products are the ones you have seen at EICMA, without any modification. Currently we are not planning a smaller engine.
-Bikes will be available in European dealers starting from May; in American and Australian ones starting from June.
All the technical details and prices will be published by me on the blog by mid February, after the completion of the pre-serie bikes."
---
Jake Zemke Crashes Hard as American Honda Struggles with Traction Control
Dec 04, 2006 _ Today's afternoon testing session for the distributor race teams at Daytona was momentarily halted for a red flag that was brought out after Jake Zemke crashed his American Honda CBR1000RR Superbike in the Turn 1 area at Daytona International Speedway. However, Zemke was quickly back up and continuing with the team's exhaustive traction control testing program, as they're currently A/B-ing units from both MoTeC and Magneti Marelli.
"I'm a little banged up but not bad considering," Zemke said late in the afternoon. "I just got into Turn 1 and as soon as I hit the throttle, the back end came around on me and just kept going and going and going and never came back. It was kind of weird because we looked at the data and I had done the exact same thing the previous lap and we didn't have any problems. We're scratching our heads a little bit. We had a few laps on that tire -- five or six -- but we shouldn't have had a problem with it. We're not quite sure what happened there."
Other than his minor mishap, Zemke seemed satisfied with his day's work. While the team did some good things in '06 (headlined by the Californian's Miller Motorsport Park triumph), the Honda squad understands that they'll need to get a traction control unit selected and then perfected before they can take the next step of emerging as full-fledged title contenders.
American Honda has never disclosed to the media their rift with HRC and Honda of Japan, and why they have been forced to develop less successfully from scratch their own production bikes used in AMA racing, rather than use the proven works bikes, performance parts including traction control which is used by HRC in World MotoGP and World Superbike, as well as in the Japanese National Superbike Championship. Management at American Honda has suffered a poor relationship with Honda's racing depatment in Japan, HRC, since the mid 1990's.
Zemke stated, "So far, so good. We've got two different TC units that we're trying here. I've spent a lot of time on one and not so much on the other. We're still trying to work the bugs out of the one we've got now. So far the day has been good. We haven't actually changed a whole lot. The bike is feeling good -- it's comfortable, and we've got some new suspension pieces that seem to be working well.
"So far today we've been having a few teething problems, but that's part of it. With traction control being so brand new to everybody, it's just kind of what you have to go through."
Zemke is hopeful that they'll soon pick what system to go with as time is ticking away to the start of '07 season. "That would be really nice to just focus on one, but obviously we want to make the best decision we can. We definitely can't wait until we come back here before we decide, but the team has to be unison on that -- we can't be going in two different directions.
More 2007 Calendars!
In Our Calendar Store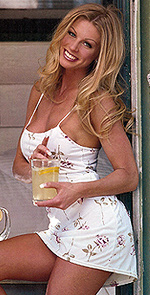 Robin's New Calendar
Our World Superbike Girl
Rockin' Robin Cunninham now has a hosting gig on XM radio and her own 2007 Calendar at
RockinRobinLynn.com