The two Aussie World Champs Corser (1) and Bayliss (21) had a wheel to bank up battle in Race Two. Corser took the race win, but Bayiss the early points lead by virtue of a better finish is Race One.

2006 SBK Corona Extra Superbike World Championship - Losail Qatar

World Superbike 2006 Kicks off in Qatar - Troy Bayliss takes SuperPole & Points Lead!!!
BUMPER CROP OF SBK TALENT FOR 2006 SEASON OPENER

James Toseland and Troy Corser Emerge as Victors
from an Exciting 2-Race Multi-Rider Slug Fest in the Desert
Losail, Qatar, Saturday February 25th - It was an exciting start to the 2006 World Superbike Championship at the Losial Circuit in Qatar as 3 World Champions battled for the race wins among a hard hitting field of contenders in what is sure to be a history making season.
The First Race start went to the R1s of Yamaha Motor Italia team, Noriyuki Haga and Andew Pitt, as Yamaha pilots batted for the first two places. Immediately another fight began with Suzuki, Honda and Ducati attacking in force. With only 1 lap to go Haga's front-end slide took out the other Japanese Kagayama, leaving the way to the podium to Toseland, Bayliss and Pitt (respectively first, second and third). "Only" fourth came World Champion Troy Corser with his Suzuki. Reading the time sheets the first data of significance is the total race time: 40 seconds faster than last season.
Race Two was almost as exciting with 18 laps at an incredible rhythm, fought like it was a title decider, making for a great show. Times were again improved: Noriyuki Haga scored a 2'00.061, a pace which finally deleted the fastest lap from 2005, that of Gimbert, (2'01.852). The top riders could hold 2'00-2'01 pace for the whole race. Final Result, race two was 11" faster than Race 1. To inflame the public the great battle between the two Troys, was a masterpiece of bravery and riding, and the third position went to a photo finish, taken by Haga over Toseland, by butterfly wing: 0.2 thousandths of a second. The World Champion again celebrated on the highest step of the podium, but the next race, in Australia, will be a great challenge again.

Can Troy Corser hold on to his crown in 2006? It's going to be a great year of Superbike racing.
Losail, Tuesday 21th February 2006 - The 2006 SBK World Superbike Championship® kicks off this forthcoming weekend at the Losail International Circuit in Qatar, the first of 13-rounds in what is expected to be one of the most closely contested series ever held. A high-class entry of almost 30 permanent riders, representing six manufacturers' best hopes for ultimate glory in the most prestigious SBK™ racing series on the planet, will gather in Qatar, each with the knowledge that they are competing in the most evenly balanced Motorsports World Championship on two wheels. Riders young and old will add unrivalled variety to the field, from hopefuls barely out of their teens to seasoned veterans with more than 40 years and up to 20 racing seasons under their belts. The ever-present line-up of regulars will be added to by wildcards at certain rounds, but with each and every rider choosing from an extensive pool of control Pirelli tyres, to even-out the playing field in the fairest way possible.

More than the Usual Suspects - Click for giant Screensavers 1008 • 1728

LOSAIL MAGNIFICENT - BY NO MYSTERY FOR TOP RIDERS Some teams have elected to make Losail one of their pre-season test tracks this year but for most of the other competitors the impressive 5.4km circuit, located near Qatari capital city Doha, will be already be a known quantity. Most gained experience of its contrasting fast and slow sections during last year's inaugural SBK™ visit, while some others have ridden there in different global motorcycle competitions. With the race held on a Saturday once more, Losail is unique in many ways. Its 10 right and six left handed corners offer a host of differing challenges, while the featureless desert setting gives little away in terms of braking markers or corner entry points. A power-sapping 1.068km main straight allows the machines to sing in the higher octaves of their repertoires, even in top gear, while many of the faster corners offer a rare challenge in these days of tighter, slower circuits, most of which are built on a compact scale compared to Losail's expanses.

CORSER PLANS HIGH SPEED DEFENCE IN TITLE-WINNING TEAM 2005 World Champion Troy Corser (Team Alstare Suzuki Corona Extra) returns to Qatar alongside the same team-mate with whom he shared individual Losail race wins last year, Yukio Kagayama. Despite facing a solid wall of competition on all levels this year, Corser is confident after some dazzling pre-season testing performances. Also champion in 1996, Corser goes for title number three this time around. Kagayama, fifth overall in his 'rookie' SBK™ season in 2005, will be out to prove that his mid-season dip in form was a never-to-be-repeated aberration, as he sets about his task with his usual mix of experience and unrivalled exuberance. Four permanent Suzuki riders this year include a third rider in Alstare colours, 2002 SS SBK™ World Champion Fabien Foret, plus the Celani Team Suzuki Italia GSX-R1000 of 2002 season European Superstock® Champion, Vittorio Iannuzzo.

HONDA RIDERS LED BY TWO PROVEN CHAMPIONS Honda field five officially supported entries in this year's series, from SBK™ first timers to the most experienced man in the entire championship. In the Winston Ten Kate Honda team, 2004 World Champion James Toseland undertakes his first ever four-cylinder season in SBK Superike World Championship®, aiming to finish higher up than his 2005 fourth. An SBK debutant last year, 2004 season World SS™ Champion Karl Muggeridge is just one of a raft of fast Aussie riders in the championship again, and yet another rider of proven class. He was part of the team that saw outgoing rider Chris Vermeulen score multiple race wins on his way to championship runner-up status in 2005, and Muggeridge now returns to continue his steep learning curve, hunting for his first SBK race win.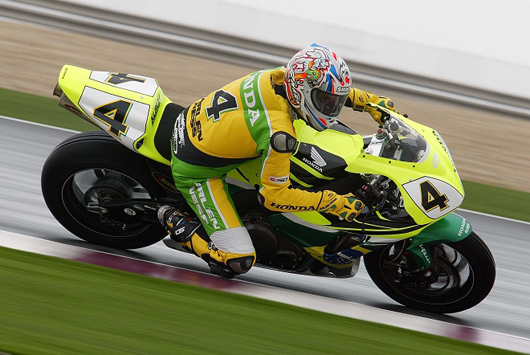 Alex Barros moves to SBK from MotoGP

HONDA RIDERS FORM STRONG CHALLENGE A one man Klaffi Honda team will feature the astonishingly experienced former MotoGP rider Alex Barros, with the popular Brazilian already a welcome addition to the SBK family. The Sao Paolo Superstar, who has great experience of SBK™ spec machinery (thanks to successful appearances in the Suzuka 8-Hour race in Japan), is nonetheless a rookie this season, if one with enough ability to challenge from the very outset.
Despite being 36 years of age, Barros is by no means the elder statesman of SBK™ racing. That honour, along with many race wins over the years, goes to a certain Pierfrancesco Chili, who is currently 41 years young. Chili's latest challenge is to run in an all-Italian Honda team, in conjunction with traditional SBK™ participants, DFX Treme. He shares garage space with a new talent to the Superbike ranks, Michel Fabrizio. The squad thus features the oldest rider in the series with one of the youngest, as Fabrizio is only 21. He gets a promotion from World SS™, where he enjoyed a modicum of success last year. Fabrizio's raw talents have already delivered him the 2003 European Superstock® Championship, and his experience also includes four-stoke MotoGP rides, despite his tender years.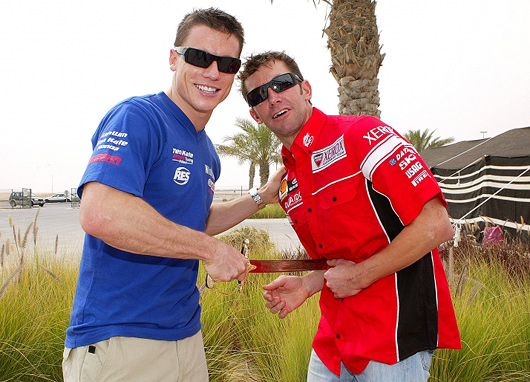 A shrimp for the barbie? Toseland and Bayliss wanted to show us just how cut throat the season will be.

BAYLISS AND LANZI HEAD DUCATI CHARGE Few riders have made such an impact in pre-season testing as 2001 World Champion Troy Bayliss (Ducati Xerox). Returning to his 'alma mater' after a MotoGP career punctuated by podium finishes, Bayliss has been on fire in testing, readapting to the latest Ducati twin in record time; all despite the lingering effects of a severe left forearm injury, suffered late last year. Forming the second prong in a fierce factory Ducati Xerox attack is double race winner Lorenzo Lanzi. His two 2005 SBK™ race wins came in his rookie season, and each success underlined that a new talent was in town, one with an intense desire to succeed and with little respect for reputations.

DUCATI TEAMS IN ABUNDANCE Eight full time Ducati riders will be in attendance at Qatar, the factory squad heading an impressive array of proven desmo-powered talent, plus the odd new inductee. Spanish star Ruben Xaus (Sterilgarda Berik Ducati) teams up with Marco Borciani this year, even if he may not be able to ride in the first couple of rounds, thanks to an injury suffered in training. A serial race winner in the 2003 season, Xaus is expected to make a strong impact once fully fit. A serious challenge to the 250GP crown in previous years, Roberto Rolfo is another fast SBK™ rookie in the 2006 series, as he takes the field for the Ducati SC Caracchi squad. A one-man effort, the new partnership is nonetheless laden with exciting possibilities. His single rider effort is in great contrast to the three-rider festival of speed fielded by the Pedercini Ducati squad. The eponymous team-leader Lucio Pedercini heads up his countryman Ivan Clementi and the already proven talents of young German rider, Max Neukirchner. The latter is a first time Ducati pilot, yet has already impressed in winter testing - despite not having the newest tyres or a full factory machine at his immediate disposal.

YAMAHA RIDERS OFFER TOP CLASS CHALLENGE Noriyuki Haga (Yamaha Motor Italia) and Andrew Pitt (Yamaha Motor Italia) form a formidable obstacle to any would-be world champion. In Haga, Yamaha has a proven multiple race winner, and now he has opted to come back on the same machines as 2005, he is expected to at least replicate his third place finish of last year. Pitt's battling qualities and front-running in '05 got him re-signed for his second SBK™ season, and a podium finish is his first priority for 2006. Norick Abe (Yamaha Motor France IPONE) is a rider who needs little introduction, despite struggling somewhat in his first SBK™ season last year. His team-mate of 2005, Sebastien Gimbert is back once more and the team also features more new talent, Japanese rider Shinichi Nakatomi, who will run a different suspension set-up from his immediate peers.

KAWASAKI's THREE POINTED STARS PROVE SHARP IN PRE-SEASON
The PSG-1 Kawasaki Corse squad return to a green livery in Qatar, and more importantly, enjoys the benefits of a new design of ZX-10R machine, complete with greater manufacturer support than in 2005. The team has increased to a three-rider set-up, each of them a proven entity in many forms of motorcycle sport. Chris Walker scored a podium on the 2005 PSG-1 Kawasaki, and has already voted the 2006 version as a distinct improvement after good tests in Sepang and Phillip Island. Regis Laconi, 2004 season runner up, multiple SBK™ race winner last year, and one of the few riders in history to have SBK™ and MotoGP race wins to his credit, is a new face in the squad. Spanish star Fonsi Nieto carries on in the team he joined for just two races in 2005, and has already matched times with the more experienced Walker, as the man from Madrid continues the transition from a 250cc past to an SBK™ shaped future. Franco Battaini (Kawasaki Bertocchi) is another proven MotoGP and 250GP rider to opt for the charms of SBK™ in 2006, and much is expected of the privateer rider in his first SBK™ year.

FOGGY SQUAD THREE BUT NOT EASY The orgy of technology that is the Petronas FP-1 triple will once more be campaigned by the Foggy Petronas team in the SBK™ series. 2005 signing Steve Martin returns after successful kidney surgery, having set impressive test times at Phillip Island in January. Young Briton Craig Jones may find the outgunned FP-1 not an ideal platform from which to launch his rookie SBK™ season, thanks solely to its 100cc capacity handicap compared to all other types of eligible SBK™ machines. His youthful enthusiasm will nonetheless see him gunning for the maximum possible rewards.

SUPERSPORT WORLD CHAMPIONSHIP® Champion in 2005, Sebastien Charpentier (Winston Ten Kate Honda) may not have things all his own way this year, as a frontal assault of talent and all-new machines attempt to depose last year's clear winner.
Charpentier's new team-mate is the Superstock 1000 FIM CUP™ runner up from 2005, Kenan Sofuoglu, but his greatest challenge may come from the two-rider Yamaha Motor Germany squad, now equipped with the all-new R6. Both Broc Parkes and Kevin Curtain won races in 2005, despite their machines' relative venerability, and with a full 15 new R6s on the grid, plus 13 well-proven Hondas, this year's contest is expected to be a true class act on all levels. An all new Suzuki GSX-R600, plus some fast Ducatis and Kawasakis, makes WSS™ a five cornered manufacturers' fight again, in what is a massively resurgent class.


SATURDAY RACE FOR ALL IN QATAR Both Superbike and Supersport classes will race on Saturday at Losail, not the more traditional Sunday of all other venues. This means track action begins on Thursday 23, with Superpole® for the Superbike class on Friday and points scoring races on Saturday 25th. Shortly thereafter, the paddock decamps to Phillip Island for round two, on Sunday 5 March.
Qatar Provisional Entry List 23-24-25 February 2006
| | | | | | |
| --- | --- | --- | --- | --- | --- |
| N. | Start N. | Rider | Nat. | Motorcycle | Team Name |
| 1 | 1 | Troy Corser | AUS | Suzuki GSXR1000 K6 | Team Alstare Suzuki Corona Extra |
| 2 | 71 | Yukio Kagayama | JPN | Suzuki GSXR1000 K6 | Team Alstare Suzuki Corona Extra |
| 3 | 15 | Fabien Foret | FRA | Suzuki GSXR1000 K6 | Team Alstare Engineering Corona Extra |
| 4 | 21 | Troy Bayliss | AUS | Ducati 999F06 | Ducati Xerox Team |
| 5 | 57 | Lorenzo Lanzi | ITA | Ducati 999F06 | Ducati Xerox Team |
| 6 | 31 | Karl Muggeridge | AUS | Honda CBR 1000RR | Winston Ten Kate Honda |
| 7 | 52 | James Toseland | GBR | Honda CBR 1000RR | Winston Ten Kate Honda |
| 8 | 41 | Noriyuki Haga | JPN | Yamaha YZF R1 | Yamaha Motor Italia |
| 9 | 88 | Andrew Pitt | AUS | Yamaha YZF R1 | Yamaha Motor Italia |
| 10 | 4 | Alex Barros | BRA | Honda CBR 1000RR | Team Klaffi Honda |
| 11 | 9 | Chris Walker | GBR | Kawasaki ZX10R | PSG-1 Kawasaki Corse |
| 12 | 55 | Regis Laconi | FRA | Kawasaki ZX10R | PSG-1 Kawasaki Corse |
| 13 | 10 | Fonsi Nieto | ESP | Kawasaki ZX10R | PSG-1 Kawasaki Corse 2 |
| 14 | 3 | Norick Abe | JPN | Yamaha YZF R1 | Yamaha Motor France - IPONE |
| 15 | 16 | Sebastien Gimbert | FRA | Yamaha YZF R1 | Yamaha Motor France - IPONE |
| 16 | 38 | Shinichi Nakatomi | JPN | Yamaha YZF R1 | Yamaha Motor France - IPONE |
| 17 | 44 | Roberto Rolfo | ITA | Ducati 999F05 | Team Ducati SC - Caracchi |
| 18 | 116 | Franco Battaini | ITA | Kawasaki ZX10R | Team Bertocchi |
| 19 | 18 | Craig Jones | GBR | PETRONAS FP1 | Foggy PETRONAS Racing |
| 20 | 99 | Steve Martin | AUS | PETRONAS FP1 | Foggy PETRONAS Racing |
| 21 | 7 | Pierfrancesco Chili | ITA | Honda CBR 1000RR | D.F.X. Treme |
| 22 | 84 | Michel Fabrizio | ITA | Honda CBR 1000RR | D.F.X. Treme |
| 23 | 8 | Ivan Clementi | ITA | Ducati 999 RS | Team Pedercini |
| 24 | 19 | Lucio Pedercini | ITA | Ducati 999 RS | Team Pedercini |
| 25 | 76 | Max Neukirchner | GER | Ducati 999 RS | Team Pedercini |
| 26 | 11 | Ruben Xaus | ESP | Ducati 999F05 | Sterilgarda - Berik |
| 27 | 20 | Marco Borciani | ITA | Ducati 999F05 | Sterilgarda - Berik |
| 28 | 13 | Vittorio Iannuzzo | ITA | Suzuki GSXR1000 K6 | Celani Team Suzuki Italia |
| 29 | 95 | Talal Al Naimi | QAR | Yamaha YZF R1 | La Glisse |

The former 2001 World Superbike Champion is on pole at Losail

Prodical Son Troy Bayliss Takes Superpole at Qatar
Ducati teammate Lanzi is 2nd, Pitt on Yamaha 3rd
Losail, Friday 24th February 2006 - Troy Bayliss (Ducati Xerox) continued his fast pace from day one to record the fastest lap in regulation qualifying today, and subsequently the Superpole win, marking his return to SBK racing in the best possible style. Bayliss was also quickest earlier in regular qualifying. His team-mate Lorenzo Lanzi made it a superb day of action for twin-cylinder faction, running to second place, some 0.332 seconds from Bayliss. The 2001 World Champion's Superpole lap of 1'59.696 is a new track best in qualifying, and was posted on race tyres, not qualifiers. Bayliss preferred the feel of tyres he was used to after extensive winter testing, and with only one day of dry testing at this race, he opted for a softer race tyre.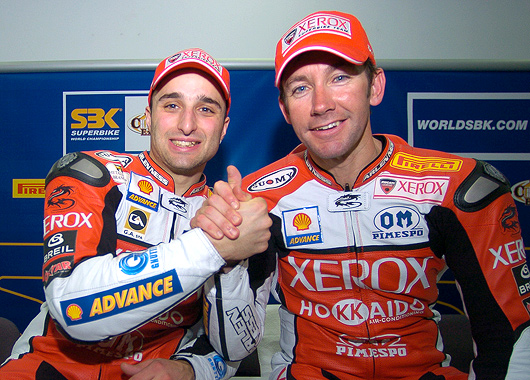 Lanzi (left) and Bayliss (right) are on fire as the Ducati mates tag team the Pole for Saturday's races.

Andrew Pitt (Yamaha Motor Italia) was a startling effective third in Superpole, after finishing official qualifying in the same position. He was to beat the Winston Ten Kate Honda of James Toseland by only 0.002 seconds, with Pitt himself 0.414 seconds from Bayliss' best-ever performance. Toseland's pace in Superpole counteracted the disappointment of his team-mate Karl Muggeridge, who fell on his Superpole lap, having been second fastest after the final regular qualifying session this morning, and fastest in the free session in the afternoon. Despite his fall, Muggeridge will start the two 18-lap Losail Superbike races on Saturday from the back of the second row.
Such was the pace of Superpole that even the winner of one race last year, Troy Corser, was ousted from a front row start, running his Alstare Suzuki Corona Extra machine to fifth place, just over half a second from Bayliss. His ride put four different makes of machine in the top five places. Troy missed out on a front row place by the narrowest of margins at Qatar today, but is determined that it will not stop him finishing on the podium tomorrow. He used a very soft front tyre on his Superpole lap - one that he had not tried before - and was not fully confident about it in some of the turns, so couldn't push as hard as he wanted to.


TROY - 5th, 2:00.206 - There were possibly a combination of things that prevented me from taking a front row grid place today. We used a soft front we hadn't tried before because I wasn't happy with the feeling of the harder ones. The track was a bit dirty off the main race line and so I couldn't use my natural lines - the ones I used in the December tests here. Instead I had to follow everybody else's lines and that probably cost me a bit of time. Finally, I am five kilos lighter now than December and that may mean that we have to change the bike settings a little bit. The soft front gave me a better feel, but I don't think we could use it for the race because it wouldn't last. It's important to get a good start tomorrow because, if anybody were to make a break from the rest, it would be difficult to catch them up. But if I get a couple of good starts, there is no reason why I couldn't get a podium or two. That's what I'm aiming for.
Behind him on row two will start Noriyuki Haga. Despite some pessimistic expectations, the 900cc Petronas triple was up to the task of not just qualifying for Superpole, but almost allowing Steve Martin to claim a second row starting position. The tough and rapid Aussie rider scored ninth place, 1.2 seconds from pole at one of the fastest and longest tracks of the year. Behind Martin the welcome presence of Alex Barros and his Klaffi Honda took tenth best time, an impressive showing on a bike which is still undergoing development, in Barros' first ever SBK Superpole. Another former MotoGP rider and SBK rookie, Roberto Rolfo, excelled at Superpole, improving from his regulation position of 14th to start the races in 11th, one whole row closer to the best qualifiers. The last place on row three went to the fastest ZX-10R rider on show, and the PSG-1 Kawasaki Corse machine of Chris Walker.
A lack of testing time on dry 2006 spec tyres held back the dry qualifying efforts of Fonsi Nieto (PSG-1 Kawasaki Corse), as he scored 13th fastest time after a cautious Superpole. Behind the Spaniard, three Italian riders finished the Superpole contest off, with DFX Honda riders Pierfrancesco Chili and Michel Fabrizio 14th and 15th respectively, while Marco Borciani (Sterilgarda Berik) was 16th after a steady ride. Regis Laconi (PSG-1 Kawasaki Corse) was surprise omission from Superpole, just missing the cut-off time by one position, but with many other big names behind him, at the start of this most competitive season imaginable.
WORLD SUPERSPORT CHAMPIONSHIP
After a conservative opening day Winston Ten Kate Honda rider Sebastien Charpentier unleashed his abilities on a dry track in final qualifying, recording a new best lap of 2.03.093. It was his 12th career pole, making him second equal in the all-time standings, alongside Paolo Casoli. Charpentier's team-mate, Kenan Sofuoglu scored a magnificent second place in dry conditions, with a lap just under second from Charpentier's unapproachable best. Kevin Curtain (Yamaha Motor Germany) scored top Yamaha placing on the grid, in fourth position, while former Ten Kate Honda rider and 2005 Qatar race winner, Katsuaki Fujiwara (Megabike Honda), went fourth. Broc Parkes (Yamaha Motor Germany was just under two seconds from Charpentier, and fifth fastest, while former Suzuki rider Javier Fores (SLM Racing) was an impressive sixth for his new team. Norwegian rider Kai Borre Andersen (Hoegee Team Suzuki) was best GSX-R pilot on show, in sixth, with Christian Zaiser's 11th place on the LBR Ducati the fastest twin-cylinder performance.
Toseland Takes Stunning Race One Win at Season Opener
SATURDAY SUPERBIKE RACE ONE
James Toseland won today's first race from Qatar on his debut ride for the Winston Ten Kate team after a dramatic last lap. Toseland had looked to be heading for third place on the last lap, behind Nori Haga and Yukio Kagayama. However Haga lost the front of his Yamaha and clipped the back of Kagayama's Suzuki taking both Japanese riders out.Toseland probably couldn't believe his luck and he managed to hold off a charging Troy Bayliss to take the chequered flag to the delight of his new team.
At the start it looked like it was going to be a straight race between the Suzuki's, Yamaha's and Ducati's with all of the three factories riders battling it out. It was the Yamaha which that took the lead at first with Andrew
Pitt ahead of his team mate Haga, then Troy Corser followed by Bayliss, Kagayama and Lorenzo Lanzi. Pitt and Haga proceeded to swap the lead between them with the rest looking menacing. On the fourth lap Lanzi had a massive highside that he luckily walked away from, which left Bayliss as the sole Ducati in the leading pack.
Yukio Kagayama started to drop off a little on the Alstare Corona Suzuki, but then surged back and threw his machine under Bayliss to take fourth place and set his sights on the next man, his team mate, Troy Corser. Two
laps later Corser got to see the rear end of his team mates bike, something which didn't happen much last year! Meanwhile Bayliss had run wide allowing James Toseland, who had charged up, to take fourth place from the ex world champion. On the same lap Kagayama passed Pitt to go into second place and had his sights on his friend Nori Haga.
On lap 15 Kagayama finally got passed Haga but there was no way that the Yamaha rider was going to give up and sure enough on the next lap he retook the lead. This exhilarating action continued, with at one point on lap 17 the lead changed three times in three corners. Haga made his move at the start of the last lap but Kagayama was not going to be denied and re-took the lead. Going into the next corner Haga started to push his bike under the Suzuki but the front washed out and he collected Kagayama as well. The clearly upset Haga went straight over to his friend but their races were done!
Toseland and Bayliss continued their battle and in an aggressive move Toseland pushed Corser wide allowing Bayliss to pass the defending champion. Both of them then passed Andrew Pitt and were pushing hard, when the two leaders crashed out both of them could taste victory but try what may Bayliss could not pass Toseland and the Englishman took the win. Pitt brought his Yamaha over the line for a well deserved third place, with
Corser in fourth.
Special mention goes to Michel Fabrizio who took fifth place on the DFX Treme Honda in his first Superbike race. Also MotoGP veteran Alex Barros came home in sixth place after a poor start saw him drop down the field. A determined ride saw hi m claw his way back for a good result in his first Superbike race.
It was a very exciting race to watch and bodes very well for the rest of the season. Some pundits had predicted that Bayliss would walk away with the championship but it looks like he's going to have a real fight on his hands if Race one is any indicator of how the season will play out.
Round: 1 - Qatar, Circuit: Losail Circuit , Circuit Length: 5380
Lap Record: 2' 0.061 (Noriyuki Haga, 2006), Fastest Lap Ever: 2' 0.061 (Noriyuki Haga, 2006)
Race One: 18 Laps
Pos. Rider Manufacturer Nat. Total Time
1 J. Toseland Honda GBR 35' 31.339
2 T. Bayliss Ducati AUS +0.088
3 A. Pitt Yamaha AUS +2.390
4 T. Corser Suzuki AUS +2.599
5 M. Fabrizio Honda ITA +6.999
6 A. Barros Honda BRA +14.717
7 R. Rolfo Ducati ITA +15.224
8 P. Chili Honda ITA +21.183
9 M. Borciani Ducati ITA +22.450


10 M. Neukirchner Ducati GER +23.932
11 N. Abe Yamaha JPN +24.816
12 K. Muggeridge Honda AUS +25.643
13 R. Laconi Kawasaki FRA +29.139
14 S. Gimbert Yamaha FRA +29.977
15 R. Xaus Ducati ESP +36.675
16 S. Nakatomi Yamaha JPN +37.495
21 T. Al Naimi Yamaha QAT +1 lap(s)

Can Troy Corser hold on to his crown in 2006? It's going to be a great year of Superbike racing.
Aussie Stars Corser and Bayliss Trade Paint and Elbows in Race Two
SATURDAY SUPERBIKE RACE TWO
Troy Corser takes the win in the second race of the day after a titanic battle with Troy Bayliss over the last few laps. Corser and Bayliss put on a riding master class for the last four nail bitting laps of race two in Qatar. The two Australians did everything they could to be the one to take the flag, but it was Corser who triumphed at the end. The current and former champions threw their bikes under each other, traded paint and could probably have traded leathers so close was the racing.
At the start it had been Pitt, Haga and Toseland who had got away followed by Bayliss and Corser. On lap five Corser started to charge and passed Toseland and Pitt to take second place. He then charged down Nori Haga to
take the lead on the seventh lap and he then started to pull away from the pack as he did so many times last year.
Bayliss meanwhile was all over the back of Toseland but seemed unable to get passed the Honda rider. Qatar is a circuit where it is notoriously difficult to pass at the best of times. On lap 12 Bayliss managed to pass Toseland and was soon attached to the rear of Pitt's Yamaha. He passed Pitt but ran wide allowing his fellow countryman to retake his position. On the next lap he managed to pass both the Yamaha's of Pitt and Haga which left him with a clear track up to Corser.
Bayliss then proceeded to destroy the gap that Corser had built in just under two laps and then battle commenced! On the penultimate lap Bayliss pushed his Ducati past Corser but ran slightly wide allowing Corser to charge straight back. The same happened on the final lap with both bikes touching, luckily there was no repeat of race one. Bayliss pushed and pushed but again ran wide allowing Corser to pull away slightly and take the win.
Behind, the battle for third was being fought with as much determination between Haga, Pitt and Toseland. Toseland managed to get past Pitt on the penultimate lap and then on the final lap he got past Haga going into the
final corner. It looked like the Englishman would be on the podium again but Haga drafted him down the straight and timing his move perfectly beat him to the line by 0.001 of a second!
Lanzi brought his Ducati home rounding out the top six. Alex Barros had another good ride after again dropping back at the start. He had a battle with Fabrizio which he won and finished the race in seventh place just ahead of the Italian.
The Foggy Petronas team had a disappointing day with Steve Martin finishing 18th in both races and Craig Jones not finishing both. Jones is a great talent and will produce good results once he settles into the superbike
series, definitely one to watch.
Special mention goes to Ruben Xaus who is riding with an injured knee after an off road accident. He's walking around on crutches but still finished in tenth place. When he's fully fit he'll be back looking to have a podium finish. Frankie Chili started what will possibly be his final season off with a huge crash which he thankfully walked away from.
The next round sees us at Phillip Island in a weeks time. Corser, Bayliss and Pitt will all want to stand on the top step of the podium at their home round but Haga and Toseland will have other ideas. Will we see the first double of the season? Will Barros start to shine? Who knows but it will all become clear, right here on FastDates.com
Race 2: 18 Laps
Pos. Rider Manufacturer Nat. Total Time
1 T. Corser Suzuki AUS 36' 20.395
2 T. Bayliss Ducati AUS +1.025
3 N. Haga Yamaha JPN +3.462
4 J. Toseland Honda GBR +3.463
5 A. Pitt Yamaha AUS +4.350
6 L. Lanzi Ducati ITA +19.610
7 A. Barros Honda BRA +20.548
8 M. Fabrizio Honda ITA +21.183
9 K. Muggeridge Honda AUS +23.198
10 R. Xaus Ducati ESP +26.533
11 N. Abe Yamaha JPN +26.854
12 F. Nieto Kawasaki ESP +28.132
13 R. Rolfo Ducati ITA +28.135
14 M. Borciani Ducati ITA +34.176
15 S. Gimbert Yamaha FRA +35.395
17 S. Nakatomi Yamaha JPN +50.906
21 T. Al Naimi Yamaha QAT +1 lap(s)

Fastest Race Lap:
1 N. Haga Yamaha JPN 2' 0.061



Championship Standings WSB
Pos. Rider Manufacturer Nat. Points
1 Troy Bayliss Ducati AUS 40
2 James Toseland Honda GBR 38
3 Troy Corser Suzuki AUS 38
4 Andrew Pitt Yamaha AUS 27
5 Michel Fabrizio Honda ITA 19
6 Alex Barros Honda BRA 19
7 Noriyuki Haga Yamaha JPN 16
8 Roberto Rolfo Ducati ITA 12
9 Karl Muggeridge Honda AUS 11
10 Norick Abe Yamaha JPN 10
11 Lorenzo Lanzi Ducati ITA 10
12 Marco Borciani Ducati ITA 9
13 Pierfrancesco Chili Honda ITA 8
14 Ruben Xaus Ducati ESP 7
15 Max Neukirchner Ducati GER 6
17 Sebastien Gimbert Yamaha FRA 3

Manufacturers standings WSB
1 Ducati 40, 2 Suzuki 38, 2 Honda 38, 4 Yamaha 32
---


LeeAnn Tweeden Gets Naked (almost) for Budweiser in Sports Illustrated
This Bud's for you! Former FastDates.com Calendar Kitten, former Frederick's of Hollywood Lingerie model and former girlfriend to former AMA Superbike Champion Ben Bostrom, our very own LeeAnn Tweeden is featured in a giant 4-page fold out magazine ad for Budweiser beer in the annual 2006 Sports Illustrated Swimsuit Edition which went on newstand sale this past week. LeeAnn looks resplended as she spreads out on a bed of Budweiser bottle caps with stragetically placed caps just concealing her wonderful attributes. The SI Swimsuit issue will remain on newstands for many months, selling millions of copies and assuring that LeeAnn gets more exposure than her current gig on TV's Fox Sports. You'll want to get your own copy of LeeAnn's Budweiser poster to hangup in your race pits and help distract Ben as he walks past to the starting grid. And you can visit LeeAnn's Calendar Model Portfolio in Members Corner right now to get your very own giant screensaver of LeeAnn's Bud poster.


---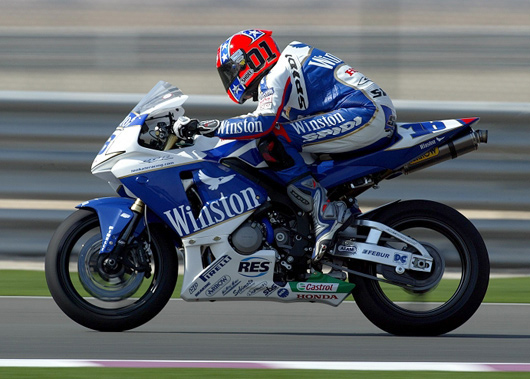 SBK World Supersport Round 1 of 13
Carpentier Scores First Supersport Win of the Season
Losail, Qatar, February 25th - Winston Ten Kate Honda CBR600RR rider Sebastien Charpentier started his championship defence in the best fashion possible by winning the Losail race, setting a new lap record and scoring pole position in final qualifying. The Frenchman ran out a five second winner over Yamaha rider Kevin Curtain, after 18-laps in desert sunshine at Qatar. Charpentier took a new lap record of 2'03.921, having set pole with a 2'03.093. Charpentier led every one of the race's 18-laps.
A successful day for the Winston Ten Kate Honda team saw their newest Supersport recruit, Kenan Sofuoglu, score a podium in his first Honda CBR600RR Supersport ride, taking a safe third after challenging for the lead in the first few laps.
Katsuaki Fujiwara (Team Megabike Honda CBR600RR) was fully in contention in the early stages, as he led off the line before being swamped by Charpentier's pace. He was to fall at high speed on lap five, breaking a scaphoid bone in his wrist and will now miss the Phillip Island round in Australia. Yoann Tiberio (Megabike Honda CBR600RR) was forced to miss the Qatar race in its entirety after suffering a cycling injury, but is heading of to Australia, hoping to be fit in time.
For Charpentier the race, conducted at a high pace throughout, was a vindication of not only his machine, but the preparations of his team in pre-season. "In testing in December we made a lot of improvements and set some good times here in Qatar," said the 2005 champion. "We pushed very hard for many laps, and today we did 2'04s consistently, with some 2'03s, so I am very pleased about that. It improved on last year and proved to us that we have many possibilities this year. I felt very comfortable on the bike and we are in a good condition. Kenan did very well; he is young and hungry to finish on the podium so it's perfect for me. You need a fast rider in your team to compare yourself against."
Sofuoglu, fast from first to last this weekend, raced with a maturity in the final few laps, taking an outstanding podium in his first ride for his new team. "I am very happy with this result, even after we knew would could be fast after the pole time I set," said the charging Kenan, who played it safe towards the end. "I ran in the first group in the race, and even though it was very difficult in the first laps, I knew I could go with them. After ten laps I was in third position and I realised that I had to keep the podium, so I stopped trying to challenge Kevin Curtain for second. This is a good result for us and thanks to the team for providing me with such a fast bike. The bike is completely different from my 2005 Superstock machine, there are many things you can change in Supersport, and more you can do with suspension."
Fujiwara was firmly on course for a strong finish after a fourth place qualifying, but his crash stopped not only his race, but his ambitions for the next round in Australia. "It's a shame for this to happen, not only crashing out but losing the chance to race in Australia," said Fujiwara. "I am going home to Japan now to have an operation to pin my wrist, so it should be OK for the Valencia round."
SUPERSPORT RACE: (Laps 18 = 96,840 Km)
Pos /Rider /Nat. /Team / Time /Gap
1 / S. CHARPENTIER / FRA / Winston Ten Kate Honda / 37'30.955 /
2 / K. CURTAIN / AUS / Yamaha Motor Germany / 37'36.351 / 5.396
3 / K. SOFUOGLU / TUR / Winston Ten Kate Honda / 37'42.612 / 11.657
4 / J. FORES / ESP / SLM Racing / 38'09.097 / 38.142
5 / J. STIGEFELT / SWE / Dark Dog Stiggy Motorsports / 38'10.123 / 39.168
6 / R.HARMS / DEN / Stiggy Motorsports / 38'16.502 / 45.547
7 / M.ROCCOLI / ITA / Yamaha Team Italia / 38'18.586 / 47.631
8 / C. ZAISER / AUT / LBR Ducati Racing / 38'18.637 / 47.682
9 / G.VIZZIELLO / ITA / Yamaha Team Italia / 38'19.530 / 48.575
10 / J. BROOKES / AUS / Ducati SC - Caracchi / 38'20.769 / 49.814
11 / S. LE GRELLE / BEL / Legrelle - Honda Belgium / 38'25.464 / 54.509
12 / A. GOBERT / AUS / Yamaha - GMT 94 / 38'25.657 / 54.702
13 / W.DE ANGELIS / ITA / Intermoto Czech Klaffi / 38'28.317 / 57.362
14 / T. TUNSTALL / GBR / Hardinge Ice Valley M. / 38'34.391 / 1'03.436
15 / G.NANNELLI / ITA / Kopron Edo Racing / 38'36.437 / 1'05.482
Fastest Lap 13° Sébastien Charpentier 2'03.921 156,293 Km/h
Lap Record: S. Charpentier 2'04.684 155,34 Km/h 2005
Riders Championship Standings:
1 CHARPENTIER 25, 2 CURTAIN 20, 3 SOFUOGLU 16, 4 FORES 13, 5 STIGEFELT 11,
6 HARMS 10, 7 ROCCOLI 9, 8 ZAISER 8, 9 VIZZIELLO 7, 10 BROOKES 6, 11 LE GRELLE 5,
12 GOBERT 4, 13 DE ANGELIS 3, 14 TUNSTALL 2, 15 NANNELLI 1.
Fast Dates Calendar Motorcycle Roadracing News. Complete coverage of the SBK World Superbike, AMA National Superbike and MotoGP World Championship. Superbike, SBK, FIM, AMA, American Superbike, superbike planet, American Roadracing, sportbike, grand prix, MotoGP, race, racing, news, superbike news, sport bike, motoGP news, photography coverage, photos, pictures, Fast Dates Calendar and Umbrella Girls. Racing, road race, track, motorcycle, news, results, girls, models, Mat Aladdin, Max Biaggi, Valentino Rossi, Troy Baylis, Ben and Eric Bostrom, James Toseland, Chris Vermeulen, Maria Sharapova, Kristen Bell, Regis Laconi, Loris Capirossi, Troy Bayliss, Troy Corser, Noriyuki Haga. Ducati 999 Monster Multistrada, Yamaha R6 R1, Honda CBR600RR CBR1000RR, Kawasaki ZX6 ZX6RR ZX10, Suzuki GSXR600 GSXR750 GSXR1000, Aprilia Mille, MZ Agusta F4 Brutale. Los Angeles Calendar Motorcycle Show.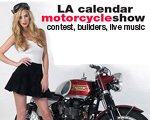 World's Richest Bike Contest features Sportbikes with
$70,000 a Purse!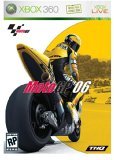 MotoGP 2006 XBox!
Troy Bayliss (Ducati Xerox Team) Returns Home to Phillip Island with 2-Point Championship Lead
Phillip Island (Australia), Thursday 2 March: Following last weekend's thrilling series opener in Qatar, Troy Bayliss returns to Phillip Island, Australia for the second round of the World Superbike Championship with a two-point lead in the standings. The 36 year-old Aussie from Taree finished runner-up in both Losail races to lead the world championship for production-based machinery for the first time since Assen 2002. That year Troy lost out on his second successive title, but the tough Aussie, who has returned to Superbikes this year after a spell in MotoGP, is determined to regain his crown from last year's champion and Aussie rival, Troy Corser (Suzuki).
"I'm back here at Phillip Island with the Ducati Xerox squad and it's a team where I've spent most of my career in Superbikes, which makes me very happy because I feel much more at home" declared Troy. "In Qatar we did a really good job, despite having to use the hardest front tyre that Pirelli had, but everyone had this problem, whereas at Phillip Island we'll be able to use the front tyre we like and feel more comfortable with. There was plenty of action in Qatar because all the manufacturers are up at the front and that's exactly what the public wants to see, different brands of bike fighting for the win. A lot of guys like myself have also come back from MotoGP and everyone seems to be capable of doing a good result, which is exactly what the championship needs. Obviously we want to be consistent because points is what's going to win us the championship in the end, but I love to win races as well and the last time I was at Phillip Island in Superbikes we did that twice. It's not going to be easy this time but I'm feeling confident".
Lorenzo Lanzi had a weekend of mixed fortunes in Qatar on his first outing as full-time rider for the Ducati Xerox Team. The 24-year-old Italian scored a front-row slot alongside poleman Bayliss in Superpole, but a high-side in the first race left him slightly bruised for race 2, in which he could only finish sixth.
"My start to the season wasn't the best, apart from qualifying, but luckily the nasty crash I had in race 1 didn't have any serious consequences. In race 2 I didn't really like my sixth place, but I couldn't do much better because of my physical condition" declared Lorenzo. "Now we are at Phillip Island and I am convinced that I can get some good results here. I like the track, hopefully I can get off to a good start in free practice by finding the right settings and doing a qualifying session like in Qatar. I would be happy to get on the front row here, which will give me a chance of fighting on equal footing with the best. The track is great from the mid-point of the lap onwards, the final part. It's so fast and I like fast tracks, but it's not going to be easy to set things up as I've never ridden here with this bike before".
---
Truth is Stranger Than Fiction!
Just when we thought he had disappeared back home to Australia 2 years ago after having been let go from more race teams for his bad boy and non performance antics than any rider in history including John Kocinski and Ben Bostrom combined...

Anthony Gobert joins Yamaha GMT94 In World SuperSport Championship
20/2/2006 Yamaha GMT94 has signed Australian rider Anthony Gobert to ride its YZF-R6 in the opening rounds of the Supersport World Championship.
The eight-time world superbike race winner will substitute for the injured David Checa. Checa crashed in testing last week and broke his arm, forcing him out of the opening races in Qatar and Australia. After undergoing a successful operation on Friday the Spaniard is expected to return to the saddle by the end of March, leaving the team needing a replacement rider for the opening two races.
Gobert, who celebrates his 31st birthday on the day of the Phillip Island race, rocketed onto the world superbike scene at the end of the 1994 campaign - taking pole position and a win at the Australian round. After three years in the championship 'The Go-Show' moved to 500cc Grands Prix before returning to the world superbike series in which he made his name in 2000. His win on the underpowered Bimota, again at Phillip Island, was as memorable as the race six years earlier and showed his undoubted natural talent as he won by almost 30 seconds in a wet race. His last world championship outing came in October 2000 when he rode a Yamaha YZF-R7 at Brands Hatch.
In the intervening years he faced well-documented personal problems while racing in American and Australian national championships, but Anthony says he is fit and ready to race in what will be his debut world championship supersport races.
"I'm really happy to have the opportunity to get back into the world series with a good team and bike," he said. "I took a few years out to work out what I wanted to do and I've realized that it is to get back into racing. I raced in Australia last year and it looked like I might be doing that again, until this offer came to ride in the first few races. At first I was approached for the Phillip Island race but I really wanted some time on the bike beforehand, so the team invited me along to Qatar as well.
"The first race will really be a test for us. I raced supersport for Yamaha US in 2001 and 2002 but the bikes have changed a lot since then. It's a new track, team, tyres and bike for me and I haven't ridden for five months, so the goal in Qatar to get a good set-up and hopefully a top ten. If we can get into the groove in Qatar then there's no reason why we can't be aiming at the top five in Phillip Island."
Round one of the Supersport World Championship takes place at the Losail circuit in Qatar this Saturday with round two at Phillip Island taking place eight days later.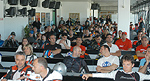 FastDates.com takes the DRE Racing School.
Click here for the full story and to register for 2006!
Fast Dates Racebike Pinup
& Garage Girls



Toeland Takes Race One In His Superbike Debute on Honda
James Toseland (Winston Ten Kate Honda CBR1000RR) scored his maiden win in the Winston Ten Kate Honda team in the opening 18-lap contest at Losail. He had been fourth on the grid after scoring fourth quickest time in Superpole, but a poor start dropped him to tenth overall after one lap. He battled back through the field and was poised to score a podium behind leading duo Noriyuki Haga and Yukio Kagayama, until Haga's crash ruled both Japanese out on the last lap. Toseland's team-mate Karl Muggeridge (Winston Ten Kate Honda CBR1000RR) scored 12th in race one, after a crash in Superpole had put him eighth on the grid. Troy Bayliss, the Superpole winner on Ducati, was second, with Andrew Pitt (Yamaha) third.
In the second race, Toseland was deprived of a third place finish by only 1.6 centimetres, after a photo finish with Haga. His win and fourth places nonetheless tie him on points with Corser for overall second in the championship. Each has 38 points, with Bayliss the leader on 40. Muggeridge was ninth in race two, with his team now certain that the machine he crashed in Superpole had suffered some unseen internal chassis damage, despite extensive repairs before raceday. Muggeridge goes home to Australia for round two in ninth place.
An outstanding Superbike debut for Michel Fabrizio (DFX Honda CBR1000RR) saw him finish fifth in race one, less than seven seconds from the winner, having started from 15th on the grid. Embroiled in a multi-rider fight in the second running, he scored eighth, for overall fifth in the series. Alex Barros (Klaffi Honda CBR100RR) made his first World Superbike experience a rewarding one, taking sixth in the opener, after finishing Superpole in tenth place. In the second event, he secured seventh, for an overall sixth.
Fabrizio's experienced team-mate, Pierfrancesco Chili (DFX Honda CBR1000RR) rode from 14th to eighth in race one, but crashed hard right in front of Barros in race two. He was battered and bruised and broke his left ring finger, but he will race at Phillip Island next week.
Toseland's joy at his first race win was tempered by disappointment at missing the podium in race two, but ever the cool-headed competitor, he knows his first meeting in Winston Ten Kate colours was as good as he could have realistically expected.
"Not a bad start," said Toseland of his opening race. "It had been a quiet time for me this winter, with everyone talking about Barros and Bayliss and so on, so it was nice that in the middle of a change of team, bike, everything, I was allowed to work away in the background. I came into this race with an open mind and we didn't start out so fast but the team has worked hard and we've got the first reward. It's very disappointing to miss the podium in race two but I only missed it by a centimetre or so."
Barros enjoyed his first taste of World Superbike competition, and despite slow starts and the odd heart-stopping moment, he was satisfied with two fine finishes.
"Two tough races and in race two I almost hit Chili when he fell," said Barros. "I regained the lap again and had a really good fight with Fabrizio and many other guys. But it was all fun, even if my starts were not so good, and I got edged out in the first corner of the first race. Now I understand how the machine and tyres work we should be better at the next races."
2006 Ducati Daytona Party ramps up to kick off the AMA Race Season Friday March 10th
The Ducati.Net Ducati Owners Club and Ducati North America present Ducati Day at Speedpark Motorsports on Friday, March 10th, 2006. This party kicks off the 2006 AMA racing season in Daytona Beach, Florida across from the world famous Daytona International Speedway. The event includes Ducati race team appearances, tech talk classroom sessions, a Ducati only bike show, umbrella girls, the American Ducati Idol motor sound contest, a vendor row and more. Those attending DDD will be able to soak up the sun while admiring Ducatis on display, race go-carts or test their skills aboard Speedpark's 22-foot dragsters.
Long known for its prestigious Ducati bike show, the 2006 DDD celebrates the famous Italian marquee's history with a special award for the best entry built prior to 1985. The "Best Special" class, introduced in 2005 as a salute to Daytona's long tradition of custom built "specials," has now become a standard show call for 2006. The entry fee to participate in the bike show is $10.
CycleCat Motorcycle Performance products, a long time sponsor of Ducati.Net and Ducati Day, will provide trophies for this special event.
Returning this year is the popular American Ducati Idol "Let Your Ducati Sing" contest, where the Ducati with the best exhaust note is chosen. The visiting members of the Desmodromiclub of Rome, Italy will again judge this event.
Celebrities expected to attend and sign autographs include renowned racer Ben Bostrom, returning to Ducati this year on the Parts Unlimited Ducati Austin AMA 999 Superbike, as well as popular former World Superbike Champion Neil Hodgson, runner up in last years Daytona Superbike event. Also expected to attend is world famous long distance record holder Gary Eagan, who will be giving a seminar on his travels aboard a Ducati ST4s and Multistrada.
General questions about DDD and the featured activities should be directed to Ms. Vicki Smith by calling on 954-764-3847 or emailing to veloce916@aol.com. Full details are on the website at www.DucatiDayDaytona.com.
Directions: Speedpark is located across from the Daytona Speedway's highest grandstand, the Winston Tower, just behind the Hooters on Intl. Speedway Blvd. Party hours are 10:30am - 3:30 pm.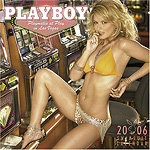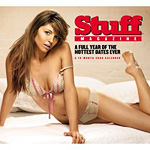 ---


Hire a FastDates.com
Calendar Angel
Now available for your special event and booking needs direct from CaliforniaHostess.com!
Ask for a FastDates.com Calendar Kitten when you call
Dominique at 1-310-430-4301
Ducati Desmosedici
4-Cylinder MotoGP Bike Scheduled for Release around May 2006
The scheduled delivery of the 200 bike limited production Ducati Desmosedici 4-cylinder 990cc MotoGP bikes for the street is expected to begin in this May/June with the first bike delivered to the owner at a European MotoGP round.
The bike was first announced to the world at World Ducati Week in May 2004 with a retail price of US $50,000 with the first bike to be delived this May at World Ducati Week 2006, which unfortunately was postponed until next year, necessitating the first delivery now to take place at a MotoGP.
It is not clear if all 200 examples of the Desmosedici production bike will be delivered to customers in 2006 as this would certainly disqualify the factory Ducati MotoGP team from running or earning points in the 2006 MotoGP Championship which is restricted to prototype bikes only.
But looking ahead to 2007 when MotoGP rules will drop engine displacement to 800cc, necessitating all the top teams to change to a newer, more compact engine design, the current Desmosedici 4-cylinder 1000cc will no longer be needed for MotoGP, however it will be eligible for SBK World Superbike having meet the homoligation requirement of 200 production bikes.
At the end of the 2006 SBK World Superbike season, should Ducati find its stalwart 999F V-twin superbike no longer capable of performing on par with the Japanese 4-cylinder superbikes, you can bet a new Desmosedici Superbike will be rolled out of the race shop, with lower than $50,000 cost full-on production roadbike examples soon to follow.
When that happens, the Japanese factory superbikes will be decimated. The reason being, as already proven in MotoGP, is the Ducati's desmodromic valve gear gives their engine a much higher RPM limit and with it, the ability to make much more peak power (250hp? than a Japanese engine running traditional valve springs (200hp?). The power difference is not as noticeable in MotoGP since since the Desmosedici is racing against prototpe GP engines (240hp?), but in a production engine Superbike class the power difference could be as much as 30-50 horsepower!
The reason the current 999 V-twin desmo design can't match the Japanese in-line 4 cylinders for peak power is the simple fact a big 500cc piston / rod / crank assembly can't spin as high to make as much horsepower as a much smaller 250cc picton / crank / rod. But once on an equal playing field with the same number of 4-cylinders, the Ducati desmos will dominate.
However, Ducati will want to delay any (inevitable?) change to the 4-cylinder Desmosedici as a Superbike and stick with the 999 V-Twin as long as possible, as long as they can still win some races. The 999 is the flagship leader of their entire V-twin line of Ducati production street bikes and they will champion it as long as possible for marketing purposes. We'd expect, though, to see Ducati Corse running a mixed team of the V-twin and the V-four Superbikes in 2007.
Fastest MotoGP Riders to Receive Free BMW Z4 M Roadster and Z4 M Coupe
02/23/2006 - Munich. Riders with the fastest time on the racing circuit will be rewarded with a fast car to take home with them. This year, BMW is donating two awesome new M automobiles, the BMW M Award, as prizes for the best MotoGP riders participating in the Motorcycle Road Racing World Championship. The rider achieving fastest time in the MotoGP tests being held in Barcelona/Spain on 5 March 2006 will win a BMW Z4 M Roadster. A BMW Z4 M Coupe will go to the MotoGP rider with the fastest overall time from all qualifying rounds at the last world championship leg in Valencia/Spain on October 29.
Moreover, BMW will again be supplying the Safety Cars for the Motorcycle Road Racing World Championship for the next four years, thereby continuing its commitment which began in 1999. In addition to four further BMW automobiles, a BMW M5 and an M6, both delivering 507 bhp and driven by professionals, will constitute a fast-moving and eye-catching escort to the MotoGP, an event comprising17 races seen by an average of more than 300 million television viewers worldwide and up to 250,000 spectators lining the circuit.
Furthermore, BMW will be supplying the Dorna company, organiser of this world championship race, with a larger fleet of additional BMW models for organisational purposes. Our press photo shows Professor Ulrich Bruhnke (right), chief executive of the BMW M GmbH, handing over the BMW Safety Cars to Dorna CEO Carmelo Ezpeleta in Jerez/Spain.


The FastDates.com Interview with Chris Vermeulen
Why give up a winning ride in World Superbike to go with a struggling Team Suzuki in MotoGP?

We first really got to meet and spend time in person with Chris Vermeulen and his beautiful lovely Toni at the Brands Hatch World Superbike Round in August 2005 when we went there to photograph the next edition of the FastDates Calendar. Chris was very accommodating in letting us shoot his Ten Kate Honda CBR1000RR for the calendar, and at the after race Paddock Party on Sunday night we had a better chance to talk and get to know Chris ever better. He's really a fantastic, very likeable guy and easy going guy like many all the SBK racers are, and seeing the slight framed youngster in street clothes you 'ld never think him a racer.
Interview Continued with Big Action Screensavers HERE
AMA Board elects Smilie chairman, appoints Burleson Goldfine, Long, & Sutton re-elected as corporate Directors
Dal Smilie of Helena, Montana, has been elected to the position of Chairman of the AMA Board of Directors; Andy Goldfine of Aerostich, Croft Long Of Kawasaki, and Ken Sutton of Harley-Davidson have been re-elected to serve as corporate members of the AMA Board of Directors; and Jon-Erik Burleson of KTM has been appointed as a corporate member of the AMA Board of Directors.
Smilie replaces previous chairman Rick Gray of Lancaster, Pennsylvania, who declined to seek another term as chairman in order to serve his local community as mayor. Burleson was appointed by the AMA Board of Directors to fill the seat vacated upon the recent death of Rod Bush. Goldfine, Long, and Sutton were elected during the annual meeting of AMA Corporate Members, held on Saturday, February 18, in Indianapolis.
The AMA Board of Directors consists of 12 members. Six individual Directors are elected by the general membership in their respective regions and serve three-year terms. Six corporate Directors are elected by the corporate membership and serve two-year terms. The AMA Board of Directors meets four times a year.
Ray Blank at American Honda withdraws from participation in the AMA Board of Directors.
Ray Blank, Honda's representative on the AMA Board, announced his resignation at the Board's meeting February 18 in Indianapolis. Honda said that it will maintain its corporate membership in the AMA and continue to compete in AMA-sanctioned racing. The company has also pledged to support the Association's work to protect the rights of American motorcyclists.
Blank had served on the AMA Board since 1989. He also served on the AMA Pro Racing Board. At its meeting in Indianapolis, the AMA Board made the decision to replace the single AMA Pro Racing Board by a group of rulesmaking committees specific to each discipline of AMA professional competition.
That decision was part of a series of changes in the AMA's organizational structure designed to increase the responsiveness and transparency of the Association's work in its three key areas: rights, riding and racing.
"It is unfortunate that American Honda has chosen to withdraw from the AMA Board at this important time, when the AMA is embarking on a new era," Smilie said. "However, we respect Honda's decision and welcome their continued participation in the Association.
"I have worked with Ray for the past 17 years on the Board, and all of us appreciate his contributions," Smilie added. "Ray has informed us that Honda will be involved in the new pro racing committees that will lead to a more responsive approach to rulesmaking for all disciplines of AMA professional competition."
Ducati AMA Factory team to be named "Parts Unlimited Ducati" for the 2006 season.
Ducati Corse is pleased to announce that its factory team taking part in the 2006 AMA Superbike Championship with Ben Bostrom and Neil Hodgson on Ducati 999R racing bikes, will be officially named "Parts Unlimited Ducati".
There will be no major changes in the team's structure, still managed in cooperation with Terry Gregoricka, with the logistic premises based at the usual Factory Ducati workshop in Braselton, Georgia.
The Technical Director of the team will be Gabriele Raccio, James Toseland's Race Engineer in World Superbikes in 2004 and 2005, and the Team Manager will be Tom Bodenbach, as in previous years.
After an intense preparation during the winter season, the Parts Unlimited Ducati team is now ready for the first round of the AMA series, taking place in Daytona on Saturday March 11.
BRITISH SUPERBIKE SERIES ON SKY SPORTS
20 Jan 2006 08:32
Sky Sports will show all 6 races from each round of the 2006 and 2007 British Superbike seasons.
In an exciting new deal, Sky Sports will show delayed coverage from the Superbike, Supersport, 125cc, Superstock and Virgin Mobile Yamaha R6 Cup at each of the 13 scheduled events, starting at Brands Hatch on Sunday 26 March.
Sky Sports who have followed the British Superbike Championship for the last three years will schedule their coverage on the evening of each Round. Alongside this deal, ITV will show live terrestrial coverage of British Superbikes as announced last week.
Announcing the new arrangement, Tony Partis, Managing Director, Dorna UK Ltd: "Everybody connected with the Bennetts British Superbike Championship is very pleased to continue an association with Sky Sports. They have been good to work with, built a loyal following for the sport, and will now show a greater depth of coverage than before. Their professionalism and enthusiasm will not only benefit the Bennetts British Superbike Championship but also the compelling support races.
Japan's January Cycle Production Drops 6.4%
February 28, 2006 - Japan's four main motorcycle manufacturers produced a total of 149,437 units in January 2006, down 10,257 units or 6.4 percent compared to the production of 159,694 units in January 2005, said the Japan Automobile Manufacturers Association (JAMA).
According to JAMA figures, Honda produced 43,992 units in January 2006, down from 48,134 units produced in January 2005; Kawasaki produced 20,813 units, down from 22,092; Suzuki produced 43,181 units, up from 41,525 units; and Yamaha produced 41,421 units, down from 47,909 total units in January 2005.
EXPORTS
The four manufacturers exported a total of 116,460 units in January 2006, down 12,522 units or 9.7 percent compared to the 128,982 units exported in January 2005, said JAMA.
Honda exported 23,858 units in January 2006, down from 29,435 in January 2005; Kawasaki exported 22,167 units, down from 22,497; Suzuki exported 35,685, up from 33,942; and Yamaha exported 34,750, down from 43,108 units.
Of the 116,460 units exported in January 2006, 2,793 units were 50cc and under; 8,874 units were 51cc-125cc; 12,393 units were 126cc-250cc; and 113,667 units were over 250cc in engine size.
Total value of motorcycles exported for January 2006 was $736.61 million - including $620.49 million for vehicles and $116.12 million for parts - an increase of $1.3 million or 0.2% as compared with $735.31 million recorded for the same month of the previous year.
JAMA said 40,992 units were shipped to the U.S. in January 2006, down from 46,930 units shipped in January 2005.