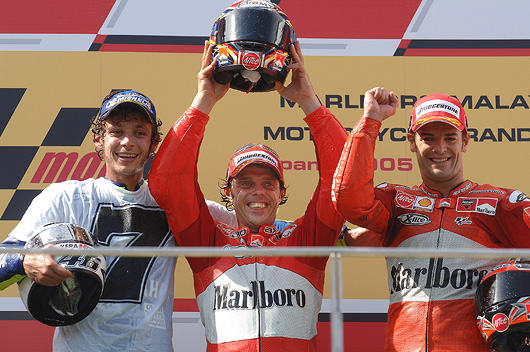 7-Time World Champion Rossi, Ducati's Capirossi and Checa on the podium at Sepang.
MotoGP World Championship, Sepang Round 13 of 17

Ducati's Historic Race in Malayasia as Capirossi Wins Again
and Checca takes Third, Rossi Secures his 7th Title
Sepang, Malayasia, Sept 13-15th - Valentino Rossi successfully defended his MotoGP World Championship title with a second-placed finish in the Marlboro Malaysian Motorcycle Grand Prix on Sunday. Rossi clinched the title for Yamaha with four races to spare after a daring battle for victory with Ducati's Loris Capirossi, who went from pole position to the top step of the podium for the second time in seven days after taking his first win of the season at Motegi in the previous round. Rossi started from seventh on the grid but swiftly arrived at the front and took the challenge to Capirossi until the final seven laps, when the Ducati rider launched an unstoppable charge to the chequered flag. Capirossi's team mate Carlos Checa finished third, giving the small Italian manufacturer's team a historic 2-rider podium against the mighty Japanees teams.
"I am very happy because I gave more than 100% in the race today," said Rossi. "We have been in trouble all weekend and this morning I wasn't sure if I would finish on the podium. But I got a good start and rode a clever race whilst other riders seemed nervous and made mistakes. Little by little I moved to the front and I felt comfortable with the bike. I passed Hayden and then swapped positions with Capirossi a couple of times. In the last seven laps he changed gear and I couldn't chase him. Anyway, I am World Champion for the seventh time, which is incredible!"
Capirossi capped off an incredible day for Italian motorsport fans, taking back-to-back victories for the first time in his career. The day was complete for Ducati as Capirossi's team-mate Carlos Checa rounded out the podium, his first top-three finish for the factory following on from fourth place at Motegi. "It was a difficult race because I knew I had a seven-time World Champion chasing me so the pressure was very high," said Capirossi, who moved up to third place in the championship. "Thankfully the Bridgestone tyres worked well in the second half of the race and I was able to escape. To win two races in a row is unbelievable to me and I want to thank everybody at Ducati and Bridgestone."
Loris Capirossi the day before took his second pole position in just seven days as he stormed to the top of the time sheets once more in today's single qualifying session for the Marlboro Malaysian Motorcycle Grand Prix. Capirossi's time of 2'01.731 was a new pole record at the Sepang circuit and signified a repeat of his grid position from the previous round at Motegi last Sunday. The Ducati rider is again joined on the front row by Suzuki's John Hopkins on another memorable day for tyre manufacturers Bridgestone, who took four of the top five positions.
"The track conditions this weekend are very different to when we tested in the winter and I think everybody has struggled a little bit," said Capirossi. "Thankfully for us Bridgestone have brought an excellent tyre and it really helped. The lap time was good and also my race consistency is not so bad. I am confident because we have found a good setting for the bike. The improvement Bridgestone have made with the tyres since Brno means we are now seeing the true potential of the Ducati. It will be a long, hot race but I am ready."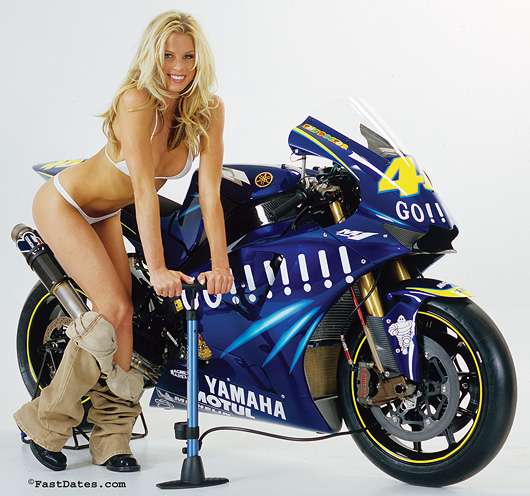 Will Robin with her bike setup skills be able to help Rossi clinch the title this weekend at Sepang? Story at right.

Capirossi Secures 2nd Pole in a Row With Quickest Time in Qualifying
Saturday 14th - Loris Capirossi won another thrilling battle for pole position this afternoon to score his fifth pole with the Ducati Marlboro Team. Fresh from his victory at Motegi last Sunday, Capirossi dominated much of the session, then slipped to third behind Sete Gibernau and John Hopkins with ten minutes to go, then fought back to the top on his 20th and last lap. Riding conditions were witheringly hot with track temperatures hitting 50 degrees.

"The team did a great job today, my thanks to all of them," beamed the Italian. "We've had to work harder than we did at Motegi, because the track isn't in such good condition, that's why we're slower than when we tested here last winter. We made many minor adjustments to the suspension today, just looking for more grip. My qualifying run went really well but I also did a lot of laps with race tyres, and I think maybe we're even better with race tyres! It's going to be a long race - this heat makes it tough for the tyres and for the bike." Capirossi's other poles with the Ducati Marlboro Team are Motegi 2005, Jerez 2003, Assen 2003 and Estoril 2003.
"For me this is great weekend," smiled Capirossi. "We have worked very hard and I did a lot of consecutive laps on race tyres today. Bridgestone have done a great job for their home race and have given us some excellent tyres to choose from. Tomorrow is a different day, the race is always difficult but I am ready to do my best."

Checa heats up the rear Bridgestone. The Desmosedici, the tires and the Ducati team were spot on all weekend.
Sete Gibernau was the fastest Michelin rider today, breaking the Bridgestone hegemony with the second fastest time of the day on the Honda and securing a front row start between Capirossi and Hopkins.Kawasaki rider Shinya Nakano equalled his best qualifying performance of the season to clinch fourth place and head up the second row ahead of Kenny Roberts and Nicky Hayden, who dislodged Valentino Rossi with his final lap.
John Hopkins powered his Suzuki GSV-R to his second front row start in succession after qualifying with the 3rd quickest time. Hopkins (P3, 2'02.017), had been consistently quick all day and finished the morning session in fourth place. His afternoon qualifying time could have been better but for a couple of slower riders on the circuit on his final lap. They caused the hard-charging Hopkins to lose valuable tenths that almost certainly cost him the chance of his first ever pole position.
"I've got to say I'm quite disappointed really because I want that pole position," said Hopkins, "but at the beginning of the day if I'd have known I'd have been on the front row I'd have been ecstatic! I had a really good lap going but it was my fault that I got held up with two other riders on my last lap - but that's what happens. I'm not going to worry about it – it would've been nice to get the watch for pole but, ah well
.Kenny Roberts Jr (P5, 2,02.215), was quickest after the final free practice session and also looked odds-on for a front row start, but the ex-World Champion just missed out on leading the grid at the end of qualifying. His fifth place start will be his best position of the season so far and he will be looking to maintain a competitive position in the race.
Rossi, who can lift the title tomorrow by finishing within twelve points of Max Biaggi, will start from the third row after struggling with the set-up of his Yamaha for the second successive race. The Italian lapped 0.6 seconds slower than the time he set in qualifying for last year's race and faces an uphill battle as he aims to clinch the title with a victory, as he has done for the past four seasons. The only consolation for Rossi was that his only remaining title rival, Max Biaggi, was also in trouble today and could only qualify at the back of the fourth row.
Despite his problems Biaggi was one of twelve riders within the circuit record time of 2'03.253 today, Carlos Checa, Nicky Hayden and Marco Melandri all dipping under the 2'03 mark as they claimed third row starts. Melandri's performance was particularly impressive, the youngster riding with 35 stitches in his foot after injuring himself in Japan. Shane Byrne struggled to make progress with a qualifying tyre after showing decent pace on race rubber, qualifying 18th fastest in his first appearance for Honda as a replacement for Troy Bayliss. Olivier Jacque, replacing the injured Alex Hofmann, qualified in 13th place on the Kawasaki.
Today's qualifying was held in temperatures of over 40 degrees and the track surface pushed up to 50. This made tyre choice and traction an all important factor and Bridgestone responded to this challenge with four of the top-five riders using its tyres, including pole setter Loris Capirossi.
Qualifying Round 13 - Malaysian MotoGP, Circuit: Sepang, Circuit Length: 5548
Lap Record: 2' 3.253 (Valentino Rossi, 2004), Fastest Lap Ever: 2' 1.731 (Loris Capirossi, 2005)

Qualifying
1 L. Capirossi Ducati ITA 2' 1.731
2 S. Gibernau Honda ESP 2' 1.867
3 J. Hopkins Suzuki USA 2' 2.017
4 S. Nakano Kawasaki JPN 2' 2.178
5 K. Roberts Suzuki USA 2' 2.215
6 N. Hayden Honda USA 2' 2.377
7 V. Rossi Yamaha ITA 2' 2.412
8 C. Checa Ducati ESP 2' 2.419
9 M. Melandri Honda ITA 2' 2.660
10 C. Edwards Yamaha USA 2' 2.805

Capirossi (65) leads the pack into turn one persued by Hayden (69) and Checa (7).
A Historic Day for Team Ducati as Capirossi Wins,
Checa Sandwiches Re Crowned Champ Rossi in the Podium
Ducati Marlboro Team rider Loris Capirossi made history in today's steaming-hot Marlboro Malaysian Grand Prix, claiming the legendary Ducati factory's first-ever back-to-back MotoGP victory, just seven days after winning the Japanese GP. And team-mate Carlos Checa made more history for the marque by taking third place for the Ducati Marlboro Team's first-ever double podium result.
Loris Capirossi was in unforgettable form this afternoon, winning the Ducati Marlboro Team's second consecutive race by almost two seconds from World Champion Valentino Rossi. The two Italians enjoyed an enthralling battle back and forth, while Checa stormed through the pack after losing time in a frantic turn-one melee. Capirossi had been leading the race until just after half distance when Rossi attacked, leading for two laps before Capirossi retook the lead at turn one with eight laps to go,. This victory was the 32-year-old's 25th and his third with the Ducati Marlboro Team. He now lies third in the World Championship after scoring two wins and a second-place from the last three GPs.
"It's been a fantastic week!" grinned Capirossi, who started from pole position for the second consecutive weekend. "Today was tougher than Motegi, but Bridgestone brought a great selection of tyres and we worked hard to understand which would be the best for the race. After the start I tried not to use my tyres too much, I wanted to control the race. Then my pit board told me Valentino was coming, and when you have a seven-time World Champion behind you, you know he's coming! I did my best but he overtook, then I did some great laps in the end. I've been racing GPs for 16 years now but my potential is still strong and I want more wins! Thanks to everyone and I want to dedicate this win to Livio."
The whole team dedicated this emotional result to Ducati MotoGP project manager Livio Suppo and his family. Suppo's mother-in-law died earlier this week.

"That was an exciting race for the fans!" said Ducati Marlboro Team technical director Corrado Cecchinelli. "But this win belongs to the whole team, to everyone back home who kept working through some hard times and to Bridgestone. And we dedicate the victory to Livio and his family. Today our package was better than the rest. It's a combination of rider, bike and tyres, none of these three can win by themselves. After these two wins I think we can say we have the perfect mix!"
Carlos Checa was the fastest man on track at several stages of today's race as he battled back from eighth place on lap one. The Ducati Marlboro Team man was forced wide at turn one and worked incredibly well to score his first podium with the team. He fought long and hard with Nicky Hayden, finally taking third at turn nine with five laps to go. Then he zeroed in on Valentino Rossi, finishing just metres behind the champ.
"I knew I had to get a good start because it's not easy to pass people from the third row," said 'El Toro'. "But when I flicked into the first turn I had to run wide to avoid contact. That totally changed my race, it wasn't easy to come back but I set my pace and saw the leaders losing time as they battled together. I had a lot of fun with Nicky, though it's not easy to out-brake someone at over 300kmh! Then I saw Valentino struggling. The last turn was exciting but he defended his position too well. We started this year with a new package, it was tough to start with, but now we are reaping the reward. "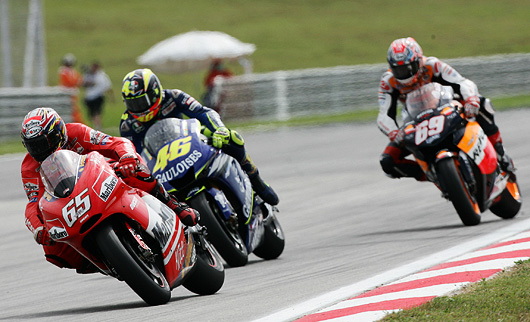 Nicky Hayden (69) is left behind from his early challenge as Rossi (46) moves up to battle Capirossi (65) for the lead.
Nicky Hayden challenged Capirossi for the lead after an excellent start to the race from the second row of the grid, eventually dropping back to fourth place following a determined but ultimately futile resistance for third under pressure from Checa. Fellow Honda youngster Marco Melandri also put on an impressive performance, fighting the pain of 35 stitches in his right foot to hold off Max Biaggi for fifth place and stay in the battle for the coveted runner-up spot with four rounds remaining.
Colin Edwards now lies fourth behind Capirossi, just two points ahead of Melandri, after struggling to tenth place today behind Kenny Roberts, Alex Barros and John Hopkins. Sete Gibernau had another disappointment as he crashed out of fifth place on the second lap, taking Shinya Nakano with him and dropping to eighth in the championship behind Barros. Nakano's Kawasaki team-mate Olivier Jacque soon joined him in the pit box after retiring with a throttle problem, after making his return to action in place of the injured Alex Hofmann.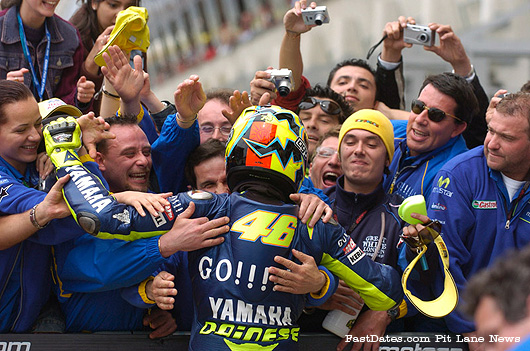 Rossi's 7th Consecutive GP Championship, 5th Title in the Premier Open Class
After finishing second in today's Malaysian Grand Prix and clinching his fifth successive MotoGP title, his second for Yamaha, Gauloises Yamaha Team rider Valentino Rossi commented on his title victory:
"I am very happy with this championship. I know I gave more than 100% today, and we had a lot of problems this weekend. This morning I wasn't sure if I could fight for the podium! After the start I stayed calm as some riders made some mistakes, and I was able wait for things to clear. Step-by-step and metre-by-metre I moved through the pack and I used every second of the race. I got to third behind Nicky and I thought I could fight because the bike was feeling okay and I knew that Nicky was having some of the same problems as me. Eventually I passed him and caught up to Loris and at some places I was faster, some slower. I passed him but when he passed me back I knew that he had been playing with me, like a cat with a mouse, because in the last seven laps he changed gear and I couldn't stay with him, he was incredible!
"This morning in the warm-up we made some changes and found a better feeling. Michelin worked really hard to give us a competitive package for the race and this showed, because it was a great improvement to yesterday.
"So I am World Champion for the seventh time and it's a great feeling. It's been great to come back from the bad result at Motegi last week and do so well; we made a good race today. This title is not just down to me but to everybody involved; Jeremy Burgess, all my mechanics, all the Yamaha engineers, Rockin' Robin Cunninghan for her setup assistance, and all the people on the management side, including Davide Brivio.
"Today I put the number 7 on my t-shirt because this is the number of my championships but also because it was the number of Barry Sheene, who was a great hero of mine and a truly great racer. The celebration with my fan club, dressed as Snow White and the Seven Dwarfs, was just a bit of fun to celebrate the seven titles, and also because I always liked the story as a child! Now I go back to Italy for a couple of days but we can also make a little party here – I have my mother and some of my best friends from Italy to help me celebrate!
"This year Yamaha has worked so hard again to give me the bike I need. At the start of the year we had some problems with the M1, but then we found the right way forward and the bike started to fly. The M1 has been great fun to race this year. Last year was a surprise to win but this time everyone was ready for me and I was the target. It has been a great achievement to beat all my rivals this year, because they have been very strong.
"I think for me the race at Mugello was the biggest emotion of the season, because it was in front of my home fans. Every year there is a different story to the championship, and this year has been a hard battle. The emotion to win a seventh world championship is difficult to explain. The first is like a dream, the second unbelievable; there are just no words to describe the seventh! The feeling is different to when I won the 125cc and 250cc titles, but just as good!
"Racing with Yamaha gives me a great taste and a great motivation to win; these last two championships have been two of the best."
MotoGP Results Sepang: (21 laps = 116.508 km)
Pos/ Rider / Nat / Team / Motorcycle / Time/ KM/H
1 / Loris CAPIROSSI / ITA / Ducati Marlboro Team / DUCATI / 43'27.523 / 160.853
2 / Valentino ROSSI / ITA / Gauloises Yamaha Team / YAMAHA / 43'29.522 / 160.730
3 / Carlos CHECA / SPA / Ducati Marlboro Team / DUCATI / 43'29.592 / 160.725
4 / Nicky HAYDEN / USA / Repsol Honda Team / HONDA / 43'36.750 / 160.286
5 / Marco MELANDRI / ITA / Movistar Honda MotoGP / HONDA / 43'43.409 / 159.879
6 / Max BIAGGI / ITA / Repsol Honda Team / HONDA / 43'44.349 / 159.822
7 / Kenny ROBERTS / USA / Team Suzuki MotoGP / SUZUKI / 43'44.772 / 159.796
8 / Alex BARROS / BRA / Camel Honda / HONDA / 43'45.744 / 159.737
9 / John HOPKINS / USA / Team Suzuki MotoGP / SUZUKI / 43'47.648 / 159.621
10 / Colin EDWARDS / USA / Gauloises Yamaha Team / YAMAHA / 43'49.798 / 159.490
11 / Toni ELIAS / SPA / Fortuna Yamaha Team / YAMAHA / 43'57.379 / 159.032
12 / makoto TAMADA / JPN / Konica Minolta Honda / HONDA / 44'19.195 / 157.727
13 / Roberto ROLFO / ITA / Team D'Antin Pramac / DUCATI / 44'32.888 / 156.919
14 / Shane BYRNE / GBR / Team Roberts / PROTON KR / 44'46.629 / 156.117
15 / Ruben XAUS / SPA / Fortuna Yamaha Team / YAMAHA / 44'46.879 / 156.102
Fastest Lap (Unofficial new record): Nicky HAYDEN 2'02.993 162.389 Km/h Lap 3
Lap Record: Valentino ROSSI 2'03.253 162.047 Km/h 2004
World Championship Positions:
1 ROSSI 281, 2 BIAGGI 159, 3 CAPIROSSI 142, 4 EDWARDS 139, 5 MELANDRI 137, 6 HAYDEN 134, 7 BARROS 122, 8 GIBERNAU 115, 9 CHECA 88, 10 NAKANO 69, 11 TAMADA 68, 12 ROBERTS 58, 13 BAYLISS 54, 14 HOPKINS 53, 15 ELIAS 43.
Stoner Wind 250cc Grand Prix
Casey Stoner closed the gap on 250cc World Championship leader Dani Pedrosa to 38 points with his third victory of the season after the Spaniard crashed out. Pedrosa uncharacteristically slid into the gravel on the opening lap as Stoner set an unrelenting pace at the front, with only Alex de Angelis able to give chase. Sebastián Porto overcame Randy de Puniet and Hiroshi Aoyama in the fight for the final podium position, with Andrea Dovizioso also crashing on the first lap and losing ground on Stoner for second place in the championship.
Below: The Ducati MotoGP Team celebrates Italian style. Capirossi Bogarts the wine bottle.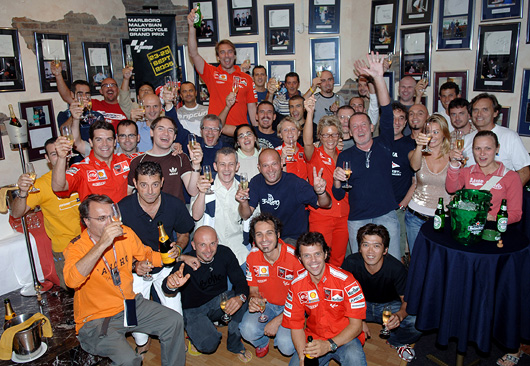 ---

New 2006 Triumph Line Up
Introdues 675cc Daytona 3-Cylinder Sportbike, Scrambler Twin
Westwood, CA, September 21st - Triumph Motorcycle's sales are on a big upswing world-wide and in America, but not because they're leading edge sportbikes and tourers that are intended to go head to head with the Japanese. Rather, Triumph is reflecting back on its strong heritage while incorporating modern technology and manufacturing techniques, to design and produce motorcycles that are still a joy to ride. FastDates.com was invited to Triumph America's 2006 New Bike Press launch poolside at the upscale Los Angeles hotel, hosted by beautifuyl models in evening gowns and saranade by a cool jazz trio.

The headliner at Triumph's 2006 model range launch is the new Daytona 675cc sportbike (above) featuring a narrow 3-cylinder motor in a lightweight aluminum frame with a full-up bike wight of 363 lb (dry). Power is claimed to be an honest 123hp at 12,500 with an extreamely broad and torquey bowerband. Marketing VP Todd Anderson told us that Triumph's goal with the Daytona wasn't to try and out do the Japanese in-line 4s, but to build a more real world sportbike with a purfect balance of weight, power and handling for both the street and track riding. Suggest retail is $8,999 with availability at Dealers in March 2006.

As you'll certainly note the 3-cylinder Dayona's 675cc displacement does not make it eligible for racing in the 600cc sportbike classes at present, and it certainly is underpowered in a larger displacment class. However, if Ducati can have their 750cc twin eligible to race in 600cc Supersport, than a 675cc tripple is cetainbly middle round between the Ducati and a Japanese 600cc four.

The most fun looking bike at the Triumph Press Party was the new Scrambler 865cc Twin (below), a modern version of the classic Triumph 650 Scrambler of the 1960-70s and its Honda 305 Scramber copycat. This bike looks right on target for the older enthusiast who just wants one bike that's a blast to ride around town, If you don't need to carry a passenger there is a solo seat available and a rear luggage rack. We are suprised to note the engine is rated at a somewhat low 54hp @7,000 rpm with a 9.2:1 compression, while the same engine in their Bonneville is rated at a more practical 66hp @7,200. Perhaps it's a consequence of the old school short travel suspension and tube chassis that can't handle the added power? How soon we forget. Dry weight: 451lbs. Suggest retail is just $7,999. For more information go to TriumphMotorcycles.com
Fast Dates Calendar Motorcycle Roadracing News. Complete coverage of the SBK World Superbike, AMA National Superbike and MotoGP World Championship. Superbike, sportbike, grand prix, MotoGP, race, racing, news, coverage, photos, pictures, Fast Dates Calendar and Umbrella Girls. Racing, road race, track, motorcycle, news, results, girls, models, Mat Aladdin, Max Biaggi, Valentino Rossi, Ben and Eric Bostrom, James Toseland, Regis Laconi, Loris Capirossi, Troy Bayliss, Troy Corser, Noriyuki Haga. Ducati 999 Monster Multistrada, Yamaha R6 R1, Honda CBR600RR CBR1000RR, Kawasaki ZX6 ZX6RR ZX10, Suzuki GSXR600 GSXR750 GSXR1000, Aprilia Mille, MZ Agusta F4 Brutale. Los Angeles Calendar Motorcycle Show.



Click to Order Now!
14 month 2006 Calendars
start November 1st 2005



2006 FastDates.com Calendars World Premier at Brands Hatch
World Superbike England
Complete Coverage Here


Oh Gemma!
Click the Picture Above
to Meet Our Newest
SBK Fast Dates Angel
and Irish Supermodel
Top Secret!
Yamaha MotoGP Drafts Rockin' Robin to Help Rossi Clinch Title?
Circuit: Sepang, Temp: 30ºC
Date: 23 September 2005
Weather: Changeable
With a second MotoGP World Championship on the line for Team Yamaha, and a fifth Open Title for rider Valentino Rossi, Yamaha is not about to take any more chances as the series heads into its closing rounds of 2005.
World renown Fast Dates calendar Angel Rockin' Robin Cunningham (see secret spy photo at left) is rumored to have been called in by the team and Valentino to assist with important setup aspects of the temperamental Yamaha M1-05 MotoGP machine and to help Rossi with his mental preparation for the races beginning this weekend at Sepang, right on through the final round at Valencia, Italy, on November 6th. The team can not take the chance of another major incident, like last week at Motegi, where Rossi ran into Marco Melandri, eliminating both of them from the race and not earning any points for the title which remains. Had Rossi been seriously injured in the accident and eliminated from the final rounds, the title could fall to another rider and manufacturer.
Davide Brivio - Gauloises Yamaha Team Director, was rumored to have said:
"There is just too much at stake to not do all we can to secure the titles for Yamaha and Rossi. We've called on Rockin' Robin to help with the important setup quirks on the M1 which may have distracted Valentino's concentration in last week's at Motegi, causing the unfortunate ramming incident into Marco. As a highly respected test engineer and racer, Robin has the knowledge and experience to set up the bike's suspension correctly, and to help Rossi with his concentration and focus going into and throughout the races. We're pulling out all the stops, and Robin is our ace for assured victory.
Robin Cunningham, Miss Texas, Miss SBK Fast Dates World Superbike Calendar Girl - 5'8". 35C-23-35, 115 lbs.
"The conditions today were quite bad. Already in the morning the track was quite dirty, with some sand in places, and the grip was not good. But I was able to give Vali a lot of import feedback for spring rates, damping changes and tire selection that did bring him up from mid pack to the top of the leader board. I'm confident that by tomorrow we can be on pole. Then with the bike dialed, I can focus on getting Vali set for the race. A trip to McDonald's on Saturday night for his favorite dinner, a Happy Meal, followed by a couple of games of MotoGP on the Sony Play Station, then early to bed and I'm sure the "Doctor Will Be In" for race day."
Valentino Rossi (Gauloises Yamaha Team), loosely translated:
"I was feeling really depressed. I thought it was Sete Giberneau I was running into again, last week, not my best buddy Marco. I was ready ready to hang up this two wheel kid's stuff and make an early move over to Formula One. At least in a car I wouldn't have to be pulling my leathers out of my butt and crotch every 10 seconds, or worry about falling over on the starting line. But now, with "Rockin' Robin here to help us, the bike feels like it could ride itself. And Robin has me feeling invincible again like in the old days. I'm sure we can wrap up the championship very quickly now, and she and I can go back to my office and really get to play Doctor!
Rossi to Ferrari
Formula One in 2007!
Sept 10th - Velentino Rossi is looking to move to Formula One in 2007 after his recently re-signed 1-year contract for 2006 MotoGP with Yamaha expires.No official announcemen has been made about the move to F1 since it all remains tenative based on future testing results and how Rossi and the Ferrari team feel around this time next year.
But it is clear that there is an agreement in place for Rossi to test at Ferrari's Fiorano test track on a regular basis from now thoughout next year.Rossi has already driven a Ferrari F1 car on the Fiorano track 3 times, the most recent being a secret test during the recent August summer break.
"He is already as quick as an F1 driver in the slower corners," Ferrari technical director Ross Brown told the Associated Press."He is not obliged to race in F1. If he decides to, it is because he decides he is ready to win. He knows he must do some tests, and a champion like him goes to Formular One if he chooses to do so, if he feels he is going there to win.
""Neither he nor we have a pistol to our heads, "said Ferrari Chairnman Luca di Montezemolo. "If something comes of it, it will above all be his decision. If Ferrari and Rossi come together, it will be to win the World Championship, and not to put on a show that we do not need."
It has been 40 years since a motorcycle World Champion has made a successful move to F1, the world's premier 4-wheel roadracing class. Britain's John Surtees won 7 races for Ferrari and went on to win the F1 World Championship for them in 1964, after having become motorcycle World Champion on another legendary Italian brand, MV Agusta.
An Italina newspaper published an undisclosed source that Rossi was offered a 3-year contract by Ferrari worth $80 million Euros / $100 million US dollars. Kimi Raikkonen, currently driving for McLaren, would probably be his team mate as reigning Ferrari 2004 World Champion Michael Schumacher suffers a disasterous 2005 season.

Troy Baylss injured, to be replaced by Shakey Burn
The 28 year-old British rider Shane Byrne will be riding for the Camel Honda team in next two MotoGP rounds in Sepang and Dohar as a replacement for Troy Bayliss who injured his wrist in a motocross accident while riding back home in Australia.
As the team await the return of Troy Bayliss, and after this weekend's appearance of HRC's official rider Tohru Ukawa, it will be the young Englishman, who is in his second year of MotoGP, who will ride in Camel Honda team colours for the next two events."To ride one of the Camel Honda team's bikes is a massive opportunity which makes me very proud indeed, and I will give everything to show my true
potential. I will meet up with the team on Tuesday in Sepang, a track I know quite well after having tested there a few times. I haven't ever ridden in Qatar so I'll have to try and get a good feel for the track early on there."
The wrist injury for Troy, and not being able to race the next 2 GP rounds, will certainly add to Honda's intent not to resign the likeable former World Superbike champ for next year. Troy is expected to return to World Superbike in 2006 with offers from both MV Agusta and Ducati.
Aprilia joins World Superbike in 2007
Rumor has it that Aprilia will mark its entry into World Superbike in 2007 with an all new superbike design the company will be premiering in street guise at the 2006 Milan Motorcycle Show. The big will not feature a Cobe 3-cylinder engine like the one they campaigned in MotoGP a few years ago, but an all -new 4-cylinder 1000cc design which is deemed to be more competive.
World Superbike-
Where Its at in 2007!
With the downsizing of MotoGP bikes to 800cc in 2007, and Valentino Rossi possibly going to Ferrari in F1, World Superbike is again starting to look like it could become the world's premier, if not most competive roadracing class by 2007. What with those big snarling 1000cc bikes, and the championship joined by the likes of MV Agusta, Aprilia and KTM
to fill out the current roster of 5 brands already. We can't wait!
MV Agusta's Historic Return to Racing in
World Superbike
Meanwhile, Troy Bayliss' manager Darrely Healy, who also runs the very competitive GSE superbike team, is in negotiations with MV Agusta to run their world superbike team in 2006 and beyond with Troy as the main rider.Claudio Castiglioni the president of MV Agusta, now owned by Proton the rich savior of uncompetive teams, has received a detailed proposal from GSE to develop the bike next year in a program that would only see them enter 6 races t mide season in preparation for a full-on assault in 2007.
However says Ducati's Paolo Ciabatti, "We can offer (Troy Bayliss) a winning machine, and MV still has a bike to develop. I do not think Bayliss will accept to be the tester. We can win again the world title, and we have the potential to do it."


Vampires SUCK!
Jessica Biel Returns to kill nightstalkers in Blade IV !
This month were lovin' her as a kick as a jet fighter jock in the movie Stealth. And now we're excited to tell you that babelicious Jessica Biel will be returning in a reprise of her vampire slayer character from Blade III to be staring in the lead of Blade IV without Wesley Snipes getting in the way. Look for Jessica's new movie release just after Christmas.
... will Kate Beckinsale be back for Underworld II ?
Cool Chick Rock Music
from The-N TV's
"Instant Star" "Radio Roscoe" Pop Dramas


Alexz Johnson
Sex Starved Star of Instant Star


Skye Sweetnam
Os So Sweet CoStar and Music source for Radio Roscoe


Megan Slankard
More great pop rock


Lavilla Doubles on Airwaves Ducati at Donnington British Superbike
Increases Title Lead
Round 12 – Bennetts British Superbike Championship – Donington Park
Gregorio Lavilla took the initiative in the chase for the Bennetts British Superbike crown with a winning double in the penultimate round at Doningon Park, opening up a 13 points advantage over Ryuichi Kiyonari who had to settle for second and third placings at the Leicestershire circuit.
The 30 year old Spanish rider proved the dominant force throughout – having shattered the lap record to claim pole start, the Airwaves Ducati rider then enjoyed a brilliant front-running performance to take the first race by a little over two seconds.
Kiyonari trailed him home in that race, having recovered from a startline clash with Leon Haslam that left him back in fourth place on the opening lap, to be running second by the third lap, and then turning up the speed, bettering the lap record, only for Lavilla to respond with an even faster lap.
"I concentrated hard to keep my bike smooth," explained Lavilla who held on well at one point as his bike slid out of line. "It was a very important win for me psychologically – it was hard race, the lap times were very close."
Kiyonari reflected on his start: "Not good, but then I concentrate on Lavilla, watching and waiting for him, pressing hard, but then made small mistake running off-line." The single point advantage he had grabbed with a winning double in the previous round at Oulton Park had turned into a deficit of four points.
He responded to the challenge, powering his HM Plant Honda ahead from the start, but his team-mate Michael Rutter, sixth in the opening race, knew that he needed a maximum points haul to keep his fading title hopes alive and he moved ahead at the Esses on the second lap.
Lavilla, who had started slowly, running fifth, was on the charge, overtaking Rutter on the sixth lap and then forging clear, completing his first winning double of the campaign by some four seconds from his team-mate Haslam, with Kiyonari taking third ahead of Rutter.
"Incredible – a really good weekend for me with two victories, beating Kiyonari – the races were very good, especially the second when the conditions were very difficult, and now I look forward to Brands Hatch where I try to win the title," smiled Lavilla who has opened up a 416-403 advantage over a disconsolate Kiyonari who now faces an uphill struggle to take the title: "I tried very hard, made little mistake, now have to work hard to catch him."
Rutter, sixth and fourth, will have to settle for third place in the overall rankings for the second time in three years, with Haslam, third and second just adrift of him.