FastDates.com February 2005
BEST VIEWED with Browser Preferences/Fonts settings on 12 pt Size or Smaller
Superbike, MotoGP Racing & Calendar Girl News
Official Calendar of the SBK World Superbike Championship
Home of the official SBK Fast Dates & Team Ducati Corse Umbrella Girls

World Superbike cue's up in Qatar as Fast Dates Calendar cover girl Nicki Lane runs balls down the table after a nice rack.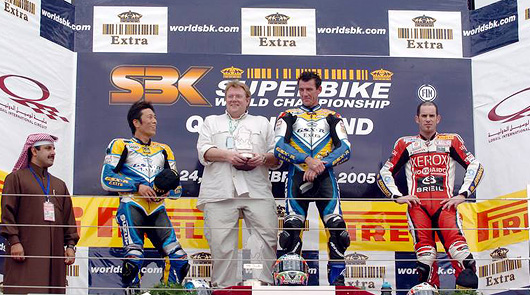 A jubilant Alstare Corona Suzuki team owner Francis Batta shares the Qatar podium with his race winners Kagayama (left) and Troy Corser (center), with Ducati's Laconi (right).
2005 Corona Extra Superbike World Championship, Losail Round 1 of 12

Laconi and Corser on Pole for an Epic Battle
2005 SBK World Superbike Fires opening Round in Qatar
Corser and Kagayama post first ever Suzuki Double Win!

LOSAIL CIRCUIT, QATAR, Feb. 27th - Suzuki Riders the Big Winners: After leading pre-season testing and most of qualifying, Alstare Corona Extra Suzuki riders Tory Corser and Yukio Kagayama took a race win each, the first time Suzuki pilots have headed both podiums in World Superbike. With a second place and win to his credit, class new boy Kagayama leads the championship with an almost immaculate 45 points, from his team-mate Corser, who secured a win and a third place. Xerox Ducati rider Regis Laconi, with a third and a second place, earned third overall, with 36 points to Corser's 41.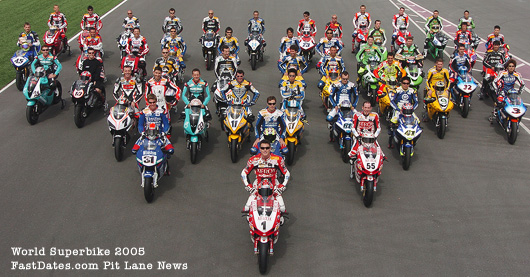 The most competitive SBK Championship ever with 46 entries, nearly twice a normal MotoGP grid. Big Picture.
It's Round One for the World's Premier Superbike Championship
LOSAIL CIRCUIT, QATAR, Feb. 24-27 - Coming of Age: For seventeen years the World Superbike Championship has provided production-based machinery with a truly global racing series, making it an accurate reflection of trends and advances in high performance sportsbike technology. As the first qualifying sessions of the 2005 season begin at the Losail International Circuit in Qatar on Thursday 24th February, the eighteenth season of World Superbike promises to be a true coming of age for this category of racing. With machines from six manufacturers on the grid, and technical rules and regulations making it easier than ever for both manufacturers and private teams to compete at the highest level, World Superbike has effected a resurgence of impressive proportions.
World Tour: SBK now hosts a full-time grid of 30 riders, shortly to take part in a 12-round championship trail, from the new SBK venues like Losail and Brno to established favourites such as Monza, Phillip Island, Brands Hatch, Assen and Valencia.Qatar, Australia, Italy, Great Britain, Spain, Germany, the Czech Republic, the Netherlands and France will feature on the SBK path this year, with the promise of more new venues in the near future.
New Beginnings: SBK's new look entries, with Japanese produced four-cylinder machines in the forefront in terms of outright numbers, will line up for the first time at the magnificently appointed Losail International Circuit, already the scene of a pre-season test on 19 and 20 February. These sessions were a great success for most of the competitors there present, and some new names thrust themselves into the public consciousness after two hard days at the fast 5.380km track.
Old Versus New: The established order in World Superbike is headed by the 2004 champion James Toseland (Xerox Ducati 999F05), but his testing experience at Losail was an ultimately painful one, after suffering a huge highside crash on a fast right-hander on the second day. Largely uninjured and typically resilient, Toseland will face a seemingly endless list of potential race winners in the races at Losail, such is the even match between machines and riders in this year's series.
Toseland will find 2004 runner-up Regis Laconi a tough competitor as always, especially as he is the Englishman's team-mate in the factory Ducati squad once more. Ranged against the big Bologna twins is an impressive phalanx of war machines from Honda, Kawasaki, Suzuki and Yamaha, plus the technically fascinating three-cylinder, 900cc Petronas FP-1.

Former WSS champion Chris Vermeulen (Winston Ten Kate Honda CBR1000RR) provided a true challenge to Ducati power in 2004, and this year he is joined by his old Supersport team-mate Karl Muggeridge, 2004's WSS champion.
The biggest challenge this pre-season has nonetheless come from the Alstare Corona Extra Superbike duo of 1996 champion Troy Corser and fastest rider in pre-season testing at Losail, Yukio Kagayama. Only two in number, the Suzuki effort nonetheless formed the top two at the Losail test sessions.
With more bikes on the grid than any other single manufacturer, Yamaha has won the numbers fight already. In pre-season, the supposed established order of Yamaha riders has been rearranged, with Jose Luis Cardoso (Yamaha DFX Extreme Sterilgarda) and Sebastien Gimbert (Yamaha Motor France) putting in some sparkling performances, whatever the circuit or riding conditions.Gimbert is one of four main supported Yamaha entries, with his team-mate, Norick Abe, a fellow SBK rookie, but a star all over the world. Noriyuki Haga (Yamaha Motor Italia) is an SBK Superstar of long standing, while his team-mate Andrew Pitt is making a long-desired jump to the Superbike class, having been a World Supersport Champion in 2001. Another Yamaha rider to watch in the heat of battle is Cardoso's team-mate, Marco Borciani, a seasoned SBK competitor, while wild card rider from Spain, Ivan Silva Alberola (La Glisse Yamaha) was a true sensation at the recent Losail tests.
Kawasaki's main two man thrust in World Superbike, Chris Walker and Mauro Sanchini, come from the PSG-1 squad, and in Walker they have a proven podium finisher. The Bertocchi squad, represented by Giovanni Bussei and Ivan Clementi, is a long-standing fixture in SBK, with a year's experience of the ZX-10 Superbike.
Honda Packs Them In: Pierfrancesco Chili (Klaffi Honda) has ripped up SBK tarmac for over ten years, and in his 239 races has scored 17 wins. A little behind some other teams in terms of race readiness for Qatar, the Klaffi Honda squad are first timers in SBK. Chili is nonetheless a serious player in this or any other year. Max Neukirchner joins him in the Klaffi Superbike squad from the Supersport class.
A strong one rider effort from the Renegade Honda team sees an old SBK favourite Ben Bostrom back into the fold, bringing previous experience of the CBR1000RR with him from his past two years in American racing.
Ducati Duo: Two fierce Ducati entries, each a rookie SBK rider, will help break up the wail of four-cylinder machines with their booming Ducati exhaust notes. Fonsi Nieto and Lorenzo Lanzi, each from the Scuderia Caracchi team, are proven competitors in other race classes, each with a major point to prove in 2005.
Three Into Two: The technically interesting and challenging Petronas three-cylinder 900cc SBK machine enjoyed podium success in 2004, as did its two new riders, Garry McCoy and Steve Martin. The latter is still looking for his first SBK race win, while McCoy's triumph at home in Phillip Island was one of the most well-received result of 2004.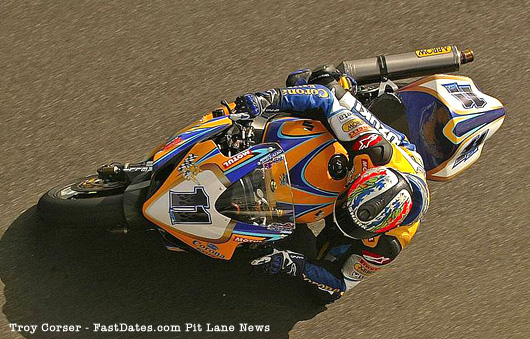 Corser is hot! Former World Champ emerges from the smuldering ashes of the uncompetitive Foggy Patronas team like the legendary phoenix to emerge on top in WSB qualifying with the Alstare Suzuki team.

Troy Corser is Quickest in Practice
Feb. 24-2th - 5 Thursday's Qualifying for the opening round of the 2005 World Superbike Championship, looking to be the most exciting season ever with a full field of 30 top teams and riders, got underway this afternoon at the brand-new Losail circuit in the Persian Gulf state of Qatar. Team Alstare Suzuki's Troy Corser turned the quickest tiome for the day on the newly redesigned GSXR1000, followed suprising by new Yamaha rider and Spanish Formula Xtreme champ Jose Luis Cardoso posting 2nd quickest on the R1 after haaving set the third fastest time at last weekend's pre-season tests. Reigning 2004 season Championship leaders Ducati Xerox Team riders Régis Laconi and James Toseland set third and tenth quickest times respectively.
After the morning's free practice had turned into a washout due to heavy rain, this afternoon's one-hour session saw non-stop action as the riders made the most of a dry track. Laconi, who remained at the top of the timesheets for the first half of the session, was one of only three riders to break through the 2m02s barrier. The 29 year-old Frenchman was pleased with his eventual time of 2m01.980s, just over half-a-second behind front-runners Troy Corser (Suzuki) and new arrival José Luis Cardoso (Yamaha).
"I am quite pleased with third fastest time, but the conditions on the track after this morning's rain are not yet perfect", declared Régis. "Today we concentrated on the front forks with a different setting to try and improve the bike on a race tyre and then I put the soft tyre on at the finish. Tomorrow we will concentrate on going faster, in particular in the last sector where I am losing a bit of time. There is a lot of action at the top of the timesheets, this year will be an incredible championship for sure".
Reigning champion Toseland eased his way back into the seat of his Ducati 999F05 as he was still feeling somewhat stiff after Sunday's come-off, in which he suffered several bruises. The 24-year-old British rider was not too concerned about his position in first qualifying and was confident there was more to come in tomorrow's second and final session.
"I'm just getting back up to speed, I wasn't that relaxed on the bike today because I didn't realise just how big that crash was", declared Toseland. "I'm still a bit stiff but tomorrow morning I'll be a lot better because I'm loosened up by riding. I was tenth but I feel my ideal position was seventh today and all I need is more laps to get back into the rhythm. The bike doesn't have an ideal setting at the moment, but a little bit more from the bike and me riding as I did in the tests and I'm sure we'll be fine. I should be doing the times of the top 3 and I will be doing them eventually", he concluded.
The Yamaha Motor Europe-backed Yamaha Motor Italia squad, featuring riders Noriyuki Haga and Andrew Pitt, are looking forward to the challenge of moving up to the 1000cc class after concentrating their efforts on the supersport series for the past few seasons.
The Yamaha YZF-R1 is proving to be the machine of choice for riders in this year's championship, confirming both the machine's out of the crate performance and the ready availability of official Yamaha racing kit parts. Of the 31 riders listed in the provisional entry list for Qatar, 11 are entered on R1s. In addition to the officially-supported Yamaha Motor Italia team, other high profile entries come from Yamaha Motor France, who will enter former Grand Prix rider Norick Abe and 2004 endurance world champion Sébastien Gimbert; Lorenzini by Leoni's Gianluca Vizziello and the privately entered DFXTreme squad, who field Spanish Formula Xtreme champ Jose Luis Cardoso, who set the third fastest time at last weekend's pre-season tests.
Honda's heavy duty effort with a number of top privateers including Ten Kate is previewed in the sidebar at right. But it's looking like all the other top teams will have their work cut out for them against the reincarnated Francis Batta owned Alstare Corona Suzuki World Superbike Team with former World Suiperbike Champion Troy Corser and British Superbike star Yukio Kagayama.
Losail International Racetrack
Costing $US58 million and taking less than one year to build, the 5.4km track displays Qatar's quest to make motorsport a major industry on the Persian Gulf. The circuit hosted its first, and so far only, world championship event with a MotoGP round last October. Riders generally approved of the circuit layout, although all noted a lack of grip due to the 'greenness' of the circuit and its location in the middle of the desert. And while two days of testing last weekend has 'cleaned' the track, the superbike and superbike riders are also likely to find grip levels at a premium during this weekend's race meeting, especially off the racing line. Despite this the teams and spectators should enjoy some competitive racing while enjoying the world class facilities at the new venue.
Superbike World Championship round one, Doha, Qatar
Thursday Practice Times: 1. Corser (Suzuki) 2m01.244s; 2. Cardoso (Yamaha) 2m01.388s; 3. Laconi (Ducati Xerox) 2m01.980s; 4. Gimbert (Yamaha) 2m02.217s; 5. Neukirchner (Honda) 2m02.236s; 6. Kagayama (Suzuki) 2m02.284s; 7. Vermeulen (Honda) 2m02.469s; 8. Chili (Honda) 2m02.507s; 9. Haga (Yamaha) 2m02.687s; 10. Toseland (Ducati Xerox) 2m02.754s; etc.
Friday Practice times: Superbike World Championship round one, Doha, Qatar: 1 Corser (Alstare Suzuki Corona) 2:01.466; 2 Kagayama (Alstare Suzuki Corona) 2:01.713; 3 Laconi (Ducati Xerox) 2:01.876; 4 Cardosa (DFX) 2:02.094; 5 Vermeulen (Winston Ten Kate Honda) 2:02.285; 6 Chili (Klaffi Honda) 2:02.309; 7 Silva (La Glisse) 2:02.625; 8 Pitt (Yamaha Italia) 2:02.640; 9 Lanzi (Ducati Caracchi) 2:02.780; 10 Gimbert (Yamaha France) 2:03.008; 13 Martin (Foggy PETRONAS Racing) 2:03.269; 27 McCoy (Foggy PETRONAS Racing) 2:04.933

Friday Qualifying times: 1 Silva (La Glisse) 2:21.602; 2 Walker (PSG-1 Kawasaki) 2:23.646; 3 Laconi (Ducati Xerox) 2:23.844; 4 Muggeridge (Winston Ten Kate Honda) 2:24.041; 5 Gimbert (Yamaha France) 2:24.187; 6 Bostrom (Renegade Koji) 2:25.164; 7 Vermeulen (Winston Ten Kate Honda) 2:25.330; 8 Corser (Alstare Suzuki Corona) 2:25.345; 9 Pitt (Yamaha Italia) 2:25.419; 10 Haga (Yamaha Italia) 2:25.941; 12 McCoy (Foggy PETRONAS Racing) 2:26.472; 18 Martin (Foggy PETRONAS Racing) 2:27.986

World TV Coverage: British Eurosport (UK): Friday 25 February 17.45 - 18.45 Superpole (delayed), Saturday 26 February 07.30 - 13.45 SBK 1 + SSP + SBK 2 (live); Eurosport (Europe) Sunday 27 February 21.30 - 22.30 all races (highlights).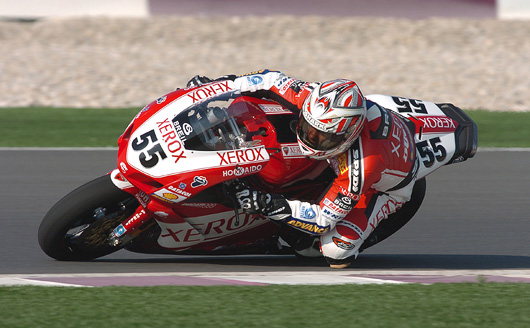 Regis is regal in Superpole for Sunday's opening SBK 2005 double header.

Laconi Takes Super Pole With Corser's help Under Changeable Weather Conditions
LOSAIL CIRCUIT, QATAR, Feb. 26th - Late Run Suits Regis: Xerox Ducati rider Regis Laconi, the 2004 season runner up, fired an early first shot in the 2005 campaign by taking the Superpole win at Losail International Circuit. In changing conditions, the Superpole contest was run under 'Wet' regulations thanks to a ruling by Race Direction, even with a largely dry track surface underfoot at the start. The decision was vindicated by a fall of rain with 20 minutes of the 50-minute session remaining, and thus each rider was given a limited number of laps in which to complete their personal best. As the racing line dried out Laconi and company took to the track one more, hoping to improve on their early session times, with Laconi making the best of it and taking his seventh career pole position, with a 2:01.593.
The Frenchman edged out his closest rival Troy Corser (Suzuki) in the final seconds of the fifty minute Superpole session, which was run to wet-weather procedure, to take the pole. His Ducati Xerox team-mate and reigning World Champ James Toseland was unable to get his 2005 season off to a good start and will line up on the fourth row of the grid after qualifying in thirteenth position.
"It was dry for the first few minutes and for the last few laps of Superpole but no one went out for 30 minutes in the middle because it was wet", commented a delighted Laconi. "I went out at the start but I knew I could do better. We changed both the front and the rear and I pushed very hard on the final lap; to do a 2m01.5 in these conditions is really good. For the race I am pleased with the set-up and with the duration of my tyre, we have been working really hard to get the best feeling all weekend and now it is working OK. Hopefully it will be dry tomorrow for the race, because it's going to be a really tough battle. The other guys will make life difficult for us, but for sure that's good for the championship".
Toseland's efforts to improve during the morning's second and final qualifying session were thwarted by the rain. The world champion then missed out on a good position in Superpole, slipping down to thirteenth on the grid with a time of 2m03.357s.
"Today was not such a good day" declared Toseland. "In the wet this morning we weren't too bad but you couldn't do much in that session. This afternoon I had a few problems so came back in and was unable to get much of a long run. I just needed more dry time on the track because every time we seemed to try something it started to rain. We were just unable to get back into a rhythm. Physically I feel a bit battered but that's not the problem, the weather has not allowed us to get the time, and when you haven't got the right feeling, you can't set a good time in Superpole. Unfortunately I just didn't get it together when I should have done, but I'm sure I'll be able to run a good race tomorrow".
Front Row Squatters: Troy Corser (Alstare Corona Extra Suzuki) was the man Laconi displaced to take Superpole, and sportingly he was also the rider who got out of Laconi's path during the Frenchman's fast run to the Superpole win. He was second by a margin of 0.048 seconds, with the front row completed by Yamaha Motor France IPONE runner Sebastien Gimbert, and another full-time SBK rookie, Yukio Kagayama, Corser's partner in the Suzuki squad.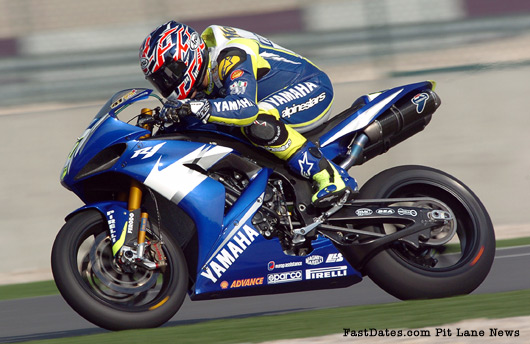 Noriyuki Haga on the Yamaha R1 Moto Italia bike qualified 7th, finished 5th in Race One.

Pitt Fifth, Cardoso Recovers to Sixth: Andrew Pitt, who had a troubled final qualifying session after a machine problem, secured the best spot on row two, riding his Yamaha Motor Italia R1 to within almost a second of Laconi's best on a changing circuit. Two Yamaha riders followed him on the final grid placing, with Jose Luis Cardoso (DFX Extreme Sterilgarda Yamaha) one of the riders temporarily demoted below his previous qualifying position, simply by not putting in a fast lap before the rains came. On a drying track, he took sixth place, one up on the second Yamaha Motor Italia rider, Noriyuki Haga.
Vermeulen Reasserts Class: Despite a crash in the final Superpole minutes, Chris Vermeulen recovered both composure and lap time enough to earn a second row start, with eighth best time on his Winston Ten Kate Honda. Ivan Silva again used his last exit of pitlane to secure ninth place on his La Glisse Yamaha, ahead of SBK legend and new Klaffi Honda runner, Pierfrancesco Chili.
Walker Battles On: Top Kawasaki runner was, as has been the case for most of qualifying, Chris Walker, who had to sit out the final possible lap after a minor machine niggle prevented him from setting a fast final lap. He was nonetheless one place up on Kawasaki Bertocchi runner Giovanni Bussei.
Champion on Row Four: 2004 World Champion James Toseland, continually exiting and entering the pit in qualifying today, slipped down the order to finish Superpole only 13th, sharing the final four places of a wet Superpole with Klaffi Honda runner Max Neukirchner, Norick Abe (Yamaha
Motor France) and Marco Borciani (DFX Extreme Sterilgarda Yamaha).
Outside Bets: Lorenzo Lanzi (Ducati SC Caracchi) and Karl Muggeridge (Winston ten Kate Honda) were two of the series' bigger names who did not make the Superpole cut after the final regulation qualifying session proved to be wet, and necessarily slow laps left them stranded just outside the top 16, unable to improve on their first day times or positions. Fonsi Nieto (Ducati SC Caracchi) stayed 19th fastest thanks to his day one time, and for the same reason Steve Martin (Petronas FP-1) was 20th, and fills the last space on row five. Local rider Talal Al Nuami (La Glisse Yamaha) failed to make the qualifying time but was allowed to race.
Superpole Grid Lineup: 1. Laconi (Ducati Xerox) 2m01.593s ; 2. Corser (Suzuki) 2m01.641s ; 3. Gimbert (Yamaha) 2m01.889s; 4. Kagayama (Suzuki) 2m02.643s; 5. Pitt (Yamaha) 2m02.670s; 6. Cardoso (Yamaha) 2m02.745s; 7. Haga (Yamaha) 2m02.766s; 8. Vermeulen (Honda) 2m02.960s; 9. Silva (Yamaha) 2m03.049s; 10. Chili (Honda) 2m03.100s; ... 13. Toseland (Ducati Xerox) 2m03.357s; etc.
Supersport _ Ten Kate's Carpentier on Pole
Winston Ten Kate Honda rider Sebastien Charpentier secured the pole with the 2:03.841 lap time he set on day one, after the second qualifying session in Supersport proved to be wet. Thus he heads an all-Honda front row comprising Katsuaki Fujiwara (Winston Ten Kate Honda), Michel Fabrizio (Italia Megabike Honda) and the second Megabike runner, Fabien Foret.
Kevin Curtain (Yamaha Motor Germany), in fifth, was top Yamaha runner; Christophe Cogan (Moto 1 Suzuki) was top Suzuki pilot and Gianluca Nannelli (SC Caracchi 749R) best Ducati rider.
Season opening 18 lap races, two for Superbike and one for Supersport, take place at the usual local times, with Qatar three hours ahead of GMT. Thus SBK action gets underway at 12 noon, WSS at 13.20 and SBKrace two at 15.30.
Kagayama takes the lead into turn one.
Race day Report
First Ever Double World Superbike Win for Suzuki
Sunday 27th - After leading pre-season testing and most of qualifying, Alstare Corona Extra Suzuki riders Tory Corser and Yukio Kagayama took a race win each, the first time Suzuki pilots have headed both podiums in World Superbike. With a second place and win to his credit, class new boy Kagayama leads the championship with an almost immaculate 45 points, from his team-mate Corser, who secured a win and a third place. Xerox Ducati rider Regis Laconi, with a third and a second place, earned third overall, with 36 points to Corser's 41.
Race One: Corser does the Deed
The return of the rains, which have uncharacteristically appeared in these past few days, cause the first race to be held in two parts. With ten laps completed, the rain brought out the red flags, to stop the contest on safety grounds. With the race one fight now determined on aggregate time, clear first section leader Troy Corser only had to keep a safe gap behind second section leader Yukio Kagayama to take the win. Kagayama was aggregate second, with Ducati rider, Regis Laconi, third. Current SBK champ James Toseland got the defence of his world title underway with two sixth place finishes as he was still feeling the effects of last weekend's crash.
Laconi finished runner-up in both parts of race 1, which was interrupted for rain just after half distance. The Frenchman was then unable to make up the deficit to part 2 leader Kagayama and eventual winner Corser and had to settle for the final podium slot. "I made a so-so start and just tried to pass the guys in front of me immediately because I was fourth on the first lap. It feels tough to finish second in both races and end up third overall but those are the regulations and I am just happy to be on the podium".
Reigning Ducati Corse Champ James Toseland started from thirteenth on the grid but had a particularly good final few laps to finish in sixth position. "I got two good starts and we hung in there. I was two-tenths off getting fifth in the aggregate but considering everything that's happened this week, it's a solid start. The confidence is coming again, I needed some dry time and I can only get that in the races".
Race One: 1 Corser (Alstare Suzuki Corona); 2 Kagayama (Alstare Suzuki Corona) +3.065; 3 Laconi (Ducati Xerox) +3.496; 4 Pitt (Yamaha Italia) +14.714; 5 Haga (Yamaha Italia) +20.300; 6 Toseland (Ducati Xerox) +20.562; 7 Silva (La Glisse) +22.031; 8 Vermeulen (Winston Ten Kate) +22.188; 9 Muggeridge (Winston Ten Kate) +26.929; 10 Abe (Yamaha France) +27.231; 15 Martin (Foggy PETRONAS Racing) +49.673; 17 McCoy (Foggy PETRONAS Racing) +1.01.558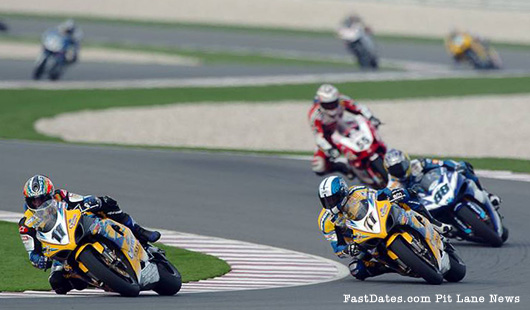 Corser out front ahead of team mate Kagayama, chased by Pitt and Laconi.
Race Two: Kagayama Post his first SBK Victory
In a dry race two, Kagayama and Corser had a tough race in the early laps, but as time wore on Kagayama extended a lead to finish ahead of Laconi by over two seconds. Corser, on a different choice of a harder rear Pirelli tyre than the other top runners, was third. A huge fight for fourth place, which featured eight riders at one stage, went the way of Honda rider Chris Vermeulen (Winston Ten Kate), making him the best Honda finisher on the first day of the new season.
Laconi took 10 laps to get past Corser into second place, but he was unable to do anything about Kagayama, who claimed his maiden World Superbike win. "I tried to catch Yukio in the final laps but it wasn't easy and when I saw it was easy to slide I told myself to just ride and settle for second and that's what I did. I did the best that I could do today and it was important for me to start the championship with two results, unlike last year, and get my season off to a good start".
Toseland was caught up in a seven-rider battle for fourth place for much of the race, but he eventually passed Pitt, Abe (Yamaha) and Neukirchner (Honda) to clinch his second sixth place finish of the day in a photo-finish with Chili. "Two sixths from thirteenth place is OK, as far as the championship goes I'm joint fifth, which is not what I wanted but at least it's solid. Towards the end of the race I was lapping as quick as the leaders. After Sunday's crash I needed some dry time and I just didn't get it. We haven't been able to try everything we wanted and that made the whole weekend difficult for me. I'm disappointed but I know I could have been out for a couple of rounds with last week's crash, so I'll take these results any day".
Yamaha Motor France IPONE runner and front row qualifier Sebastien Gimbert left the Losail circuit with the new lap record to his credit, 2"01.852. Being knocked off by another rider in race one, and experiencing a slipping clutch in race two, held his results down, however, to a solitary tenth. Top Yamaha riders thus proved to be Andrew Pitt (Yamaha Motor Italia) in fourth place in race one and his team mate Noriyuki Haga, one place behind in the interrupted opener.
World Champion James Toseland (Xerox Ducati) had to fight hard for a pair of sixth places, experiencing many set-up problems on his machine. In race two he could not quite re-pass Pierfrancesco Chili (Klaffi Honda) for fifth place, and had his work cut out to fend off SBK new boy Norick Abe (Yamaha Motor France IPONE) and outstanding class debutant, Max Neukirchner (Klaffi Honda), who was to finish an eventual eighth after being fifth for long periods of the contest.
With a host of riders only taking one finish, due to a rash of crashes and some unexpected mechanical gremlins (Chili was a retirement on the warm up lap in race one, for example), the championship table from ninth place features some riders many expected to shine after their qualifying showings. Jose Luis Cardoso (DFX Sterilgarda Yamaha) had an electrical contact problem stop his R1 on the warm up of race one, while a crash in race two, with another Yamaha rider, put him out of contention.
A clash between Karl Muggeridge (Winston Ten Kate Honda) and Chris Walker (PSG-1 Kawasaki) saw each man out of race two, underlining a harsh weekend for Muggeridge and robbing both he and Walker of a good finish. Wildcard Spaniard Ivan Silva Albertola (La Glisse Yamaha) had an engine problem which sidelined him from race two, after an excellent ride in race one, taking seventh place ahead of some big SBK talents. Ben Bostrom (Renegade Honda Koji) just missed out on a point in race one, and retired shortly before the start of race two, with a mechanical problem.
Race Two: Superbike World Championship round one, Qatar: 1 Kagayama (Alstare Suzuki Corona); 2 Laconi +2.454; 3 Corser +5.959; 4 Vermeulen +7.245; 5 Chili +8.600; 6 Toseland +8.601; 7 Abe +9.731; 8 Neukirchner +11.501; 9 Pitt +11.790; 10 Gimbert +11.808; 11 Haga +21.364; 12 Lanzi +25.875; 13 Nieto +34.084; 14 Bussei +34.119; 15 Sanchini +47.446; 16 McCoy (Foggy PETRONAS Racing) +48.647
SBK Championship Points (after 1 of 12 rounds):
Riders: ) Kagayama 45, Corser 41, Laconi 36, Vermeulen 21, Pitt & Toseland 20, etc.
Manufacturers: Suzuki 50, Ducati 36, Yamaha 22, Honda 21, Kawasaki 7, Petronas 1.
Supersport to Ten Kate's Carpentier
Winston Ten Kate Honda riders Sebastien Charpentier and Katsuaki Fujiwara dominated the race, but in the most peculiar circumstances imaginable. Charpentier led the race by a seemingly safe distance but unable to conserve his front tyre he slowly increased his lap time, just as Fujiwara made seemingly impossible progress after stalling on the line. Michel Fabrizio (Italia Megabike Honda) was third, Kevin Curtain (Yamaha Motor Germany) fourth and the second Megabike runner, Fabien Foret fifth, also unable to conserve his front tyre.
Top Suzuki pilot was again Javier Fores in eighth, with Gianluca Nannelli (SC Caracchi 749R) best Ducati rider in ninth.
The second round of both championships takes place at Phillip Island, on April 3, but this race is preceded by an official SBK test at Valencia, Spain, on 12th and 13th March, and the Losail circuit, 25th February 2005.
---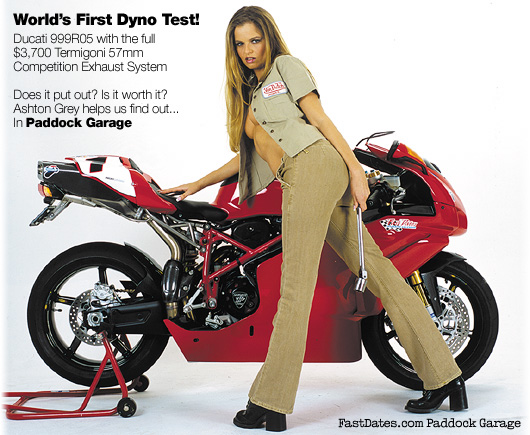 Another FastDates.com World exclusive!
First Dyno Test of the hot new Ducati 999R05 Superbike
with the $3,700.00 Termignoni Full Race Exhaust System
Is this now the world's fasterst, most powerful production Superbike? For all that money she cost, she better put out! We spend our hard earned bucks before you have to. Find out 4 months before the print rags kiss butt to score a free system from Ducati and then still won't tell you the truth if it doesn't put out.
We strap the 999R05 to the Evoluzione Cyclesport Factory Pro Tuning dyno a make it scream for more! Includes sexy screensavers of Penthouse centerfold Ashton Grey tightening the screws on Bologna's hottest number.
---
New racing contingency program aimed at encouraging racers to get Ducati's on the track.
DUCATI ANNOUNCES OVER $850,000
IN NEW RACING CONTINGENCY PROGRAM
Cupertino, CA - Feb. 25, 2005 - Two new racing contingency programs were announced today by Ducati North America; the Professional Program and the Club Program. Together, these programs provide $871,000 available for racers on Ducati motorcycles. The new programs further demonstrate Ducati's commitment to racing in North America as already seen by the addition of Neil Hodgson to the Parts Unlimited Ducati Austin factory AMA Superbike team to partner Eric Bostrom.

The "Professional Program" is geared towards anyone racing a Ducati 999R or 749R in the AMA Superbike or AMA Formula Extreme series. (Factory team excluded.) This program has $450,000 in posted prize money.
Series AMA SUPERBIKE AMA Formula Extreme
Bike: 999R 749R
Number of Events: 10 10
Total Posted $ 275,000 $ 175,000
Overall Championship $ 50,000 $ 25,000
1st $ 10,000 $ 7,500
2nd: $ 7,500 $ 5,000
3rd: $ 5,000 $ 2,500

The second program, called the Ducati Dealer Racing Rewards, is focused on Club level racing and includes cash and product certificate prizes (redeemable for Ducati parts, accessories, apparel, or dealer labor) in CCS,
AFM, OMRRA, WMRRA, Canadian Thunderbike, WSMC, and CMRA. The CCS series has
a total prize posting of $295,000.

Series Included in the Ducati Dealer Racing Rewards Program and Total:
Champion Cup Series - Race of Champions $24,500
Champion Cup Series - Regional Races $212,000
Loudon Road Race Series Championship (Sanctioned by CCS) $58,500
American Federation of Motorcyclist (AFM) $41,000
Oregon Motorcycle Road Racing Association (OMRRA) $9,000
Washington Motorcycle Road Racing Association (WMRRA) $8,000
Canadian Thunderbike and SBK $24,000
Willow Springs Motorcycle Club (WSMC) $30,000
Central Motorcycle Racing Association (CMRA) $14,000

"This is the most aggressive racing contingency program Ducati has ever offered and it is a demonstration of our commitment to racing in North America. We want people to consider racing a Ducati this season because we are a genuine alternative to the mass market products and racing is in our blood. We are World Superbike Champions and we intend to mount a serious challenge in AMA Superbike in 2005. The grass roots of racing produce the heroes of tomorrow and we want as many of them as possible to learn their
craft on a Ducati. " says Michael Lock, Ducati North America CEO.

The new 2005 Superbikes epitomize the racing history of Ducati and represent the evolution of a formula that has dominated Superbike racing for over a decade. This year's Superbike family includes seven models: the 749 Dark, 749, 749S, 749R, 999, 999S and 999R and all are eligible for contingency money in addition to the Supersport 1000 and 800 in select racing classes. With the arrival of the 2005 model, the differences between the 999R and Ducati's competition bikes have almost disappeared. The R model features the latest, most advanced Testastretta engine, radically redesigned from the cases up. The result is an engine that delivers 150 hp in a usable format, the most power of any Ducati production engine, combined with the most
intuitive chassis available anywhere in the world. For complete racing contingency detailsr visitwww.ducatiusa.com.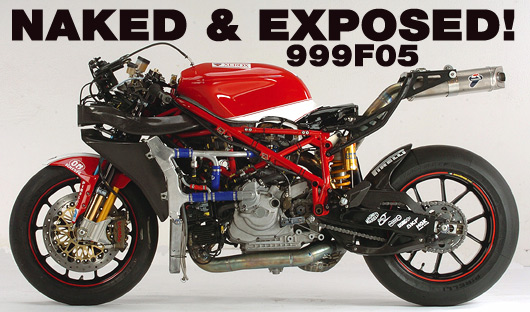 We strip it down to fully reveal Team Ducati Corse's latest 999F05 World Superbike weapon for the 2005 season. But it doesn't stop there. We get even more explicit with exclusive 1224 wide Screensavers in both nude and scantily clothed PG-rated versions for your down loading pleasure. If this doesn't get you off, you're really wacked and nothing will.
Now in FastDates.com Paddock Garage
Fast Dates Calendar Motorcycle Roadracing News. Complete coverage of the SBK World Superbike, AMA National Superbike and MotoGP World Championship. Fast Dates Calendar and Umbrella Girsl. Max Biaggi, Valentino Rossi, Ben and Eric Bostom, James Toseland, Regis Laconi, Loris Capirossi, Troy Bayliss, Troy Corser, Noriyuki Haga. Ducati 999 Monter Multistrada, Yamaha R6 R1, Honda CBR600RR CBR1000RR, Kawasaki ZX6 ZX6RR ZX10, Suzuki GSXR600 GSXR750 GSXR1000, Aprilia Mille, MZ Agusta F4 Brutale