FastDates.com January 2005
Superbike, MotoGP Racing & Calendar Girl News
Official Calendar of the SBK World Superbike Championship
Home of the official SBK Fast Dates & Team Ducati Corse Umbrella Girls


"Rockin Robin" Cunningham
evalutes the new
MV Agusta F4-1000
Mamba and Ago with sexy
SCREENSAVERS!
Another Exclusiive FastDates.com World's First Test!
Rockin Robin Cunningham rides the limited edition 2005 MV Agusta F4 1000 Ago Replica
Are they as good as they look? Our own SBK Fast Dates World Superbike Calendar Angel and Ducati Corse umbrella girl, former Miss Texas and Miss Hawaiian Tropic Internatinal winner and Miss Hooters, Robin dishes the dirt on the world's sexiest and most desireable sportbike.
But how do they perform between the sheets? Does winning all those beauty pageants mean anything at all? The straight scoop HERE.
MV Starts Development for World Superbike
Jan 3rd -Word just in from MV Agusta in Italy is that the firm is keen to return to the World Superbike Championship in 2006 and will be running bikes in the German superbike championship and in the European superstock championship in 2005. MV - part of the Cagiva and Husqvarna group - is now 57 per cent owned by Proton, the Malaysian car company and this upturn in their fortunes has tempted the legendary marque back into a more serious tilt at racing.

In 2004 Jorg Teuchert won a couple of rounds of the German superbike championship on a bike run by MV Germany and in 2005 MV intends to run two bikes in the European superstock championship piloted by Vittorio Iannuzzo and Fabrizio De Marco run by GI Motorsports. Word is that mid-season Teuchert and Iannuzzo will start development work on an F4 1000 with a view to racing it in world superbikes in 2006. And, if the development goes well, there is a possibility that we'll see it on some world superbike grids as a wild card entry.
---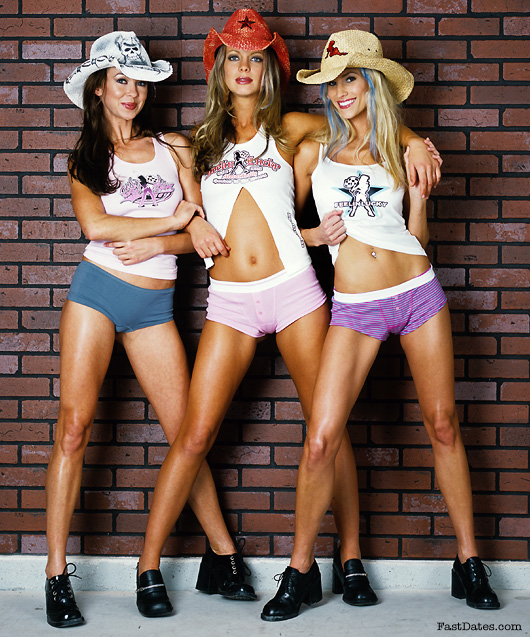 Our favorite tag team, SBK Fast Dates World Superbike girls (left to right) Andra Cobb, Taylor McKegney and Chandi Mason got together with us last month for the shooting of the 2006 Garage Girls calendar sponsored by Feelin' Lucky. All three girls are profiled in FastDates.com's
Meet the Models
and featured in
Members Corner
.
Our SBK Fast Dates World Superbike Angels are Feelin' Lucky
SBK Corona World Superbike Championship
Renews Fast Dates Calendar Endorsement
Feelin' Lucky apparel sponsors Garage Girls

Los Angeles, CA, Jan 1st 2005: The FastDates.com Calendars and Website is proud to announce that FGSport has renewed its SBK World Superbike Championship's endorsement of the the Fast Dates Racebike Pinup Calendar for 2005 to cover the upcoming 2006 Fast Dates Calendar, currently in production. The endorsement is part of a mutual promotion between SBK and FastDates.com in which the new 2005 SBK Corona Extra Superbike World Championship logo and the top factory superbikes will be featured in the 2006 Fast Dates Calendar, on the FastDates.com Website and in all related advertising for the calendar.
In return, along with SBK's endorsement of the Fast Dates Calendar,
the beautiful FastDates.com Calendar Angeles calendar models are the officially SBK Fast Dates Calendar Girls. And the Fast Dates Calendar and FastDates.com Website featuring in Pit Lane News its excellent coverage of World Superbike coverage will continue to bea featured banner link on the official SBK webite at WorldSBK.com.
Along with SBK, the Fast Dates Calendar is sponsored by Performance Machine, the leader in aftermaket billet machined wheels and controls for motorcycles; and Jardine Performance, manufacturer of high performance motorcycle exhaust systems as used by Team American Honda.
The mutual endorsement between The SBK World Superbike Championship and Fast Dates continues the friendship between both parties which first began with the 1997 Fast Dates Calendar, as explained by FastDates.com Calendar publisher Jim Gianatsis.
"We are excited to continue our close relationship with the world's most excing and important production based roadracing series," said Jim. "The upcoming 2005 SBK World Superbike Championship is already shaping up to be one of the most exciting season's ever with the return of all the major Japanese factory supported teams. It's unfortunate there will not be an SBK round in America this year, but we look forward to World Superbike returning to America for 2006.
In the meantime, it gives us a great reason this year to travel to one of the other international rounds of the SBK World Championship to photograph the next Fast Dates Calendar. I'm looking at getting our crew together for the Brands Hatch, British round on August 5-7th. It should be pretty wild as the race there draws close to 100,000 fans. I'll have to remember to get an air horn, and keep the models out of the pubs"
While SBK superbike fans can still look forward to complete race coverage throughout 2005 on the FastDates.com and WorldSBK.com websites, on SpeedTV with same day broadcast, while enjoying the top factory superbikes and beautiful SBK Fast Dates Angels featured in the Fast Dates Calendar.
We are also excited to announce that Feelin' Lucky apparel will be the title sponsor of the upcoming 2006 Garage Girls Calendar. Feelin' Lucky is a well known manufacturer and retailer of motorcycle event apparel which is a favorite at major street bike events like Laughlin, Daytona and Sturgis. Sponshorship of the popular FastDates.com Garage Calendar will provide Feelin' Lucky with lots of additional promotional exposure as they continue to grow in all sections of the motorcycle market.
Gianatsis Design Associates just concluded the photo shoot for the 2006 Feelin' Lucky Garage Girls Calendar featuring 3 very beautiful current and former SBK Fast Dates Calendar Angels: Andra Cobb (2006), Chandi Mason (2005) and Taylor McKegney (2000). The shoot took place on a garage style set in the Gianatsis Design studio with photographer Jim Gianatsis, makeup and hair by Lisa Rukus, adhearing to the reknown Garage Girls theme of sweaty and grimey, yet very beautiful pinup models in skimpy apparel "...hard at work without the motorcycles getting in the way!"
---
Pit Gear
How to go really Fast without falling off.

Faster
The best feature documentary movie about motorcycle racing ever made.


Valentino Rossi
The best motorcycle racer ever, biography by Matt Oxley.





Great Tool Sets
Even Greater low prices!

Avril Lavigne
Rocks Your World
(Caution: You will fall off this)
Adult film star Justine Jolie is just one of the beautiful models in Garage Girls 2005.
Making Garage Girls 2005 with photographer Jim Gianatsis
I think Garage Girls 2005 featured one of my best lineup of beautiful models ever, so I am really happy with with the pictures you see here. As is sometimesthe case for Garage Girls, I began this year's photo selection with models I had also shot for my other calendar shoots ,in this year's case from Iron & Lace 2005.
| | |
| --- | --- |
| The actual working garage shots inside Garage Girls 2005 of pretty brunette Laura Niles and blond bombshell Michelle LaVoie were taken inside my buddy Marc Norris' BMW Workshop garage in Canoa Park, CA, during another Iron & Lace Calendar shoot with top custom bike builders Jesse Rooke and Don Chica. Sweet Laura was so adoreably cute in her Iron & Lace photos I knew I want her to be our Garage Girls cover model, but her school girl outfit from the Iron & Lace shoot just wasn't right for the Garage Girls cover, so I brought her back later in the year to my studio to shoot her in mechanic's wear, a matching bra and pany set from victoria's Secret, and smudged with makeup grease for her killer cover shot. | Click for bigger view and to order. |
The picture of Penthouse Pet centerfold and cover girl, 19-year old British model Martina Warren posing on an oil pipeline was taken inside a huge security restricted Los Angeles County power generating facility, during an Iron & Lace shoot with a Performance Machine custom which was also filmed by SpeedTV for the American Thunder TV show. After the TV crew packed up and left the scene, I took Martina off to the side where we did shots for Garage Girls, plus some topless photos for Martina's Member's Corner Gallery.
Then there is 'Not Barely Legal' 16-year old Jessica Fife who I met at Marc's garage on a Saturday morning when Jessica came by with her dad to have her BMW Roadster checked over. Jessica had just driven out from her home in North Carolina to move to Los Angeles on her own (at 16 with her parents' consent )in the hopes of becoming a Hollywood movie star. It was the legendary story of "being discovered as she stepped off the bus" or in Jessica's case, pulling into town in her topless BMW convertable. I booked Jessica for her first ever modeling job.
Beautiful Texas blond Andra Cobb was a happenstance of serendipity in that we booked her sight unseen on the phone as a last minute replacment for another model who stood us up. Andra immediately dazzled me with her beauty, photogenic results, and positive personality. I would bring Andra back for many more calendar shoots including the 2006 Fast Dates calendar shoot at Laguna Seca World Superbike, and for 2006 Garage Girls.
The strikingly beautiful redhead is adult film star Justine Jolie whom I had been trying to track down to shoot for nearly a year. I really thinkJustine (also known as Swan) is the most beautiful girls today in adult film, and if you've ever seen any of her movies i'm sure you'll agree. Justine only works with other girls, and to see how she enjoys making love to other girls is truley incredible.
Shooting with adult film stars like Justine is a treat because they have no hangups about nudity whatsoever, normally walking around nude inthe studio all day rather than cover up between shoots. Plus they never need any posing direction for the camera. Once Justine knew I was ready to shoot she began immediately undressing and caressing herself, pausing only long enough with the next provocative pose until she heard the camera "click'. You can see Justine's fully explicit nude shots from our Garage Girls shoot in the
Member's Corner Justine Jolie / Swan Gallery.
---
Above the 2004 World Championship winning blue team Gauolious Fortuna with Valentino Rossi, and the red team Fortuna Yamaha with Carlos Checa who finsihed 7th.
Big Screen Saver Photo
A Full Time Ice Cream Maker on Staff at the Races....
Yamaha's World Championship MotoGP Team Profile

The Gauloises Fortuna Yamaha squad, MotoGP World Champions in 2004, is a cosmopolitan mix of characters. It has seen many changes since multiple World Champion Valentino Rossi joined it last winter, not least the make-up of the squad itself.

It's normal in the Grand Prix world for a new rider to bring at least one of his favoured mechanics, team helpers and personal assistants into the fold of his new team. For Rossi, so successful since he joined the top flight of the sport in 2000 as a proven champion in both 125 and 250cc World Championships, things were a little different, and the Yamaha Factory Team was heavily revamped when he joined.

Realising that it made sense not to break up a winning team, Yamaha brought no less than four of Rossi's pit crew over from their mutual previous employer, Honda. Rossi was also followed to Yamaha by some key back room staff, including the head of Yamaha's impressively proportioned hospitality efforts, so that the environment Rossi operates in when off the bike and outside the garage is still a familiar, almost familial one.

Jeremy Burgess (universally known as 'JB'), undoubtedly the most successful crew chief of his generation, has been Rossi's crew chief since he moved into the premier class in 2000, and, before that, was behind premier class successes for Wayne Gardner and Mick Doohan. Showing his confidence in his latest charge and his new employers at Yamaha, 'JB' followed Rossi in his move.

Quick witted and acerbic if necessary, Burgess is as Aussie as they come, and has a crew to match, most of whom are fellow Antipodeans. Burgess' own reasons for moving were entirely human. "I came because I wanted the challenge," he remarked. "To a degree I felt that if anybody had the potential to be successful, then working with Valentino would help them to maximise that potential. If Yamaha were going to listen to Valentino and myself then we would move forward. If they weren't going to listen then there was no point in hiring Valentino Rossi. Mr Furusawa did listen to him and we have finished our first season together as World Champions – an A+ report card!"

Many of the men in the garage spend a large amount of their lives on the opposite side of the globe from their homes; MotoGP for them is like a tough boarding school, with never-ending coursework and highly public exams every other weekend. As Burgess explains, that's part of the reason why they are successful. "You have to think about winning," says Burgess, "so we don't come 12,000 miles from Australia just to pick up the pay check. We're not going home on Monday morning after the race. We're here for the duration. So we're keen to hit the whole show pretty hard.
The largely Aussie 'Frat Pack' who work with Burgess have a unique style and approach to the job of racing. Their job, as Burgess states, is not racing, it's winning. "We don't go to the racetrack each weekend hoping to win, we expect to win. If we finish second, third or fourth then we have to know the reasons why. I don't mind finishing second or third as long as I know the reasons why. If we finish second and have no problems then we are in big trouble. If we're second and we have problems then over time we will be able to fix those problems."

The core of the Rossi crew was new for 2004, with the link to the 2003 Yamaha team, Kiwi mechanic Brent Stephens, having moved from Carlos Checa's side. Stephens' fellow mechanics, Belgian Bernard Ansiau, and Aussie Alex Briggs as well as mechanics assistant Gary Coleman (also Australian), have been with Burgess for various lengths of time, and all three moved from Honda to follow him and Valentino. The second existing Yamaha team member in their new squad is Italian Data Recording Engineer Matteo Flamigni, who worked with Marco Melandri in 2003 (SEE FEATURE PHOTO 3 – Behind bike left to right: Gary Coleman / Alex Briggs / Jeremy Burgess / Matteo Flamigni. In front of bike left to right: Brent Stephens / Bernard Ansiau).

As Briggs explains, working with a new set of people and a new machine has been a pleasing challenge to take on . Of course a natural air of in-house competition is all part of the set-up!. "The guys who were already in the Yamaha team are a really good bunch. I get on great with them. We work with them, help each other build the garage, eat with them, and travel together. But there is a difference between racing and doing all those sorts of things. When it comes to racing, whether it comes to the guy in the garage next door or another company, it doesn't make any difference to us, we're just trying to beat them."

Rossi's crew have done a lot of learning this year, as well as teaching by example, but the most satisfying aspect for most of them is outlined once more by Briggs. "The best thing has been showing them that we have the ability to do what we always talked about. Before, in the previous team, it was just a small improvement from year to year. Coming here we didn't know what we would encounter and to see it all happen gives me a good feeling. It's good to see people excited and wanting to continue. There was nothing bad about coming here at all."

Other than Team Director Davide Brivio and Flamigni, the 'link man' Brent Stephens is the common bond to the 2003 team. Working with Carlos Checa for five years, he moved sideways in 2004, and thus has a unique viewpoint.

The Australia-based Kiwi acknowledges that the new mix of personnel is a positive factor for all involved. "They wanted someone who was familiar with the bike, experienced with the motors and I wanted a change as well. I had worked with Carlos for five years, but change is always good. There used to be a lot more Italians in the team but now they are almost outnumbered by the Aussies!" said Brent. "There are also a few Spaniards and Belgians. It's really healthy to have all those different cultures working together. The Italians in the team didn't want to have any more Italians because they themselves admit that they have quite a high temper, and you need a balance. The more relaxed Aussies balance that out. The overall situation works really well."
Although intensely focused on winning, the Burgess boys have a relaxed attitude to the pressures inherent in their field, a factor of their approach that breaks the stress before it starts. "We have a good old laugh at races," grins Brent, "sometimes I think it's not right to have so much fun doing a job! But we have a good old laugh. There is so much seriousness in it that you have to inject a bit of humour as well. People expect there to be much more pressure involved in working with Valentino. Although you want to say there isn't, there really is; there's a lot on the line and there is a lot of responsibility resting on you - but it's all good."

Compared to the new virtual antipodean homogeny on Rossi's side of the garage, the crew who worked for Checa in 2004 included Spaniards, Italians, Brits and the ever-present tight-knit group of home factory Japanese. Their crew chief in 2004 was the multi-lingual Antonio Jimenez, who has since, like Checa, moved on to pastures new). Speaking this season, he said, "We communicate in English so it doesn't matter where we all come from. I can also speak to the mechanics in Spanish, or Italian and French with the Michelin people. But our unifying language is English."

Like all other people with a racing spirit, Jimenez admitted that this unity does not extend across the garage when racing starts. "There is no wall in the middle of the garage but when everyone is doing their job they are concentrating on that, so we are not worrying about what is going on in the other side. Everybody is doing his job as well as he can. Of course, after qualifying or practice, it is good to look at what the other guys are doing, and they look at what you are doing. This year especially, with Valentino over the other side, we learned a lot of things."

So even though Valentino was not under his wing, his mere presence made a difference. Over to Antonio again. "I think the difference was that the presence of Valentino has given a lot of motivation to the other Yamaha riders. This also improved their performance."

Throughout the race weekend, the team's centre of operations is the Hospitality unit, run this year by another Yamaha new recruit, Italian Massimiliano Montanari– known as Max to all. His role this year was much more than that, however, as he explains."I am in charge of the hospitality operations for Yamaha, I followed Valentino. I have followed him for six years, from Aprilia to Honda and now to Yamaha this year. I stay behind him for everything, supporting him over the weekend."

With so many different countries palates to sate, given the multinational nature of the team, Max's new culinary experience could have been a nightmare but, although it is undoubtedly a long slog on race weekends, the job is somewhat simplified by the universal popularity of Italian food – and some free beer. "We have a lot of different nationalities in the team now but they all largely eat the same things, so that side of things is not so complicated," says Max. "I think the Italian food is the best and all the others seem to like it. Also we have the Aussie guys in the team and the most important thing for them is the Nastro Azzurro beer! I think they must have it in their contract to have beer on tap after the sessions and races or else they don't come to the race!"

Arguably the most popular – and unexpected – integral part of this whole hospitality chain of human sustenance in 2004 was Angelo, the ice-cream man. Come rain or shine, at all times of day during European races, there was a manned ice cream dispensing machine in the Yamaha hospitality, with the uniformed Angelo standing by to dish out his superior home-made ice cream.

After practice sessions on particularly hot days this year he could even be found in the pit garage, a tray full of freshly made ice creams being handed out to the team members during their post session debriefs. A dedicated MotoGP ice cream operative is a peculiar enough sight in the paddock, but watching animated discussions on the nuances of critical chassis setup between key team members, each with a dripping spoon of vanilla and mocha in one hand and top secret computer read-outs in the other, verges on the bizarre.

As well as the on-track performance of the team, there is also the business of promoting all the team's successes via column inches and TV exposure, and another long-term Yamaha Factory Team collaborator, Alison Forth, heads that effort. Ali has arguably the best vantage point to describe how the GFYT members mesh together, having to deal with all of them at some point over each weekend.

This year, the PR role in the team has changed significantly. "The workload has greatly increased; the interest in the team, not just Rossi but the team as a whole, is massive," affirms Ali. "We are in the media spotlight and this has to be dealt with. Access time to Rossi however, who everyone wants to get their hands on, is limited, so it's impossible for us to fulfil all media requests. Last year we only needed one person full-time for the PR area, but this year there were two of us. We deal not just with the PR for Rossi but last year for Checa also, as well as other key team members in the media spotlight. We answer media requests during and away from race weekends, plan the schedules for the riders and the team during the race weekends for press conferences, photography, filming and interviews, and also liaise with the team sponsors over their involvement with the team. We liaise with Yamaha markets worldwide, we run the team's media website, organise hospitality and guest programmes during race weekends, organise signing sessions, etc. It's a lot!"

It is a lot, and, after the wholly successful first season for Valentino Rossi and Yamaha, and the arrival of Colin Edwards to the team in 2005, the job can only get more intense.
---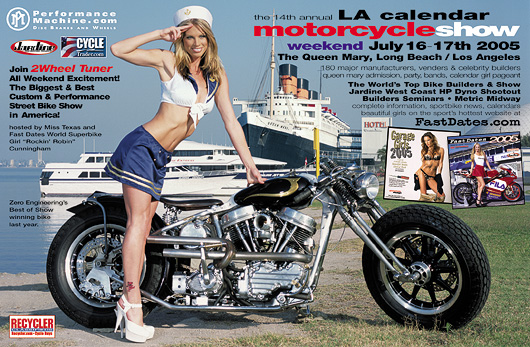 2Wheel Tuner joins LA Calendar Motorcycle Show as Associate Media Sponsor
Jan 1st: The hot new extreme sportbike magazine 2Wheel Tuner has joined our Los Angeles Calendar Motorcycle Show as an Associate Media sponsor. The 6x yearly magazine based out of Motor City with cool dude Todd Lamb at the throttle is the only American sportbike magazine at present which has the coolness to feature hot chicks on the cover and inside their magazine, along with the extreame stunt bikes. Naturally we had to get them together with FastDates.com and the "world's biggest custom and performance streetbike show!"
.If you've got a wild street modified metri csportbike you'll defintely want to bring it to our Show on July 17th to get a shot at the very special 2Wheel Tuner Best Sportbike trophy. The above LA Calendar Motorcycle Show ad will now begin running in Wheel Tuner through to our July, Show and features our own SBK Fast Dates World Superbike Girl and Bike Show hostess with the mostess "Rockin' Robin" Cunningham. The former Miss Texas and Hawaiian Tropic Interntional winner doesn't know it yet (and don't tell her), but she's scored the cover of the next 2006 Fast Dates Racebike Pinup Calendar which will premier at the Show. Meanwhile, you can find out more about 2Wheel Tuner magazine and subscribe on their website: 2WheelTuner.com
FastDates.com Movie Review

Hot Chicks that Kick Ass
Jessica Biel: Blade Trinity

Jessica Beil makes her first appearance in the third and final installment of Blade Trinity as Abagail, the hottest kick ass member of a group of vampire slayers known as the Nightstalkers who come to the aid of Blade star Wesley Snipes.

For years, Blade has fought against the vampires in the cover of night, but now he must join forces with a clan of human vampire hunters he never knew existed, The Nightstalkers. Together with Abigail Jessica Biel, (Texas Chainsaw Massacre) and Hannibal Ryan Reynolds, two deftly trained Nightstalkers, Blade follows a trail of blood to the an ancient creature that is also hunting him … the original vampire, Dracula.

Right: Abagail's weapon of choice is a very deadly crossbow with phosphorous tipped arrows guaranteed to give blood sucking vampire a hot flash!

Back in the late 1990's Jessica was the teen darling of the WB Chanel's sickly sweet drama 7th Heaven. But when she turned 18 Jessica shed her good girl image and clothes by posing nearly nude in Gear magazine to break her contract and get off the show so she could persue more mature and sexy movie rolls. We are glad she did.

Complete FastDates.com Movie Revue and Jessica Biel feature HERE


New 2005 Fast Dates, Garage Girls, Iron & Lace
Calendars!



---
Klaffenbock Launches World Superbike Team
Dec 30, 2004 - Former Sidecar World Champion Klaus Klaffenböck has announced he will field a two-man team for the 2005 World Superbike and World Supersport Championship. Max Neukirchner (Germany) and Tatu Lauslehto (Finland) will ride for the Klaffi Honda Team in 2005. Max Neukirchner will ride a Fireblade in the WSB championship and Tatu Lauslehto will ride a CBR600RR in WSS.

Frankie Chili Joins The Klaffi Honda Team
Ben Bostrom Left Out
on the Ropes
December 30th - After nine successful years in World's Superbike Championship and several top five positions in the Championship Frankie Chili surprises his fans with a new step in his career. He switches from a Ducati to a works supported Klaffi Honda Fireblade.

Klaus Klaffenböck, owner and manager of the Klaffi Honda Team, convinced Frankie Chili to join his team in 2005. With the Klaffi Honda Fireblade he will achieve top positions in World's Superbike Championship 2005.

Frankie Chili: "There were a lot of ups and downs during my career. Sometimes even nobody trusted in me, but especially in these situations I had success. Joining the Klaffi Honda Team means a super possibility for me to reach out for the Superbike Championship again. Honda and Klaus Klaffenböck did all their best to make this possible.
Beside this I want to say "Thank you" to my Italian crew. Even when we need a lot of time to discuss al the details they were waiting for my decision. Nobody left the crew. No we join together the Klaffi Honda Team and are looking forward to an exciting and successful World Championship 2005."

Klaus Klaffenböck: "I always promised our sponsors a rider, who is a winner. And also this time my promise comes true. During the last weeks we had a lot of discussions. Frankie Chili or Ben Bostrom – this was the question. Now the decision is taken: Frankie Chili rides a Klaffi Honda Fireblade in 2005.

After his marvellous debut in the Supersport World Championship 2004 German Max Neukirchner will be the second rider in our Superbike Team.

Tatu Lauslehto from Finland was the winner of the European Supersport Championship 2004. He will be our pilot in the Supersport World Championship.

The first roll-out of our new bikes will be in January. Time is running and the World Championship starts with its first race 26th of February in Quatar."

World Superbike Champion Neil Hodgson
to be Based in 90210
for 2005 AMA Superbike Assault
Dec 26th- World Superbike Champion Neil Hodgson will be based in Los Angeles for much of the 2005 AMA Superbike season as he joins Eric Bostrom on the Ducati USA team.

A British citizen and former Bristish Superbike Champion, Neil actually makes his home with his wife and child, on the Isle of Man off the east coast of Great Britain (in part for tax purposes because Man is an independent country with no income tax). But the logistics of traveling to Man and back to America when the USA Superbike rounds are 1-2 weeks apart are next to impossible, so Neil will be living in Beverly Hills with a good British buddy of his.

In fact, Neil's buddy is one of our weekend sportbike riding friends here in Los Angeles, who works as a body guard for a well know British pop music star living in Los Angeles. Before becoming a body guard, our riding buddy was in the British Army Commando Special Forces and faught in the Falkland Islands war among other conflicts.

He's told us a few stories us of his exploits in the Special Forces,including the time his squad was doing a low altitude parachute training jumps in the middle of winter from 1,500 feet. Their packed parachutes had been stored in a damp warehouse, and by the time they jumped from the plane the chutes didn't open up as they were frozen solid. They rest of his squad was killed, but our buddy landed in a roadside plowed snowbank and survived with major injuries, spending the nest year in a hospital to recover. And we thought riding sportbikes was dangerous.....
Petra Nemcova seriously Injured in Tsunami disaster, Boyfriend lost
Jan 1st: 2004 Sports Illustrated Swimsuit Calendar cover model Petra Nemcova was vacationing over the Christmas holiday on the beaches of Thailand with her boyfriend Simon when they were caught in the devistating tsunami wave disaster that swept the Indian Ocean region on December 6th.
Petra suffered a broken pelvis among other injuries in the initial wave impat, had had to hang in to a tree for 8 hours to survive the high waters. Her boyfriend Simon who was with her was lost and is presumed dead.
At present there are some 140,000 reported dead from the tsumani wave which is the worst natural disaster in modern recorded histroy. Because of the huge impoverished areas in the countries and remote islands which were hit by the giant tidal wave set off by a huge underwater earthquake, there is no real way of knowing the exact number of people still missing or unreported killed. But it could be surmissed the total numer of people killed could be closer to a quarter million, plus the many millions left homeless.
Please donte to your favorite international charity to help.


Sports Illustrated Swimsuit Model Search TV Series premieres
Wed 5th on NBC
NEW SERIES!
WE DECIDE THE WINNER!
PREMIERES 8/7PM WEDNESDAY, JANUARY 5
NBC joins partner Sports Illustrated to launch a nation-wide search for the next great swimsuit supermodel with its new unscripted series timed for the launch of the magazine's famed annual Swimsuit Issue.
Gentlemen, set your TiVo's.
During Sports Illustrated's search for an undiscovered model for the popular Swimsuit Issue, the six-episode series will focus on what it takes to become a successful swimsuit model. Twelve selected finalists will live in Los Angeles where they will compete for the chance to appear in the best selling issue of any magazine in the world and win a million-dollar modeling contract from NEXT Model Management.
The series and competition culminate with the final two contestants who will be flown to an exotic location to shoot a photo spread for Sports Illustrated. No one will know who the winner will be until America votes as part of the series finale in February.
Charged with the task of whittling down the field of hopeful models is a three-judge panel including former Sports Illustrated model Roshumba Williams, NEXT Model Management President Joel Wilkenfeld and Sports Illustrated swimsuit editor Jule Campbell.
"The Sports Illustrated Swimsuit Model Search" is produced by Pariah, PB & J Television and Sports Illustrated. Gavin Polone, Patty Ivins, Julie Pizzi, Terry McDonell and Roy S. Johnson executive produce the series.
Complete information on the show, the models and voting is on the NBC Website.
With the demise of the Victoria's Secret Lingerie Fashion TV Show on FOX due to the few middle America religious zealouts who complained to the FCC, we are glad that NBC has the courage to pull off a similar sexy pinup program, similar in concept to America's top Model Search on the WB cable channel. Previously, The Making of the Sports illustrated Swimsuit Issue TV program / video have only been shown on cable channels like E! So NBC is taking a big step for American prime time broadcast television by airing the program and we applaud them!
If you might have noticed major chain stores like Barnes & Noble, Walden Books, etc., have not been carrying any swimsuit pinup calendars the past few years other than
SI and Maxim due to the "Conserving Down" of America.
Hopefully the prime time NBC broadcast of the Sports Illustrasted Model Search will return American to some sense of balance and normality.

Ducati Honored as featured Marque at
2005 AMA Vintage Motorcycle Days
Cupertino, CA - December 23rd, 2004 - Ducati announced that they will be the "Featured Marque" at AMA Vintage Motorcycle Days 2005, an annual event held on July 15-17 at the Mid-Ohio Sports Car Course in Lexington, Ohio.
Ducati's long history of building exciting motorcycles makes this a perfect match and another occasion to bring Ducatisti together in the celebration of
motorcycling. The event will benefit the Motorcycle Hall of Fame Museum and feature a complete exhibit of classic motorcycles and memorabilia.
Paul Smart, winner of the 200 miles of Imola race aboard a Ducati 750SS in 1972, will be honored as the "Grand Marshall" of this year's AMA Vintage Days. Ducati is also honoring Mr. Smart's achievements with the production of the Paul Smart 1000 motorcycle, part of the new SportClassics family of
Ducatis. Additionally, special guest and World Stunt Riding Champion.
Christian Pfeiffer will perform for the audience on his Ducati Monster. The legendary Mid-Ohio circuit will again host American Historic Motorcycle
Racing Association (AHRMA) road racing throughout the weekend; two days of AHRMA motocross, plus observed trials and dirt-track racing, also will be on the schedule.

AMA Vintage Motorcycle Days 2005 boasts three vintage bike shows; the traditional all-brands AMA Swapmeet, guest speakers, Ducati demo rides, an array of vendors featuring new products from top manufacturers and dealers
in addition to the annual Motorcycle Hall of Fame Auction of motorcycles and memorabilia.
---
Supermodels who
like to get wet...
Ducati Day Daytona
Caters to TO Ducksters
During Daytona Bike Week
The 2005 edition of Daytona's biggest Ducati party ramps up to kick off the AMA racing season
Cupertino, CA - December 7th, 2004 - The Ducati.Net Ducati Owners Club and Ducati North America present Ducati Day Daytona at Speedpark Motorsports on Friday, March 11th, 2005. This party kicks off the 2005 AMA racing season in Daytona Beach, Florida across from the world famous Daytona International Speedway. Those attending DDD will be able to soak up the sun while admiring Ducati's on display, race go-carts, or test their skills aboard the Speedpark's 22 foot dragsters (each with a roaring 300 horsepower 350 cubic inch V-8 engine) in the Nitro Alley Challenge.
The event will also include
Ducati race team appearances, tech talk classroom sessions, a Ducati only bike show, umbrella girls, the American Ducati Idol motor sound contest, a vendor row and more. DDD also marks the final round of the nationwide Ducati Monster Challenge contest. The lucky winner of this event will be presented with a new Ducati Monster S4R at the party.

Long known for its prestigious Ducati bike show, the 2005 DDD adds a new class, "Best Special", a salute to Daytona's long tradition of custom built "specials". The entry fee to participate in the bike show is $10. Trophies are provided by CycleCat Motorcycle Performance products, a long
time sponsor of Ducati.Net.
Returning this year is the popular American Ducati Idol - "Let Your Ducati Sing" contest where the Ducati with the best exhaust note will be chosen. This event will again be judged by the visiting members of the
Desmodromiclub of Rome, Italy.

Celebrities expected to attend and sign autographs include renowned racer Eric Bostrom, rider of the Parts Unlimited Ducati Austin AMA 999 Superbike, Neil Hodgson, former World Superbike Champion n his AMA debut, and world famous long distance record holder Gary Eagan, who will also be giving a seminar on his sport touring adventures.
General questions about DDD and the featured activities should be directed to Ms. Vicki Smith by calling on 954-764-3847 or emailing to
veloce916@aol.com. See you there!
Directions:
Speedpark is located across from the Daytona Speedway's highest grandstand,
the Winston Tower, just behind the Hooters on Intl. Speedway Blvd For further information on Speedpark and this event visit
www.speedparkdaytona.com. Party hours are 11am - 6 pm.
---
Ducati Island returns to Laguna Seca for MotoGP
Ducati Island will return to celebrate the US return of MotoGP to Laguna Seca Raceway the weekend of July 8th, 2005.
---

Unfortunately despite a million dollar budget to hire the world's top and upcoming supermodels and photographer Demarchelier, Pirelli ran out of money when it came to buying swimsuits for the girls. Oh well.....
The black and white photographs investigate the most mysterious aspects of the models seeking out the invisible source of their allure: alongside the already mentioned Naomi Campbell (Victoria's Secret, America's Next Top Model) are Filippa Hamilton and Isabeli Fontana (already chosen by Bruce Weber for the 2003 edition), Adriana Lima (the current featured model for Victoria's Secret and Maybeline cosmetics), Diana Dondoe, Erin Wasson, Euguenia Volodina, Julia Stegner, Liliane Ferrarezi, Marija Vujovic, Michelle Buswell, "Valentina" and Valeria Bohm.
It's an international cast with three brazilians, two Americans, one Romanian, one Swede and one German ranging in age from just turned 17 to the legendary Naomi Campbell in her mid '30s. For the inside story on the very sexy and very revealingh Pirelli Calendar go to Pirelli 2005.