---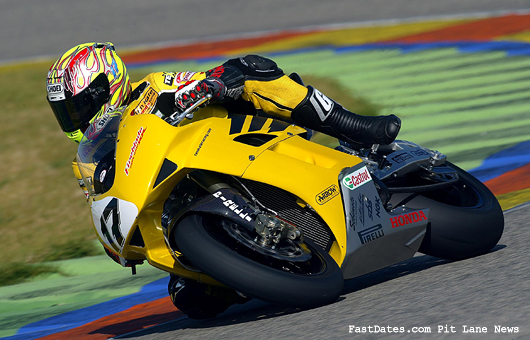 World Superbike has a new star! 21-year old Chris Vermeulen is a winner on the Ten Kate Honda CBR1000RR.
SBK World Superbike Championship 2004, Silverstone Round 6
Haga and Vermeulen trade wins at Silverstone with
Chris & Honda CBR1000RR scoring first World Superbike Win
Silverstone, GB, June 11-13th -The increasing feel good factor of SBK racing went off the scale at Silverstone, with a number of landmarks being made in front of a magnificent 68,000 crowd of enthusiastic fans, all blessed with day long sunshine. The Silverstone meeting marked 400 SBK races in total, after Noriyuki Haga (Renegade Ducati) had won his third race of the year. His rival in race two was the same as in race one, but second time around it was the yellow Ten Kate Honda CBR1000RR of Chris Vermeulen that took the young Aussie to his maiden victory, since stepping up to Superbike. It was Honda's first win in the category since the introduction of the CBR1000RR and the first 1000cc four-cylinder race win of all time in SBK. It was also the first win the for the upwardly mobile Ten Kate team in this category of racing.
LACONI WINS SUPERPOLE AS CHILI ENDURES MORE HEARTBREAK & DRAMA
Regis Laconi (Ducati Fila 999F04) rode his factory machine to an assured Superpole win, after his two main competitors encountered troubles of different kinds. Laconi set the best time of the weekend, 1:54.331, to take his pole position start, in a competition held in glorious English sunshine. It was his fourth win in six attempts. For fastest man in regular qualifying, Pierfrancesco Chili (PSG-1 Ducati), his last pre-warm-up lap was a stillborn affair, as the repairs his pit crew had made to his machine after qualifying came undone and he had to drop out of contention. He will start the races from 16th place, the back of the fourth row.
Race One: Noriyuki Haga (Ducati Renegade) enjoyed the win in Race One after a classic fight with Chris Vermeulen on the private Ten Kate Honda, the young Australian looking like the likely winner for the majority of the race over the proven Japanese veteran. In third place Pierfrancesco Chili (Ducati NCR) had to start from 16th on the grid after failing to make Saturay's Super Pole qualifying, as both factory Ducati Corse riders, Regis Laconi and James Toseland, crashed out from contention possible from unwise tire compound selections..

Race Two: In the second 20-lap Race Two another repeat close fight between Vermeulen and Haga gave victory to Vermeulen, the reigning 600cc Supersport Champion and team from last season. The French 21-year old youngster and hottest new star in World Championshiop roadracing riding for importer team Ten Kate, earned himself and Honda's CBR1000RR Fireblade their first SBK World Superbike victory, in what was the 400th running of a World Superbike race. In third place Regis Laconi (Ducati Fila) pushed ahead to thechampionship lead.

Right: 21-year old Aussie Chris Vermeulin
is the hottest new star in roadracing.
Chili Another History Man: Pierfrancesco Chili (PSG-1) fought brilliantly through to third in race one, but fell once more in race two, dropping to fifth in the championship. He collided with Toseland in the second leg, as
the local favourite ran off track, recovering to finish fifth. Chili, not so fortunate on track, is nonetheless now the rider with most SBK race starts, 229, as he overtook the previous record of Aaron Slight.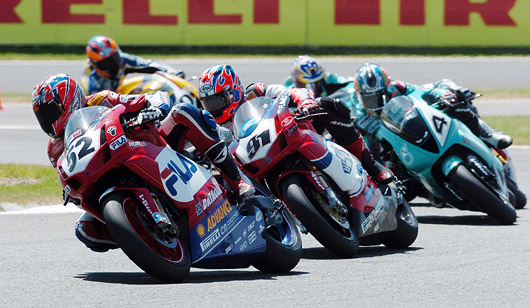 James Toseland (52) leads Haslam (91) and Corser (4) amid a heated 5-way battle for 4th place.
Garry McCoy (Xerox Ducati 999RS) was one element of anentire freight train of battling riders fighting for the off-podiumpositions in race one. He was rewarded with fourth in race one, eighth in race two. He now sits sixth in the championship fight, having been overhauled by Vermeulen and Haga.Leon Haslam (Renegade Ducati 99RS) had another excellent day of racing finishing fifth in race one and fourth in race two, but his
efforts may have even been eclipsed by privateer James Ellison. Falling in race one he shot back to prominence with an excellent seventh in race two, proving that the modern generation of Japanese four-cylinder machines are potent SBK tools.
The Petronas triples of Troy Corser and Chris Walker had tough weekends on their team's home soil. As team owner Carl Fogarty watched, the injured Walker fell in race one and despite some determined riding through the pain of three suspected broken ribs, he secured 12th in race two. For Corser it was little better, with a seventh and a ninth being hard earned.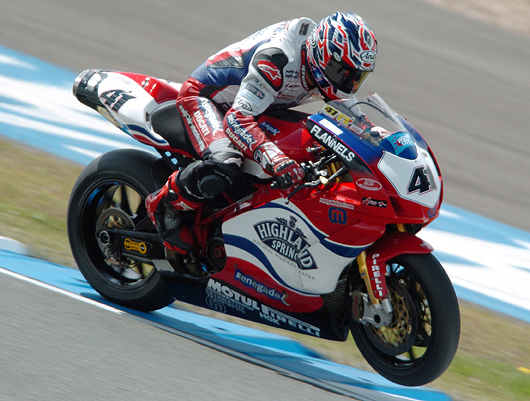 Nori Haga took Race 1 on the British Renegade Team'sDucati 999RS.
The factory Ducai Corse squad still retains the points lead in the Championship with Laconi's total at 171, and Toseland sits on 168, but the contenders are moving closer with Noriyuki Haga now third with 139 points. Vermeulen jumped to fourth with 137. World Superbike competitors are off to Laguna Seca for the next round on July 11, Supersport and Superstock series do not reconvene until Brands Hatch on August 1.
SUPERBIKE Race 1: (Laps 20 = 100,720 Km)
Pos /Rider /Nat. /Team / Time /Gap
1 / N.HAGA / JPN / Renegade Ducati / 38'43.657 /
2 / C. VERMEULEN / AUS / Ten Kate Honda / 38'43.807 / 0.150
3 / P. CHILI / ITA / PSG - 1 Corse / 38'50.240 / 6.583
4 / G.MCCOY / AUS / XEROX - Ducati Nortel Net. / 39'10.920 / 27.263
5 / L. HASLAM / GBR / Renegade Ducati / 39'11.237 / 27.580
6 / S. MARTIN / AUS / D.F.Xtreme Sterilgarda / 39'11.263 / 27.606
7 / T. CORSER / AUS / Foggy PETRONAS Racing / 39'15.978 / 32.321
8 / M.BORCIANI / ITA / D.F.Xtreme Sterilgarda / 39'22.613 / 38.956
9 / P. BONTEMPI / ITA / Zongshen / 39'22.950 / 39.293
10 / CLEMENTI / ITA / Kawasaki Bertocchi / 39'31.912 / 48.255
11 / W.NOWLAND / AUS / Zongshen / 40'00.532 / 1'16.875
12 / J. MRKYVKA / CZE / JM SBK / 40'13.347 / 1'29.690
13 / S. FUERTES / ESP / MIR Racing / 40'14.203 / 1'30.546
14 / M.PRAIA / POR / XEROX - Ducati Nortel Net. / 40'43.731 / 2'00.074
Fastest Lap 4° Régis Laconi 1'55.388 157,119 Km/h
SUPERBIKE Race 2 : (Laps 20 = 100,720 Km)
Pos /Rider /Nat. /Team / Time /Gap
1 / C. VERMEULEN / AUS / Ten Kate Honda / 38'35.608 /
2 / N.HAGA / JPN / Renegade Ducati / 38'35.836 / 0.228
3 / R. LACONI / FRA / Ducati Fila / 38'41.763 / 6.155
4 / L. HASLAM / GBR / Renegade Ducati / 38'56.503 / 20.895
5 / J. TOSELAND / GBR / Ducati Fila / 39'03.112 / 27.504
6 / S. MARTIN / AUS / D.F.Xtreme Sterilgarda / 39'04.099 / 28.491
7 / J. ELLISON / GBR / Jentin Racing / 39'08.276 / 32.668
8 / G.MCCOY / AUS / XEROX - Ducati Nortel Net. / 39'09.126 / 33.518
9 / T. CORSER / AUS / Foggy PETRONAS Racing / 39'11.920 / 36.312
10 / I. CLEMENTI / ITA / Kawasaki Bertocchi / 39'13.722 / 38.114
11 / M.BORCIANI / ITA / D.F.Xtreme Sterilgarda / 39'16.814 / 41.206
12 / C.WALKER / GBR / Foggy PETRONAS Racing / 39'17.144 / 41.536
13 / M.SANCHINI / ITA / Kawasaki Bertocchi / 39'27.933 / 52.325
14 / P. BONTEMPI / ITA / Zongshen / 39'40.327 / 1'04.719
15 / L. PEDERCINI / ITA / Pedercini / 39'49.468 / 1'13.860
Fastest Lap 2° Chris Vermeulen 1'54.919 157,760 Km/h
SBK Superbike Championship Standings:
1 LACONI 171, 2 TOSELAND 168, 3 HAGA 139, 4 VERMEULEN 137, 5 CHILI 129,
6 MCCOY 128, 7 HASLAM 113, 8 CORSER 95, 9 MARTIN 93, 10 WALKER 82,
11 BORCIANI 81, 12 SANCHINI 58, 13 CLEMENTI 53, 14 NANNELLI 41, 15 BONTEMPI 41.
Manufacturers Standings:
1 DUCATI 295, 2 HONDA 144, 3 PETRONAS 128, 4 KAWASAKI 76, 5 SUZUKI 65,
6 YAMAHA 35.
600cc World Supersport
Karl Muggeridge (Ten Kate Honda CBR600RR) could not quite make it four wins in four starts but in finishing second behind Fabien Foret (Yamaha) at Silverstone he was a tantalising small 0.043 seconds from victory. He also advanced his lead in the Championship itself to 15 points, as his number one rival Jurgen van den Goorbergh (Yamaha) could only finish sixth. Pole position winner Muggeridge's team-mate Broc Parkes was a close third in the race, and maintained his championship position of third in the process.
For other Honda riders Silverstone proved to be a tough test, the fast speeds and high track temperatures favouring the more experienced riders, who had opted for the correct tyre and set-up choices in the hot conditions.
Sebastien Charpentier (Klaffi Honda CBR600RR) was eighth, disappointed at his race finish after some high points in qualifying. Some ten seconds behind Charpentier Alessio Corradi (Team Italia Megabike Honda CBR600RR) was ninth, winning a fight with another Honda rider, Max Neukirchner (Klaffi Honda CBR600RR) who was enjoying his first taste of WSS action at the UK's Formula One circuit. He finished 11th. Denis Sacchetti just missed out on securing a point, ending his Silverstone race 16th.
In the last race before a seven-week break in the Supersport calendar Muggeridge had many reasons to be cheerful. "I gave it my best shot but Fabien just rode a bit better than me today," he stated. "It was a good solid race and I just might have got him at the end - but he was harder than me and seemed to be on a better line, so it wasn't to be. I think we all had the similar experience of the rear spinning up because of the temperatures."
Parkes was rewarded with yet another podium finish, his third in a row. "I bogged it down at the start, which is quite unusual as I normally get good starts," said Parkes. "I was back in about tenth and it took me some time to get through. I felt today that I was faster than anyone, but the problem was passing. I wasn't as fast through the back section onto the straight. At the end of the race it came down to whoever wanted to put their body on the line, but neither Karl nor Fabien tripped themselves up, so I couldn't get past. I'm just happy to be here on the podium again."
Charpentier could simply not get to his usual pace with the leading riders, which left him puzzled. "I'm not sure what happened but it just wasn't my day," he stated. "The bike and everything seems fine but I could not quite go at the pace of the leaders."
Neukirchner, once more learning a new circuit and then racing on it said, "Silverstone has proved to be a very hard track for me. I think I rode quite well and was involved in a fight to the very end. It was difficult for me in qualifying but we made some good ground in the race and I am still well inside the top 15 in the race and top ten in the World Championship. In my first year I am quite happy with that."
Corradi was unhappy with his weekend performance, and is still finding set-up issues on his machine. "I did not make a good start and I tried to cancel the gap in the first few laps. I think there are only two reasons why we are not in with the leaders. Either I am not a fast rider, or we cannot find a good set-up for the bike."
Sacchetti was disappointed with his 16th place, "I had some traction problems with the tyres and the rear tyre was affected after four laps. I had the difficulty for the whole race but I tried hard."
In the Championship itself, Muggeridge leads van den Goorbergh by an impressive 15 points, 107 to 92. Parkes follows on in third, on 69 points. Charpentier is seventh, on 48 points, while Neukirchner is still inside the top ten, with 36. Round seven of the Supersport championship takes place in the UK again, at Brands Hatch on August 1st .

SUPERSPORT RACE: (Laps 19 = 95,684 Km)
Pos /Rider /Nat. /Team / Time /Gap
1 / F. FORET / FRA / Yamaha Italia / 37'33.642 /
2 / K. MUGGERIDGE / AUS / Ten Kate Honda / 37'33.685 / 0.043
3 / B. PARKES / AUS / Ten Kate Honda / 37'33.945 / 0.303
4 / L. LANZI / ITA / Ducati Breil / 37'34.405 / 0.763
5 / K. CURTAIN / AUS / Yamaha Motor Deutschland / 37'36.240 / 2.598
6 / J. VD GOORBERGH / NED / Yamaha Italia / 37'37.071 / 3.429
7 / P. RIBA / ESP / MSS Discovery / 37'42.897 / 9.255
8 / S. CHARPENTIER / FRA / Klaffi Honda / 37'43.090 / 9.448
9 / A. CORRADI / ITA / Italia Megabike / 37'54.027 / 20.385
10 / S. CHAMBON / FRA / Suzuki Alstare Corona Extra / 37'54.247 / 20.605
11 / M.NEUKIRCHNER / GER / Klaffi Honda / 37'54.617 / 20.975
12 / C. JONES / GBR / Valmoto Triumph / 38'03.965 / 30.323
13 / M.BAIOCCO / ITA / Lorenzini by Leoni / 38'09.203 / 35.561
14 / S. LE GRELLE / BEL / LeGrelle Dholda Moto P. / 38'09.530 / 35.888
15 / M.LAGRIVE / FRA / Moto 1 / 38'10.033 / 36.391
Fastest Lap 2° Sébastien Charpentier 1'57.261 154,609 Km/h
Riders Championship Standings:
1 MUGGERIDGE 107, 2 VD GOORBERGH 92, 3 PARKES 69, 4 CURTAIN 58, 5 FORET 55,
6 LANZI 50, 7 CHARPENTIER 48, 8 CHAMBON 45, 9 FUJIWARA 44, 10 NEUKIRCHNER 36,
11 CORRADI 34, 12 BROOKES 25, 13 IANNUZZO 20, 14 KELLNER 19, 15 BUSSEI 17.
Manufacturers Standings:
1 YAMAHA 122, 2 HONDA 112, 3 SUZUKI 73, 4 DUCATI 63, 5 KAWASAKI 26.
---
Rossi (46) and Gibernau (behind) powerslided side by side around Catalunya the entire race, constantly trading the lead.
MotoGP World Championship, Catalunya Round 5

Rossi and Yamaha on top again in Catalunya
in another exciting race long struggle with Honda's Gibernau

Catalunya, Spain, June 13th - Gauloises Fortuna Yamaha rider and reigning World Champion Valentino Rossi won his second consecutive Grand Prix in Catalunya today, his third so far – leading a charge of three Yamahas into the top four places. Fortuna Gauloises Tech 3 pilot Marco Melandri landed the first podium of his MotoGP career after a brilliant ride, finishing third behind Honda rider Sete Gibernau, while Rossi's team-mate Carlos Checa rode a fantastic home race to finish fourth after starting 12th on the grid.
Starting from second on the grid, Rossi took a close lead from Gibernau for two laps before running wide and surrendering his place to the Spaniard. He then stuck close to Gibernau's heels as the two quickly opened up a distance from the chasing pack. Rossi and Gibernau swapped the lead twice more; before Rossi passed his rival once again two laps from the end, hanging on to win by less than two tenths of a second ahead of Gibernau. His back-to-back victories are the first for Yamaha in the premier class since Garry McCoy scored two in a row in 2000. Melandri stormed to a fine third place after working his way up through the field. The Italian charger showed what a fighter he is, defying the 'arm pump' trouble that had plagued him at Mugello, to finish a gruelling race looking as strong as his former 250 days.
Checa meanwhile moved up through the field with a series of bold passes, finding himself in fifth by lap 12 and fourth a few laps later. Rossi (101 points) now sits five points behind Championship leader Gibernau (106pts) in the standings, whilst Checa (49pts) moves up to fourth behind Max Biaggi (Honda, 80pts).
Valentino Rossi
(Gauloises Fortuna Yamaha), first
"I'm really, really happy to have won, first in Mugello and now here; they're both very important races for me. We've done a lot of fast work this weekend and my team and Michelin have worked so hard to improve the bike; we've literally been working every second we've had. After warm-up today we made another change to the bike, which paid off. It was a really hard race at the top level, and we went at a very hard pace. Sete and I were more than ten seconds ahead of the others. At one point Sete was able to get away but then he started to spin and slide so I was able to get in front again. To have won three races at this stage of the Championship is fantastic. I'm really happy to see the other M1s up front as well. Today was less dramatic but more tactical than Mugello, but still a great race."

The Doctor Is In
Immediately after crossing the finsih line for the win, Valentio pulled to the side of the track where friends in hospital gowns were waiting to rush over and dress him as his nickname "The Doctor", complete with stethiscope. Then he took his victory lap.
Sete Gibernau, Telefonica MoviStar Honda, second: "I tried to play my cards well again today and we did the best we could with what we had. We knew we couldn't use the same tyre as Yamaha and used a softer compound to try and have the same traction that they would have with the h arder one. Obviously that meant that at the halfway stage their tyres would improve whilst mine deteriorated. I don't want to give any excuses, I never have done, and I have to congratulate Valentino although I knew this could happen even though I gave 120%. I hope to keep going on the same path, have a chat with Honda about how we can improve the situation and do everything I can to make them understand that we have to face up to Valentino and Yamaha, who are improving a lot. I don't feel as thoughI lost today – as far as I am concerned we have won because I am getting 100% out of what I have at every race".
Marco Melandri (Fortuna Gauloises Tech 3), third: "This is a great day. I've waited a year and a half for this. And after I thought I'd get a podium at Jerez this year, this is a very good feeling. Thanks to the team, to Yamaha, to Michelin – we've done it here! After five laps everything felt okay and I didn't push too hard once I saw I had the advantage over Biaggi. I just raced smart, stayed focussed and that's why I'm on the podium."
Carlos Checa (Gauloises Fortuna Yamaha), fourth: "That was a good race as I started from 12th and finished fourth. I passed many riders during the race and for me this is proof that I could do well after what happened in Mugello. I had much more confidence in the front braking today so it was easier to pass people. By the time I caught up with Marco he was pushing hard but I couldn't keep the same pace anymore because of the tyres. I am so pleased with this result after yesterday's qualifying and my fall yesterday morning. This afternoon I recovered the feeling and pace. Tomorrow we have a test and I hope we can make some more improvements, especially on the softer tyres for qualifying."
ColinEdwards , Telefonica MoviStar Honda : 5th : "I made a good start but I couldn't stop them from coming past me and ended up fifteenth after the first lap. I kept my clam and started to pass riders but I lost a lot of time trying to get past Troy Bayliss. When he crashed I just concentrated on getting my rhythm together and in the end I was able to finish fift! h. Now we go to Assen – a circuit I know well after winning there several times in Superbikes – and I'm hoping to take a big step forward".
Max Biaggi, Camel Honda (Michelin Tyres),8th: "I'm very disappointed, after the practices I was ready to get a top result. In the warm-up I went out with a used tyre to prepare the second part of the race. I got a good start which took me into the top group. Then I began to get a problem in the rear tyre that just made everything impossible. In the analysis at the end of the race we realised that it was defective and that was the cause of the chattering that made the bike virtually impossible to ride. It's a big disappointment and we need to put this result to one side and continue with our work in tomorrow's tests at this track. I'm completely confident in Michelin and in the brilliant work they have always done. This is just a one off, a lucky one, but a one off."
Davide Brivio, Gauloises Fortuna Yamaha team director: "What a race! It's been a very good day; unbelievable. We've had two victories at two circuits which we expected to find very difficult. Yamaha and the team have worked so well and we've got a fantastic rider. Valentino rode a perfect race. This is a good day for Yamaha; Carlos had a brilliant race too; it was very difficult for him starting from the fourth row but he didn't stop fighting for the whole race and finished fourth. It's good to see Marco doing well and Yamaha filling three out of the four top places. We are now really looking to enjoy the rest of the season! Thanks to everyone involved, today all their hard work and effort has paid off, again."
Jeremy Burgess, Valentino Rossi's crew chief: "We made some changes this morning and maybe they worked! This is a terrific result. We've now won consecutively at Mugello and Catalunya, which are fast circuits where the opposition has the advantage on speed, so we are really pleased with the results."
Makoto Tamada, Camel Honda (Bridgestone Tyres) – Retired on lap thirteen while running a stong 3rd: "I unexpectedly lost grip and then got these strong vibrations that made the bike difficult to control. To continue made no sense, not even to help with development. Tomorrow we will test some new material and we will try to find some solution to the difficulties we are currently having. I know Bridgestone will react and things will soon return to normal."
Nicky Hayden, Repsol Honda Team: retired: "Just so disappointed. This morning I went out on used tyres to get a feel for the conditions and it all felt pretty positive. I seemed to have problems all weekend with practice starts and in the race it was a disaster. Just couldn't get any power down right up to turn one by which time half the grid had got past. During the race the bike seemed to loose power and I noticed some fluid on the windscreen that I guess must have been water because when the bike eventually stopped we discovered the radiator had been holed a small stone I guess. I'm definitely disappointed not to get a result again. Onto the next race!"
Race classification MotoGP
Round: 5 - Catalunya Grand Prix, Circuit: Catalunya , Circuit Length: 4727 , Lap Record: 1' 44.641 (Sete Gibernau, 2004)
Fastest Lap Ever: 1' 44.641 (Sete Gibernau, 2004)
Race: 25 Laps
Pos. Rider Manufacturer Nat. Total Time
1 V. Rossi Yamaha ITA 44' 3.255
2 S. Gibernau Honda ESP +0.159
3 M. Melandri Yamaha ITA +13.923
4 C. Checa Yamaha ESP +19.213
5 C. Edwards Honda USA +21.205
6 R. Xaus Ducati ESP +22.847
7 S. Nakano Kawasaki JPN +24.014
8 M. Biaggi Honda ITA +24.104
9 N. Abe Yamaha JPN +35.676
10 L. Capirossi Ducati ITA +40.775
11 A. Hofman Kawasaki GER +40.862
12 N. Hodgson Ducati GBR +56.157
13 S. Byrne Aprilia GBR +1' 3.679
14 A. Pitt Moriwaki AUS +1' 5.933
15 N. Aoki Proton KR JPN +1' 18.199
Fastest Race Lap:
Pos. Rider Manufacturer Nat. Total Time
1 S. Gibernau Honda ESP 1' 44.641
hampionship standings MotoGP

Pos. Rider Manufacturer Nat. Points
1 Sete Gibernau Honda ESP 106
2 Valentino Rossi Yamaha ITA 101
3 Max Biaggi Honda ITA 80
4 Carlos Checa Yamaha ESP 49
5 Alex Barros Honda BRA 48
6 Colin Edwards Honda USA 44
7 Marco Melandri Yamaha ITA 38
8 Loris Capirossi Ducati ITA 34
9 Norick Abe Yamaha JPN 28
10 Nicky Hayden Honda USA 27
11 Troy Bayliss Ducati AUS 23
12 Ruben Xaus Ducati ESP 23
13 Shinya Nakano Kawasaki JPN 20
14 Makato Tamada Honda JPN 15
15 Kenny Roberts Suzuki USA 12
Manufacturers standings MotoGP

Pos. Manufacturer Points
1 Honda 110
2 Yamaha 108
3 Ducati 45
4 Kawasaki 22
5 Suzuki 15
6 Aprilia 13
7 Proton KR 7
7 Harris WCM 7
8 Moriwaki 2
250cc Grand Prix to France's Randy de Puniet on Arilia
Dani Pedrosa, Telefonica MoviStar Honda: (2nd.): "It was a really nice race and I enjoyed it a lot. It was a real learning experience for me riding so hard on spent tyres. In the head-to-head with De Puniet he was passing me on top speed and on the brakes, whilst I was quicker through the corners and on acceleration with the worn tyre. On the last lap I tried everything I knew I had to get to the stadium section first if I wanted to win but it wasn't to be. In any case I am happy because we have completed our objectives I had a good race, the bike was fantastic thanks to the hard work of my team and we are back on the podium. I have to thank the crowd for the incredible support they have given me all weekend".
Race classification GP250
Round: 5 - Catalunya GP250 , Circuit: Catalunya , Circuit Length: 4727, Lap Record: 1' 47.302 (Daniel Pedrosa, 2004)
Fastest Lap Ever: 1' 47.302 (Daniel Pedrosa, 2004)
Race: 23 Laps
Pos. Rider Manufacturer Nat. Total Time
1 R. de Puniet Aprilia FRA 41' 29.955
2 D. Pedrosa Honda ESP +0.109
3 T. Elias Honda ESP +9.521
4 S. Porto Aprilia ARG +20.871
5 F. Nieto Aprilia ESP +34.337
6 H. Aoyama Honda JPN +37.569
7 S. Guintoli Aprilia FRA +42.087
8 A. Debon Honda ESP +45.850
9 A. West Aprilia AUS +45.938
10 F. Battaini Aprilia ITA +46.235
11 E.. Bataille Honda FRA +50.694
12 A. Baldolini Aprilia ITA +50.980
13 C. Davies Aprilia GBR +56.785
14 N. Matsudo Yamaha JPN +56.895
15 J. Smrz Honda CZE +57.366
Fastest Race Lap:
Pos. Rider Manufacturer Nat. Total Time
1 D. Pedrosa Honda ESP 1' 47.302

Championship standings GP250

Pos. Rider Manufacturer Nat. Points
1 Randy de Puniet Aprilia FRA 98
2 Daniel Pedrosa Honda ESP 90
3 Sebastian Porto Aprilia ARG 63
4 Fonsi Nieto Aprilia ESP 56
5 Toni Elias Honda ESP 54
6 Roberto Rolfo Honda ITA 41
7 Alex de Angelis Aprilia SMR 40
8 Alex Debon Honda ESP 37
9 Anthony West Aprilia AUS 36
10 Hiroshi Aoyama Honda JPN 35
11 Manuel Poggiali Aprilia SMR 29
12 Franco Battaini Aprilia ITA 24
13 Sylvain Guintoli Aprilia FRA 13
14 Arnaud Vincent Aprilia FRA 11
15 Joan Olive Aprilia ESP 11
Manufacturers standings GP250

Pos. Manufacturer Points
1 Honda 115
2 Aprilia 110