KidofSpeed.com
Join a beautiful Russian girl in a dramatic bike ride to the atomic wasteland of Chernobyl
kiddofspeed.com
Sponsor Needed!
No Frankie Chili for
Laguna Seca World Superbike?
Early 2004 season SBK World Superbike Championship points leader Frankie Chili let us know this past week at WDW2004 that his PGS-1 Ducati team did not currently have the budget to attend the Laguna Seca USA WSB race in July. It is heartbreaking that the most popular and fastest rider now in the World Superbike series can not afford to contest the USA round.
Frankie held the WSB points lead up until the Monza round last week when his two Ducati Superbikes suffered blown engines on the warmup lap, and then after a bike change, on the start going into the first corner.
Frankie told us the team needs just $20,000in traveling expenses to contest the Laguna Seca race. If you, or some company would like to sponsor last year's Laguna Seca race winner for this year's race please contact Frankie in the USA through Tim Saunders
ph (01) 310-521-9802
Ducati and Frankie
Going into the Monza WSB round in Italy last week, we asked Ducati Racing press manager Julian Thomas - Wasn't Ducati excited to have a popular privateer team like Frankie Chili and PGS-1 leading the SBK Championship on a Ducati, particularly so the factory's Ducati Corse team couldn't be accused of steam rollering the WSB series again this year?
Julian said Ducati was happy that a customer team like PGS-1 was doing so well. But from a marketing standpoint they didn't want another team winning races with the previous generation 998R Superbike (although it is still highly competitive, particularly since Frankie runs the latest Testastretta 999R engine )
-a bike which they were no longer selling to the public.
And second, Team Ducati Corse has an obligation to its many sponsors like Fila to win the WSB Championship. So Team Ducati Corse will always do its best to win races and championships, no mater how well other privater teams might be doing in the same Championship on their Ducati bikes.
Ducati's
Race Team Budget
During our recent exclusive tour of the Ducati Corse Race Shop in Bologna, Ducati Superbike Press Manager Julina Thomas told us the Ducati Corse race team had a budget this year of $32 million dollars shared between MotoGP and Superbike, with some 120 employees working in the deparment. Thats out of a factory with just 1000 employees total who build around 40,000 motorcycle per year.
"Obviously we don't sell enough motorcycles to justify our huge expenditure for racing," explained Julian. "Around 3/4s of our racing budget comes from our major sponsors like Marlboro and Fila.
"Ducati will always be involved in World Superbike because we believe first and foremost in racing the bikes which we sell to the public and that means Superbike. We are involved in MotoGP to elevate the name and image of Ducati in the world motorcycle market as an industry leader. And I believe this is what we are doing very well."
If 3/4s of Ducatis $32 million dollar race budget comes from its sponsors, then the remaining $8 million dollars comes from the 40,000 bikes per year sold to customers which works out to just $200 per bike. A pretty good deal to own a pretty cool bike with the latest technology from a World Championship winning manufacturer.
Ducati Corse Race Team moving to new facility
On our visit to the Ducati Corse race team shop housed behind locked doors in Ducati's Bologna motorcycle factory we only found the MotoGP team in residence. The expanded growth of the race team into MotoGP, together with increased motorcycle production in the factory, has forced the Corse Superbike team to move to a new building across town. It is expected the MotoGP team will move to the new building as well by the end of the 2004 season as sales of new Ducati motorcycles continues to grow and more production space is needed at the main factory.
Almost Sold Out!
The 2004 FastDates.com Calendars
click to order now!



Covergirls Janelle, Chandi and Joanna Krupa get down to work
in the 2004 Garage Girls calendar available right here.
Loris Capirossi tests the improved "Evolution" model Desmosedici at LeMans
May 25th - "We've come up with this evolution of the Desmosedici 2004, very different from the bike that we had used in the race, but which seems to work much better than the previous two versions…".
The MotoGP race at Le Mans wasn't too bad after all; at least we managed to score some points, and we were fairly competitive compared to how things had gone until then. However, we worked even harder after the GP – we stayed at Le Mans for an extra test day and really worked hard, the weather smiled on us at last, it was a beautiful day and we managed to test a lot of things.
We are really happy about how this test went. We tested both versions of the Desmosedici. The 2003 Desmosedici seemed to work a bit better than the 2004 version initially, but then we introduced some modifications in this year's model and now we've come up with this evolution of the Desmosedici 2004. It's very different from the bike that we had used in the race, but it seems to work much better than the previous two versions. All this makes us very positive about the Italian GP. We're certainly heading for Mugello in higher spirits and with renewed enthusiasm.
I spent all of last weekend at WDW (World Ducati Week), a very important Ducati event which is held every other year at the Misano circuit, and I loved being among so many fans. Sometimes it's not easy to handle such a big crowd; I must say that the weekend was harder work than a racing weekend, but the feeling that you get from your fans on occasions like this is something unique.
At WDW, I also had the once-in-a-lifetime chance of flying on the new Mangusta helicopter, the newest model used by the Italian army. It wasn't the first time in a chopper for me, but I had never tried this model before. It was incredible. In-flight, I also had a chance to actually control the thing – it was scary!! It's not an easy machine to fly but the thing that impressed me most is how smooth it is and the speed that it reaches mid-air.
Another special thing that happened at the weekend was our CEO Federico Minoli's announcement on Saturday night: a new Ducati Desmosedici replica will be produced, hopefully from 2006. I had been looking forward to this announcement. I'm sure that they'll sell all the bikes before they're even made!
Next Monday, I'll be at Varano to teach at my safe riding school, and then I'll spend two days at my parents' before moving on to Mugello for the next GP. Last year we did really well on this beautiful Italian track and hopefully it will be the light at the end of the tunnel for us this year.
I look forward to seeing you all at the Ducati Grandstand in Mugello... see you soon!
-Loris Capirossi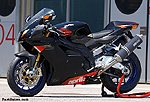 Aprilia Refinanced
Resumes Full Production
April Press Release, May 15th - APRILIA has announced that, following intense business discussions over the past few weeks, it has secured a financing agreement with the pool of banks that control its credit.
Supported in negotiations by Interbanca and Caretti & Associati, the company has obtained sufficient credit lines to resume full production. The agreement grants new credit lines for a total amount of €30 million and extends the effectiveness of existing ones. Taking into account this money with its global credit lines, Aprilia has credit totalling around €180 million.
It is difficult to evaluate the extent to which this secures the firm's future, a complex matter that ultimately depends on a huge number of different factors.
What is guaranteed is that all models will continue to be made and dealers' orders will be met. This is particularly crucial news at this time, during what is the most important part of the selling season.
Aprilia is the second largest producer of scooters and motorbikes in Europe, with a range of products from 50cc mopeds to 1,000cc V-twin superbikes. Its brand-popularity was never in question - owners and enthusiasts will feel relieved to know that development will go on.
Phase one of the company's new industrial plan dictates reorganisation in order to reduce costs and increase operational efficiency. Phase two makes clear the need to secure investors, both financial and industrial, to guarantee the long-term advancement of the three prestigious brands - Aprilia, Moto Guzzi and Laverda.
Mikuni American launches "Explicit Performance"
-a sexy new Advertising Campaign featuring
beautiful new Iron & Lace calendar model and World Superbike girl Andra Cobb
Mikuni American, manufacturer of the industry leading Mikuni HSR 42/45/48 Performance Carburetors for the American V-Twin market and a sponsor of the popular Iron & Lace Custom Motorcycle & Pinup Model Calendar, has kicked off an exciting and sexy new advertsing campaign in 2004. The advertising campaign is being produced by Gianatsis Design Associates, Mikuni's advertsing agency and publisher of the popular Iron & Lace Calendar.
Mikun'si Vice President of Marketing, Lee Chapin explains the radical new advertising approach for the otherwise conservative Japanese fuel induction manufacturer which supplies many of the origional equipment carburetor and fuel injection systems and components found on vehicles from many of the world's top motorcycle and automobile manufacturers.
"Since the introduction of the HSR smoothbore carburetor line back in the 1980's, Mikuni has relied on a straight product shot of the carb with a lot of descriptive text to let the consumer about the exclusive performance features and advantages our HSR carburetors offer compared to original equiment and other aftermasrt carburetors. Now, some 15 years later that original advertsing concept combined together with our other marketing programs like appearances at major consumer and dealer events, and our sponsorship of the Iron & Lace Calendar featuring many of America's top custom bike builders using Mikuni HSR carburetors, Mikuni has successfully established itself as the leading brand for performance carburetors in the V-twin market worldwide.
"We felt it was time for a fresh new approach towards marketing the HSR carb, one that was completely new to the industry and hadn't been done before. Because of our name recognition in the motorcycle industry we felt an image ad featuring just a photograph with minimal text was the way to go. Together with our advertising agency Gianatsis Design we discussed numerous images concepts.
Jim Gianatsis suggested, 'Why not have one of the beautiful calendar models hold the HSR carburetor!' But the carburetor would be too small in proportion when held by a model, and how would she be dressed? Which led us to the idea of having the HSR carb placed on a V-twin motor with the model placed behind the motor, hugging it. The motor would be large enough that the model could appear to be nude sitting behind it without anything being revealed. And with minimal or no copy in the ad it would really grab people's attention, make them stop to figure out what the ad was all about."
Brand Model and Talent Agency in Santa Fe Springs, CA, refered photographer Jim Gianatsis to a new model named Andra Cobb. Andra was booked, sight unseen, and proved to be one of the most beautiful, and the nicest models Jim Gianatsis has ever worked with. The shoot came out incredible, Lee Chain was estatic, and the new 2004 Mikuni HSR ad campaign photos were in the can and wrapped in less than 2 hours. Look for the new Gianatsis Design produced Mikuni ad campaign "Explicit Performance" featuring Andra Cobb in all the major industry V-Twin magazines this year.
But the story doesn't end there. Andra Cobb proved to be so beautiful, and such an enjoyable model to work with that Jim booked her again, immediately, to shoot for all the 2005 FastDates.com Calendars including Iron & Lace which will premier at the Los Angeles Calendar Motorcycle Show July 17-18th 2004.
Andra's fans will be able to meet her there in person where she will be signing a free Mikuni "Explicit Performance" Poster in the Mikuni booth. Andra will also be working with Jim the weekend before at the World Superbike Weekend on July 9-11th at Laguna Seca Raceway in Montery where she will be one of the official SBK Fast Dates Calendar models and Team Ducati Corse umbrella girl for World Superbike Championship points leader Regis Laconi. Additional information on the Bike Show HERE, the Calendars HERE, and a portfolio of Andra's modeling photos are HERE.
---