FastDates.com January 2004
Page 1 • Racing & Calendar News
Superbike, MotoGP, Calendar Girls
Official Calendar of the SBK World Superbike Championship
Home of the official SBK Fast Dates & Team Ducati Corse Umbrella Girls

Happy Holidays!
from FastDates.com

Our newest calendar girl Laura Niles is ready to ring out the old and bring in the new aboard our tricked out FastDates.com Ducati 999S project bike. Laura has been naughty, and nice, and has helped us put together a special FastDates.com Season's Greeting Screensaver as our special Christmas presnt for FastDates.com Pit Lane News readers. Just click on the links below to download and find out more cool stuff!

FastDates.com 1224 x 864 Holiday Screensaver
featuring Laura Niles HERE

FastDates.com Ducati 999S Project Superbike HERE

Order the 2004 FastDates.com Calendars HERE!

Aprilia Tuono R Project Bike in Paddock Garage HERE

• 2004 Cycle World International Shows Coverage Long Beach
• Rossi signs with Yamaha It was the Challenge, Not the Money
• Neil Hodgsen Interview New 2003 World Superbike Champion
• 2004 FIM and AMA Superbike Rules revealed!
• New 2004 Aprilia RSVR Superbike First USA track test with Janelle
• New 2004 Honda, Yamaha Kawasaki 1000cc Superbikes
Our Annual Review for 2004
British Sportbike
Magazines Naked and Exposed!
FastDates.com rates the top 7 hard core British sportbike magazines where bikes, half naked babes and roadracing are the norm -not the exception. In England, a county the size of just California, sportbike enthusiasts are blessed with 7 major monthly sportbike magazines! - America's got just 1 monthly newspaper and 2 semi monthlies.The Brits are so successful because they cover the topics sportbike enthusiasts want to see and read about, including beautiful girls. These great British sportbike magazines are now more readily available on your favorite newstands here in America. British Sportbike mag Review HERE
Stripped down and hard at work, lovely Laura Niles tightenes our nuts on the FastDates.com killer Tuono R Project Bike featured in Paddock Garage. You can see a lot more of our upcomming new 2005 Calendar model Laura right now in Members Corner which is free with your Membership to The
Paddock Garage
!
Build FastDates.com's $5,000 Tuono R Project Bike!
When Aprilia introduced their new Tuono naked bikes back in the fall of 2002 they were an immediate hit, both in the press and on the showroom floor where they sold out immediately. A full-on contemporary Mille R Superbike stripped naked with motocross bars and a minimalist bikini headlight fairing was the meanest, nastiest bike on the planet. We had to have one, but the the high end limited edition Tuono R with its trick race wheels and Ohlins suspenion was priced close to $20,000 and every one was pre sold even before they arrived at dealers in December. Our check book breathed a sigh of relief.
Fast forward to the summer of 2003 when we got the chance to ride a 2003 Tuono R on both the street and the race track, back-to-back with the out going 2003 Mille R and the new incoming 2004 Mille RSVR and Factory Superbike models. The new 2004 Mille Superbike is a huge improvement in handling, performance and comfort in a direct comparison to the old Mille which now feels huge and bulbous when you're bent over the tank holding onto the clip-ons. The now previous generation Mille's of which 10s of thousands were built starting with their introduction by Aprilia in 1999 to the end of the 2003 model year were now dinasours in comparison to the new model. And effectively dropping the bottom out of their resale value on the used bike market....
But wait! The Tuono R we tested at the same time as the old and new genertation Mille's was actually our favotite bike! Replace the Mille R's clip-ons with a set of higher positioned motocross bars and the Mille is transfored into the ultimate short course roadracer, canyon thrasher and around town cruiser. The gas tank is no longer stuffed in your stomach and whole bike becomes really comfortable, while the tall handlebars make bike really light and agile -a pure blast to ride!
When we rode the Tuono R on the tight roadrace track at Pahrump, NV, where speeds are limited under 110 mph we could turn quicker lap times on the Tuono than on the old Mille R and new 2004 model RSVR Superbikes. Which got the cogs in our little head to start turning.... why not pick up a cheap used or crashed Mille R and turn it into a Tuono? Build our own killer Tuono R on the cheap!
Well we've done just that. For just $3,995 we purchased a crashed but nearly immaculat, almost new 2001Mille R with just 1,500 miles on the clock. And for just about $1,000 in conversion parts we've built our own Aprilia Tuono R valued at nearly $20,000 ($17,995 plus tax & setup) at your dealer for a mere $5,000. Is this the deal of the century or what? In FastDates.com's Paddock Garage we give you a blow by blow description of what it takes to convert a Mille to a Tuono with all necessary factory part numbers, prices, and a list of sources for alternative and more readily available conversion parts. Go to: Paddock Garage
---
It's the Challenge, Not the Money
Biaggi Prepares for his First Test of the Yamaha YZR-M1

Preview: Sepang Circuit, Malaysia 24/25/26 January 2004
Due to the inevitable attention that will be created the first time Valentino Rossi tests the Yamaha YZR-M1 MotoGP bike, Yamaha will give the motorcycle media maximum opportunity for photography and information, yet at the same time not disturbing the riders and team in their workplace, as well as Team Suzuki who will also be testing in Sepang on the same dates. In order to do this, the Pit Lane and 'Paddock Area' will be closed to the media, however the rest of the track and grandstands will be accessible for photographers and other media.

In addition, Yamaha is organising the following media activities:
FRIDAY 23rd JANUARY:
Afternoon photo opportunity of riders and bikes (location to be confirmed)
SATURDAY 24th / SUNDAY 25th / MONDAY 26th JANUARY:
Daily afternoon press call with riders (details to be confirmed) Press materials will also be available for attending media, and for media who are unable to attend the test (as well as daily press release updates and photography from the test here at FastDates.com Pit Lane News).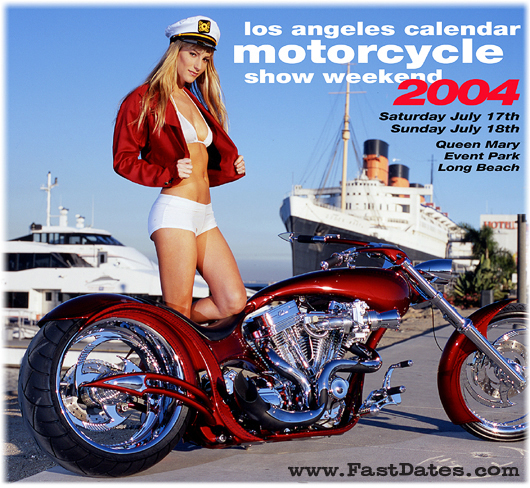 LA Calendar Motorcycle Show July 17th & 18th 2004
January 1, Los Angeles, CA - The Los Angeles Calendar Motorcycle Show Weekend is held at the Queen Mary Event Park in Long Beach, CA, and continues to grow each year as the most popular streetbike show in America catering to the custom, cruiser and sport streetbike markets. Always the 3rd weekend of July, the 13th Annual Show is scheduled for Saturday July 17th and Sunday July 18th, 2004. The Show features major spectator attendance with over 150 major manufacturers, race teams and leading custom bike builders from across North America. Performance Machine is the event's title sponsor, with associate sponsors including Iron Works magazine, Jardine Performance, Corona Extra beer, the FastDates.com Calendars, The Los Angeles Times / ReCycler / Cycle Buys, together with Trader Publications and SPEED TV's American Thunder, The LA Calendar Motorcycle Show is the premier streetbike event weekend in America. The weekend includes a charity ride-in hosted by Iron Works magazine to benefit the Olive Crest Shelter for homeless and abused children and families.
Two of the leading motorcycle aftermarket product manufacturers in America, Performance Machine and Jardine Performance, have just just signed long term multi-year sponsorship agreements for The Los Angeles Calendar Motorcycle Show and the related FastDates.com Calendars. Beginning in 2004 the agreement sees both manufacturers being major participants of The Los Angeles Calendar Motorcycle Show -the largest custom and performance streetbike show in America, and the FastDates.com Calendars -the world's most popular line of motorcycle pinup calendars and the leading streetbike website in America.
The new agreement extends Performance Machine's previously established title sponsorship of the Los Angeles Calendar Motorcycle Show with the continued participation of the popular Performance Machine big rig display truck, and the Performance Machine Best of Show Award for what is the premier custom bike contest on the West Coast. PM is the leading manufacturer of streetbike custom and racing wheels, handlebar and foot controls in America.
The new agreement sees Jardine Performance joining The Los Angeles Calendar Motorcycle Show as one of the event's important associate sponsors, with the hugely popular Jardine West Coast Horsepower Dyno Shootout which premiered at the Show in 2003, now becoming an annual major component of the Bike Show weekend. Jardine Performance is a leading manufacturer of automotive performance exhaust systems, and the leading American manufacturer of custom and performance cruiser and sportbike exhaust systems, and the official exhaust system supplier to American Honda's Roadracing Team.
---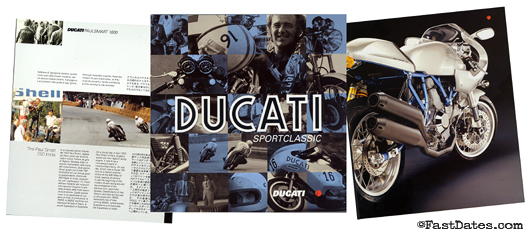 Ducati Classics already geared for production?
Jan 1st 2004
: Ducati North America was handing out to us press types at the recent Cycle World International Motorcycle Show at Long Beach this beautiful 10x10 inch 32 page color catalog featuring their 3 new Sport Classic "Concept" bikes, the "prototypes" of which were also on display at the Show. The Ducati Sport Classic Catalog provides a historical review of the origional 1971 GT 750, 1973 Sport 750, and 1974 Paul Smart Imola Supersport 750 racer, on which the three new 1000 Sport Classics are based. It also contains beautiful photographed pictures of the new Classics, full marketing descriptions complete with all final technical specifications, described in both English and Japanese (one of Ducati's biggest markets).
Ducati has been playing this "concept' theme to the hilt, even to the point of sending an Email Questionaire to registered Ducati owners and conducting an opion poll to visitors on their website, asking whether or not the bikes should be produced (www.Ducati.com/sportclassic). And while Ducati corporate is mum on if, and, or when the bikes will be produced, we think this culvert operation is the biggest new model marketing introduction the motorcycle industry has ever seen. In the words of Ducati NA general magager Michael Locke "Ducati has a marketing presence and an enthusiast base which belies the company's true size and rivals most other much larger motorcycle manufacturers."
The Classic "prototype' bikes on display at the Show and in the Catalog are clearly finished production bikes with no hand made components or rough fiberglass bodywork. The production Classisc could be rolling off the production line right now, and we guess their immediate on sale availability " Do to Overwhelming Demand"' will be announced to the faithfull at World Ducati Week, May 17-23th at Misano Italy. Complete details and photos of the Ducati Sport Classics HERE.


Cycle World International Motorcycle Show Coverage!
The New 2004 FastDates.com Calendars now available!



Covergirls Janelle, Chandi and Joanna Krupa get down to work
in the 2004 Garage Girls calendar available right here.
Josh Hays to Race
Attack Kawasaki
in AMA Superbike
Dec 20th - Josh Hayes has renewed his contract with the Attack team in AMA for 2004 aboard new Kawasaki bikes. There was initial talk that Josh might go with an in-house Kawasaki factory team until it was decided there would be no factory B team. Personal manager Gina Prochard felt staying with team Attack where he will ride in Superbike and Superstock class.
Team Volvoline Suzuki team owner John Ulrich is said to be extreamely angry as John had expected Josh to return to his team under a factory Suzuki contract. But no firm contract was forthcoming from Suzuki and Gina had a contract in hand from Kawasaki that need to be signed. "Suzuki could have matched and kept us but they did not, and John thinks we're wrong for not staying. they had 4 months to sign Josh and didn't. We just couldn't wait any longer."

FastDates.com Apparel
Cool T-Shirts for fast boys and bad girls. HERE
Superbike girl
Janelle stars in
National Lampoon's Infamous Cuisine
cooking show on
Comedy Central
Dec 20th: Our own FastDates.com Calendar Angel and SBK Fast Dates Ducati Corse umbrella girl for Ruben Xaus, Janelle Perzina is staring in her own new TV cooking show on Comedy Central. Never one to be taken too seriously, Janelle's show on Comedy central is called National Lampoon's Infamous Cuisine.
The show and Janelle take a comedic approach to Penelope Cruz's role in the movie Woman on Top where Tom's squeeze hosts a spicy cooking show to raise ratings. In her own real TV show our Janelle will be whipping up such grade school delicacies as Jello, Smores, and PB & J sandwiches.
---
More Exciting
2004 Calendars!
Click to shop...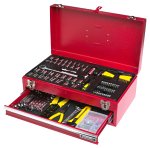 Great Tool Sets
Low prices $$$$


Liz Phair
With songs like "Rock Me All Night Long, Hot White Cum, this sexy songstress needs to be triming your tree this Christmas
---
World Superbikes & Girls
FREE to Paddock Garage Members!
Photos from our upcoming official SBK World Superbike
2005 Fast Dates Calendar
with all the top factory race bike and our beautiful FastDates.com Umbrella Girls.Large Screen Saver Size! See it now for free in Members Corner with your Membership to The Paddock Garage
World Superbike Girls!
Our official SBK Fast Dates World Superbike girls are featured in
Member's Corner!
Get FREE Access with your
Paddock Garage membership.
---
See why we're the best!