Decissions, Decissions! Newly crowned Miss Great Britain 2003 and 2004 Fast Dates Calendar cover girl
Nicki Lane (center facing camera), returns to Laguna Seca in Julyas the offical Team Ducati Corse umbrella
girl, this time for Championship leader Neil Hodgsen. Troy Bayliss ponders his decision to swith to MotoGP.
SBK Superbike Championship Preview: Laguna Seca
Team Ducati Corse pairs Fast Dates cover model
Miss Great Britain 2003 Nicki Lane with
World Championship points leader Neil Hodgsen
London / Bolonga / Los Angeles, May 22nd:
The national competition for Miss Great Britain 2003 took place at Tantra this past weekend, an exclusive theater and club in downtown London before a sell out crowd. The title Miss Great Britain 2003 was won by beautiful professional model, aerobics instructor, theatrical dancer and FastDates.com Calendar model Nicki Lane from the British town of Reading. Nicki simply dazzled on stage and her stunning good looks and sparkling personality to make her the Judges' favorite.

History was made as Nicki, formerly Miss Great Britain 2001, became the first girl to ever win the title twice. Nicki was sponsored for her home country British national pageant leading up to the Miss World competition by the FastDates.com Motorsports Calendars and Website, who's sash she wore on stage during portions of the competition and when she was crowned at the end.
Nicki Lane will be familiar to American sportbike fans who may have seen her in America last summer 2002 where she was working with FastDates.com, serving as an official SBK World Superbike Fast Dates Calendar model at Laguna Seca World Superbike shooting for the calendar in the paddock with the top factory race bikes, and a week later at the Los Angeles Calendar Motorcycle Show. On Sunday at Laguna Seca, Nicki also served as the official Team Ducati Corse umbrella girl for SBK World Superbike Champion Troy Bayliss.
Nicki talked to FastDates.com just after her win - "I'm so excited. I'm staying in London tonight as I'm doing TV interviews all day tomorrow all day tomorrow. I've already been interviewed by MTV and NBC from the states. I've got an incredible story to tell about the pageant and what it took to win. I am ecstatic and its a great plus for the FastDates.com Calendars and all the faith director Jim Gianatsis has had in me. I'm taking every every opportunity to mention to the press that I'm this coming year's cover model on the 2004 SBK World Superbike Fast Dates Calendar, and the great time I had serving as the Team Ducati Corse umbrella girl for World Champion Troy Bayliss at Laguna Seca last year. All things are looking good, and superbike racing is getting great world coverage from it all.
I am look forward to coming back to California with FastDates.com in July for the 2003 World Superbike race at Laguna Seca and The LA Calendar Motorcycle Show ands I'll look forward to meeting everyone who was so nice to me last year. See you soon. Cheers!" -Nicki Lane, Miss Great Britain 2001 and 2003.
Nicki will again be joining us this year as one of our SBK Fast Dates Calendar models at Laguna Seca World Superbike weekend July 10-12th. Paolo Ciabatti, Marketing Director at Ducati Corse, has confirmed our Fast Dates Calendar models again will be the official Ducati Corse team umbrella girls on Sunday for the race and world TV broadcast. And our Miss Great Britain Nicki Lane will serve as Ducati Corse umbrella girl for British National Champion and expected-to-be 2003 World Superbike Champion Neil Hodgsen. We couldn't be more pleased tohave FastDates.com be part of a such a world class championship winning combination - Ducati, Neil and Nicki
---
Sete Gibernau on the start grid on a sunnier day.

MotoGP World Championship Round 4: French Grand Prix at Le Mans
Rossi Leads MotoGP Pack To LeMans
Gibernau's Spanish triple after last lap thriller
May 23/24/25 2003: As the momentum of the European based MotoGP races accelerates to the second
level at the Le Mans circuit this weekend, world championship leader Valentino Rossi (Repsol Honda RC211V), and a strong list of his fellow Honda entrants, approach the race with understandably high levels of confidence. Recent events have given the 2003 MotoGP season an enhanced sense of purpose and focus and after the biggest trackside spectator festival of the season at a flowing and rhythmical Jerez, Le Mans presents an altogether different obstacle. Tight and twisty, with many stop-go corners, Le Mans is a favourite of few, but the same challenge for all.
Honda men pack the top ten in this year's championship standings, even after only three of 16 races. Rossi, something of a modern day racing phenomenon, carries the highest points haul so far, leading Max Biaggi (Camel Pramac Pons RC211V) 70 to 56. Neither rider has been off the podium yet, with Rossi winning at Suzuka and Jerez, while fourth place rider overall, Sete Gibernau (Telefonica Movistar Honda RC211V), took an emotional win at Welkom in South Africa in round two.
Le Mans hosts the French GP for the 15th time, having shared the event over the years with seven other circuits. In last year's MotoGP race rain brought about a premature finish after 21 of a scheduled 28 laps and thus delivered the win to Rossi. Despite this success the 2002 World Champion does not rate the slow sections and tight corners of the Bugatti circuit, a very much shorter 4.18km version of the classic 24-Hour car racing loop. "It's good to be where we are after three races, especially before Le Mans – which is not my favourite track – in fact I don't really like it that much at all," admitted Rossi. " I won there last year, but that was mainly because I managed to get to the front and then the rain fell and they stopped the race, which was lucky for me."
Despite Rossi's great start to the season, realism shines through in his thoughts about how tough this year's competition is. "The team is working well and the bike feels good, but there are many competitive riders and machines," acknowledged Rossi. "Things never get easier and we have to keep up the pressure on them all from the front – the championship is a long one and we have only just begun to see what might happen."
Friday / Saturday Qualifying
Experience showed as Repsol Honda's Valentino secured the pole on Friday and Gauloises Yamaha's Alex Barros a near second behind in second place. Ducati MotoGP Team rider Loris Capirossi once again proved the awesome speed of the Italian factory's Desmosedici MotoGP bike by going third fastest in the afternoon's first qualifying session, putting himself of the provisional front row for Sunday's French Grand Prix. Team-mate and Le Mans first-timer Troy Bayliss spent the day learning his way round the stop-and-go circuit, ending up 14th quickest.
"We have never been here before with this bike but it's working okay, though I still feel something is missing," said Ducati MotoGP Team technical director Corrado Cecchinelli. "I don't know what, or we would already have made the changes! The gearing was wrong this morning, so we've fixed that, now we just need to work at refining our chassis settings. We'll look at the data and work from that for tomorrow. The good thing is that we've made a bigger step than most of the others from morning to afternoon – we are already much closer to pole. Troy, of course, has never been here, so he still has plenty more to come."
Gritty Italian Loris Capirossi fought off the effects of a serious stomach upset to take third spot on the provisional grid this afternoon, eight-tenths off pole. The Ducati MotoGP Team rider has been in and out of hospitals and clinics all week, but that didn't stop him battling for a front-row slot today.
As predicted the weather for the French Grand Prix took a turn for the worse during the final qualifying session today, however cementing MotoGP rookie Marco Melandri's debut front row start for tomorrow's 28-lap race. The young Italian posted a 1'36.161 time aboard his Fortuna Yamaha Team YZR-M1 in yesterday's dry qualifier to be the fourth fastest, from a field of 23 entries. This will only be Melandri's second MotoGP race, since the high-speed incident in Suzuka that put him out of contention for the first two races this season. The talented 20-year-old will start Sunday's main event alongside riders in the calibre of polesitter and defending MotoGP World Champion Valentino Rossi (Honda, 1'35.208), Alex Barros (Gauloises Yamaha Team, 1'35.985) and third place qualifier Loris Capirossi (Ducati, 1' 36.019).
The Front Row: 1). 46 Rossi Honda Repsol Honda 1'35.208; 2). 4 Barros Yamaha Gauloises Yamaha Team 1'35.985; 3). 65 Capirossi Ducati Ducati Marlboro Team 1'36.019; 4). 33 Melandri Yamaha Fortuna Yamaha Team 1'36.161 - 1'36.161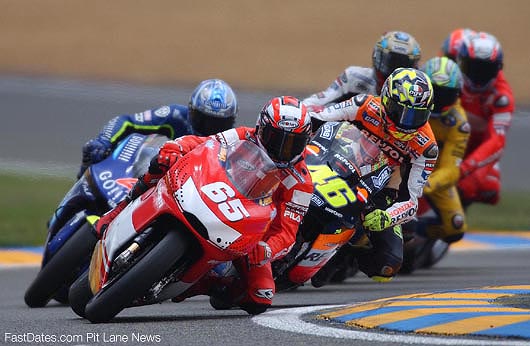 Loris Capirossi (65) led Barros, Rossi, Biaggi, Gibernau and Bayliss until the Ducati left him shiftless.

Sunday's Race
Spain's Sete Gibernau on the Telefonica MovieStar Honda won his second race of the season after battling with Valentino Rossi in an awesome last lap at the GP of France that had been halted by the onset of rain and forced to restart. The Spaniard had the French crowd on their feet after trading positions with the Italian several times in the last five or six corners and holding on to win the Grand Prix under new rules that see the abolishment of the combined times procedure. The race in Le Mans was a 13 lap chase after the interruption by the weather.
Ducati Marlboro Team riders Loris Capirossi and Troy Bayliss had a luckless time at Le Mans this afternoon, both riders exiting from the French Grand Prix in the early stages. Capirossi led from the start and enjoyed a brief tussle with Valentino Rossi (Honda) before encountering a minor technical glitch that forced his withdrawal. Bayliss tumbled out a few laps later, the Aussie uninjured in the fall.
Rain brought a stop to the racing and riders returned to the pits to change tires. Positions in the first ´Leg' ended with Rossi leading and the next four riders disputing second including Tohru Ukawa, Max Biaggi, Alex Barros and Sete Gibernau, determined the ranking on the grid for the second leg.
Barros got the best start from the depleted grid with most of the riders electing to use full wet tyres. Some fantastic but cautious racing took place between Rossi, Gibernau and Barros with the latter pair leading most of the distance until Gibernau and Rossi commenced their charge.

Sete leads Valentio towards the finsih line.

For Yamaha's Carlos Checa it was another disappointing weekend when - after a sturdy start that placed him seventh on the opening lap - the Spaniard highsided his YZR-M1 exiting the first hairpin on lap two. In an attempt to save himself from the fall Checa was flung over the 'bars and his left hand caught under the bike - resulting in a badly grazed thumb. Although unsure of exactly why his race ended in this fashion Checa felt that he may have hit a wet patch, which could have contributed to the fall.
"I lost the rear and just couldn't keep control of the bike," said the disappointed Spaniard. "I'm really not sure if I touched a wet patch or not, but I got on the gas and then I lost control. Gibernau had just passed me and I was next to Biaggi, we were in a very close group and on the exit of the corner I kept the inside line and at that moment the bike just stood up and threw me off. I had followed that same line on the previous lap so I don't know why it happened. It's one of those falls where it's impossible to say why."
MOTOGP RESULTS
1. Sete Gibernau SPA Telefonica Movistar HONDA 24'29.665
2. Valentino Rossi ITA Repsol HONDA +0.165
3. Alex Barros BRA Gauloises YAMAHA Team +1.793
4. Olivier Jacque FRA Gauloises YAMAHA Team +29.912
5. Max Biaggi ITA Camel Pramac Pons HONDA +31.493
6. Jeremy McWilliams GBR PROTON Team KR +33.946
7. Tohru Ukawa JPN Camel Pramac Pons HONDA +35.447
8. Noriyuki Haga JPN Alice APRILIA Racing +36.231
9. Garry McCoy AUS KAWASAKI Racing Team +51.254
10. Colin Edwards USA Alice APRILIA Racing +1'01.802
15. Marco Melandri ITA Fortuna YAMAHA Team +2 laps
DNF - Carlos Checa SPA Fortuna YAMAHA Team
CHAMPIONSHIP STANDINGS
1. Valentino Rossi 90
2. Max Biaggi 67
3. Sete Gibernau 63
4. Alex Barros 46
5. Troy Bayliss 40
6. Tohru Ukawa 32
7. Olivier Jacque 26
8. Nicky Hayden 22
9. Shinya Nakano 22
10. Colin Edwards 18
16. Carlos Checca13
23. Marco Melandri 1
---
Click for a a date with Joanna.
FastDates.com model Joanna takes it to the max in June Maxim
Our featured 2004 FastDates.com Calendar model
Joanna Krupa
is also staring in a sexy 2-page pictorial in the Jun e'03 issue of Maxim magazine photographed by famed fashion photographer Antoni Verglas. But this beautiful Star Seach Spokesmodel winner and Man Show "Juggy" says her most fun experience was shooting with photographer Jim Gianatsis and fellow models Chandi Mason and Janelle Perzina for the next
Garage Girls
,
Iron & Lace
and
Berm Busters
Calendars which premier right here on FastDates.com come July.