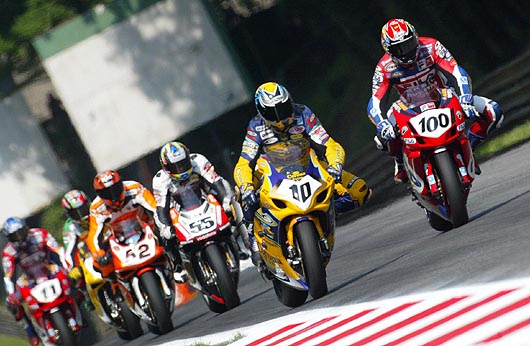 Race Two was a terrific 4-way battle for the lead the whole race that saw Gregorio Lavilla (10) on the Corona Suzuki GSXR1000 and Regis Laconi (55) on the NCR Ducati 998F-02 in the lead a number of times before Neil Hodgson (100) finally got by 2 laps before the finsih to score his 8th straight win on the Fila Ducati 999F-03.
SBK Superbike Championship , Monza Italy Round 4
Incredible 4-way race-long battle for the lead at Monza as Hodgson scores record 8 straight!

Monza Italy May 16-18th: – Neil Hodgson (Team Ducati Fila) took Ducati's World Superbike victory total over the 200 mark at the Autodromo Nazionale di Monza today with another double win, his fourth of the year, in front of 71,000 spectators. In glorious conditions, Neil clinched win #200 when he took the chequered flagin Race One from Regis Laconi (NCR Ducati) and Gregorio Lavilla (Suzuki). "I had a two second lead on the last lap – he declared - but then I got held up by the back-markers as we went through the chicane and I lost a lot of time. I then eased off towards the end to take the win but I didn't realise everyone else was so close behind me. Now that I've got this 200th win and Troy's record for six wins on the run at the start of the season out of the way, I feel a lot more relaxed for the second race".
Neil then added another win to his total after a superb four rider scrap in Race Two with Lavilla, Laconi and Frankie Chili which went down to the line. "It was fun out there battling elbow to elbow at 190 km/h" declared Neil, "and hats off to Gregorio who rode a fantastic race. Frankie and Regis were also unbelievably aggressive but safe. I had no plan for race 2, I was just lucky, and ended up in the right place at the right time. All sorts of things happened to me out there, the bike wasn't perfect at the front, I ran over the kerb at the chicane and then after a flying start I lost touch for a few laps. But I managed to focus on the race, get back with the leading group and win. I'm really happy I could get the 200th win for Ducati today".
A difficult day for team-mate Ruben Xaus after his dramatic crash yesterday. Ruben was declared fit to race but made contact with Walker during the first lap of race 1, recovering well to finish seventh. Race 2 went much better as the Spaniard battled for fifth with Toseland (HM Plant Ducati) for a number of laps before crashing out at the Ascari chicane on the penultimate lap. "The whole weekend has been a nightmare" commented Ruben. "I just got started in the first race before Walker touched me and I went into the gravel trap. Then in race 2 I lost the front end at Ascari, it was my mistake. I was having problems with the brakes the whole race and I just went down. I thought I could get some points from this weekend, I'm still second in the championship but now I just need to put this one behind me, concentrate on the next races and score some points".
SUPERBIKE RESULTS
Race 1: (Laps 18 = 104,274 Km - Avg. 191,693 km/h) Pos /Rider /Nat. /Team /Gap
1/N.HODGSON/GBR/Ducati Fila/
2/R. LACONI/FRA/Caracchi NCR Nortel Net./0.352
3/G.LAVILLA/ESP/Alstare Suzuki/0.389
4/J. TOSELAND/GBR/HM Plant Ducati/0.396
5/P. CHILI/ITA/Team PSG-1/1.617
6/C.WALKER/GBR/HM Plant Ducati/24.138
7/R. XAUS/ESP/Ducati Fila/30.889
8/M.BORCIANI/ITA/D.F.X. Racing Team/31.609
9/S. MARTIN/AUS/D.F.X. Racing Team/32.877
10/L. PEDERCINI/ITA/Team Pedercini/35.902
11/A. GRAMIGNI/ITA/Nuvolari 391/41.700
12/V. IANNUZZO/ITA/Alstare Suzuki/45.872
13/T. CORSER/AUS/Foggy PETRONAS Racing/54.204
14/M.SANCHINI/ITA/Kawasaki Bertocchi/1'13.406
15/S. FOTI/ITA/Team Pedercini/1'27.704
Fastest Lap 6° Neil Hodgson 1'47.715 193,611 Km/h
Race 2 : (Laps 18 = 104,274 Km -Avg. 191,390 km/h) Pos /Rider /Nat. /Team /Gap
1/N.HODGSON/GBR/Ducati Fila/
2/G.LAVILLA/ESP/Alstare Suzuki/0.044
3/P. CHILI/ITA/Team PSG-1/0.657
4/R. LACONI/FRA/Caracchi NCR Nortel Net./0.998
5/J. TOSELAND/GBR/HM Plant Ducati/6.379
6/C.WALKER/GBR/HM Plant Ducati/27.289
7/S. MARTIN/AUS/D.F.X. Racing Team/39.585
8/M.BORCIANI/ITA/D.F.X. Racing Team/39.820
9/V. IANNUZZO/ITA/Alstare Suzuki/39.881
10/L. PEDERCINI/ITA/Team Pedercini/43.406
11/A. GRAMIGNI/ITA/Nuvolari 391/51.240
12/M.SANCHINI/ITA/Kawasaki Bertocchi/57.491
13/G.BUSSEI/ITA/UnionBike GiMotorsport/57.503
14/S. FOTI/ITA/Team Pedercini/1'30.656
15/W.TORTOROGLIO/ITA/White Endurance/1'41.410
Fastest Lap= 7° Régis Laconi- 1'47.909- 193,263 Km/h
Riders Championship Standings:
1 HODGSON 175, 2 XAUS 115, 3 LAVILLA 91, 4 LACONI 83, 5 TOSELAND 80, 6 WALKER
58, 7 MARTIN 49, 8 CHILI 43, 9 BORCIANI 40, 10 PEDERCINI 38, 11 CORSER 35, 12
BORJA 28. 13 CLEMENTI 25, 14 SANCHINI 23, 15 IZUTSU 20.
Ducati's 200 wins come in 16 years of World Superbike racing and Neil is the 18th rider to win on a twin-cylinder machine from the Borgo Panigale factory.The full list with number of wins is as follows: Carl Fogarty (GB) 55, Doug Polen (USA) 26, Raymond Roche (FRA) 23, Troy Bayliss (AUS) 22, Troy Corser (AUS) 16, Giancarlo Falappa (ITA) 13, Pierfrancesco Chili (ITA) 11, Neil Hodgson (GB) 10, Ben Bostrom (USA) 7, John Kocinski (USA) 5, Ruben Xaus (ESP) 2, Mauro Lucchiari (ITA) 2, Marco Lucchinelli (ITA) 2, Stephane Mertens (B) 2, James Whitham (GB) 1, Andreas Meklau (A) 1, Anthony Gobert (AUS) 1, John Reynolds (GB) 1.
Carl Fogarty scored Ducati's 100th win in Austria in 1975 with a Ducati 916 bearing the #1 in honour of his championship win the previous year, while fellow Brit Hodgson has now taken Ducati's 200th win at Monza with the #100 plate. The wins have been achieved in the following years: 1988 – 2; 1989 – 5; 1990 – 9; 1991 – 23; 1992 – 20; 1993 – 19; 1994 – 12; 1995 – 20; 1996 – 14; 1997 – 9; 1998 – 10; 1999 – 16; 2000 – 5; 2001 – 15; 2002 – 14; 2003 – 7 (until Monza race 1).

On the podium at Monza with (left to right) Regis Laconi, Ducati president and Neil Hodgson, and Gregorio Lavilla.
Vermeulen Takes Outstanding 600cc Supersport Win at Monza
Making a perfect start from the front row after qualifying second on the grid, World Championship leader Chris Vermeulen (Ten Kate Honda CBR600RR) took an immediate and unchallenged advantage in the 16-lap Supersport race, outpacing the entire field to secure a record breaking victory at Monza. His fastest lap of 1:52.635 was a new record by almost 1.5 seconds, and Vermeulen enjoyed a 9.120 second margin of victory over Yamaha rider Jurgen van den Goorbergh.
Pole position man Karl Muggeridge (Ten Kate Honda CBR600RR) looked to be in position to score a Honda and Ten Kate 1-2 but he was forced to retire from the race on lap five, after dropping from second to last place with a burnt out clutch. Nonetheless, another Honda rider, Iain Macpherson (van Zon Honda CBR600RR) secured third place, his first podium of the season. A strong ride at the head of the first tailing group could not be maintained by Sebastien Charpentier (Team Klaffi Honda CBR600RR) but the Frenchman picked up a useful ten points for his sixth place finish. Charpentier's team-mate Robert Ulm scored 11th, with the distant Christophe Cogan (BKM Honda CBR600RR) overcoming the pain of a pre-race crash to finish one place behind in 12th. Cogan's fellow BKM rider Broc Parkes was 15th, Werner Daemen 17th after he could not get his engine to rev out on the straights.
Vermeulen now sits on 81 points in the championship standings, 29 clear of Katsuaki Fujiwara (Suzuki), with van den Goorbergh and Christian Kellner (Yamaha) on 51 and 46 points respectively. For Vermeulen his second Supersport victory was as sweet as his first Phillip Island win, even if he did downplay his personal performance.
"My start was pretty good and I was expecting Karl to come past but I didn't see anyone. I read my pit board after about four laps and I had plus six so I turned around and there was no one there. I wondered what had happened and if the whole field had been wiped out or something. The team have worked really well this weekend with my injury and Pirelli gave us the perfect tyre for the race. The Ten Kate Honda is always fast and it was really quick here so all I had to do was sit on it and ride it around."
---

Mladin's winning streak ended in Saturday's race with a blown Dunloip rear tire. Matt returned on Sunday to the top of the podium.
AMA Superbike Championship , Road Atlanta Round 5
Yoshimura Suzuki GSXR1000's
1-2 punch with Yates and Mladin
Maladin Tops Qualifying Sheet on Friday, Blown Dunlop Tire
brings his winning streak to an end on Saturday in Race One

Braselton, Georgia, USA, May 16-18th: – Mat Mladin has set the fastest time during the opening qualifying session for this weekend's double header AMA Chevy Trucks US Superbike Championship round at the Road Atlanta circuit in Braselton, Georgia. The Yoshimura Suzuki rider set a time of 1-min 23.520-secs to head an Australian one – two at the top of the timesheets as Anthony Gobert posted his best qualifying result of the season with a 1:24.304 aboard his Ducati.

Rain threatened throughout the day, but held out long enough for the days practice and qualifying sessions be completed, but the one-hour afternoon qualifying session was disrupted by two serious incidents that forced the officials to stop proceedings on each occasion before the session was finally completed. Mladin continues to be the form rider of the championship having won four of the opening five races of the season and arrived at the round holding the points advantage over his rivals before taking to the circuit and dominating both the free practice session in the morning, then the important afternoon qualifier.

"It was important to get in a good lap time today as no-one is real sure as to what the weather will do tomorrow," said the three-times American Superbike champion. "We managed to get a pretty good set up early on with the bikes, but as usual we are always trying to make them better. This afternoon it was a bit difficult to get a clear lap in. There was a lot of traffic out there and you had to plan it as best you could to get a clear break to allow a good shot at a fast lap. Itt all worked out well at the end, so we'll just and see what tomorrow brings."

Third fastest was Mladin's teammate Aaron Yates with a time of 1:24.368, followed by American Honda's Ben Bostrom who completes the front row of the grid with a time of 1:24.474.

QUALIFYING, Friday – AMA Chevy Trucks US Superbike Championship (Top 10)
1. Mat Mladin (Yoshimura Suzuki) 1:23.520 mins
2. Anthony Gobert (Ducati Austin) 1:24.304
3. Aaron Yates (Yoshimura Suzuki) 1:24.368
4. Ben Bostrom (American Honda) 1:24.474
5. Eric Bostrom (Team Kawasaki) 1:24.512
6. Miguel DuHamel (American Honda) 1:24.645
7. Kurtis Roberts (Erion Honda) 1:24.825
8. Larry Pegram (Dream Team Ducati) 1:25.905
9. Josh Hayes (Suzuki) 1:26.414
10. Steve Rapp (Valvoline EMGO Suzuki) 1:26.543
Saturday Race One
Aaron Yates picks up the win as team mate Mladin's winning streak ends with a bang
Saturday's first round was won by Aaron Yates on the Yoshimura Suzuki GSXR1000, a local rider from Georgia with extensive experience at the track when his teammate and Series points leader Matt Maladin was forced out of the lead of the race dramatically when his rear Dunlap tire exploded and shreaded apart. It was Aaron's first AMA professional win at his home track. Eric Bostrom was 2nd on his Kawasaki ZRX750RR with Kurtis Roberts on the Erion Honda RC51 in third.
Kurtis Roberts, almost fully recovered from injuries suffered in a motocross accident less than a month ago, scored a pair of podium placings in the AMA Superbike double-header held in humid and threatening conditions at Road Atlanta, just north of Atlanta, Georgia. Roberts rode his Honda RC-51 to a third place finish on Saturday, behind Aaron Yates and Eric Bostom, Kurtis' best finish since finishing third in the Daytona 200, and third again on Sunday, this time less than a second behind the second placed rider, Kawasaki's Eric Bostrom, who'd also finished second on Saturday.
The three Honda riders were just off the podium in the Saturday's Superbike race when disaster struck the race leader, Suzuki's Mat Mladin. Speeding down the back straight at around 290 kph, Mladin suffered a rear tire blow-out on the 11th of 25 laps. Mladin wrestled the machine to a stop, slowing to a near stop 125 meters before tipping over at low speed. The fallout would affect the Honda trio.
Firstly, it put Kurtis Roberts into third, earning him his second podium of the season. Secondly it ended the charge of Miguel DuHamel. DuHamel's crew chief, Al Ludington, radioed the veteran French-Canadian to let him know about the tire problem, and that he was on the same compound tire. DuHamel immediately backed it down to finish a cautious 11th. Ben Bostrom had a tire problem of a different sort. The former World Superbike campaigner tried a different rear tire, and gambled on set-up, but knew he was doomed from the start.
Bostrom was with the leading quintet, despite his vision troubles. In the final laps he was making a run toward the podium when the race was stopped. DuHamel had less success. From the start he was nearly sightless and riding with one arm. His left collarbone was so sore that he opted out of the early Pro Honda Oils Supersport race, won by Suzuki's Ben Spies. Erion Honda's Alex Gobert was fourth in a race that had been led by his teammate Roger Lee Hayden.
Kurtis Roberts, Third Place, Saturday "If we run like today, we're going to get our ass kicked again. I'm with Eric [Bostrom] on the new section. I hate it. I'm losing so much time through there it's sick. It's hurting my arm with my shoulder that I hurt a few weeks ago and it just wrecks the racetrack. It had a nice flow and everything before. If we can just figure out how to get through there without losing a second, I think we'll be right there with the guys. I'm really struggling with whatever it may be. May arm is not as strong as it was, so it gets tired out there. I'd say I'm about 80 or 90 percent right now. I'm fine on the rest of the racetrack, it's just a struggle throwing that thing around on the new section."
Ben Bostrom, Fifth Place, Saturday "I just picked the wrong tire. I picked a strange Japanese tire. That was the end. On the first lap I knew it. I couldn't flick it into the corner. Unbelievable. I'm totally out of this race. I took a couple of laps on it in practice and that tire was fine. I put this one on and it was crap. I gambled on the bike a little bit too. I made it a little bit too nervous. Usually we'll gamble to make it steer better, but I couldn't hang on to the thing. Plus that rear tire was exceptionally bad. I messed up. I knew we were out of the race. It's heartbreaking. And the race is 100 lapper. I didn't want to start the race in the first place like that. It just wouldn't end. I swear to God, when he threw the crossed flags, I thought, "Is that the checkers? because I've been out here a long time."
Miguel DuHamel, 11th Place, Saturday "I was entertaining the thought of giving Kurtis (Roberts) a run for his money. Then over the radio, Al (Ludington) told me what happened to Mat (Mladin), told me I was on the same tire. Asked me if I had a vibration. I said, 'Yes, I do have a vibration.' I just shut her down and just tried to ride around. I was trying to the best I could. The place I was losing the most time was down the back straight. I was only 9000 in sixth gear. The thing goes up to 12000 almost. And that's a big difference. That's where those guys were making time. They'd pass me and I'd follow them all the way back to that turn and I'd think, there's no way I'm going wide open here. Even on the last lap they were not that far away from me."
Sunday Race Two
Maladin Back on Top
Braselton, Georgia, USA (Sunday, 18 May) – A day after surviving a high speed tyre failure, Mat Mladin has responded in the best possible way by taking victory in today's seventh round of the 2003 AMA Chevy Trucks US Superbike Championship being held at the Road Atlanta circuit in Braselton, Georgia. The win was Mladin's 19th career AMA Superbike race win, his fifth for the season and has now closed to within two points of current championship points leader, Yoshimura Suzuki teammate Aaron Yates, who after winning yesterday's excitement filled race, came home fourth today.

After the drama's of yesterday's race when his rear tyre exploded at over 280kph (170mph) while in the race lead, Mladin, along with a number of other riders, was forced to use a different rear tyre on his Suzuki GSX-R1000 after Dunlop recalled the particular type of tyre that failed on Mladin's bike yesterday, while they investigate the reasons for it occurring.
Sunday the air was thick with humidity, with the threat of thunderstorms, and almost everyone in the field, including the eventual winner, Suzuki's Mat Mladin, complained of visor fogging. Kurtis Roberts took the lead on the third of 25 laps, holding off Mladin until the seventh when Roberts dropped to second, a spot he held until the 15th lap when he fell to third, where he'd finish.

Starting from pole position for today's race, Mladin made a steady start as he reacquainted himself with the circuit and a different rear set up. He worked his way up to the race lead by passing Erion Honda's Kurtis Roberts on lap seven. From that point, he went about steadily building a comfortable margin over his rivals before the race was cut short on lap 21 of the scheduled 25 after two separate incidents forced officials to bring out the red flag. The race was calculated back to the positions held on lap 20 and with 60% of the race run, it was declared completed and the victory awarded to Mladin.

"After the problem we had yesterday, Dunlop essentially gave us tyre to use today that was a bit slower, but one they felt was a lot safer," said Mladin. "It was the same rubber compound, but just made from a different construction, but everyone had to use it. In the race today, I just did what I had to do. I wasn't pushing the rear tyre around that fast kink as much as I was yesterday."

"What else can you say about the weekend? We arrived here with a 24-point lead and dominated, but left with a two-point deficit, so that's not a good feeling. We should have had a full race points lead by now, but instead we've got a bit of work to do over the next few weeks."

Team Kawasaki's Eric Bostrom moved his way past Roberts to claim second, with Roberts holding on for the final podium position just ahead of Yates and Ben Bostrom (American Honda).
Kurtis Roberts, Third Place, Sunday "It's still a bit tough for me – the new section. I just can't get through there as well as these guys can and I have to make up the rest of the lap for all the ground I lose there. It's the same thing. We all had to change tires because I was on the same one that Mat [Mladin] used yesterday. We switched today and my bike wasn't hooked up as well as it was all weekend. Maybe the track temperature was a little too cold or something, but it went as well as it could have today. Mat was riding well, as was Eric [Bostrom]. I close up on Eric there and then we got the yellow and red flags, so that was kind of disappointing, but I did as well as I could have today."

The American Superbike Championship reaches its mid point over the next few weeks, with round eight held at the Pikes Peak circuit in Colorado on June 1, followed a week later by another double header round at Road America, Elkhart Lake, Wisconsin.
Saturday Superbike Race:
1. Aaron Yates (Suzuki), 2. Eric Bostrom (Kawasaki), 3. Kurtis Roberts (Honda), 4. Anthony Gobert (Ducati)
5. Ben Bostrom (Honda). 6. Larry Pegram (Ducati), 7. Jordan Szoke (Suzuki), 8. Michael Barnes (Suzuki)
9. Geoff May (Suzuki), 10. Shawn Higbee (Suzuki)
Sunday Superbike Race:
1. Mat Mladin (Suzuki), 2. Eric Bostrom (Kawasaki), 3. Kurtis Roberts (Honda), 4. Aaron Yates (Suzuki)
5. Ben Bostrom (Honda), 6. Jason Pridmore (Suzuki), 7. Larry Pegram (Ducati), 8. Anthony Gobert (Ducati)
9. Miguel DuHamel (Honda), 10. Shawn Higbee (Suzuki)
AMA Championship Point Standings:
1. Aaron Yates (214), 2. Mat Mladin (212), 3. Eric Bostrom (202), 4. Ben Bostrom (194), 5. Kurtis Roberts (189), 6. Miguel DuHamel (163), 7. Larry Pegram (148), 8. Shawn Higbee (141), 9. Vincent Haskovec (127), 10. Jason Pridmore (125)