NEW!!! FastDates.com Apparel
The New 2004 FastDates.com Calendars now available!

Covergirls Janelle, Chandi and Joanna Krupa get down to work
in the 2004 Garage Girls calendar available right here.
MotoGP 2004 Rider Lineup
waiting for Rossi's shoe to drop on Monday after final Valencia Race
Valencia, Italy, Oct 30th: Next year's MotoGP rider lineup will all come come down to the wire after this weekend in Valencia, Spain, site of the final round of the MotoGP World Championship. One rider's decission will have a domino affect through the MotoGP and World Superbike grids, including the the AMA Superbike championship.
Repsol Honda's five-time World Champion Valentino Rossi will set the dominos in motion when he makes the announcement who he will be riding for in 2004, and it most certainly won't be Honda. At Thursday's MotoGP press conference Valentino said he he had no news yet about his future, but that a senior Honda representative (HRC Managing Director Koiji Nakajima) was on his way to Spain from Japan, where he would make an announcement on Sunday, after the race. The word is that Rossi and Honda are parting ways, the rumor that has has been running rampant for weeks.
Valentino's new ride seems to be Yamaha, although which team isn't certain.Still in the ring is Marlboro Ducati, with a very senior Phillip Morris (parent company of Marlboro) executive expected to turn up at Valencia on Friday. Marlboro has the most resources to throw at Rossi, but the Italian has repeatedly said it's not about the money. Although we still think the young Italian hero would rather win his next (or final before retirement) championship titles on an Italian marque rather than Japanese.
The unresolved question is who will team with Nicky Hayden in Valentino's seat on the factory Repsol Honda squad? Alex Barros, currently enduring a through a lack luster season on the Gauloises Yamaha, is being considered, partly because the Brazilian could bring added revenue from Repsol YPF, the South American arm of Repsol, the largest oil company in Spain and current Honda team sponsor. Alex won a number of races when he switched from the two-stroke Honda NSR-500 to the Honda RC-211V in 2002 and any success he might have would validate the feeling among certain people at Honda who aren't trying very hard to keep Rossi, because they believe it's the bike, not the rider, that matters.
Colin Edwards,meanwhile, is almost certain to be going back to his home at Honda where he won two World Superbike titles. On Friday, Edwards is expected to announce that he'll be with the Telefonica MoviStar Honda team as the teammate of MotoGP runner-up Sete Gibernau. That would leave GP rookie Ryuichi Kiyonari without a ride.
Noriyuki Haga, Edwards' Alice Aprilia teammate, is among those in the mix to head to America. Haga spoke with Paolo Ciabbati, Ducati's World Superbike and AMA marketing director, at the final WSB round in Imola and has been telling people that he's headed for the America.
The rider expected to be taking the Ducati ride in the U.S. is Spaniard Ruben Xaus. But Ruben would rather move to MotoGP on the expected Luis d'Antin Ducati team with WSB Champion Neil Hodgson, also en route to Valencia where he'll announce that he's joining the d'Antin team. Current wisdom suggests d'Antin will keep Shinya Nakano, simply because he knows the tracks and is a solid top 10 performer. If Nakano stays, and there's no room for Xaus, look for the Spaniard to make the reluctant move to the Ducati Austin team.
Also visiting Valencia was Kurtis Roberts, formerly of Erion Honda, who has already said he won't be in America next year. If Curtis moves to MotoGP, the most probable spot would be on his father's Proton KR team, though the current riders, Jeremy McWilliams and Nobu Aoki have recently both lauded the progress of the five-cylinder and expressed the desire to remain with the team. There is that empty seat at Aprilia....
Chandi gets STUFF'ed
Our SBK Fast Dates & Ducati Corse Calendar girl and test rider Chandi Mason is featured in the current November '03 issue of STUFF magazine. You go girl!
Click to see more of Chandi.
---
More Exciting
2004 Calendars!
Click to shop...
---
Ducati 999 / 749
Superbike Tuning and Setup Tips now in
Paddock Garage
HERE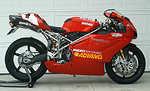 For Sale
Ducati 999 Performance Exhaust System
Origionally purchased for our 999 project bike, this Kit No.96432403G is the factory Termignoni Asymmetric Stainless Steel System for the 999S ( will also work on the 999) and features the 6 pound lighter straight-through non-cat track silencer with recalibrated CPU for a broad acropss the powerband 5hp increase. Kit includes larger diameter header pipe for the front cylinder, race air filters and carbon fibre heat shield for the silencer. Retail price $1,500.

Our selling price: $1,200 New .
Phone Jim at 818.223.8550.
---
ABE TO REPLACE INJURED MELANDRI FOR VALENCIA GRAND PRIX
Ost 23rd: The Fortuna Yamaha Team has announced today that Norick Abe will ride as a
replacement for Marco Melandri at the season-closing Valencia Grand Prix in Spain on Sunday 2nd November. Melandri will undergo an operation to his
right shoulder on Monday 27th October in Forli, Italy so will be forced to miss the last round of the 2003 MotoGP World Championship.

New 1000cc Superbikes!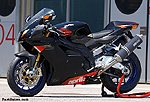 New Aprilia RSV1000R
First Look and Track Test!

New Suzuki GSXRs