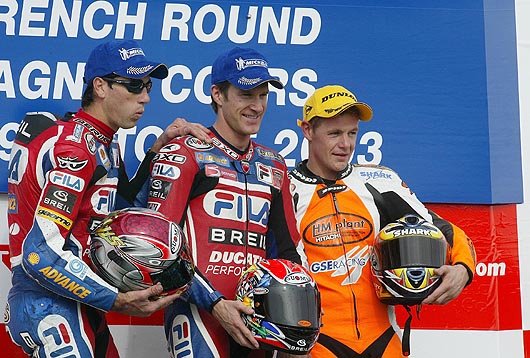 The next to last podium of the 2003 World Superbike season with First Race winner and new champ Neil Hodgson flanked by team mate and Second Race winner Ruben Xaus, and GSE Racing's Chris Walker. Hodgsen and Xuas are now expected to comprise Ducat's 2nd MotoGP team for 2004, and Walker may return to British Superbike with the withdrawl of his GSE team from racing as the talent pool in WSB continues to disappear.
SBK World Superbike Championship, Magney--Cours, France, Round 12 of 12
SBK World Superbike final race from France
Magney-Cours, France, Oct; 17-19th:
QUALIFYING & SUPERPOLE
Ducati Fila riders Neil Hodgson and Ruben Xaus both improved on their Friday qualifying times to end up with front-row grid positions for tomorrow's final round of the 2003 World Superbike championship at Magny-Cours. Ducati Fila's confirmed 2004 riders James Toseland (HM Plant Ducati) and Regis Laconi (Ducati NCR) will join them on the front row, with youngster Toseland setting his first-ever pole position.
After qualifying ninth yesterday, the new world champion asserted his authority in Superpole with a confident run to second place behind Toseland. "We put the bike back to how I normally have it after changing it too much yesterday and I felt much happier today," declared Neil."For Superpole I had to use my spare bike because when I came in after the warm-up, my race bike had an alternator problem. No excuses, but that bike didn't just feel the same over one lap and it stopped me from pushing that little bit harder. It's just a shame that we are racing in France this time of year because although the circuit is fantastic and we all love racing here, there have been too many crashes because of the cold conditions," he added.
Team-mate Xaus felt much happier today on the second Ducati 999 and powered to the fastest time in the morning's second and final session before gaining the final front row slot with fourth place in Superpole.
"I'm happy because I'm on the front row for the races tomorrow after taking such a long time to get the bike set-up to my liking the last two days," declared Ruben. "In Superpole I had to wait until I was last out and it was probably just that little bit colder for me to get some more heat in the tyres for my quick lap. The track is difficult because of the weather conditions but it's really nice to race here. I'll give everything tomorrow because it's the last race of the year in Superbikes and it's sure to be a tough battle at the front against the other three guys".
RACE DAY
The World Superbike finale at the new venue of Magny Cours in France was as incident packed as anyone could have expected, and proved to be a happy hunting ground for the Ducati Fila riders, Neil Hodgson and Ruben Xaus – although Xaus left France the happier rider.
Race One
Hodgson made a brisk start in race one, coming off the line from a front row grid position, before tangling with his old HM Plant Ducati team-mate James Toseland. The latter had won his first career Superpole the day before the races, and was in determined form. He was to slip down the order to fifth after his tyre choice proved fallible. Xaus had shaken of a less than perfect start to run out second, shadowing but not quite able to reach Hodgson. Hodgson had the bizarre experience of his boot fastenings coming loose mid race, although the distraction proved unimportant to the final result.
Each factory Ducati rider set a new lap record in the final stages of the first race, with Hodgson taking the best at this new Magny Cours track layout, with a 1:41.227 on lap 22 of 23. He would later improve that in race two to the new race best of 1:41.219.
A dust-up between Chris Walker (Ducati) and Gregorio Lavilla (Suzuki) went the way of Walker in the opener with Lavilla fourth. Lavilla was once more easily the best four-cylinder rider in the field.
Race Two
Race two gave Xaus his seventh race win of the 2003 season, riding from a terrible start to the win by ten seconds. His constant late race companion Hodgson crashed, shortly after setting his new lap record in his pursuit of a fleeing Xaus.
James Toseland's second place finish in race two gave him third overall in the title race, after local rider Regis Laconi (NCR Ducati) scored sixth and a no score for 16th. Laconi pitted in race two and ended up back out with the leaders, albeit one lap down.
Toseland's team-mate Chris Walker took his second third place finish of the day in the second leg, from Lavilla and privateer rider Steve Martin (DFX Ducati 998RS). Martin's finish matched his best of the season at Valencia, using a new type of Pirelli tyre.
In the World Championship Hodgson's 13 wins have contributed massively to his final total of 489 points, with Xaus second on 386, having taken seven wins. Toseland – with one glorious Oschersleben win to his credit - has 271, and Laconi dropped from third to fourth overall with 267 points and no wins. Walker rode his heart out for his podium finishes, securing sixth in the championship, while Pierfrancesco Chili (PSG-1 Ducati) suffered the agony of a double DNF and remained on the 197 points he came to France with. He finished seventh overall – although he has the personal satisfaction of a race win nestling in his list of 2003 results.
Steve Martin's season in SBK delivered him eighth overall placing, from Pedercini Ducati rider Lucio Pedercini and Martin's own team-mate Marco Borciani. The bizarre happenings at Magny Cours included a crash on the second race warm-up lap for Troy Corser (Foggy Petronas FP-1). His eight place in race one was encouraging for his team but James Haydon, in his last races for the Anglo-Malaysian race team, crashed after Ivan Clementi clashed with him in race one, and then fell in a single rider incident later in race two. Corser finished the championship in overall 12th, losing out to Borciani and Mauro Sanchini on the final day of action in the 2003 season.
Superbike Race 1: (Laps 23 = 101,453 Km)
Pos /Rider /Nat. /Team /Gap
1/N.HODGSON/GBR/Ducati Fila/39'03.738
2/R. XAUS/ESP/Ducati Fila/0.348
3/C.WALKER/GBR/HM Plant Ducati/13.711
4/G.LAVILLA/ESP/Alstare Suzuki/13.950
5/J. TOSELAND/GBR/HM Plant Ducati/21.480
6/R. LACONI/FRA/Caracchi NCR Nortel Net./32.420
7/S. MARTIN/AUS/D.F.X. Racing Team/41.098
8/T. CORSER/AUS/Foggy PETRONAS Racing/41.204
9/J. BORJA/ESP/D.F.X. Racing Team/1'18.737
10/M.SANCHINI/ITA/Kawasaki Bertocchi/1'30.317
11/S. FUERTES/ESP/MIR Racing/1'46.534
12/C. ZAISER/AUT/Racing Team Zaiser/1'48.154
13/B. STEY/FRA/White Endurance/1 Lap
14/F. PROTAT/FRA/UnionBike GiMotorsport/1 Lap
15/H. SAIGER/AUT/Remus Racing Austria/1 Lap
Fastest Lap 22° Neil Hodgson 1'41.227 156,871 Km/h
Superbike Race 2 : (Laps 23 = 101,453 Km)
Pos /Rider /Nat. /Team /Gap
1/R. XAUS/ESP/Ducati Fila/39'02.330
2/J. TOSELAND/GBR/HM Plant Ducati/10.435
3/C.WALKER/GBR/HM Plant Ducati/10.582
4/G.LAVILLA/ESP/Alstare Suzuki/22.253
5/S. MARTIN/AUS/D.F.X. Racing Team/35.564
6/L. HASLAM/GBR/Renegade Ducati/35.865
7/J. BORJA/ESP/D.F.X. Racing Team/56.719
8/S. GIMBERT/FRA/SERT/1'00.813
9/I. CLEMENTI/ITA/Kawasaki Bertocchi/1'02.307
10/M.SANCHINI/ITA/Kawasaki Bertocchi/1'03.456
11/L. PEDERCINI/ITA/Team Pedercini/1'33.537
12/A. GRAMIGNI/ITA/Nuvolari 391/1'41.234
13/B. STEY/FRA/White Endurance/1 Lap
14/M.BORCIANI/ITA/D.F.X. Racing Team/1 Lap
15/F. PROTAT/FRA/UnionBike GiMotorsport/1 Lap
Fastest Lap 17° Neil Hodgson 1'41.219 156,884 Km/h
2003 Riders Championship Final Standings:
1 HODGSON 489, 2 XAUS 386, 3 TOSELAND 271, 4 LACONI 267, 5 LAVILLA 256, 6 WALKER 234, 7 CHILI 197, 8 MARTIN 139, 9 PEDERCINI 112, 10 BORCIANI 111, 11 SANCHINI 108, 12 CORSER 107, 13 BORJA 87, 14 CLEMENTI 76, 15 BUSSEI 52.
2003 Manufacturers Final Standings:
1 DUCATI 600, 2 SUZUKI 306, 3 KAWASAKI 130, 4 PETRONAS 118, 5 YAMAHA 69, 6 HONDA 1.
Supersport Championship to Karl Muggeridge, Team Kate Honda
In the 11th and final round of the Supersport 600cc World Championship, Karl Muggeridge (Ten Kate Honda) scored another race win, his third straight success after victories in Assen and Imola. His team mate, and new champion, Chris Vermeulen, took second, and achieved his personal ambition of going over 200 points, with a total of 201. Next season the Kate team will move to the World Superbike class with the new Honda CBR1000 Fireblade.
Third in the race went to the forceful Jurgen van den Goorbergh (Yamaha Belgarda), who regained overall third in the series with his last gasp overtake of Sebastien Charpentier (Klaffi Honda CBR600RR). Stephane Chambon (Alstare Suzuki) took fifth and thus second in the series, ahead of van den Goorbergh and final fourth placed Karl Muggeridge. Such was the closeness of the fight for second that Chambon's total was 137, van den Goorbergh's 136 and Muggeridge's 134. Pere Riba (Kawasaki Racing Team ZX-6RR) rode assuredly on a fading rear tyre to take sixth in France, his team-mate Foret having pulled in to retire. The Kawasaki duo ended the season with Foret ninth and Riba 11th in the title chase.
SUPERSPORT: RACE : (Laps 23 = 101,453 Km)
Pos /Rider /Nat. /Team /Gap
1/K. MUGGERIDGE/AUS/Ten Kate Honda/40m 24.892s
2/C. VERMEULEN/AUS/Ten Kate Honda/3.543
3/J. VD GOORBERGH/NED/Yamaha Belgarda/6.338
4/S. CHARPENTIER/FRA/Team Klaffi Honda/6.565
5/S. CHAMBON/FRA/Alstare Suzuki/8.737
6/P. RIBA/ESP/Kawasaki R.T. KRT/14.446
7/M.LAGRIVE/FRA/Yamaha France - Ipone/23.042
8/C. KELLNER/GER/Yamaha Motor Deutschland/23.908
9/C.COGAN/FRA/Yamaha France - Ipone/24.138
10/W.DAEMEN/BEL/Van Zon Honda T.K.R./30.680
11/S. SANNA/ITA/Yamaha Belgarda/30.977
12/J. DA COSTA/FRA/ART/38.228
13/G.NANNELLI/ITA/Lorenzini by Leoni/50.712
14/M.SCHULTEN/GER/Alpha Technik-Honda/51.336
15/L. HOLON/FRA/Yamaha Racing France/52.527
Fastest Lap 10° Karl Muggeridge 1'44.643 151,750 Km/h

2004 Riders Championship Final Standings:
1 VERMEULEN 201, 2 CHAMBON 137, 3 VD GOORBERGH 136, 4 MUGGERIDGE 134,
5 FUJIWARA 119, 6 KELLNER 90, 7 CHARPENTIER 72, 8 CORRADI 68, 9 FORET 64,
10 TEUCHERT 60, 11 RIBA 59, 12 COGAN 51, 13 PARKES 47, 14 MACPHERSON 31,
15 NANNELLI 31.

2004 Manufacturers Final Standings:
1 HONDA 247, 2 SUZUKI 187, 3 YAMAHA 182, 4 KAWASAKI 106.
---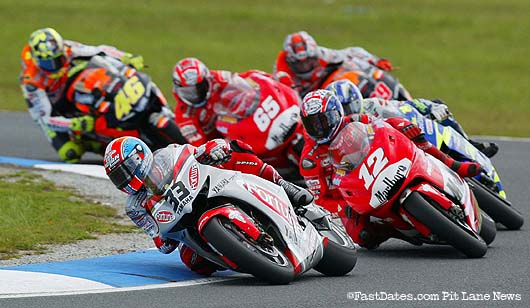 It was exciting to see Marco Melandri (33) on the Yamaha leading lap one in a 10 rider group that included Bayliss (12), Gibernau, Capirossi, Hayden and Rossi.
MotoGP World Championship, Phillip Island, Round 15 of 16
Rossi wins the most exciting race of the season,
overcoming 10 second penalty
Phillip Island, Australia, Oct 17-19th: As an onshore wind blew across the Bass Strait in southern Australia, Valentino Rossi (Repsol Honda RC211V) stormed to his eighth win of the season in front of an enthralled 45,000 crowd. The World Champion was unmatched in speed and determination as he faught his way through an exciting 10 rider battle for the lead in the opening laps, and then decimated the field and overcame a 10 second penalty he was given for overtaking under yellow flags. Loris Capirosssi (Ducati) was second with America's Nicky Hayden (Repsol Honda RC211V) taking the final podium spot in third.
SATURDAY QUALIFYING - Team Ducati shares the front row with Honda
Valentino Rossi (Repsol Honda RC211V) rode to his eighth pole position of the season here at Phillip Island on the wild southern coast of Australia. In the sun and the refreshing sea breeze blowing off the Bass Strait, he set a 1m 30.068s lap that was to end up a full 0.42 seconds faster than anything his rivals could manage. Loris Capirossi and his Aussie team-mate Troy Bayliss put their Ducatis in second and fourth place respectively, while Sete Gibernau (Telefonica Movistar Honda RC211V) qualified third.
With second place overall in the MotoGP World Championship still left to fight for, Gibernau showed he still has the spirit for the struggle. After watching his title challenge, which looked so strong in the mid-part of the season, finally wither and die during these three 'flyaway' races which push riders, teams and machines to the absolute maximum, Gibernau still has the challenge of Max Biaggi (Camel Pramac Pons RC211V) to fend off.
Gibernau seemed almost to 'ghost' to his third place on the grid. While most eyes were on Capirossi and Bayliss, who had headed the timesheets yesterday, until Rossi spoint the party with a last gasp 1m 30.632s lap. The red riders looked in good enough shape today to do further damage to Rossi's time.
But they reckoned without Rossi's canny approach to using qualifying tyres. At Sepang last week Rossi opted to fit the super-sticky Michelin rubber halfway through the final session. Here he pitted with ten minutes to go and fired in the 1m 30.068s time that looked in no danger of being bested. Riders were trying hard, but the clock showed the futility of their efforts.
"Our work here was good," said the newly-crowned and now three times World Champion in the premier class. "We've got a good set-up and I think we'll be able to get into a good rhythm. The race will be tough for sure. The Ducatis are going well, and of course so are the other Honda's. I feel good without the pressure of the Championship."
Ducati MotoGP Team riders Loris Capirossi and Troy Bayliss will start tomorrow's Australian Grand Prix from the front row of the grid after storming rides in this afternoon's final qualifier at Phillip Island. In unusually warm conditions the pair ended the session second and fourth quickest, giving the team high hopes of running up front in the race, the penultimate round of the 2003 MotoGP World Championship.
"We're very happy because both our riders have a good race pace and they're both on the front row, which is where we need to be," said Ducati MotoGP Team technical director Corrado Cecchinelli. "This is the toughest track for tyres, it's especially hard on the left side, so this is the kind of place where you can't choose your race tyre based purely upon performance. Both Loris and Troy used the last hour to test race tyres with their bikes set the same as this morning. Both did more than half-distance endurance runs, then when we felt we could get pole, both had a go on qualifiers."
This is the second time that both Ducati MotoGP Team men have qualified on the front row in the Desmosedici's debut season. In May Capirossi and Bayliss qualified first and second quickest for the Spanish GP at Jerez.
Loris Capirossi was delighted with his pace in today's two sessions. The Ducati MotoGP Team rider made excellent progress with his race set-up, leaving himself enough time to have a tilt at pole position, using a soft Michelin qualifying tyre for his final run. He ended the day 0.458 seconds off pole in second spot for his 11th front-row start from the year's first 15 races.
"I'm very satisfied because today's sessions have confirmed that the bike is behaving well over race distance," said Capirossi who has started from pole position on three occasions this season. "I used the same rear tyre throughout the final session and I ran a good race pace, only fitting a qualifying tyre at the very end. The fact that both Troy and I are on the front row here confirms that the bike has improved a great deal since we tested here ten months ago. I'd like to thank the team because they've worked so well this weekend. I think we can use what we've done here as a reference point, a direction in which to work for the future. I have only one worry for tomorrow – that it will rain…"
Gibernau, who crashed at the high-speed turn one yesterday, was happy with his 3rd place starting position today. "We've worked towards race set-up and I've done enough laps on the race tyre to feel I can run at a good rhythm. I've felt a little dizzy today but positive about tomorrow. I'm starting from the front row and hopefully I can be back on the podium."
Ducati MotoGP Team rider Troy Bayliss gave his enthusiastic home crowd what it wanted today – a top-four qualifying performance that gives the Aussie his first front-row start since May's Spanish Grand Prix. Bayliss achieved fourth-fastest time this afternoon despite a mid-session spill at Lukey Heights which left him nursing minor grazes and bruises.
"This is the first time in a while that I've been up front in qualifying and I'm feeling pretty good," said Bayliss who is currently fifth overall in the World Championship and top-placed rookie. "My race pace is good, not as good as some guys but I think we should go all right tomorrow. I want to finish in front of Hayden and Ukawa to help me in the championship, anything more than that will be a bonus. The crash happened when I was testing a harder front tyre – I was trying hard, the conditions were a little windier today, so it didn't work out. And maybe I could've been a bit quicker on my run with a qualifying tyre but I'd used the tyre by the time I got to the last two lefts."
Nicky Hayden (Repsol Honda RC211V) had another storming final qualifying session, but the American rookie sets high standards for himself. Most riders would be reasonably content with a grid slot in fifth at the front of the second row, but not Nicky.
"I really thought I could get on the front row today," he said. "But I didn't and that's a bit of a bummer. But fifth is equal to my best this year, so I'm sort of happy. The session was good, I got into a good rhythm and then right at the end with the qualifying tyres I got a good first lap and then hit some traffic that messed me up."
Max Biaggi was also in buoyant mood with 6th on row 2. "We haven't made huge progress," he said. "But we haven't gone backwards either, which explains why today's times are so similar to yesterday's. We've made some improvements to the mapping of the engine, but the machine still slides a lot coming onto the main straight, but then again everyone is sliding there."
THE RACE
After two days of qualifying in bright sun and dry conditions, raceday began with a heavy rainfall. The 125 race was run in a downpour, the 250 Grand Prix on a wet track that began to dry in the final laps, and the MotoGP showdown on a dry but dirty surface that was to cause riders enormous trouble.
There was an almost tangible intensity to this next-to-last round of the sixteen race World Championship and when Max Biaggi (Camel Pramac Pons RC211V) fired his machine into the lead at turn one from the second row of the grid, the action never let up for a second. Immediately there was a tightly packed group of 10 riders battling for the lead in what quickly proved to be the most exciting race of the season, so far, in a year that has already proven to be the most exciting in the premier class of GP racing in a decade.
Biaggi quickly relinquised his lead when he ran wide at turn two to home town hero Troy Bayliss on the Ducati Desmodici who pulled out a small margin in the first two laps, but was quickly reeled back in by his 9 persuers including front runners Sete Gibernau (Telefonica Honda) and Marco Melandri on the factory Fortuna Yamaha in his best ride of the season.
Melandri made impressive and immediate progress in the opening stages, slipping into fourth by turn one, third by the end of the first lap, then clinching the lead on lap two. The Italian held on to the lead until lap
four, after some sensational passing moves, when Ducati rider Troy Bayliss ran into the back of Melandri's M1 as they tried to out maneuver each other braking hard into a high speed corner, forcing the 250cc World Champion back to third. Bayliss crashed heavily and lay frighteningly motionless at the trackside before recovering consciousness in the medical centre. He was then sitting-up and talking, but was airlifted to Melbourne for a thorough check-up, where he was pronounced fit and well.
Rossi took the lead in the chaotic aftermath of the crash, relieving early leader Sete Gibernau (Telefonica Movistar Honda RC211V) of his second place and then early lap leader Marco Melandri (Yamaha) of his leadership on that same lap. But it was to cost Rossi a 10 second penalty on the the very next next lap as the lead group came round and Valentino was in the process of passing the leaders for first place and failed to notice the course worker's yellow (no passing) flag off to the side of the track where Bayliss was being attended to.
Melandri had recovered his Yamaha from the incident in second place behind race leader Valentino Rossi, who wouldn't get the race official's sign board notifying him of the penalty until almost mid race. At that point Rossi was holding just a 2.5 second lead and technically Melandri was now leading the race at the beginning of that 13th lap when Rossi received the 10 seconds penalty.
Once aware of the penalty, Rossi put his head down and quickly began knocking off a string of unbelievable record setting laps nearly 1 second per lap quicker than his persuers. With just 2 laps remaining to the finish, Valentio pulled his gap ahead of Melandri beyond 10 seconds as was now back in the lead of the race. Melandri tried to match the pace, only to highsided his Yamaha on the final lap as Rossi regained the lead by his necessary 10 second penalyty margin. Marco limping away from the incident and with a dislocated right shoulder and haematoma to his left heel.
Behind them, America's Nicky Haded found himself in an incredible 3-way battle with Loris Capirossi, Set Giberneau and Biaggi's team mate Tohru Ukawa on the other Camel Honda. It proved to be Nicky's finest ride of the season as he crossed the finish line ahead of them in 3rd to show how he had evolved and matured in his first season in MotoGP.
Biaggi, who relinquished the lead at turn two on the opening lap when he ran wide, also crashed when Bayliss' debris of dust and smashed machine temporarily obscured his vision. He was to remount and finish a distant 17th after losing two laps while struggling with his crashed machine in the grass run-off area at Honda Corner.
Rossi meanwhile, had worked his way through his punishment with measured speed. He reeled off fastest lap after fastest lap in his successful bid to put 10 seconds between himself and Capirossi in second. On lap seven the gap was 1.3 seconds. By lap 23, with four to go, the gap was 10.4 seconds and the champ had put in the fastest lap of the race on lap 18 at 1m 31.421 seconds.
"That race was incredible," said Rossi. "I knew I had a good rhythm, perhaps better than the others. It was dangerous because everyone was very aggressive at the start and with the strong wind the bike was very difficult to control. I saw my pit board and saw 'less 10' and didn't know what it meant. Afterwards I thought yellow flag, but I didn't see any flag. I've never ridden a race like that at 100% all the time."
Hayden was overjoyed with his achievement of a podium in his first year of MotoGP. "I really wanted a legitimate podium and now I've got one," he said. "I wanted to go with Valentino and Capirossi, but I just couldn't match their speed. But I got Ukawa and then Gibernau on the last lap. Hopefully the best is yet to come."
Gibernau was intent on wrapping up second place in the World Championship – which he did with his fourth place. "Obviously I would have liked to be on the podium," he said. "But I am very satisfied. All season I've taken each race as it comes, but here I was thinking of the bigger picture, especially as we had such a tough weekend crashing in qualifying."
Tohru Ukawa (Camel Pramac Pons RC211V) finished fifth after getting in among the fast men early in the race and contributing massively to the three-way dust-up for third place that had the enthusiastic Aussie crowd enraptured for the second half of the race.
Results MotoGP
Race Classification MotoGP : (27 laps = 120.096 km)
Pos/Rider /Nat /Team /Motorcycle /Time/KM/H
1/Valentino ROSSI /ITA /Repsol Honda /HONDA/41'53.543/172.006
2/Loris CAPIROSSI /ITA /Ducati Marlboro Team /DUCATI/41'58.755/171.650
3/Nicky HAYDEN /USA /Repsol Honda /HONDA/42'05.582/171.186
4/Sete GIBERNAU /SPA /Telefónica Movistar Honda /HONDA/42'05.613/171.184
5/Tohru UKAWA /JPN /Camel Pramac Pons /HONDA/42'05.837/171.169
6/Olivier JACQUE /FRA /Gauloises Yamaha Team /YAMAHA/42'21.560/170.110
7/Shinya NAKANO /JPN /d'Antín Yamaha Team /YAMAHA/42'21.587/170.108
8/Carlos CHECA /SPA /Fortuna Yamaha Team /YAMAHA/42'33.655/169.304
9/Kenny ROBERTS /USA /Suzuki Grand Prix Team /SUZUKI/42'34.953/169.218
10/Makoto TAMADA /JPN /Pramac Honda /HONDA/42'43.445/168.658
11/Jeremy McWILLIAMS /GBR /Proton Team KR /PROTON KR/42'44.803/168.568
12/John HOPKINS /USA /Suzuki Grand Prix Team /SUZUKI/42'47.644/168.382
13/Gerry McCOY /AUS /Kawasaki Racing Team /KAWASAKI/42'48.322/168.337
14/Noriyuki HAGA /JPN /Alice Aprilia Racing /APRILIA/42'55.063/167.897
15/Andrew PITT /AUS /Kawasaki Racing Team /Kawasaki/42'59.623/167.600
Fastest Lap: Valentino ROSSI 1'31.421 175.154 Km/h Lap 18
World Championship Positions:
1 ROSSI 332, 2 GIBERNAU 257, 3 BIAGGI 215, 4 CAPIROSSI 161, 5 HAYDEN 130,
6 UKAWA 123, 7 BAYLISS 119, 8 CHECA 112, 9 NAKANO 101, 10 BARROS 91,
11 TAMADA 81, 12 JACQUE 71, 13 EDWARDS 54, 14 HAGA 46, 15 MELANDRI 45.