The Graves Formula Extreame R1 Yamaha, was also eligible for AMA Superbike this season, but Yamaha wouldn't let them go up against the factory teams without a front line rider. Take a good look, it might be the last you'll see of a really modified 1000cc in-line four in a AMA roadracing for a while. You can also see why we like twins.
Is AMA Superbike dead in 2004? Will it be another Ducati playground, Suzie?
U.S. Suzuki throws hissy-fit,
threatens to pull out of AMA Racing!
9/25/03: Word was circulating around the pits at the final AMA Superbike round at Barber Raceway last week that U.S. Suzuki had drafted a letter to the AMA, threanening to pull out of AMA racing in 2004. This was later confirmed by Suzuki Vice president Mel Harris who said, "Suzuki feels that under the new proposed rules there is not parity, not an even playing field."
Harris was referring to the new Superbike rules for 2004 which will be in conformity with the rules also used in World Superbike, British and European Superbike, which will limit extensive bike modifications and turn Superbike into a more production oriented class like European SuperStock. In particular, the new Superbike Rules will require the 1000cc Japanese in-line fours to retain stock throttle bodies and airboxes. This restricts the huge horsepower gains the factory teams have been able to achieve in the past over privateer teams, including using exotic 'homoligated" race induction systems that really weren't available or affordable to privateer teams.
Meanwhile the V-twins like Ducati and Aprilia will be able homoligate one additional throttle body and airbox system should they choose. And with Ducati's World Championship winning factory team rider and bikes expected to come AMA racing in 2004, the U.S. Japanese distributor teams are shaking in their boots
"I think to go back to the stock throttle bodies, stock airboxes... so many of the things that reduce the potential horsepower -Superbike then becomes nothing more than a Superstock class. Already some manufacturers are not going to be in Superbike, but rather Superstock."
Two other U.S. distributors besides U.S. Suzuki contemplating not returning to AMA Superbike in 2004 with their new all 1000cc machines, but expected to be competing in 1000cc Superstock are Yamaha and Kawasaki. But the reasons are two fold: Without a factory World Superbike effort to develop the new bikes there just won't be any hot tuning parts like cams and pistons available for the new engines. The U.S. distributor teams certainly don't have the staff or the budget to develop the trick parts needed for AMA Superbike like new cam profiles, higher compression pistons, new computer maping programs and the like.
It is ironic that the change of Superbike to an across the board 1000cc engine limit this season, and with all the Japanese manufacturers creating all new 1000cc machines for the class, manufacturers now don't want to race them in either world or national championships. Much of the blame can be placed at the success of the new MotoGP 4-stroke Championship which pulled away the manufacturers from World Superbike, and in an attempt to survive, FG Sports was forced to modify the rules to support the privateer teams running production equipment. If the earlier proposed WSB intake restrictor rules allowing highly modified engines had stayed in place, the privateers would have had even less of a chance against any factory teams their might be. At least now with the tighter rules and no restrictors, there is parity for everyone.
But in America, the AMA has compounded the rules and class problem even more. They have changed the highly popular 1000cc Formula Extreame Class (because it essentially is now the new 1000cc Superbike class), and require it to run detunde the 1000cc bikes to Superstock specs so they aren't a fast as the Superbikes Then this new Extreame class gets mixed with the discontinued 750cc Superstock and 250cc GP Classes into one super mess. Then replacing the popular old 750cc Supersport Class is a 1000cc Supersport class, effectively creating 3 different classes for 1000cc sportbikes. How stupid is that! See 2004 AMA Rules Fiasco.
This new 1000cc Superstock class is probably where all the U.S. distributor teams will be going to race their new 1000cc inline fours with their Superstock engines. Meanwhile U.S. Suzuki is mad as hell because they no longer have a specific 750cc class to race and showcase their most popular selling sportbike the GSXR750.
"We have to race our 750 somewhere,'" explained Harris. "We have a Suzuki 750 Cup in the United States, and we also have a World GSXR-750 Suzuki Cup. We have to have a place for these riders to run other events the rest of the year. With all the money I put into AMA with all the events and things like that, jeez, I could run my own Suzuki National Championship and put in on TV and do just as well (as the AMA)."
---
Pirelli appointed exclusive tyre supplier for the 2004 World Superbike, Supersport and European Superstock Championships
A level playing field, production standards guarantee quality, reliability and performance continuity, and prize fund of $300,000 euros and equal opportunities for young up-and-coming riders
Imola, 26th September 2003 – From the 2004 season Pirelli will be the exclusive tyre supplier for the World Superbike and Supersport and European Superstock Championships. The agreement reached with the FGSport Group on the 31st of July will continue through to 2005 and commits Pirelli to supplying tyres for all the teams competing in the 45 races in 10 different countries for the World and European Championship titles.
This programme will allow all participants to compete on equal terms with regards to tyres, making the efforts of the bike constructors, the teams and the riders all-important. In accordance with the wishes of the FIM (International Motorcycling Federation), the World Superbike Championship thus returns to its origins as a category for bikes with features and characteristics as close as possible to those of production machines.
For Pirelli, the agreement with FGSport has the immediate significance of valorising the investment programme initiated in 2000 with the company's participation in the Supersport Championship and continued the following year with the debut of a development team in the World Superbike Championship.
With its long-term commitment to production motorcycle racing throughout the world, Pirelli is now in a position to confirm the continuity of its know-how in the technological development of racing tyres, offering a product with uniform high performance characteristics. The agreement for the exclusive supply of tyres for the Superbike, Supersport and Superstock championships represents the logical development of Pirelli Moto's competition strategy.
The standardisation of the industrial process will allow Pirelli to make highly specialised and reliable tyres with absolutely consistent performance available to every team and manufacturer. In this sense, the application of Pirelli's "Zero Degree" metal belt production technology to all the covers is a guarantee of quality and neutral performance with respects to the diverse characteristics of the racing machinery.
However, standardization does not mean "a single tyre for all". The development of the Pirelli range for the 2004 World and European championships will, as ever, be guided by the adaptation of the product to the meteorological conditions and the varying track characteristics: this fine-tuning will be conducted in partnership with the development teams to be defined by FGSport together with bike manufacturers.
Pirelli will provide the teams with a range of tyres with different specifications, designed and tested to be capable of tackling the various World Championship circuits and the foreseeable temperature, wear and stress conditions, while maintaining the highest levels of safety. In particular, three dry covers will be developed for each circuit. This programme will fully respect the "fair conditions" guideline guaranteed by FIM supervision of the use of the tyres assigned to the teams at every race.
Pirelli's participation as exclusive supplier of tyres for the Superbike, Supersport and Superstock Championships also involves a significant commitment in industrial, logistical and organizational terms: over 50,000 tyres will be manufactured and distributed during the course of the season, requiring considerable physical and human resources.
With the objective of guaranteeing optimum service from the points of view of quality and rapidity, Pirelli plans to create two specialist working areas for each race: one exclusively for the Superbike Championship with slick tyres and 16.5" rims, the other dedicated to the Supersport and Superstock categories for the fitting of DOT tread tyres on 17" rims.
"We race the tyres we sell, we sell the tyres we race"; for Pirelli there is more than technology to the agreement with FGSport; the exclusive tyre supplier is, in fact, committed to promoting the Championships during the course of the season using all the available media, from TV to the press and Internet in order to widen awareness of the Superbike Championship.
Pirelli's decision to provide a prize fund of 300,000 euros to be dedicated to the riders through the association of racing teams is also of great significance. The company has taken on this new challenge with the aim of making an important contribution to the emergence of numerous young riders in conditions of equal opportunities among the various teams. www.pirellimoto.com
---
Xaus leads new world champ and team mate Hodgson through the chicane.


SBK World Superbike Championship, Round 11 of 12, 2nd Italian Round
Xaus Flawless In Imola Double
Imola 28 September 2003: Neil Hodgson (Ducati Fila 999 F03) may have shared wins with his team-mate Ruben Xaus at the previous Assen round but this weekend the continuing growth of Xaus as a global force was demonstrated perfectly with two convincing race wins. The tall Catalan rider rode hard from green light to flag and forced Hodgson into two errors, which gave him a narrower win in race one and a clear margin of victory in race two.
Hodgson may have been held back by the presence of two backmarkers in race one but outbraked himself in race two, running off the track. Saving the situation with aplomb Hodgson did not crash, but rejoined in fifth, finishing his race in fourth after the chequered flag was shown.
Regis Laconi (Ducati NCR Nortel 998RS) did his championship challenge a world of good with a third and second place finish in the races at Imola, especially as his big championship rival James Toseland (HM Plant Ducati 998F02), retired in race one with a broken gear linkage and crashed in race two.
Gregorio Lavilla (Alstare Suzuki GSX-R1000) was the first four-cylinder rider home in race two, in a fine third place after an early four-way fight between Laconi, Toseland, Lavilla and Chris Walker (HM Plant Ducati 998 F03). He took fourth in race one, during a lonely ride to the first non-podium placing. Walker finished his weekend with a race one crash and a race two fifth place, the sensation of race one being Pierfrancesco Chili (PSG-1 Ducati) who stalled on the line and then rode though to fifth. He ended race two with a technical retirement.
The best private rider on show was different in each race, Steve Martin (DFX Ducati Pirelli) following in the tracks of Chili in race one, and Lucio Pedercini (Pedercini Ducati 998 RS) scoring a great sixth place. The Foggy Petronas triple of Troy Corser was in good form in comparison to the early season races, delivering Corser a pair of seventh places. James Haydon, his team-mate, ran off the track and then had a technical failure in race one, and followed that up with another technical failure in race two.
Mauro Sanchini (Kawasaki Bertocchi ZX-7RR), Ivan Clementi (Kawasaki Bertocchi ZX-7RR) and Marco Borciani (DFX Ducati 998RS) took the last places in the top ten in race one, Sanchini, Juan Borja (DFX Ducati 998RS) and David Garcia scoring those finishes in the second 21-lapper.
In the championship Hodgson and Xaus are safe in first and second places, with 464 and 341 points respectively, while Laconi has leapfrogged his way to third place in the classification, with 257 points to Toseland's 240. Lavilla is the top four-cylinder rider, in fifth with 230.
In the World Supersport Championship Chris Vermeulen (Ten Kate Honda CBR600RR) and Honda took the Riders' and Manufacturers' crowns respectively after Karl Muggeridge (Ten Kate Honda CBR600RR) won the race and Vermeulen finished second.
It was Muggeridge's second straight win, following up on his devastating pole time, although another Aussie, wildcard rider Kevin Curtain (Yamaha Motor Germany R6) took the new race lap record of 1:53.122 before retiring with a worn out gear linkage.
Vermeulen is now the youngest ever rider to win the championship, at the tender age of 21.
Jurgen van den Goorbergh (Yamaha Belgarda R6) returned to third in the championship after scoring third in the Imola race but for the Alstare Suzuki pairing of Stephane Chambon (fourth) and Katsuaki Fujiwara (a retiree through crashing) Imola marked the end of their championship aspirations. Chambon now sits second overall, on 126, with van den Goorbergh third on 120 and Fujiwara static on 119.
FINAL ROUND: The final round of the 2003 World Superbike Championship will take place on October 19th at the Magny-Cours Formula 1 circuit in France, which last hosted an Superbike race in 1991. Hodgson and Xaus's Ducati 999 bikes have been running Magny-Cours WSBK promotion stickers on their swing-arms since the Assen round.
RACE 1: 1. Xaus (Ducati Fila); 2. Hodgson (Ducati Fila); 3. Laconi (NCR Ducati); 4. Lavilla (Suzuki); 5. Chili (PSG-1 Ducati); 6. Martin (DFX Ducati); 7. Corser (Petronas); 8. Sanchini (Kawasaki); etc.
RACE 2: 1. Xaus ; 2. Laconi; 3. Lavilla; 4. Hodgson; 5. Walker (HM Plant Ducati); 6. Pedercini (Ducati); 7. Corser; 8. Sanchini; etc.
POINTS: Riders - 1. Hodgson 464; 2. Xaus 341; 3. Laconi 257; 4. Toseland 240; 5. Lavilla 230; 6. Walker 202; etc. Constructors – 1. Ducati 550 ; 2. Suzuki 280; 3. Kawasaki 117; 4. Petronas 110; 5. Yamaha 63; 6. Honda 25.
---
Will Rossi get bored of winning on the Honda and move to Ducat next year?
Rio Moto Grand Prix at Jacarepagua, Round 12
Rossi's Rio Win Secures
Manufacturers' Crown for Honda
Nelson Piquet Circuit, Jacarepagua, Brazil, September 19th :Valentino Rossi (Repsol Honda RC211V) scored a controlled and cool race win at the Rio GP and in the process delivered himself his sixth victory of the year, his third in succession and the MotoGP Manufacturers Title to Honda. Honda has now won 15 such honours in the premier class of GP racing. Complete Race Coverage HERE.
---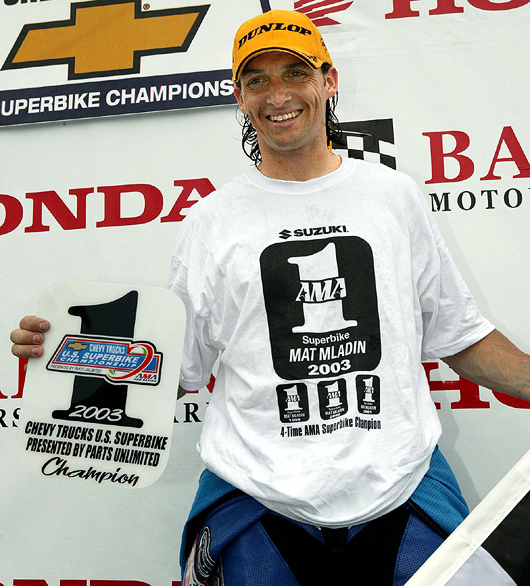 The man we love to hate (or hate to love?), Australian Matt Mladin wins his 4th consecutive Number One.
Mat Mladin clinches his 4th consecutive AMA Superbike Title at Barber Season Finale
Aaron Yates Tates Home the Bacon at Barber on Saturday
Burmingham, AL, Sept 20-21st: Despite facing the fiercest race action of the season, Yoshimura Suzuki's Aaron Yates had no choice but to impress in Race One todayon Saturday if he wanted to keep his slim title hopes afloat for tomorrow's Race two final in The AMA Superbike National Championship. The Georgian did come through in a major way, surviving an epic multi-rider battle at Barber Motorsports Park to take his eighth career Chevy Trucks U.S. Superbike victory. Complete Race Coverage HERE.