FastDates.com's Calendar Shoot with Penthous Pet Martina Warren featured on Speed TV's American Thunder Tuesday June 10th!
American Thunder segment on Speed Channel Tuesday, June 10th at 7:30pm ET 9:30pm PT. Re Broadcast on Tuesday, July 29th at 7:30pm ET and 9:30pm PT.
This American Thunder program features one of the hottest new FastDates.com Calendar girls, barely legal 19 year old centerfold Martina Warren, Penthouse Pet and cover model January 2003, in a photo shoot with some hot custom bikes from Iron & Lace calendar sponsor Performance Machine. The Iron & Lace calendar shoot shoot takes place inside the high security confines of a Los Angeles County power generating plant with reknown photographer Jim Gianatsis and features two great custom V-Twins built by Performance Machine's Roland Sands, one a contemporary red Chopper and the other a silver Bar Hopper, both running PM components and Mikuni HSR Carbs. Martina's TV Calendar Shoot • Martina in Members Corner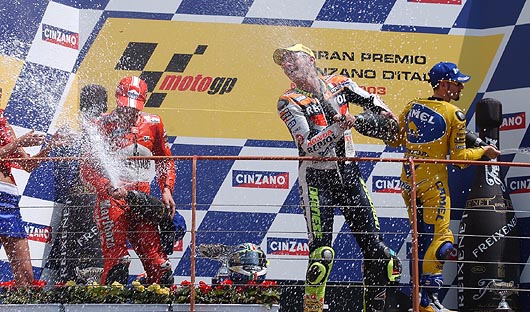 Italian Grand Prix at Mugello 6/7/8 June 2003
A 3-way Domestic Dispute sees Rossi on top in Italy
Capirssi brings Ducati home 2nd ahead of Biaggi in a Honda sandwich
Mugello, Italy, Raceday Sunday June 8: A sun-baked crowd of 73,000 race fans lined the Tuscan hills of the majestic Mugello track to see Valentino Rossi (Repsol Honda RC211V) reign supreme in a thrilling race that was typical of the superb action this 5.245km track usually provides. Loris Capirossi (Ducati) was second finishing his team's home GP in a fighting second place, just 1.4 seconds down on winner Valentino Rossi. It was a remarkably determined performance from Capirossi and his Desmosedici V4 – the Italian factory competing in its first home GP in 31 years in front of 72,000 enthusiastic fans. And it was a major victory for Ducati to place 2nd on its home track just 4 races into the season with its first-ever MotoGP machine, soundly trouncing the 3 other major and more experienced GP bike manufacturers from Japan. Max Biaggi (Camel Pramac Pons RC211V) finished third in what was an exciting race long 3-way battle for the lead among Italy's top three MotoGP stars.
Temperatures rocketed into the 35 degree range and the track tarmac was scorched to 47 degrees by the beating heat as the grid lined up for a race where the sense of anticipation was palpable. With the three Italian main men on the front row headed by Rossi, and joined by Yamaha interloper Shinya Nakano, the first turn action would be intense.
It was Capirossi who launched his Ducati off the line best and he emerged from turn one in the lead from Biaggi and the flying Nakano. Rossi was down in seventh but in typical fashion he scythed his way through to fourth in the space of the first lap. Capirissi maintain his lead position for 6 laps as Rossi continued to move up and caught Max Biaggi for third. The two Honda riders played a late breaking game from 200 mph at the end of the main straight in an attempt to get the best of each other. Rossi finally got by after 3 laps and set after leader Capirissi.
By lap five Nakano had been dispensed with by the home trio and the stage was set for some epic encounters along Mugello's undulating series of off-camber turns and blind approaches. Biaggi went through to lead when Capirossi drifted wide at turn one, now approached from at least 328km/h (200mph) by the top men. Then Rossi squeezed past Capirossi and the three knew they were in for a fight. The crowd knew it too and every time a move was pulled the crowd went berserk – this was epic stuff. So intense was the battle that no rider could accept being overtaken without coming straight back at the overtaker – to the extent that Biaggi and Capirossi were side by side bashing fairings for at least half of lap 16. One incident shown on world TT saw the two riders litterally crashing together in one corner and bouncing off each other while never backing off the gas.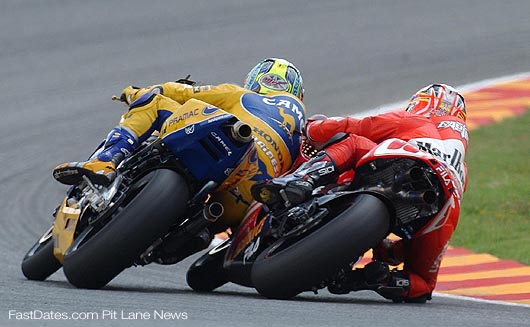 Rossi and Capirissi try to outstuff each other for the inside line with fully body contact at 100 mph!

Eventually Rossi pulled cleart to hold the lead, but Capirossi hounded him all the way to the line and Rossi's 1.4 second winning margin at the flag hardly reflects the effort he had to put in to achieve it, or the pressure he was under from two riders that never gave up the chase. Biaggi would back off slightly in the closing laps as he found himself a having to settle for third from the determined capirossi.
Rossi's 53rd career win and his third this season was hard-earned. "That was a great show for everybody," he said. "We were all three at the front and we had a great fight for the win. I would like to congratulate Max and Loris because they rode very well. At about half way through the race Max and Loris were fighting and it was possible to take some advantage. And at the end I just concentrated and kept my rhythm."
"This is fantastic – it feels as good as a win," said a sweat-drenched Capirossi. "It's a great day for Ducati, for all of us, and for the fans. I tried my best – got into a good rhythm from the start, but then Max and Valentino came. Valentino was so fast, then I had a big fight with Max. It was so difficult to overtake him but my bike had fantastic top speed, so I was able to do it. Then I gave 105 per cent over the last few laps. I caught Valentino a little, but with one lap to go I saw the gap was too much, so I just made sure I finished."
Biaggi knew he'd made a major contribution to a storming race. "Third is a decent result but I really want to win," he said. "I made a good start and I tried my best to hang on to the front but then Rossi came and then Loris passed me at the end of the straight. We passed and re-passed each other many times and had a good fight. Nobody crashed and I think we put on a great show for the fans."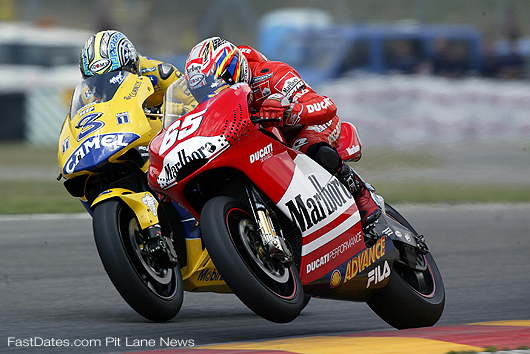 Another rider who never gave up was fourth-placed rookie Makoto Tamada (Pramac Honda RC211V) who got an appalling start from the third row of the grid and charged through the field respecting neither reputations nor conventional corner lines as he bulldozed his way through. "I had a terrible, terrible, terrible start," he said. "And that was a terribly, terribly, terribly tough race. I knew what the tyres could do and I knew I'd made the right choice for the race. There was lots of overtaking but no strategy from me. You don't wonder whether to squeeze past on the brakes or whatever – you just think about stepping on it and pushing forward."
Tohru Ukawa (Camel Pramac Pons RC211V) was unhappy with sixth. "I almost crashed passing Checa on the straight and I ran out of braking area," he said. "It was hard today but I can't be satisfied with the result, sixth is just not good enough and Catalunya can't come soon enough for me."
Ducati MotoGP Team rider Troy Bayliss rode a typically tough race at Mugello today – fighting back from a third-row start to move into sixth place on lap nine. But two laps later he crashed. "It's not been a great weekend," said the Aussie who had struggled during practice to find the right set-up for this technically challenging track. "The race was going okay, though the rear tyre I'd chosen wasn't going to plan. I thought I had it under control, I was riding hard, trying to bridge the gap, had a few moments with the front, then just crashed. I really hate not finishing races and that's two races in a row I've not.
Sete Gibernau (Telefonica Movistar Honda RC211V) was another disappointed rider, unhappy with seventh. And after his Le Mans win two weeks ago, the Spaniard was never really in the running here. "We had one problem after another," he said. "We already knew that the bike wasn't accelerating as it should and we paid for that in the race. In any case we could have done a lot better with what we had. Luckily we're in Barcelona next and we can sort it out there."
American rookie Nicky Hayden (Repsol Honda RC211V) had a torrid time on his first visit to this demanding environment and finished 12th. "Not a lot of fun really," he said. "I never felt comfortable all weekend and I'm not sure if it was just the fact that I was trying to learn the place or we really needed to make some big changes here."
---
Maladin fought off the Hondas of Duhamel and Roberts on Saturday.
AMA National Superbike Championship Round 6, Elkhart Lake
Honda's Roberts and DuHamel play second fiddle
Underdog Kawasaki takes the Championship points lead
Mladin and Bostom trade wins at Road America
Elkhart Lake, WI, June 7-8th, 2003: Mat Maladin on the Yoshimura Suzuki GSXR10000 dominated in the dry on the high-speed four-mile Road America track, in Elkhart Lake, Wisconsin, taking the win in Saturday's first race of the AMA/Chevy Trucks U.S. Superbike doubleheader. American Honda's Miguel DuHamel was second, just 0.280 seconds behind the winner, with Erion Honda's Kurtis Roberts less than half a second behind in third, followed by American Honda's Ben Bostrom.Team Kawasaki's Eric Bostrom took victory in Secend's event his second for the season, and finished 32.823 seconds clear of Mladin's teammate Aaron Yates, with Larry Pegram (Dream Team Ducati) third.
Saturday Race One
Mat Mladin not only returned to the winners podium today, but regained the points lead in the 2003 AMA Chevy Trucks US Superbike Championship after a titanic three-way battle saw Mladin take the chequered flag in the first of the weekend's double header Superbike races at Road America in Wisconsin. Mladin's 20th career AMA Superbike win was also his sixth for the season and sees him regain the number one position on the points table, fifteen points clear of Eric Bostrom (Team Kawasaki). Point's leader coming into the round, Aaron Yates, was forced out of the race with mechanical problems and has slipped back to fifth on the point's table.

It was a good day for Mladin and his Yoshimura Suzuki GSX-R1000. Prior to the 16-lap Superbike race, he had scored his 28th career AMA Superbike pole position with a time of 2-min 15.159-secs for the 6.44km (4.00miles) Wisconsin circuit during the morning's final qualifying session. Second fastest was Mladin's teammate Aaron Yates (2:15.710), followed by Kurtis Roberts (Erion Honda, 2:15.825) and Eric Bostrom (Team Kawasaki, 2:16.030).

The 16-lap Superbike race quickly turned into a furious high-speed battle between Suzuki mounted Mladin and the Honda's of Miguel DuHamel and Kurtis Roberts, with each taking turn at holding the race lead. Mladin kept his best for last as his final lap produced an amazing new lap record of 2:14.740 which saw him pass DuHamel at Turn Five on his way to his sixth race victory of the season. At the end, just 0.79 of a second separated Mladin from DuHamel and Roberts.

"That was probably the best race that I've had for a long time," said Mladin. "This year we've either won races by a long margin or have had tyre problems that have kept us out of it, so it was nice to go out there and race against a few guys. Mind you I wouldn't want that every race, but every now and then would be good.

About half way round the final lap I was able to get by Miguel, then after that I just put my head down and did the fastest lap of the race," added Mladin. "Obviously from the time we set on the last lap, the bike is working well. We took a few measures before the race to make sure the tyre was going to be OK, we didn't have the best grip that we could have had and definitely didn't have the ultimate set up with the bike, but it was the best we could do to get the bike and the tyres to last the race distance."

"Honda do well here, so we were expecting a bit of a race from them, but we'll see how we go when we get to a track with a few more corners in them. It did show however that the horsepower between the Honda and the Suzuki is quite similar which at the end is all good for the series."
Miguel DuHamel talked about his Second Plac ein Race One: "I just made a few mistakes. I made a mistake going into turn three when I had 0.2 of a lead, which is pretty significant when you're running at that pace. And then Mat (Mladin) got on me, then he was all over me and it was pretty tough. It's kind of strange to say, but I'm still riding a little cautious. Not a lot. But on the brakes, where you need to be assertive to make a pass, you could see where the lapped riders were, I was cautious. Even passing lapped riders I had trouble. Passing Mat Mladin is a bigger trouble. At the end that was just my plan, that kind of backfired on me because I went so hard for four laps, I burned up a bit of my tire. It was still good, but I burned it up just enough to give Mat that breathing room that he got at the end and he was able to go out and do that really fast lap there."
Kurtis Roberts, Third Place, Race One: "Mat (Mladin) and Miguel (DuHamel) and I rode every lap as hard as I think we could. It was definitely a hard race. I just had a few little things that prevented us from winning. But no excuses. The guys were awesome today and we just did the best we could.
Heading into tomorrow's second 16-lap Superbike race, Mladin holds a fifteen-point lead (272 – 257) in the championship over Eric Bostrom who finished thirteenth today after he made a late race pit stop. Roberts holds down third with 250; followed by Ben Bostrom (248), Yates (244) and DuHamel (219).

Saturday Superbike Race One
Pos. No. Rider name Hometown Bike
1 66 MATHEW MLADIN RANCHO CUCAMONGA, CA SUZ AMERICAN SUZUKI
2 17 MIGUEL DUHAMEL LAS VEGAS, NV HON AMERICAN HONDA
3 80 KURTIS L ROBERTS HICKMAN, CA HON AMERICAN HONDA
4 155 BEN D BOSTROM LAS VEGAS, NV HON HONDA
5 16 ANTHONY GOBERT LAKE ELSINORE, CA DUC
6 43 JASON R PRIDMORE VENTURA, CA SUZ SUZUKI / ATTACK
7 114 SHAWN M HIGBEE BIG BEND, WI SUZ
8 101 JORDAN M SZOKE BRANTFORD, ON SUZ CORONA EXTRA SUZ
9 13 MIKE D CICCOTTO SEBASTIAN, FL SUZ HOOTERS SUZUKI
10 199 GEOFF MAY ALPHARETTA, GA SUZ TEAM EMBRY
11 72 LARRY PEGRAM BALTIMORE, OH DUC DREAM TEAM RACING
12 33 VINCENT HASKOVEC LAKE ELSINORE, CA SUZ HOOTERS
13 32 ERIC BOSTROM LAS VEGAS, NV KAW KAWASAKI
14 86 JIMMY MOORE EUGENE, OR SUZ CORONA SUZUKI
15 57 JEREMY TOYE SAN DIEGO, CA SUZ LEES CYCLES
16 49 JOHN R JACOBI CARMEL, IN SUZ
17 61 SCOTT JENSEN PHOENIX, AZ SUZWEST VALLEY MACHINE
18 74 MIKE SULLIVAN CENTRALIA, WA SUZ
19 341 BRIAN STOKES KINGSTON, GA SUZ TEAM EMBRY
20 940 J J ROETLIN KALONA, IA SUZ TWIN CNTY DAIRY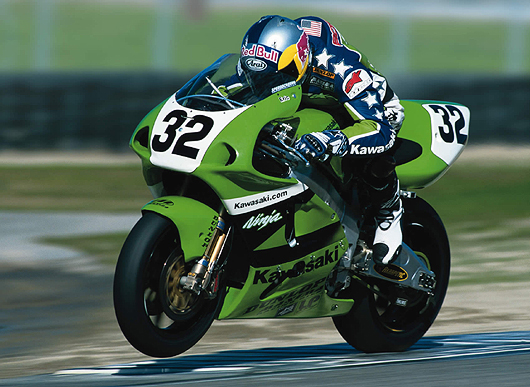 Drag Slayer, Eric Bostom on the little 802cc Kawasaki ZX7RR trounced the big 1000cc Superbikes on Sunday for his 2nd win of the season after winning last week at Pikes Peak.
Sunday RaceTwo: Run-away for Eric and the little Kawasaki ZX7RR
Eric Bostrom won on Sunday to clich his 2nd AMA Superbike win in as many weeks.The track was half wet and half dry from an earlier rain and tire choice was critical. Eric made the best choise with his wet tire combination on the under engined 802cc Kawasaki ZX7RR against the other full 1000cc Superbikes on the high speed Road America course which left him way down in 13th the day before. But today Eric disappeared off into the distance from the start, pulling out a huge 20 second lead as his persuers had to tip toe around the semi wet track which did dry out in the latter stages, but too late for anyone to catch him.
No one else was totally happy with their choice as the track continued to dry out, except Miguel DuHamel, whose experience and savvy nearly paid off with a podium finish. DuHamel chose cut slicks front and rear, the choice tenuous in the beginning, but certain at the end. Rushing towards the podium, he finished fourth after turning in most of the fastest laps of the race. Ben Bostrom and Kurtis Roberts chose full wets, Bostrom taking the spot behind DuHamel with Roberts in ninth.
Miguel DuHamel, Fourth Place, Race Two
It was pretty dry out there. I said, 'OK we'll take intermediates and go real slow at the beginning.' Not 500 yards off the start line it started raining. I said on my radio to (crew chief) Al Luddington, "It's raining here." For a while it was pretty sad, I was pretty far back. I was getting passed by a lot of guys, but my hat's off to those guys to be honest with you. They didn't do nothing crazy around me. I just put my head down when it started drying, but don't forget there's a line. And you get off that line, you're off. A few times I just hit the water and trying to catch Ben (Bostrom) on the last lap when he caught a slower rider in Canada Corner, I went a little wide and I touched the water and I got the thing all sideways. It was a big risk."
Just little things that weren't as good as I'd want them for the race. No excuses. The guys rode really well. I think that just by looking at the race pace we were definitely riding 105% the whole race. The tires were great. I think the last lap was my fastest lap of the race for me. So they obviously hung in for me."
Kurtis Roberts, Ninth Place, Race Two
"They (Dunlop) had new rain tires here that we tried and I actually thought the old ones were a bit better. The new ones were cold when I tried it, so I thought that could be it. With the weather, I didn't want to go with a gamble on tire choice. I had to go with what Mat (Mladin) and Aaron (Yates) are running because we all three are close enough in the points. I could have gone with the gamble and who knows? I could have fallen off. We made it through and got a point or so back, not as much as we'd like for the day. The way the thing was working, we did everything we could."
Sunday Superbike Race 2
Pos. No. Rider name Hometown Bike Lap Pts Sponsors
1 32 ERIC BOSTROM LAS VEGAS, NV KAW KAWASAKI
2 20 AARON W YATES MILLEDGEVILLE, GA SUZAMERICAN SUZUKI
3 72 LARRY PEGRAM BALTIMORE, OH DUC DREAM TEAM RACING
4 17 MIGUEL DUHAMEL LAS VEGAS, NV HON AMERICAN HONDA
5 155 BEN D BOSTROM LAS VEGAS, NV HON HONDA
6 43 JASON R PRIDMORE VENTURA, CA SUZ SUZUKI / ATTACK
7 114 SHAWN M HIGBEE BIG BEND, WI SUZ MILLENIUM
8 34 MICHAEL F BARNES BOCA RATON, FL SUZ PRIETO RACING
9 80 KURTIS L ROBERTS HICKMAN, CA HON AMERICAN HONDA
10 66 MATHEW MLADIN RANCHO CUCAMONGA, CA SUZ AMERICAN SUZUKI
11 38 DEAN MIZDAL HUNTINGTON BEACH, CA SUZ STAR SCHOOL
12 194 TOM WERTMAN PUYALLUP, WA SUZ EDR PERF
13 199 GEOFF MAY ALPHARETTA, GA SUZ TEAM EMBRY
14 61 SCOTT JENSEN PHOENIX, AZ SUZ WEST VALLEY MACHINE
15 57 JEREMY TOYE SAN DIEGO, CA SUZ LEES CYCLES
16 215 MONTE D NICHOLS YORKVILLE, IL SUZ CITGO
17 128 JEFF BOSTROM CEDAR RIDGE, CA SUZ GP TECH
18 94 JASON KNUPP CHICAGO, IL SUZ
19 471 ROGER M HENDRICKS HAM LAKE, MN SUZ LUCKY DOG RAC
20 940 J J ROETLIN KALONA, IA SUZ TWIN CNTY DAIRY
Ducati posts fastet speed times at Mugello
"I can hardly believe the way Loris rode – he never gave up," said a delighted Claudio Domenicali, Ducati Corse CEO. "He kept trying so hard because he wanted to be in a position to take advantage if Rossi made a mistake. I think he knew it was possible to win today with our bike, but Valentino and Max (Biaggi) rode brilliantly. Our straight-line speed is fantastic, now we just need to make some improvements to the handling. Anyway, second in our first home GP in more than thirty years is a really great result. Troy was one of the fastest men on the track when he crashed, which proved he had found a good set-up after two difficult days of practice. Once again we had two of the quickest riders out there, which shows the project is heading in the right direction."
During the race Capirossi set a new GP top-speed record at 332.4kmh, with Bayliss second at 331.2kmh.
205.7 mph!
Capirossi takes the Speed Record from Bayliss!
Well, in yesterday's report we challenged Loris to break Troy's top speed record of 331.1 km/h (205.7 mph) and he rose to that challenge. Set during the race as he fought to close the gap on the race leader, Capirossi broke the record with a speed of 332.4 km/h (206.5 mph). The Ducati MotoGP Team have broken the record on each day of the three-day Mugello Grand Prix event with Capirossi also setting the fastest lap of the race with a 1'52.623 on lap 20 of 23.

New Seat Vents for
Desmosedici on Race Day
Producing 220+ bhp also has its disadvantages, the biggest of which is the incredible heat produced by such a powerful power unit. On race day the Ducati MotoGP Team used extra cooling around the rear end of the Desmosedici in the form aerodynamic slots on the top and rear of the rear seat unit. The design improved the airflow around the rear tail pipes and allowed the stale air under the unit to rejoin the air flow.
Meet Our 2004
FastDates.com
Calendar Angels and SBK World Superbike Girls!
Miss Minnesota Janelle Perzina, Star Search Spokesmodel winner and
The Man Show Juggy Joanna Krupa with The Man Show's Chandi Mason will be appearing at the
LA Calendar Motorcycle Show
with Miss Geat Britain Nicki Lane.


CHICKS & BIKES RULE!
The LA Calendar Bike Show July 19 & 20th
Just Added!
• Jardine West Coast Horsepower Dyno Shootout.
• Jim's Machine Burnout Contest.
• SuperMoto Pro Nationals
-both days
2 Days of excitement featuring America's hottest new girl vocal group The Beu Sisters
featured iin the sound track of the new Disney movie Lizzie McGuire and an upcoming Coca-Cola advertising campaign plus
the beautiful FastDates.com
Calendar Angels!
plus an incredible 2-day
Calendar Girl Beauty Pageant
plus
The Hooters Girls
Aprilia Scooter Girls
Archie's Ice Cream Girls

Click to visit the Beu Sister's website and see their music video!
Both Days!
The Beu Sisters
Our Featured Show Band The hottest sounding, most beautiful new girl group in the World in their first West Coast appearance, premiering their new album "DECISIONS."