Capirossi had to rely on his Friday time to hold his slot at the top of the qualifying rankings and it looked like it might have been enough as conditions proved to be even more punishing for riders and machines in today's session. Max Biaggi (Camel Pramac Pons RC211V) who qualified fourth had earlier predicted that the top three riders would be Italian and his prediction looked entirely accurate until Shinya Nakano (Yamaha) charged into third within the last two minutes of the hour-long session. He was the only rider to break into
the sub-1m 52s laps that Rossi and Capirossi could achieve.
Gibernau was forced to retire from last year's race when his Suzuki's brakes gave problems but now the experienced rider is getting to grips with his Telefonica MoviStar Honda RC211V and he knows he has a machine that is a consistent winner in the right hands.
The 5.245km Mugello track is set deep into a natural lie of rolling hills and has everything a track needs to promote close and spectacular racing: a long straight to allow slipstreaming and a wide variety of fast and slow turns with tricky cambers to test every area of both rider and machine performance.
Capirossi knows Mugello well – he won his first Mugello GP ten years ago in the 250 class. And three years ago he scored a famous 500 victory after a titanic battle with Italian rivals Valentino Rossi and Max Biaggi. The trio raced side by side, Rossi and Biaggi tumbling in the final laps to give Capirossi his second win in the premier class. Last year he struggled to sixth on a two-stroke 500, outpaced by the much faster four-strokes.
"Mugello will be a difficult race because it's a difficult track," he adds. "There's a lot for riders and engineers to understand: fast corners and fast changes of direction, downhill corners with negative camber and a few bumps. All this means a lot of work on chassis set-up. The most important part of the circuit is Casanova-Savelli, Arrabbiata one and two, and the last corner for a good drive onto the main straight. But speed won't be a problem – we have a lot of that!"
Last year's winner Rossi knows that he faces a stiff challenge from many fronts at his home Grand Prix. The two times MotoGP Champion is gunning for his third successive title and acknowledges the importance of a strong domestic result as well as the knowledge that a win represents another 25 points that will be crucial in what is shaping up to be a tight Championship.
"Mugello has extra importance because it is in Italy," he said. "But in another way it is just another 25 points - the same as any other race. Of course there is more pressure because of my family being local, because of the fans and all of those things. But I always have to think more in terms of the Championship than just one race."
Rossi currently holds the circuit record for the fastest ever lap of the undulating Tuscan track at 1m 51.258 seconds while Tohru Ukawa holds the race lap record at 1m 52.601 seconds. Mugello's 1.14km uphill straight
holds the key to part of those times while the tricky right turn at the end of that straight is also a large part of unlocking a quick lap here.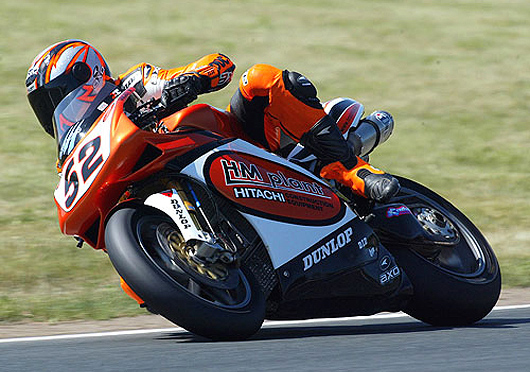 SBK World Superbike Championship Round 5: Oschersleben
James Toseland on the HM Plant Ducati brings Hodgsen's winning streak to an end in Germany
Oschersleben (Germany), June 01, 2003: Neil Hodgson (Ducati Fila 999F 03) equalled Colin Edwards' (Honda) nine-race World Superbike winning streak with victory in race 1 at Oschersleben after a superb battle with Pierfrancesco Chili (PSG-1 Ducati 998RS) but had to take the runner-up slot in race 2 behind 22-year old youngster James Toseland (HM Plant Ducati) who took his maiden WSBK win. Toseland's older team mate Chris Walker sandwiched-in Hodsen with a 3rd in race two, both aboard the GS Racing team's ex-Ducati Corse 998F 02 s.
Neil Battles for Superpole on Saturday with Frankie Chili
Neil Hodgson (Ducati Fila) clinched his fourth pole position of the year at the Oschersleben track in Germany after a superb battle in the final few minutes of Superpole, which was declared 'wet' despite a perfectly dry track. The morning's second and final qualifying session was held in wet conditions after an early morning downpour.
With five minutes to go, James Toseland (HM Plant Ducati) was in the top slot, but then PSG-1 Ducati's Pierfrancesco Chili overhauled him. On his final four-lap run Neil then overcame some psychological stop-start tactics by Regis Laconi (NCR Ducati) and a hairy off-track moment before edging out his Italian rival by just four-hundredths of a second.
"It wasn't planned really, I hoped Frankie would take it easy seeing as we were all on the front row" declared Neil. "It forced my hand, I was happy to watch everyone else so I had to go out and do it. I made a mistake on my first lap, came out of the corner, hit the gear lever and it went from third to fourth instead of second. Then I ran off the track and into the sign, I was like a total novice really! After all that I pulled myself together to put in a clean lap and I was lucky to beat Frankie by less than a tenth!. Tomorrow the usual four suspects are riding really well, I don't think anyone will pull away, it should be a freight train for most of the race."
GRID: 1. Hodgson (Ducati Fila) 1'26.907; 2. Chili (PSG-1 Ducati) 1'26.942; 3. Toseland (HM Plant Ducati) 1'27.199; 4. Walker (HM Plant Ducati) 1'27.574; 5. Laconi (NCR Ducati) 1'27.741; 6. Martin (DFX Ducati) 1'27.797; 7. Lavilla (Suzuki) 1'27.885; 8. Xaus (Ducati Fila) 1'28.087; etc.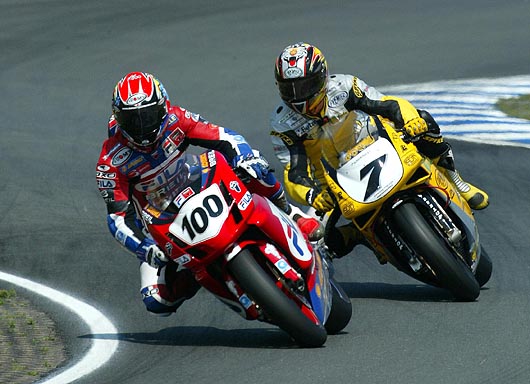 Frankie (7) thought he had a fluild leak and intentional turned the lead of Race One over to Neil (100). Frankie then chased the factory Ducati rider the rest of the race and found it impossible to get back past Neil on the tight track as they battle in the closing laps.
Race One: Frankie Hands Neil his 9th Straight Victory
It was a Ducati front row with Neil Hodgsen on pole lined up next to Frank Chili, then the GS Racing HM Plant bikes of James Toesland and Chris Walker. The light went green and the pack charged for turn on. Gregorio LaVilla tried immediately to improve on his second row start and held his baking too late on the Corona Suzuki GSXR1000 goiing into turn one, lost control and went down, clipping the rear of Toseland's bike in the malee and forcing James off into the gravel trap, James did keep it up on 2 wheels and rejoined the race in last place, but LaVilla was out of action until race two. The front running order emerged with Walker in the lead ahead of Chili, Xasus, Hodgsen, Regis Laconi and Steve Martin.
The Foggarty Petronas bikes of both Troy Corser and James Haydon were buried back in the pack. Their factory Superbikes based on a 3-cylinder 900cc design that was now way down on horsepower with the new 1000cc formula. The restrictor rules were susposed equalize all the different engine configurations in World Superbike is notcompensating for what seems to be just a poor engine design.
On lap 2 Franki Chili pushes his PSG Ducati into the lead past Walker. Hodgsen begins moving up as well, first past team mate Xaus then Walker to close on the leader. Frankie knows he can match lap times and run with Neil and is orepared to hold him off, but as his bike heats up it has beed spitting out some cooling fluid. Not wanting to cause the following Hodgsen to crash from his leaking water, Frankie pulls over and waves Hodgsen past and into the lead.
Hodgson took the lead from Chili on lap 9 and clinched victory despite coming under pressure from the Italian who was never more than a bike's length behind. "I didn't get a good start but the Hodgson luck is flying around at the moment because if I had, then I would probably have been taken out in the carnage at the first corner" declared Neil.
Frankie Chili would soon discover there was nothing wrong with his Ducati 998RS machine, possibly just an overfilled expansion tank for the radiator. He would shadow Hodgsen the entire race pacing for a last lap repass to win the race. But the tight track and Hodgsen's defensive riding that block the few passing areas left Frankie have to settle for a well deserved 2nd place just haldf a second behind the winner. The most extrodarnary ride of the race, though, was James Toseland who recoveredd from being forced off the track by Lavilla on the opening lap to set the fastest times of the race as he rocketed his HM Plant Ducati up through the field to finsh third. The stage was now set for Toseland to challenge for the lead in race two.
Race classification WSB Round: 5 - Germany, Circuit: Oschersleben, Circuit Length: 3667, Race: 28 Laps
Lap Record: 1' 26.549 (Colin Edwards, 2002) , Fastest Lap Ever: 1' 26.549 (Colin Edwards, 2002)
RACE 1: 1. Hodgson (Ducati Fila); 2. Chili (PSG-1 Ducati); 3. Toseland (HM Plant Ducati); 4. Laconi (NCR Ducati); 5. Walker (HM Plant Ducati); 6. Martin (DFX Ducati); etc. RACE 2 : 1. Toseland (HM Plant Ducati); 2. Hodgson (Ducati Fila); 3. Walker (HM Plant Ducati); 4. Laconi (NCR Ducati); 5. Xaus (Ducati Fila); 6. Martin (DFX Ducati); 6 S. Martin Ducati AUS +38.142; 7 M. Borciani Ducati ITA +43.496; 8 V. Iannuzzo Suzuki ITA +45.452; 9 L. Pedercini Ducati ITA +50.154; 10 G. Bussei Yamaha ITA +51.218 ; 11 M. Sanchini Kawasaki ITA +1' 4.353; 12 T. Corser Petronas AUS +1' 10.643; 13 N. Russo Ducati ITA +1 lap(s); 14 S. Foti Ducati ITA +1 lap(s); 15 J. Mrkyvka Ducati CZE +1 lap(s)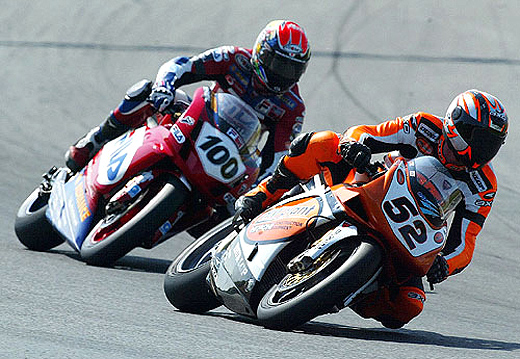 Championship points leader Neil Hodgsen (100 Fila Ducati) saw his 9 race winning streak come to an end behind the very hard charging James Toseland (52 HM Plant Ducati).
Race Two: Toesland Proves Invincible
James Toesland did just that in race two as he blasted into the lead ahead of Neil Hodgsen, Walker, Xaus Laconi and Chili. Neil was looking to break Colin Edwards' 9 race winning record as he push his way past the yound James on lap 2, but Toesland was not to be intimidated by the more experience works rider. In the next corner James bull dogged his Ducati back inside of Hodgsen and sent him reeeling, leaving the Fila Ducati with a gaping hole in the right side carbon fiber bodywork. At that point the World Championship points leader decided caution was the better part of valor for winning the title and he stayed back to see if Hayden might make a mistake. James proved to be flawless and as they lapped traffic in the later stages of the race, james would extend his winning lead to over 7 seconds.
After the fairing-bashing with Toseland in the early stages, Hodgson then had to take second-best to his former GSE team-mate who led an all-British podium with Chris Walker coming home third. "It was a tough race and it's a tough track for overtaking" added Neil, "so that's why I made the move on James. We made contact and I thought I had no clutch lever. I glanced down and the lever was facing down so I banged it back. It wasn't quite right but I could continue the race. I waited for James to make a mistake but it didn't come. I was trying to stay behind him, but we got the back-markers and it was all over then. I was pleased to match Colin's record but you can't win them all! James totally deserved his victory and the best man won on the day".
Team-mate Ruben Xaus crashed out from third place on lap 10 at the fast right-hander leading onto the back straight in race 1 and then finished fifth after the break. "In the first race I had problems with the front of my bike and unfortunately simply fell off. Then fifth place in race 2 was not so good, because I still had a few problems with the front" declared Ruben. "I didn't have a good feeling with the bike all weekend. I know I am a fast rider, but at the moment I don't feel that it is my bike. Tomorrow we'll be here for a day's testing and I'm sure we'll get some good results".
Troy Corser guided his FP1 home in both races in another testing round of the World Superbike championship for Foggy PETRONAS Racing at a sweltering Oschersleben circuit, in Germany. But team-mate James Haydon was unable to compete in race two after a heavy fall in the opening race at Triple, the fastest corner of the circuit. James, already nursing a broken bone in his foot and damaged leg and shoulder ligaments from a crash two weeks ago at Monza, suffered a sprained ankle and wrist, as well as severe bruising, when his bike jumped out of gear and he ran into the gravel at more than 100 mph.
Former World Superbike Champion Troy Corser finished 12th and 14th, in the races respectively, having experienced problems with his rear shock in the first race and his clutch in race two.
Team owner Carl Fogarty said: "The results on track are certainly no reflection on the hard work put in by my whole team. James was gaining in confidence and I feel sorry that the bike let him down. It's a tough time, not just for the riders and the team, but for me as well. I am used to coming at the front and I am not there right now. It might not come until next year, but a win will come. It's easy to run a team with a proven bike but it's the ultimate challenge with a new bike and we clearly have a number of issues to sort out. But I was very impressed with James Toseland – I know how it feels to win your first race."
Troy said: "In race one the rear shock went off a little bit due to the high temperatures so I lost the rebound setting on the bike, which made it a bit difficult to ride and my lap times started to drop. I had not tested the front tyre and it was pushing, so I changed that for race two but stayed with the same Michelin rear. But from lap ten in race two I was experiencing clutch problems and had virtually no engine braking. You are in the corners for a long time here and don't have much respite down the straights, so they were two very long, lonely and physically demanding
races."
James said: "It has been another character building weekend. Right now my character is as strong as Geoff Capes, the English shot-putter, but my body feels like Will O' The Wisp! I felt really comfortable until the bike jumped out of third gear when I was peeling into the corner. I tried to jump off but hit the gravel at over 100mph. It was a big one!
"I have always approached my racing in one way, aggressively, and that has been both a strong point and a weak point. But after Monza I said I would treat this round more like a testing session and I feel we have improved the set-up here more than anywhere. I got a great start and then found a rhythm. I wanted to stay with the two guys in front and see what happened and felt really comfortable before the crash."
Race 2: 1 J. Toseland Ducati GBR 42' 20.103; 2 N. Hodgson Ducati GBR +7.419; 3 C. Walker Ducati GBR +15.314; 4 R. Laconi Ducati FRA +19.277; 5 R. Xaus Ducati ESP +24.228; 6 S. Martin Ducati AUS +43.648
7 J. Borja Ducati ESP +46.868; 8 V. Iannuzzo Suzuki ITA +47.807; 9 M. Borciani Ducati ITA +48.930
10 L. Pedercini Ducati ITA +1' 2.514; 11 P. Chili Ducati ITA +1' 10.394; 12 M. Sanchini Kawasaki ITA +1' 13.019; 13 I. Clementi Kawasaki ITA +1' 27.387; 14 T. Corser Petronas AUS +1' 44.368; 15 S. Foti Ducati ITA +1 lap(s)
POINTS (after 5 of 12 rounds) : Riders - 1. Hodgson 245; 2. Toseland 132; 3. Xaus 126; 4. Laconi 122; 5. Lavilla 111; 6. Walker 95; 7. Chili 84; etc.
Manufacturers: 1. Ducati 250; 2. Suzuki 127; 3. Petronas 52; 4. Kawasaki 46; 5. Yamaha 32; 6. Honda 21.
---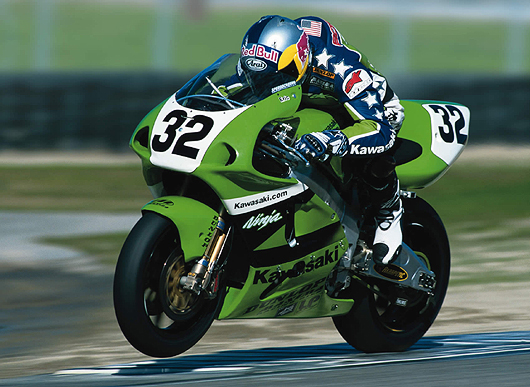 Drag Slayer, Eric Bostom on the little 802cc Kawasaki ZX7RR trounced the big 1000cc Superbikes at Pikes Peak, scoring his 4th National win at the track.

AMA National Superbike Championship Round 5, Pikes Peak
Eric Bostom slays the big bikes in Colorado
June 1st, 2003: Eric Bostrom returned to Pikes Peak International Raceway this week looking 4th AMA national win at what has prooved to be his favorite racetrack on the AMA Chevy Trucks Superbike National circuit. The lone Kawasaki factory rider on the smaller displacement, bored out 802cc Kawasaki ZX7RR, proved to be the dragon slayer against all the other factory teams on their biiger 1000cc twin and four cylinder machines.
Early race season points leader Matt Mladin saw his series lead handed over to team mate Aaron Yates when Maladin's 200 horsepower Yoshimura Suzuki GSXR1000 destroyed its rear Dunlop the previous race weekend at Road Atlanta. Yates could make his tires last and inherited the race win and the points lead.
For Pikes Peak, Maladin was not taking any chances and had the Yoshimura pit crew standing by in the pits for a mid race tire change if he needed it, which Matt seemed to think he did. On lap 38 of the 48 lap National while running 5th Maladin dove into the pits for a quick 8 second rear tire change, emerging back in 9th place. The stategy would proove fruitless for 2 reasons...
The first beeing team mates Yates was running his GSXR1000 ahead of Mladinat a quicker pace in 4th without any tire problems, and saw no reason to pit. And then.
On lap 41 the race was red flagged and called a complete race, as it was past 2/3rds distance, when privateer Mike Ciccotto fell in a corner and was trapped under his bike in the middle of the track. The finishing order would be Eric Bostrom, Kurtis Roberts, Aaron Yates, Ben Bostrom, Anthony Gobert, Jason Pridmore, Miguel Duhamel, Jordon Szoke on the FastDates.com Corona Suzuki, and Maladin in 9th.
The race itself was pretty much a Eric Bostrom benefit party as Eric quickly reeled in first lap leader Anthony Gobert and motored by to take over the lead on lap 2. Gobert would work his way back to 5th as Kurtis Roberts on the Erion Racing Honda RC51 moved up into 2nd ahead of Mladin, brother Ben Bostrom (Honda factory RC510 and Aaron Yates. Kurtis Roberts rode really well and was pushing Eric the entire race just a second or two behind to keep him honest. The only change in the race order as Eric maintained his secure lead to the finish was Mladin dropping back to 5th as his tires went off, while team mate Yates moved up to 3rd.
"This track is such that you have to put in consistant lap times," explained Eric after his first race win of the season. "It feels good to finally pull one out. We started slow in practice at the first of the week and it was really ggod to have it all come together today."
Formula Extreame almost to FastDates.com's Adam Fergusson
The Lockhart-Phillips Formula Extreme Race was essentially three races with one start and two restarts because of red flags, our own Adam Fergusson on the FastDates.com sponsored Corona Extra Suzuki GSXR1000 was the class of the field, winning the first two races, and set to reel in eventual race winner Damon Buckmaster on the Graves Yamaha R1 before the race ran out of time. In a race "1" starting from the front row having qualified in fourth position, Fergusson showed tremendous riding ability to get to the front by lap three and start to pull away until the race was stopped on lap 8.
In race "2" Fergusson started on pole by virtue of his leading position but an "OK" start lost him three positions. Two laps later though he was up in front again pulling away until 10 laps later another red flag brought them in! In Race "3", again starting from pole position, Fergusson did not have any hot tires ready for a third restart so had to take the first few laps easy circulating in fourth. Once his tires came up to temperature though, Adam went after the leaders quickly getting up to second but ran out of laps by the finish, netting second less than a half a bike behind the winner at the line.
After the race Fergusson said; "We did not have a third set of tires on the warmers so I started on cold tires and had to take it easy for a few laps. The GSXR 1000 was handling great and we had motor on everyone - I just needed another lap - still two out of three isn't bad!" Jimmy Moore rode a great race in the second pack finishing a strong 7th. Fergusson is now 4th with Moore 8th in the Formula Extreme Championship.
1 6 DAMON S BUCKMASTER CYPRESS, CA YAM 29 37**
2 68 ADAM FERGUSSON BIRMINGHAM, AL SUZ 29 32 CORONA EXTRA SUZUKI / EBSCO MEDIA / FastDates
3 98 JAKE P ZEMKE PASO ROBLES, CA HON 29 29 AMERICAN HONDA
4 11 BEN SPIES LONGVIEW, TX SUZ 29 28* AMERICAN SUZUKI / YOSHIMURA /
5 4 JOSHUA KURT HAYES GULFPORT, MS SUZ 29 26 ATTACK SUZUKI
6 1 JASON R PRIDMORE VENTURA, CA SUZ 29 25 SUZUKI / ATTACK
7 86 JIMMY MOORE EUGENE, OR SUZ 29 24 CORONA SUZUKI / FastDates.com/
8 5 STEVE RAPP CORONA, CA SUZ 29 23 VALVOLINE EMGO SUZUKI
9 2 JAMIE A HACKING GREER, SC YAM 29 22 YAMAHA MOTOR CORP
10 95 ROGER LEE HAYDEN OWENSBORO, KY HON 29 21 AMERICAN HONDA/ ERION /
The Suzuki Genuine Accessories Superstock event was another race marred by the red flag, which came out in the first lap. Fergusson started from the front row in fourth, Szoke and Moore from the second row in fifth and seventh respectively. At the restart, Fergusson settled quickly done to chase the leaders, getting the lead with five laps to go. Those last five laps saw Adam and Tony Meiring swapping the lead back and forth until Meiring got a break for the line with Fergusson less than a bike length behind. After the race Fergusson said; "It seems that second by a hair is my fortune for this weekend! Still I'm happy to put the Corona Extra Suzuki GSXR's onto the box twice". Jimmy Moore finished 6th and Szoke 11th. Fergusson is third, only three points behind first. Moore is 7th and Szoke 13th in the Superstock Championship.