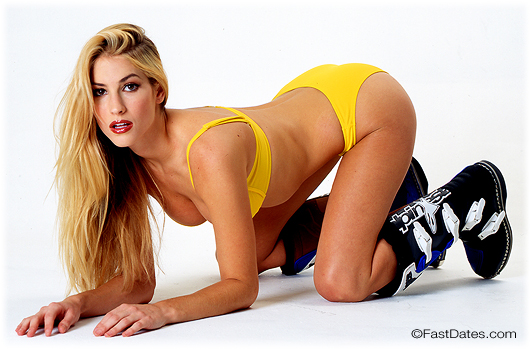 Meet our SBK Fast Dates Superbike Girl Chandi Mason
Beautiful FastDates.com Calendar Angel Chandi Mason has been practicing her knee dragging in anticipation of being one of our official SBK Fast Dates Calendar Girls at Laguna Seca World Superbike on the July 9-12th weekend in Monterey. Chandi will be one of our official Team Ducati Corse umbrella girls on Sunday, and will be shooting throughout the weekend with famed photographer Jim Gianatsis for the next Fast Dates Racebike Pinup Calendar. Joining Chandi at Laguna will be two of our other very sexy Calendar Angels, Miss Minnesota Janelle Perzina and Miss Great Britain 2003 Nicki Lane.
If you miss your chance to say "Hi!" to Chandi and our other beautiful FastDates.com Calendar Angels in the paddock at Laguna, don't worry. All three girls will be in attendance to meet fans the following July 19-20th weekend at our big Los Angeles Calendar Motorcycle Show where we will be premiering the new 2004 Fast Dates.com Calendars in which all 3 girls appear. You can meet each girl and get her to personally autograph her photosfor you in the new calendars . BIKE SHOW

Covergirls Chandi and Nicki conduct a Victoria's Secret fashion show in the 2004 Iron & Lace calendar available in July.
---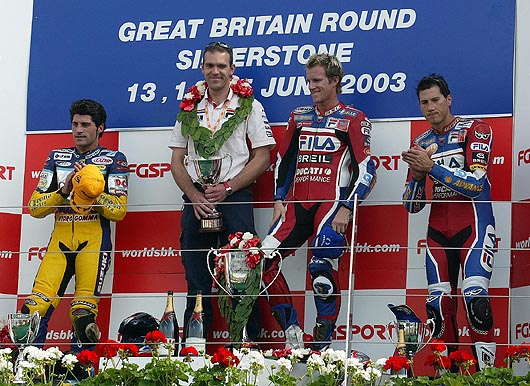 Neil Hodgson shares the Race 2 podium with his mechanic Marinelli, Lavilla (left) and Xaus (right).

SBK World Superbike Championship, Great Britain Round 6
Neil Hodgson crown a glorious weekend
for Ducati with double wins at Silverstone
Silverstone, Great Britain, June 13-15, 2003: Neil Hodgson (Ducati Fila) crowned one of the greatest days in Ducati's history when he notched up win #2 in the British Round of the World Superbike Championship in front of a record-breaking 83,000 spectators at Silverstone. Earlier in the afternoon Loris Capirossi had scored Ducati's first-ever win in MotoGP with an emotional victory at Barcelona's Circuito de Catalunya.

Gregorio LaVilla with the Corona Suzuki GSXR1000 has been a top contender to the Ducati teams.
Lavilla's Suzuki quickest on 1st day qualifying
Friday: An outstanding lap of 1:53.162 from Gregorio Lavilla (Alstare Suzuki GSX-R1000) put him on top of the provisional qualifying sheets after the first day of practice at the recently modified Silverstone circuit. His best single circuit of the classic English track was fully 0.717 seconds faster than the second best man Regis Laconi (Ducati NCR 998RS).
The flat and generally quick track hosts an SBK race for the second year, with a modified chicane on the entrance to the last Woodcote corner making significant differences in lap time compared to last year. The track is running around five seconds per lap slower than the previous version, despite a slight decrease in overall length from 5.094km to 5.036km.
The top wild card rider proved to be multiple British Champion John Reynolds (Rizla Suzuki GSX-R1000) in third, making it a superb day for the Japanese manufacturer. The local contingent on the overnight front row was completed by SBK regular Chris Walker (HM Plant Ducati).
A surprise fifth fastest performance from Italian privateer Giovanni Bussei proved the worth of the four-cylinder 1000cc concept in SBK, with the UnionBike R1 rider in fifth place on his Yamaha. Local ace Michael Rutter (Renegade Ducati) was sixth as a wild card, with regulars James Toseland (HM Plant Ducati) and Ruben Xaus (Ducati Fila 999) filling the second provisional starting row.
Having dominated the championship thus far, Neil Hodgson (Ducati Fila 999) struggled through a bout of ëflu and less than perfect bike set-up to go ninth, 1.564 seconds from pole position. Pierfrancesco Chili rounded out the top ten, while Troy Corser took the Foggy Petronas FP-1 to 15th. James Haydon, his team-mate has been forced to miss his home round due to suffering a compressed spinal disc in an Oschersleben crash.
One more day of Superbike qualifying remains, with Superpole determining the grid positions of the final 16 in qualifying.

In the World Supersport Championship class the first day of qualifying went the way of Stephane Chambon (Alstare Suzuki GSX-R600) who displaced the fast Ten Kate Honda of Karl Muggeridge in the last few minutes of the session. Significant levels of close and competitive action have been a mark of Supersport action throughout its short but glorious history, and this time around it was the Broc Parkes (BKM Honda) and World Supermoto Champion Thierry van den Bosch (Yamaha Motor France) who split the last few hundredths on the stopwatches to get to the provisional front row.
In a good day for Supersport rookies, Simone Sanna took his Yamaha Belgarda R6 to fifth overall. One of the most experienced riders in the warring Supersport pack is Pere Riba, who finished his first day ever at Silverstone in sixth place on his Kawasaki, making it four different makes of machine in the top six.
Times: Saturday morning qualifying, World Superbike round six, Silverstone, Great Britain
(Friday qualifying times in brackets, if better)
1 Lavilla (Alstare Suzuki) 1:54.518 (1:53.162); 2 Laconi (NCR) 1:53.353; 3 Toseland (HM Plant Ducati)
1:53.660; 4 Chili (PSG-1) 1:53.836; 5 Kagayama (Rizla Suzuki) 1:53.918; 6 Reynolds (Rizla Suzuki)
1:53.960; 7 Hodgson (Ducati Fila) 1:54.245; 8 Walker (HM Plant Ducati) 1:54.574 (1:54.429); 9 Bussei
(UnionBike) 1:55.349 (1:54.607); 10 Rutter (Renegade Ducati) 1:54.922 (1:54.648). 18 Corser (Foggy
PETRONAS Racing) 1:55.560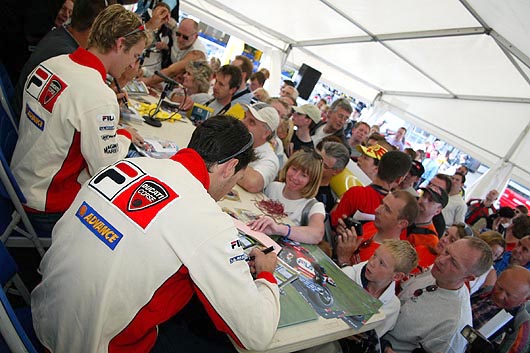 Championship Leader Hodgson sweats it out
to claim his 5th Pole of the year, Suzuki's Kagayama scores 2nd
Neil Hodgson had to endure a nerve-racking final ten minutes of Superpole before clinching his fifth pole position of the year after the Ducati Fila rider could only set seventh quickest in overall qualifying for the British WSBK round at Silverstone.
Hodgson lay down the gauntlet with a superb time of 1'52.875 but then had to sweat it out for the rest of the session as Japanese wild-card rider Yukio Kagayama (Suzuki), NCR Ducati's Regis Laconi and Gregorio Lavilla (Suzuki) all went close on their one-lap dash.
"That was terrible, it was so nerve-racking having to sit there and wait!", declared Neil. "Again I've struggled a bit through practice and qualified seventh. Normally I get back in the garage and there are only a couple of riders left to go, but this was a nightmare, I didn't enjoy it at all. We're on a brand-new bike that's never been round Silverstone before so it's been hard to get the right setting. Silverstone has a lot of fast corners and when you close the throttle it transfers the weight to the front, and we're a bit unstable at high speed. The problem with the new chicane is that we will all be on each others back wheels when we come in but then you have to play follow-my-leader to get through and it spreads the field out".
Team-mate Ruben Xaus could only set tenth quickest time and will start tomorrow's races from row 3 after struggling to find a satisfactory set-up in qualifying.
"My Superpole lap was going well because I was up at the first split but then I had a bit of a moment in the second section and lost precious time there. My final split was also pretty good so I'm sure I could have gone better" explained Ruben. "I'm not particularly happy with my row 3 start but at least my race pace is quite good after my long-run this afternoon so I'm looking forward to battling with the other guys at the front tomorrow".

STARTING-GRID: 1. Hodgson (Ducati Fila) 1'52.875; 2. Kagayama (Suzuki) 1'52.919; 3. Laconi (NCR Ducati) 1'53.043; 4. Lavilla (Suzuki) 1'53.044; 5. Rutter (Renegade Ducati) 1'53.327; 6. Toseland (HM Plant Ducati) 1'53.381; 7. Walker (HM Plant Ducati) 1'53.620 …. 10. Xaus (Ducati Fila) 1'53.871.

Hodgson holds off Toseland, Xaus and Laconi in Race one.
Ducati's Hodgson back out front on Sunday
Race One
Neil clinched his tenth win of the year by the slimmest of margins in an astonishing race 1 battle with the two Suzukis of Lavilla and Kagayama, team-mate Ruben Xaus, Laconi (NCR Ducati) and Toseland (HM Plant Ducati). "It was an unbelievable race, Lavilla's and Kagayama's lines were incredible" commented Neil. "It was really tough out there because the lap times were slow, people were fighting for the next corner and just not getting on with the race. I battled and touched fairings with just about everybody!"
Ruben Xaus rode a superb race 1, which saw him take the lead at one point. The Spanish rider inherited the final podium place when Lavilla crashed out ahead of him at the chicane but kept a cool head in the last few laps to finish third. "We worked hard all the weekend since Friday and during the race I just took things nice and calm" declared Ruben. "I knew the wild cards weren't going to be able to last the race in these conditions. I was just passing and passing until I got the lead. Although I finished fourth, I'm really happy to be on the podium again".
Race Two
It was more of the same as Neil had to work his way up from 9th on the first lap. He moved into the lead on lap 10 but then had to contend with Lavilla (Suzuki) for the remaining ten laps before taking the chequered flag for his second win of the day and his eleventh of the year.
"It's not good to be on pole here at Silverstone; I got an average start and everyone came underneath me. I tried to pick one rider off each lap and keep my eye on the leaders. Luckily JR and Ruben collided because they were going to be difficult to pass. It's been a fantastic day for Ducati and I'd like to dedicate these wins in Britain to David Jefferies, my close friend who was tragically killed in the Isle of Man TT".
Ruben again stepped onto the podium in race 2 with another gritty ride to third after recovering from a clash with Reynolds (Suzuki) which sent the Spaniard careering across the gravel trap. "I moved really fast in the early laps to fourth, Reynolds was third and we touched. I went across the grass and tried to get back on the track again, I was giving it gas and the slicks were spinning so much. Then I recovered and my lap times were really good. I nearly caught Gregorio at the end, but I'm happy with third and it's nice to have two Spanish riders on the podium, there are too many British guys up here!"
RACE 1: 1. Hodgson (Ducati Fila); 2. Toseland (HM Plant Ducati); 3. Xaus (Ducati Fila); 4. Laconi (NCR Ducati); 5. Kagayama (Suzuki); 6. Reynolds (Suzuki); etc.
RACE 2: 1. Hodgson; 2. Lavilla (Suzuki); 3. Xaus; 4. Toseland (HM Plant Ducati); 5. Kagayama; 6. Laconi.
POINTS: Riders – 1. Hodgson 295; 2. Toseland 165; 3. Xaus 158; 4. Laconi 145; 5. Lavilla 131; 6. Walker 110; etc. Manufacturers – 1. Ducati 300; 2. Suzuki 158; 3. Petronas 52; 4. Kawasaki 51; 5. Yamaha 40; 5. Honda 21.
James Hayden Ruled out to Race Silverstone
June 12th - Foggy Petronas racing rider James Hayden has been ruled out of action for this weekend's sixth round of the World Superbike Championship at his hoime country track at Silverstone.
The 28-year old Englishman is undergoing scans and tests for the neck injuries he sustained in a 100mph crash in the previous round in Germany 2 weeks ago. His London neurosurgen has already advised James to miss this weekend's action, and the next round in San Marino as well.
"We do not know exactly what damage has been done," said James, "but the specialist said straight away there was no way I could race this weekend. There are a number of thisngs that could be wrong so I am just hoping the news will not be too bad. I cannot believe that I will be missing Silverstone."
England's MCN rates the Ducati 999 ahead of the top selling 1000cc sportbike Yamaha's R1
In a current comparision test, England's popular Motor Cycle News magazine compared the best selling 1000cc sportbike, Yamaha's R1 with the new base model Ducati 999 Biposta and they rated the Ducati as their favorite. You can read the comparision test HERE
You can also read our FastDates.com test of the even faster Ducati 999S model by SBK Fast Dates Calendar girl Janelle Perzina HERE
Troy Corser's fustration
at Silverstone
Troy Corser's retirement in the second race of round six of the World Superbike championship at Silverstone capped a frustrating debut on British soil for Foggy PETRONAS Racing.
The Australian had finished the first race in 16th position after an early mistake, which forced him wide onto the grass, left him chasing the back markers after running into the grass on the very first lap. But, despite a better start in an afternoon race when Troy moved up into 13th, he was forced to pull into the pits when his bike suffered an electrical system failure. Championship leader Neil Hodgson won both races in front of 83,000 fans.
Team manager Nigel Bosworth said: "Of course we are all very disappointed but we are also realistic. We are not going to beat Ducatis at this stage of the FP1's development. Our season started well but that was when other teams were finding their way on new bikes and making rapid improvements.
"We are also making improvements all the time and have made progress this weekend with the cooling system, chassis development, the new exhausts and by resolving the blow-by. But these are small developments, which is only to be expected. We are also improving the power of the engine but we do need to find more torque.
"It's a shame Troy was unable to finish race two, especially as we were in front of our British fans for the first time, who have been very supportive and understanding. But we go to Misano knowing that we have more set-up data for the bike, and Troy has had some very good results there in the past. We are also examining all options for finding a rider to replace the injured James Haydon for that event."
Troy said: "I suppose we have just got to look upon this weekend as another chance to develop the bike further with the data we have gathered at our first meeting here. I am very frustrated, especially after what happened in the first race, but the bike was cutting out right from the start and then just wouldn't run. It was probably my best start of the season as well!"
The Incredible LA Calendar Motorcycle Show
gets even hotter for the July 19-20th weekend!
SuperMoto Nationals, Jardine West Coast Horsepower Dyno Shootout,
Jim's Machine Burn Out Contest,
Calendar Girl Pageant,
Iron Works magazine Olive Crest Charity Ride,
LA Times sponsorship,
and full TV coverage by Speed TV's American Thunder!
Los Angeles, California, USA June 15th– Now in its 12 year, the Performance Machine sponsored Los Angeles Calendar Motorcycle Show produced by FastDates.com publisher Gianatsis Design Associates has grown to become the biggest and best Custom and HiPerformance Street bike Show in America.
Held on the 3rd weekend of July at the Queen Mary Event Park on the edge of the Pacific Ocean in exciting downtown Long Beach, we weren't content to sit on our hands when we could make the best Bike Show in America even better. Joining our associate sponsors Corona Beer, ReCycler.com / Cycle Buys, Trader Publications / Cycle Trader, Iron Works magazine for Harley enthusiasts and BikerNet.com, and The Shop will be The Los Angeles Times, one of America's leading and largest newspapers assisting with pre event publicity and post event coverage. The Speed Channel's premier American motorcycle series American Thunder produced by WATV will also be dedicating an entire program to the Calendar Bike Show as they do every year.
Exciting new activities added to this year's street bike extravaganza include the RussBrown.com sponsored MotoMaster SuperMotard National, assured to be the biggest SuperMoto event ever held in America with participation by major factory race teams and world famous riders. Riders expect to appear include World and National roadrace and motocross stars like Jeremy McGrath, Kevin Schwantz, Scott Russell, Jeff Ward, John Michell Bayle and others. The tight stadium style track at the Queen Mary is guaranteed to challenge the riders and assures spectators close and exciting handlebar clashing action. The MotoMaster National Championship Series is sponsored by Primedia's Sport Rider and Dirt Rider magazines who will also be covering the weekend's racing action.
A favorite attraction at past Calendar Bike Shows, our West Coast Horsepower Dyno Shootout returns this year sponsored and produced by Jardine Headers, America's premier performance exhaust system manufacturer for sportbikes and V-Twin motorcycles. Bike builders and enthusiasts will be able to roll their 2-wheeled rockets up on the Jardine dyno in front of hundreds of spectators and prove just how much horsepower their bikes really produce.
Another new attraction this year will be the Jim's Machine Burnout Contest produced by one of America's leading engine component manufacturers in the American V-Twin market. Taking place on the front straight of the SuperMoto track each afternoon during race intermission, this is the chance for performance bike exhibitionists to show how much smoke they can make in destroying a rear tire to the cheers of thousands of admiring fans. The folks at Jim's Machine promise to award trophies for this eye watering / ear shattering mayhem that are as unique as the Burnout Contest participants themselves.
On Saturday we will be hosting the Iron Works magazine Olive Crest Charity Ride to the LA Calendar Motorcycle Show. Endorsed and funded in part buy the state, Olive Crest is the biggest orphanage and shelter system for abused children and families in Southern California. It provides long term housing, care, education and adoption services for hundreds of kids every year. The Ride will start with sign-up up on Saturday morning 10:30 am at Olive Crest's main headquarters in Santa Ana. Participants will be treated to lunch before the start of the ride to the Show where they will receive reserved front space parking at the Queen Mary and over $120 in admission and parking values for the LA Calendar Bike Show weekend for a low $35 per person tax deductible charity donation to Olive Crest.
Teens from Olive Crest will be also be guests at the Show on Saturday afternoon to enjoy all the activities and attractions the Show and the Queen Mary have to offer.
And what would the Los Angeles Calendar Motorcycle Show be without its beautiful girls!
There will be 2 days of excitement featuring America's hottest new female vocal group The Beu Sisters who are featured in the sound track of the new Disney movie Lizzie McGuire, and an upcoming Coca-Cola advertising campaign. Plus spectators will get to meet the beautiful FastDates.com Calendar Angels who are also our 2003 SBK World Superbike girls for Laguna Seca, Miss Minnesota Janelle Perzina, Miss Great Britain Nicki Lane, Star Search Spokesmodel winner and The Man Show Juggy Joanna Krupa with The Man Show's Chandi Mason.
MORE SHOW DETAILS
the beautiful FastDates.com
Calendar Angels!
plus an incredible 2-day
Calendar Girl Beauty Pageant
plus
The Hooters Girls
Aprilia Scooter Girls
Archie's Ice Cream Girls

Click to visit the Beu Sister's website and see their music video!
Both Days!
The Beu Sisters
Our Featured Show Band The hottest sounding, most beautiful new girl group in the World in their first West Coast appearance, premiering their new album "DECISIONS."
MEKLAU TAKES 999 TO GERMAN SUPERBIKE VICTORY
Austrian Superbike rider Andreas Meklau took his Red Bull Ducati 999 to victory in the German Superbike Championship at the weekend at the Most circuit in the Czech Republic. Meklau, who raced the HMC Ducati in the AMA series last year took the win after crashing out in race 1 following a poor tyre choice.
The next round of the series is at the high-speed Salzburgring in Austria on the 5th and 6th of July.